If you are looking for an interesting day trip from Amsterdam, then you should definitely take Zaanse Schans into consideration.
Famous for its windmills and historic wooden houses, this unique destination offers its visitors a glimpse into the old Dutch way of life. So read on to find out how to make the most out of your day trip to Zaanse Schans.
Disclosure: Some of the links in this post are affiliate links. If you click on them and make a purchase, I may receive a commission at no extra cost to you. Check my full disclaimer here.
What is Zaanse Schans?
Essentially, Zaanse Schans is a neighborhood (and yes, people are actually still living there), despite the fact that it's also referred to as a village.
Yet, it looks more like an open-air museum. This is because, decades ago, Dutch historic buildings were relocated here for preservation purposes.
Is Zaanse Schans worth visiting?
Some places become famous for a reason and Zaanse Schans is definitely one of them. So yes, the small neighborhood is very much worth a visit, I even dare to say it's a must.
How To Get To Zaanse Schans from Amsterdam?
Zaanse Schans is located fairly close to Amsterdam, so it's easy to get there. You can choose between renting a car and driving there yourself and using public transportation. I recommend the second option.
By bus
Bus 391 departs Amsterdam Centraal Station every 15 minutes to Zandaam/Zaanse Schans, from Platform L. The journey takes around 50 minutes.
Despite the fact that I actually used the train to travel to Zaanse Schans, I now think that the bus is the most convenient option since it drops you off right outside the neighborhood.
By train
There are direct trains running every half an hour between Amsterdam Centraal Station and Zaandijk Zaanse Schans station. From the train station, it's a 17-minute walk to reach Zaanse Schans.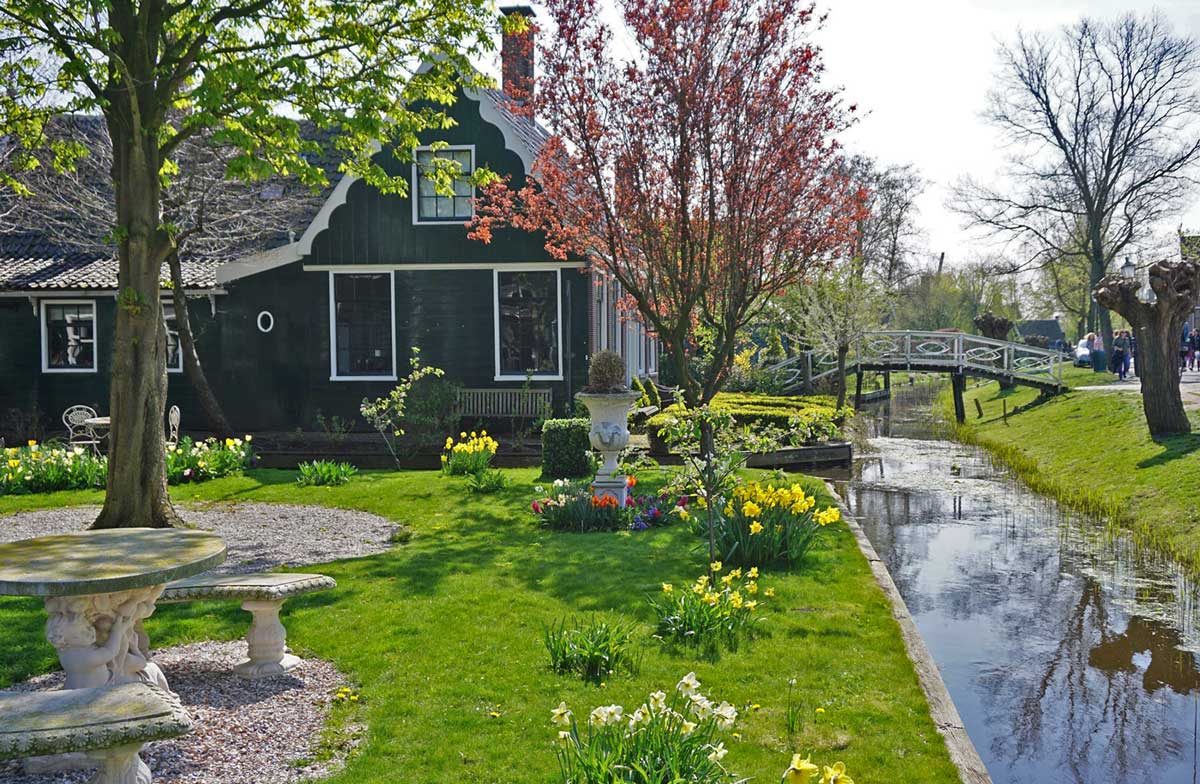 By ferry
If you are traveling between May and September, you can also get to Zaanse Schans by ferry, though it will take longer (1h30m) and you'll need to change boats in Zaandam. Even so, it's a nice alternative to the bus or train.
The ferry leaves from Amsterdam Centraal Station (pier 14) and a one-way journey costs 10 euros, while a return trip is 15 euros. You can buy your ticket onboard (check the current schedule here).
By tour
If you don't want to worry about transportation at all, then there's also the option of booking a tour. Here are a few:
Things to know before your visit
#1. Given the fact that Zaanse Schans is a neighborhood, it is free to enter. However many of the attractions do have admission fees and opening hours.
#2. Download the Schans App (Google Play | Apple Store) on your phone: it will act as a digital tour guide, providing you with an interactive experience during your visit.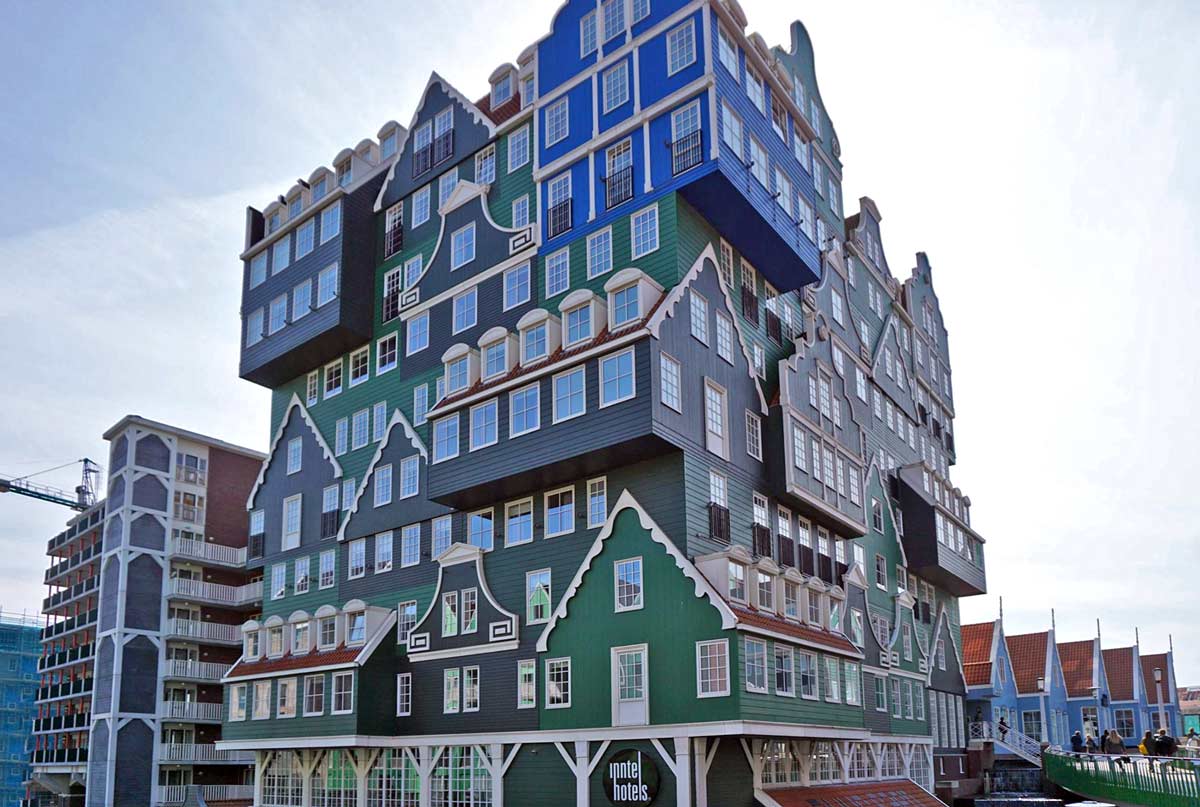 #3. You don't need a full day to see everything, so if you didn't come with a tour, use your free time left to make a quick stop in Zaandam on your way back to Amsterdam. Here you can see the iconic Inntel Hotels Amsterdam Zaandam, as well as other picturesque green buildings.
#4. Souvenirs and other products from gift shops tend to be pretty expensive in Zaanse Schans.
Zaanse Schans Day Trip: Top Things to Do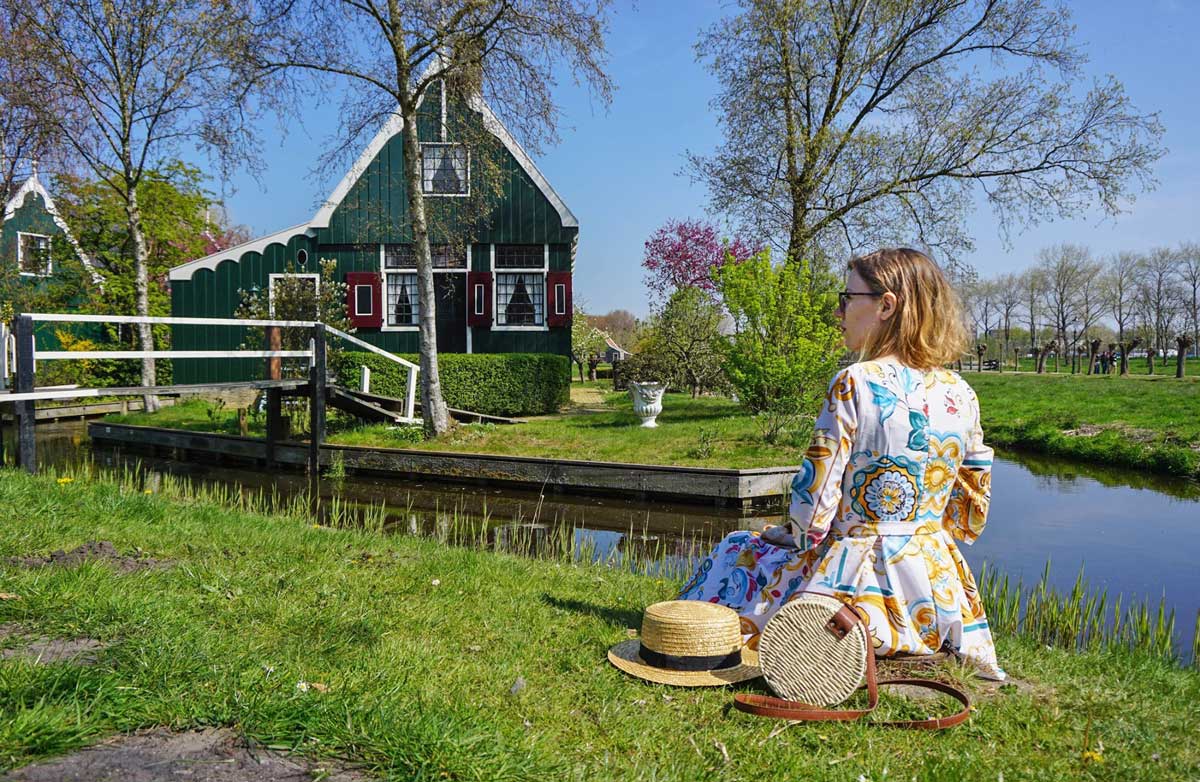 Walk around and take lots of pics
The absolute best thing to do in Zaanse Schans is to simply walk around the neighborhood, admire the scenery and the typical Dutch green buildings and take lots of pictures.
You can occasionally pop in a store, workshop, or museum you find interesting.
Visit a windmill
There are several historic windmills in Zaanse Schans that you can enter (admission fees apply). I visited De Gekroonde Poelenburg, which is a saw mill. It was pretty interesting to see how it actually functions.
Zaanse Schans Card
The Zaanse Schans Card includes free access to every attraction in Zaanse Schans as well as a 30% discount for parking if you visit by car.
See how the Dutch clogs are made
Wooden clogs (klompen) are an important part of Dutch culture and heritage. Dating back to medieval times, clogs were usually worn by workers.
The durable, yet fairly light shoe protected their feet from injury and was very practical in the wet and muddy conditions of the Netherlands. Not only that, but clogs were inexpensive and pretty easy to make.
Nowadays, most Dutch people wear them only as part of their traditional clothing, but in some rural areas of the country, clogs are still part of everyday life.
Inside the clog workshop (open every day from 08:30 AM to 5:00 PM), you can attend a demonstration (lasts for about 15 minutes) of how these traditional wooden shoes are made. They also have a small museum and a shop. All are free to enter.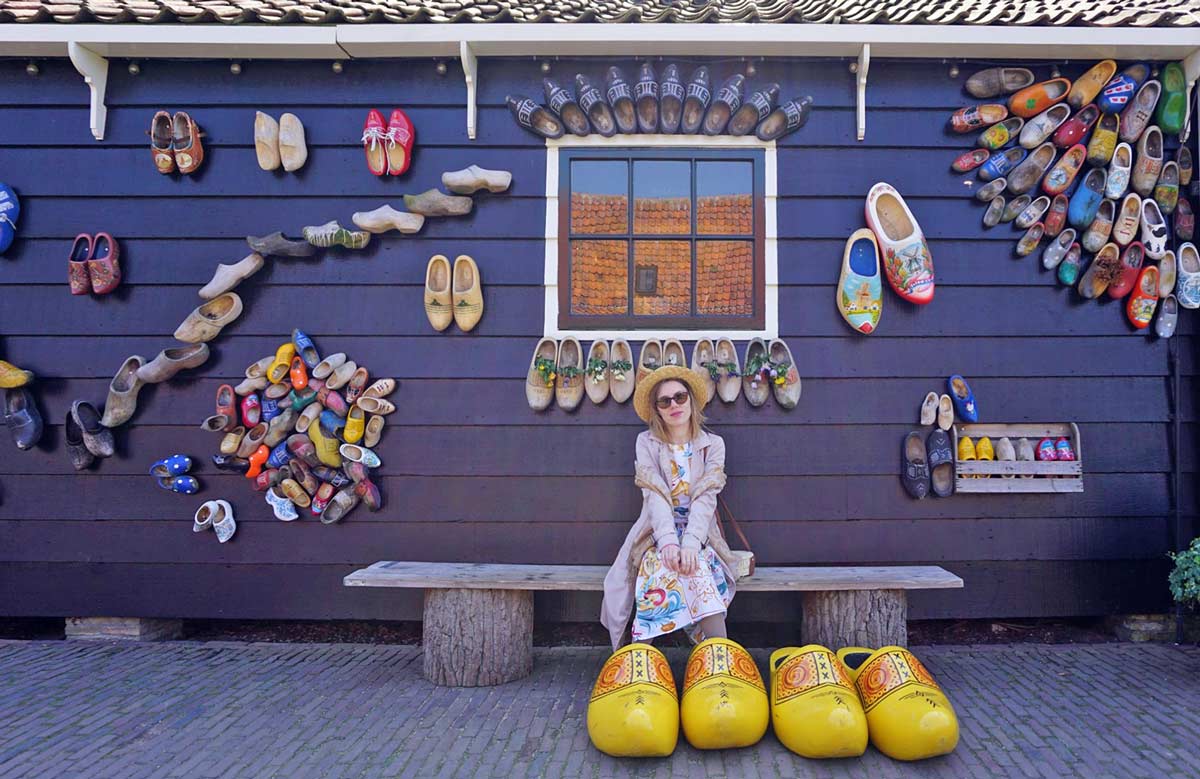 Also don't miss the opportunity to take a pic with the huge clogs located outside.
Sample some gouda cheese
After my first trip to the Netherlands, I've become a huge fan of their cheese. Therefore, I always take the chance to buy and/or sample their different types of gouda.
So make sure you stop at De Catherinahoeve cheese farm and you might just develop a new culinary obsession. They also offer free cheese-making demonstrations and are open every day from 8 AM – 6 PM.
Take a boat trip
If you visit Zaanse Schans over the weekend, then you can take a boat trip for 7.5 euros (adult) to observe the Zaanse Schans windmills from the river. During the tour, you'll be able to learn more about each windmill from the local guide.
The boat tour departs near De Huisman spice mill and lasts for about 25 minutes.
Where to eat in Zaanse Schans
De Kraai: The restaurant serves big Dutch pancakes (29 cm in diameter), as well as sandwiches, salads, soup, coffee or tea, and different pastries.
De Hoop op d'Swarte Walvis: Located on the Zaan river, the restaurant offers both Dutch and International dishes as well as vegetarian, vegan and gluten-free options.
Zaanse Schans Alternative
If you are only interested in seeing beautiful windmills, then you will find a more peaceful atmosphere at Kinderdijk, close to Rotterdam.
Dating from the 18th century, the 19 windmills of Unesco World Heritage Kinderdijk were built to keep the water out of the polder (a low-lying area of land that has been reclaimed from the sea).
---
I hope you found this guide for a day trip to Zaanse Schans helpful and before you go, don't forget to check out my other Netherlands content.
Happy travels~
---
MORE INFO ABOUT NETHERLANDS
MORE INFO ABOUT BENELUX