If you are looking for an interesting escape from Amsterdam, then you should consider a Zaanse Schans day trip.
Essentially a neighborhood (and yes, people are actually still living there), but often mistaken for a village, Zaanse Schans looks more like an open-air museum in reality. This is because, decades ago, several Dutch historic buildings were relocated here for preservation purposes.
Also, it's the best place to see old Dutch windmills from Amsterdam, due to how close it's located to the capital city, which contributed to its popularity.
In order to help you discover the very best of Zaanse Schans, I've put together this itinerary, which is based on my own visit there. So keep reading to learn about the top things to do in Zaanse Schans, as well as how to get there from Amsterdam.
Disclosure: Some of the links in this post are affiliate links. If you click on them and make a purchase, I may receive a commission at no extra cost to you. Check my full disclaimer here.
Zaanse Schans day trip itinerary (Brief overview)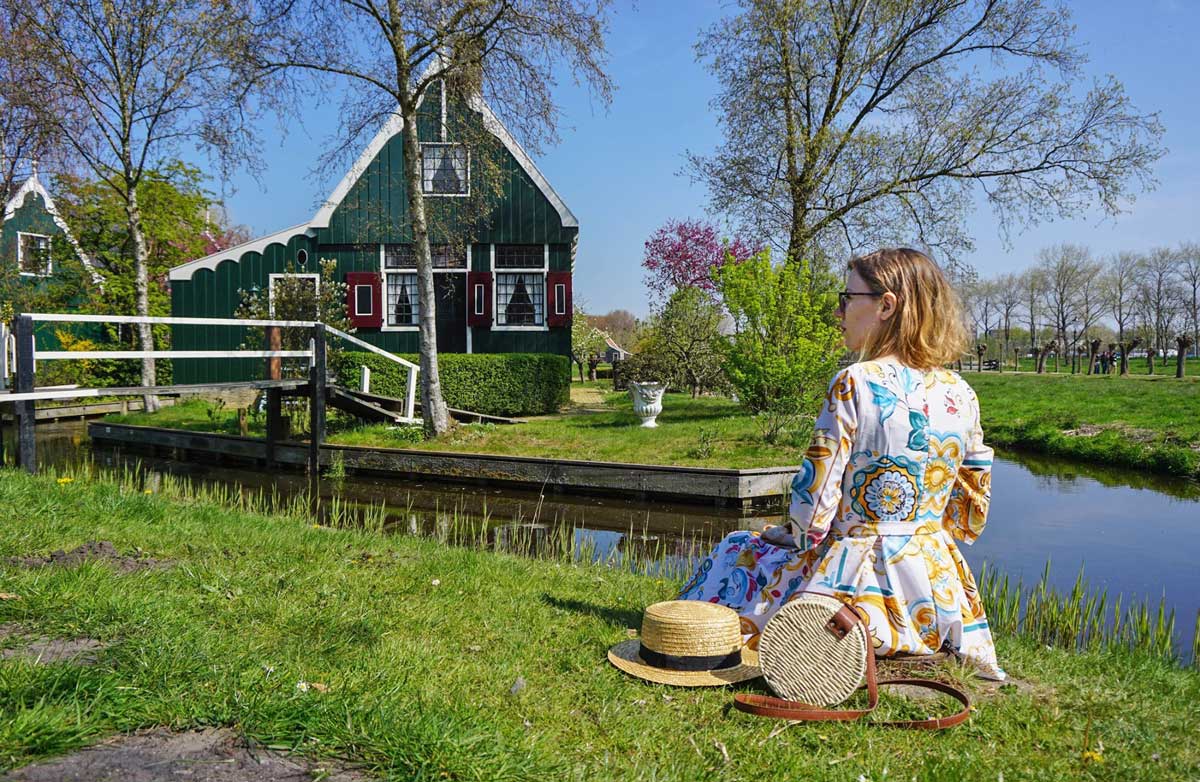 How To Get To Zaanse Schans from Amsterdam?
Zaanse Schans is conveniently located near Amsterdam, making it easily accessible. You can opt for renting a car and driving there yourself, using public transportation (choose between bus, train, and ferry), or simply booking a tour.
🚆 By train
Direct trains operate every 30 minutes from Amsterdam Centraal Station to Zaandijk Zaanse Schans Station. However, you'll need to walk for about 20 minutes from the train station to the neighborhood, so in total it takes around 40 minutes to get there by train.
🚌 By bus
Bus 391 departs Amsterdam Centraal Station every 15 minutes to Zandaam/Zaanse Schans, from Platform L. The journey takes around 50 minutes.
Despite the fact that I actually used the train to travel to Zaanse Schans, I now think that the bus is the most convenient option, as it stops right outside the area.
And even though the journey is 10 minutes longer than taking the train, it eliminates the need for a 20-minute walk from the station to the neighborhood. So make your feet a favor and opt for the bus.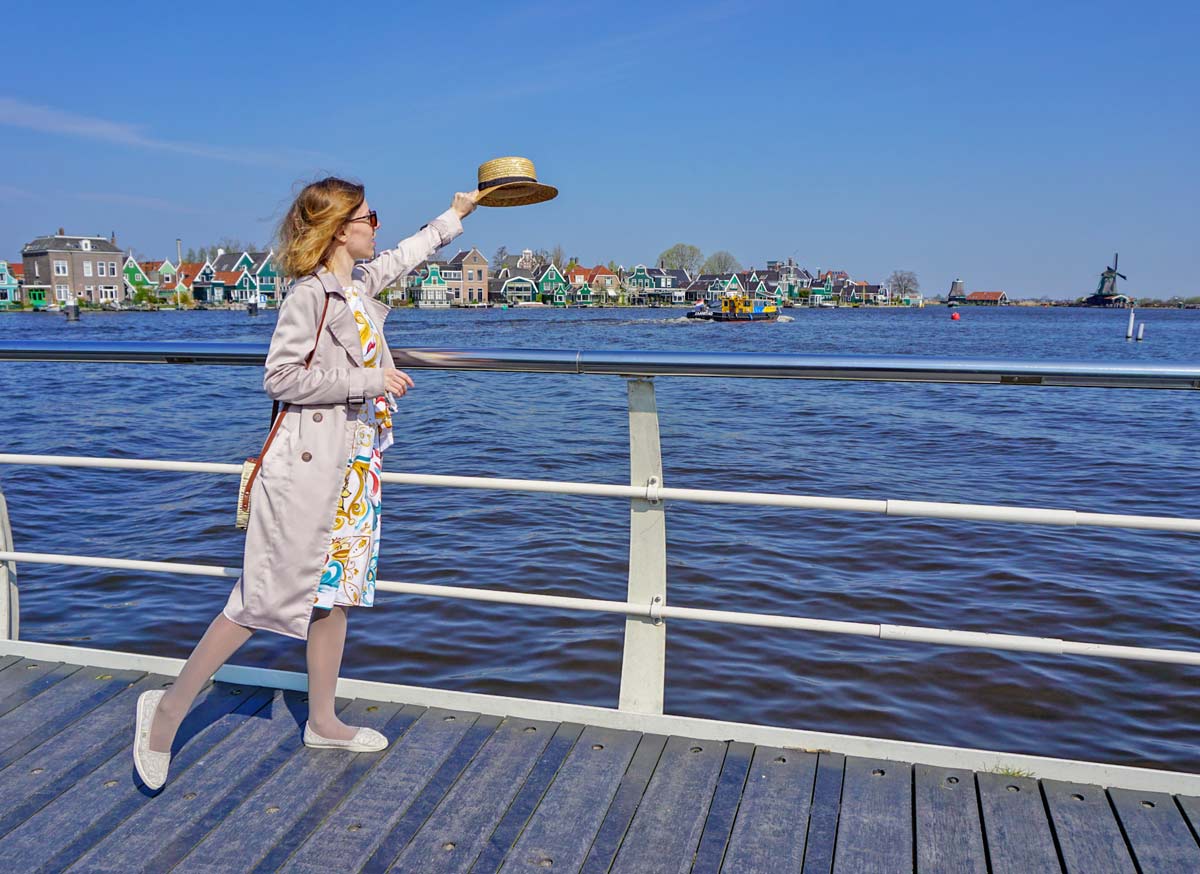 🛥️ By ferry
If you are traveling between May and September, you can also get to Zaanse Schans by ferry, though it will take you longer (1h 30m) and you'll need to change boats in Zaandam.
Despite these inconveniences, it's a nice alternative to the bus or train, since you can view it as taking a mini canal cruise through the Netherlands countryside.
The ferry leaves from Amsterdam Centraal Station (pier 14) and a one-way journey costs 10 euros, while a return trip is 15 euros. You can buy your ticket onboard (when in season, you can check the current schedule here).
🗺️ By tour
If you don't want to worry about transportation at all, then there's also the option of booking a Zaanse Schans tour from Amsterdam. Here are a few to choose from:
🚗 By car
Unless you are traveling in spring and plan to see the some of the more remote tulip fields in Netherlands, then I don't really see the point of renting a car.
The public transportation is incredibly fast, convenient and extensive in Netherlands. Besides the country is famous for using bicycles a lot, which can be stressful for a driver that isn't used to them in traffic.
However if getting a car is still the best option for you, I recommend you avoid the parking lot for the windmills (called Tourist Coach & Bus Parking on Maps) because it's really expensive at 15 euros (no matter how long you use it).
Instead you can park at Kogertunnel Parking, which is decently sized and free. However, it has an inconvenient: it's located near the train station, so you're looking at a 20-minute walk to the windmills. But hey, it's free!
ℹ️ By the way, I also suggest avoiding Free Parking Zaanse Schans as it's a narrow, busy street where many residents park their cars.
Best things to do in Zaanse Schans on a day trip from Amsterdam
01. Explore the neighborhood and take lots of pics
The absolute best thing to do in Zaanse Schans is to simply walk around the neighborhood, admire the scenery and the typical Dutch green buildings, and take lots of pictures.
Feel free to drop by any store, workshop, or museum that catches your interest as you explore.
02. Visit a windmill
There are several historic windmills in Zaanse Schans that you can visit, each with its own purpose. These include a mustard and a dye mill, sawmills, oil mills, flour and grain mills, paper mills and hulling mills.
However not all are open at the same time so make sure you check their opening times here. Also, each windmill requires a 5.50 euro admission fee per adult.
Personally, I visited De Gekroonde Poelenburg (now closed for the public), which is a saw mill and it was pretty interesting to see how it actually functions from the inside.
Zaanse Schans Card
The Zaanse Schans Card includes free access to every attraction in Zaanse Schans and a 30% discount for parking if you visit by car.
03. See how the Dutch clogs are made
Wooden clogs (klompen) are an important part of Dutch culture and heritage. Dating back to medieval times, clogs were usually worn by workers.
The durable, yet fairly light shoe protected their feet from injury and was very practical in the wet and muddy conditions of the Netherlands. Not only that, but clogs were inexpensive and pretty easy to make.
Nowadays, most Dutch people wear them only as part of their traditional clothing, but in some rural areas of the country, clogs are still part of everyday life.
Inside the clog workshop (open every day from 08:30 AM to 5:00 PM), you can attend a demonstration (it lasts for about 15 minutes) of how these traditional wooden shoes are made. They also have a small museum and a shop. All are free to enter.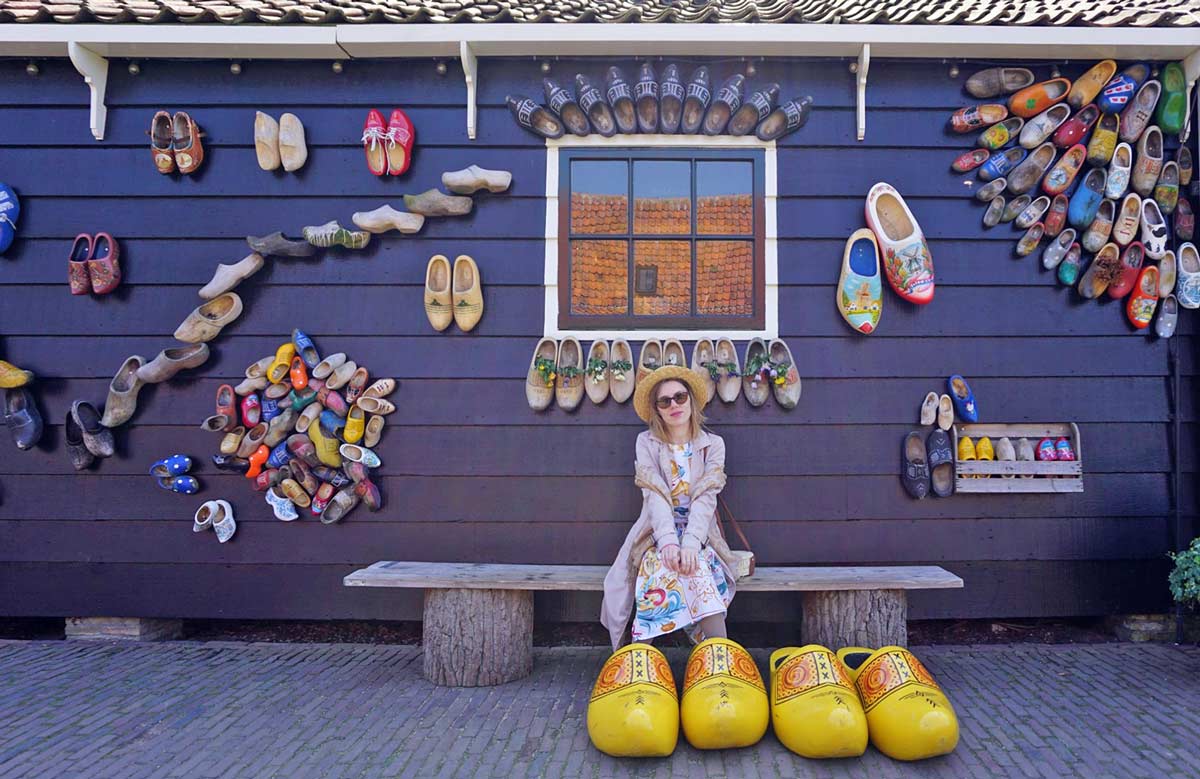 Also, don't miss the opportunity to take a pic with one of the few pairs of huge clogs located outside the shop.
04. Sample some gouda cheese
After my first trip to the Netherlands, I've become a huge fan of their cheese. Therefore, I always take the chance to buy and/or sample their different types of gouda.
So make sure you stop at De Catherinahoeve cheese farm and you might just develop a new culinary obsession. They also offer free cheese-making demonstrations and are open every day from 8 AM – 6 PM.
05. Take a boat trip
If you visit Zaanse Schans over the weekend, then you can take a boat trip for 7.5 euros (adult) to observe the Zaanse Schans windmills from the river. During the tour, you'll be able to learn more about each windmill from the local guide.
The boat tour departs near De Huisman spice mill and lasts for about 25 minutes.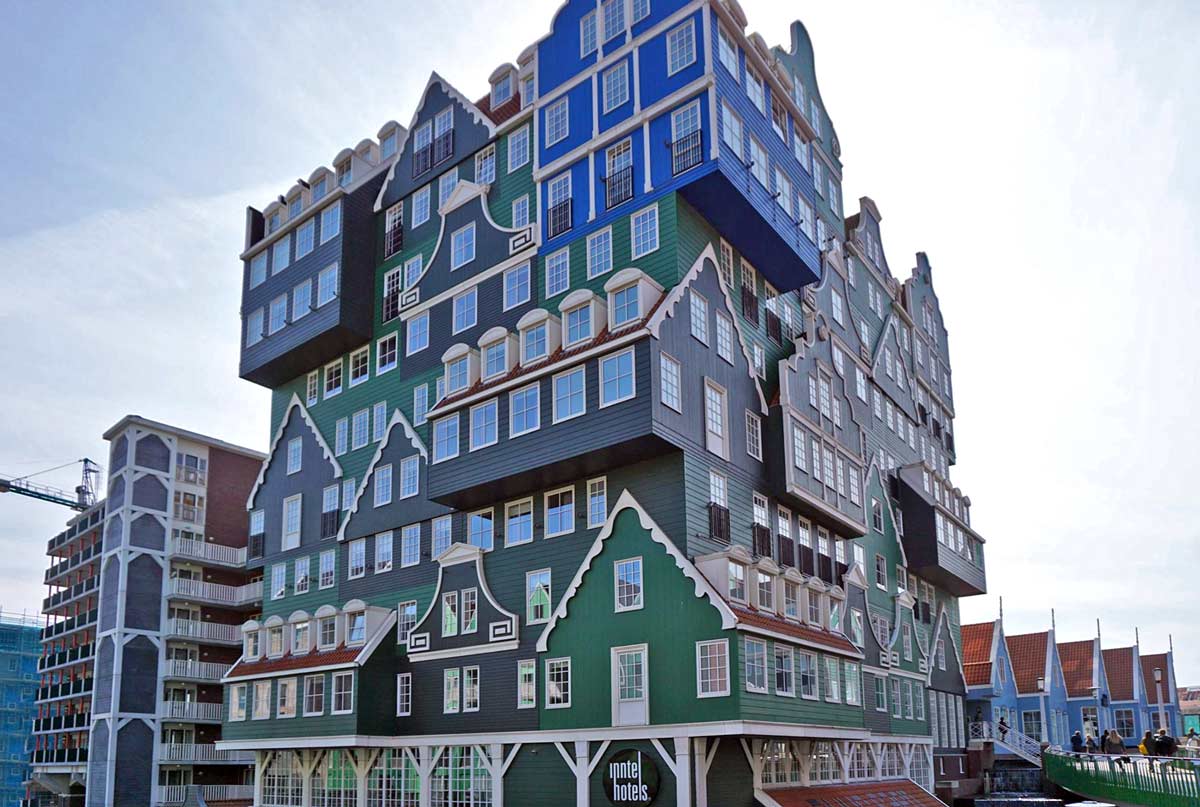 Optional: Make a short stop in Zaandam
You don't need an entire day to explore Zaanse Schans, so if you're not on a guided tour, consider using your remaining time to briefly visit Zaandam before heading back to Amsterdam.
Here you can see the iconic Inntel Hotels Amsterdam Zaandam, as well as many other colorful buildings which are built in a traditional style, although they are new. Most are lined along Gedempte Gracht, a pedestrian shopping street that spawns between the train station and the main canal.
Photo op: Don't miss the rainbow crossing at the intersection of Gedempte Gracht with Westzijde, right before you reach the main canal (where the pedestrian area ends).
To reach Zaandam from Zaanse Schans, you can take either bus 391 or the train.
Where to eat in Zaanse Schans
De Kraai: The restaurant serves big Dutch pancakes (29 cm in diameter), as well as sandwiches, salads, soup, coffee or tea, and different pastries.
De Hoop op d'Swarte Walvis: Located on the Zaan River, the restaurant offers both Dutch and International dishes as well as vegetarian, vegan, and gluten-free options.
Things to know before your Zaanse Schans day trip
#1. Given the fact that Zaanse Schans is a neighborhood, it is free to enter. However many of the attractions do have admission fees and opening hours.
#2. Download the Schans App (Google Play | Apple Store) on your phone: it will act as a digital tour guide, providing you with an interactive experience during your visit.
#3. Souvenirs and other products from gift shops tend to be pretty expensive.
#4. At times, it can be very windy in Zaanse Schans which is not so surprising given Netherlands' history with windmills. So take this into account when deciding what to wear. Personally, I regretted opting for a light dress in April.
How long should you spend in Zaanse Schans?
Typically, 3 to 5 hours in Zaanse Schans should suffice for most people. However, if you add the traveling time from and to Amsterdam and the short stop in Zaandam, then it will take you almost the whole day.
So is Zaanse Schans worth visiting?
Some places become famous for a reason and Zaanse Schans is one of them. While it can be a bit touristy, I still think the the small neighborhood is worth a visit for its historic windmills, traditional wooden buildings, and artisan workshops.
You can see how a windmill works from inside, watch a clog making demonstration and admire several colorful Dutch houses.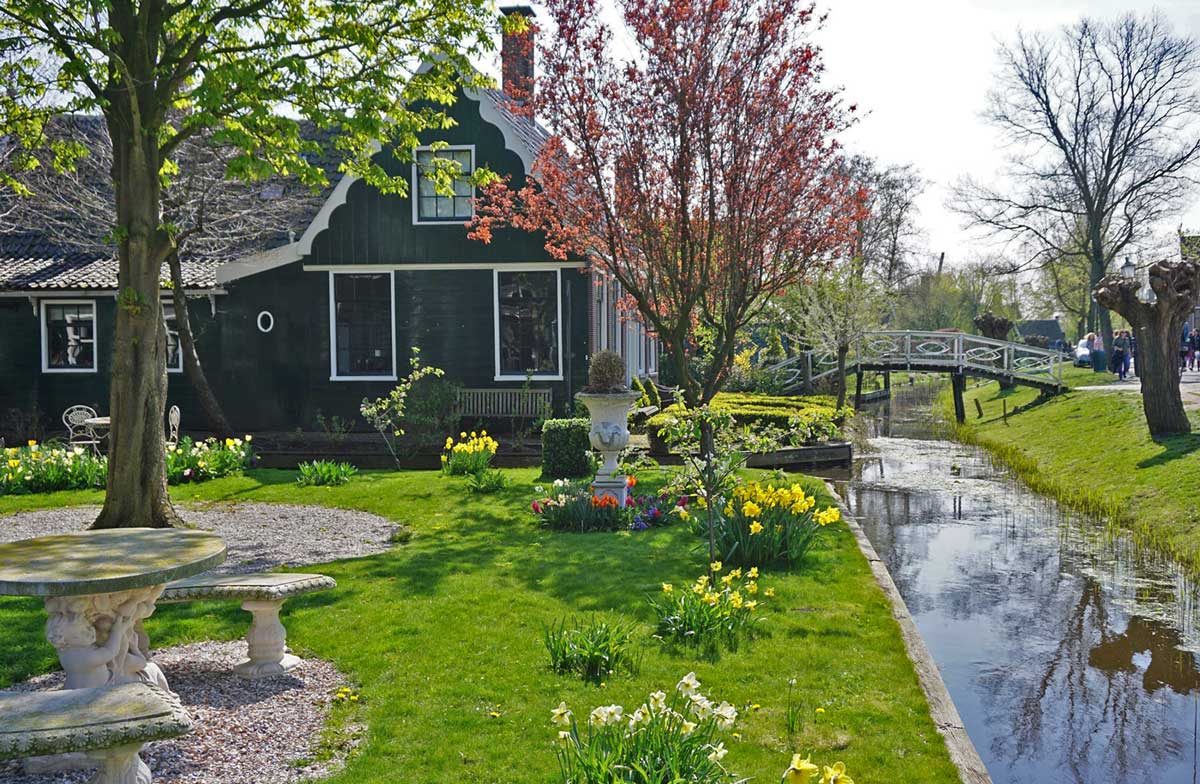 Zaanse Schans alternative (for seeing windmills)
If you are only interested in seeing beautiful windmills, then you will find a more peaceful atmosphere at Kinderdijk, close to Rotterdam.
Dating from the 18th century, the 19 windmills of Unesco World Heritage Kinderdijk were built to keep the water out of the polder (a low-lying area of land that has been reclaimed from the sea).
Zaanse Schans day trip itinerary: Wrap up
I hope you found this guide for a day trip to Zaanse Schans helpful and before you go, don't forget to check out my other Netherlands content.
Happy travels~
---
YOU MIGHT ALSO LIKE