Before visiting the Cotswolds, I spent a lot of time researching the best villages to visit. I even felt overwhelmed at times since there are many charming and picturesque villages to choose from, each with its own unique character and attractions.
Now that I've had the chance to explore the region for myself, I wanted to share my honest opinion on the top must-visit villages in The Cotswolds, UK.
I will note that I ordered them based on my personal preference, but as everyone's different, you might end up loving a village more than me so take the 'ranking' as only a mere guidance.
Disclosure: Some of the links in this post are affiliate links. If you click on them and make a purchase, I may receive a commission at no extra cost to you. Check my full disclaimer here.
How to get to The Cotswolds area?
You can get to the Cotswolds by car, public transportation or tour.
Visiting Cotswolds by car
First things off, it's important to note that in the UK, they drive on the left-hand side of the road, which for many travelers is the 'wrong' side of the road as the guy that gave us our rental funnily put it.
HOWEVER we actually didn't actually find it as bad as we expected: once you're in traffic, it kinda makes sense. And most roundabouts guide you as you enter them, so you can't really mess up the direction.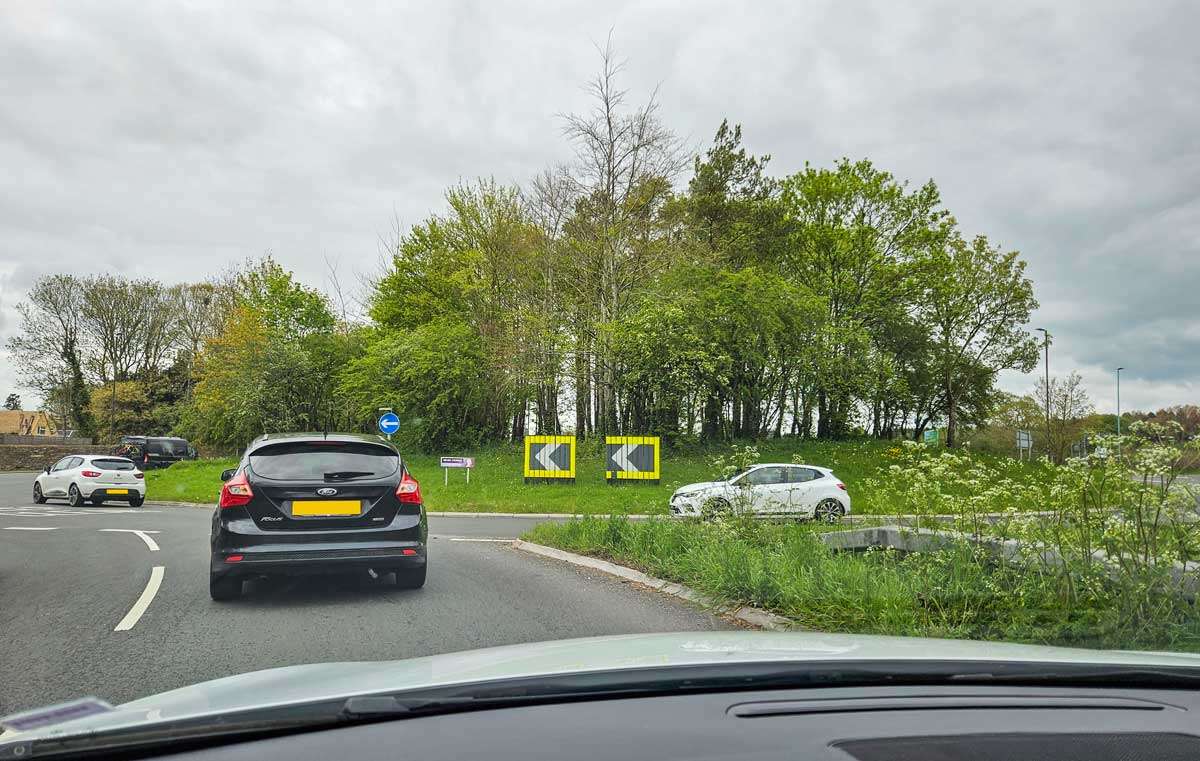 Besides, I found British people to be so chill when driving: we were going under the speed limit because the roads are quite narrow there which is not what were used to, and didn't have any complaints from other drivers.
In comparison, I live in Romania and traffic is way more hectic here even outside of the cities: if you drive within the speed limit in villages chances are you'll get honked or others will flash the lights at you before quickly overtooking you. Hence my surprise.
I do want to state that we didn't enter any of the cities and I would definitely recommend against driving in London!
We got our car from Luton Airport (that's where we landed) and drove around the Cotswolds region before returning it to the same place and then taking the train to London to revisit the city for a few days.
Overall, renting a car is a less time-consuming and more comfortable option for visiting the Cotswolds. But do get an automatic! This way, you won't have to worry about using the stick with your left hand.
Visiting Cotswolds by public transport
However, if you still feel uneasy about driving in UK or you don't actually have a license, you can still visit the area by public transportation. There are train stations in the following locations:
Moreton-in-Marsh
Kingham
Cheltenham
Kemble
Chippenham
The villages are then connected by local buses, but do allow for extra time when planning your trip as there are not many buses per day and delays can often happen. Let's just put it this way: time flows different in the countryside.
If you rent a car, you can basically set camp in any of the villages or towns in the region, but if you visit by public transportation, I'd recommend you base yourself in Bourton on the Water.
Bourton is close to Moreton-in-Marsh and there's a direct bus line (route 801) connecting them, so it's easy to get to. Then you can visit from there both Upper and Lower Slaughter by foot, something which we actually did too, despite having a car.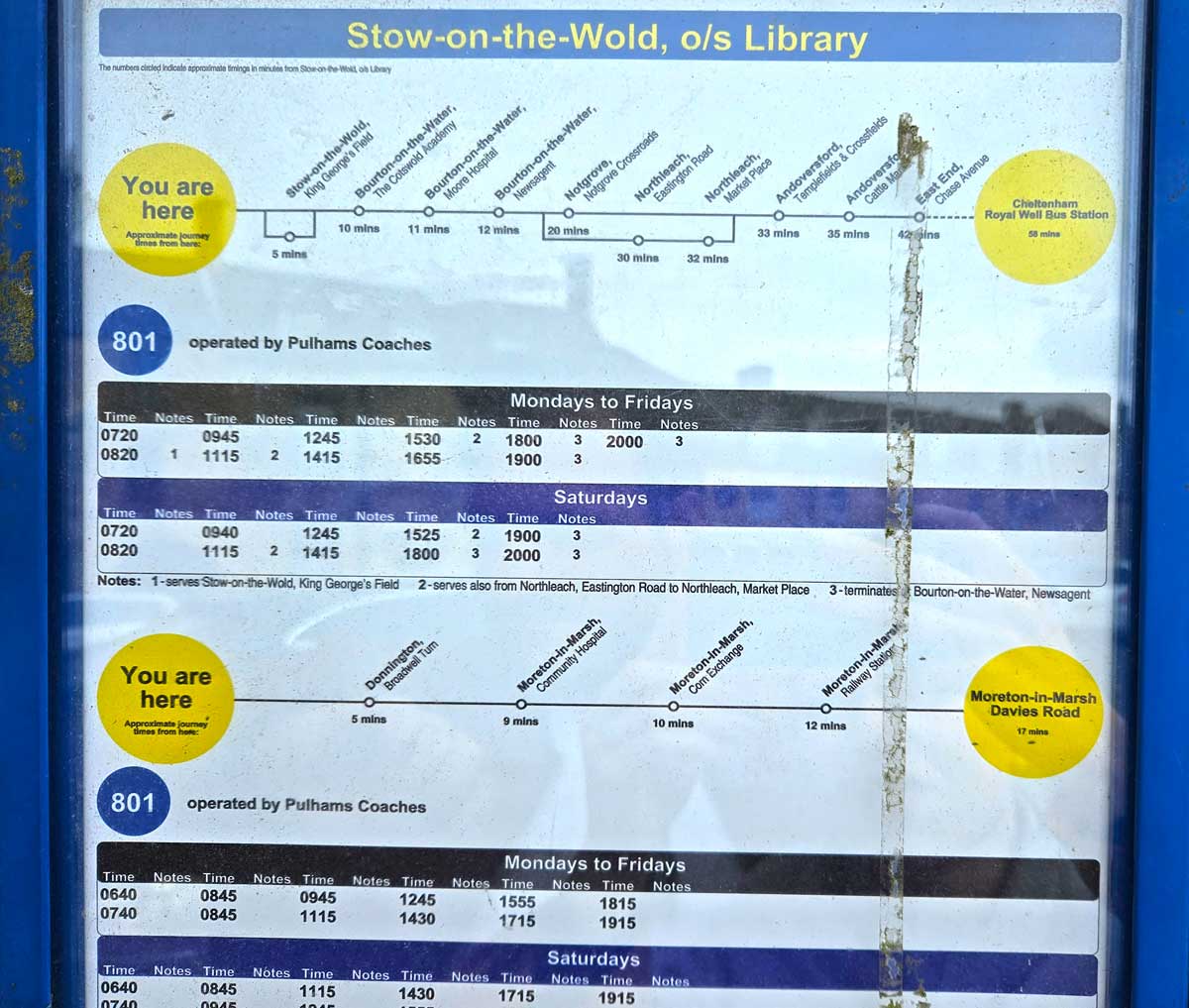 Bibury is directly connected to Bourton by bus (route 855) as well, but getting to Castle Combe might prove a bit challenging. However, it's not such a huge loss if you don't end up visiting it in my opinion. So don't sweat it.
Before getting to my list of the must visit villages in Cotswolds, I do want to mention one more thing: train and public transport in general can be pretty expensive in the UK.
That's why we ended up renting a car in the end: after I did a roughly estimate of how much traveling by public transportation would end up costing us, we realized it was not much cheaper than the car.
Visiting Cotswolds by tour
If you are short on time or you don't want to go through the hassle getting to Cotswolds by yourself, here are a few tours from London you can book:
Best Cotswolds villages to visit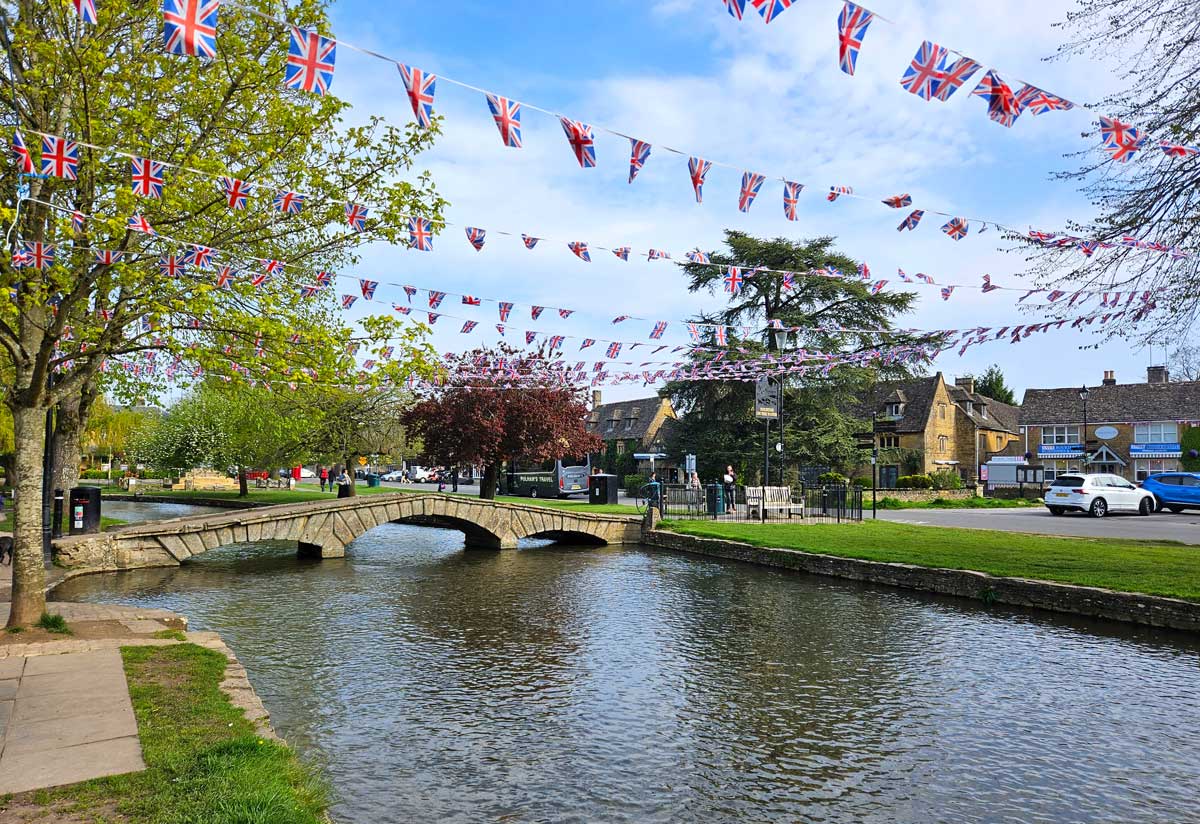 01. Bourton on the Water
I was dreaming of visiting Bibury since I first saw a picture of it online, however in the end it was Bourton on the Water that totally stole my heart.
Perhaps it was due to our stay in a lovely little cottage or because I thoroughly enjoyed our walks through nature to Lower and Upper Slaughter or maybe it was because its picturesque low bridges. Regardless, one thing is certain: I absolutely adored it.
Despite being a village I found Bourton to be fairly big, it looks almost like a small town with a charming old center.
There are many pubs located on the main street, and in addition to that, there are also several activities available to do including visiting the Model Village Museum, which displays a miniature replica of the village, exploring the Motoring Museum that showcases classical cars and bikes, or navigating through the Dragonfly Maze.
Not to mention that you can walk around the village using the many public paths available that often take you across fields and sometimes even through flocks of sheep. One of the most popular route is the one leading to nearby Upper and Lower Slaughter villages.
I will say that Bourton on the Water gets quite busy, even during week days, but I actually loved this lively atmosphere and usually in the evening, we'd stop at a pub for a beer.
However if you want to take some people-free photos on Bourton's picturesque bridges, just be there at 8 – 9 in the morning. The main street should be fairly empty.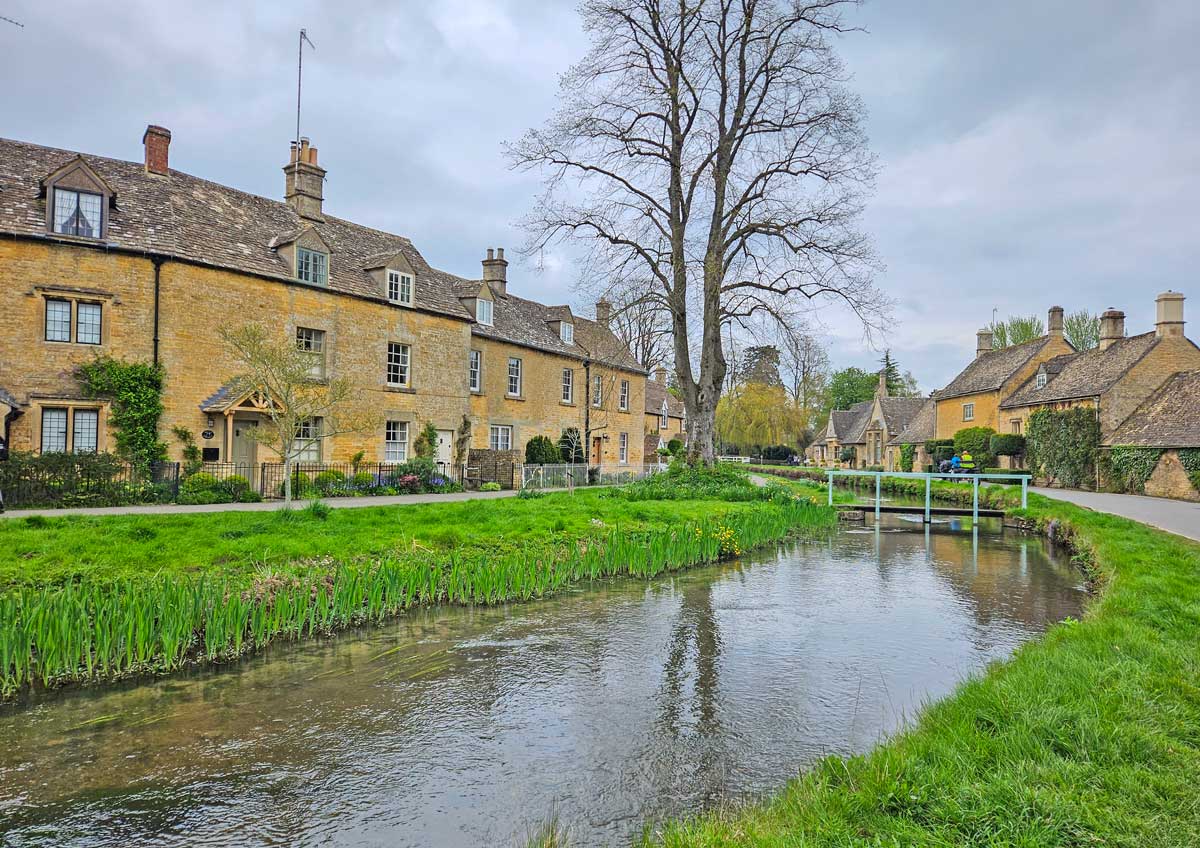 02. Lower Slaughter
Lower Slaughter is a small and charming village, really close to Bourton on the Water. In fact it's so close that you can walk there as I already mentioned.
Aside from admiring the village's many quaint cottages, you can also visit the old mill which dubs both as a shop and a museum.
If you're there at the right time, you can also see horses from the Bourton Vale Equestrian Centre crossing the ford (a shallow spot in a river or stream that enables people to walk or drive across) near the mill.
If you want to take a break and grab something to eat or drink before heading to the other Slaughter, you can stop by at The Slaughters Country Inn.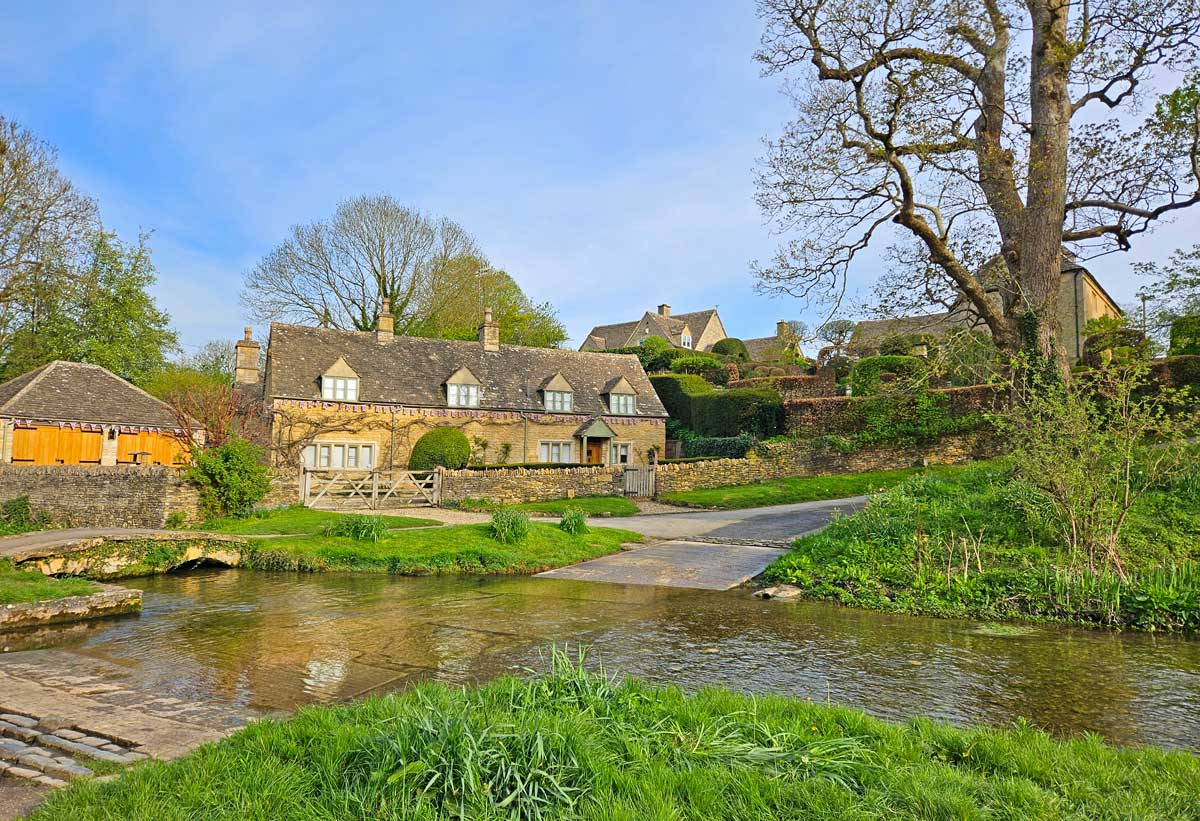 03. Upper Slaughter
Upper Slaughter is a bit smaller than Lower Slaughter (or at least this was my impression), but equally as charming.
Here, there's a ford through which cars can actually pass (both the one in Bourton as the one in Lower Slaughter were unsuitable for cars). But no matter how much I waited, I didn't manage to see a car crossing, despite the fact that there were fresh wet tire marks on the road both times I went there.
This was quite a bummer since I really wanted to see that (sometimes my travel bucket lists are a bit weird, I know), but maybe you'll be luckier.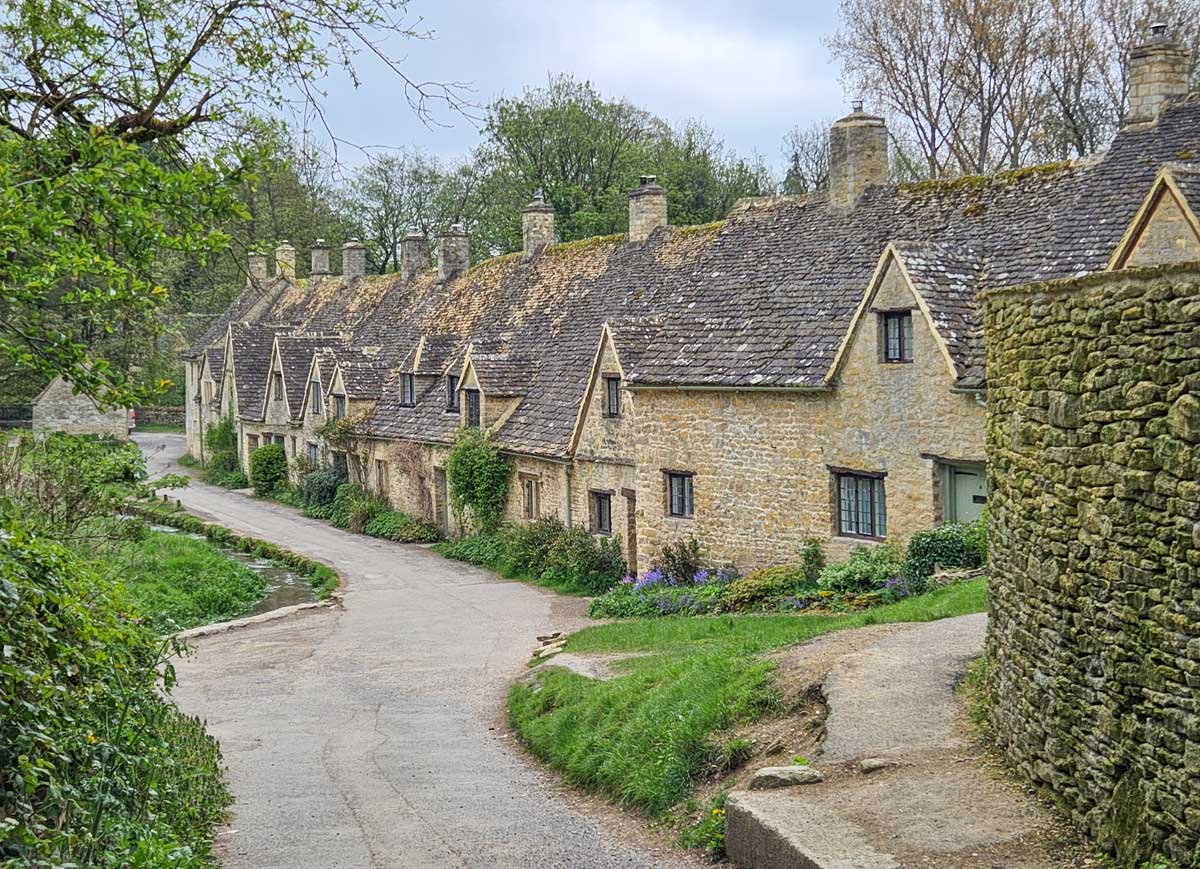 04. Bibury
As arguably the most famous village in Cotswolds, you'll probably encounter some crowds during your visit here. We didn't, but that's only because we learned our lesson in Castle Combe, so we arrived in Bibury around 9 AM.
It was early enough that we had the postcard-perfect street (aka Arlington Row) all to ourselves, but after also doing a quick tour of the church and the area around it, we saw that tours already started to arrive as we returned to our car.
We parked at the Bibury minibus & coach parking, which was free, but there are just a few parking spots so I imagine that it's hard to find an empty spot during the day: when we arrive there were several, but when we left (I think it was around 10 AM), it was already full.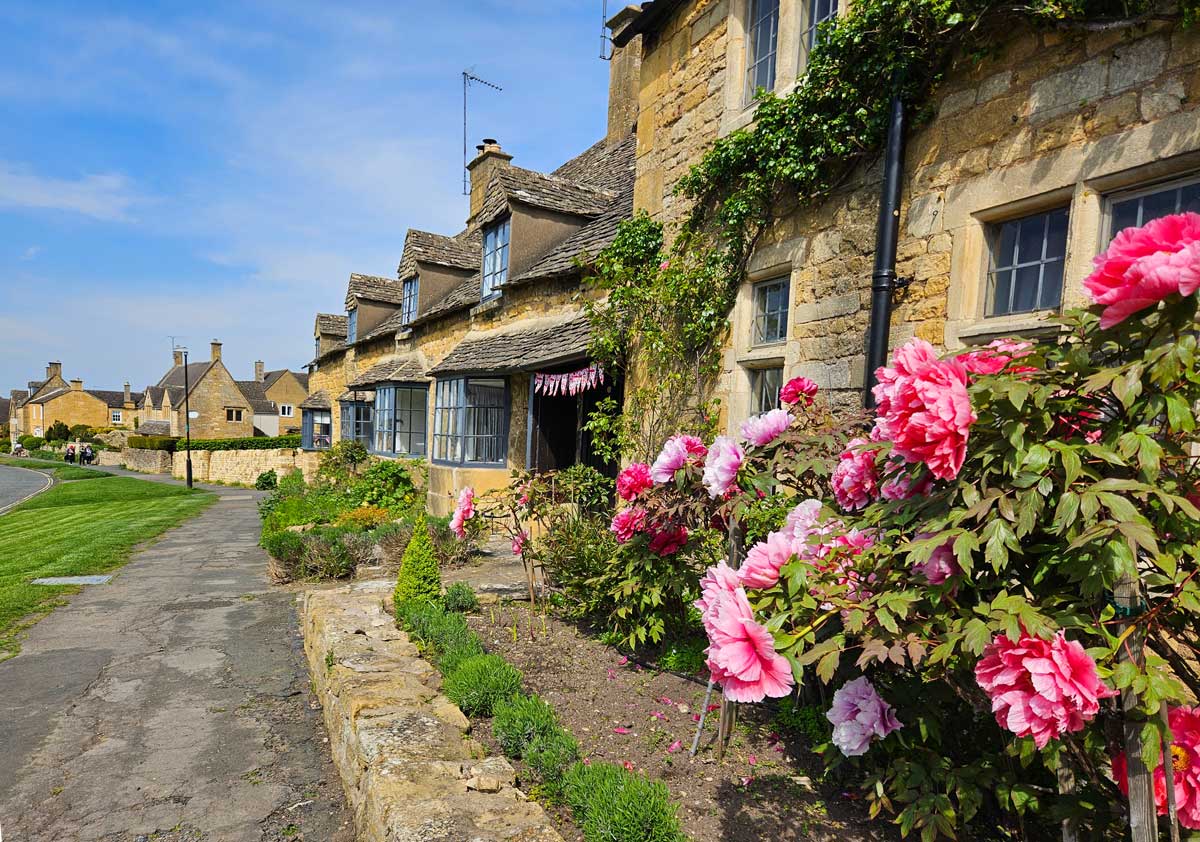 05. Broadway
Similar to Bourton on the Water, Broadway is also relatively larger in size and has the appearance of a small town. Th most picturesque area of the village is along High Street, which is lined with beautiful cottages.
Another popular attraction is the Broadway Tower, a folly located outside of the village, on a hill. You can walk there (it takes around half an hour on the public footpath) or take bus route 1, which will still require you to walk for around 18 minutes.
Also, if you have enough time on your hands, you can also ride the heritage steam train to Cheltenham: you can find the train schedule here.
Unfortunately I didn't, as we needed to return the car on the day we visited Broadway.
Speaking of the car, if you drive to the village, you can park at Short Stay Car Park Broadway: you can pay both in cash and by card here (you'll need to find the right parking meter for the payment method you want to use) and there are toilets if needed. It's also really close to High Street.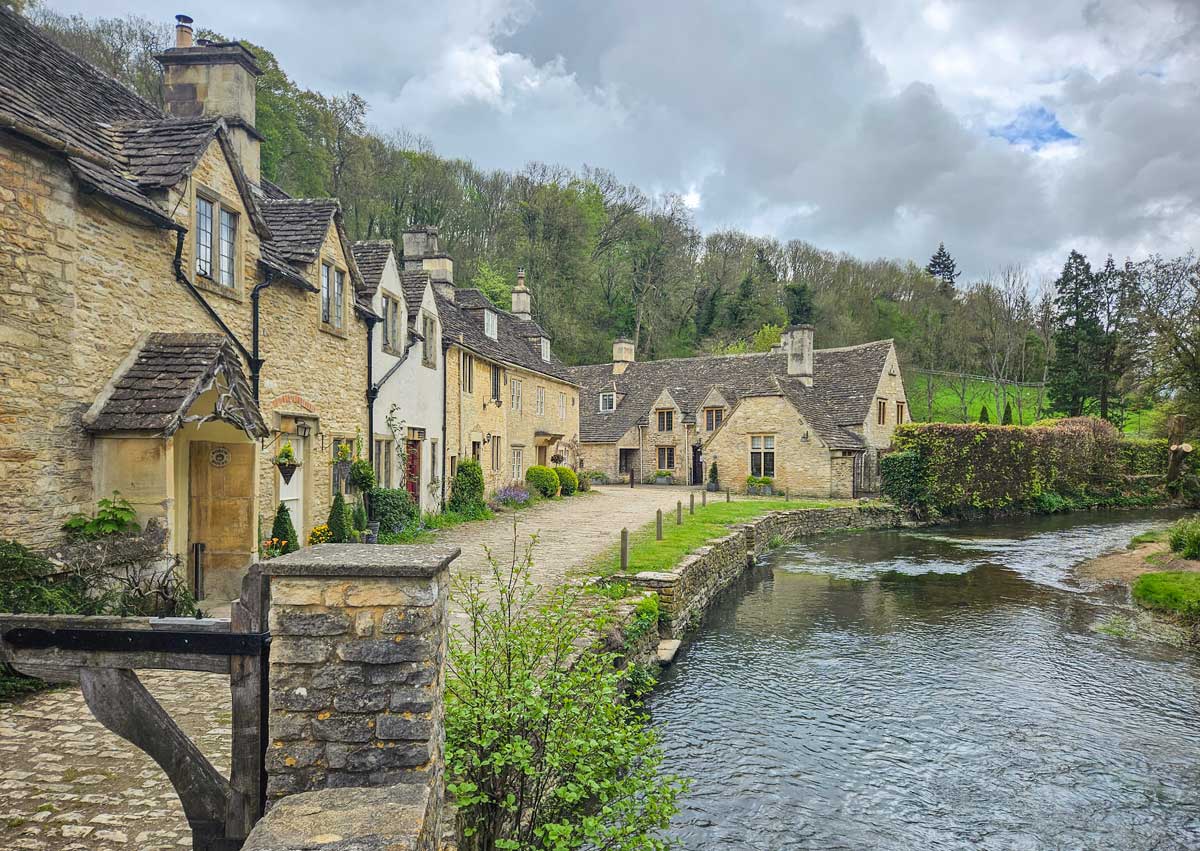 06. Castle Combe
I think Castle Combe was the smallest village from the ones I visited: it's literally one street (called The Street), which could be one of the reasons for its 'low' ranking on my list of the must-visit villages in Cotswolds.
I also do blame lack of research and expectations: the Slaughters and Bibury are also fairly small and there was no deception there, but somehow I thought Castle Combe was bigger, an idea that might have been fueled by its recent shot to fame.
Size aside, the village is indeed charming, just that it's a bit hard to enjoy its picturesque charm if you arrive there after 10 AM, because it's going to be crowded! And since it's so small, you don't really have where to go search for hidden corners either.
Now don't get me wrong, I'm not complaining that other people also happened to want to visit the same location as I did, far by it. I'm complaining again about my lack of foresight, which doesn't happen often, but when it does, I usually come to regret it.
If I did my 'homework better', I would have probably enjoyed Castle Combe much more, than I actually did. So learn from my mistakes and try to arrive earlier if you can (8 – 9 AM might be a good choice).
The main attraction of the village is Water lane and the stone bridge over The Brook, which is where most visitors gather. Unfortunately (but understandably), you can't walk on Water Lane (there's a barrier with a sign on it).
If you choose to drive there, I would also note that the Castle Combe Visitor Car Park (where we left our rental) gets filled up fast despite its rather generous size: when we left, there were no free spots left and people already started to park on the street.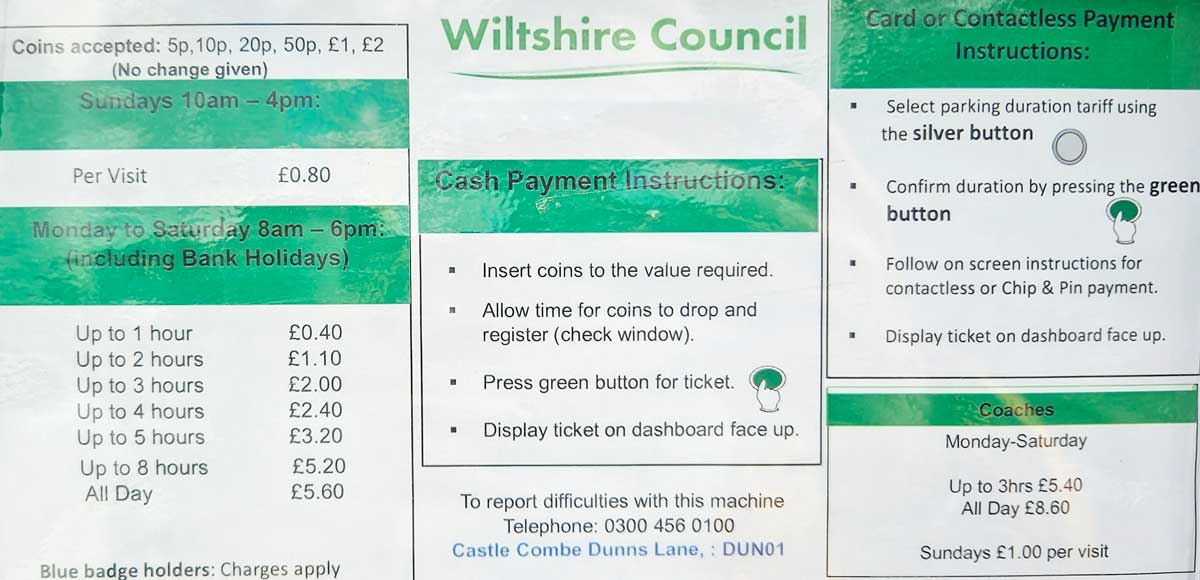 Also, make sure you have coins, since you can't pay by card, something that we found the hard way.
There was the option to pay through an app or by phone (as in they'd call you for the payment details, which I didn't really understood), but we couldn't installed the app (it said it was not available in our country) and the call option didn't seem to work either.
The phone signal and internet is also almost non-existent there: we tried to call some friends that live in the UK and that we had just met with the previous day for help and the connection was so bad, they could hardly hear us.
Meanwhile, a very kind couple saw our struggles and offer to pay the parking fee for us. I asked if they had Revolut in order to send them the money back, but they just shrugged it off saying it's not much anyway.
And while the fee might not have been much indeed, for us it meant we didn't have to drive off in the search of an ATM and potentially not find an empty parking spot when we return. So I was very grateful for their kindness.
07. Stow on the Wold
Technically Stow on the Wold it's not a village, rather it's an old market town and it shows as it has a more busy atmosphere.
The Market Square where you could find a lot of beautiful old buildings was full of parked cars during our visit, diluting the old charm of the place a little bit. TIP: go to the north side of nearby St. Edward's Church to find a door flanked by two old yew trees.
You can get to Stow on the Wold by bus from Bourton on the Water, car or even on foot, which is what we choose to do eventually and ended up regretting big time.
While 1 hour and 40 minutes (we chose the route with less traffic) one way might not seem like a lot of walking, after several days during which we did a lot of steps, it was definitely not a great idea.
Our feet hurt so bad once we arrived, that we had to rest at a pub before even attempting to do a bit of sightseeing. And we ended up returning to Burton by bus :)).
The trip back was 2.20 pounds per person (in 2023) and you can pay by credit card directly on the bus.
Whether you choose to visit The Cotswolds by car, public transportation or tour, I hope you'll find this blog post helpful while planning your itinerary.
Happy travels~