Known for its pink sand, crystal-clear turquoise waters, and stunning natural scenery, Balos Beach is a must-see attraction for anyone traveling to Crete.
The beach is located on the northwest coast of the island, however, due to its remote location and challenging terrain, visiting Balos Beach requires a bit of planning and preparation.
In this guide, I will provide you with everything you need to know about visiting Balos Beach, including how to get there, what to bring, and what to expect during your visit.
Also, if you are planning a vacation on the island, I recommend you check out my Crete one-week itinerary (no car) as well.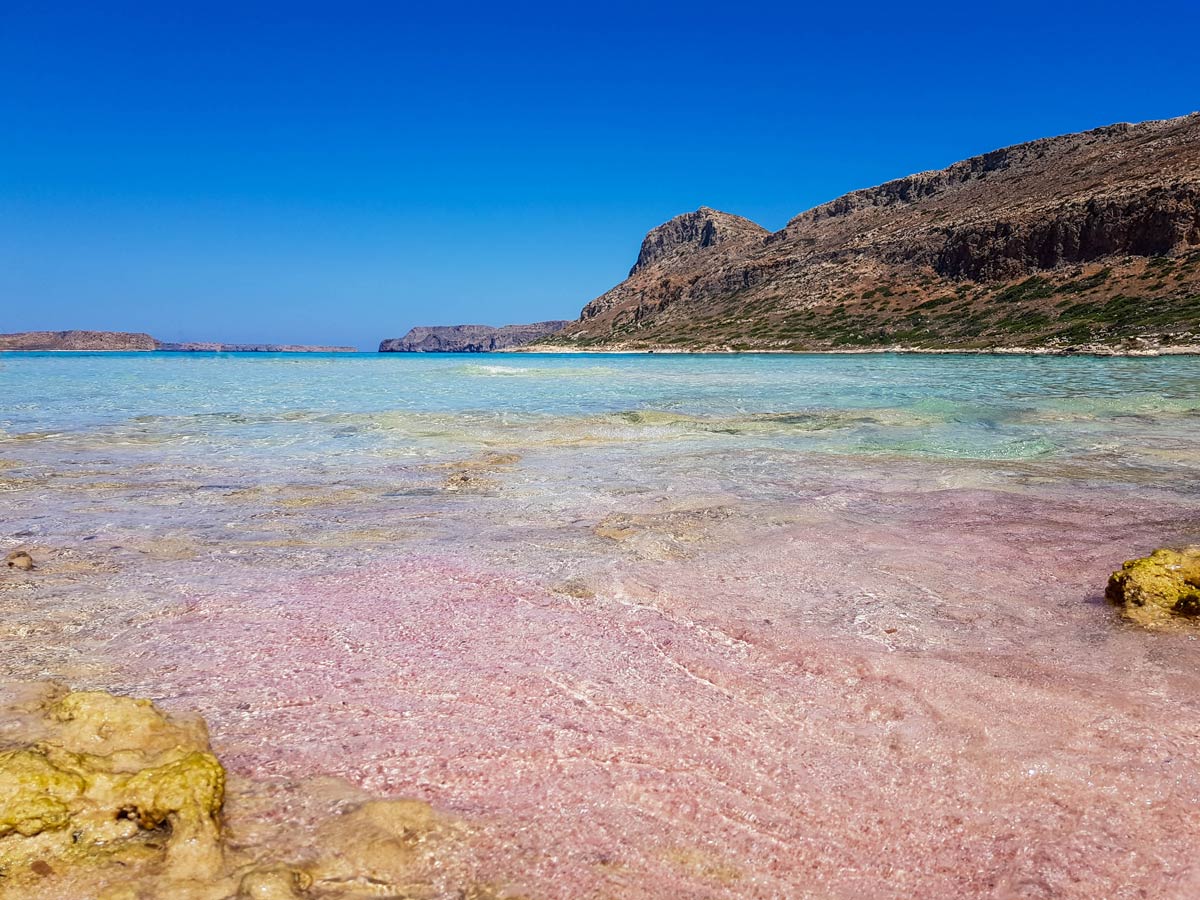 Disclosure: Some of the links in this post are affiliate links. If you click on them and make a purchase, I may receive a commission at no extra cost to you. Check my full disclaimer here.
Balos Beach and Lagoon
Balos Beach and Lagoon is a breathtaking natural wonder and a popular tourist destination in Crete, due to its crystal clear turquoise waters and stunning landscape.
It is one of the only two pink sand beaches on the island, the other being Elafonisi, and I actually found the patches of pink sand in Balos much more intense than those on Elafonisi.
Surrounded by towering cliffs, the beach is only accessible by boat or by foot. The lagoon is a shallow, warm pool of water which is perfect for swimming, snorkeling, and relaxing.
How to get to Balos Beach in Crete?
There are two ways of visiting Balos: either by car or by boat (cruise). Both have advantages as well as disadvantages, so let's take a closer look at each one.
Also, I should mention that there's a 1 euro access fee to the site for every person over 12 years old (so have cash with you!), collected by the municipality of Kissamos.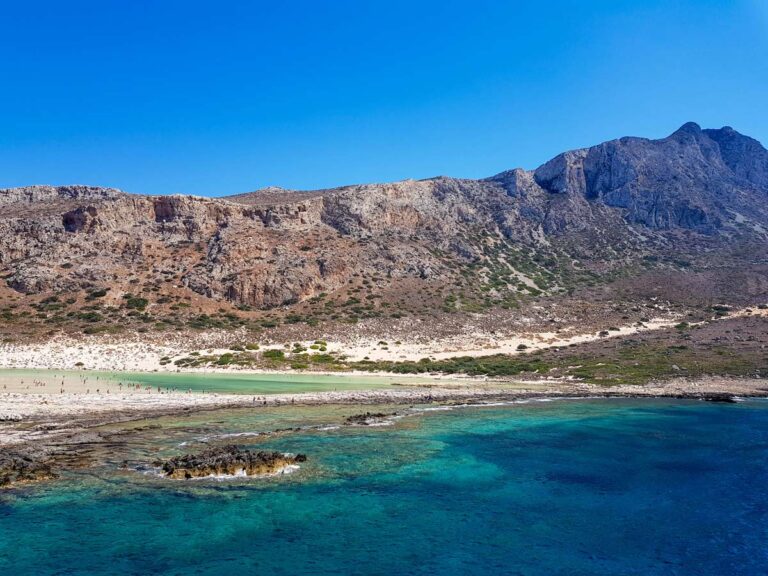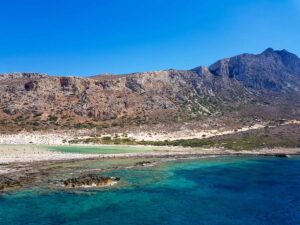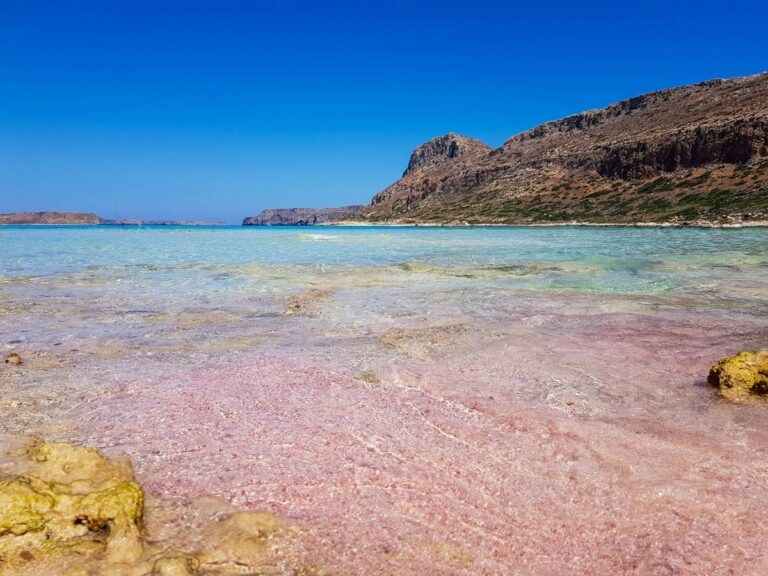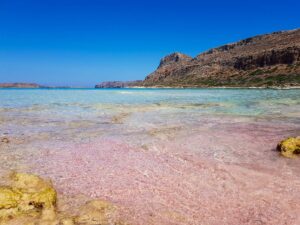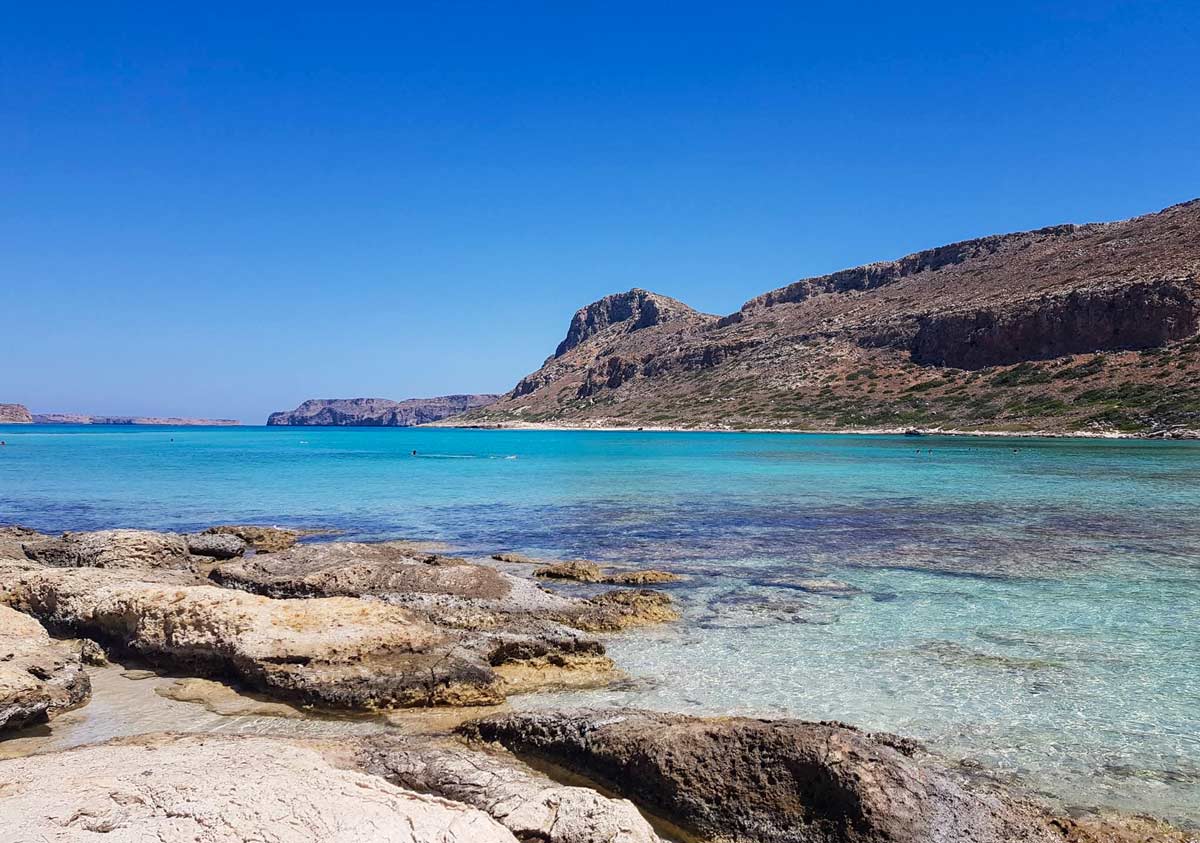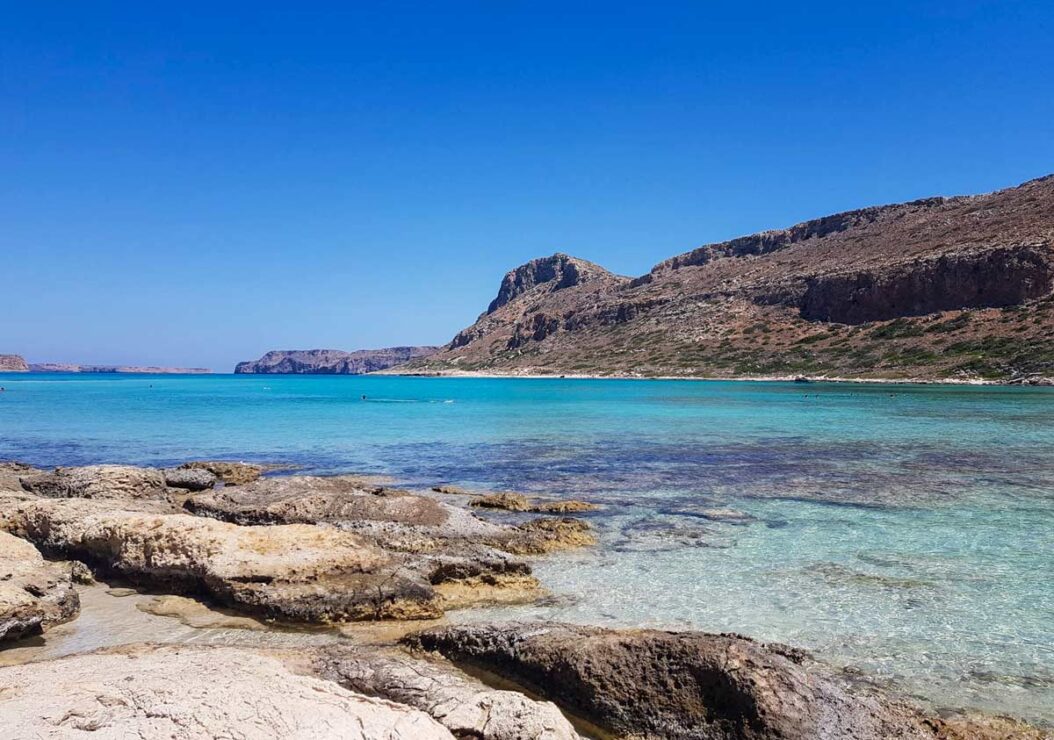 Visiting Balos Beach by car
If you plan to rent a car and drive to Balos Beach and Lagoon, first you should know that this is done on a narrow dirt road. So you might want to take this into consideration when getting your rental.
Many people do drive there with smaller cars, that are not 4×4, but that's not something that the rental companies quite agree with. Not to mention that it can be a bit dangerous (also, take note that the tires are usually not insured!).
There's parking space at the end of the road, however, spots fill up fast, so you might want to get there as early as you can. The 1 euro fee is collected before you enter the unpaved road.
However, if you can't or don't want to drive, you also have the option to book a tour to the lagoon like this one: Balos and Falassarna semi-private jeep tour (Falassarna is another very beautiful and popular beach in Crete).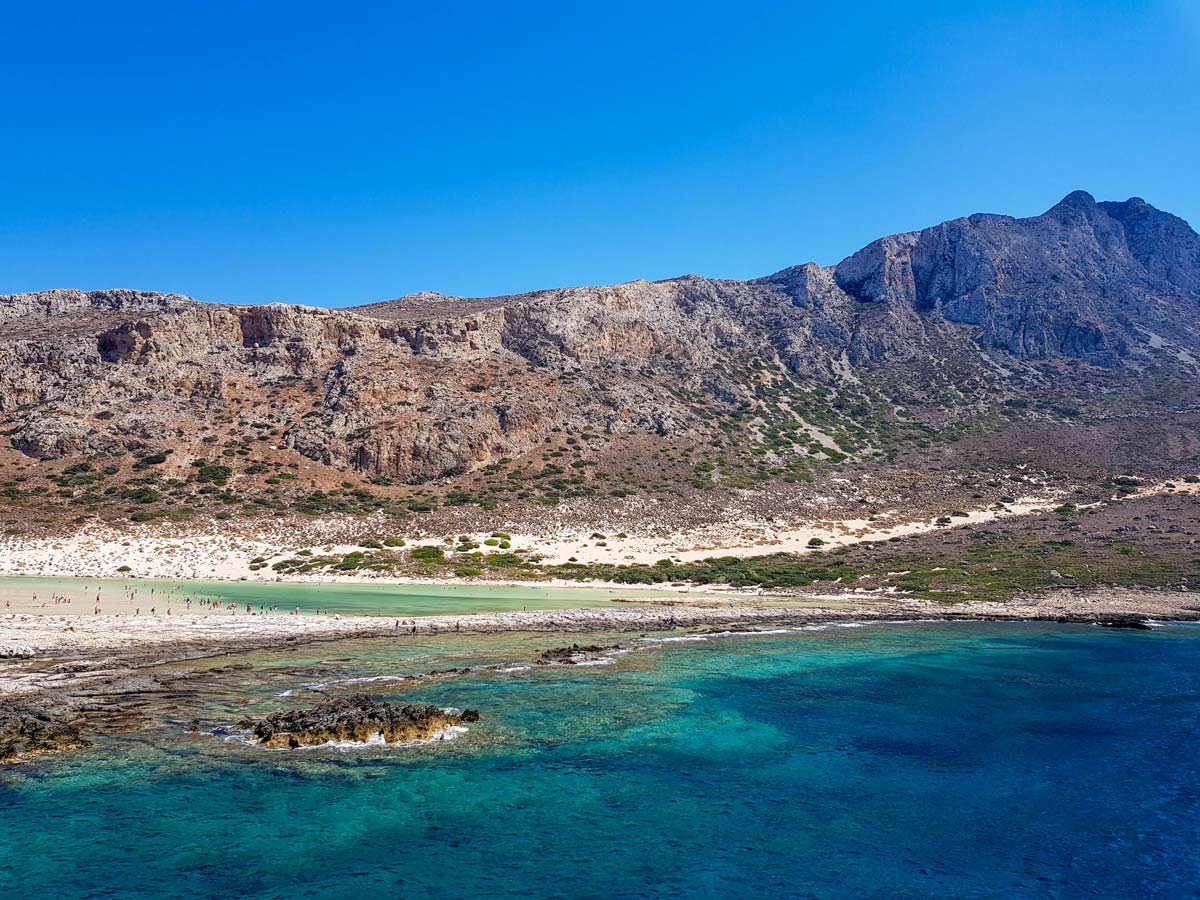 Second, in order to access the beach upon arriving, you'll need to descend a big slope (which takes around 20- 30 minutes on average), that evidently you'll need to climb back up when you leave. This is no easy feat, especially during the summer months heat.
However, having a car at your disposal means you can stay at the beach for as long as you want. You'll also get to enjoy more quiet moments there, before the cruises arrive or after they leave.
Visiting Balos Beach by boat
Opting for a boat (cruise) trip to Balos is a less troublesome alternative to driving, but it has its own downside: you'll have only around 2,5 hours to spend at the lagoon.
Booking a private sailing tour is also an option and the perk is that you have more control over the duration of your stay and a more intimate experience.
However, this option comes at a higher cost. But if budget is not a concern, then a private cruise is likely the best way to visit the lagoon.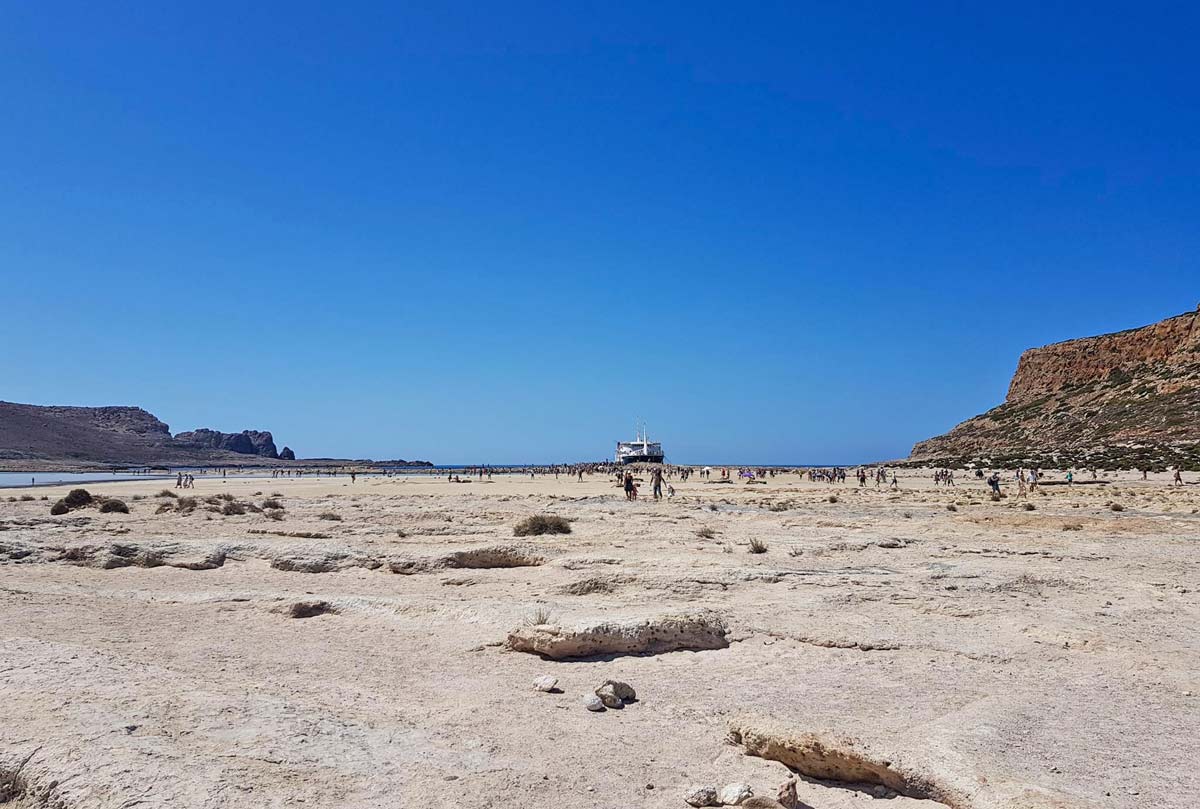 The ferry boats for Balos Beach and Gramvousa Island depart Kissamos Port every day during the season. You can either drive or take the public bus from Chania (check the current schedule here) to get there.
As for the boat ticket, you have the option of buying it upon arrival or online, ahead of time (I would suggest the latter).
But if you want an even more stress-free visit, you can choose a pickup tour that will take you to Kissamos Port. These can be booked online or through your hotel. But as with tickets, I'd recommend you book it ahead of time.
The boat ride to Balos takes approximately an hour, and once you disembark, you'll have free time to spend on the beach until it's time to depart for Gramvousa Island. If you feel thirsty or hungry during the ride, you can purchase food and drinks onboard.
At Gramvousa, the ferry waits as you hike up to the old Venetian fortress for great views around the area. But you can also go for a swim instead of climbing if you wish.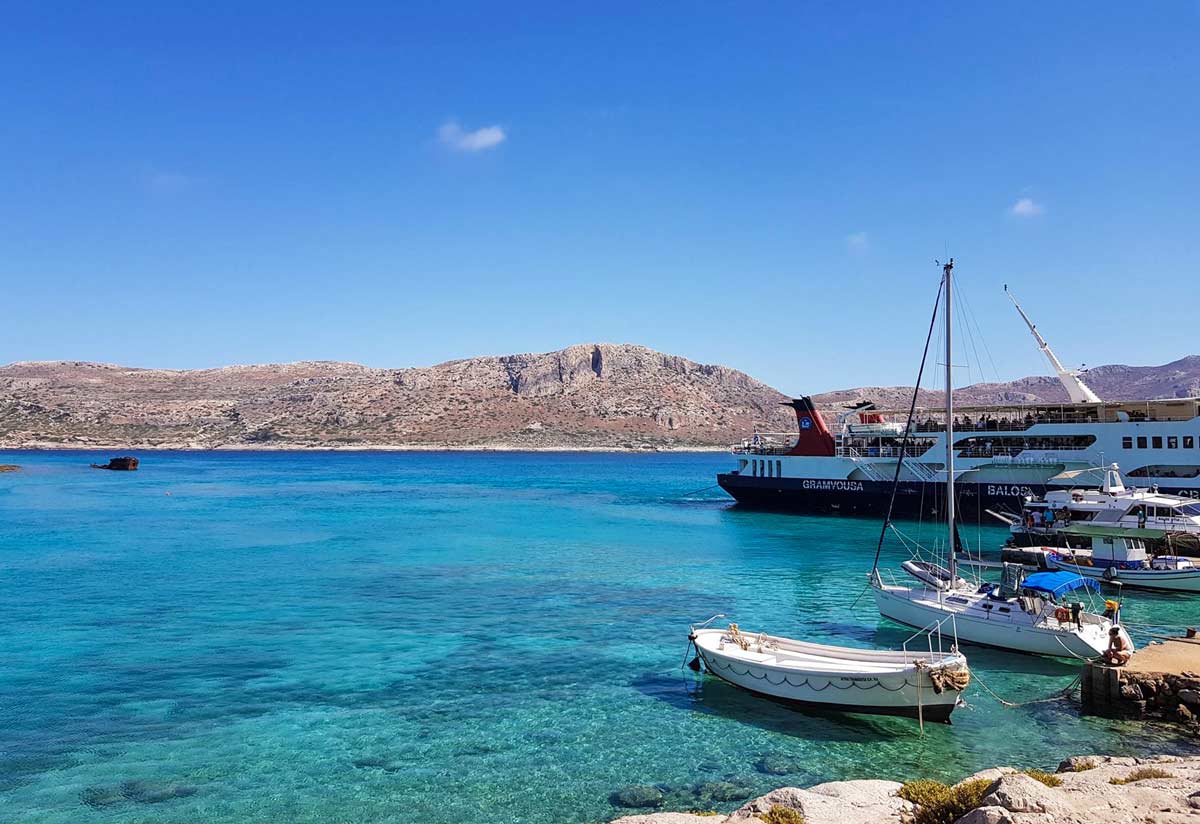 There are also some boats that make a stop at Gramvousa first and then at Balos, where they tend to spend around 3 and a half hours (from 1:30 PM to 5 PM).
Where to stay in Crete to visit Balos Beach?
While Kissamos might be the obvious choice, since the ferries leave from there, I actually recommend staying in Chania (pronounced Haa·nee·uh) instead, which is a very beautiful city, with a fascinating history.
Chania was once the capital of the island and is home to a stunning old Venetian harbor that is a must-visit attraction. I personally loved wandering through the city's colorful, narrow streets and it remains my favorite Greek city to date.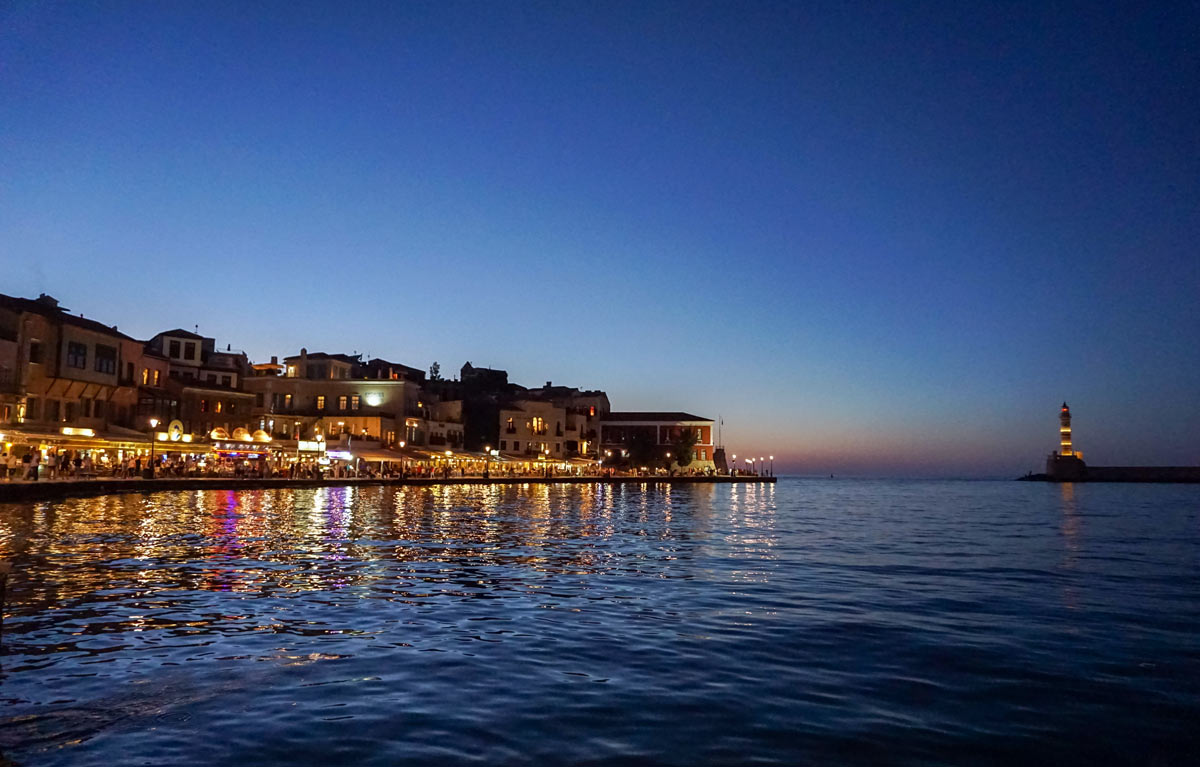 As I already mentioned, there's a public bus that connects Chania with Kissamos port, but you can also opt for a pickup transfer (boat ticket not included) from the city center or the surrounding villages.
There are also tours available from Rethymno and Heraklion which include both the boat ticket as well as the pickup transfer.
Are there any facilities on Balos Beach, Crete?
In the past, there were no facilities available at Balos Beach, but now you can find a limited number of sun lounges and umbrellas (priced in 2022 at 15-20 euros for two chairs and an umbrella), a small shop/canteen, and toilets (1 euro).
What to bring with you to Balos Beach, Crete?
If you don't plan to rent, then make sure you bring something to lounge on and an umbrella to protect yourself from the sun (some boats also offer umbrellas for rent onboard).
I recommend you bring your snorkeling gear as the visibility is quite good there, but also aqua shoes to wear, because there are several rocky areas in the water throughout the lagoon.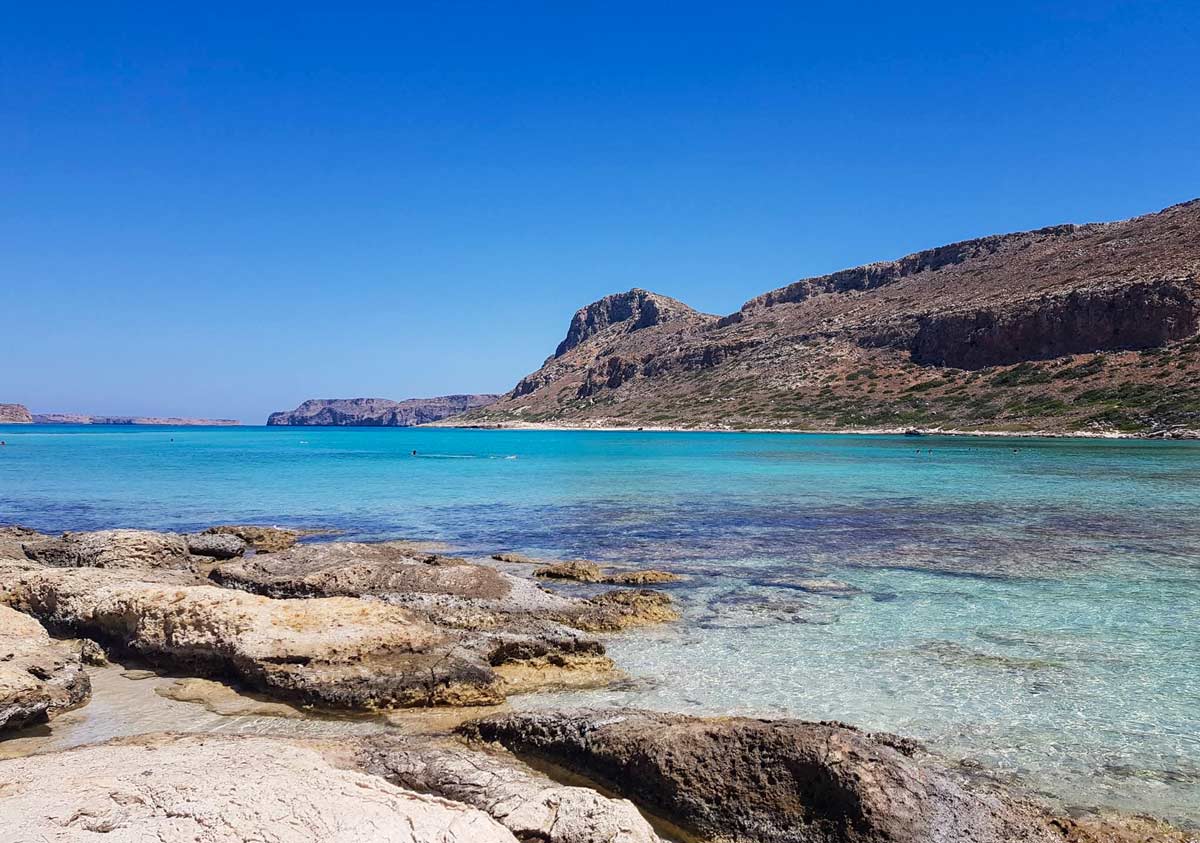 It's a good idea to have some snacks and water with you, as well as an SPF cream, as you'll definitely need it. And I suggest wearing a hat to protect your head from the sun.
If you visit Balos by ferry I also recommend having a set of spare clothes to change into in order to not have to wear your wet bikini on the boat, as it can be quite windy during the ride.
On the other hand, if you get there by car, make sure to wear some sturdier shoes like sneakers (basically avoid flip-flops) for the descent from the parking lot to the beach.
---
To sum it all up, Balos Beach and Lagoon is a true gem on the island of Crete, that you shouldn't miss visiting.
Its picturesque landscape, turquoise waters, and patches of pink sand make it a unique and unforgettable destination. And whether you choose to take a boat tour or drive to the beach, the journey is well worth it.
Happy travels~