Consistently ranked among the most beautiful beaches in Europe in recent years and best known for its fine, pinkish sand and turquoise, almost exotic waters, Elafonisi beach is a must-visit during your Crete trip.
But its remote location makes it not so easily accessible if you can't drive or you don't want to get a rental. So here are the 3 best ways on how to get to Elafonisi beach without a car.
Disclosure: Some of the links in this post are affiliate links. If you click on them and make a purchase, I may receive a commission at no extra cost to you. Check my full disclaimer here.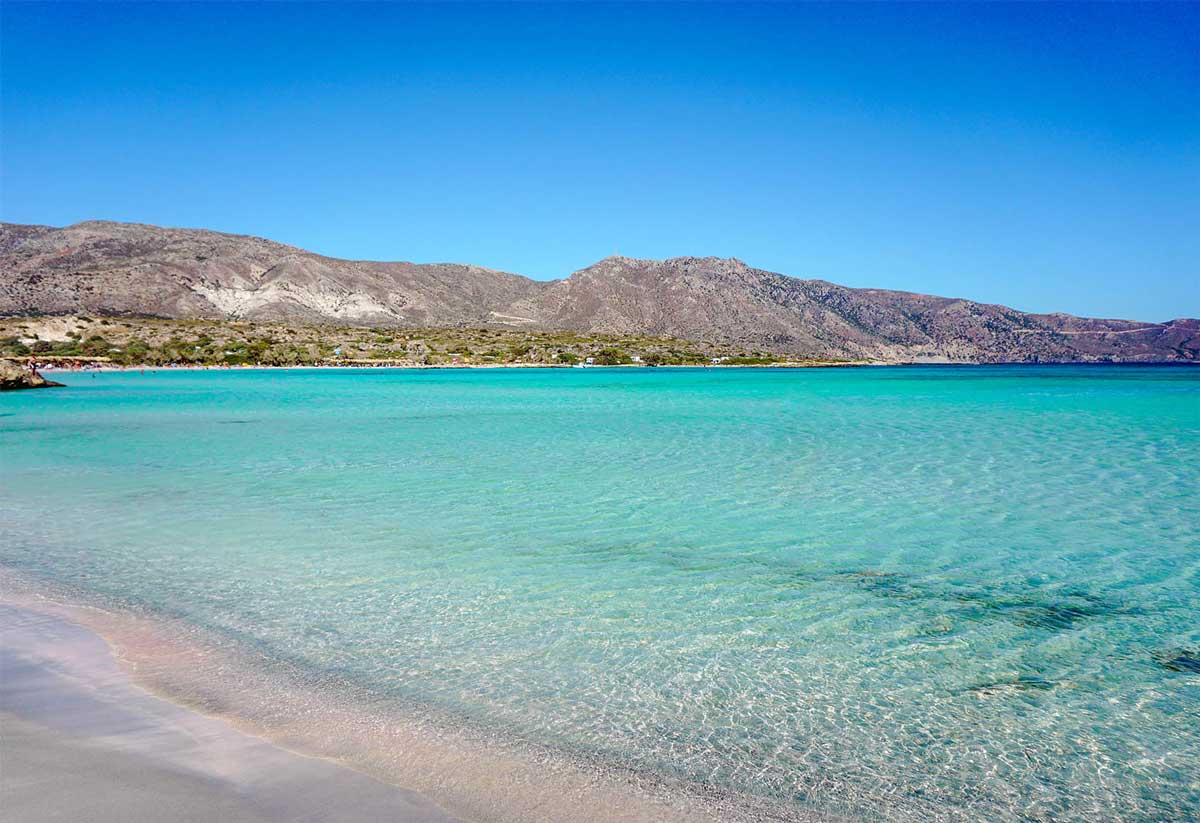 How to visit to Elafonisi Beach (without a car)
01. Stay overnight at one of the accommodations near Elafonisi beach
You can book a few nights at one of the accommodation units close to the beach. Just be aware that you'll have to book early on, especially if you're going in high season as there are not many options in the area.
To get there you can simply use public transportation or arrange a transfer with your host. If you're visiting out of season, you'll need to find a private transfer since the local buses only run during the summer season.
Here are some of the best accommodations close to Elafonisi beach: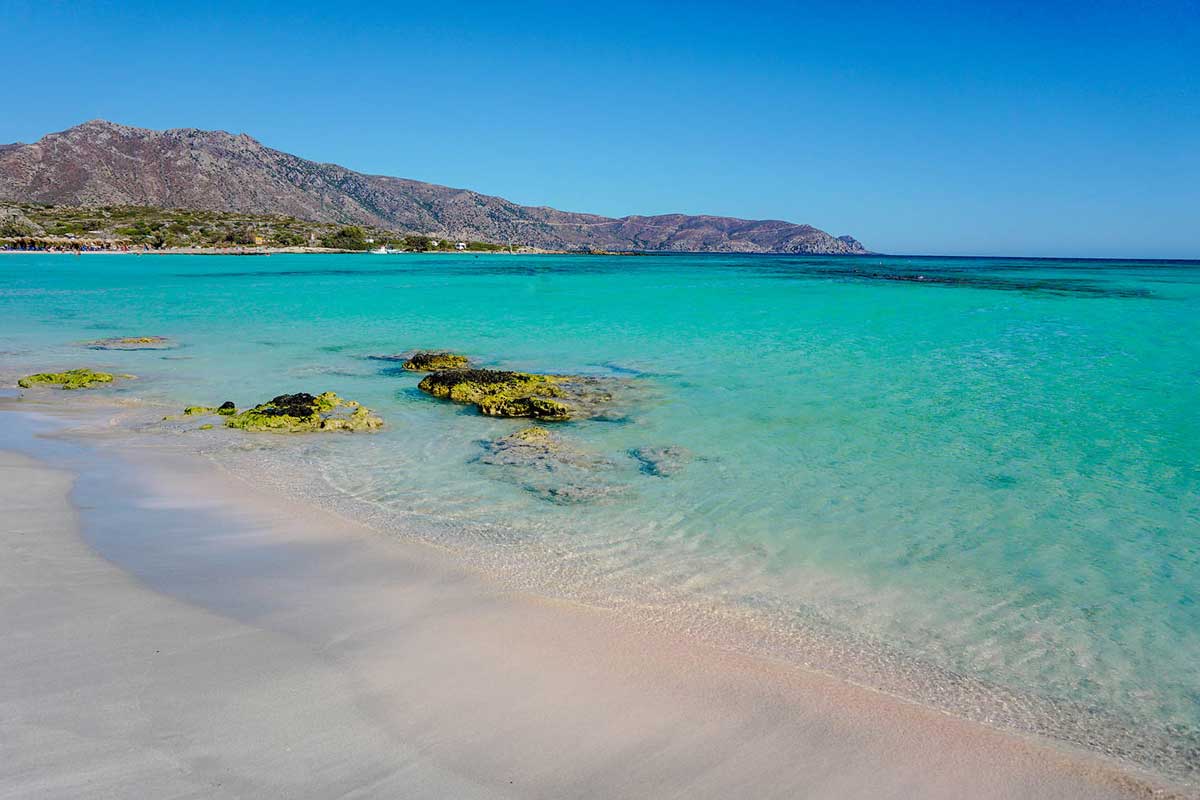 02. Take a public bus, a coach, or an organized tour
If you want to visit by bus, it's probably easier to book accommodation in Chania, the capital city of the region (by the way Chania is also really worth a visit by itself!). But a word of warning: the roads are pretty winding because they cross the mountains.
You have three options to get to Elafonisi Beach from various spots on the island of Crete:
a. Chania to Elafonisi Beach by public bus
The public leaves once a day, at 9 AM from Chania city, and takes around 2h to arrive at Elafonisi; the return ride is scheduled at 4 PM. You can find the up-to-date timetables on KTEL's website.
Be aware that the public bus only operates during the high season though!
b. Organized tour
There are several travel agencies that offer day tours to Elafonisi beach, so it won't be hard to find tickets. In fact, here are a few good options from several popular locations on Crete island:
The downside of doing a guided day trip is that the tours sometimes include other additional stops which eat from the time you can spend at the beach.
So if you're only interested in spending as much time as possible at Elafonisi beach, then it may not be the best choice for you. But if not then it can be a good way of discovering Crete a bit more.
c. Coach/express bus
These are essentially shared or private transfers to the beach and back. They make fewer stops and there's no guide or itinerary, so they are a pretty good option for a day trip to Elafonisi.
03. Take the boat from Palaiochora
If you stay in Palaiochora, you can take the daily boat trip to Elafonisi. The boat leaves at 10 AM and returns at 4 PM. The ride takes about an hour. However, if the weather conditions are bad, the boat can be canceled.
Even in good weather, as you approach Elafonisi sometimes it can get a bit windy (the lagoon itself is known to have strong winds at times), so if you have seasick you might want to avoid this option. Otherwise is a comfortable option.
You can also opt for a speedboat excursion to the lagoon, which is even faster (travel time is around 30 minutes), but as with the ferry, if it's windy the ride can be even bumpier.
Elafonisi was at the top of my list when I organized my first vacation in Crete. But at that time, neither I nor my boyfriend had a driver's license.
Therefore, we chose to stay a few nights in Palaiochora and divide the days spent at the beach as follows: 2 days in Elafonisi (boat transfer) and 2 on Palaiochora's beach.
And it was very perfect like that, especially since I loved Elafonisi more, while for him it was the other way around.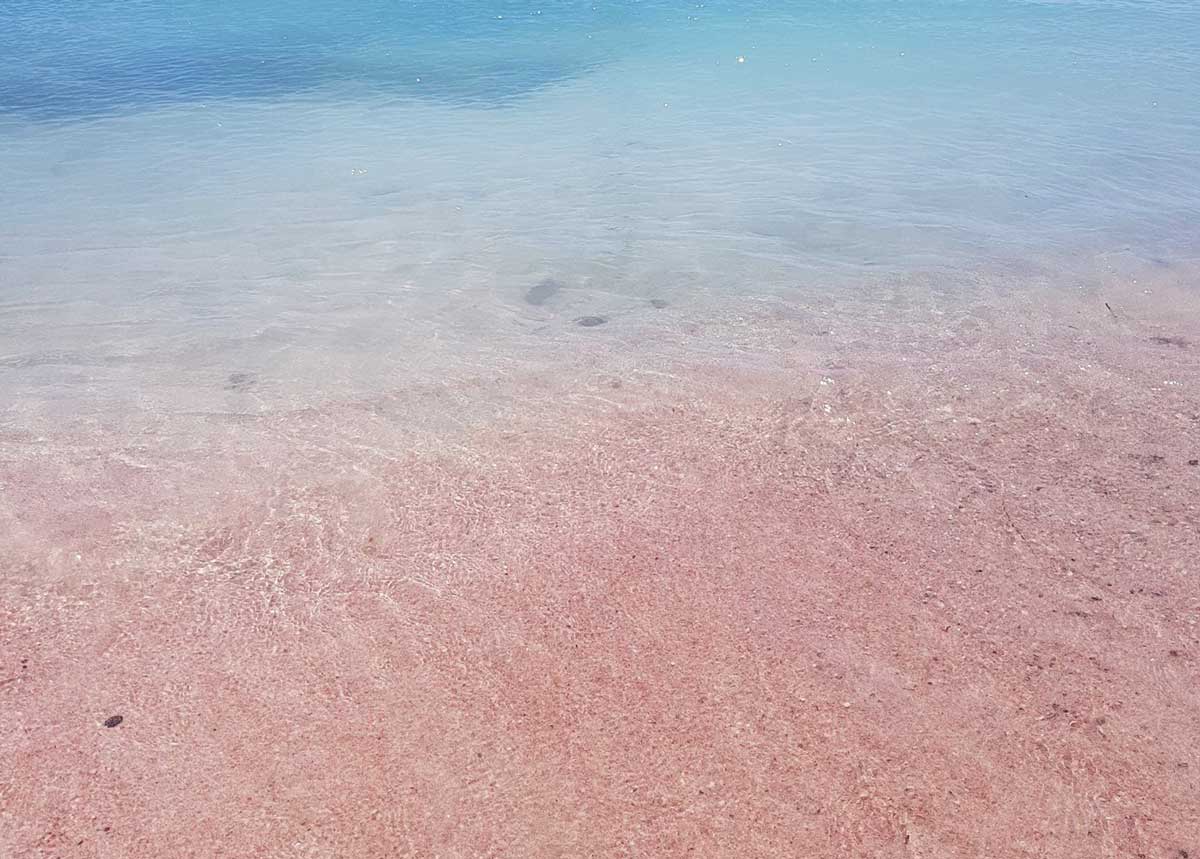 Is Elafonisi's sand pink?
Yes and no. Elafonisi beach has mostly fine, white sand with pink hues, usually near the water. The intensity of the pink depends on how many crushed shells are mixed with the sand (same with Balos).
Unfortunately, despite the fact that's forbidden, many tourists take a bit of sand as a souvenir (please, please don't do this!), which contributed to the decrease of pink pigment.
Locals say that beach used to be quite pink while it was still relatively unknown, but as its popularity grew, the pink shades started to be less and less intense. Which is pretty sad.
Is Elafonisi beach worth it?
In my opinion, it really is worth a visit. The sand is extremely fine and the color of the sea is truly incredible!
However, there are long gone the days when Elafonisi beach used to be a hidden gem anymore. So do expect it to be pretty busy, especially if you decide to visit during the summer months.
If that's the case, I recommend you bring your own umbrella and cross the shallow lagoon towards the protected area of the small island of Elafonisi. Here there are usually fewer people and it's much quieter.
Also, it goes without saying that you should make sure you respect the natural beauty of the place and leave no traces of your visit behind.
When it's the best time to visit Elafonisi beach?
The first two weeks of September are ideal for a trip to Elafonisi in my opinion. The reason is that the crowds start to thin a bit as soon as the summer ends, but it's still hot enough in Greece for an enjoyable beach vacation.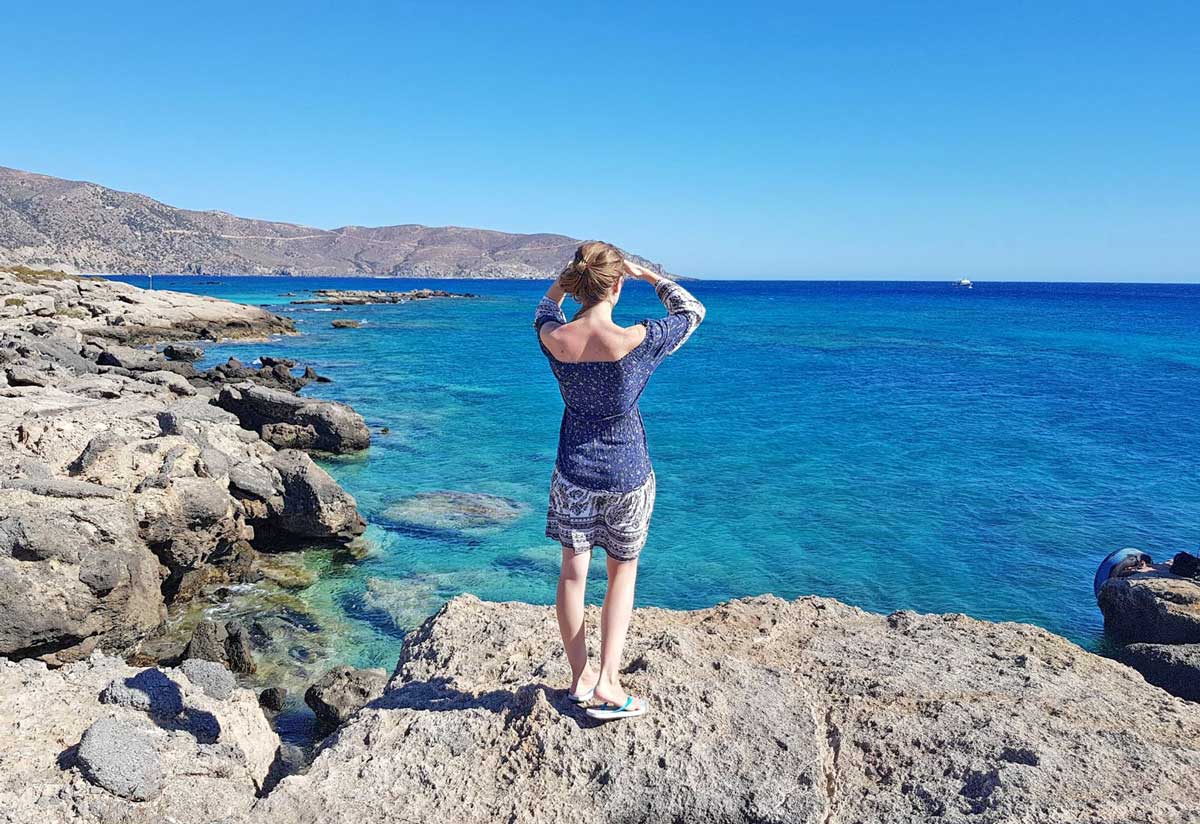 Does the beach of Elafonisi have facilities?
Despite the remote location, there are some beach bars there, as well as toilets with showers and a large parking lot.
There are also umbrellas and sun lounges available (the cost for 2 sun lounges and an umbrella was 15 EUR in 2022), but they do tend to get occupied fast.
How to get to Elafonisi Beach (no car): Final thoughts
All in all, if you are looking for a breathtaking beach to relax on during your vacation, look no further than Elafonisi.
With its powdery sand and stunning turquoise water, it is easy to see why this beach has become so popular in recent years.
But you could try to book your accommodation close to the beach in order to be able to visit it during the early morning or late afternoon. This way you'll avoid the crowds and enjoy some peace and quiet.
Have you been to Elafonisi? What did you think of it?
---
YOU MIGHT ALSO LIKE