If you are trying to decide between Crete or Corfu as the destination for your future trip, then you're in the right place.
Having been to both islands, in this blog post, I'll break down the comparison of the two Greek islands into different categories, from the best beaches to accommodation options and costs, in order to help you choose the one that best suits your needs and preferences.
Disclosure: Some of the links in this post are affiliate links. If you click on them and make a purchase, I may receive a commission at no extra cost to you. Check my full disclaimer here.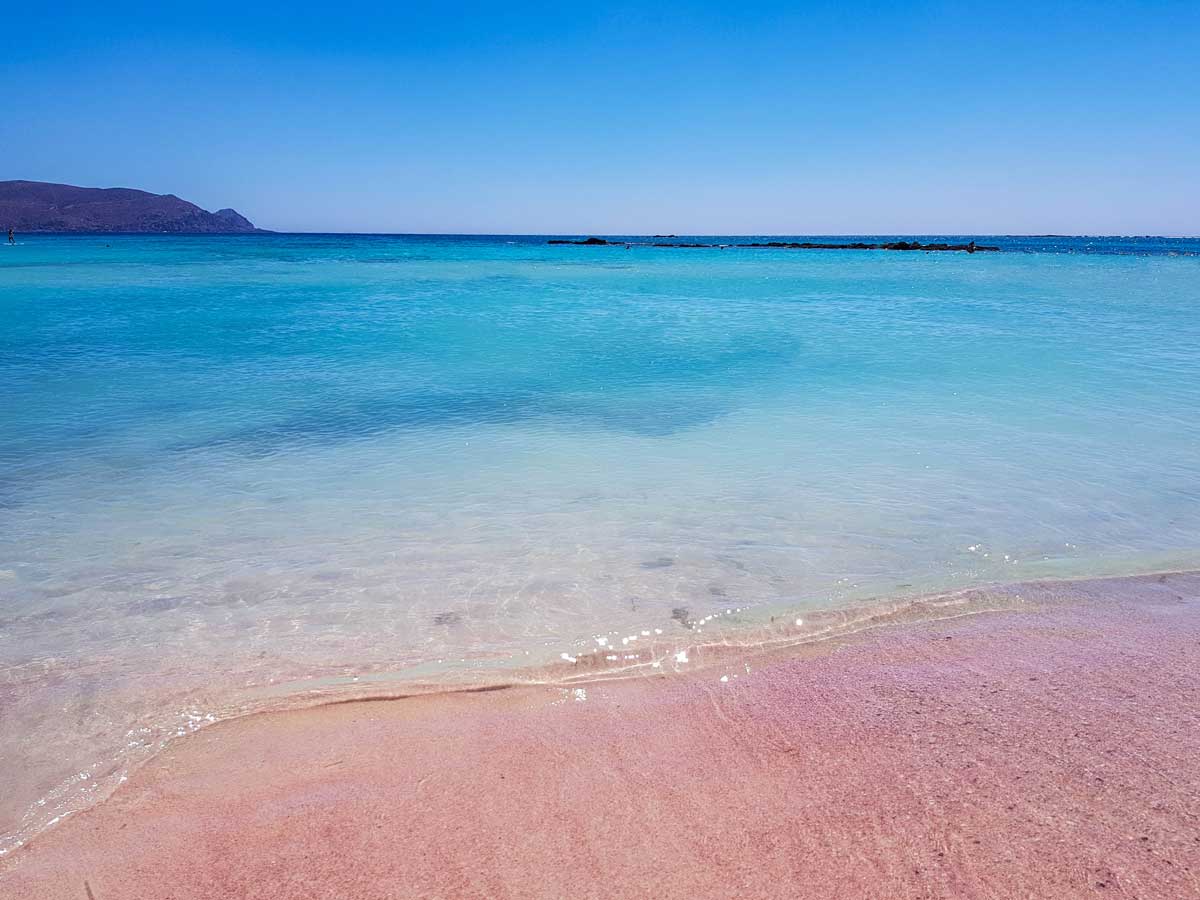 Crete or Corfu: Which Greek island to visit? (Quick answer)
Both Corfu and Crete are beautiful islands with nice beaches and turquoise waters, making them very good destinations for a Greek summer vacation.
Choosing one of them ultimately depends on what things you value more and what kind of trip you want to have.
If you seek sandy, wide beaches, want to do a bit of sightseeing, and visit something a bit more unique (like a beach with pink sand), then Crete is the better choice for you, no questions asked. However, if you are looking for an island that's easy to get around, want more diverse beaches with great views, and prefer a more lush island overall, then Corfu is better suited.
Having been to both islands, I have to admit that I liked Crete more than Corfu because the water was warmer, the beaches were sandy and I fell really hard for Chania's charm. And to be honest, it will probably be the better option for most.
But that doesn't mean you should disregard Corfu from the start since it has a lot to offer as well.
Corfu
Corfu Island (also known as Kerkyra) is located in the Ionian Sea, just off the northwestern coast of Greece. The second largest of the Ionian islands, Corfu has a rich history and culture, which is reflected in its architecture, cuisine, and traditions.
The island is also famous for its natural beauty having lush vegetation, picturesque villages, and stunning beaches. The relief of Corfu is mainly mountainous, covered with olive groves and pine trees, while its coastline has charming coves and crystal-clear waters.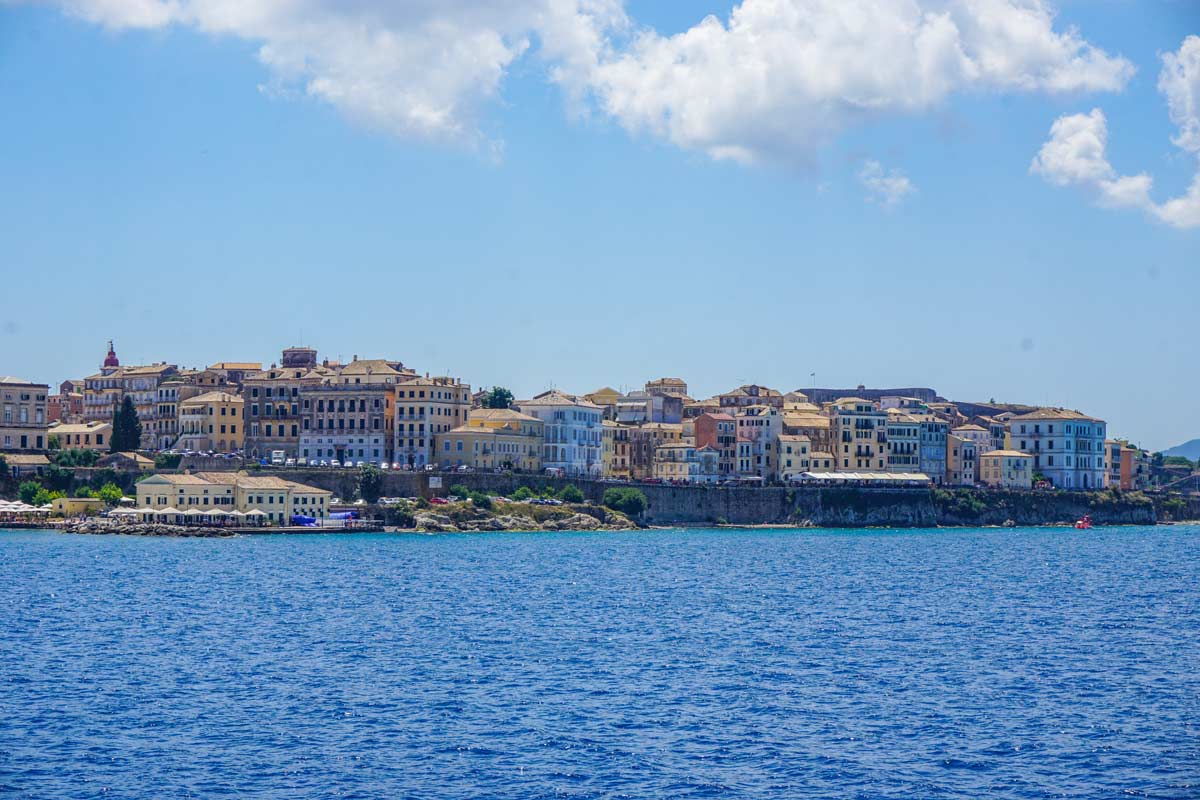 Corfu Town is the island's capital and a UNESCO World Heritage Site. The town enchants visitors with its narrow streets and pastel-colored Venetian buildings.
TIP: If you are visiting the island by ferry, make sure to stay on deck when you approach or depart Corfu Town in order to be able to admire its charming seafront.
In addition to its natural beauty and rich history, Corfu offers different activities to its visitors as well, including water sports, hiking, and cycling. Lastly, the island is also famous for its cuisine which has both Greek and Venetian influences.
Crete
Crete is the largest and most populous of the Greek islands, having an area of over 8300 km2 (3200+ sq mi) and a population of around 640,000. Located in the eastern Mediterranean Sea, it is known for its rich history, beautiful beaches, rugged mountains, and picturesque villages.
Due to its size, you'll likely need to choose what part of the island to visit, as it's difficult to explore all of it in just one trip unless you're staying for a longer time on the island.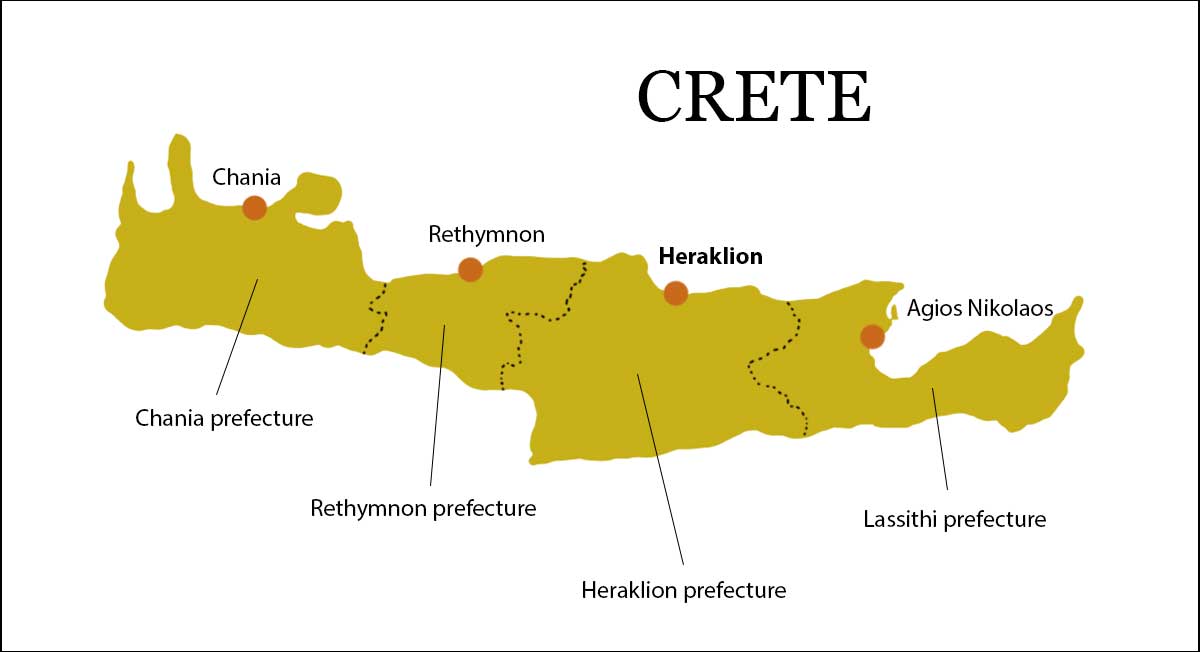 Chania prefecture, with its pink beaches and its charming Venetian-style ex-capital, is a popular choice, followed by the Heraklion prefecture (where the current capital resides), which has a very convenient location.
The island of Crete has a diverse landscape with mountains, gorges (like Samaria), and plains, as well as a long coastline with many wide beaches and coves. Therefore, it offers a wide range of activities to its visitors, from snorkeling to mountain biking.
Lastly, Crete is also home to several important archaeological sites including the ancient Minoan palace of Knossos.
Is Corfu cheaper than Crete?
Generally speaking, there aren't big differences in terms of costs between the two islands. However taking into consideration Corfu's smaller size, you might find it a bit more challenging to find budget-friendly accommodation than in the case of Crete.
Winner: Tie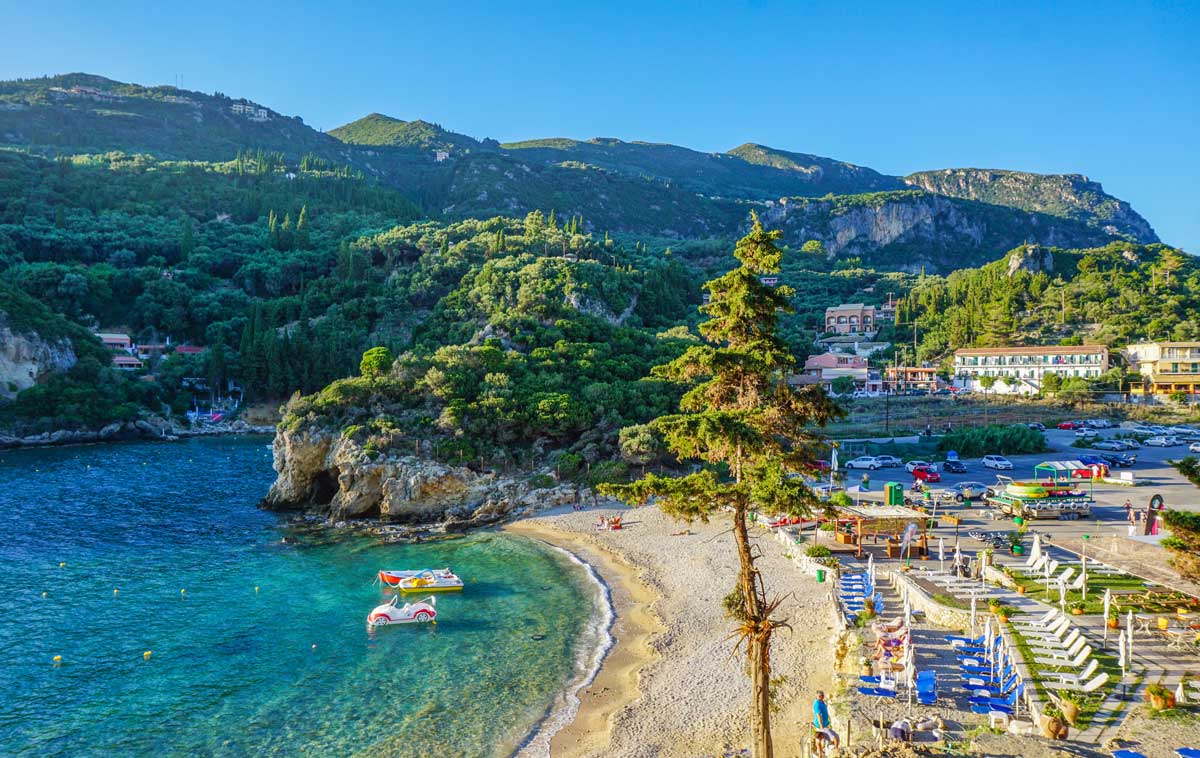 Crete vs Corfu: How easy is it to get there
Both islands are accessible by ferry and plane. However, due to its bigger size, Crete has two ports and two airports: in Heraklion – the capital of the island, and in Chania.
During the high season (summer) you can find many flights to both islands from various cities in Europe in addition to the routes from Athens. Also, the ferries run more often as well.
The travel time between Igoumenitsa (mainland Greece) and Corfu by ferry is just 1h 30m, while to get to Crete from Athens (Piraeus port) it takes anywhere from 6.5 hours (with the faster ferries) to 8 – 9.5 hours with the slower ones. I actually talk about this more in-depth in my one week in Crete itinerary, so make sure to check it out as well.
In the case of Corfu, because of its location, you can also find ferry routes from Italy (Venice, Ancona and Bari) and Albania (Sarande).
In fact, I used the night ferry from Bari to get to the island after spending a few days first exploring Puglia in Italy (some highlights of the region are: Alberobello, Polignano a Mar, Matera, Ostuni, etc).
Winner: Tie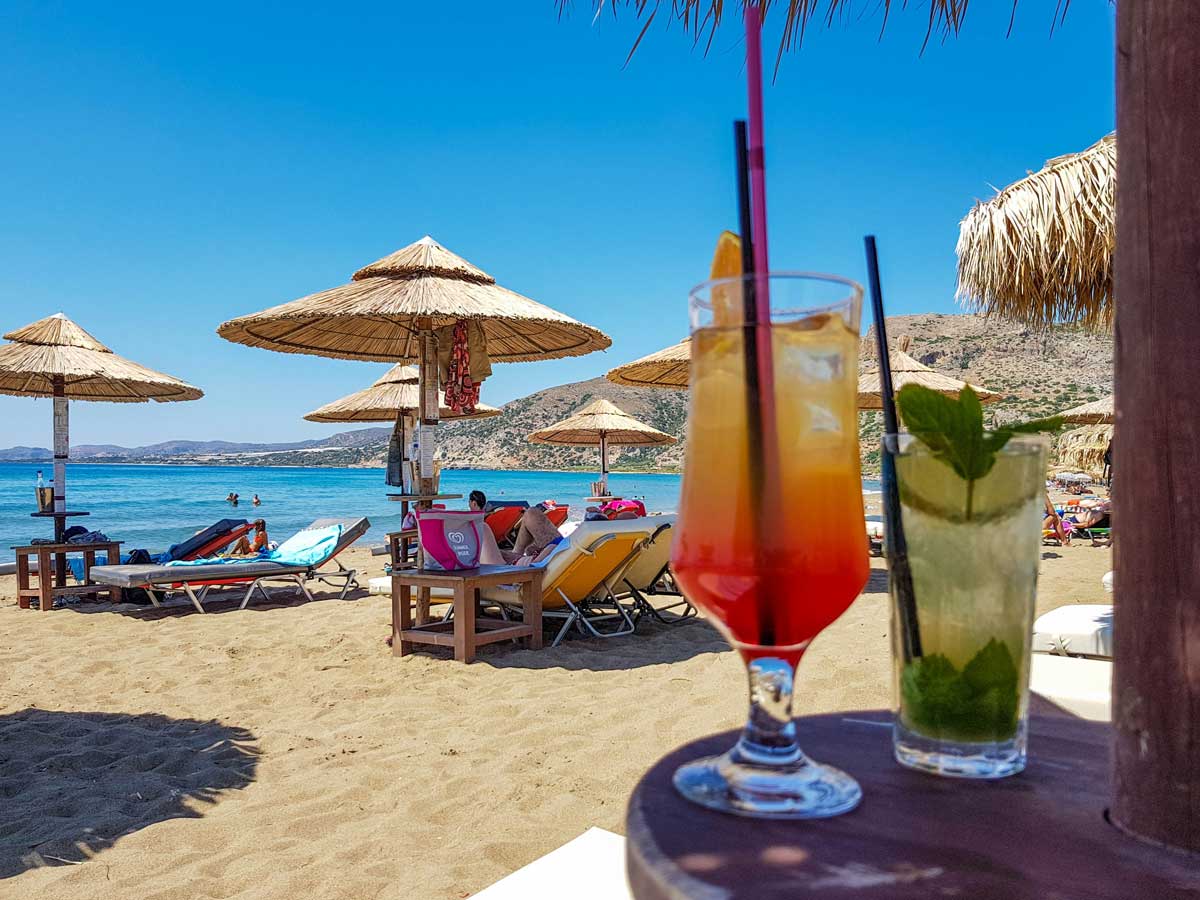 Which island is easier to get around: Corfu or Crete?
Both islands are fairly easy to get around either by using public buses or by renting a car. But since Corfu is smaller, you'll be able to explore more of it in the same time frame that you would in Crete, no matter what you use as transportation.
But if you are tight with time and you are opting for Crete, I would recommend renting a car since travel times by bus can be pretty long, depending on the destination. Otherwise, you can check out my Western Crete itinerary without a car, for inspiration.
Winner: Corfu
Crete vs. Corfu: Accommodation options
As I already mentioned, due to Crete's larger size, you will notice that it has a wider range of accommodations than Corfu. However, you should be able to find options for every budget on both islands, given that you book early on.
Another thing that I want to mention is the fact that since Corfu has quite a mountainous relief, some accommodations are located higher up and require a bit of effort to reach them. So read carefully the reviews before booking a room.
When I made reservations for my stay in Paleokastritsa, I ignored such warnings thinking "how bad can it be?!" and ended up regretting it. The view was beautiful no objections there, but the climb was so strenuous, that even the cars struggled.
TIP: Instead of visiting the Greek islands mid-summer when it's extremely hot, crowded and expensive, go for the first two weeks of September. During this time the sea water is still warm enough for swimming, yet the prices start to drop and the crowds to thin.
I almost always time my vacations to Greece during the 1st week of September for the reasons stated above.
Winner: Crete
Crete or Corfu: Best beaches
Some of the best beaches in Corfu are located in Paleokastritsa, Glyfada, and Sidari and while they are beautiful and usually offer more diverse views than those of Crete, they're not very big and many are rocky or made of pebbles.
Before visiting Paleokastritsa, I read that the beaches there are large and some of the few sandy ones on the island. Now I probably didn't do my research thoroughly enough, since this wasn't quite true.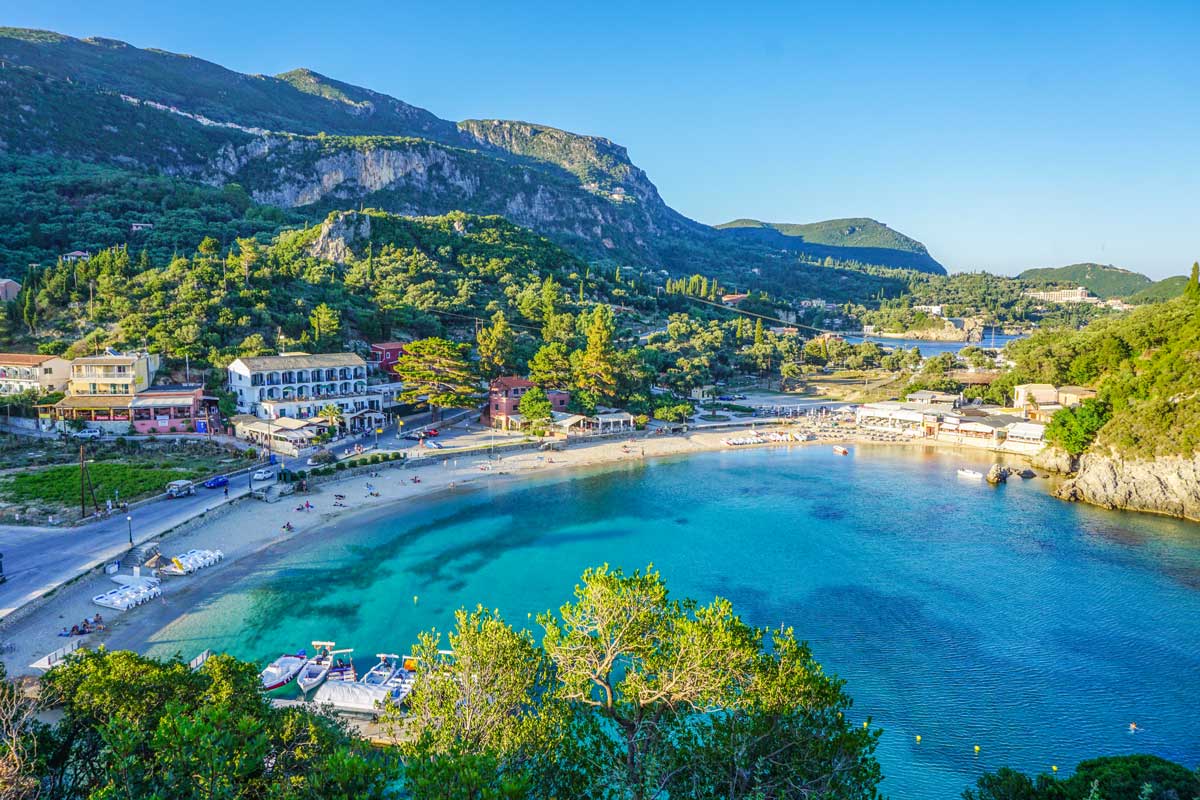 While Agios Spiridon, the main beach of the village had some sand, it was mostly made of pebbles and I found it to be more on the smaller side, in comparison with Crete's beaches. However, the view you had was way better than on your usual long, wide beach.
Also, take this with a grain of salt since it can be highly situational, but I experienced extremely cold water in Corfu in July. I struggled for about half an hour to accommodate myself to it and fully submerge my body to do a few minutes of snorkeling.
And yes, I am a person who usually struggles with being cold, but this was a whole other level.
While there, I did hear people talking about this and saying the water was warmer a few days before, so it could have been bad luck on my part.
However, I also read afterward that while Paleokastritsa is one of the most popular locations on the island, it's also famous for its cold, turquoise waters. So you be the judge of that.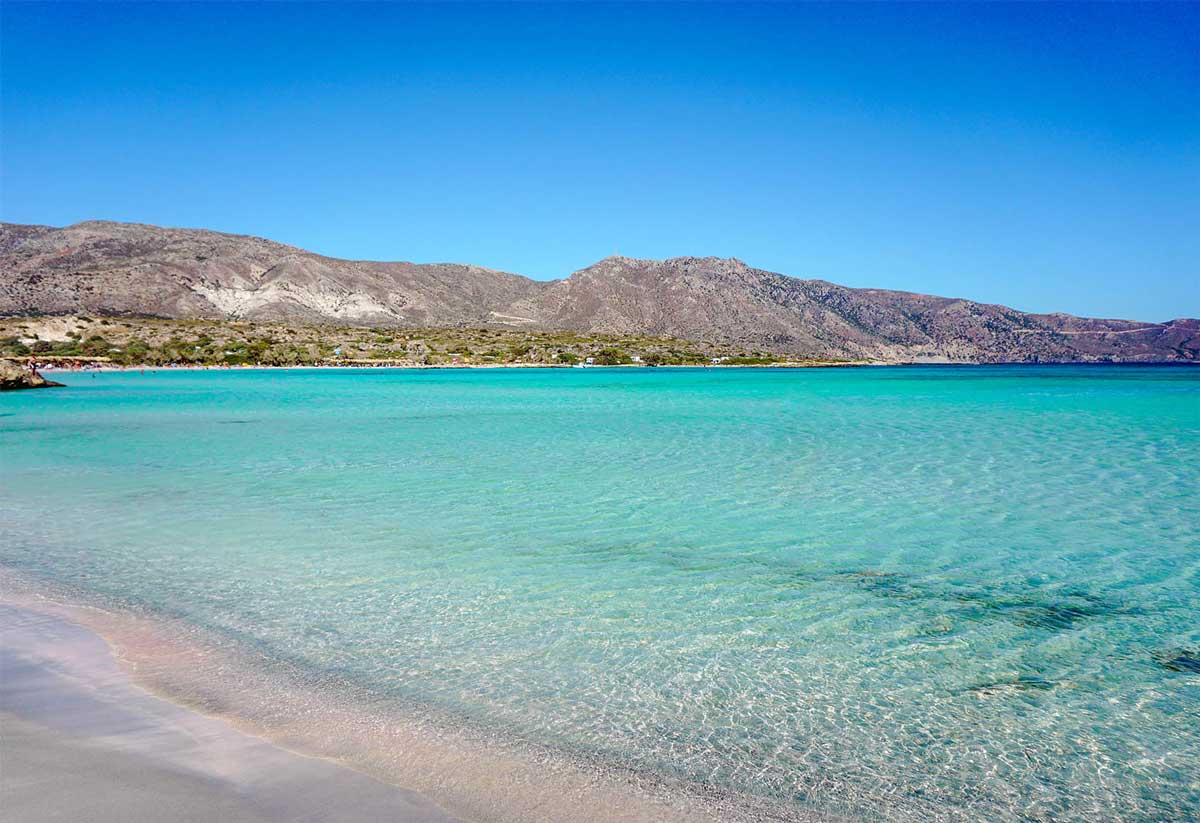 Crete on the other hand boasts two pink(ish) beaches (Elafonisi Lagoon and Balos Lagoon) and many other wide and sandy beaches. Some very popular ones are Vai and Falassarna.
I also found Crete's beaches to be better serviced than those of Corfu with sun lounges, umbrellas and beach bars.
In regards to the sea water's temperature, in my experience, it was warm enough for swimming and snorkeling at the beginning of September. But there was one spot (near Gramvousa Island) where I found it a bit cold.
I would also mention that the beach in the southern part of Crete tends to be a bit windy at times.
Winner: Crete
Corfu vs Crete: Things to do
Apart from relaxing at the beach and doing water-related activities, here are some of the best things to do on each island.
Best things to do in Corfu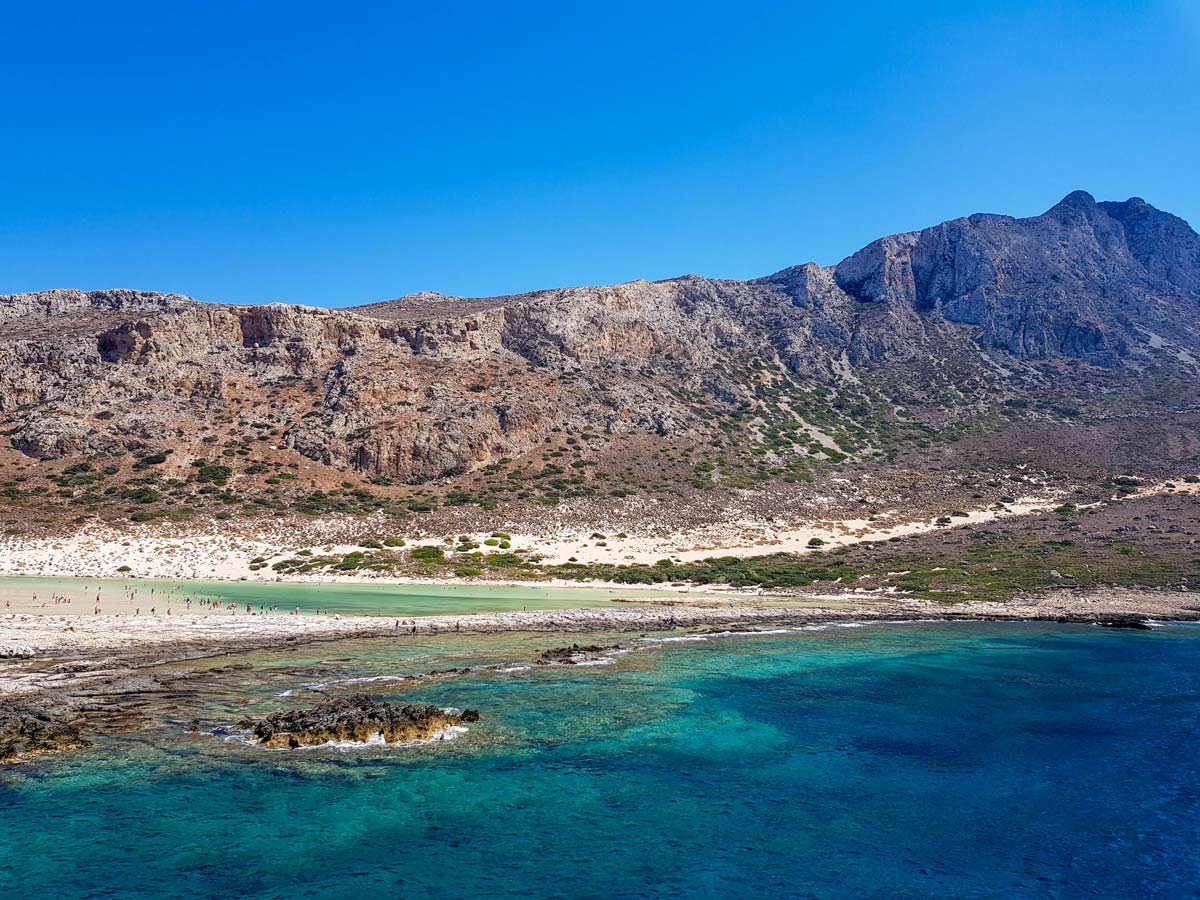 Best things to do in Crete
Visit the Palace of Knossos: The palace was once the center of the Minoan civilization, and now it's one of the most visited sites in Crete.
See the pink beaches of Elafonisi and Balos: Both beaches are located in the western part of the island, so staying in Chania prefecture is ideal if you want to see them.
Explore the Samaria Gorge: The gorge is around 16 kilometers long and offers some of the most beautiful scenery in Crete, so it's no wonder that it's a very popular attraction on the island.
Visit Chania: The picturesque city of Chania (pronounced Haa·nee·uh) is the former capital of Crete and features old Venetian architecture and narrow streets on which you'll want to get lost.
Visit the Archaeological Museum of Heraklion: The museum houses important artifacts from the Minoan era.
Take a boat tour: There are many boat tours available in Crete, during which you can explore the island's beautiful coastline.
Despite their difference in size, both islands offer quite a few attractions to their visitors and it ultimately depends on what you prefer to see and do. But overall, I consider it a tie.
Winner: Tie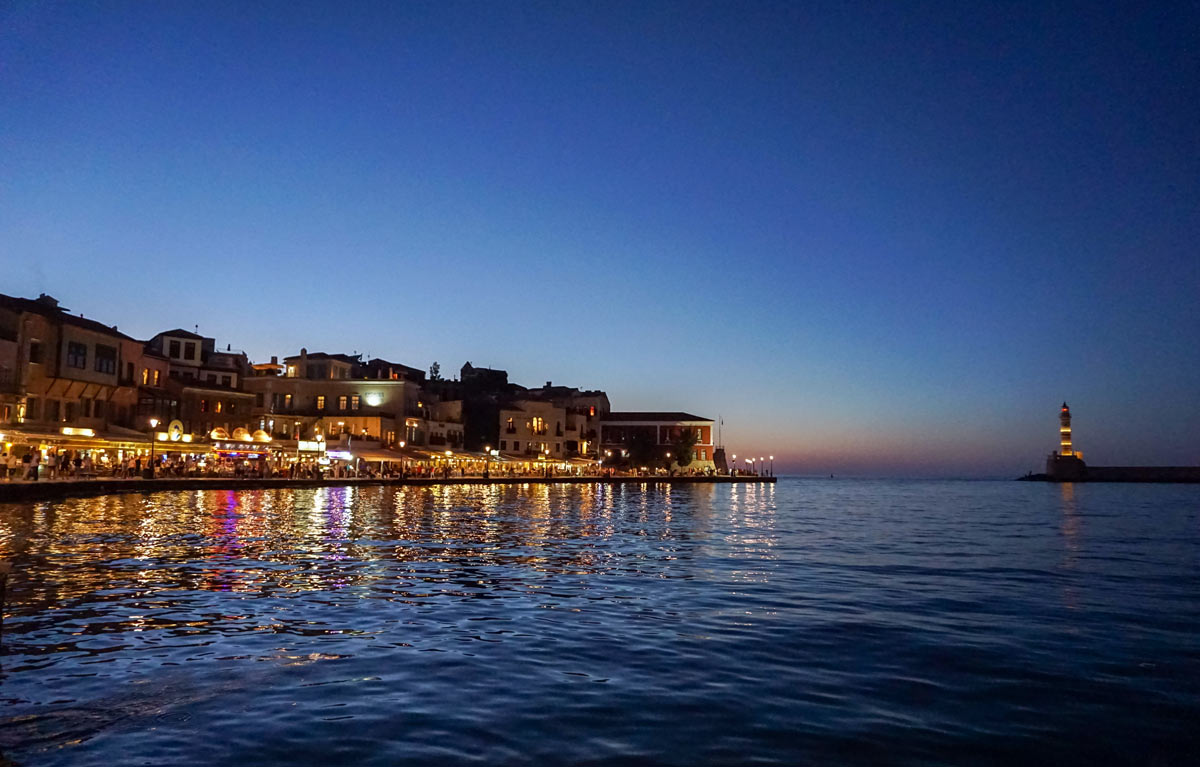 Crete or Corfu: Water activities
Both islands offer a good array of water-related activities including snorkeling (Crete's sandy beaches might not offer as much diversity as Corfu's rockier ones), diving, parasailing, kitesurfing, etc. Here are some good locations where you can try these on each island.
Snorkeling
Diving
Windsurfing &
Kitesurfing
Other watersports
Crete
WWII shipwreck at Falasarna
Chrissi Island
Matala Beach
Vai Beach
Elafonisi Lagoon
Balos Lagoon
Frangokastello Beach
Hersonissos
Agia Pelagia
Stavros
Elephant Cave
Chania area
Macherida
Falassarna Beach
Elafonisi Lagoon
Falassarna Beach
Ammoudara (Heraklion)
Rethymnon beach
Corfu
Nissaki Beach
Kerasia Beach
Avlaki Beach
Kanoni Beach
Agios Spiridon (Paleokastritsa)
Mirtiotissa Beach
Paleokastritsa
Kassiopi
Nissaki
Gouvia
Kassiopi Reef
Akoli Reef
Halikounas Beach
Sidar Beach
Barbati Beach
Dassia beach
Winner: Tie
Corfu or Crete: Which island is better for families?
In my opinion, Crete is a better choice for families with kids because it has several shallow, sandy beaches to choose from. Elafonisi Lagoon, in particular, is a great option.
However, I do want to state that not all of them are shallow and some can get too windy, so make sure you still research all the beaches that you plan to visit beforehand.
Winner: Crete
Corfu vs Crete: Final thoughts
Whether you're seeking adventure, relaxation, or cultural immersion, both Crete and Corfu are excellent choices for your next vacation. Therefore, the decision of which island to visit ultimately depends on your personal preferences and travel goals.
But no matter which one you will end up choosing, you're sure to be greeted with warm hospitality and many unforgettable experiences. Also, before you go, make sure to check out my other Greece content, for more inspiration.
Happy travels~