If you're planning to visit the Romanian capital in winter and you love the cold season, then you might be wondering: "Does it snow in Bucharest?".
As a native Romanian and a resident of Bucharest myself, I can offer you a firsthand perspective on what winters here are truly like.
From the early days of December to the brisk breezes of March, let's dive into Bucharest's coldest months in order for you to be fully prepared for your visit.
Disclosure: Some of the links in this post are affiliate links. If you click on them and make a purchase, I may receive a commission at no extra cost to you. Check my full disclaimer here.
Does it snow in Bucharest, Romania? (Quick answer)
Yes, it does snow in Bucharest during winter, but perhaps not as frequently as you'd imagine. The snowfall we experience is often short-lived, and it's relatively rare for it to accumulate or settle on the ground for extended periods.
However, once in a few years we do have snow storms and it's absolutely beautiful!.. until the authorities clear the streets and the immaculate white gets dirty :(.
So while the city does get snow, don't expect a winter wonderland. For that, you should head to the mountains.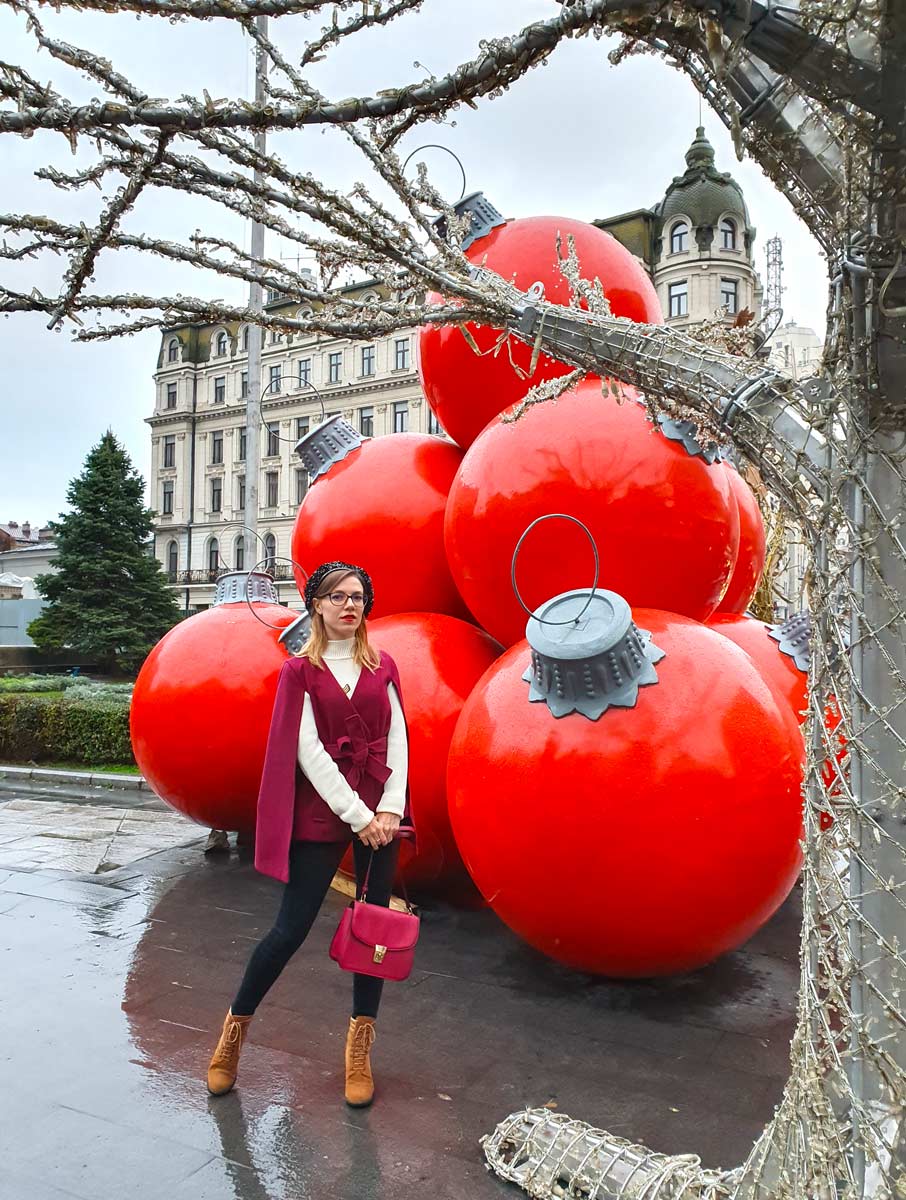 Snow in Bucharest
While Romania as a whole has a temperate-continental climate with 4 distinct seasons, Bucharest's temperatures tend to be on the milder side in winter. This is partly because it's a sprawling, populous city, and urban areas often experience slightly warmer conditions than their rural counterparts.
But we can't discuss Bucharest's snowfall without mentioning the impact of global climate change. Over recent years, there's been a noticeable decline in snowfall, especially when compared to, say, 20 years ago.
Nowadays, true winter with its chilling embrace and potential snow often only kicks in around January. And December, which used to herald the start of winter, now feels more fall-like, with cooler temps but often bringing only rain.
Lastly, March usually a spring month, has years when it switches sides to winter, on rare occasions even bringing snow, instead of blooms.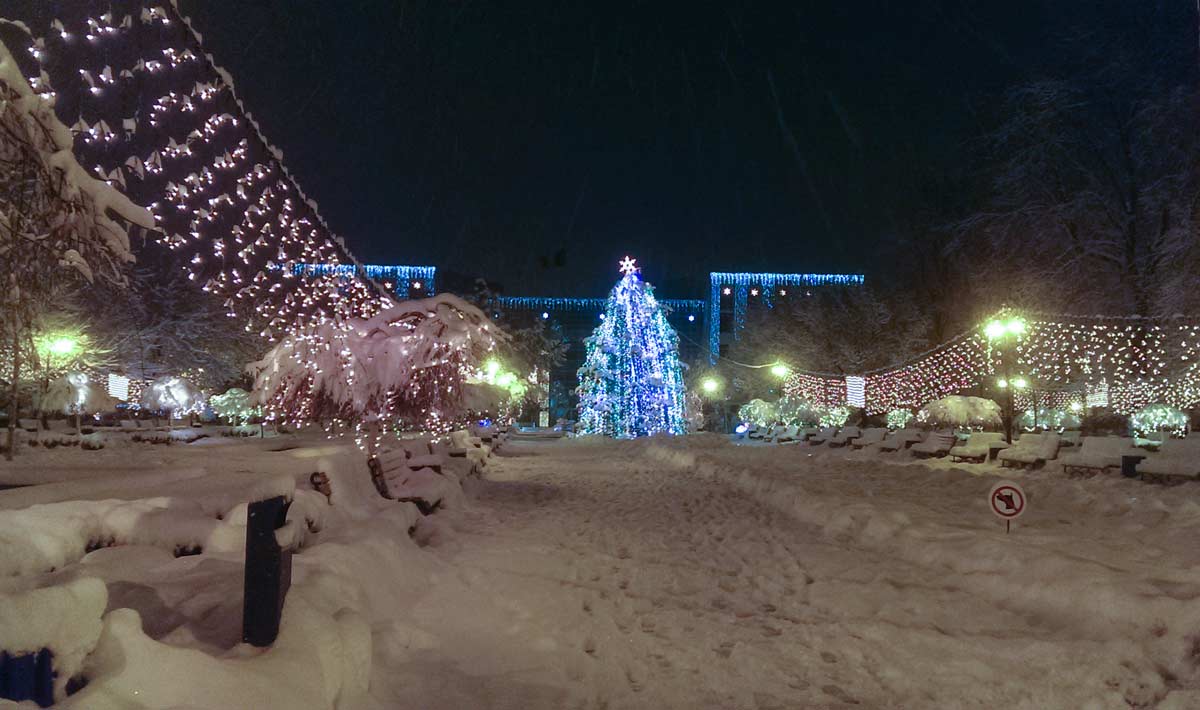 Does it snow in Bucharest in December?
While it's entirely possible to experience snowfall during this month, often it doesn't happen. As I already mentioned, over the past years, the trend has leaned more towards December being a continuation of fall rather than the start of a snowy winter.
So if you're visiting Bucharest in December hoping for a winter wonderland, it might be best to keep your expectations in check and enjoy whatever the weather brings.
Or head over to the mountains, they're just a short train ride away and chances of snow are way higher there.
Does it snow in Bucharest in January and February?
January and February offer higher chances of seeing snow in Bucharest. However, even when the snowflakes descend gracefully from the sky, they don't always lead to a snowy blanket on the ground (something that I always hope for).
The snow might melt upon contact or not accumulate significantly.
Nonetheless, temperatures during these months are quite chilly, often dipping close to or below freezing. So, if you're planning a visit during January or February, it's essential to dress warm: pack those scarves, gloves, and thermal layers to stay cozy and comfortable.
And whenever you feel too cold, just pop into a restaurant for a mug of mulled wine. Most carry this popular beverage all winter long.
Does it snow in Bucharest in March?
It shouldn't. But on rare occasions it does. However, this doesn't mean you should expect snow and freezing temperatures all month long, since March still mostly behaves as a spring herald.
Does Bucharest have Christmas markets?
Christmas Markets are pretty huge all over Europe and Bucharest also embraced this tradition together with other Romanian cities.
While a few years back Bucharest only has a tiny Christmas Market at Universitatii, in recent years the main fair has been held at Piata Constitutiei, a large square right in front of Palatul Parlamentului (that HUGE building that you either hate or like, which houses the Romanian parliament).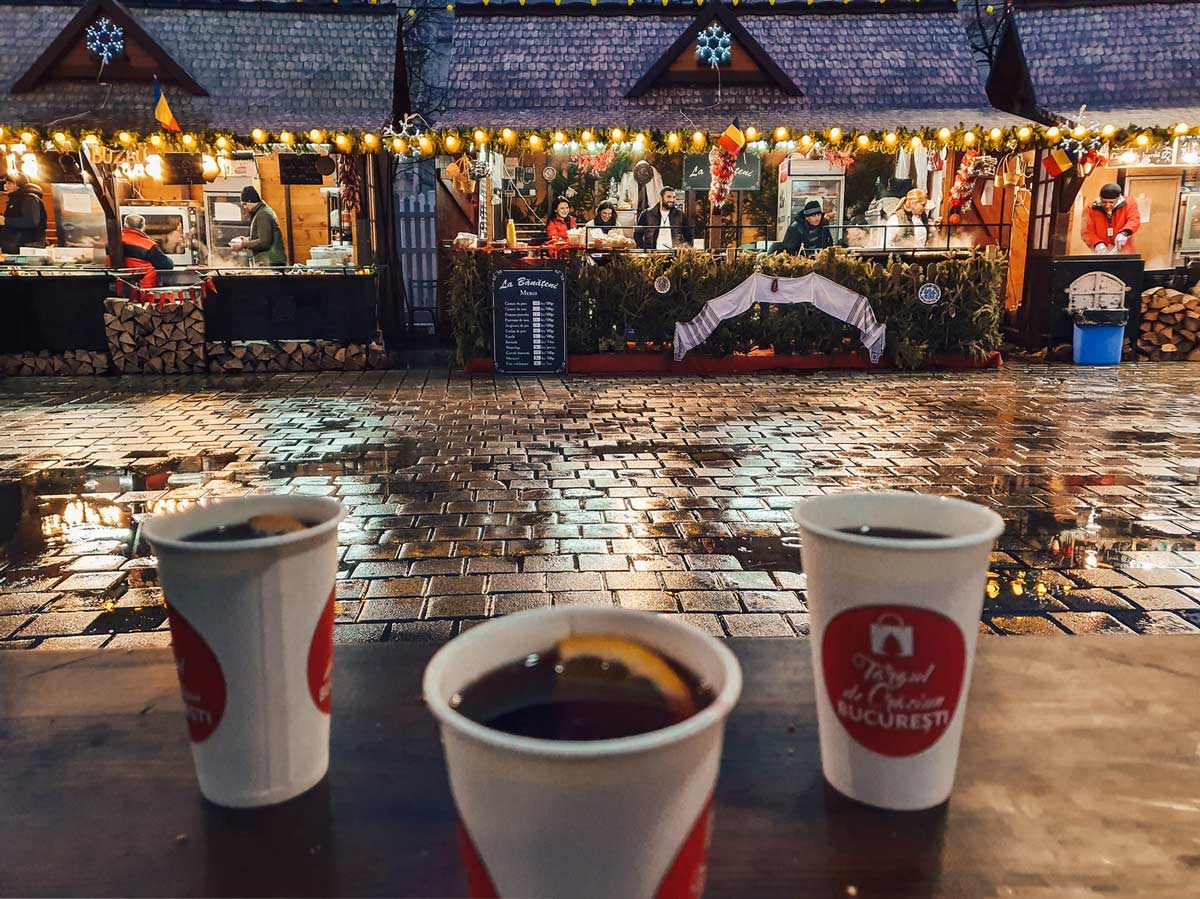 The Bucharest Christmas Fair offers an array of stalls where you can find handmade crafts, traditional Romanian treats, and warm beverages to fend off the cold.
Apart from shopping and food, the market also offers entertainment like live music, caroling, and a small ice-skating rink. Whether you're looking for unique gifts, tasty treats, or just a dose of holiday cheer, Bucharest's Christmas markets are sure to deliver.
However, the festive atmosphere is not confined to the Christmas Markets alone. From December 1st, which is Romania's National Day, the city is adorned with sparkling lights. The display varies more or less each year and often extends beyond the city center.
December 1st: Romania's National Day
If you happen to be in Bucharest on December 1st, you're in for a treat! This day marks Romania's National Day, a significant date commemorating the unification of Transylvania (the last Romanian historical region to join) with the Romanian Kingdom in 1918.
One of the highlights of the celebrations which is definitely worth witnessing is the impressive military parade that takes place in Bucharest, at the Arch of Triumph Square.
Snowy alternatives to Bucharest
If your heart is set on experiencing a snowy winter landscape and Bucharest isn't delivering the white blanket you hoped for, fret not!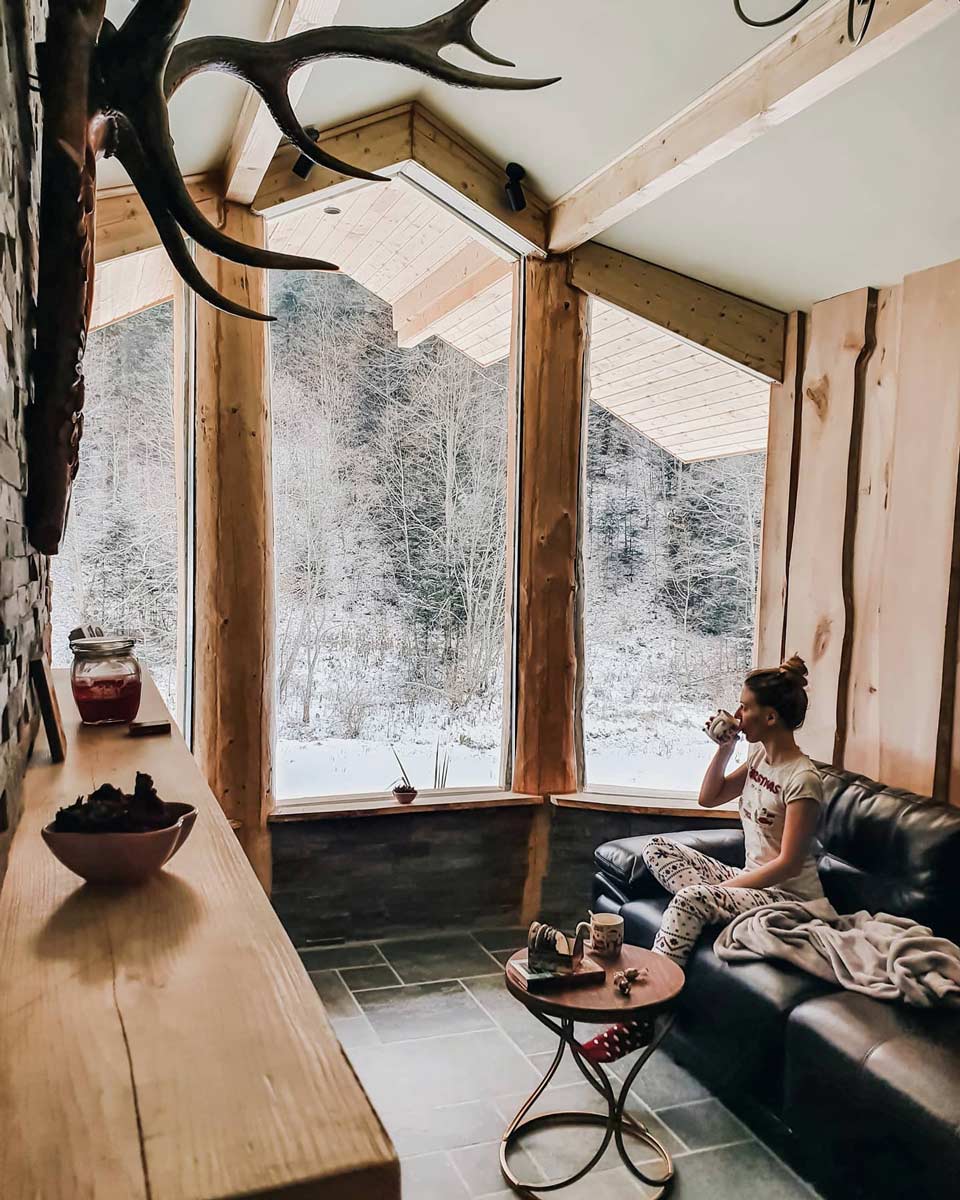 Romania's picturesque mountains are just a short train ride away. Places like Sinaia, Brasov, and Valea Prahovei offer more consistent snowfall during winter, especially in January and February (December can be hit or miss depending on the altitude).
Not only do these regions have beautiful scenery, but they also provide an array of winter activities, offering ski and sleigh slopes.
If you have the time and means, you can go even further away to the Apuseni Mountains (west of the country) or the regions of Maramures and Bukovina (Northern Romania) where you'll experience a more rural and traditional experience.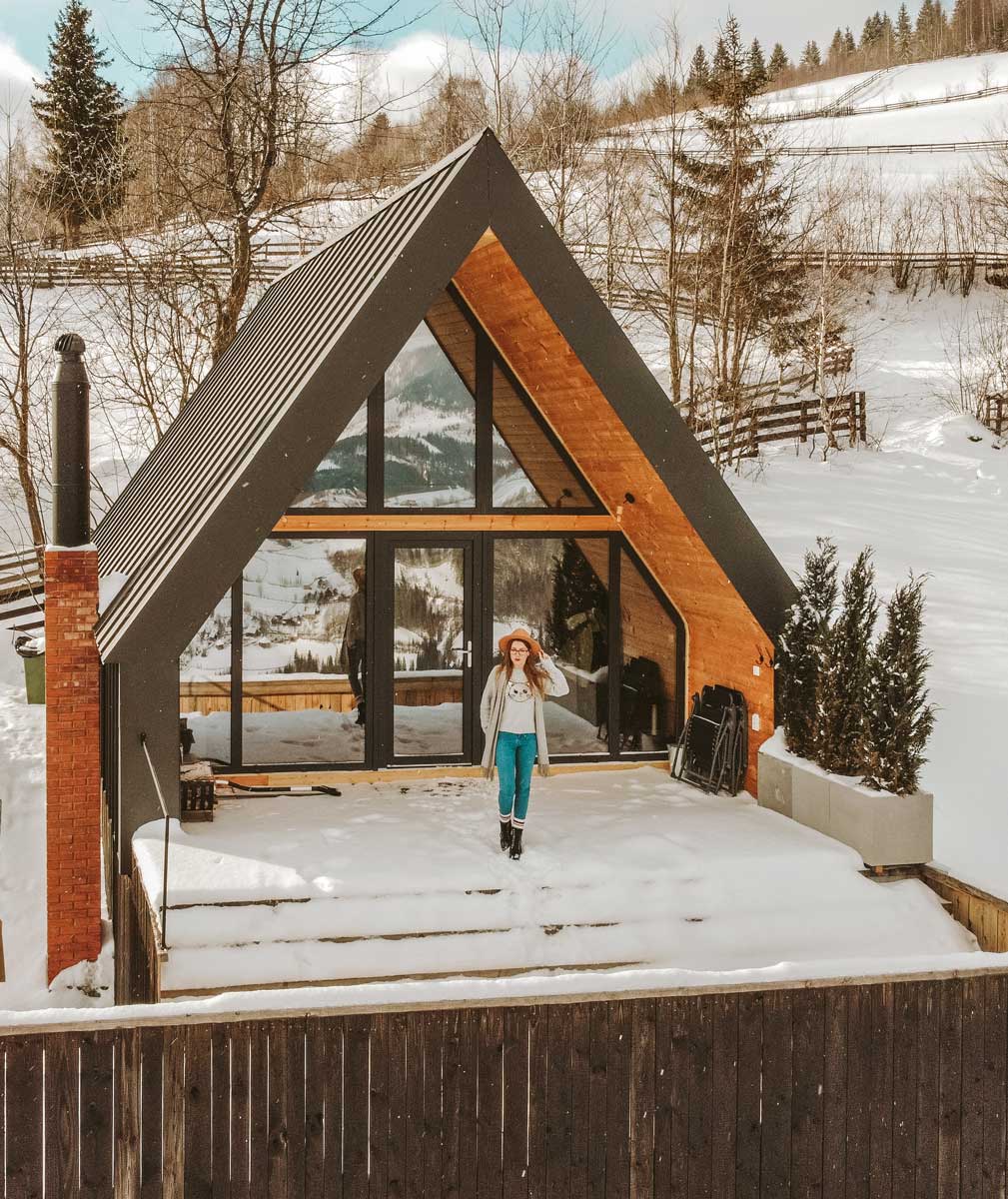 Long story short, if snow is what you're after, the mountains are where you might want to set your sights! And choosing a unique and cozy accommodation will complete your winter wonderland experience!
What to pack if you're visiting Bucharest in winter
Even if snow isn't gracing the streets of Bucharest often, winter in the city still carries a cold bite. When packing for a winter visit, it's wise to prepare for chilly temperatures, especially if you plan to spend a lot of time outside.
Layering is key: start with thermal undershirts and leggings, followed by a sweater or a warm top. A thick, insulated coat is a must, preferably one that can resist both wind and occasional rain or snow.
Don't forget a cozy scarf, gloves, and a beanie to keep your extremities warm. For footwear, consider comfortable, insulated boots that provide some level of water resistance. While the streets might not always be snowy, they can get slushy or wet from time to time.
Ultimately, even without frequent snowfall, Bucharest's winter demands warm clothes, so pack thoughtfully and stay cozy!
Snow in Bucharest: Wrap up
Bucharest's winter may not offer a lot of snowfall, but that doesn't mean the season is lacking in cold temperatures. Winters in Bucharest are still pretty chilly, so make sure to pack accordingly to keep yourself cozy and comfortable.
As for things to do, December stands out with the Christmas markets, twinkling lights, ice rinks, and the celebrations for Romania's National Day.
Happy travels~