How to visit the Christmas market in Rothenburg ob der Tauber, Germany
If you are searching for one of the best Christmas markets in Europe, then you should look no further than Rothenburg ob der Tauber in Germany. This small town looks like it stepped out right of a fairytale and it's a dream come true for anyone that loves Christmas (spoiler alert: I'm a major fan of the holiday).
So stay tuned to find out the best tips on visiting the Christmas fair in Rothenburg ob der Tauber.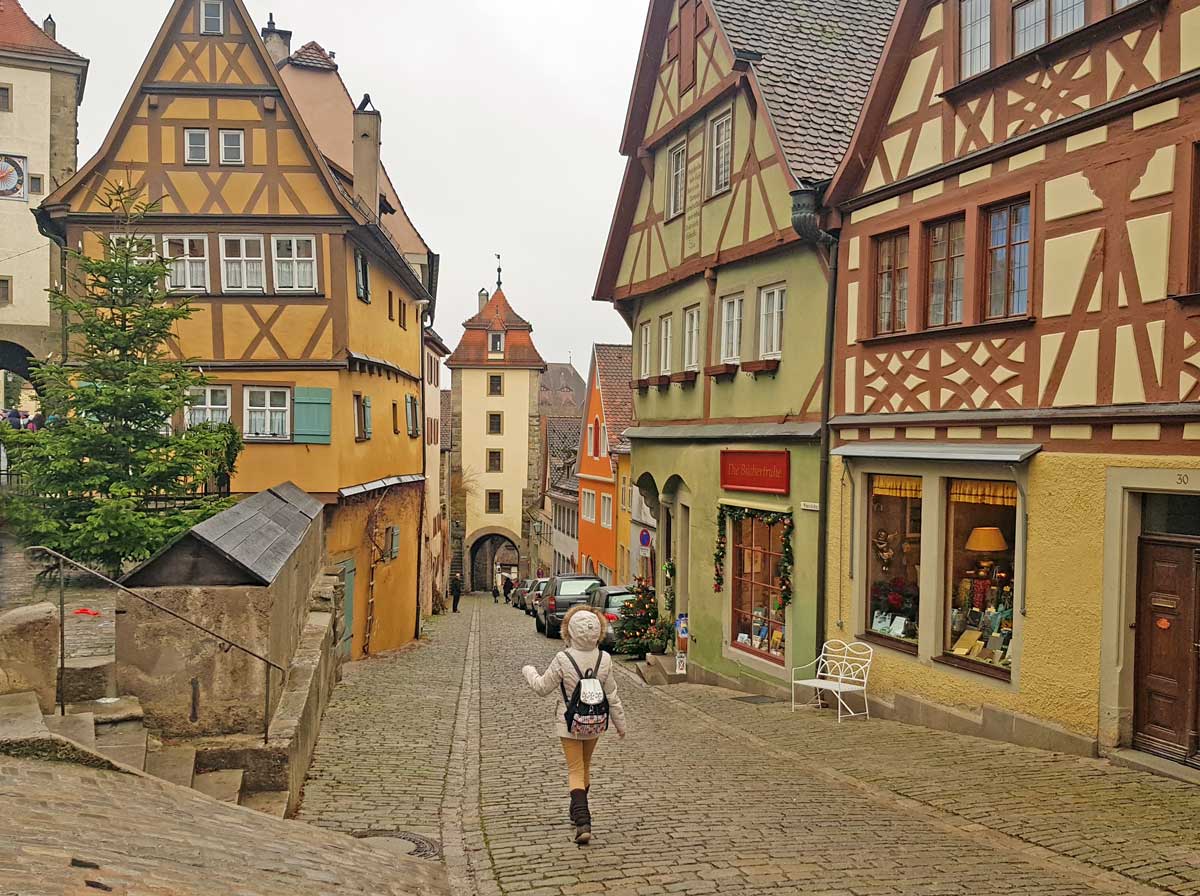 Disclosure: Some of the links in this post are affiliate links. If you click on them and make a purchase, I may receive a commission at no extra cost to you. Check my full disclaimer here.
Where is Rothenburg ob der Tauber located?
Rothenburg ob der Tauber is a medieval small town located in Northern Bavaria, Germany, on the so-called Romantic Road. This scenic route consists of around 460km (290 mi) between the towns of Würzburg and Füssen and connects several picturesque towns and charming villages in southern Germany.
It is important not to confuse Rothenburg ob der Tauber with either Rotenburg or Rotenburg an der Fulda, both situated further north.
When does the Rothenburg Christmas Market take place?
Rothenburg's Christmas market is called Reiterlesmarkt and it usually takes place in the town squares from the end of November until 2 days before Christmas.
Rothenburg ob der Tauber Christmas Market 2022
In 2022, Reiterlesmarkt starts on 25th November and ends on 23rd December. The Christmas market is open every day during this time frame, from 11.00 AM until 7.00 PM (Monday to Thursday) or from 11 AM until 8.00 PM (Friday to Sunday).
How to get to Rothenburg ob der Tauber?
The closest airport to Rothenburg ob der Tauber is in Nuremberg. From there, you can reach the picturesque town by car, train, or bus + train.
Driving is the fastest option out of the three with the journey time being around 1h and 10 minutes. You can rent a car directly from the airport, check the rates here.
If you opt for public transportation instead, travel times will vary from 1 hour and 40 minutes (train) to 2 hours and 20 minutes (train and bus). You'll also have to change connections.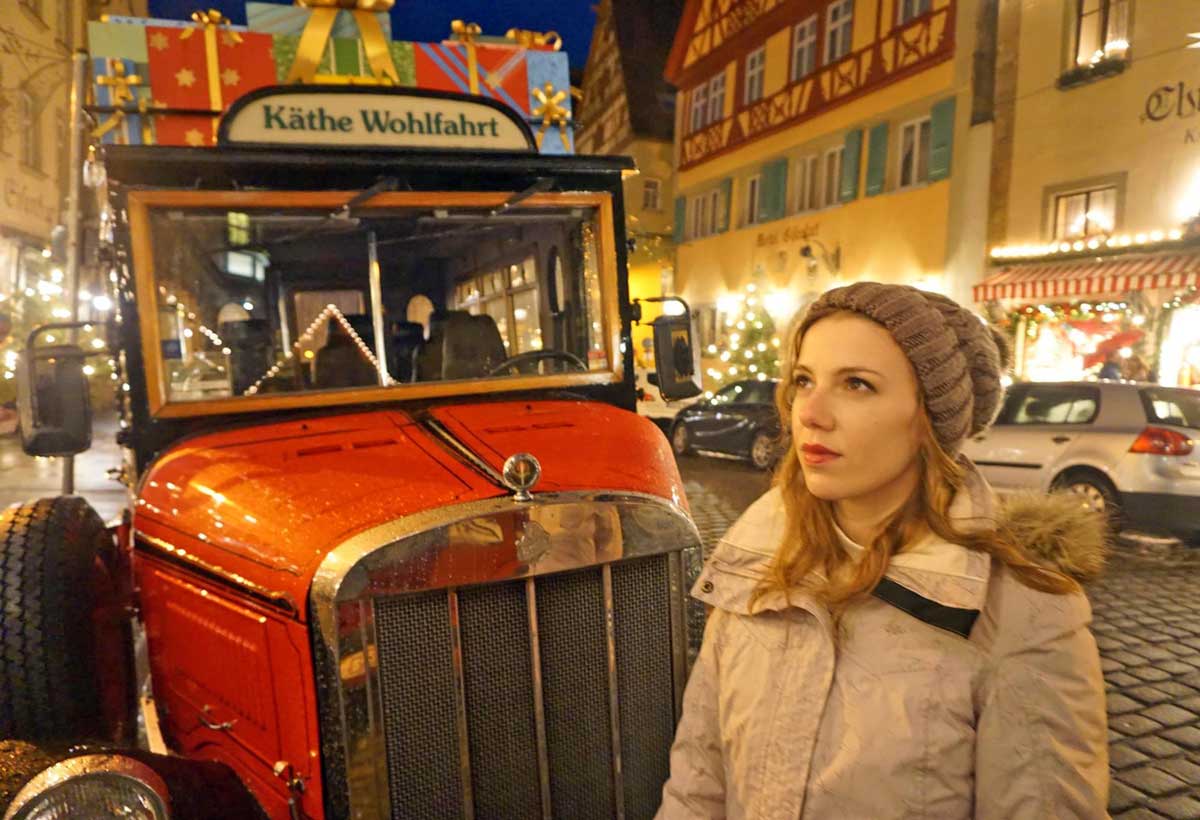 First of all, you need to get to Nuremberg Central Station from the airport (U2).
Once you're there, you'll get the train to Ansbach (S4 or RE90), where you'll either change for the bus to Rothenburg (732) or continue by train to Steinach (RB80). From Steinach you'll take the train to Rothenburg (RB82).
You'll notice that the connection timings for trains are rather tight, but in my experience, the schedule was respected. I thought I should mention this, as I was rather nervous myself about the possibility of missing one of the connections.
How much time to spend in Rothenburg?
Some people opt to visit Rothenburg ob der Tauber on a day trip, but honestly, this is too little, especially if you visit during the winter when the days are short. For this reason, try to spend at least one night in the town, while two are an even better choice.
During my trip to Rothenburg, I stayed overnight at Gästezimmer Michelangelo, a comfortable small hotel in the old town center, and while I had enough time to enjoy the Christmas market and stroll around, I do wish I spent at least two nights there.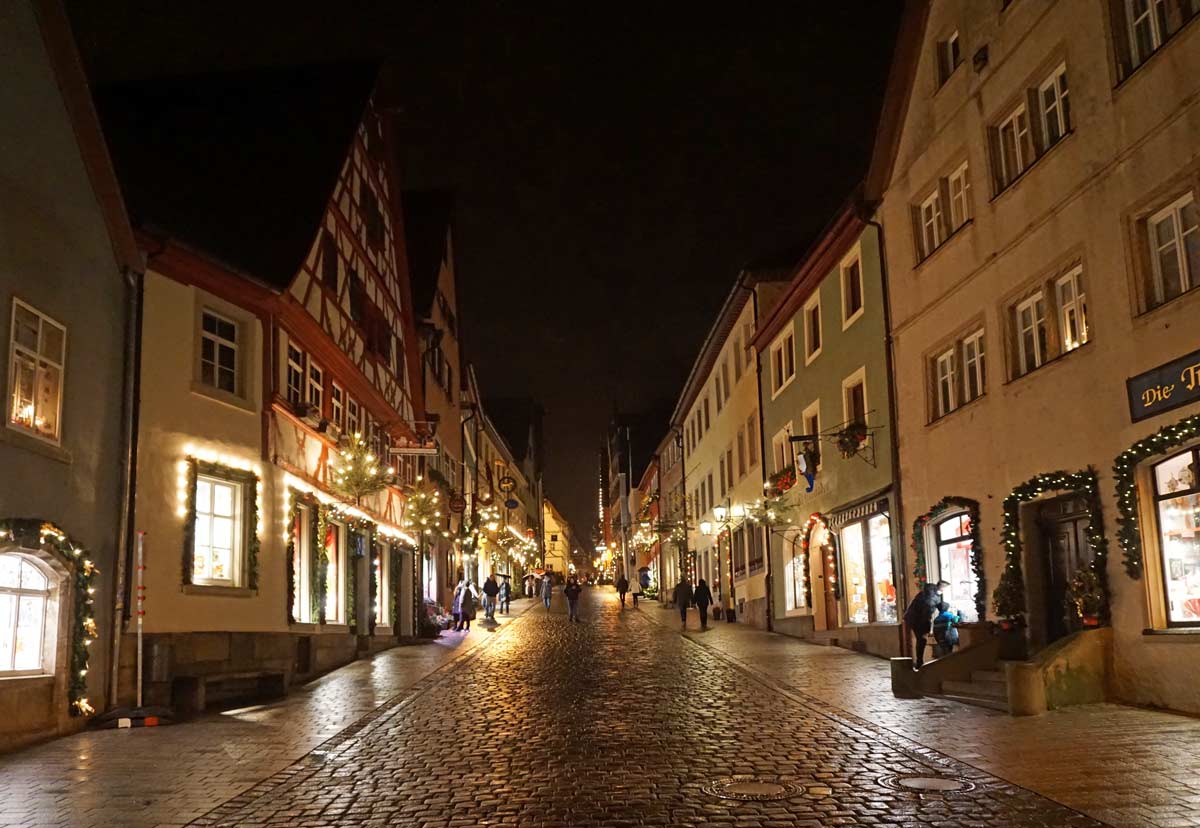 This is because we ended up arriving in the afternoon and between the check-in procedure and the cloudy short day, we had limited daylight for sightseeing, especially since the next morning it started raining heavily.
And don't get me wrong, Rothenburg really shines after dark when all the shops and decorations light up, but I regret not being able to take some more pics during the day as well.
Things to do in Rothenburg around Christmas
Admire the festive decor and shop for Christmas gifts and decorations
Rothenburg is the best place to be around Christmas time. The old town has numerous shops that sell beautiful Christmas ornaments and while the prices are a bit on the expensive side, admiring their intricate and extravagant decorations is totally free. And as it gets dark, the whole place becomes nothing short of magic.
However, if your wallet has no problems funding your Christmas shopping sprees, you'll find a lot of beautiful things here (many handmade), to buy as gifts for your loved ones or simply for yourself. And trust me, you'll treasure them forever.
I managed to keep myself under control (mainly because I have too many decorations already), so we only bought a clear snowman (actually my fiancee secretly got it for me after he saw me admiring it for a long time), a turtledove (because of Home Alone which are my favorite Christmas movies), a bear with honey decoration, a velvety deer and a small Nativity scene.
And you can bet they all get prime spots in my tree every Christmas!
Eat bratwursts
Bratwursts are a very popular street food at Christmas markets, especially in Germany, so make sure to try them. In Rothenburg, they sell several types, including a half a meter-long one.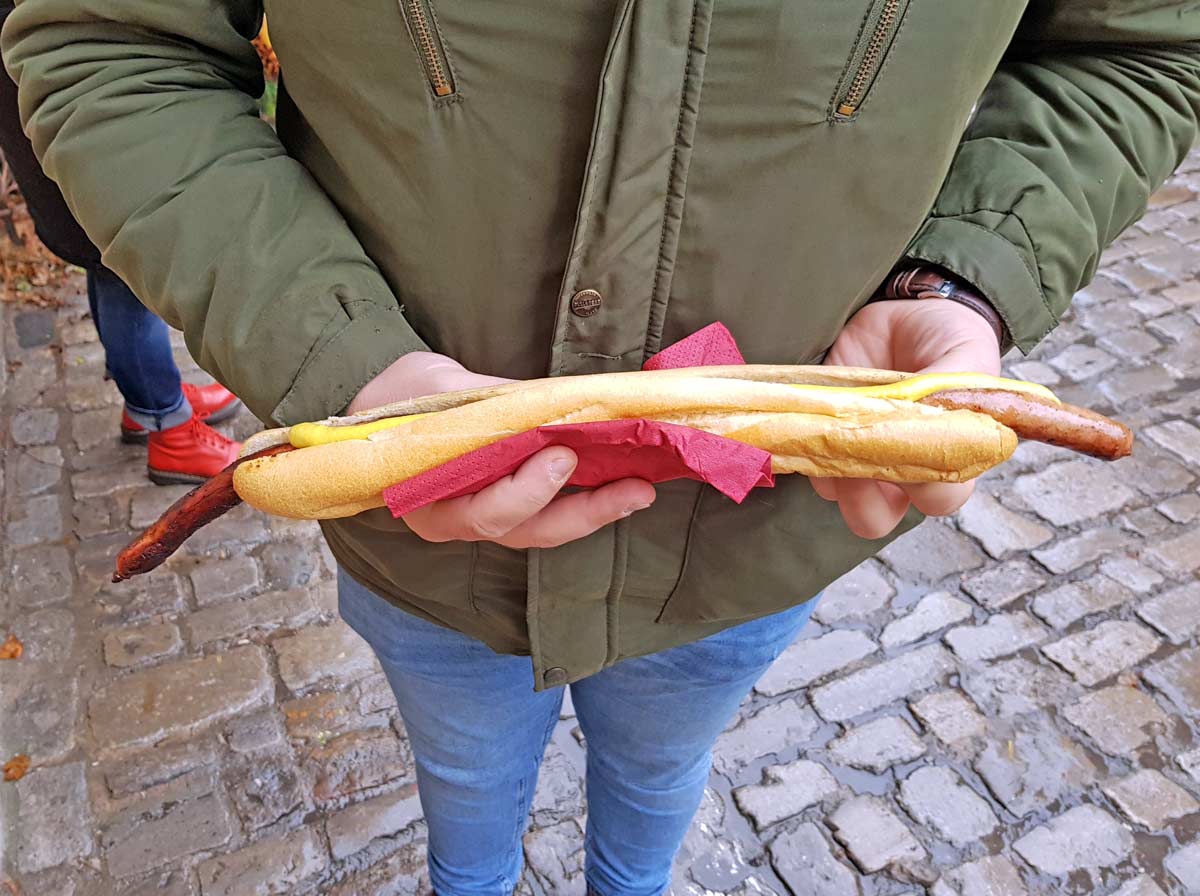 Drink mulled wine
Mulled wine is the perfect Christmas drink in my opinion! Sure, there are several others like glogg, hot chocolate, or eggnog, but nothing beats a mug of hot red wine with spices like cinnamon and clove. Not only that, but it will help keep you warm as you move from stand to stand admiring the decorations and buying gifts.
Also, if you want a special kind of souvenir, I have a tip for you! Many Christmas Markets in Europe have specially made mugs to serve mulled wine during every festive season. This is especially true for fairs in Germany and Austria.
The first time you buy a mug of mulled wine, they'll ask you for a deposit (usually around 5 EUR). That is for the mug. This way you can take your hot wine with you as you explore the Christmas market and get refills from other stands if you wish. When you're done for the day you simply return the mug at any of the stands that sell mulled wine and they'll give you back the deposit.
However, you can also keep the mug as a souvenir and the deposit will then act as a payment for it. I have such mugs from Vienna, Dresden, and Nuremberg Christmas Markets and I treasure them dearly.
Try the various types of sweets on offer
From gingerbread in different shapes and forms to sugar-coated apples, there are a lot of sweets to try at the food stalls in Rothenburg ob der Tauber's Christmas market. So make sure you leave some room for dessert :).
Visit the Christmas museum
In Rothenburg, you can visit a Christmas museum. It is located in one of the bigger shops (Käthe Wohlfahrt) in the old town (so you can also buy decorations from there – actually that's where we bought ours) and it shows how Christmas was celebrated and how customs evolved over the years in Germany. You'll also see there many historic decorations like Christmas trees, candle arches, etc.
The best thing about it is that the museum is actually opened all year long, so you can still enter even if you visit outside of the Advent period.
---
If you're looking for a beautiful and festive Christmas market to visit this year, be sure to check out Rothenburg ob der Tauber in Germany. This charming town is home to one of the most well-known and picturesque markets in the country, and it's definitely worth a visit if you're looking for some holiday cheer.
Happy travels~
---
YOU MIGHT ALSO LIKE