Are you planning to use the capital as a base for your future trip to Belgium and you're wondering what are the best day trips from Brussels by train? I've got you covered!
Belgium's central location and small size make it an ideal destination for exploring neighboring countries and cities. However, there is also plenty to see and do within the country itself.
Brussels, the capital city, is a hub for train travel, making it easy to take day trips to nearby destinations.
Whether you prefer to travel independently by train or join a guided tour, there are many great day trip options from Brussels that offer a variety of experiences, from historic cities and quaint towns to scenic landscapes and cultural attractions.
In this guide, I will list some of the best day trips from Brussels by train, highlighting the unique features and attractions of each destination.
Disclosure: Some of the links in this post are affiliate links. If you click on them and make a purchase, I may receive a commission at no extra cost to you. Check my full disclaimer here.
Traveling by train in Belgium
When visiting Belgium, train travel is a very convenient and efficient way of transportation due to the country's relatively small size.
If you are traveling in a group or intend to take multiple train trips while in Belgium and you're under 26 years of age, it is advisable to purchase the Youth Multi (Go Pass 10). This pass provides access to 10 train rides to any destination within the country, priced at €5.70 each, resulting in a total cost of €57 (US$62).
The pass provided is blank, allowing you to fill in the travel dates and destinations as you go.
For individuals over the age of 26, a 10-journey pass for adults is available at a cost of €96 (approximately US$105). However, whether this pass is worth the investment may depend on individual circumstances like how many train trips you actually intend to do.
However, if you are planning an extended trip that includes Belgium, the Netherlands, and Luxembourg, you might want to consider the Interrail Pass (for EU residents) or the Eurail Pass (for non-EU citizens).
These passes cover the three countries as a single entity, known as The Benelux, which eliminates the need to purchase a global pass and can result in cost savings.
Best day trips from Brussels by train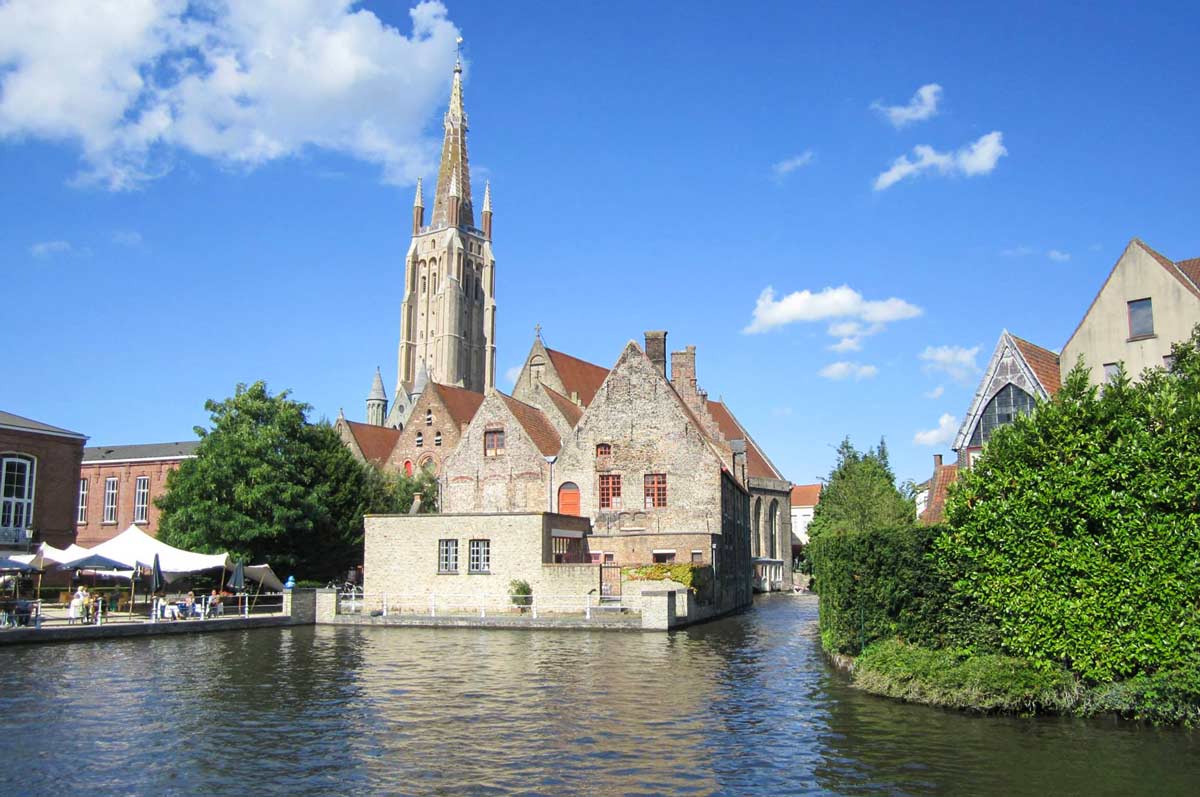 01. Bruges (Brugge)
Bruges is one of the most popular train trips from Brussels, due to the town's well-preserved medieval architecture, picturesque canals, and charming atmosphere.
Upon arrival, visitors can explore the city's attractions, including the Belfry Tower, the Basilica of the Holy Blood, and the Groeningemuseum art museum.
But honestly, a stroll through the cobbled streets and along the canals is the best way to spend time in Bruges, not to mention that you'll have plenty of opportunities to sample Belgian chocolates and waffles along the way.
Boat tours are also available, providing a unique perspective of the city from the water and I really encourage you to get on one.
Also, since I've mentioned the famous Belgian chocolate, I have a tip for you: right next to the Basilica of the Holy Blood, you will find Chocolaterie de Burg, a shop with delicious handmade chocolate at a very good price.
I went there in both 2014 and 2016 and each time I purchased a box of 15 assorted pralines (250g), which felt like the perfect way to sample a variety of flavors and experience the local chocolate culture. And it only cost me 5 euros at the time!
The price has since increased a bit (which is to be expected over time), as I was informed that it was 6.75 euros per box in 2022. But even so, it's still a great deal as Belgian chocolate tends to be kinda expensive.
Not to mention that a box of pralines can be an excellent gift to bring back home for family and friends.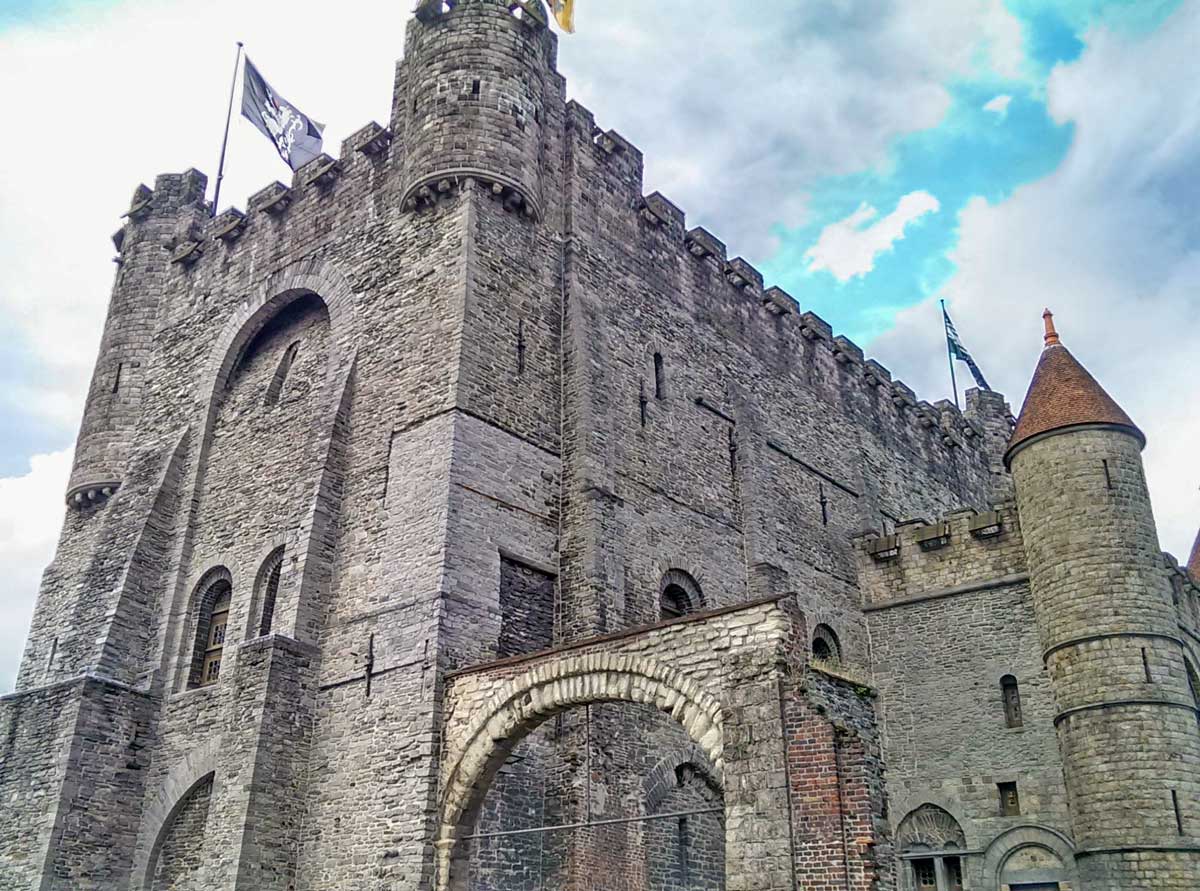 02. Ghent (Gent)
Located in the Flemish region of Belgium, Ghent is a charming city renowned for its medieval architecture. Situated approximately halfway between Brussels and Bruges, it is easily accessible by train, making it a very convenient option for a day trip from the capital.
Ghent's top sights include the well-preserved medieval castle of Gravensteen, the Gothic-style St. Bavo's Cathedral with its famous Altarpiece, the imposing Belfy Tower, as well as the many picturesque canals and bridges that traverse the city center.
Additionally, there are also several museums that you can explore and many restaurants, cafes, and bars offering delicious Belgian cuisine and beer.
For more details on the best things to do while visiting the city, I recommend you read my Ghent day trip guide.
Brussels to Ghent by train: The train journey between Brussels Central Station and Gent Sint Pieters takes around 35 – 40 minutes and you can buy your ticket online or directly at the train station.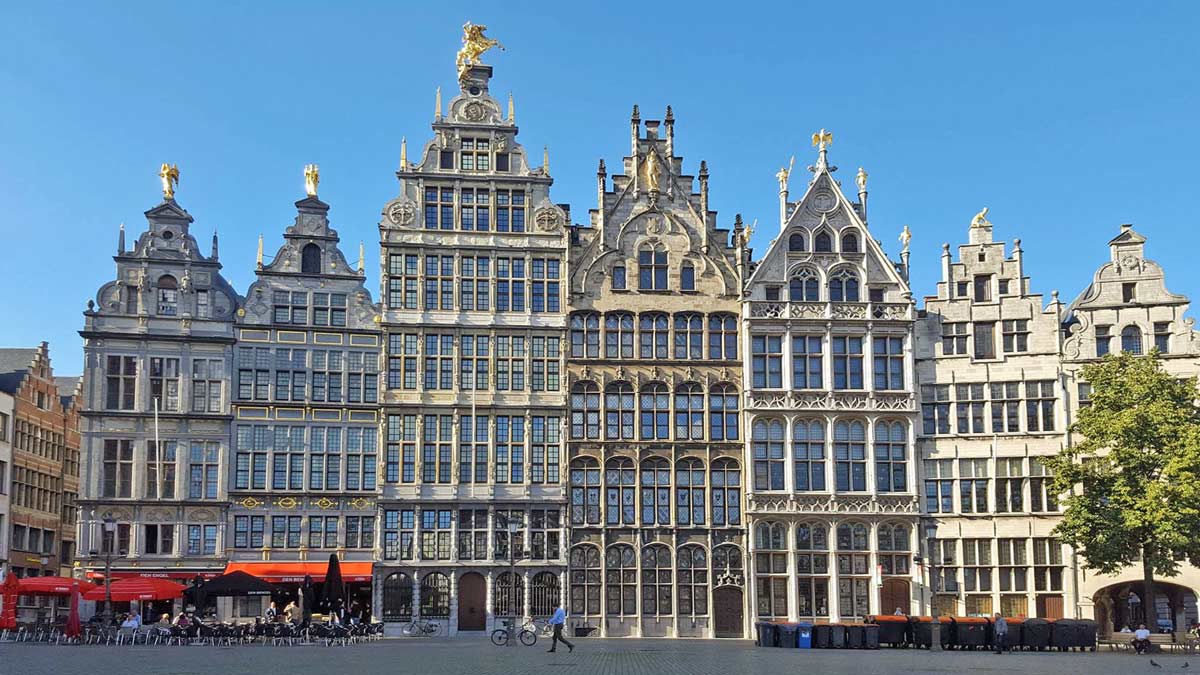 03. Antwerp (Antwerpen, Anvers)
Antwerp is a vibrant city renowned for its fashion and diamonds and the second-largest port in Europe after Rotterdam.
It boasts a rich history and culture, with attractions ranging from the historic Grote Markt, the stunning architectural details of the Antwerp Central Station, and the Cathedral of Our Lady, to the trendy fashion district and the Museum aan de Stroom.
Visitors can also explore the city's many cafes, restaurants, and bars, which offer a variety of local and international cuisine. A stroll along the Scheldt River, which flows through the city, is also a must, providing lovely views of the city's skyline.
Antwerp is famous for its diamond trade, so you'll find numerous shops and dealers offering an array of exquisite gems in the city.
And if you want to find out how it fares against the capital, I recommend reading my Antwerp vs Brussels comparison post.
Brussels to Antwerp by train: The train journey from Brussels to Antwerp varies between half an hour and an hour, depending on the type of train you take. There are many direct connections every day.
04. Ostend (Oostende, Ostende)
Ostend is a coastal city located in the West Flanders province of Belgium. Known as the "Queen of the Belgian seaside resorts" Ostend boasts a wide beach with a lively promenade, a rich history, and several marine sports clubs.
The city is home to several landmarks, such as the impressive St. Peter and St. Paul Church and the historic Fort Napoleon. Foodies will also appreciate Ostend's culinary scene, which features fresh seafood and local specialties like Oostendse oesters (Ostend oysters).
Also, Middelkerke, a municipality situated just west of Ostend, hosts a big sand sculpture festival during the summer months, that has a different theme every year.
So whether you're looking to get a glimpse of the North Sea, explore the city's cultural offerings, or indulge in delicious cuisine, Ostend is a great choice.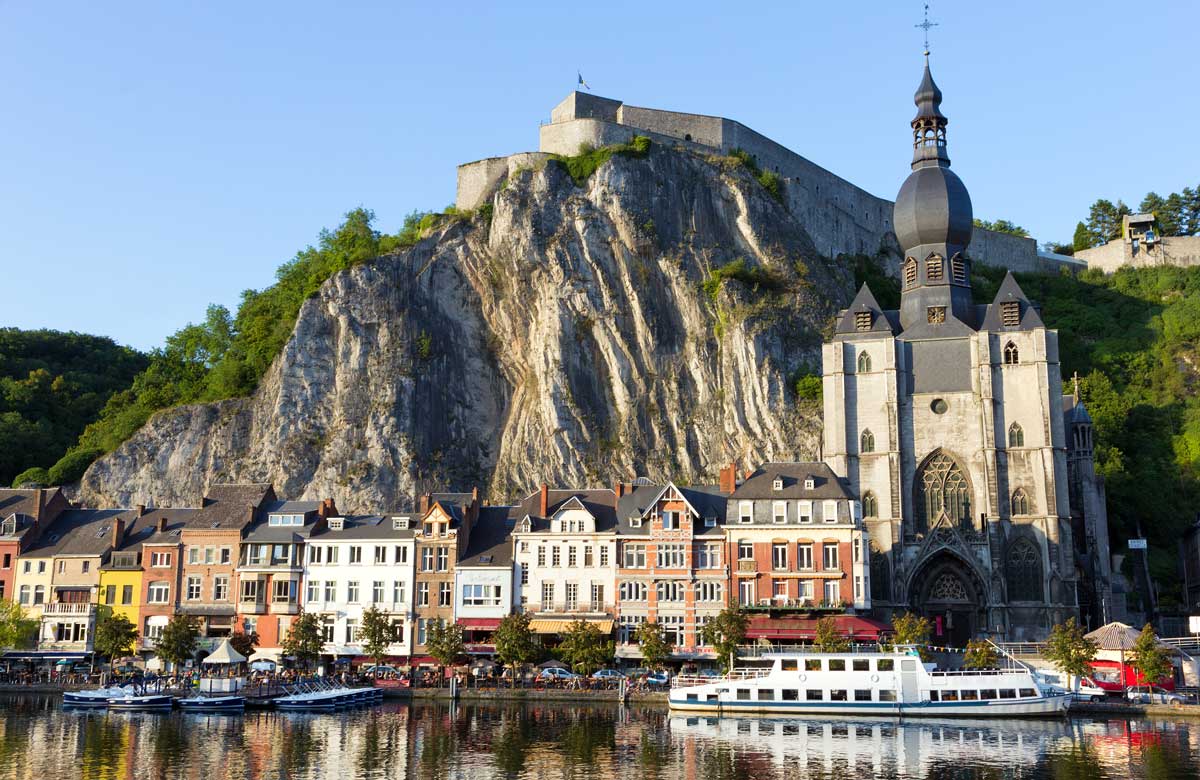 05. Dinant
Dinant is a charming small town located in the Wallonia region of Belgium, known for its stunning architecture, picturesque river views, and rich history.
Visitors can explore the town's many landmarks, including the impressive Citadel of Dinant, the Gothic Collegiate Church of Notre-Dame, the Maison Leffe brewery and the Maison de Monsieur Sax, a small, free museum dedicated to Adolphe Sax, the inventor of the saxophone.
Additionally, the town offers a variety of outdoor activities, such as hiking, kayaking, and rock climbing.
Brussels to Dinant by train: The train journey between Brussels and Dinant takes between 1 hour and 45 minutes and 2 hours depending on the train type and it requires a change in Namur. You can buy your ticket online or directly at the train station.
06. Paris
Paris, the capital of France, is a city that really needs no introduction. Due to its size and its many, many attractions, it's pretty obvious that a day trip wouldn't even scratch the surface. So if you're interested in visiting it, I highly recommend looking to spend at least 4 – 5 full days in the city.
However, if you just want to get a taste of Paris and you plan to return to it in the future, or you've already seen the city and want to refresh your memories a bit, then a day trip by train from Brussels can be a great choice.
With a day in Paris, you can visit iconic landmarks such as the Eiffel Tower, Notre-Dame Cathedral, Arc de Triomphe, and the Louvre Museum (though I've got to warn you that Louvre might eat a lot of your available time in the city).
Or you can opt to explore charming neighborhoods like Montmartre or Le Marais and take a boat tour along the Seine River.
Brussels to Paris by train: The high-speed direct connections from Thalys reach Paris in only 1h 22m from Brussels, but tickets can be pretty expensive. Check for prices here.
07. Cologne (Köln)
Cologne is a beautiful city located in western Germany, known for its stunning architecture and rich history.
With a day at your disposal, you can explore some of the city's many landmarks, including the iconic Cologne Cathedral (which is worth the trip by itself), the Romanesque Church of St. Martin, and the Hohenzollern Bridge (you know, the one you see in most pictures of Cologne).
Additionally, the city offers a variety of shopping, dining, and entertainment options, making it a good destination for travelers with different interests.
Brussels to Cologne by train: You can choose between a high-speed direct Thalys connection from Brussels Central Station (1h 50m) or a direct DB train from Brussels Nord (1h 41m). Check for prices here (tickets for DB tend to be cheaper).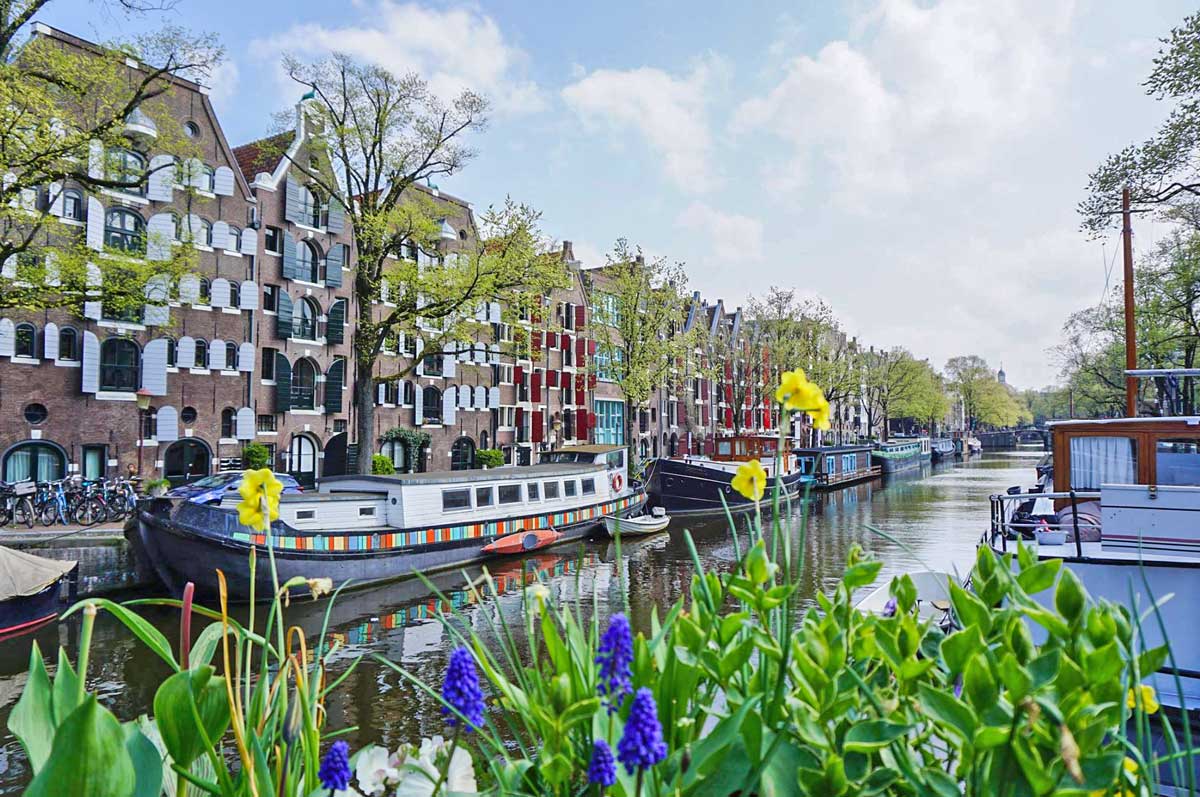 08. Amsterdam
As with Paris, I would only recommend a day trip to Amsterdam only if you have either already visited the Dutch capital or if you plan to return in the future for a longer visit. That's because, in my opinion, you'd need at least 3 – 4 full days to see most of what the city has to offer.
Unless you're particularly interested in some of Amsterdam's museums like the iconic Anne Frank House, the Van Gogh Museum, or the Rijksmuseum, I would suggest spending your day wandering on the city's picturesque streets and maybe taking a canal boat ride when you get tired.
My reasoning behind this is the fact that Amsterdam's museums are often crowded, resulting in long lines. Besides, the Dutch capital is super pretty in itself, so a day spent walking around the city is a day very well spent (a stroll along the Jordaan neighborhood is a must!).
Brussels to Amsterdam by train: Direct trains ride the distance between the two cities in as little as 1 hour and 52 minutes or as much as 2 hours and 45 minutes, with the high-speed Thalys trains being not only the fastest but also much more expensive. Check for ticket prices here.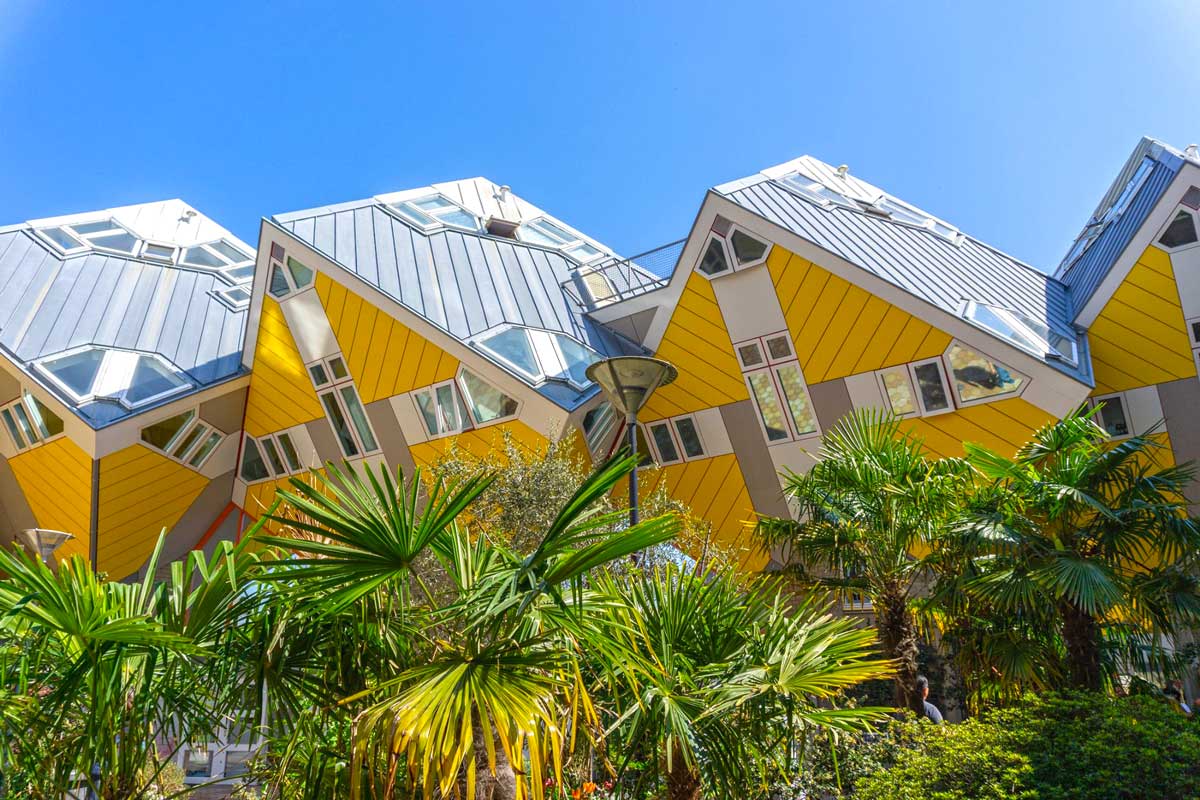 09. Rotterdam
If you're keen on seeing Rotterdam's unconventional architecture, such as the Erasmus Bridge, the Cube Houses, and the Markthal, a day trip by train from Brussels could be an excellent way to do it.
However, I would also recommend a stroll around picturesque Delfshaven, a small inner-city harbor where you can admire many historic buildings.
TIP: If you want to see the inside of a furnished cube house, you can either visit the Kijk-Kubus (Show-Cube) museum or spend a night at the Stayokay hostel.
Brussels to Rotterdam by train: The high-speed Thalys direct trains reach Rotterdam in as little as one hour and 10 minutes. Check for ticket prices here.
10. Luxembourg
Luxembourg is a tiny country located in the heart of Europe, known for its natural beauty, interesting architecture, and rich history.
With a day at your disposal, you can explore some of the country's most-known landmarks, including the iconic Casemates du Bock, the Grand Ducal Palace, and the Notre Dame Cathedral.
I do want to mention that if you are claustrophobic, you might want to opt out of visiting Casemates du Bock, despite them being one of the most popular attractions of Luxembourg.
The Casemates represent an underground network of tunnels, part of the old fortifications and despite the fact that you get to look outside through several openings in the rock along the way and there are panic buttons available, I must confess that I felt a bit uneasy at certain points during my visit, which is a sensation I had never experienced before.
Brussels to Luxembourg by train: The train journey from Brussels to Luxembourg takes 3 hours and 11 minutes and there are many direct connections every day. Check the prices here.
Best day trips from Brussels by train: Wrap up
To sum things up, there are several great day trips that you can embark on from Brussels by train, and I hope this post has helped you in selecting the best option(s) for you.
Additionally, before setting off, be sure to browse my other post on Belgium for further inspiration and valuable information.
Happy travels~
---
YOU MIGHT ALSO LIKE