Are you visiting Belgium's capital city soon and you're wondering if a Ghent day trip is worth it? I've got you covered!
If you're planning a vacation to Brussels and have a bit of extra time, a day trip to Ghent is, without a doubt, a must-do (in addition to a Bruges visit of course).
Ghent is a picturesque city located in the Flemish region of Belgium (about halfway between Brussels and Bruges), known for its stunning medieval architecture. It's only a short train ride away from the Belgian capital, making it an easy and convenient day trip option.
Interestingly enough, despite the city having no connections whatsoever with the Harry Potter books or movies, it gave me strong Hogwarts vibes, so fans of the story might enjoy Ghent even more because of this.
But let's not get distracted and delve right into the best things to do on a day trip to Ghent from Brussels!
Disclosure: Some of the links in this post are affiliate links. If you click on them and make a purchase, I may receive a commission at no extra cost to you. Check my full disclaimer here.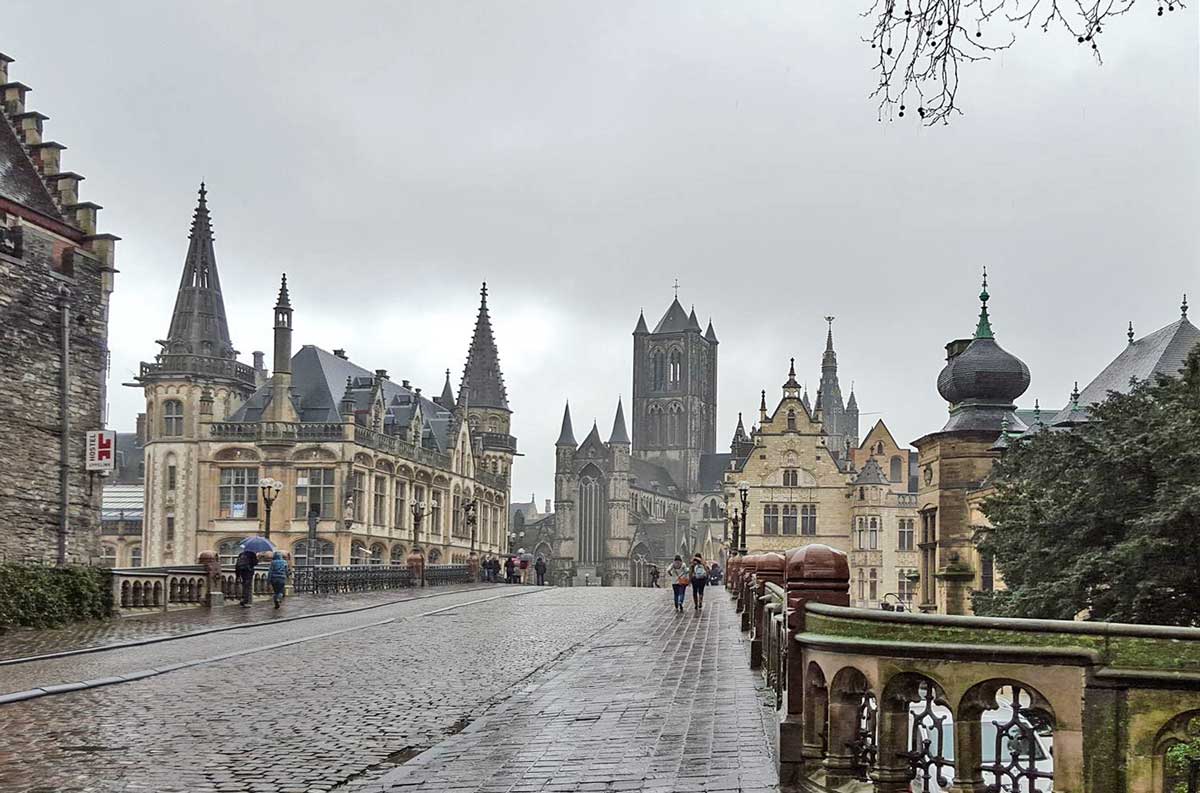 How to get to Ghent from Brussels
If you are using Brussels as a base during your trip to Belgium, there are several options available for you to travel to Ghent.
🚆 Train
The train is the most convenient way (also one of the cheapest) to get to Ghent from Brussels. There are several direct connections that run between Bruxelles-Central and Gent-Sint-Pieters stations every day.
The journey takes around 35 – 40 minutes and usually starts at €12.20 ( approx. US$13.30) per person. You can buy your train tickets online from here or at the train station.
Upon your arrival, you can take tram 1 to the Ghent city center or walk for about 30 minutes.
TIP: If you are under 26 and you're traveling in a group or you plan to do several trips by train while in Belgium, then you should get the Youth Multi (Go Pass 10), which gives you 10 train rides to any destination inside the country for €5,70 each (so the total price of the pass is €57 or US$62).
The pass you receive is blank and you write the destinations and travel dates on it as you go.
Also, if you are older than 26, there's a 10-journey pass for adults which costs €96 (approx. US$105), but whether it will be worth it, might be a bit more situational.
On the other hand, if you plan a longer trip that includes Belgium, The Netherlands and Luxembourg, you should check out the Interrail Pass (for EU residents) or the Eurail Pass (for non-EU citizens).
The three mentioned count as only one country, The Benelux, so you don't need to buy a global pass saving you some money.
🚗 Car
If you prefer to drive, you can rent a car in Brussels and use it to travel to Ghent.
The journey takes around 55 minutes and there are several parking options in the city. However, be careful which one you choose as the inner city zone (the area within the ring road) is a low-emission zone.
🚌 Bus
The journey from Brussels to Ghent by bus takes a bit over an hour and sometimes can be more expensive than the train. So I wouldn't really recommend it unless it answers a specific need that you have.
🗺️ Guided tour
If you want to have a hassle-free trip to Ghent, then you can always opt for a guided tour from Brussels. Here are a few options:
Ghent day trip from Brussels: Best things to do and see
01. Explore the Historic Center
With its picturesque canals, medieval architecture, and cobblestone streets, the historic center will easily make you fall for its charm. Here are some locations that you shouldn't miss seeing on a Ghent day trip from Brussels:
Gravensteen: The imposing castle dates back to the 12th century and is a great place to learn about the city's history. Climb to the top for great views of Ghent.
Sint-Baafsplein: The square is home to the Saint Bavo Cathedral, which houses the famous Ghent Altarpiece. Take a stroll through it and marvel at the beautiful architecture surrounding you.
Graslei and Korenlei: These two picturesque quays are lined with historic buildings and are perfect for a leisurely walk. Stop at one of the many outdoor cafes for a quick meal or drink and enjoy the atmosphere.
Stadhuis: The beautiful Gothic-style city hall is a must-see for architecture enthusiasts. You can take a guided tour to learn more about the building's history.
Patershol: A charming neighborhood full of narrow medieval streets.
Overall, wandering around Ghent's historic center is a great way to spend a day. So take your time and soak up the city's history and architecture. Also, don't forget to bring your camera – there are plenty of opportunities for stunning photos!
And speaking of photos, make sure you stop on Sint-Michielsbrug bridge during your walk around the city center. It's a popular spot from where you can take the postcard-like picture of the 3 iconic towers of Ghent: The Belfry, Saint Bavo Cathedral and Saint Nicholas' Church' towers.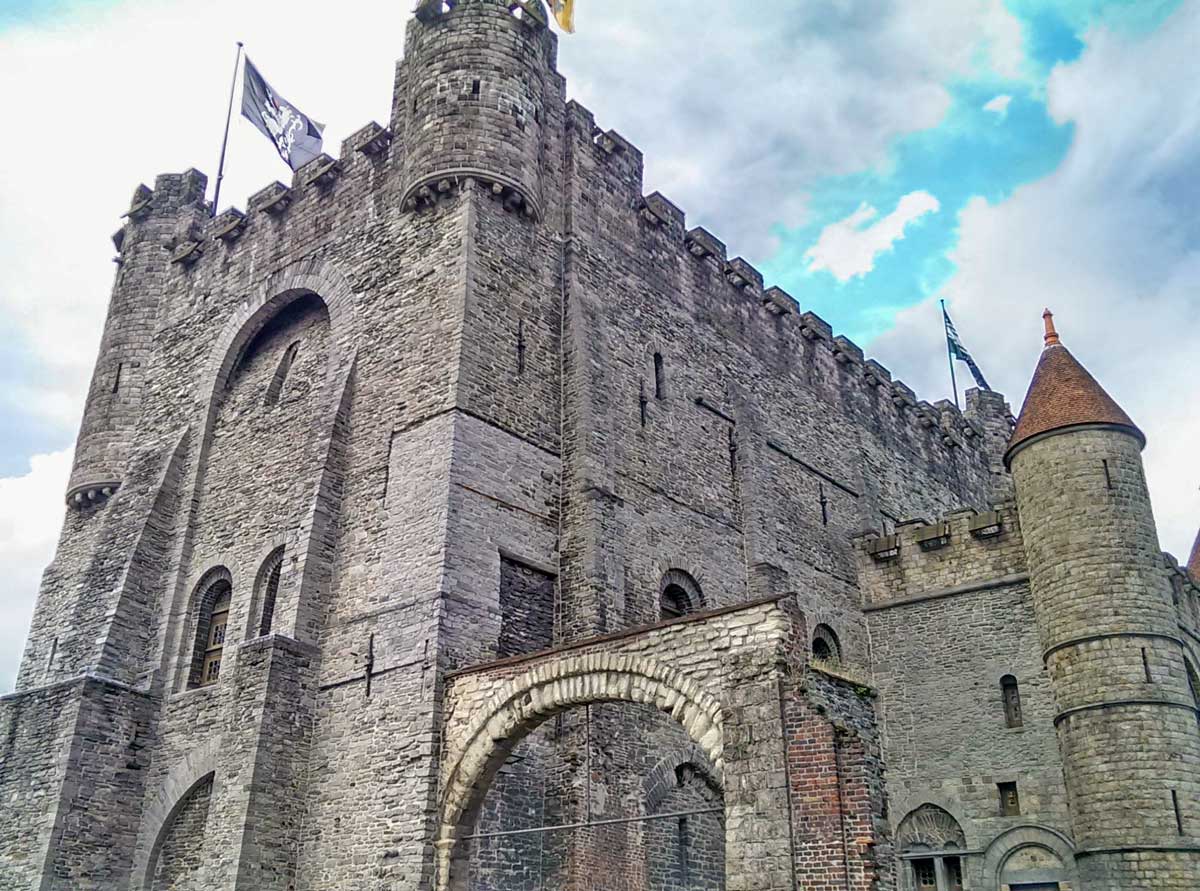 02. Visit the Gravensteen Castle
Gravensteen Castle, also known as the Castle of the Counts, is a medieval fortress located in the heart of Ghent. Built in the 12th century, it served as the residence of the Counts of Flanders until the 14th century.
Today, it functions as a museum and it's one of the most popular tourist attractions in the city.
Visitors can explore the castle's fortification walls, towers, and rooms to get a glimpse of what life was like in medieval times. One of the highlights is without a doubt the panoramic view of Ghent that you get from the top.
The castle is open daily from 10:00 a.m. to 6:00 p.m., and admission is €12 for adults and €7 for students under 26. Children under the age of 12 can enter for free. You can buy your ticket online from here or on-site.
03. Discover the Ghent Altarpiece at St. Bavo's Cathedral
One of the must-see attractions in Ghent is the Ghent Altarpiece, also known as the Adoration of the Mystic Lamb. This masterpiece is located inside St. Bavo, a beautiful Gothic cathedral that dates back to the 14th century.
The Ghent Altarpiece is a polyptych painting from the early 15th century, attributed to the Hubert and Jan van Eyck brothers and known for its intricate details and symbolism.
The altarpiece consists of 18 panels that can be opened and closed to reveal different scenes. The central panel depicts the Adoration of the Mystic Lamb, which shows the Lamb of God surrounded by angels and worshipers. The other panels show scenes from the Bible and the lives of saints.
After being stolen, hidden, and damaged throughout history, the Ghent Altarpiece was finally restored and returned to St. Bavo's Cathedral and visitors can now admire it in all its glory.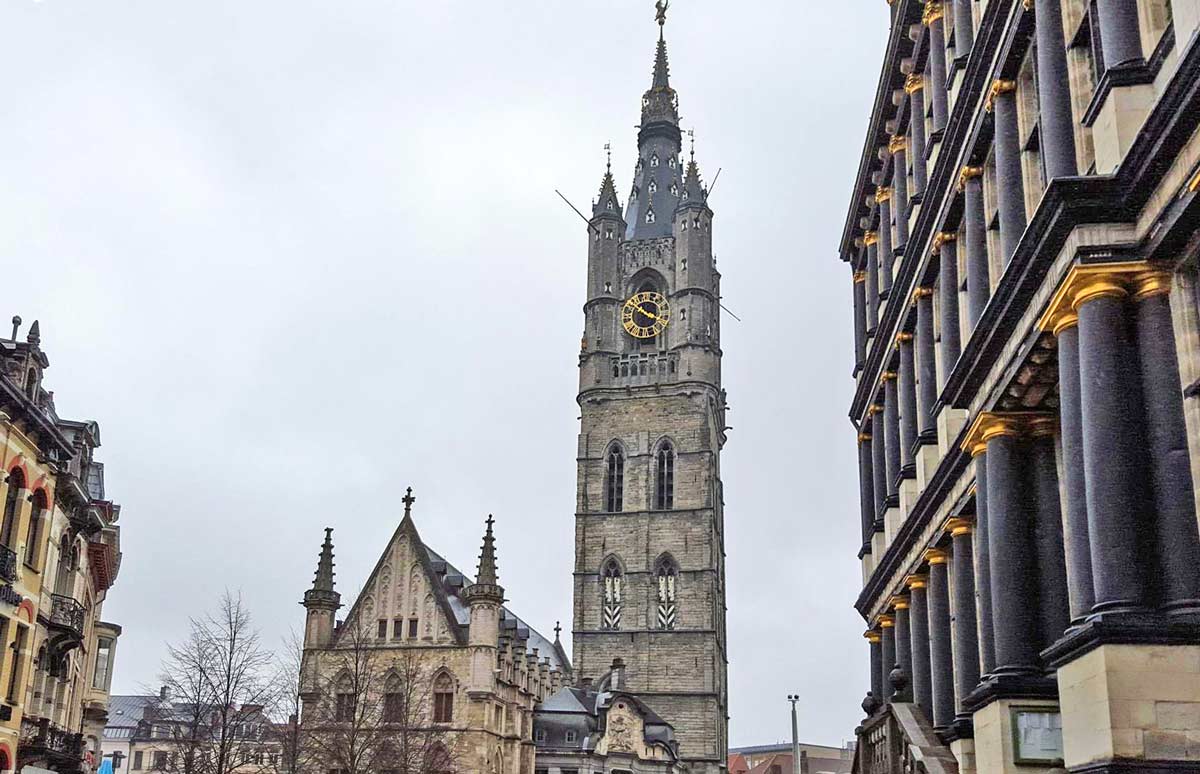 04. Climb atop the Belfry Tower
Climbing the Belfry Tower in Ghent is a popular activity for visitors to the city. The tower is one of three medieval towers that overlook the old city center and is a UNESCO World Heritage site.
At 91 meters (299 ft) tall, it is the tallest belfry in Belgium. Visitors can climb the 366 steps to the top of the tower to enjoy stunning views of the vibrant city of Ghent. There is also a lift available from the first floor for those who prefer using it.
Along the way, visitors can explore small museums on the middle floors where they can learn more about the history of the landmark.
The tower is open daily from 10:00 a.m. to 6:00 p.m., and admission is €10 for adults and €4.5 for students under 26. Children under the age of 12 can enter for free. You can buy your ticket online from here or on-site.
05. Admire the Art at the Museum of Fine Arts
If you're an art lover, you can't miss the Museum of Fine Arts in Ghent, which is the oldest museum in Belgium.
It has an impressive collection of Flemish works, including some by famous artists such as Peter Paul Rubens and Hieronymus Bosch.
06. Take a boat tour
One of the best ways to see Ghent is by taking a boat tour along the Leie River. From the water, visitors can admire the city's beautiful architecture and enjoy a unique perspective on its history and culture.
07. Enjoy the Local Cuisine
Ghent is known for its traditional Belgian dishes, including waffles, chocolate, and beer. Here are some of the best places to try out local delicacies:
Ghent's Friday Market: It takes place in Vrijdagmarkt and is the perfect place to sample local street food, such as Belgian fries, waffles, and sausages. It is a working market catering to locals.
Roots: A cozy restaurant with a modern menu, it offers Michelin quality at a good price.
Frites Atelier: It's probably the best place to try Belgian fries while in Ghent.
Meme Gusta: This cozy restaurant is a great place to try stoofvlees (a typical Flemish beef stew).
Don't leave Ghent without trying cuberdons (cone-shaped candy filled with raspberry-flavored filling). You can find them at local candy shops like Confiserie Temmerman.
So is Ghent worth visiting?
Less busy than its more famous counterpart, Bruges, but with a rich history, great architecture, and plenty of things to see and do, Ghent is worth a visit no matter if only for a day or several.
Some of the top attractions in Ghent include the medieval castle Gravensteen, the Gothic-style St. Bavo's Cathedral, and the scenic canals and bridges of the city center.
There are also several museums you can visit, as well as plenty of restaurants, cafes, and bars where you can sample delicious Belgian cuisine and beer.
One day in Ghent FAQs
What is Ghent famous or known for?
Ghent is famous for its well-preserved medieval architecture, the Gravensteen Castle, Saint Bavo's Cathedral which houses the renowned Ghent Altarpiece by Jan van Eyck, its picturesque canals, and a vibrant cultural scene. Additionally, it's known for its university and the Ghent Festival, an annual music and theater festival that attracts numerous visitors.
Which is better Bruges or Ghent?
Both cities are totally worth a visit, but if you can only fit one in your Belgium itinerary, then I'd recommend choosing Bruges.
Is Ghent a safe city?
Yes, Ghent is generally considered a safe city for residents and travelers alike. But like in any other urban setting, it's recommended to be aware of your surroundings and exercise common precautions, especially at night or in less crowded areas. However, compared to many other cities, the crime rate in Ghent is relatively low.
How many days do you need in Ghent?
One day is enough to see the main sights in Ghent, but if you like to travel slowly, then you can also spend two nights in the city.
Is Gent and Ghent the same?
Yes, Gent and Ghent refer to the same city in Belgium. Gent is the name in Dutch, while Ghent is its English counterpart.
How long is the train journey from Brussels to Ghent?
The train journey from Brussels to Ghent takes a bit over half an hour.
Ghent day trip: Final thoughts
Ghent is a charming city and a very good choice for a day trip from Brussels. Make sure to visit all the top attractions such as Gravensteen Castle, St. Bavo's Cathedral, and the Belfry and take a stroll along the canals and admire the picturesque views.
And don't forget to indulge in some of Belgium's famous treats like waffles, chocolate, and beer, whether in Ghent or in Brussels.
Happy travels~
---
YOU MIGHT ALSO LIKE