If you're looking for a beautiful and magical place to visit, look no further than Giethoorn Netherlands. This charming village is known for its picturesque canals and bridges, and it's a popular tourist destination for a good reason.
Make sure to take a boat ride through the canals during your visit and enjoy the stunning scenery. You'll feel like you've stepped into a fairytale world!
Disclosure: Some of the links in this post are affiliate links. If you click on them and make a purchase, I may receive a commission at no extra cost to you. Check my full disclaimer here.
Giethoorn Netherlands: Is it worth visiting as a day trip from Amsterdam?
Giethoorn is a small village located in the Dutch province of Overijssel. It has become famous as the "Venice of the North" or the "Village with no roads" because it has beautiful canals that connect to each other, which you can cross on wooden arch bridges.
Giethoorn is also popular for its many thatched cottages, which give it a fairytale-like feel.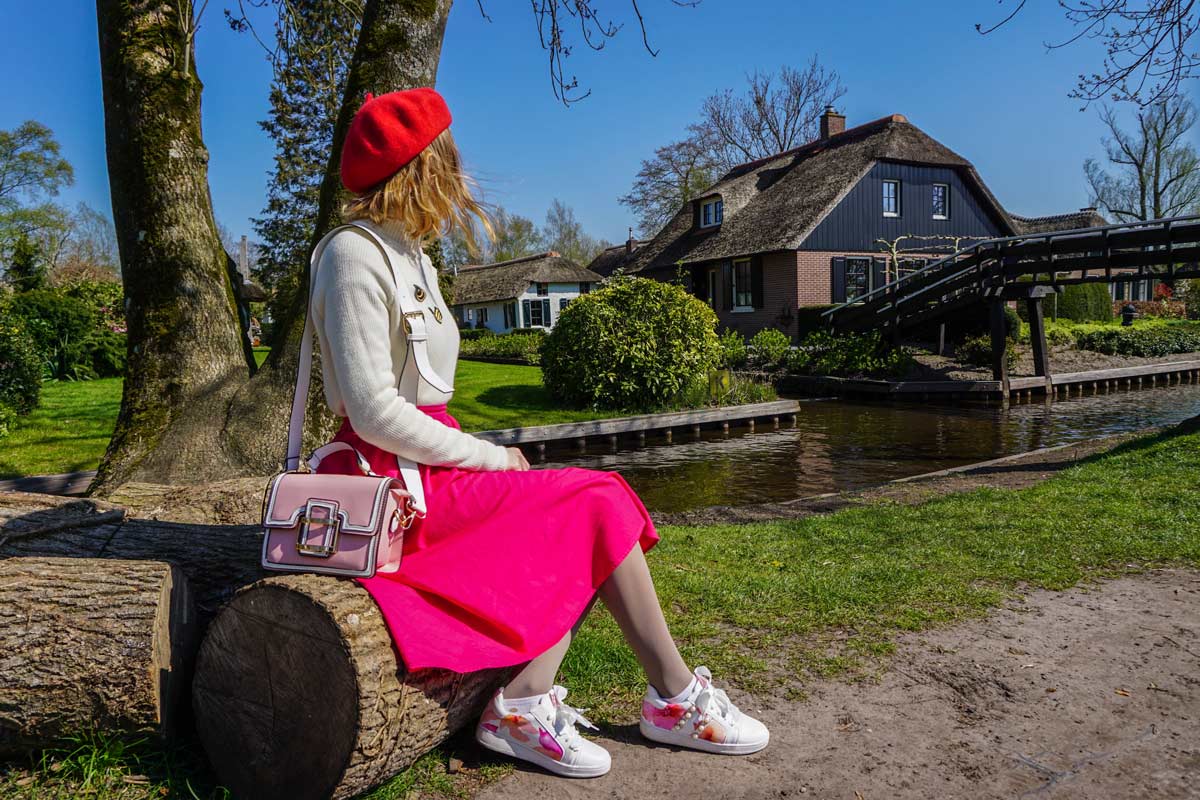 Does Giethoorn really have no roads?
I'd have to say no. Giethoorn does have roads and even big parking lots. However, there is an area of the village that is only accessible by foot, bike, or boat and that's the most visited and photographed section.
The answer is yes and no. Giethoorn's popularity rose pretty high in the last few years, so you can't consider it a hidden gem anymore.
Visit the village during the high season (generally the summer months and April, because of the tulips blooming) and you'll find it bustling with people. Go during the shoulder or off-season and it will be more quiet and idyllic.
However, I have to say that, even when it's busy, Giethoorn still looks like it just came out of a fairytale. I visited the village in April as part of my tulip fields trip and I'd say that it was moderately crowded.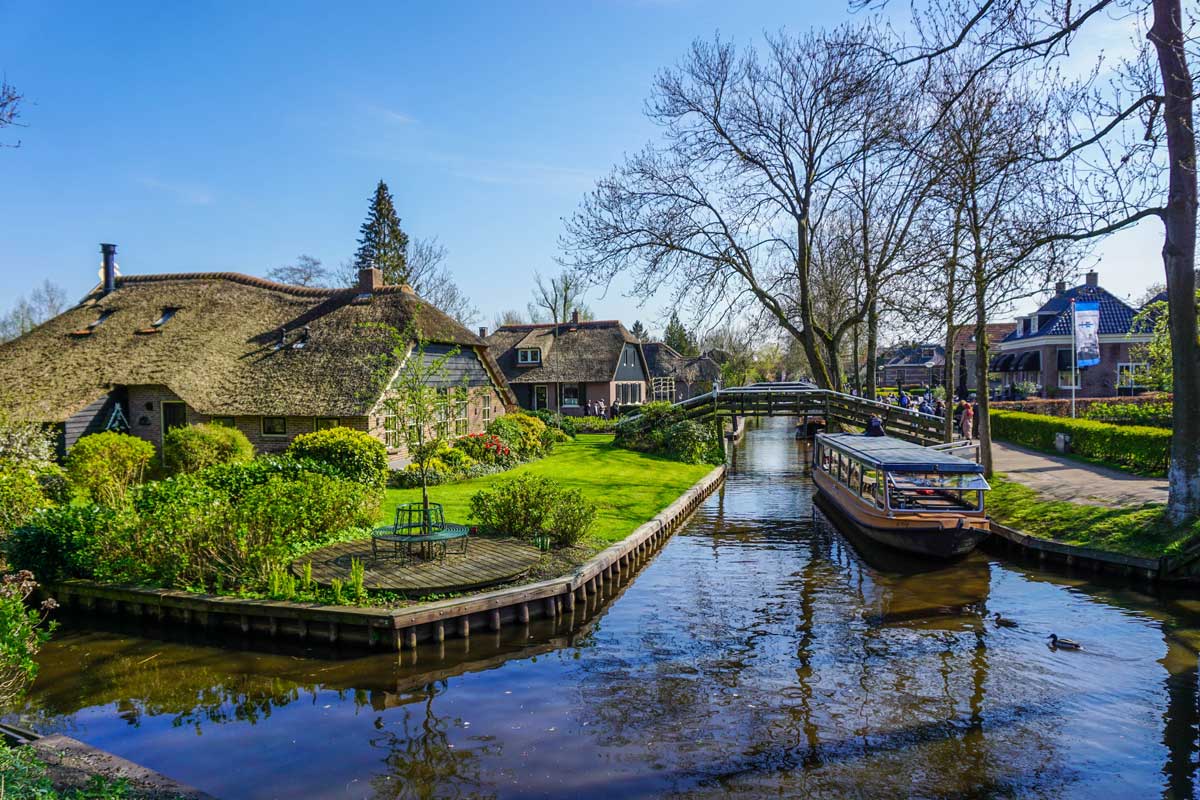 Does Giethoorn look as magical in real life like in photos?
YES! The thatched roofs of the cottages hidden among colorful flowers and bordered by narrow canals are as beautiful in real life as in pictures.
One thing that I found different was the size of the village, more exactly of the no-roads touristic area. I was somehow under the impression that it was bigger before I visited it.
So, is Giethoorn worth visiting from Amsterdam?
Yes, Giethoorn is definitely worth visiting from Amsterdam. Despite the 2.5+ hour journey to get there and the fact that it's often crowded (especially during peak tourist season), Giethoorn's beauty is still undeniable.
Its narrow canals and thatched-roof houses with charming tiny gardens make it one of the most picturesque locations I've ever visited.
And honestly, even with its popularity, you can still find quieter spots if you move further away from the area where Museum Giethoorn 't Olde Maat Uus is and where most of the tourists hang out.
Lastly, the contrast between the bustling city life of Amsterdam and the countryside ambiance of Giethoorn makes it a worthwhile day trip for those looking to experience the diverse beauty of the Netherlands.
Best time to visit Giethoorn
The best time to visit Giethoorn in terms of scenery and weather is from June to September, but that's also when it's most busy.
If you don't like crowds you can try visiting in April – early June or late September – October. However, mid-April is when many people come to visit the tulip fields in Netherlands, so it's also going to be busy during that time.
How to get to Giethoorn from Amsterdam?
Getting to this quaint Dutch village from Amsterdam is fairly easy, as it's well connected by road and public transportation. Renting a car and driving to Giethoorn is the most comfortable and faster option, but not by much in comparison with using public transport.
If you don't want to drive, you can take a train from Amsterdam Central station to Zwolle, and then take a bus (70) from Zwolle to Giethoorn.
Or, catch the intercity to Almere Centrum train station where you will change for Steenwijk (change time is 4 minutes, but don't worry, in my experience it's more than enough time as trains are rarely late in the Netherlands) and then take the same bus 70 to Giethoorn, which is what I personally did.
You can also book a tour like this one: Giethoorn Day Trip by Bus and Electric Boat from Amsterdam.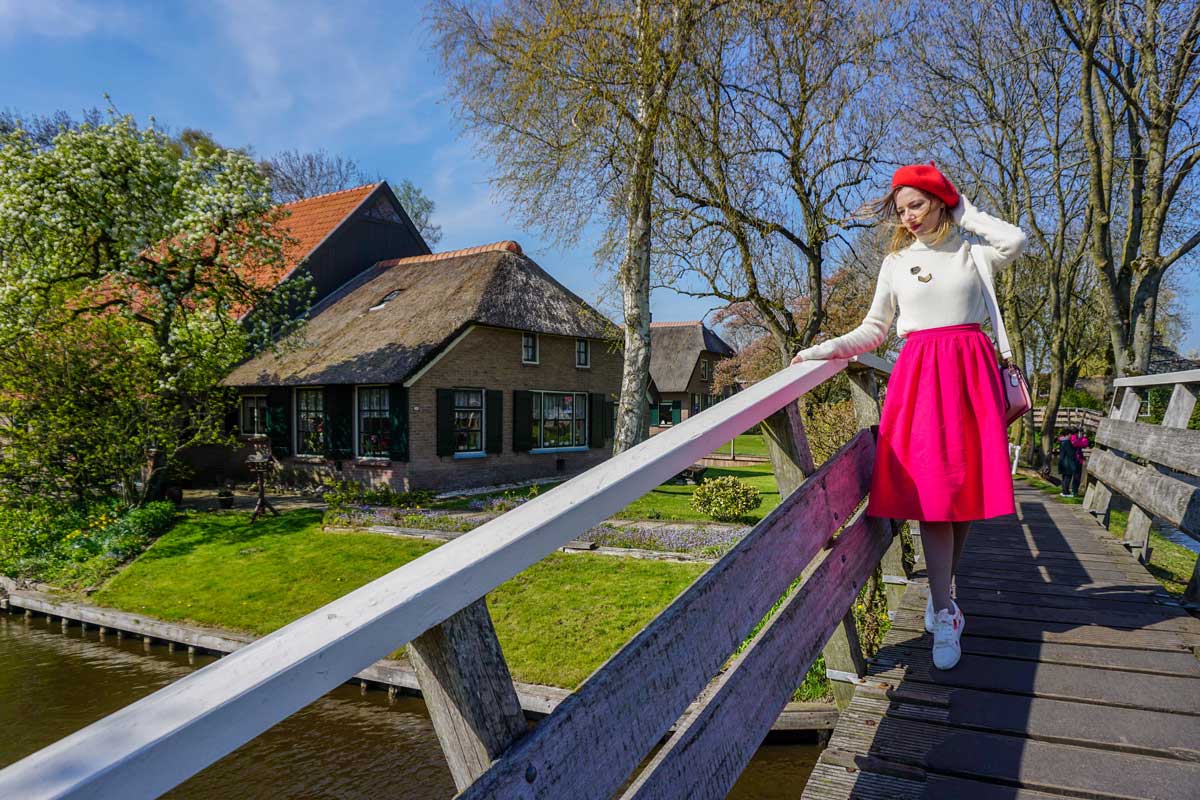 There are also guided tours that you can book to visit the beautiful village. Here are some popular options:
How much time to spend in Giethoorn?
Spending half a day or more in Giethoorn should be enough to see all the highlights of the village. This means that you can easily visit it as a day trip from Amsterdam since the journey time is usually around 2.5+ hours long. Be sure to start your day early though.
Where to stay in Giethoorn?
If you want to spend a few nights in the village of Giethoorn, here are a few options regarding accommodation:
Things to do in Giethoorn, Netherlands
Giethoorn is filled with waterways and bridges, making it a popular spot for boating and cycling. You'll also find plenty of restaurants and gift shops to explore. Check out below the top things to do in Giethoorn to make the most out of your visit!
Just walk around the village and admire the beauty of the cottages and the canals, occasionally resting on one of the benches near the canals to listen to the quacking of a duck.
Take a boat tour on the canals: enjoy the scenery from a larger, covered boat with commentary. It is the perfect way to discover the village. The Giethoorn canal cruise takes about an hour and most guided tours also include it in their program.
Rent a boat and tour the canals by yourself: if you want to explore the place at your own pace, then renting a silent electric boat (whisper boat) is a great way to do it. I only took the cruise and I kinda regret not getting my own boat to explore by myself as well as it looked like a lot of fun. If you visit during the high season, it's probably a good idea to book your whisper boat online ahead of time. You can choose from a variety of boats.
Find out more about the village at Giethoorn 't Olde Maat Uus museum where you'll be given the opportunity to see the interior of a typical farmhouse and a fisherman's house.
Rent a bike and explore the village and its surroundings (book online here).
Eat at one of the restaurants facing the canals. Giethoorn is also known for its nice restaurants located by the water. The highlight among them is definitely the 2 Michelin star De Lindenhof (Beulakerweg 77).
Wildlife enthusiasts and nature lovers will also appreciate the proximity of the Weerribben-Wieden National Park.
Warning: If you rent a boat, make sure you don't steer it on a no-entry canal (usually these are private access boat entries for locals) or turn it around on a way too narrow canal.
I saw a group struggling for a while after they tried to turn their boat around and got stuck perpendicularly on the canal, blocking incoming traffic. In the end, they were helped by a resident to reposition the boat properly.
Visiting Giethoorn Netherlands: Final thoughts
With its quaint thatched-roof houses and serene canals, Giethoorn village is truly a fairytale-like destination and one of the best places to visit in the Netherlands.
Although it's small, there's plenty to do here – from renting a boat to exploring the waterways to visiting one of the local museums or restaurants. So if you're looking for an idyllic European getaway, be sure to add this picturesque village to your travel bucket list!
How will you spend your time in this charming Dutch village?
---
YOU MIGHT ALSO LIKE