Quinta da Regaleira is a must-visit for anyone interested in history and architecture.
While the interior is not as large or rich as in the case of Pena Place (they were also renovating some of the rooms during my visit), the gardens more than make up for it and it's easy to see why the estate is quickly rising in popularity.
If you're planning a trip from Lisbon or you're arriving from other historic sites in Sintra like Pena Palace or the Moorish Castle, getting there is straightforward.
This guide will walk you through the best ways to reach Quinta da Regaleira, whether you're taking the train, driving, or joining a tour. You'll get practical tips to ensure a hassle-free trip to this unforgettable site.
Disclosure: Some of the links in this post are affiliate links. If you click on them and make a purchase, I may receive a commission at no extra cost to you. Check my full disclaimer here.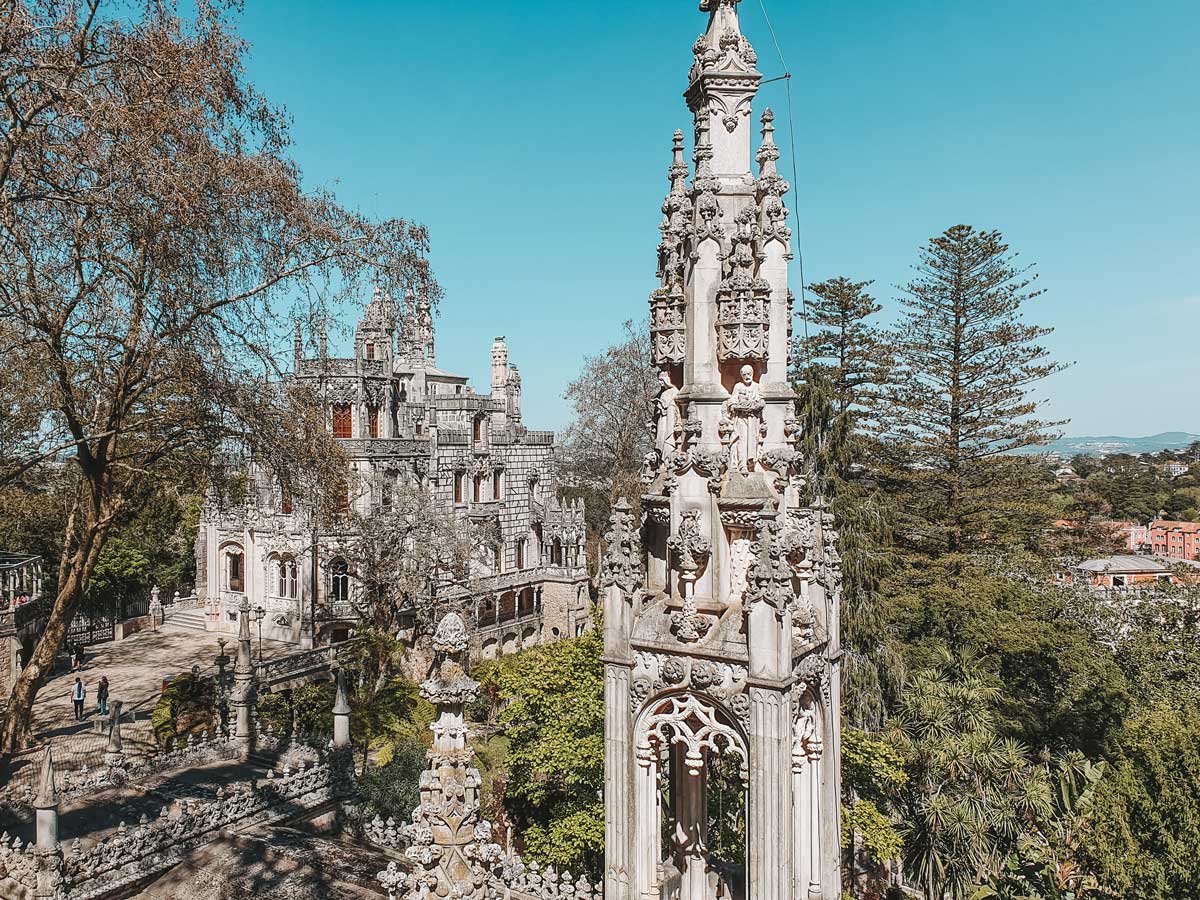 How to get to Quinta da Regaleira from Lisbon
Most people visit Sintra as a day trip from Lisbon and reaching Quinta da Regaleira is both easy and convenient from the capital. You can take the train, join a tour and if you already have a rental at your disposal, you can also drive there yourself.
And since Sintra is only 28 km away from Lisbon, you can even take an Uber to Quinta if time is tight: prices usually start at 17-20 euros from the city center, depending on how high is the demand of course.
🚆 Visiting Quinta da Regaleira by train
Taking the train from Lisbon to Sintra is a popular option for many people due to how easy, cheap and efficient it is.
Most direct trains depart from Rossio train station, which is conveniently located in the heart of Lisbon. Besides, there's a metro station only 3 minutes away on foot (also called Rossio), making it accessible from anywhere in the city.
From the outside, you'd barely guess that the imposing Neo-Manueline building is a train station if it weren't for the words "Estação Centra" (Central Station – its former name) inscribed above its two main doors.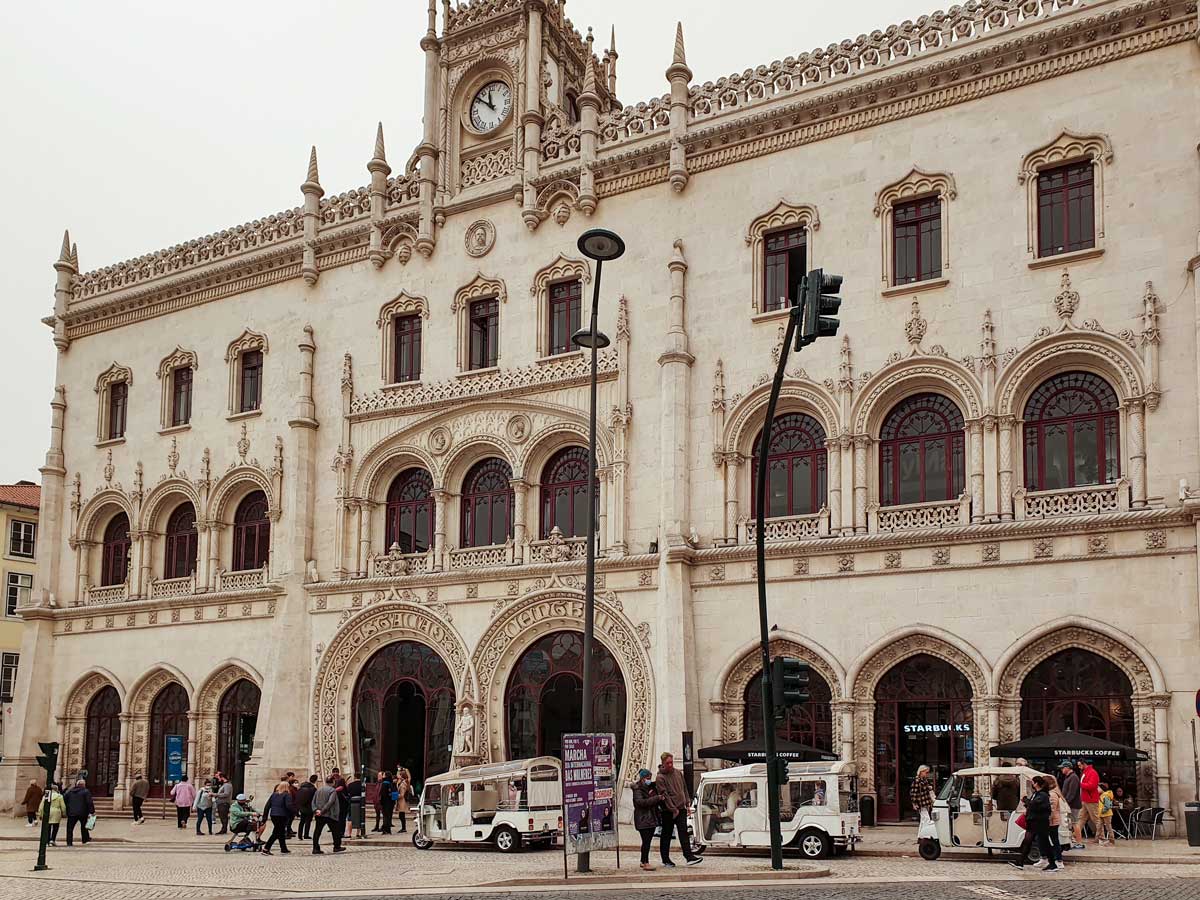 Trains leave for Sintra every 15 to 30 minutes depending on the time of the day, but one thing I noticed was that Google Maps does not always list all connections.
The train ride to Sintra typically takes about 40 minutes, passing through four fare zones. This means that the cost of a single journey is €2.30, while a round trip costs €4.60.
You can check the train schedule and current fares here by entering "Lisboa – Rossio" in the "From" field and "Sintra" in the "To" field.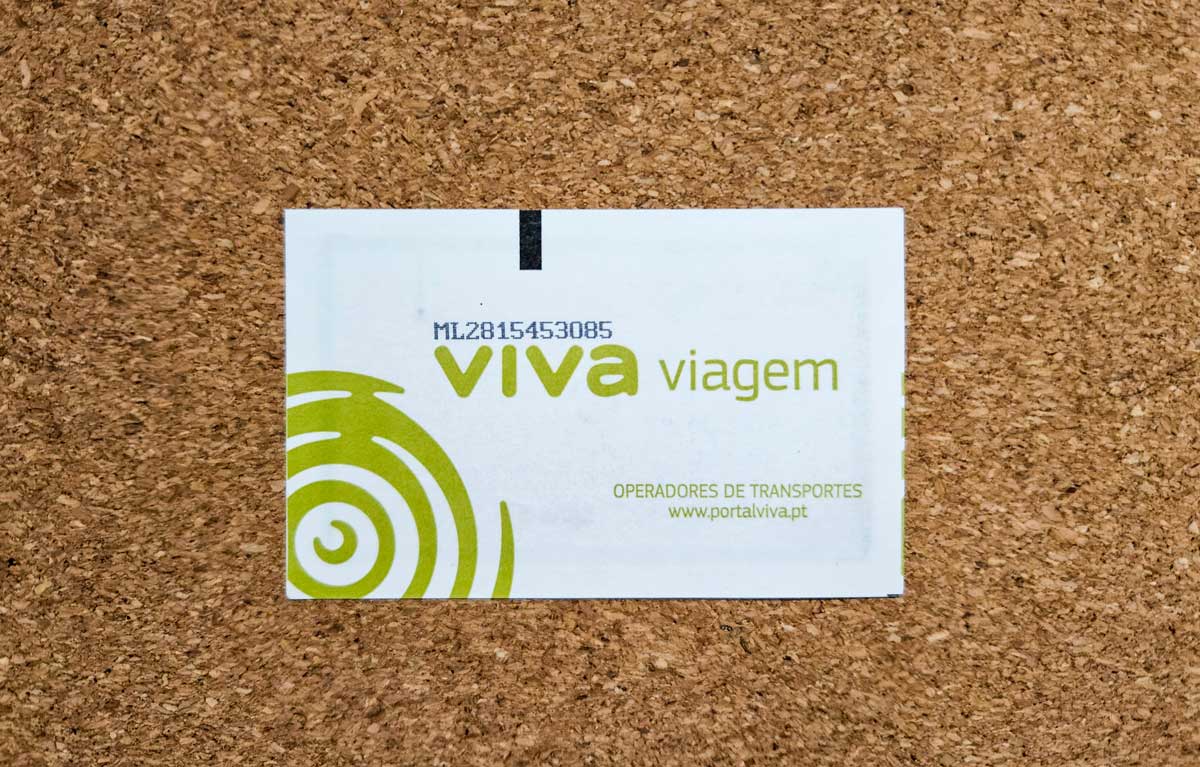 The tickets are called Viva Viagem and they're rechargeable, magnetic cards (the exterior is still paper, so be careful with them if it rains). For your first train journey, you must also purchase a Viva Viagem, which costs €0.50. You can then recharge it for subsequent train trips.
If you already have a Viva Viagem card from using the Metro, you can only use it on the trains if the balance is €0 before adding more funds. Also, the card is only valid for a single traveler, so don't make the mistake of topping up one for an entire group.
One thing to bear in mind is that Rossi train station tends to be quite crowded most of the time, so make sure you get there 20-30 minutes before your train leaves to have enough time to buy your ticket. Another option is to buy it or top it in advance.
To find the ticket booths and machines for the urban trains take the elevator to the 1st floor. You can also leave any additional baggage here if you need to as there are many luggage lockers (some accept cards too).
Since Sintra train station can get equally busy, save yourself the trouble and buy a return ticket directly.
Finally, if Oriente station is closer to your accommodation, you're fortunate because there is a direct train to Sintra departing from there as well. The ticket price remains the same.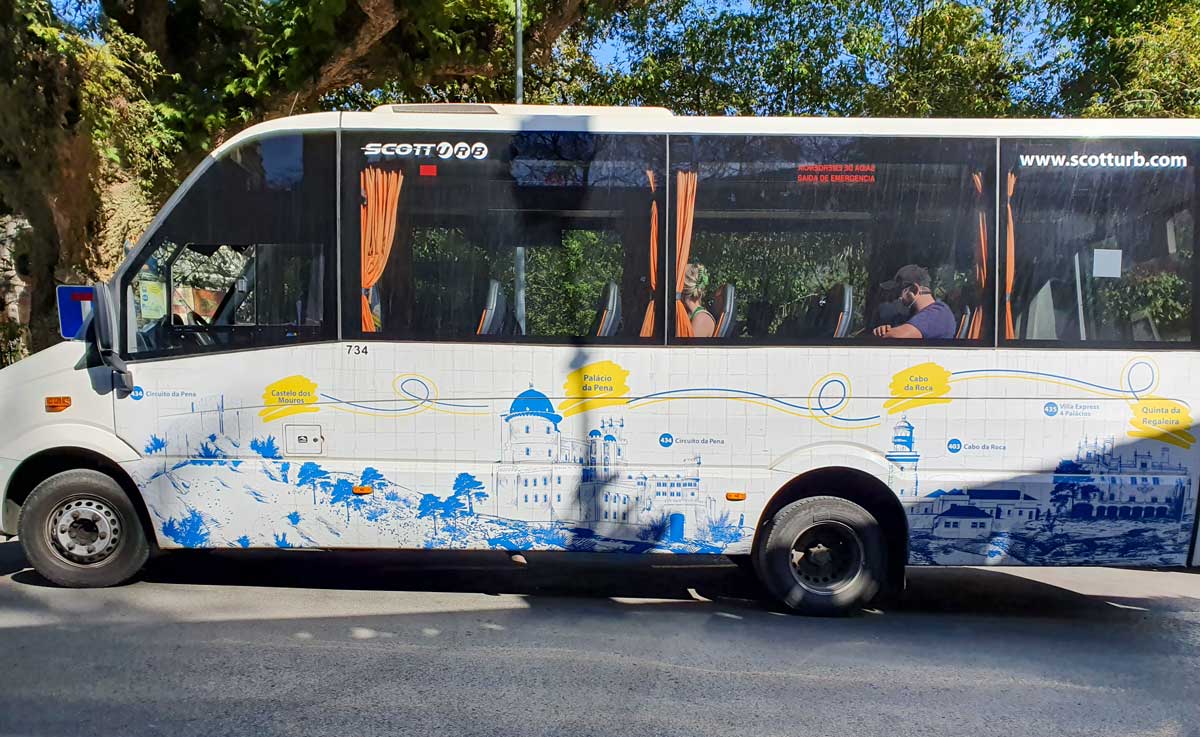 Once you arrive at Sintra train station you can then walk to Quinta da Regaleira, as it only takes around 20 minutes. Other options are taking tourist bus 435 – Villa Express 4 Palácios or a taxi/tuk tuk (more expensive).
Uber and Bolt are also an alternative, however, some drivers may get a bit annoyed by the short ride (13 minutes), especially if traffic conditions are bad.
If you choose to walk, know that you'll first encounter the exit from Quinta (across from it, it's the stop for the 435 bus), which is located right at the palace and you'll need to continue for a few more minutes uphill until you arrive at the actual entrance.
For buses, you can choose between a 24-hour ticket or paying individual fares per ride (see all ticket options here). Tickets can be purchased from the booth outside the train station or directly from the driver (it's better to have cash available in this case).
Lastly, if you're feeling a bit adventurous you can also rent an e-bike, a tiny 2-person electric car or even an e-scooter to get around Sintra (the rental office is right next to the train station).
Do bear in mind though that Sintra has many one-way, narrow streets and it's quite hilly. Traffic conditions can also be quite bad at times.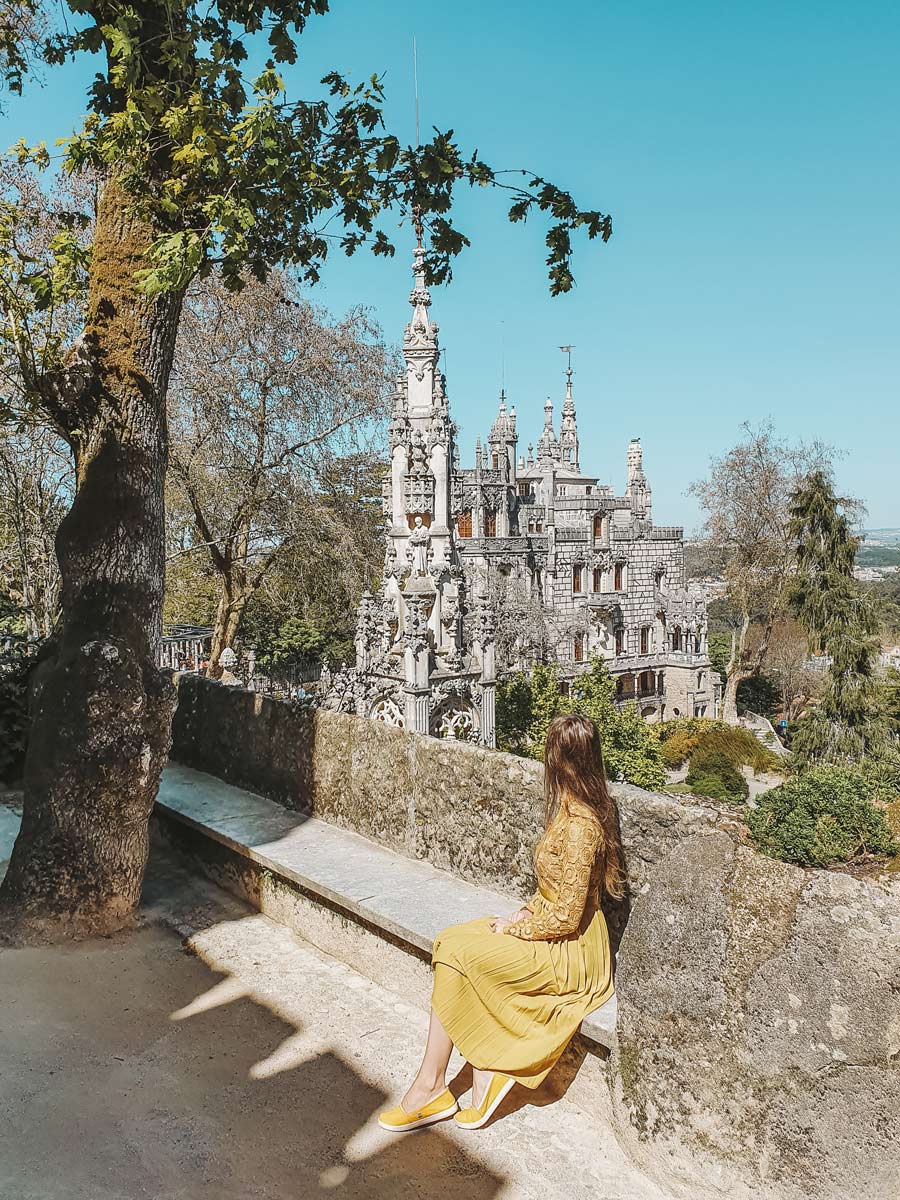 🚌 Joining a tour
If you don't want to deal with the hassle of getting to Sintra or traveling between attractions by yourself, then you can also opt for a tour. It can also be a good choice if you are tight on time and want to see as much as possible.
Here are some of the best tours from Lisbon that include a visit to Quinta da Regaleira:
🚗 Driving to Quinta da Regaleira
If you're only going to visit Sintra, then I actually wouldn't recommend renting a car. However, if you plan to do a big road trip around Portugal for which you'll need a rental anyway, then it makes sense to use it to get to Quinta da Regaleira as well.
---
✓ Cheaper rates and insurance
✓ FREE cancellation for up to 48 hours before the reservation
✓ Choose between international and local rental companies
No matter if you are thinking of renting a car from Lisbon or Porto, there are many options to choose from. To make things easier, I'd suggest you check out an aggregator like Discover Cars and look around.
Most of the time it will save you quite a bit of money because they negotiate the rates with each car rental company and they also offer cheaper full coverage.
However, since it's third-party insurance, you will still be required to pay a security deposit upon receiving the car, as if you don't have any.
As long as the rental is returned without damage, the entire deposit will be refunded back to you. However, if any repairs are needed, the costs will be deducted from the deposit. You would then need to file a claim with Discover Cars to be refunded (up to $3400).
To check the deposit amount (because requirements vary between companies) and other important details, simply click "Rental conditions" when reserving the vehicle.
Be aware that rental companies may occasionally attempt to sell you their own insurance, even though you already bought one through Discover Cars. Simply decline it.
Also, I suggest you choose a car rental company with high ratings, ideally 8+, when making your reservation. This will often ensure you receive better customer service.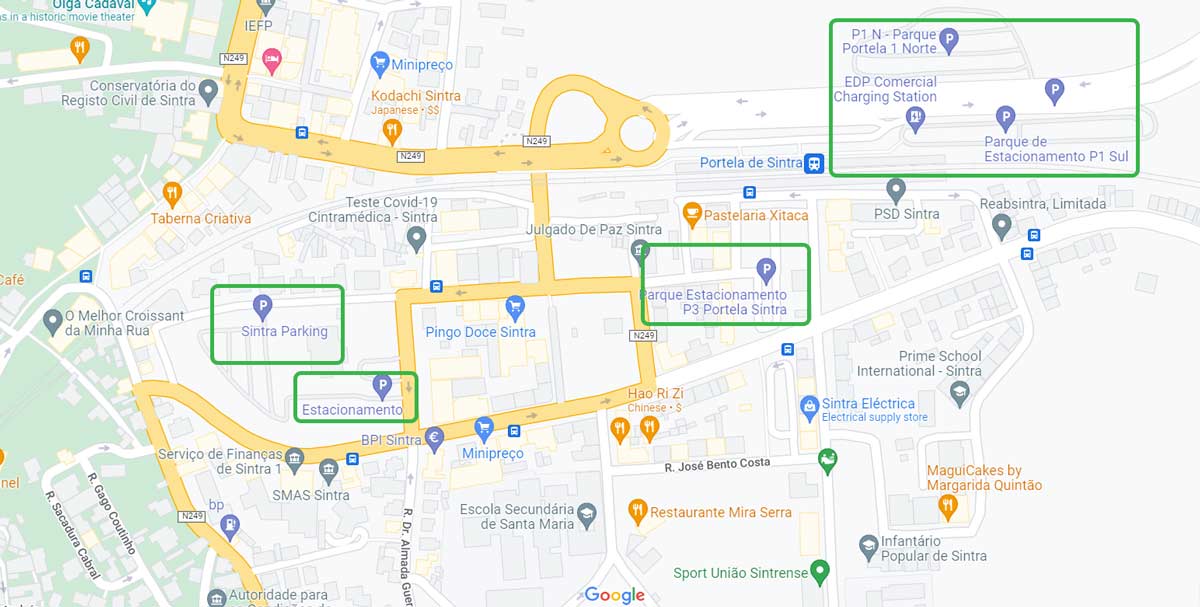 If you plan to drive to Sintra, it's important to know that the city hall implemented traffic restrictions in certain areas including the city center, Pena National Palace and Park, and Moorish Castle among others. This means that only residents, public buses, taxis, Uber/Bolt and other authorized cars are allowed.
Therefore, you'll have to leave your rental outside of the restricted zone and either walk, use public transportation or ride a taxi/Uber/Bolt to get to Quinta da Regaleira.
On the map above, I marked a few suggestions for parking outside of the restricted areas. From Sintra Parking, it's about 30 minutes on foot to the estate.
How to get from Pena Castle to Quinta da Regaleira
Since walking from Pena Castle to Quinta da Regaleira takes about 1 hour and 20 minutes, you're left with two main options. You can take an Uber or Bolt for a direct route, or use the public bus service: catch bus 434 – Circuito Pena from outside Pena Park and transfer to bus 435.
How to get to Quinta da Regaleira from Moorish Castle
The Moorish Castle is on the same bus route as Pena, so to get from there to Quinta da Regaleira it's almost the same: either hop on an Uber/Bolt (faster) or take bus 434 and then change to 435.
However, if you fancy a long walk, then it takes around 40 to 45 minutes to reach Quinta on foot.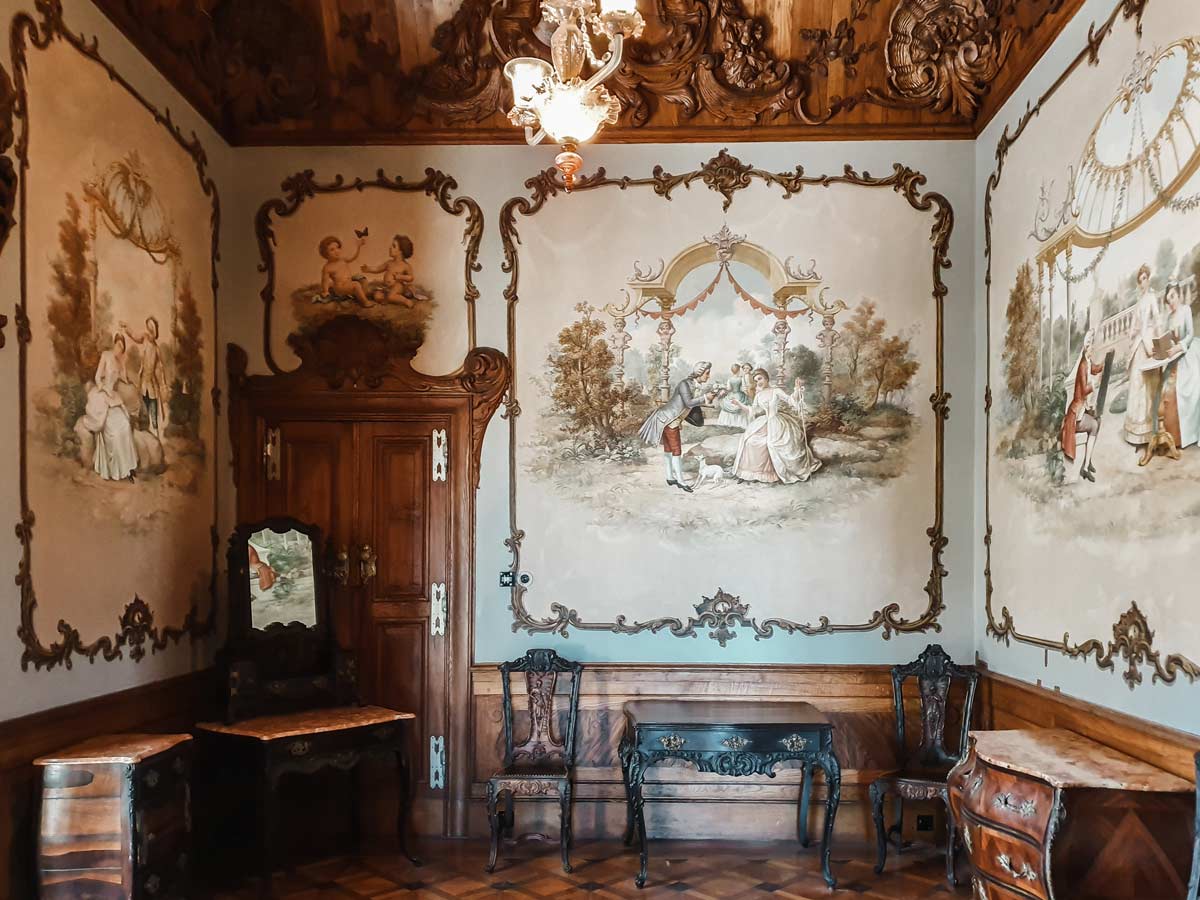 As you can see, visiting Quinta da Regaleira from Lisbon or after exploring other Sintra landmarks is fairly simple and quick. So start planning your trip, pick the best travel option for you, and enjoy this unique estate.
Happy travels~