If you are planning a trip to Portugal anytime soon, then you may have wondered if you should pay a visit to the second-largest city in the country, Porto (also called Oporto).
Is Porto worth visiting?!
Yes, there is no doubt that Porto, Portugal is a place worth visiting! This historic city has a lot to offer to any traveler, from beautiful architecture to delicious food and great culture. Whether you prefer exploring the city and admiring its beautiful azulejo tiles or you are looking for some gastronomic adventures, there is something for everyone in Porto.
So read on for all the reasons why I think this vibrant city is definitely worth a trip!
Disclosure: Some of the links in this post are affiliate links. If you click on them and make a purchase, I receive a commission at no extra cost to you. Check my full disclaimer here.
01. It's a great early spring destination
Portugal has in general warmer weather than many other countries in Europe. Therefore it can be a great choice for a trip in early spring.
The average temperature in Porto during the month of March reaches around 17 degrees Celsius (62 F).
02. Beautiful azulejos
Portugal is famous for its beautiful azulejo tilework, but contrary to popular belief, you won't find that many places where you can admire it in Lisbon.
Instead, you should go to Porto. The historic city has some of the best examples of decorative azulejo tiles in the whole country. Here are some great places where you can marvel at their intricate details:
Se do Porto (Porto Cathedral)
Sao Bento Train Station: yes, train stations can be pretty
Igreja do Carmo
Capela das Almas (Chapel of Souls)
Igreja de Santo Ildefonso
A Perola do Bolhao: somewhat a hidden gem, this small grocery store has a beautiful tile-decorated facade
Steak n Shake restaurant: on the side wall of Steak n Shake restaurant you'll find a very colorful and modern tilework
Igreja dos Congregados
Not only are these sights beautiful to see, but they are also some of the best photo spots in Porto.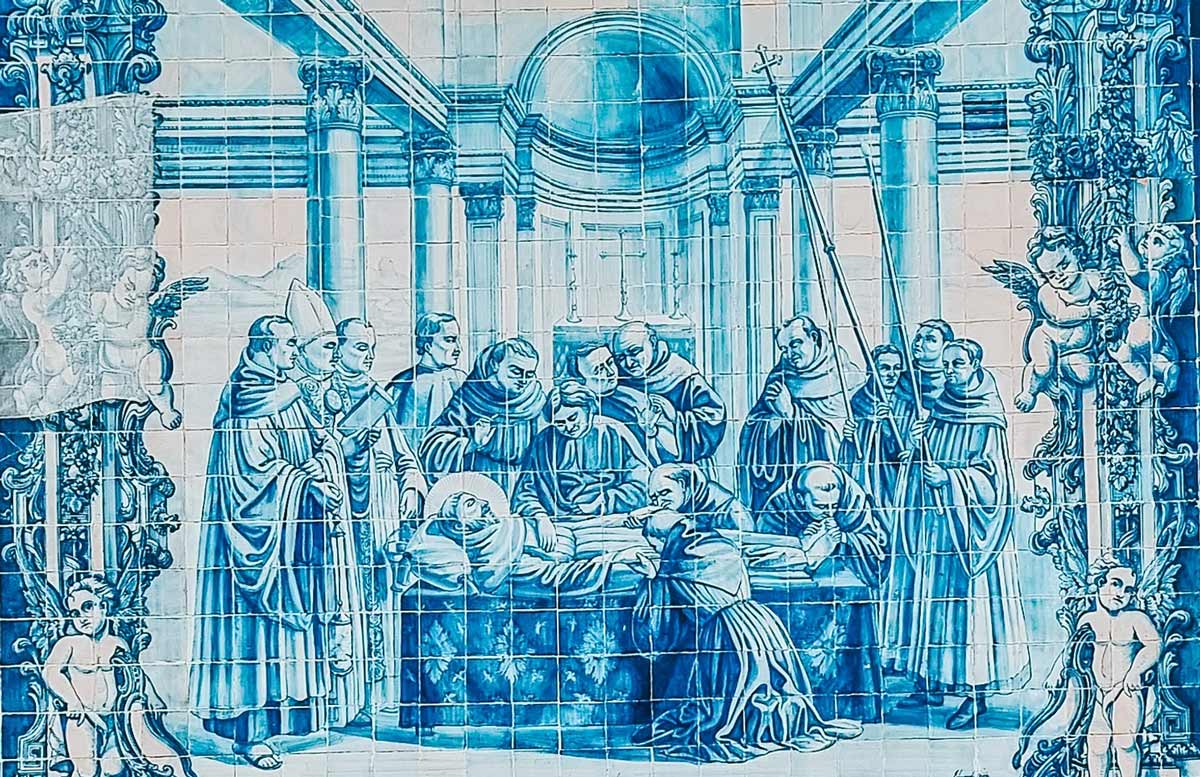 03. Impressive Luis I bridge
Porto lies along the Douro river, so naturally, it has quite a few bridges. But the most impressive and popular of them all is Ponte Luis I.
The bridge is a double-deck metal arch that connects the cities of Porto and Vila Nova de Gaia. At the time of its construction, it had the longest span in the world (of its type).
The bridge was designed by Theophile Seyrig, a disciple of Gustave Eiffel, who along with his mentor previously worked on the Maria Pia Bridge railway bridge, which is also located in Porto. This is probably why both bridges might remind you of a particular world-famous tower.
While you can walk on both the lower and upper decks of the bridge, I recommend the latter simply for the views of both the Douro river and the city.
04. Wine
The city of Porto is famous for its port wine (also known as vinho do Porto). But interestingly enough, this sweet red wine doesn't actually come from Porto, yet it's produced in the Upper Douro Valley, about 100 km (approx. 62 miles) away. Though, during your visit to Porto, you'll find plenty of places where you can taste it.
For wine lovers, I would also recommend going to Vila Nova de Gaia (Gaia) and embarking on a cellar guided tour or even staying at one of the wine hotels across Portugal.
05. It's a great choice for city breaks
The best sights in Porto are located in the historic center, so it's really easy to cover all of them in just 2 or 3 days. In fact, 3 days is the perfect amount of time to spend in Porto, in my opinion.
For this reason, the northern Portuguese city is a great choice for a city break.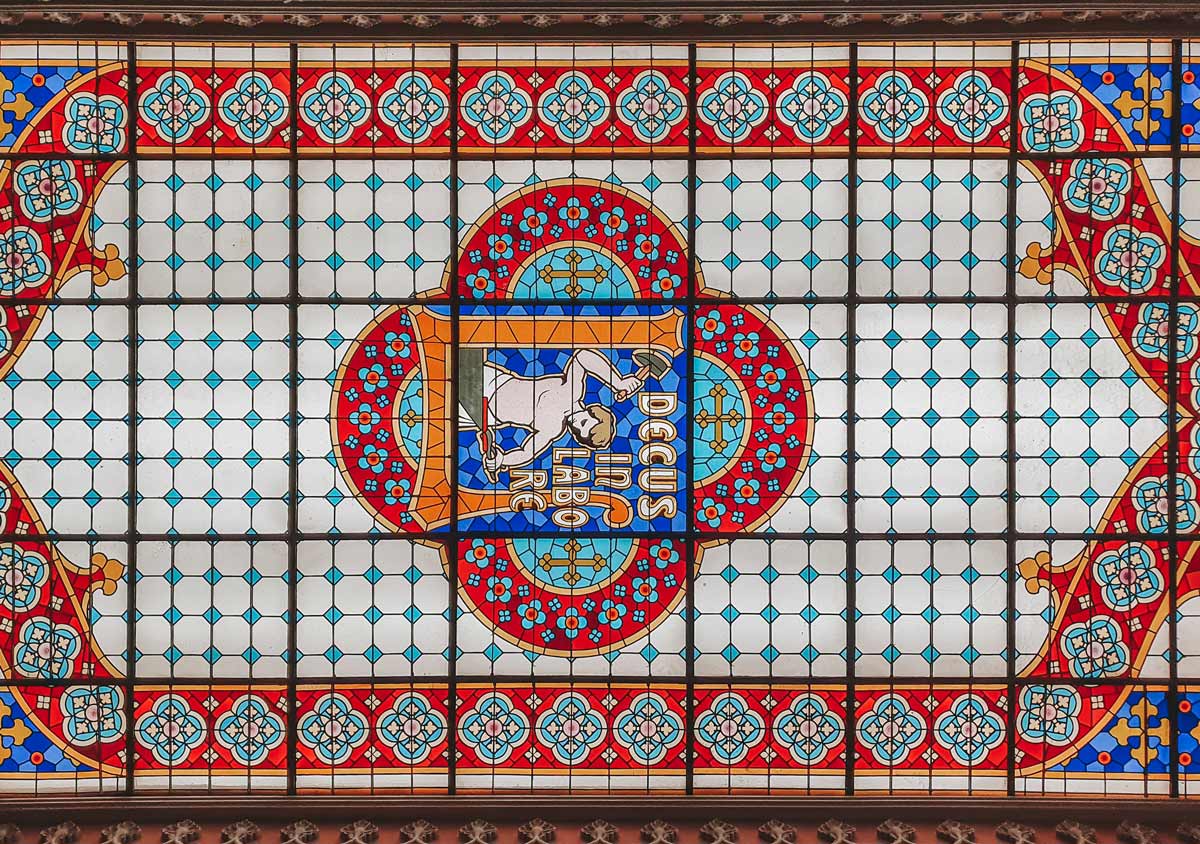 06. Lello bookstore
Porto is very proud to have one of the world's most beautiful bookshops. It's called Livraria Lello and it's so popular that it's a rare thing not to see an extremely long line of people waiting outside it.
Truth be told, part of its fame is due to a rumor that said the incredible bookstore inspired J.K. Rowling to create parts of Hogwarts. However, the author denied ever entering Lello during the time she lived and taught English in Porto.
But even though Livraria Lello wasn't a muse for the beloved magic school from the Harry Potter books, the fact that it's absolutely beautiful still remains.
TIP: J.K. Rowling did however confirm that she wrote parts of the novels in The Majestic Cafe, located on Rua Santa Catarina. So why not visit it, order a cup of coffee, and picture how bits of Harry's magical world came alive there?
07. Affordable prices
Portugal is one of the most affordable countries in Europe. If you check the cost of living in Porto on numbeo.com you'll see that you can have 3 meals a day with drinks and just pay around 45 euros a day.
Add an accommodation cost of 42 euros per person for a basic, yet comfortable and clean double room with a private bathroom in the historic center of Porto (during the high season!) and your total cost per day is around 87 euros. That's quite low for Western Europe!
08. Gardens of the Crystal Palace
The Gardens of the Crystal Palace is a beautiful park near the Douro river consisting of several thematic gardens. The park got its name after the palace that once stood in the place of the current domed pavilion.
Some of the highlights of the gardens are the amazing river vistas, the peacocks roaming free around the park, and the big "Porto" sign near the pavilion – what can I say? I'm a city sign lover :).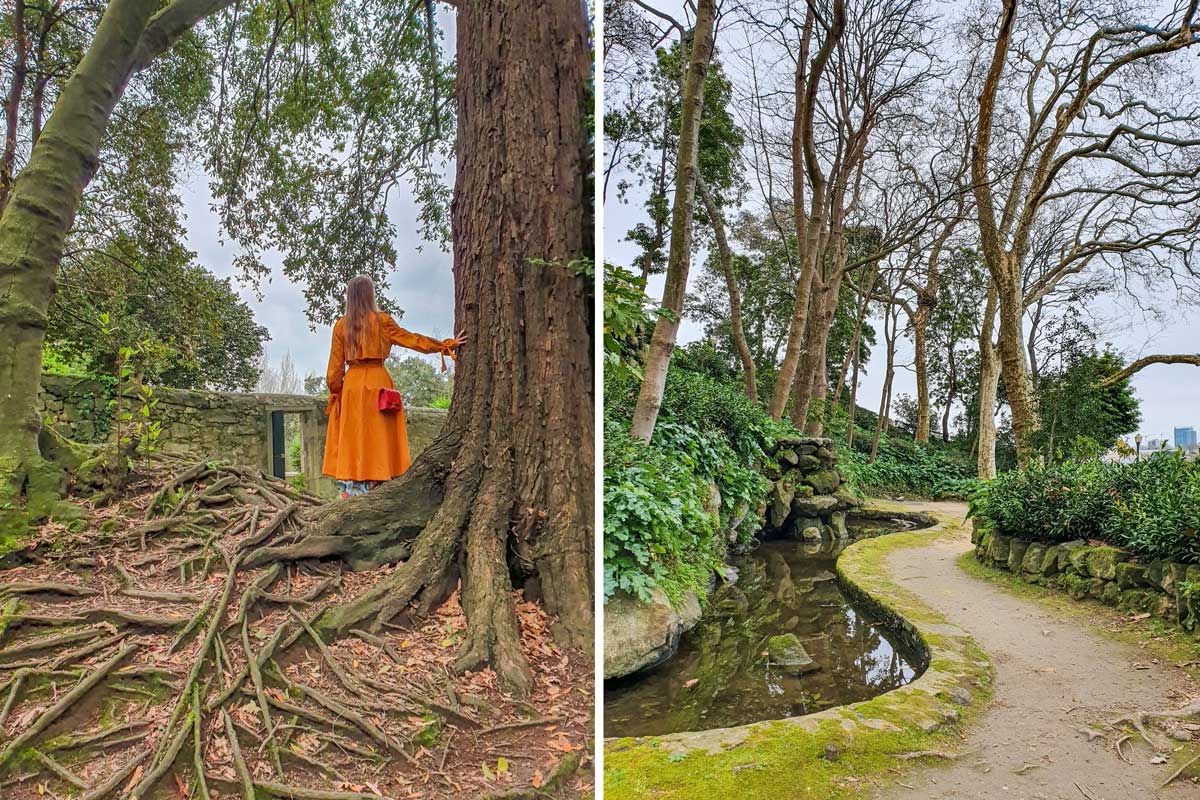 09. An inspiration for Harry Potter?
We already established that Livraria Lello didn't inspire any part of Hogwarts, since the author of the books denied she ever visited it. But how about the Gardens of the Crystal Palace?!
People are saying that some areas of the beautiful park were a source of inspiration for the Forbidden Forest. I don't know if the rumors hold any truth, but I certainly felt a lot of Harry Potter vibes when I visited it.
Also, the uniform of Porto University students (capa e batina) is also said to be an influence for the books, and to be fair it does look a lot like the robes of our beloved characters.
Lastly, there's the beautiful Majestic Cafe, located on Rua Santa Catarina: J. K. Rowling actually said she sometimes worked on the novels in this lovely cafe. So why don't you visit it and imagine how bits of Harry's magical world came to life while sipping on a coffee?
10. Great day trips
Porto is a good base from where you can go on several great day trips including:
Nearby Douro Valley is the perfect place to visit for any wine enthusiast.
Braga: the beautiful Bom Jesus do Monte Sanctuary is without question a must-visit.
Aveiro is known for its canals, Nouveau architecture, and colorful Moliceiros boats.
You can plan the day trips yourself, or you can go with a tour for the convenience of not having to worry about transportation. Here are some good options:
11. Delicious food
Portugal is known for having great food, so why don't you take advantage of your trip to Porto to sample some of its best dishes?
My first recommendation is a dessert: Pastel de Nata (custard tart). This small pastry is filled with a really sweet egg custard and served with a dust of powdered sugar and a bit of cinnamon.
They're so popular that you'll literally find them everywhere. My favorite place to get them though was Manteigaria. They have shops in both Porto and Lisbon.
Another dish that it's popular all across the country is Polvo a Lagareiro, and it consists of grilled octopus, which is first boiled until tender, served with slow-baked potatoes.
Arroz de pato is a traditional dish that can literally be translated as "duck rice". The dish is often accompanied by seasoned vegetables and/or greens. It is then garnished with chourico, the Portuguese version of the Spanish chorizo sausage.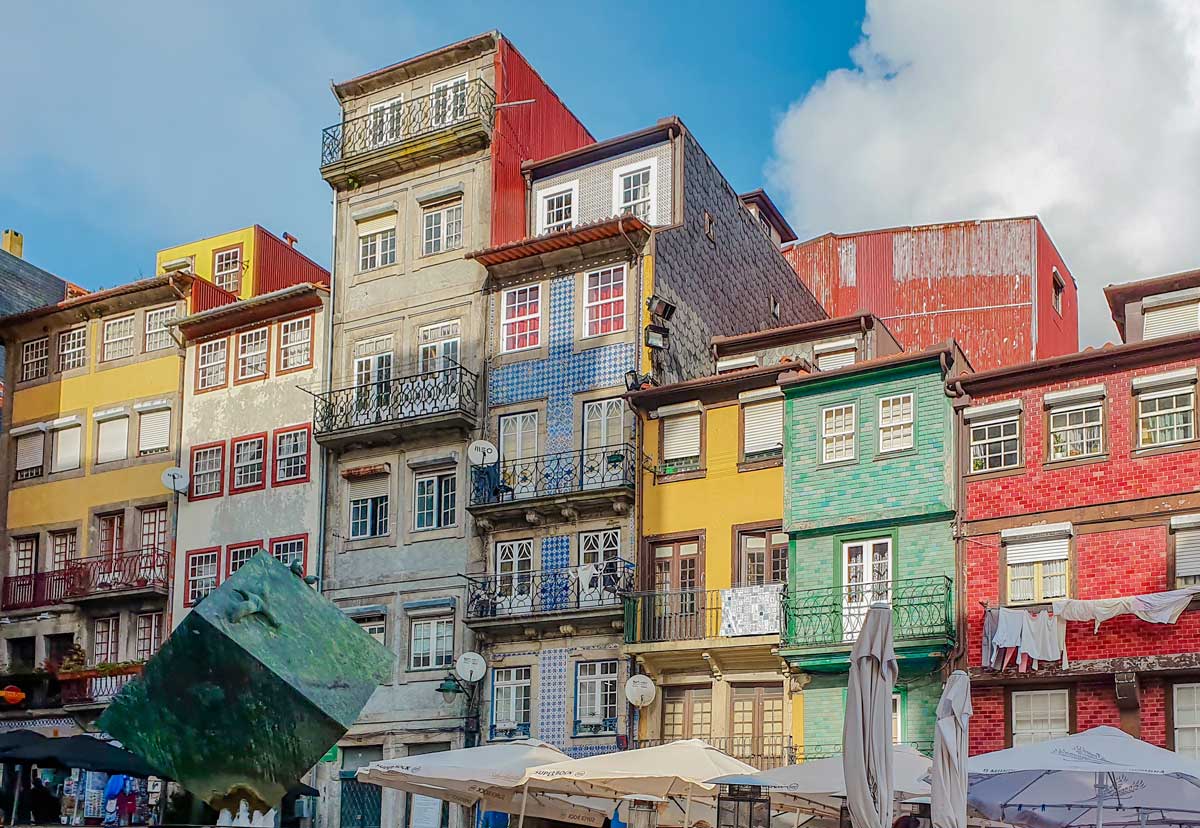 12. Ribeira district
Ribeira is not only one of the most popular and old districts of Porto, but it's also a vibrant, picturesque, and authentic part of the city. Located on the Douro riverbank, you can find here everything from trendy shops to authentic restaurants.
TIP: You can get a great view of the iconic colorful tiled houses in Ribeira if you cross Luis I bridge to Gaia.
13. Clerigos Church and Tower
Clerigos is a beautiful Baroque church located in the historic center of Porto. Unlike other religious buildings in the city, Clerigos' facade has no ceramic tiles, rather the church stands out due to its 75-meter tall bell tower from where you can admire the entire panorama of Porto.
You will need a ticket to climb atop the tower, but you can see the interior of the church for free.
14. Beaches
While Porto is mostly known for its historic center, wine, and amazing tile work, it also has its fair share of beaches both within the city limits as well as nearby. So if you are visiting during summer, you can always take a break from exploring and simply relax at the beach for a day.
Here are some nice beaches in and around Porto: Helmsman's Beach (Blue Flag and Golden Beach status), Praia de Miramar (just 10 km south of Porto), Praia de Fuzelhas (Blue Flag), Praia da Granja (Blue Flag).
15. Sao Joao
Sao Joao festival happens every year, on the night of 23 June, which is Saint John's Eve. Despite the fact that the festival is not that known outside of Portugal, it is one of the most lively street celebrations.
The most pellicular tradition happening during Sao Joao is people hitting each other either with soft plastic hammers. Festivities which include street concerts, fireworks, and jumping over bonfires usually last until the next day.
---
If you're still on the fence about whether you should visit Porto or not, I've hopefully given you enough reasons to consider it. From its stunning architecture and history to its delicious food and wine, there is something for everyone in this charming city located in Northern Portugal.
So what are you waiting for? Start planning your trip to Porto right now!
---
MORE INFO ABOUT PORTUGAL