Are you planning a trip to Malta and you're wondering what to visit if you're only spending 2 days on the island? I've got you covered!
Having visited the nation island myself, I can attest to its beauty and rich history. And while I'd recommend setting aside a minimum of 4 days in Malta for a good sightseeing experience, spending a weekend in Malta can still be enough time to discover some of its main attractions.
So let's see how to make the most of your short stay in this Mediterranean country.
Disclosure: Some of the links in this post are affiliate links. If you click on them and make a purchase, I may receive a commission at no extra cost to you. Check my full disclaimer here.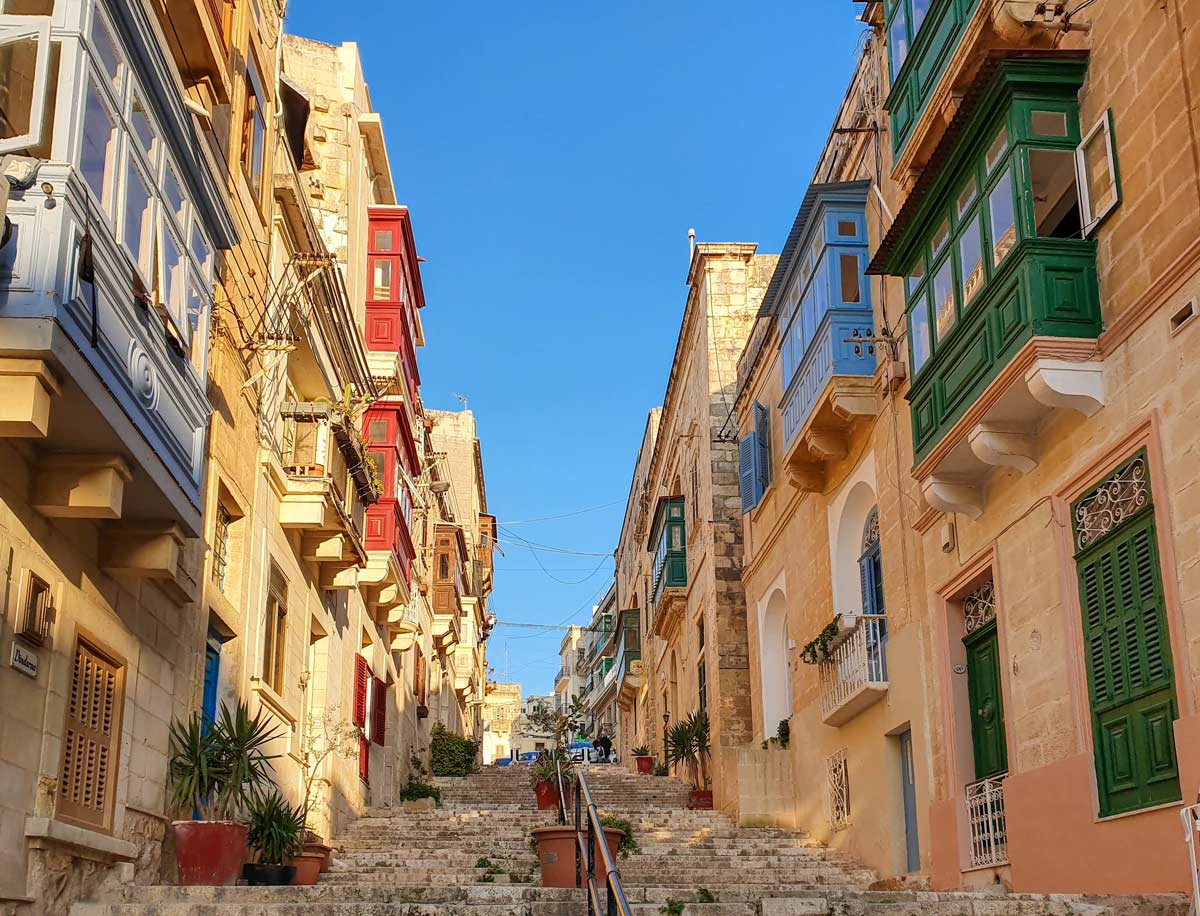 2 Days in Malta Itinerary (Brief overview)
Start your day by exploring Valletta: stroll through its streets, visit St. John's Co-Cathedral, Fort St. Elmo and Casa Rocca Piccola, take a break at Lower Barrakka Gardens or Hastings Park, stop by the Siege Bell War Memorial and enter Church of Our Lady of Victory.
Go to Upper Barraka at 4 PM to witness the firing of the cannons which takes place below, on the Saluting Battery.
Take the Barraka Lift down to the waterfront and hop on a ferry or a traditional boat going to the Three Cities.
Walk around Senglea (L-Isla), Cospicua (Bromla) and Birgu (Vittoriosa). Note: If you want to visit Fort St. Angelo in Birgu (entrance fee 10 euros), you might want to see the firing of the cannons at noon instead and visit the Three Cities a bit earlier since the fort closes at 6 PM.
Hop on bus 51, 52, or 53 (Bus Stop Bay C2) to get to Mdina from Valletta and spend some time discovering the citadel.
You can then continue your exploring with Rabat, which lies right outside Mdina's fortified walls.
End your day by watching the sunset at Dingli Cliffs: You can take bus 201 to get there.
Best time to visit Malta
Malta is a destination worth visiting all year long. However, if you're squeezing your visit into just 2 days and your main goal is sightseeing, then I'd recommend planning your trip in the spring or late fall.
The weather is pleasantly mild during these periods, and the island isn't swamped with tourists, giving you a more relaxed and intimate experience.
I visited Malta in March for my birthday, and while the sun generously shined every day, there was a bit of wind at times that made me buy a sweater since I mostly had summer clothes with me (the next stop on the itinerary was Porto).
So if you're visiting really early in spring or very late in fall, make sure you bring some warmer clothes as well.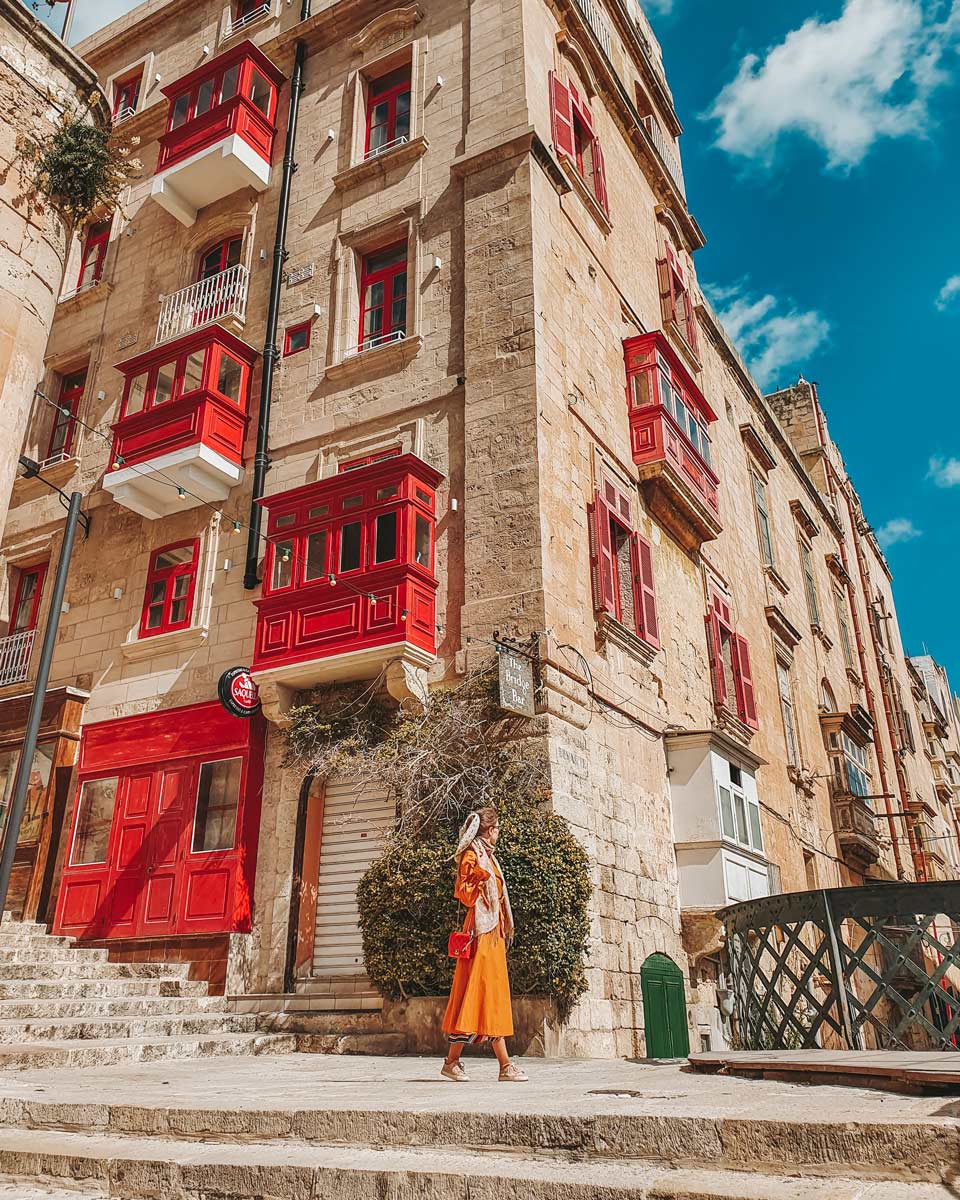 Where to stay if you're spending 2 days in Malta?
With a tight schedule of just two days, location is key. My recommendation is to use Valletta, the capital city, as your base.
Not only is it the starting point for most bus routes, making it a prime choice for those relying on public transportation to explore more of the island, but it's also an attraction in its own right.
Valletta has a rich history and beautiful architecture. Besides, it's only a short boat ride away from the Three Cities, another Malta must-visit.
I stayed in Valletta as well, in a small apartment near the city walls, but while it was strategically positioned, I must admit it left a bit to be desired in terms of cleanliness, especially considering the price.
Receiving stained towels was particularly off-putting. Given that experience, I can't in good conscience recommend that specific place. However, fret not! I'll be suggesting a few other accommodations that I researched and might better suit your needs.
What to see in Malta in 2 days?
If you have 2 full days to spend in Malta, you'll be able to explore some additional attractions beyond Valletta and the 3 cities.
You can opt for a day trip to Gozo, visit Popeye's village, or see Mdina and Rabat. Personally, I recommend the third option.
2 Days in Malta itinerary: Day 1 – Valletta and the Three Cities
Best things to do and see in Valletta
Valletta, the capital of Malta, boasts a rich history and impressive architecture. Due to its small size, it can be conveniently explored on foot within a few hours.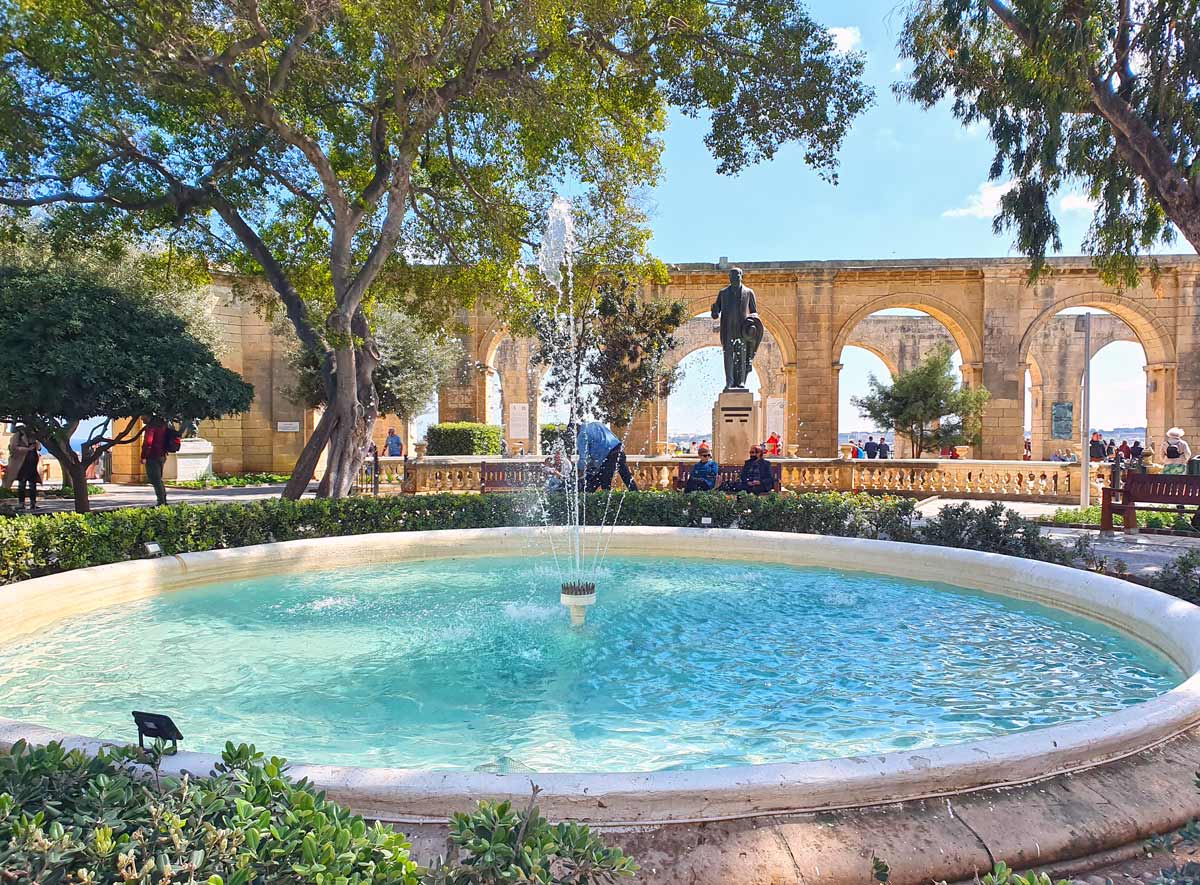 01. Upper Barrakka Gardens
When in Valletta, a visit to the Upper Barrakka Gardens is a must. Located high above the waterfront, these public gardens offer panoramic views of the Three Cities and the surrounding fortifications.
Whether you're visiting during the day or catching the golden hues of sunset (which I can't recommend enough!), this is the perfect spot to take a short break.
Also, here you'll find the Barakka Lift that takes you down to the waterfront.
02. The streets of Valletta
One of the best free things to do in Valletta is to simply stroll around its picturesque streets.
As I explored the city myself during my trip to Malta, I noticed I often paused to admire the details of a limestone facade with colorful balconies or to snap a photo of a pretty alleyway.
The city's rich history is palpable in its architecture and layout, and there's an interesting blend of the old and the new, particularly near the main entrance.
03. The firing of the cannons
A trip to Valletta wouldn't be complete without witnessing the iconic firing of the cannons. This age-old tradition takes place Monday to Saturday, at noon and again at 4 PM at the Saluting Battery, which is conveniently located just below the Upper Barrakka Gardens.
For those curious about the mechanics and history behind this ceremonial act, a small donation grants you access to the terrace, allowing you to experience the firing up close.
That being said, from a perspective standpoint, I personally felt the view you get from the gardens was better.
And if wish, you can still choose to donate in support of the preservation of this unique Maltese tradition, as the staff will bring the donation bowl to the park at the end of the event.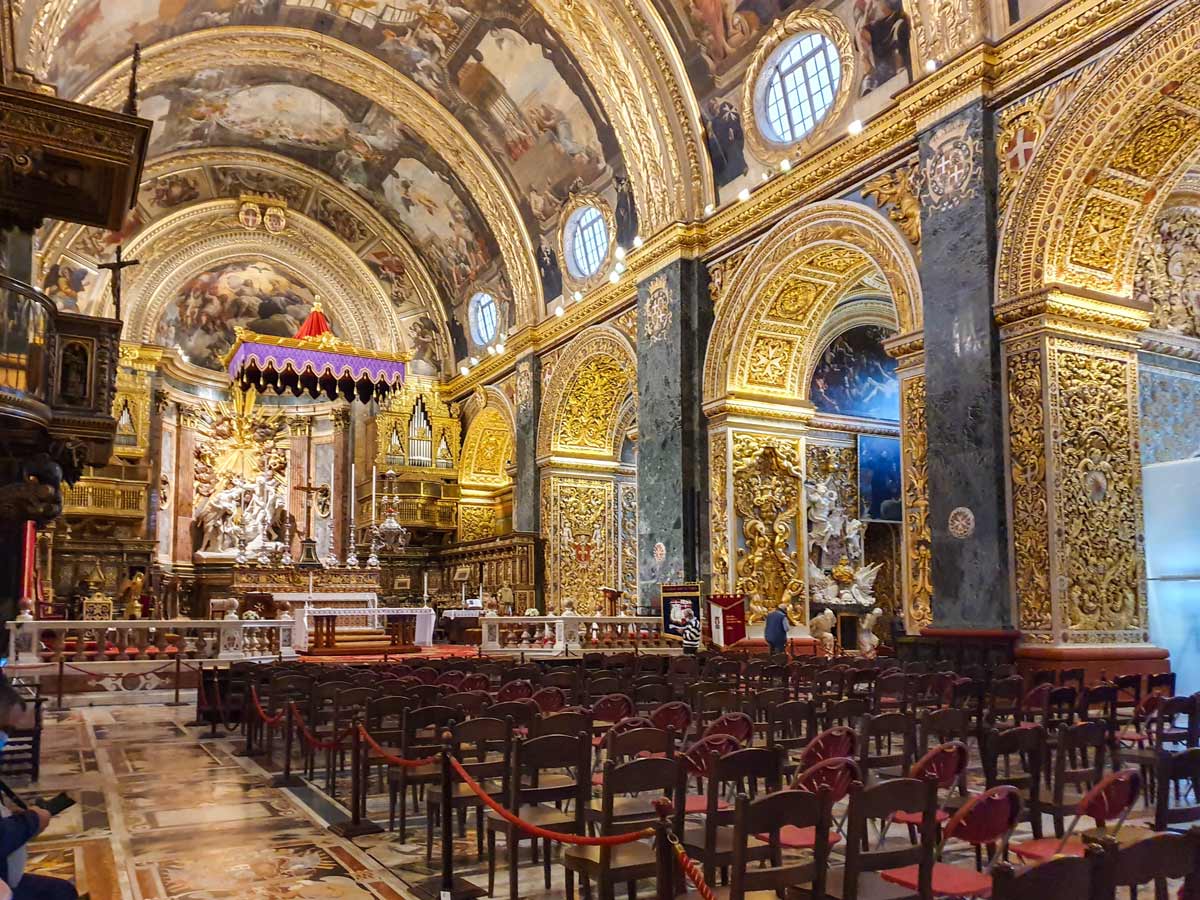 04. St. John's Co-Cathedral
Nestled in the heart of Valletta, St. John's Co-Cathedral is an impressive church dedicated to Saint John the Baptist.
Despite its rather simple facade, the cathedral's interior is a visual feast, rich in intricate decorations and adorned with noteworthy paintings, the most notable example being "The Beheading of St John the Baptist" by Caravaggio.
While the entry fee is kind of expensive at 15 EUR for adults and 12 EUR for seniors and students (children under 12 can enter for free), a visit is worth it in my opinion. Note that the ticket also comes with an audio guide.
05. Church of Our Lady of Victory
If the ticket price for St. John's Co-Cathedral feels a bit steep for your budget, then the Church of Our Lady of Victory is a great alternative.
Not only is this church free to visit (though donations are always welcomed), but it's also the first building that was constructed in Valletta. Besides, its interior features rich decorations and intricate frescoes, much like the St. John's Co-Cathedral.
06. The Siege Bell War Memorial
The Siege Bell War Memorial, which overlooks the Grand Harbour, is much more than a simple monument. It serves as a powerful reminder of the resilience and bravery demonstrated during some of Malta's darkest moments in history.
At precisely noon each day, the large bell rings out, its sound echoing across the harbor as a tribute to those who lost their lives during World War II, when the island was subjected to heavy bombing. It's a moving experience that leaves a lasting impression.
07. The Casa Rocca Piccola
Casa Rocca Piccola is a stunning privately owned 16th-century palace, that offers a unique glimpse into Malta's aristocratic past.
For an admission fee of 9.5 euros, you can explore the grandeur of this historic residence which is still being used as a home today: the family resides here on a different floor.
As you wander through, you'll be treated to elegant dining rooms and libraries, cozy bedrooms, as well as a chapel. You'll also get to see the underground WWII shelters, a stark reminder of the island's wartime past.
Lastly, when you visit the small courtyard of the house, make sure you keep an eye out for Kiko, the resident parrot.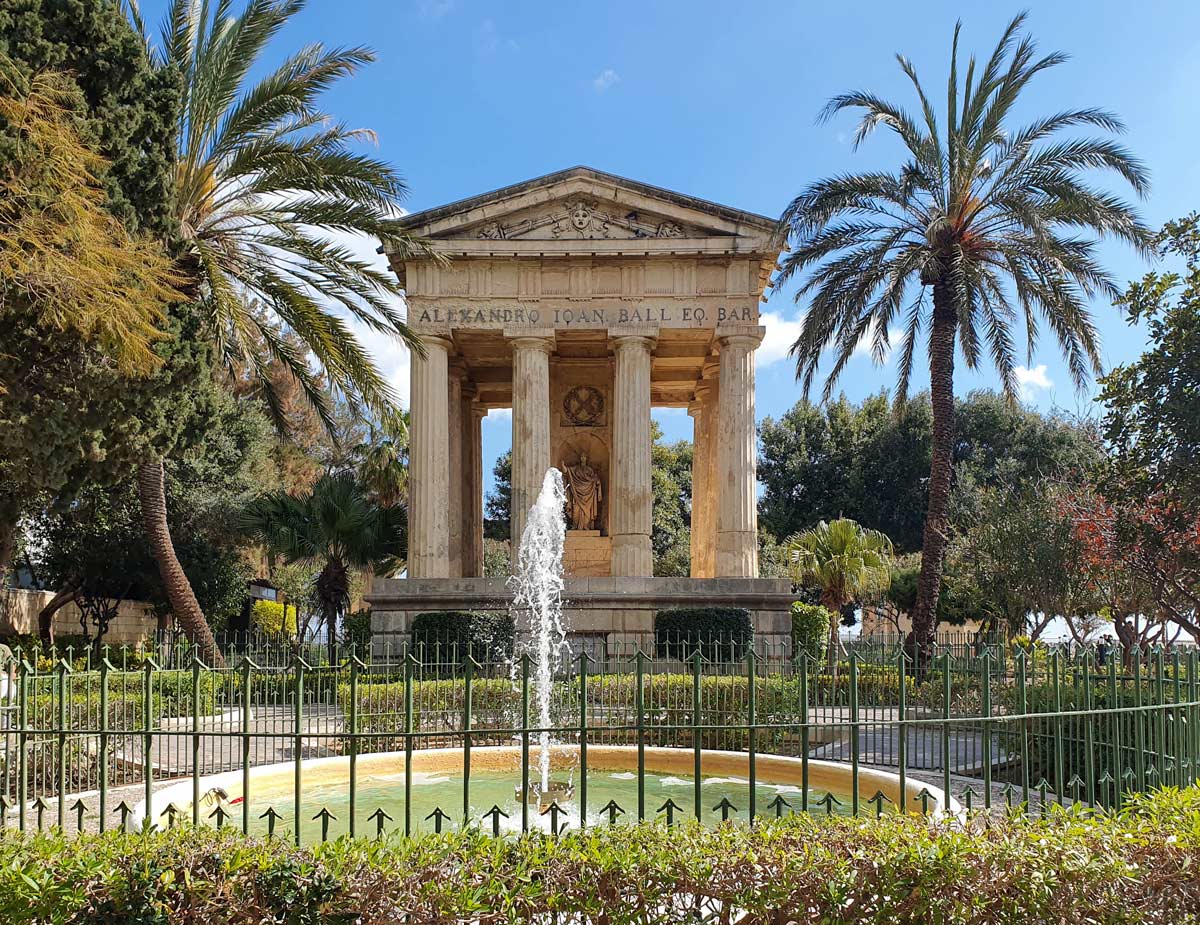 08. Lower Barrakka Gardens
A counterpart to the Upper Barrakka Gardens, the Lower Barrakka Gardens offer a different, yet equally beautiful perspective of Valletta's surroundings.
Unlike their upper counterpart, the Lower Barrakka Gardens are usually less crowded, making them the perfect spot to unwind while enjoying the stunning panorama of the Three Cities across the water.
Also, located at the center of the park is the Sir Alexander Ball Monument, which resembles an ancient temple. Meanwhile, from the back of the gardens, you can catch a glimpse of the Siege Bell War Memorial.
09. Fort St. Elmo and the National War Museum
Standing sentinel at the tip of Valletta, Fort St. Elmo isn't just a fortress; it's a journey through Malta's tumultuous history.
The National War Museum, which lies within its walls, offers a comprehensive timeline that begins in prehistoric times and spans the eras of the Knights, the French and British rule, as well as the two World Wars.
Among the museum's exhibits, you'll find wartime vehicles, including a Gloster Gladiator biplane, uniforms, as well as the George Cross awarded to Malta by King George VI.
For a child, the admission fee is as low as 5.5 euros, whereas adults are charged 10 euros and students and seniors will pay 7.5 euros to enter.
10. Hastings Park
Hastings Park, named after the British Lord Hastings who was Governor of Malta from 1824 to 1826, is a small public park that sits on top of the west side fortifications of Valletta.
From here, you can enjoy lovely views of the Marsamxett Harbour, Msida, Sliema as well as Manoel Island and it's a good spot to take a short break when you get tired from so much exploring.
The Three Cities
The Three Cities refers to the trio of historic fortified cities located across the water from Valletta, each with its own unique charm and character. They are called Senglea (L-Isla), Cospicua (Bromla) and Birgu (Vittoriosa).
Personally, I have to admit I loved Birgu the most, so I highly recommend choosing it if you are running out of time and can only visit one.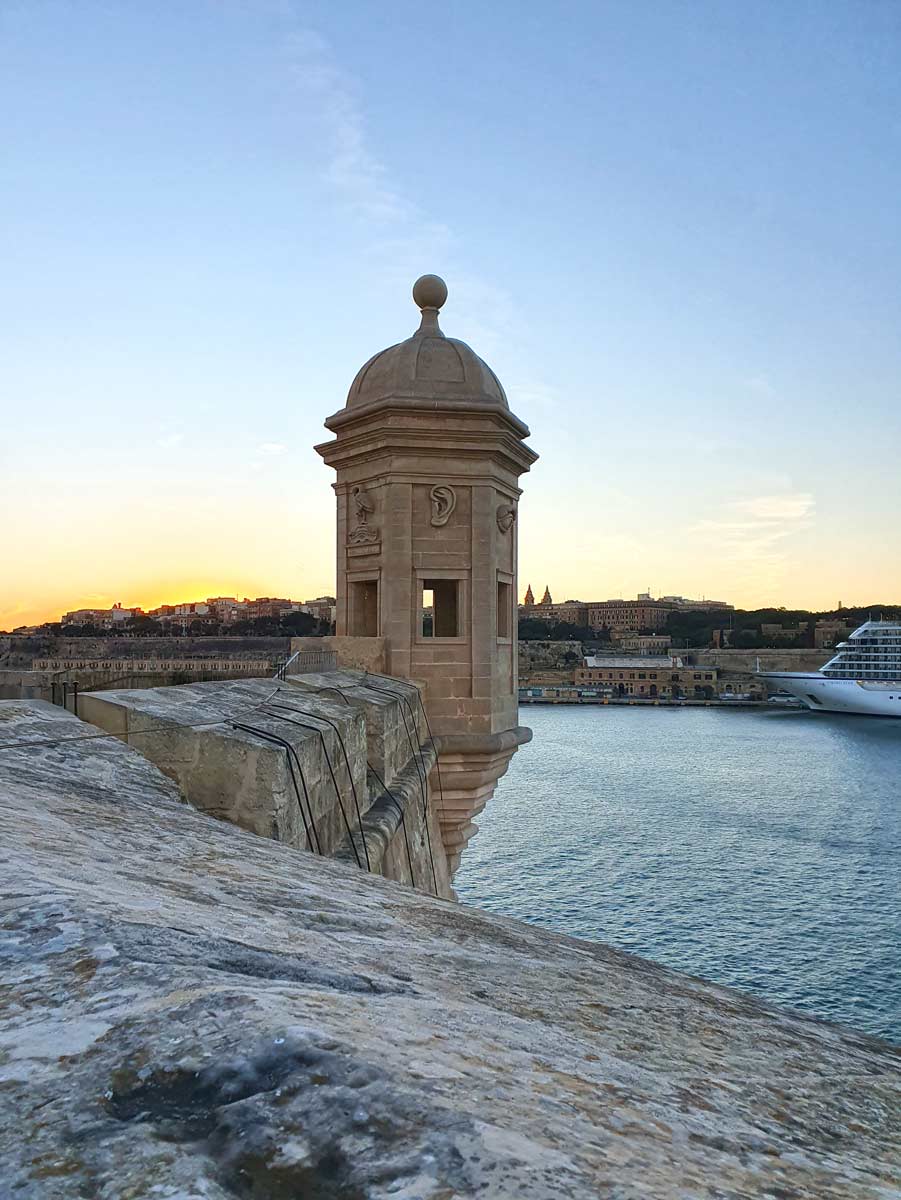 01. Senglea or L-Isla
Senglea, also known as L-Isla locally, is located on a small peninsula and it provides breathtaking panoramic views of the Grand Harbour and the surrounding areas, which can be best appreciated from the Gardjola Gardens.
The iconic watchtower that you'll find in this tiny public park has become a symbol of Senglea itself.
02. Cospicua or Bromla
Bormla (also called Cospicua) is the largest of the Three Cities and it sits further inland than the Birgu or Senglea. While walking through its streets, you'll come across limestone buildings, churches, and fortifications.
The city is also known for its dockyards which played a significant role in Malta's maritime legacy.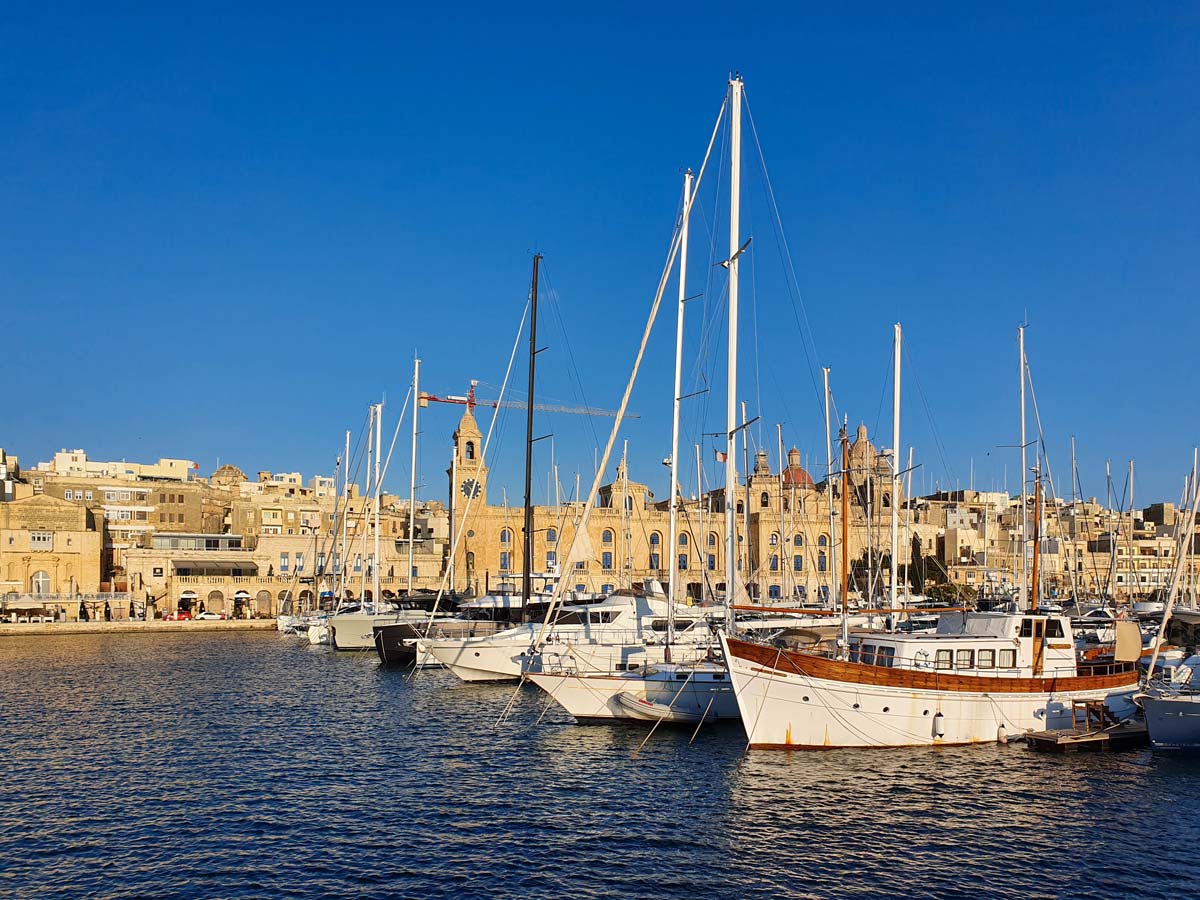 03. Birgu or Vittoriosa
Despite being smaller than Valletta, Birgu (also known as Vittoriosa) is actually older than the capital city itself.
As you stroll through its narrow streets, you'll encounter old buildings, fortifications, and the magnificent Fort St. Angelo (entrance fee 10 euros, closes at 6 PM), which overlooks the harbor.
For a stunning view of both Kalkara and Valletta across the water, I recommend you visit the Birgu Belvedere/Is-Simenta viewpoint.
How to visit the Three Cities from Valletta
The most convenient way to reach the Three Cities is by taking a boat trip or ferry ride across the bay (taking the local bus is also an option, but it takes longer, so I really don't recommend it).
To do this, you must first make your way to the waterfront. I suggest taking the Barrakka Lift down, as it will save you a lot of time and energy. The lift can be found inside the Upper Barrakka Gardens (as you enter, on the far right side) and costs 1 EUR per ride.
TIP: If you return by ferry to Valletta, then make sure you keep the ticket to show it to the lift attendant and the ride back up will be free.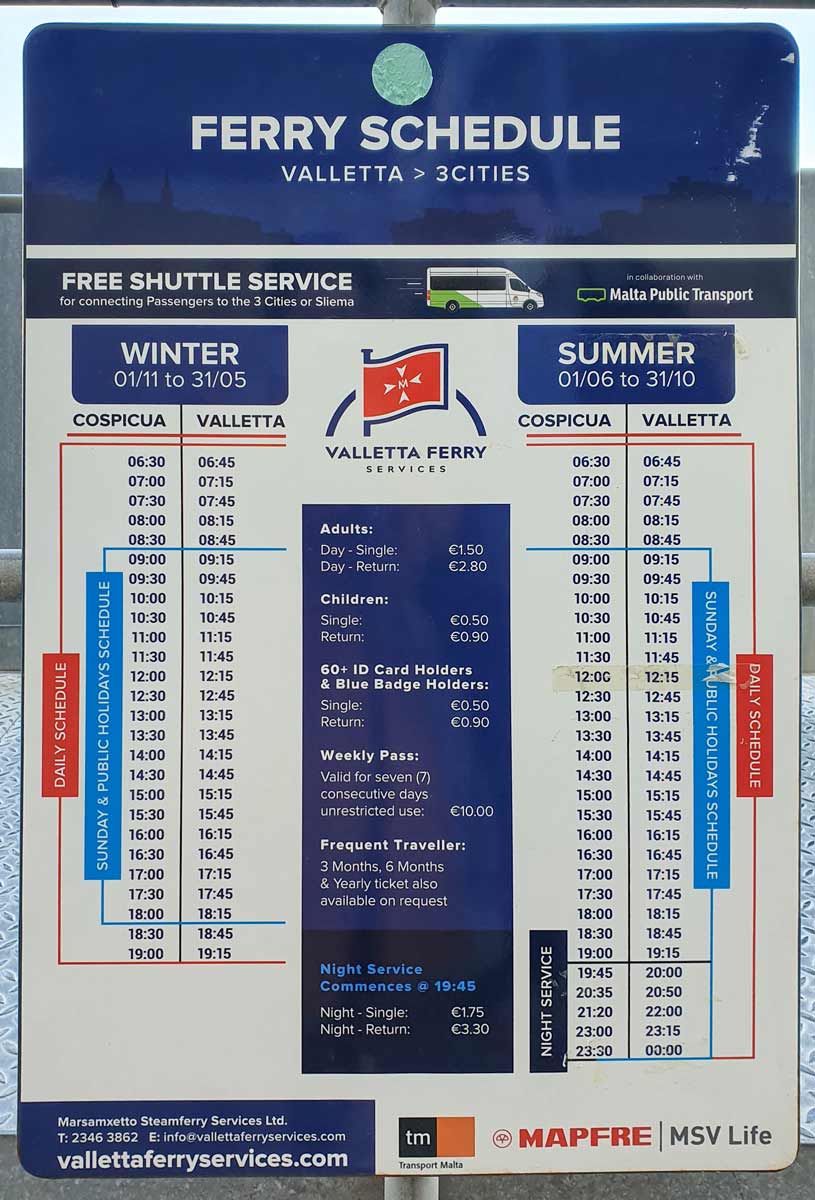 The ferry operates every half hour between Valletta and Cospicua and charges 1.50 EUR for a one-way trip or 2.80 EUR for a return ticket (adults). You can purchase the tickets on board, and both cash and card payments are accepted.
If you don't want to wait for the ferry, you can also opt for a ride across the bay with a traditional Maltese fishing boat called luzzu: it costs 2 euros/one way.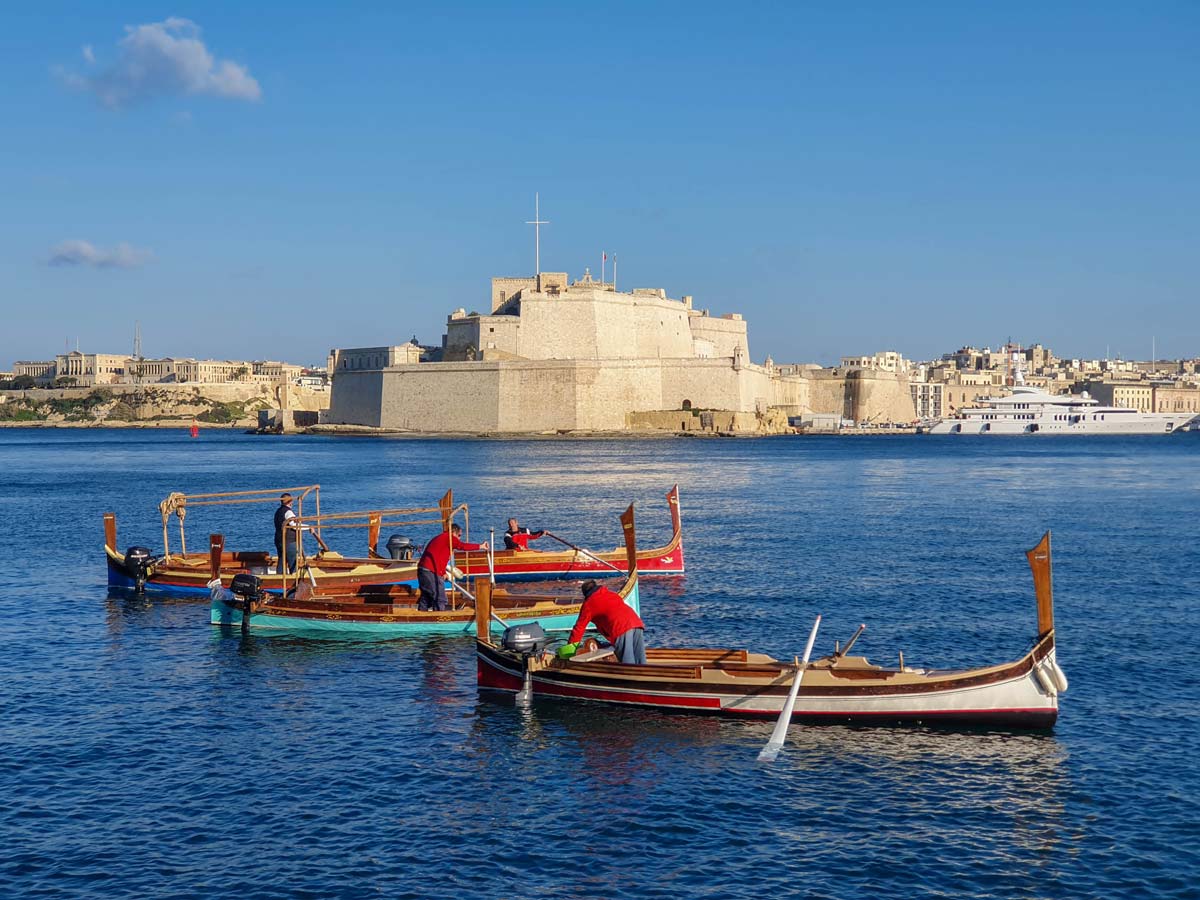 2 Days in Malta itinerary: Day 2 – Mdina, Rabat and Dingli Cliffs
Mdina and Rabat
Mdina, often referred to as the "Silent City" is Malta's former capital. As you wander the narrow streets, admiring its medieval and baroque architecture, you'll feel like you've been transported back in time.
As you reach the end of the main street, you'll stumble upon the Mdina observation deck from where you can enjoy panoramic views of the island. Not far from the viewpoint, you can find a popular Malta photo spot, colloquially called the Blue Mdina Door – the entryway of a holiday accommodation.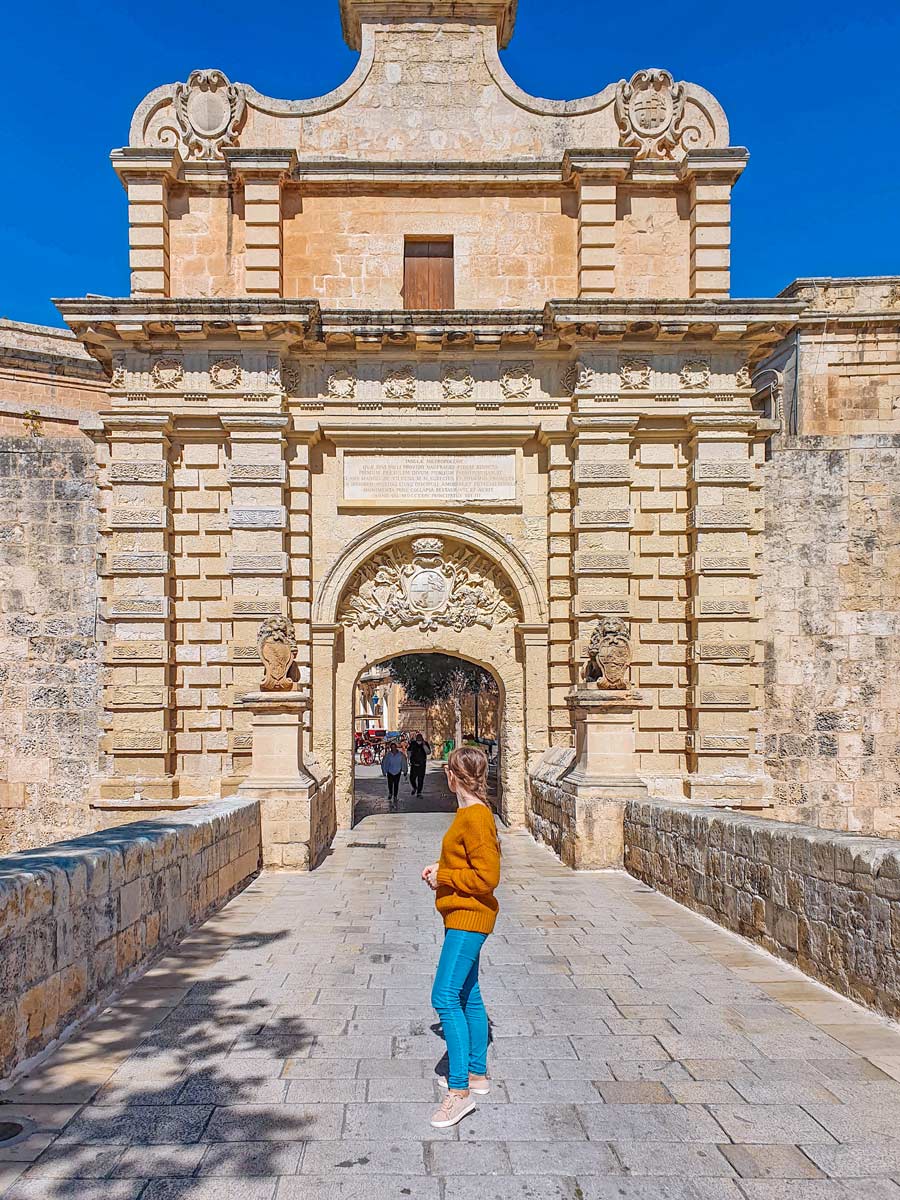 Lastly, if all this exploring left you thirsty or hungry, the restaurants in Pjazza Mesquita provide the perfect opportunity to indulge in a drink and/or a meal.
Game of Thrones fans will also find a touch of Westeros here, as both the square and the Main Gate served as filming locations for the iconic TV series.
Just a stone's throw away, outside Mdina's fortified walls, lies Rabat. This town is often overshadowed by its smaller neighbor, but it's still worth a quick visit, particularly if you're a history buff.
Here you can find the St. Paul Catacombs, a network of subterranean burial chambers that were used by early Christians on the island and date back to the Roman era. They are named after Saint Paul, who is believed to have been shipwrecked on Malta in 60 AD.
Quick disclaimer: If you don't like tight spaces, I would advice against visiting the catacombs.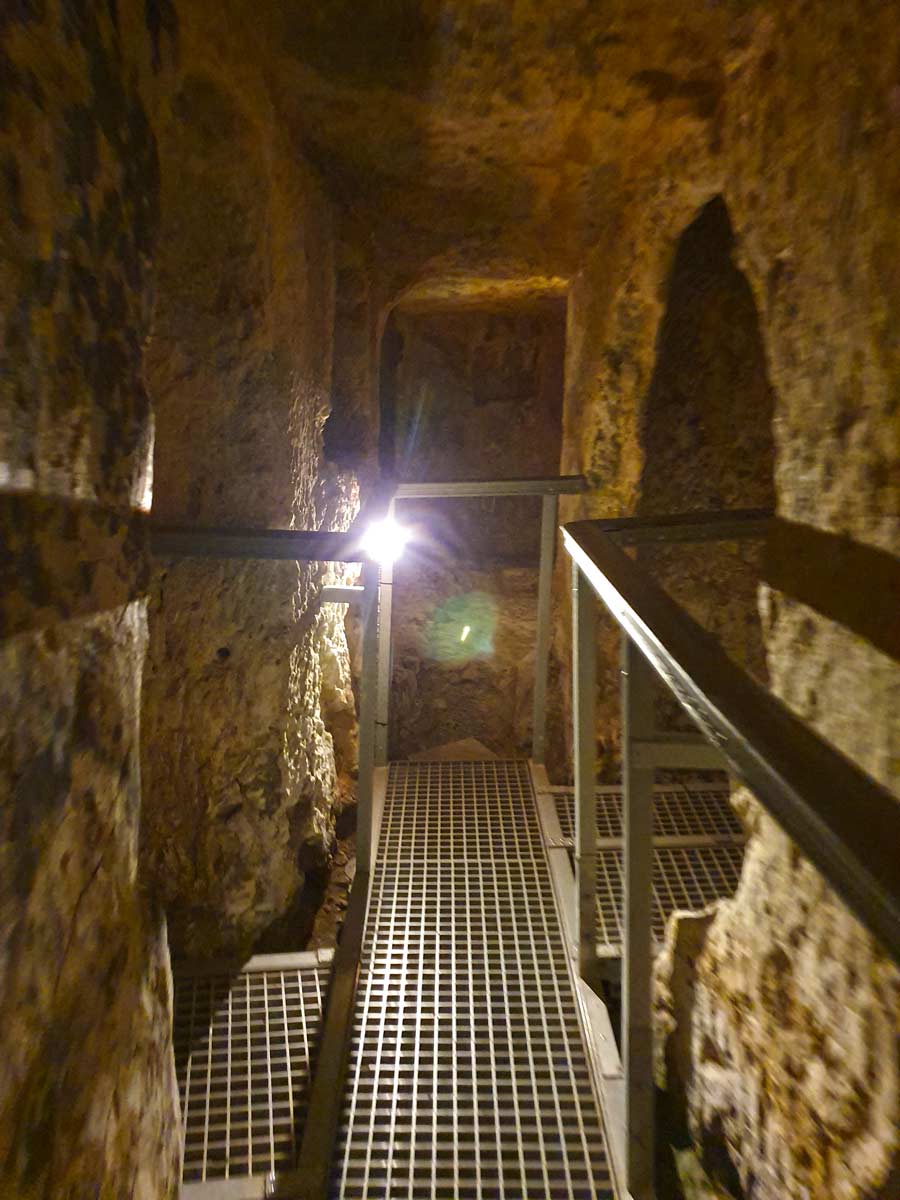 Other attractions in Rabat include the Howard Gardens, St. Paul Church and St. Dominic's Priory, another Game of Thrones filming location.
But to be totally frank, if you didn't manage to see all the Three Cities the day before, you're better off cutting your Rabat visit short, in order to return to Valletta earlier and see what you didn't have time for.
You can reach Mdina and Rabat from Valletta by taking bus 51, 52, or 53 from Bus Stop Bay C2; the ride lasts approximately 30 minutes.
Dingli Cliffs
After your visit to Mdina and Rabat, take bus 201 which will take you to the Dingli Cliffs: leave the bus at stop Maddalena, the journey will last around 11 minutes in total, depending on traffic conditions.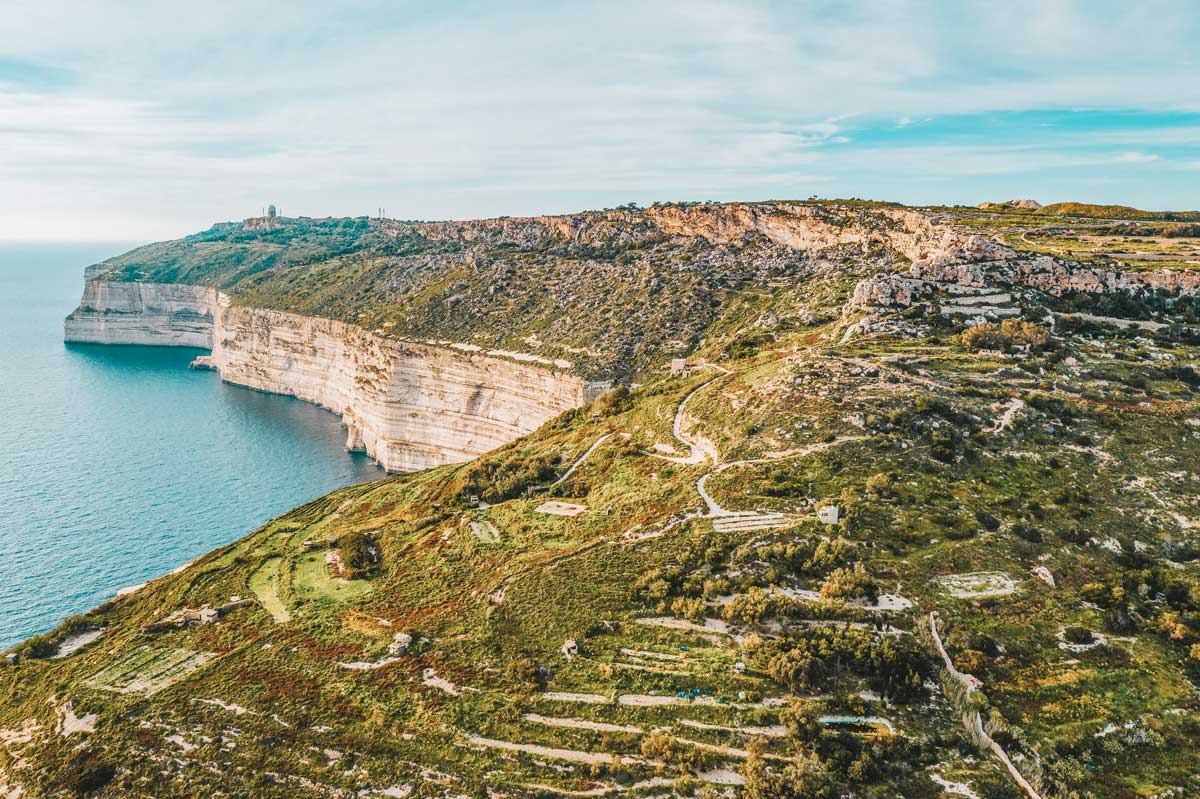 Dingli Cliffs offer some of Malta's most breathtaking views. Rising dramatically from the sea, these natural wonders are among the highest points of the island, providing panoramic vistas of the deep blue Mediterranean waters below.
The sheer drop and rugged landscape create a dramatic backdrop, especially during sunset when the sky is painted with hues of orange, pink, and purple.
They really remind me of Ireland's Cliffs of Moher, so if you visited and loved those, there's a high chance you'll also enjoy Dingli Cliffs.
Using public transportation in Malta
Using the public transportation in Malta, more precisely riding the local buses is pretty easy and straightforward especially if you stay in Valletta, the main hub where most routes start.
But one very important thing to bear in mind is the fact that you need to flag down the buses when you want them to pick you up. Otherwise, they might not stop and you'll be left waiting for the next bus.
I learned this the hard way when me and my fiance were trying to get to Popeye's village and we missed the connecting bus because we were the only ones at the bus stop and didn't know we had to wave it down.
2 Days in Malta Itinerary: Wrap up
As you can see, even if you spend just a weekend in Malta, you can still cover a bit of ground and get a taste of what the island is all about. For more tips and information, I recommend you also read my other post about Malta.
Happy travels~