Are you visiting Austria's capital soon and you've been wondering what are the best Hallstatt tours from Vienna? I've got you covered!
Hallstatt is a picturesque town in the Austrian Alps and one of those places that you can't help but fall in love with at first sight. Honestly, I've visited it twice and I'll still return anytime, despite its tiny size.
But the thing is, reaching Hallstatt isn't exactly straightforward. You'll either need to rent a car and drive there yourself, or you'll have to hop on not one but two trains, followed by either a short ferry or a bus ride, as the train station is located on the other side of the lake.
Or, another option is to join an organized tour, which is probably the most hassle-free option to visit Hallstatt as a day trip from Vienna.
Disclosure: Some of the links in this post are affiliate links. If you click on them and make a purchase, I may receive a commission at no extra cost to you. Check my full disclaimer here.
My Top 3 Picks: Hallstatt tours from Vienna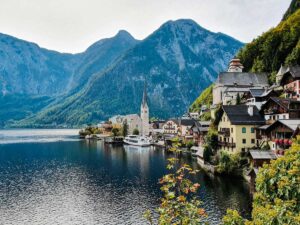 Hallstatt & Alpine Peaks Trip with Skywalk Lift
---
✓ 4.6/5 stars out of 1300+ reviews
✓ 2h free time in Hallstatt
✓ 1h at Hallstatt Skywalk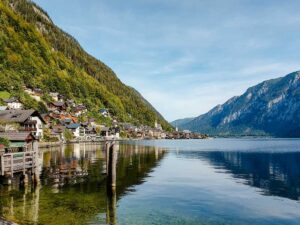 Full Day Trip to Hallstatt and Salzkammergut
---
✓ 4.4/5 stars out of 300+ reviews
✓ Free time in Hallstatt
✓ Short boat cruise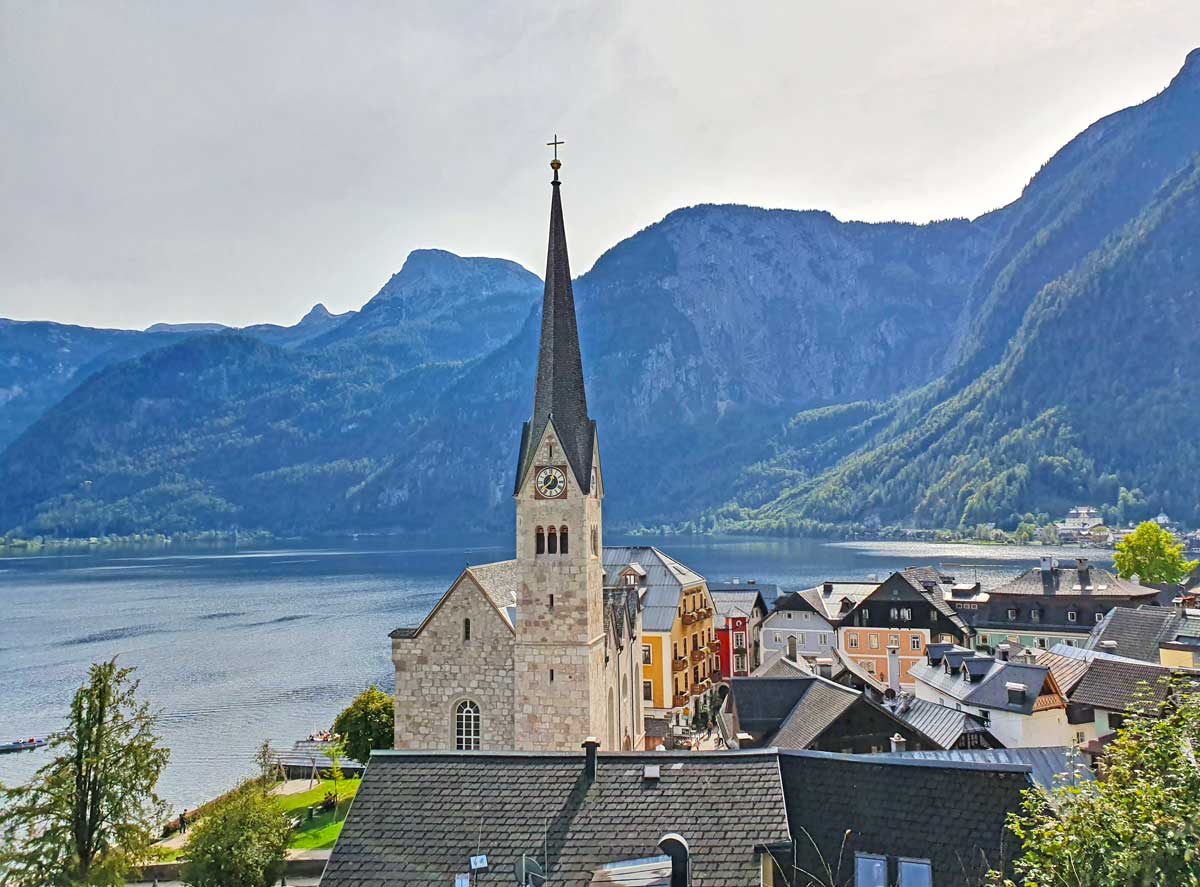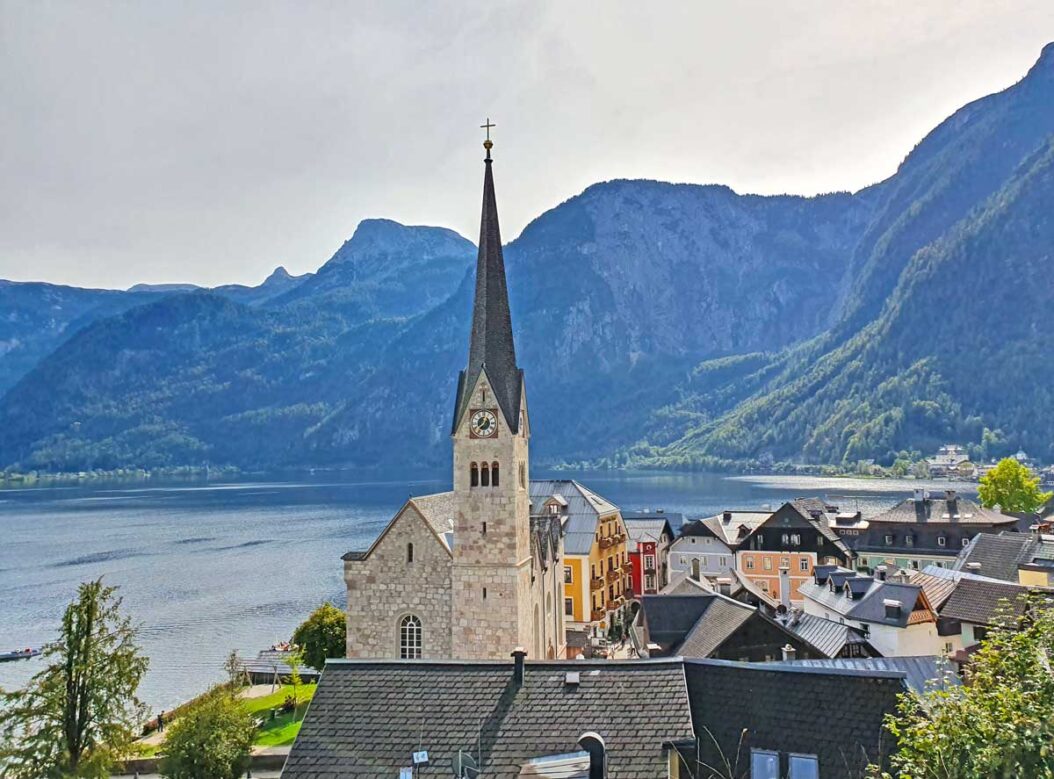 Melk, Hallstatt and Salzburg Private Tour
---
✓ 4.6/5 stars out of 50+ reviews
✓ Private tour for up to 3 people
Best Hallstatt tours from Vienna
⭐️ RATING: 4.6/5 Stars | ⏳ TOUR LENGTH: 16 hours | ✅ Book it!
One of the standout tours to consider is the Hallstatt & Alpine Peaks Day Trip with Skywalk Lift. With 4.6 stars from over 1300+ reviews, this tour has made many visitors happy.
The main highlights are the 2 hours of free time to explore the charming streets of Hallstatt on your own and the visit to the famous Hallstatt Skywalk.
To get to the viewpoint you'll be using a funicular (the fairly expensive fee of 20 euros round trip is included with the tour), but there is a potential downside as long queues can sometimes form for it.
Despite this, the panoramic view from the Skywalk, high above the town, is simply breathtaking and is definitely worth the wait.
It's also worth mentioning that the tour includes a quick photo stop at the beautiful Schloss Ort (Ort Castle), which will add another memorable moment to your day.
Lastly, my personal recommendation for you is to consider avoiding sit-down meals in Hallstatt, in favor of snacks that you can enjoy on the go. This way you'll maximize your time in this charming little town.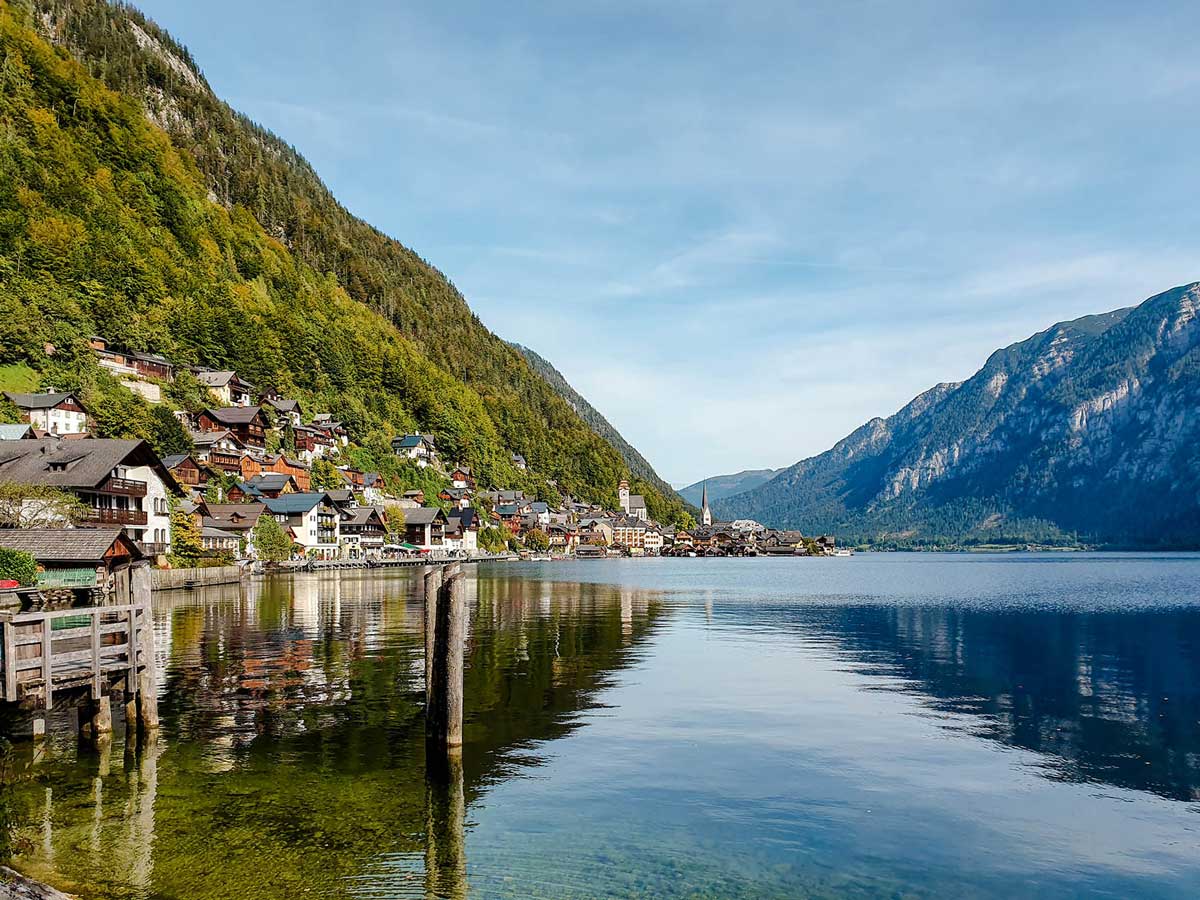 ⭐️ RATING: 4.4/5 Stars | ⏳ TOUR LENGTH: 1 day | ✅ Book it!
Another tour that's worth checking out is the Full Day Trip to Hallstatt and Salzkammergut.
During it, you'll enjoy a short guided tour of the town, but you'll also have free time to roam the streets and discover its beauty at your own pace.
In summer, the tour also includes a short boat cruise ride on the lake, letting you experience Hallstatt's beauty from a whole new angle.
Lastly, I want to talk a bit about that word "Salzkammergut" in the title as it might be a bit confusing since there's no actual stop associated with it. This is because it actually refers to the scenic drive through the region, before reaching Hallstatt.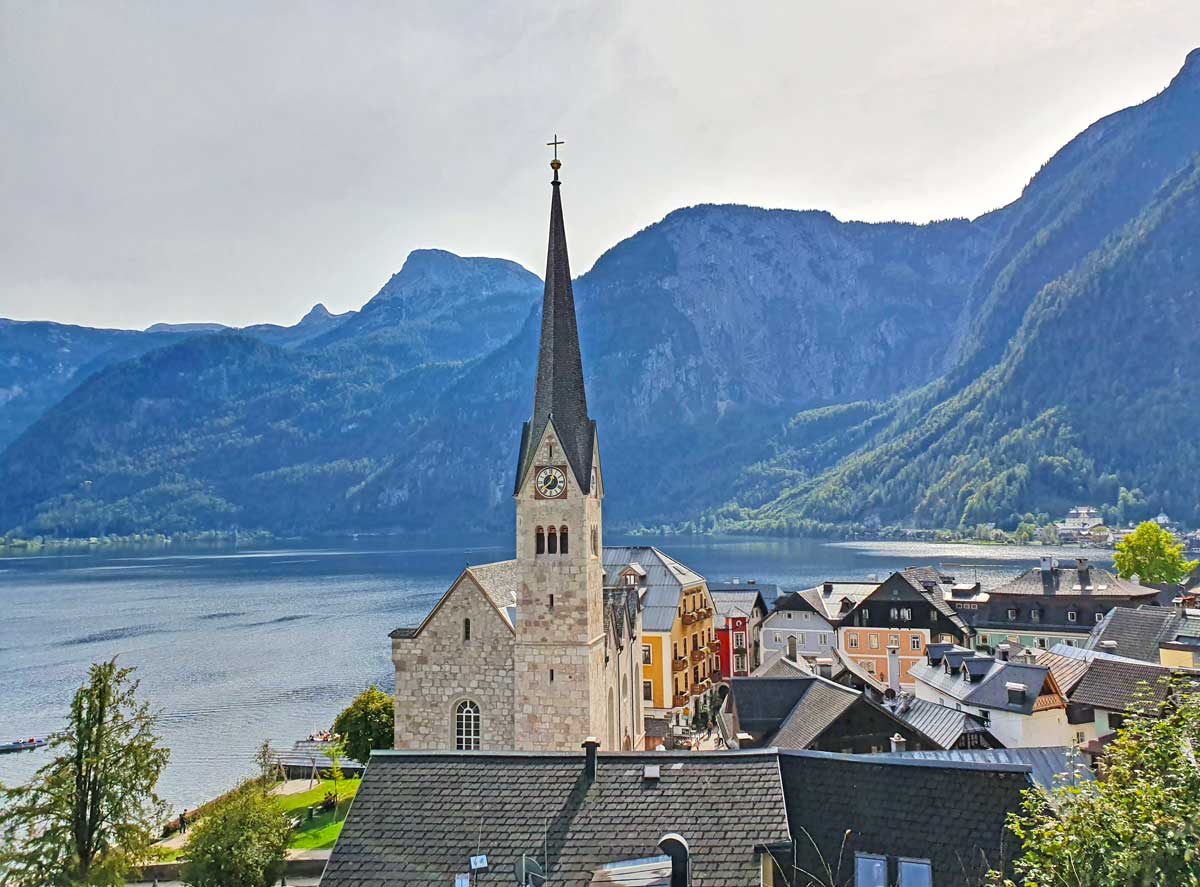 ⭐️ RATING: 4.6/5 Stars | ⏳ TOUR LENGTH: 12 hours | ✅ Book it!
For those of you who prefer a more intimate and flexible touring experience, the Melk, Hallstatt, and Salzburg Private Tour is a good option to consider.
Ditch the big coach tours and indulge in the luxury of traveling by a private Mercedes. One of the perks of this tour is that it also includes pick-up from your hotel in Vienna, starting your day off on a stress-free note.
The itinerary starts with a visit to the Benedictine Abbey perched above the town of Melk, where you'll be rewarded with spectacular views of the Danube River. Just know that you might arrive before the site opens, so I suggest you spend the first portion of your time there admiring the scenery.
From there, you'll move on to our main attraction, Hallstatt, before ending the day with a visit to the charming city of Salzburg.
Now, it's worth noting that this tour does involve a good deal of driving. But in my opinion, it's worth it. Not only do you get to visit both Hallstatt and Salzburg in one day, but you also have the flexibility to tailor the itinerary a bit according to your group's interests.
Also a similar, but slightly cheaper option (albeit with less reviews) is this private tour, so you can check it out as well and choose the one that suits you best. The main difference is that you'll visit Hallstatt last if you go with this other choice.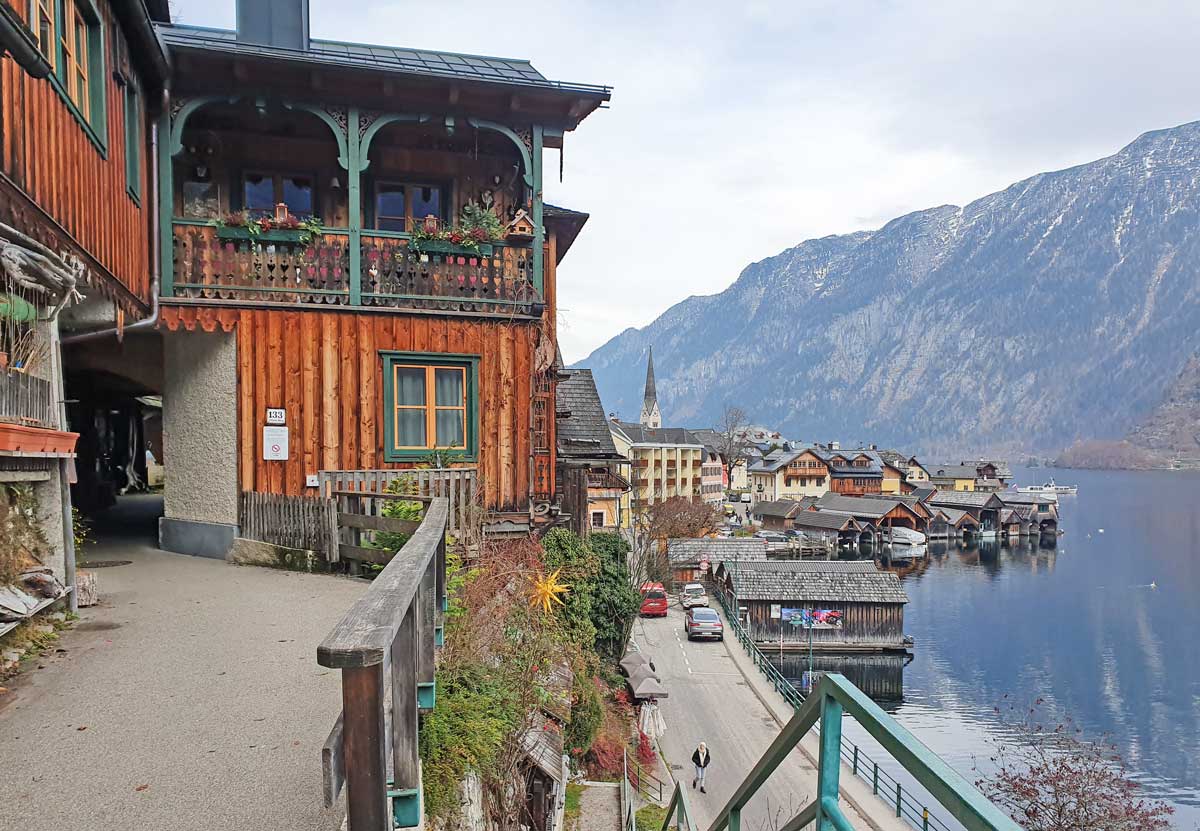 ⭐️ RATING: 4.9/5 Stars | ⏳ TOUR LENGTH: 12 hours | ✅ Book it!

Looking for a less crowded experience without breaking the bank? If a private excursion feels a bit out of reach, then this tour might be the second-best option for those who aren't fans of big coaches.
Conducted in a comfortable van, this small-group tour includes a guided walking tour in Hallstatt, allowing you to delve into the history and charm of this alpine town with an expert to show you the way.
After the guided portion, you'll also have some free time to wander around Hallstatt at your own pace, perhaps discovering a hidden nook or two that will capture your heart.
But that's not all. The tour also includes stops in the Salzkammergut (Lake Region) along the way, treating you to some of Austria's most enchanting landscapes.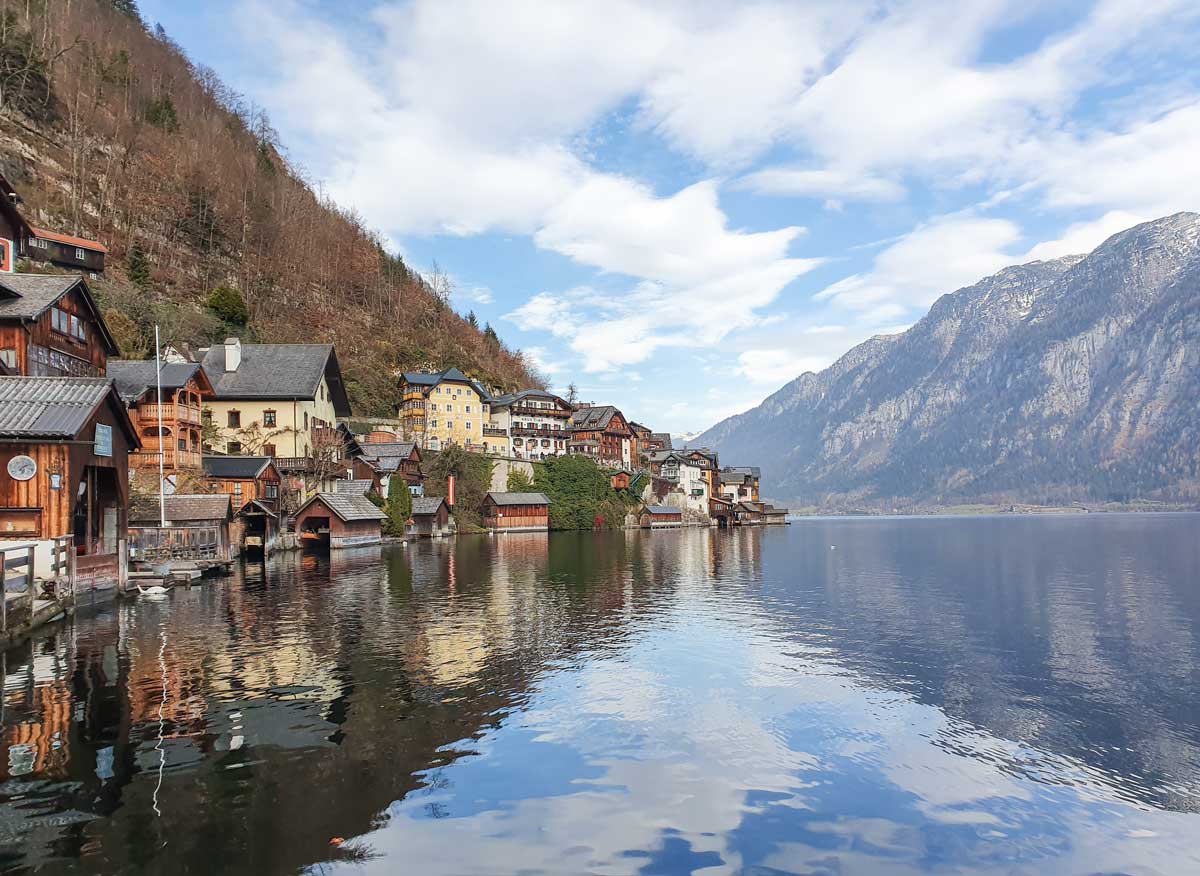 ⭐️ RATING: 4.5/5 Stars | ⏳ TOUR LENGTH: 13 hours | ✅ Book it!
Another tour worth considering is the Panoramic Austrian Alps Tour to Hallstatt which not only takes you to Hallstatt itself, but also includes a visit to the impressive Admont Abbey. Here, you'll get to admire the world's largest monastic libraries, with stunning frescoes and rare manuscripts.
Once you reach Hallstatt, you'll have around 2.5 hours to soak in all the beauty and charm of this unique Alpine town.
It's just enough time to walk around the tiny town, take a few photos, explore some of the local shops and simply take in the natural scenery around you.
Best time to visit Hallstatt
Hallstatt is a year-round destination, with each season offering something unique to visitors.
Winter is enchanting, with the Christmas market and cozy town atmosphere, but it can also be quite chilly. Spring offers warmer temperatures, making it more comfortable for sightseeing, while summer boasts excellent weather and the peak of nature's beauty. Finally, fall showcases the most stunning colors.
That being said, May, June and October are some of the best months to visit in my opinion, as the crowds are slightly smaller and the weather is still favorable.
Viewpoints in Hallstatt that you shouldn't miss
Hallstatt offers some truly spectacular views, and there are two particularly good photo spots from where you can capture the picturesque town and the surrounding mountains.
The first spot can be located as "Hallstättersee Schifffahrt" on Google Maps, while the second spot is renowned for providing the classic postcard view of the village and it's marked as "Aussichtspunkt Hallstatt" on Maps.
This location has been a go-to for many visitors seeking that iconic image of Hallstatt, but also the scene of a peculiar protest against over-tourism by the local authorities, when in 2023, a temporary wooden fence was installed, partially blocking the view.
However, the fence has since been removed and while I understand the concerns over the impact of increased visitor numbers on this small town, I personally don't think that such actions are the right solution.
Etiquette when visiting Hallstatt
When visiting Hallstatt it's important to remember that people actually live there.
So try to keep your voice down as much as possible when you pass the tiny alleys and not inconvenience the locals as they go about their day, especially when they want to enter/exit their own homes.
Also, always respect any signs put in place by the residents like "no entry", "no photos" if you encounter them.
Vienna to Hallstatt tours FAQs
What is Hallstatt Austria known for?
Hallstatt, Austria is known for its idyllic lakeside location, distinctive wooden houses, and ancient salt mine. The town has become an iconic symbol of Austrian beauty and cultural heritage, attracting visitors from around the world.
How do I get from Vienna to Hallstatt?
To get to Hallstatt from Vienna, you can either get a rental and drive, use public transportation (2 trains + ferry/bus) or book an organized tour.
How long is the Hallstatt Salt Mine Tour?
A guided tour of the salt mine in Hallstatt starts near the Skywalk and last for about 90 minutes.
How do you get to Hallstatt Skywalk?
To get to Hallstatt Skywalk, a viewing point above the town, you'll need to either take the funicular or do a strenuous hike up the mountain.
🤩 Hallstatt & Alpine Peaks Day Trip with Skywalk Lift includes the kinda expensive lift fee to the viewpoint
Hallstatt day tours from Vienna: Final Thoughts
Choosing the perfect tour from Vienna to Hallstatt really depends on your personal preferences, whether it's a private luxurious tour, a small group trip, or a larger coach tour. Each option has its own perks, as well as its downsides.
And since you're visiting the town from the Austrian capital, why not check out my Vienna itinerary post to make the most of your time in the city?
Happy travels~
---
YOU MIGHT ALSO LIKE