Are you traveling to Malta in March and you've been wondering what are the best things to do and see? I've got you covered!
Having visited Malta in March myself as a birthday getaway, I can genuinely tell you that spring is a great time to explore the beautiful island nation.
March offers a blend of cool yet pleasant weather and fewer tourists, which is ideal for sightseeing. So, buckle up, because I'm about to share my top picks and personal insights on making the most of your Maltese adventure in spring!
Disclosure: Some of the links in this post are affiliate links. If you click on them and make a purchase, I may receive a commission at no extra cost to you. Check my full disclaimer here.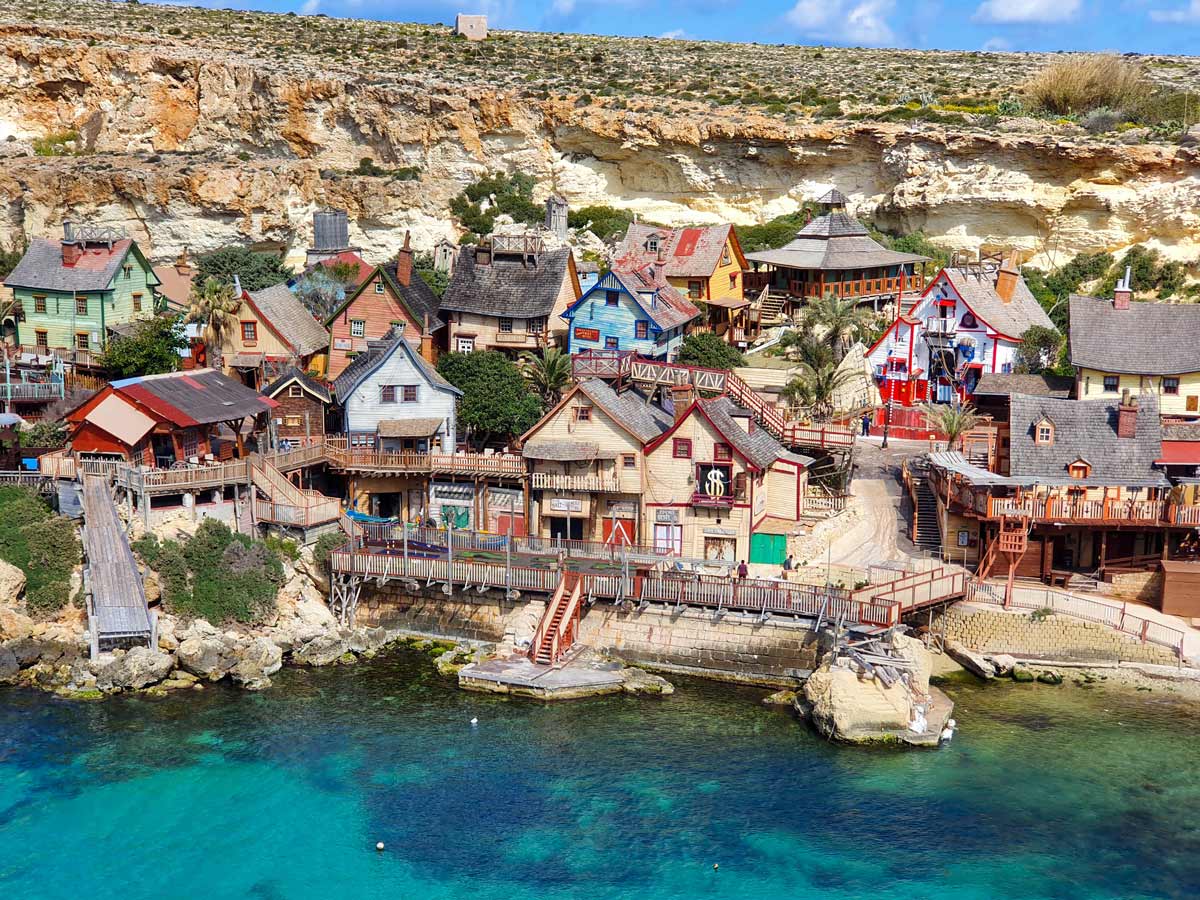 Pros and cons of visiting Malta in March
| PROS | CONS |
| --- | --- |
| – less crowds than in high season | – you can't swim in the sea |
| – it's generally cheaper | – less activities to do |
| – pleasant weather for sightseeing | – it can be windy |
| – it's warmer than in other parts in Europe | |
Best things to do in Malta in March
01. Valletta
Valletta is Malta's tiny capital city, but don't let its size fool you – it's brimming with history, charm, and character.
One of the first things you'll notice as you walk along its streets is the colorful Maltese balconies that adorn the facades of most buildings.
They're called gallariji and not only do they serve aesthetic purposes, but they're also functional, providing shade and privacy.
A helpful tip for photography enthusiasts: the building with red balconies located close to Victoria Gate is one of the most photogenic spots in Malta.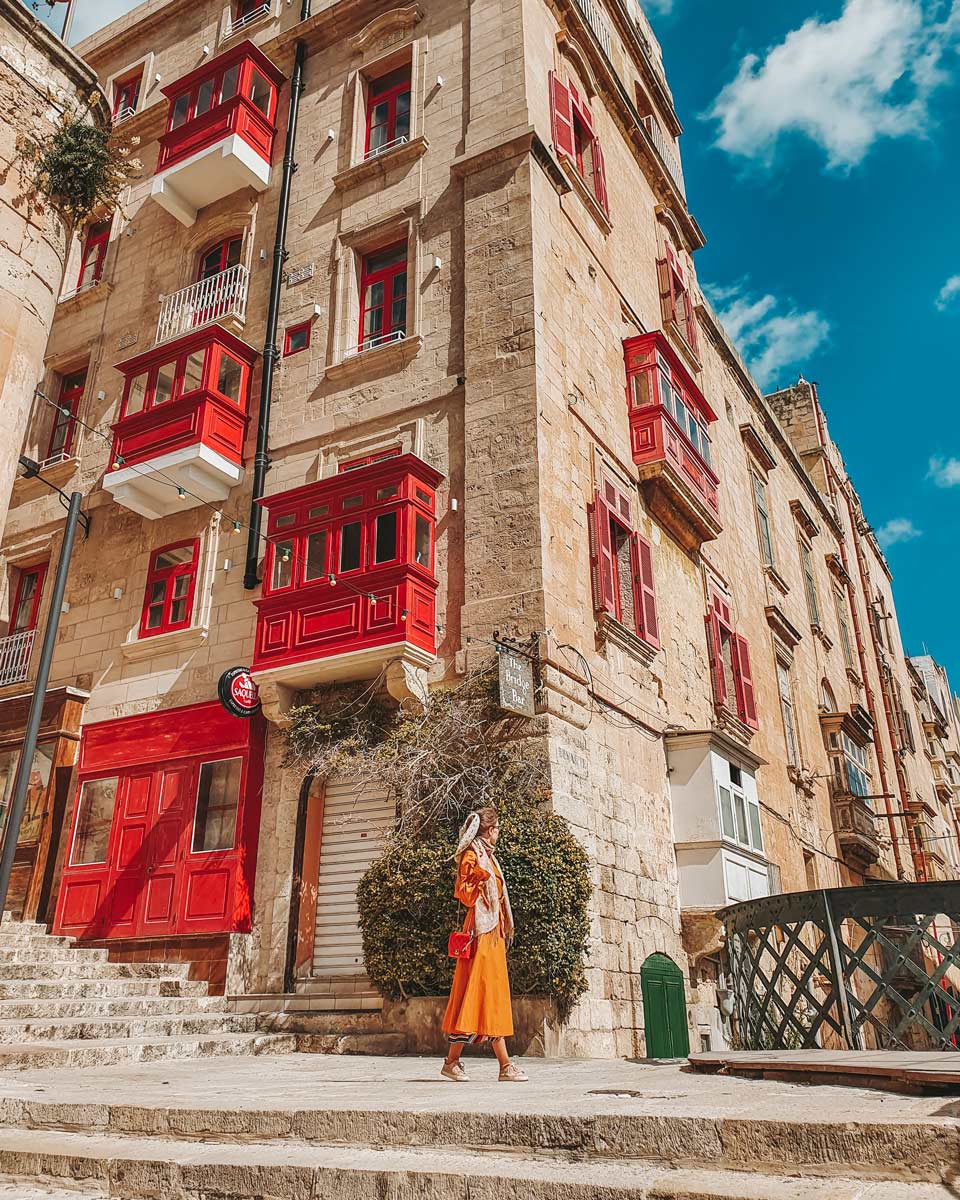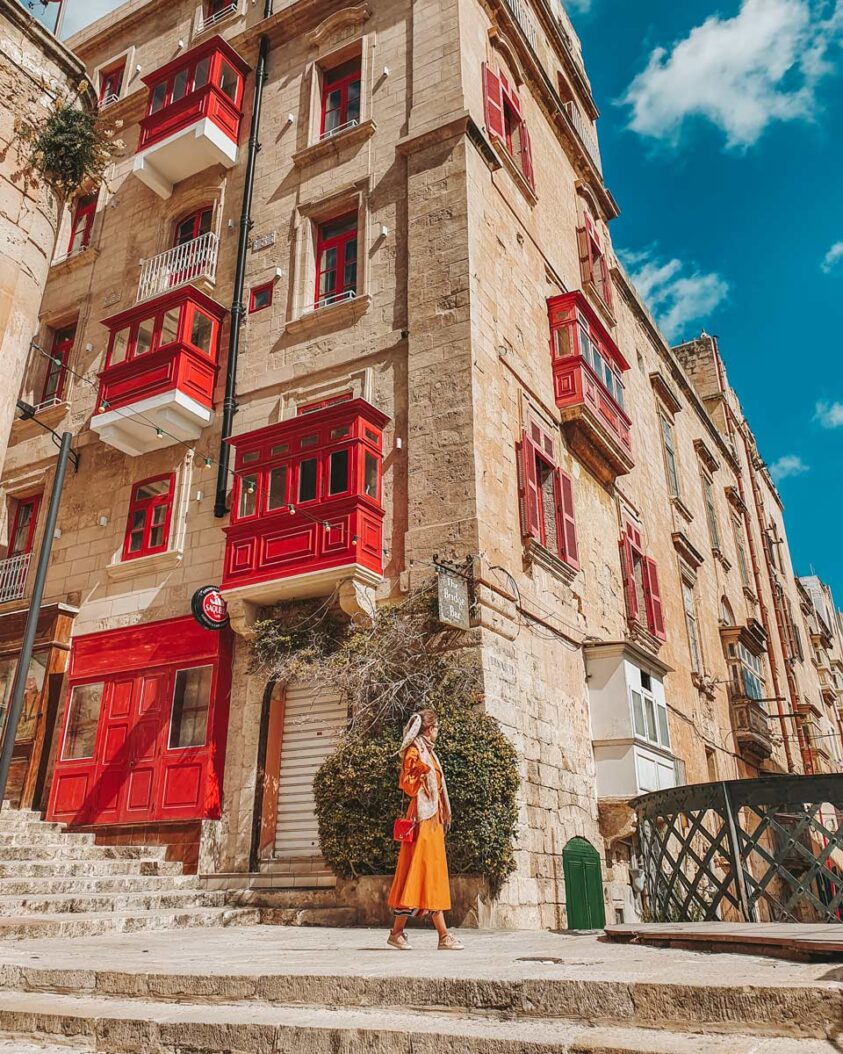 No visit to Valletta is complete without a stop by the Upper and Lower Barrakka Gardens.
These public gardens not only offer a peaceful break from the hustle and bustle of the city but they're also completely free attractions, both offering stunning views of the Three Cities across the bay.
I would suggest going to Upper Barraka Gardens around either noon or 4 PM when the firing of the cannons takes place on the Saluting Battery below.
This event happens Monday to Saturday and it's one of the main reasons why Valletta is worth a visit, so make sure not to miss it.
For a small donation, visitors can witness the firing up close, from the terrace, and learn about the tradition and mechanics of the cannons. However, in my opinion, the view is better from the gardens, and you can still donate if you wish to.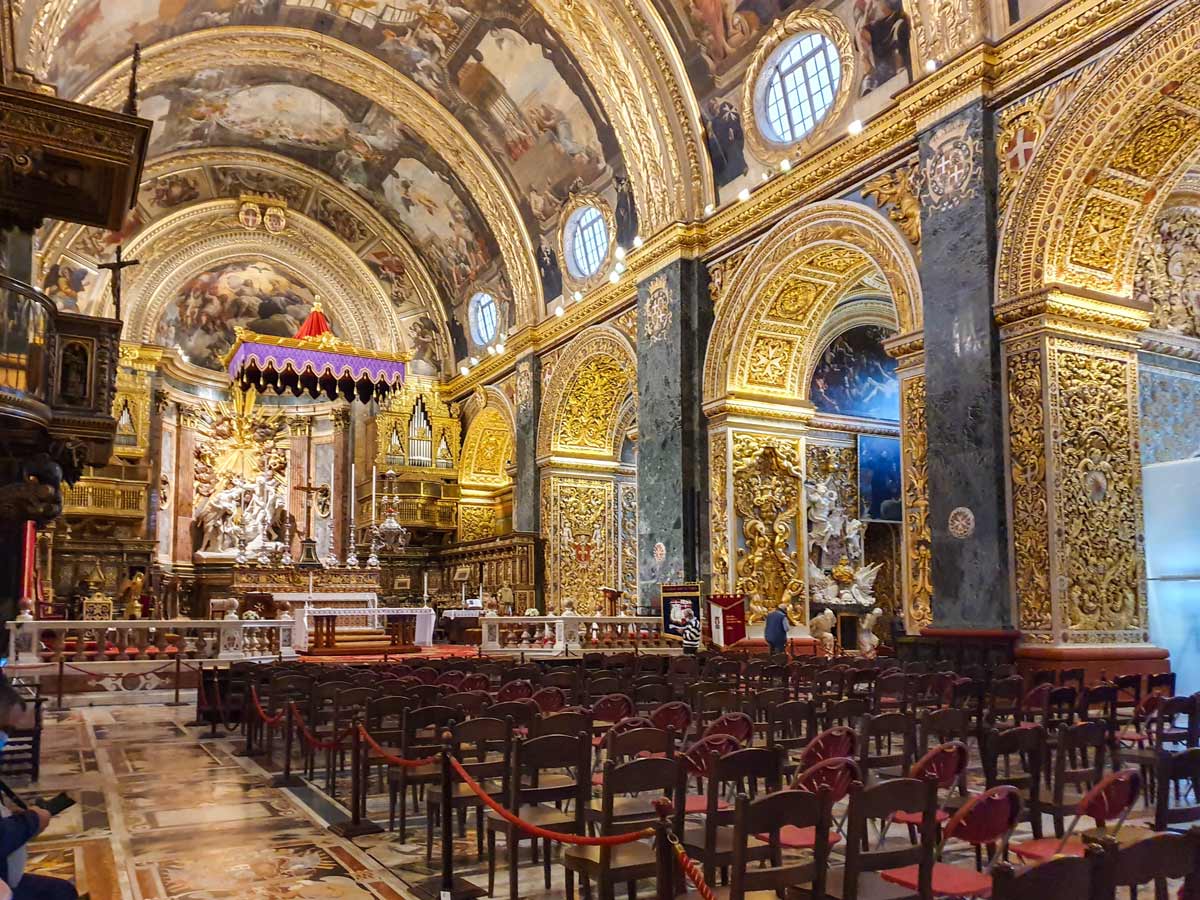 Lastly, the rich spiritual history of Valletta shines through at places like St. John's Co-Cathedral and the Church of Our Lady of Victory.
Don't forget to also pay your respects at the Siege Bell War Memorial, a testament to Malta's resilience during World War II.
02. The Three Cities
Located across the water from Valletta, the Three Cities – Vittoriosa (Birgu), Senglea (L-Isla), and Cospicua (Bormla) – offer a glimpse into the island's rich history and culture, as well as a compelling reason why Malta is worth a visit.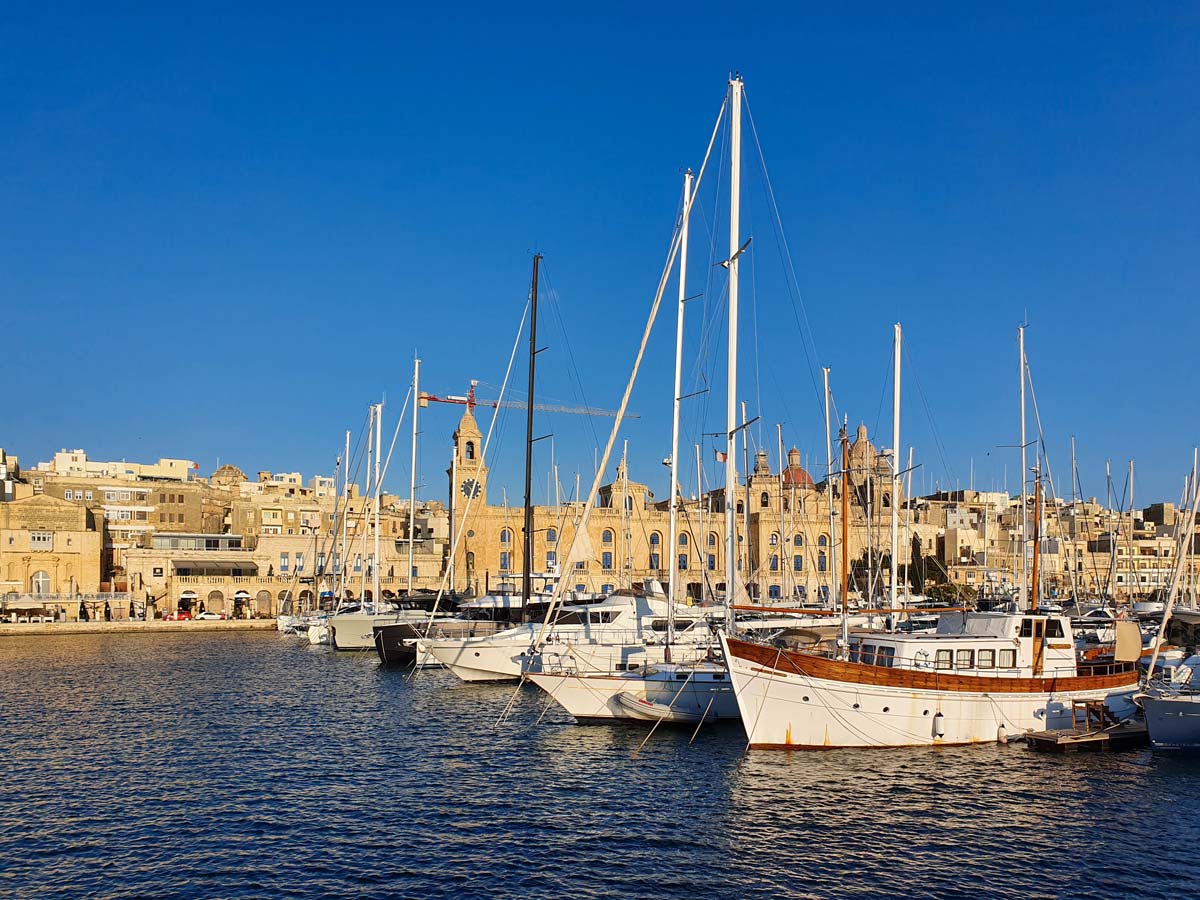 Birgu, the smallest of the three, is known for its picturesque waterfront, ancient buildings, and stunning views of Valletta.
You can spend a few hours here exploring its charming streets and checking out the top sights which include Fort Sant Angelo, Inquisitor's Palace, and Victory Square. In my opinion, Birgu is the most beautiful of the three cities.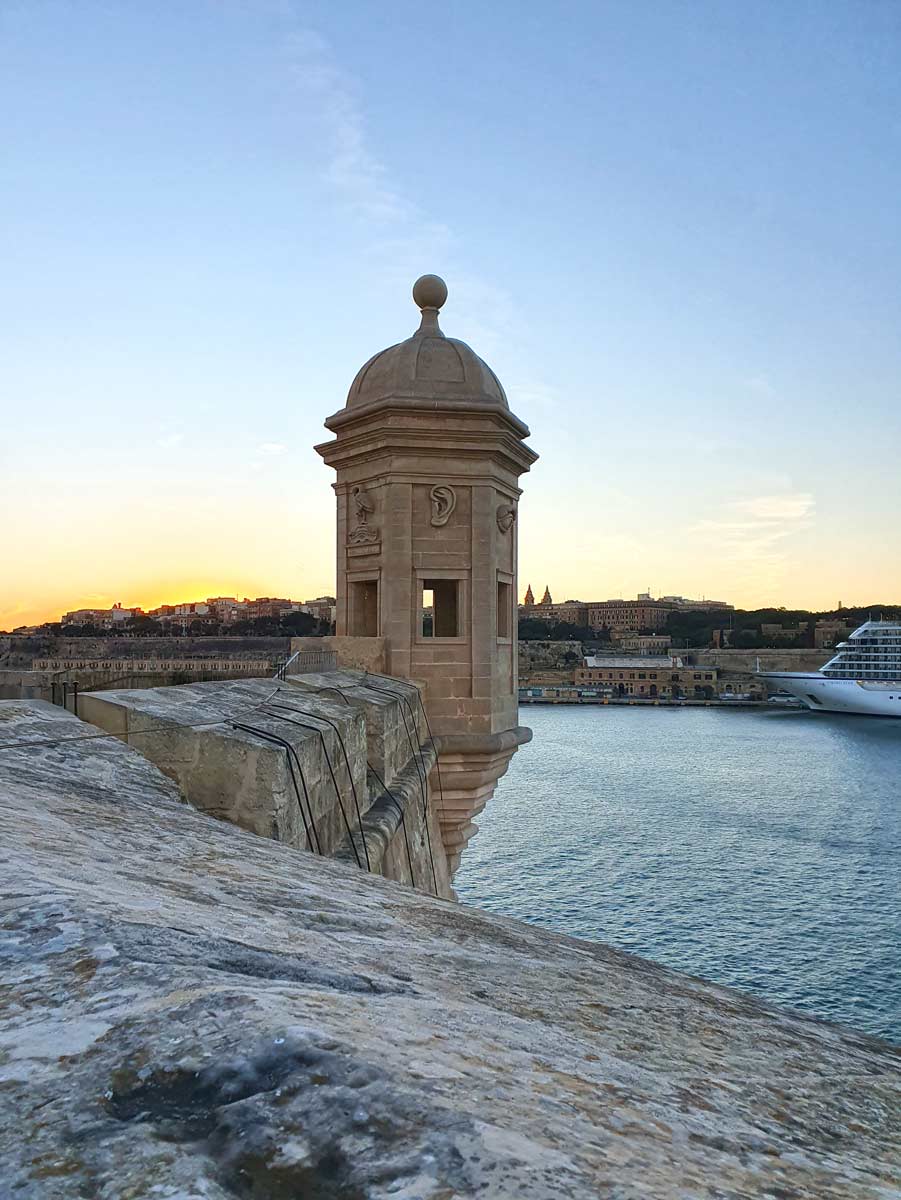 Senglea, located across the water from Birgu, also offers amazing views of Valletta's waterfront, that are best enjoyed from the Gardjola Gardens. Other must-see sights include the Main Gate and St. Julian's Church.
Sandwiched between its two coastal siblings, Cospicua lies nestled further inland. Some of its highlights include the fortified walls (Cottonera Lines), Notre Dame Gate, and St. Helen's Gate.
How to get to the Three Cities from Valletta
The most convenient and quickest way to reach the Three Cities is by taking a boat trip or ferry across the bay (though you can also travel there by bus).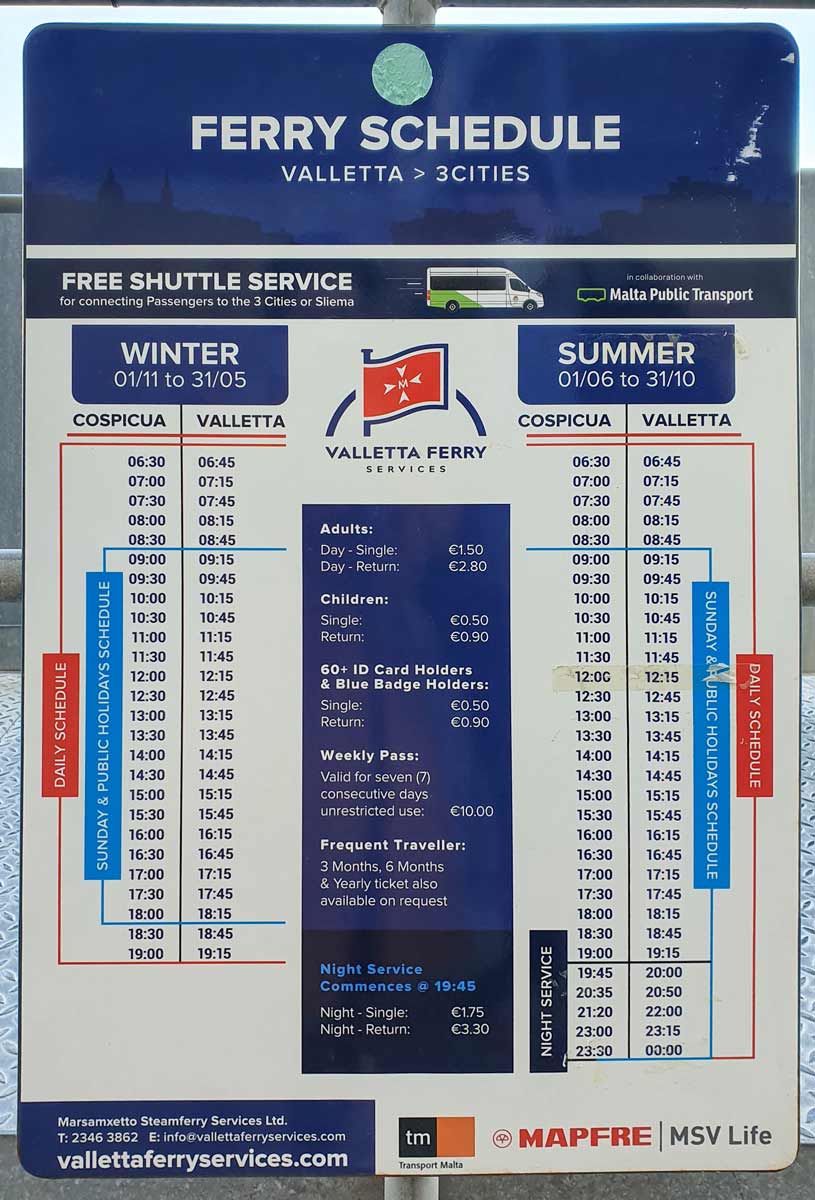 To access the waterfront, I suggest taking the Barrakka Lift down from the Upper Barrakka Gardens. It costs 1 EUR per ride, but it will save you quite a bit of time and effort.
The ferry runs every half hour between Valletta and Cospicua, costing 1.50 EUR per ride or 2.80 EUR for a return trip. Tickets can be purchased onboard and both cash and card payments are accepted.
03. Mdina
Often referred to as the 'Silent City', Mdina is Malta's medieval jewel, perched atop a hill with views that seem to stretch on forever.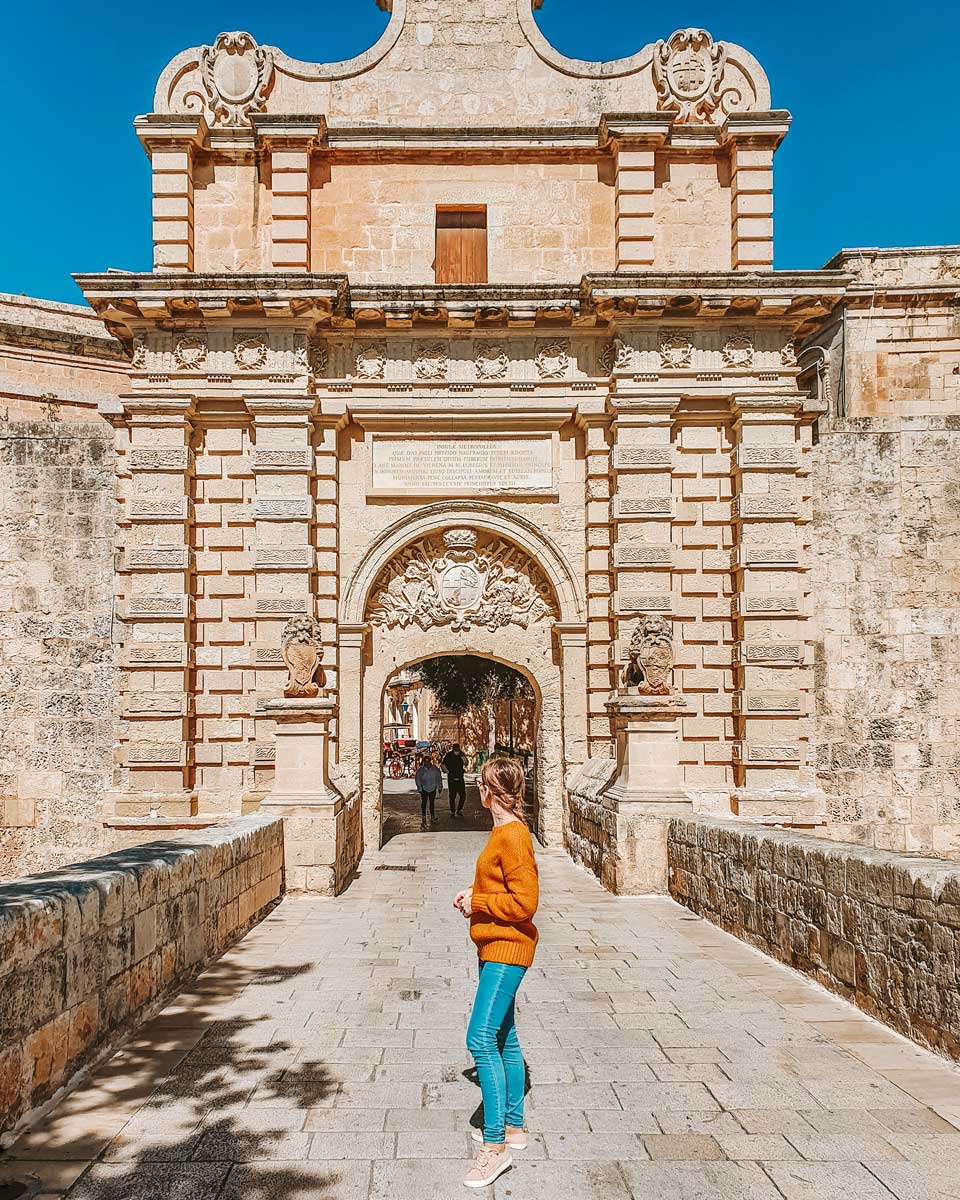 You can stroll through the narrow alleyways, take in the scenery from the Malta observation deck, and pause for a coffee or a bite at one of the restaurants located in Pjazza Mesquita.
Fans of the Game of Thrones TV show will recognize both the square and the Main Gate from the popular series.
04. Rabat
Adjacent to Mdina lies Rabat, a city equally rich in history but with its unique tales to tell. While Mdina boasts of historic palazzos and medieval streets, Rabat is home to catacombs and caverns, narrating stories of early Christianity on the island.
The St. Paul's Catacombs are a fascinating dive into the past, the underground tunnels and chambers dating back to Roman times.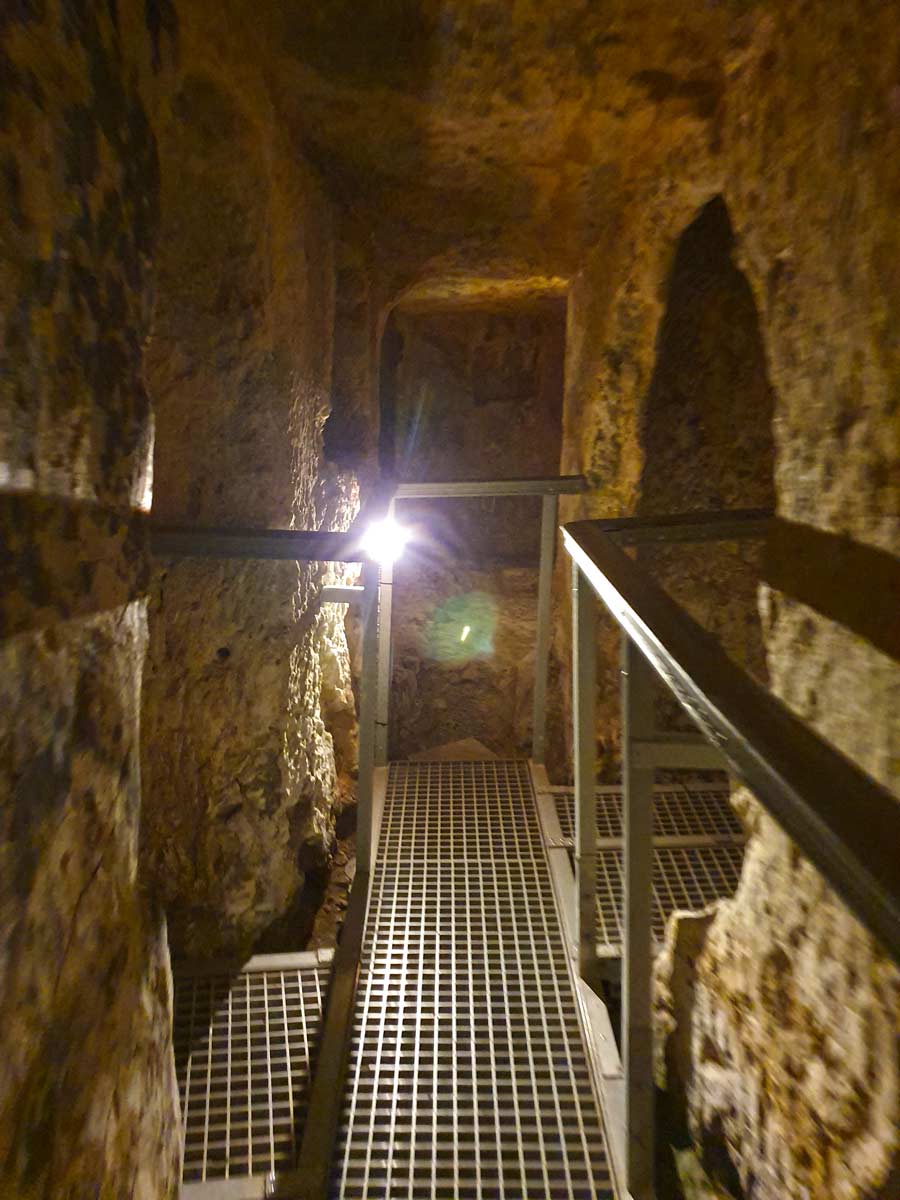 Named after Saint Paul, who is believed to have been shipwrecked on Malta in 60 AD, they were used for burial by early Christians.
Other highlights worth mentioning in Rabat are the Howard Gardens, St. Paul Church, and St. Dominic's Priory.
05. Popeye's Village
Originally built as the film set for the 1980 musical production Popeye, featuring Robin Williams as the spinach-loving sailor, Popeye's Village has now been transformed into a popular tourist attraction that offers entertainment for both children and adults.
Visitors can explore the colorful houses, snap photos, and participate in various activities. You can purchase the tickets either online or on-site.
I also recommend taking a stroll to the nearby Popeye Village Viewpoint, for a stunning panoramic view of the bay and the village. But be very careful where you step, as there's the risk of rocks falling in the area.
To reach Popeye's Village, take bus 42 (B6) or 44 (B7) and bus 101. The journey takes in total approximately 1 hour and 10 minutes.
06. Dingli Cliffs
One of Malta's natural wonders, the Dingli Cliffs offer a breathtaking vantage point, overlooking the azure waters of the Mediterranean.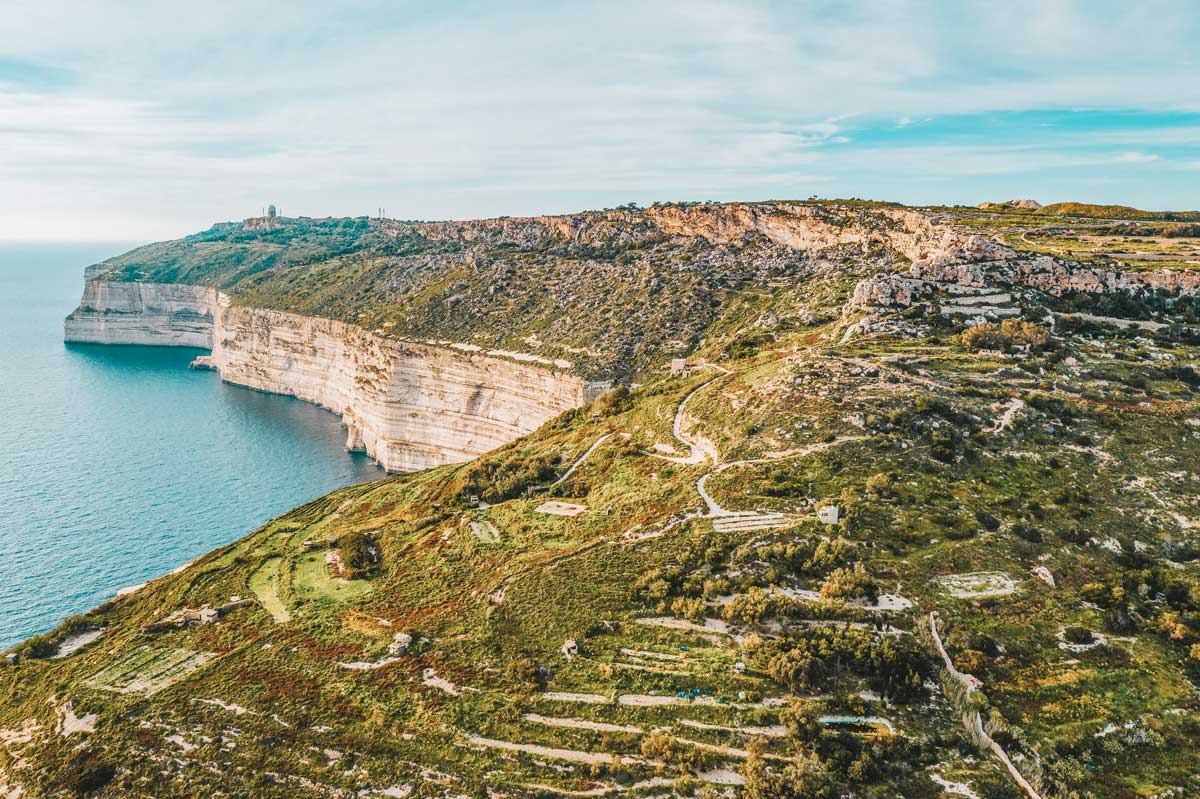 Rising dramatically above sea level, these cliffs provide an unparalleled spot for watching the sunset, photography, or simply taking a moment to reflect and soak in the beauty of the surroundings.
If you're traveling from Rabat, hop on bus 201: it's a quick 11-minute journey that takes you directly to the Dingli Cliffs (get off at 'Maddalena' stop).
When traveling by bus in Malta, it's important to keep in mind that you need to flag down the buses to ensure they stop and pick you up.
07. Gozo
Gozo, the second-largest island after Malta itself, is both a popular destination for day-trippers and a great getaway for longer stays.
It boasts beautiful beaches, hiking trails, and a variety of interesting sights such as Ta' Pinu Basilica, Marsalforn salt pans, and the Ggantija megalithic temple complex.
However, if you opt to visit Gozo as a day trip from other parts of the island, you should be aware that unless you're booking a tour or using the Hop on Hop off Sightseeing Bus, you won't be able to see more than Victoria, the capital city.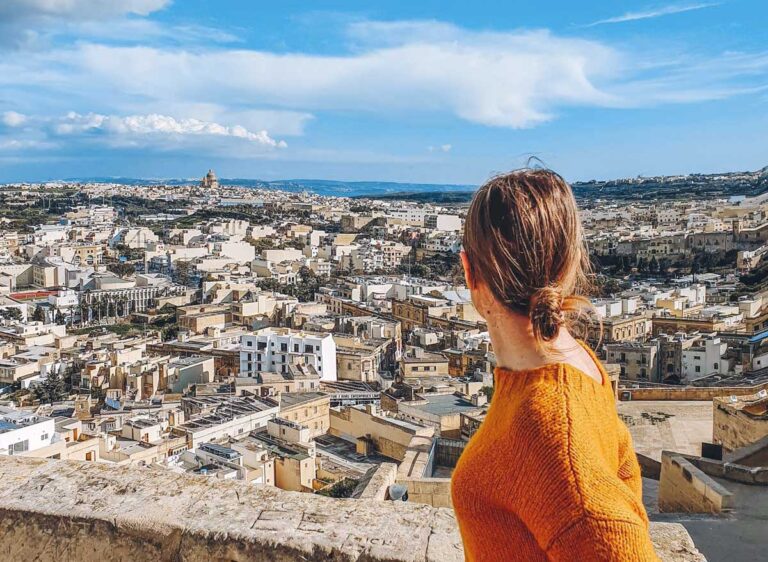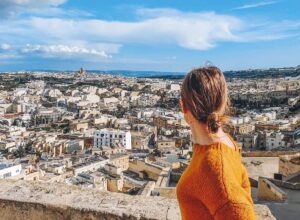 ---
✓ 5/5 stars out of 800+ reviews
✓ Discover the best that Gozo has to offer on a full-day tuk-tuk tour
✓ Take a boat ride past the Blue Lagoon on your way back
Malta in March: How's the weather?
When I visited Malta in March, I found the weather to be pleasant, though quite windy.
Daytime sees an average high of around 17-18 ºC (62.6 – 64.4 °F); and trust me, when the sun shines down and there's no breeze, it feels quite warm.
However, if you're thinking of a dip in the ocean, you might want to reconsider. The sea temperature hovers around 15 -16 °C (59 – 60.8 °F) during this month – a bit too chilly for most people.
As for rainfall, March sees about 9 days of it on average. While the skies can be quite cloudy from time to time, the silver lining is that any rain showers are typically light and fleeting, not lingering long enough to dampen your plans!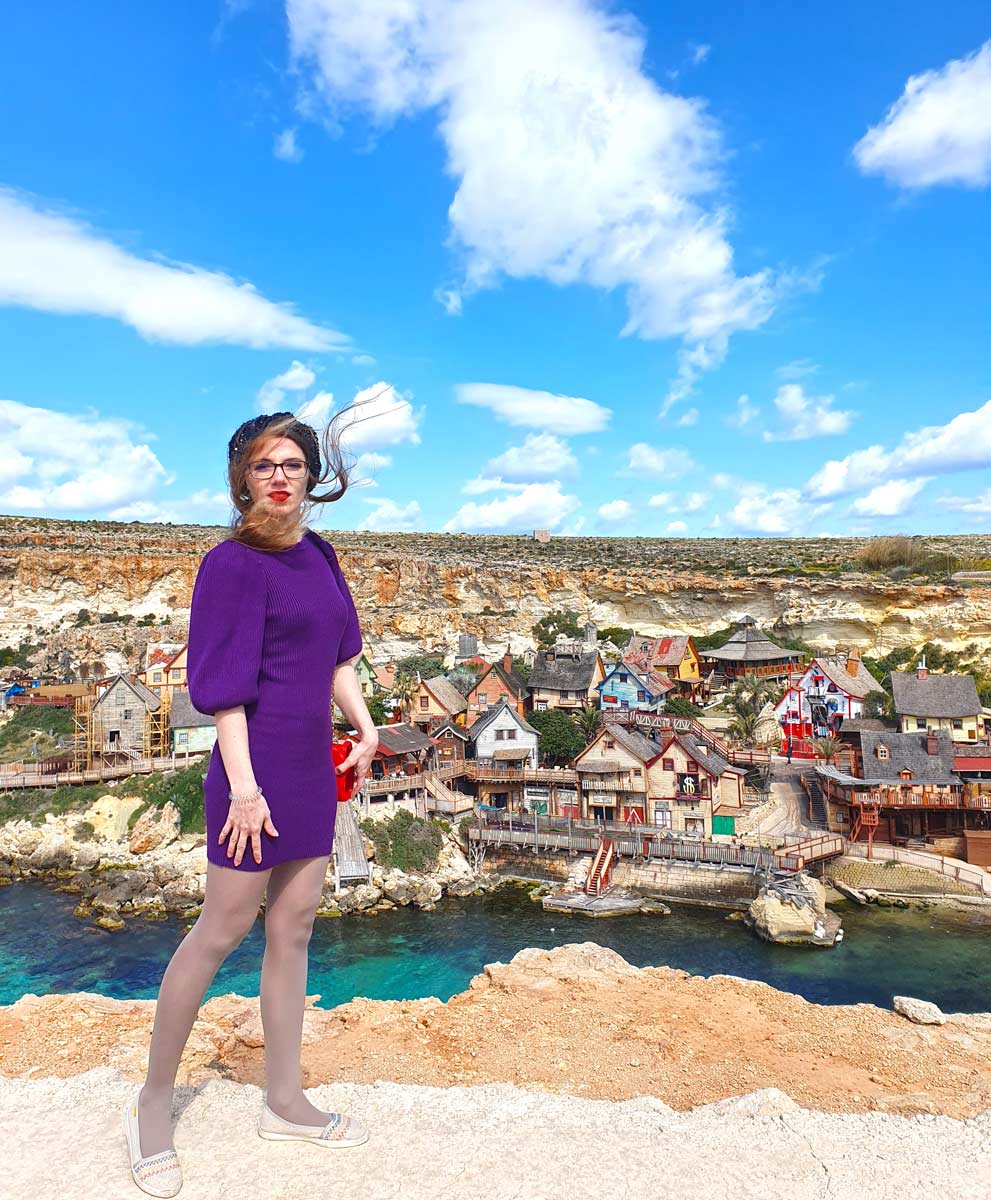 Malta in March: What to pack?
Packing for Malta in March calls for a blend of layers to suit its mostly warm, but occasionally breezy weather.
Bring some lightweight, breathable clothing for the daytime, when it's sunny outside. But given the wind's potential chill, it's also wise to pack a light jacket or a cozy cardigan.
A sturdy pair of walking shoes is a must, especially if you plan on exploring Malta's historic streets and natural wonders.
If you love wearing dresses and skirts, know it's possible, however, go for materials that will keep you warm, so not summer dresses.
Malta in March: Festivals & holidays
Feast of Saint Joseph
Mid-March brings along the Feast of Saint Joseph, officially set on the 19th (though some churches will push its celebration to summer).
Primarily centered in the towns of Rabat and Mdina, this festivity honors Saint Joseph. In Rabat, you can even witness a vibrant procession marching through the streets in the evening, carrying the statue of the Saint.
Freedom Day
Another significant day in Malta's March calendar is Freedom Day, celebrated annually on the 31st.
While Malta had already marked its Independence years prior, this day holds particular importance as it commemorates the departure of the remaining British Forces and Royal Navy from the island, in 1979.
To honor this significant chapter in Malta's history, various ceremonies are organized across the island.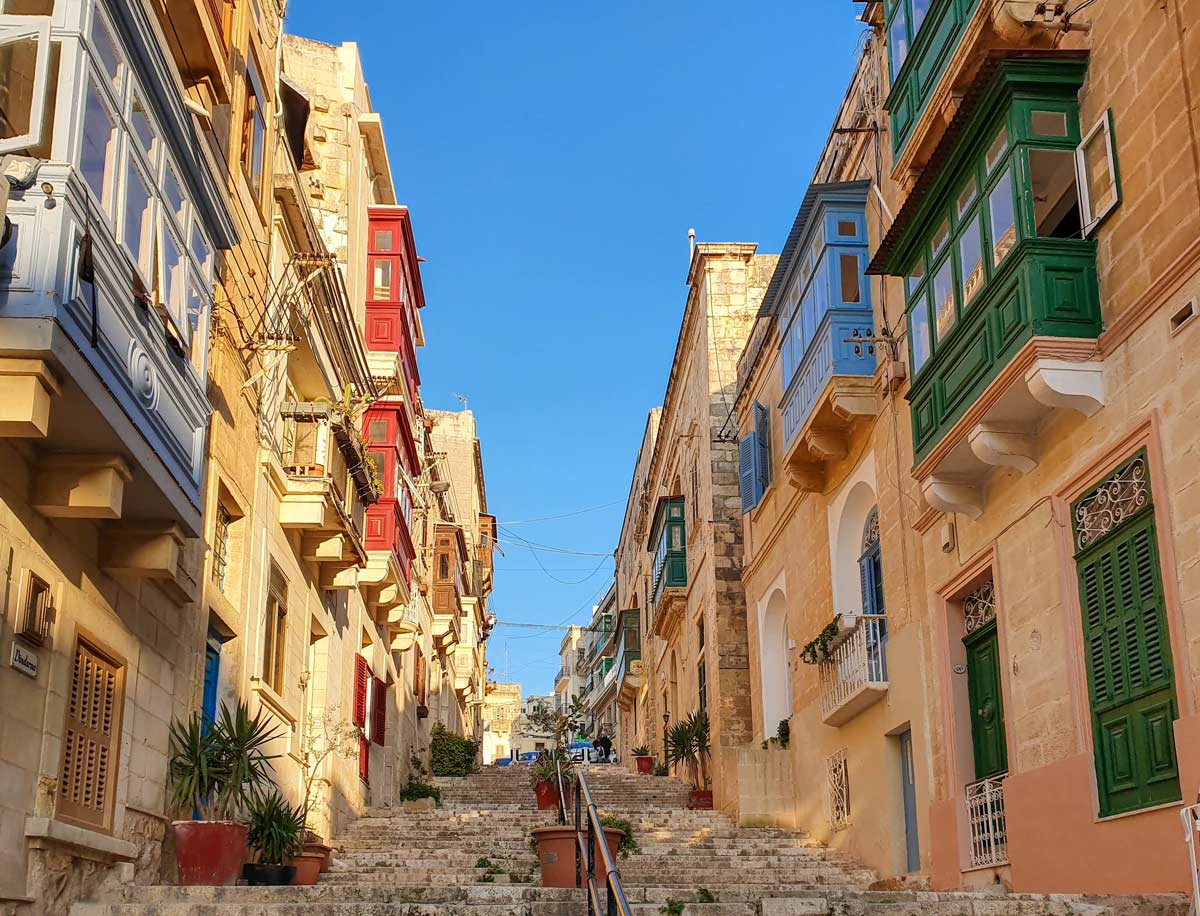 Where to stay in Malta in March?
Since the weather is still not warm enough for hitting the beach in March, there's really no reason to
Since March in Malta isn't exactly beach weather, setting up camp in a beachside resort town is not the best choice, though it can be cheaper since it's out of season.
Still, I recommend staying in Valletta instead, especially if you plan to do a lot of sightseeing via public transportation.
Given that driving in Malta follows the left side of the road, relying on buses can be a more comfortable option for many. And Valletta is the starting point for most bus routes, making it a fantastic base for exploring the rest of the island.
If you're longing to do some hiking and other outdoor activities, consider allocating a few days for Gozo as well.
Malta in March FAQs
Is Malta warm in March?
Malta's weather is fairly warm in March, but it can get windy so make sure you have a jacket with you at all times.
Can you sunbathe in Malta in March?
While you can sunbathe in Malta in March, you'll probably still want to stay away from the water, as the sea temperature is still too low for comfortable swimming.
Is it warm enough to swim in Malta in March?
In March, the sea temperature typically ranges from 15 to 16 °C (59 – 60.8 °F), which is generally considered too cold for swimming by most people.
Is Malta busy in March?
March is typically considered an off-season month in Malta, meaning that you are unlikely to encounter many crowds during this time.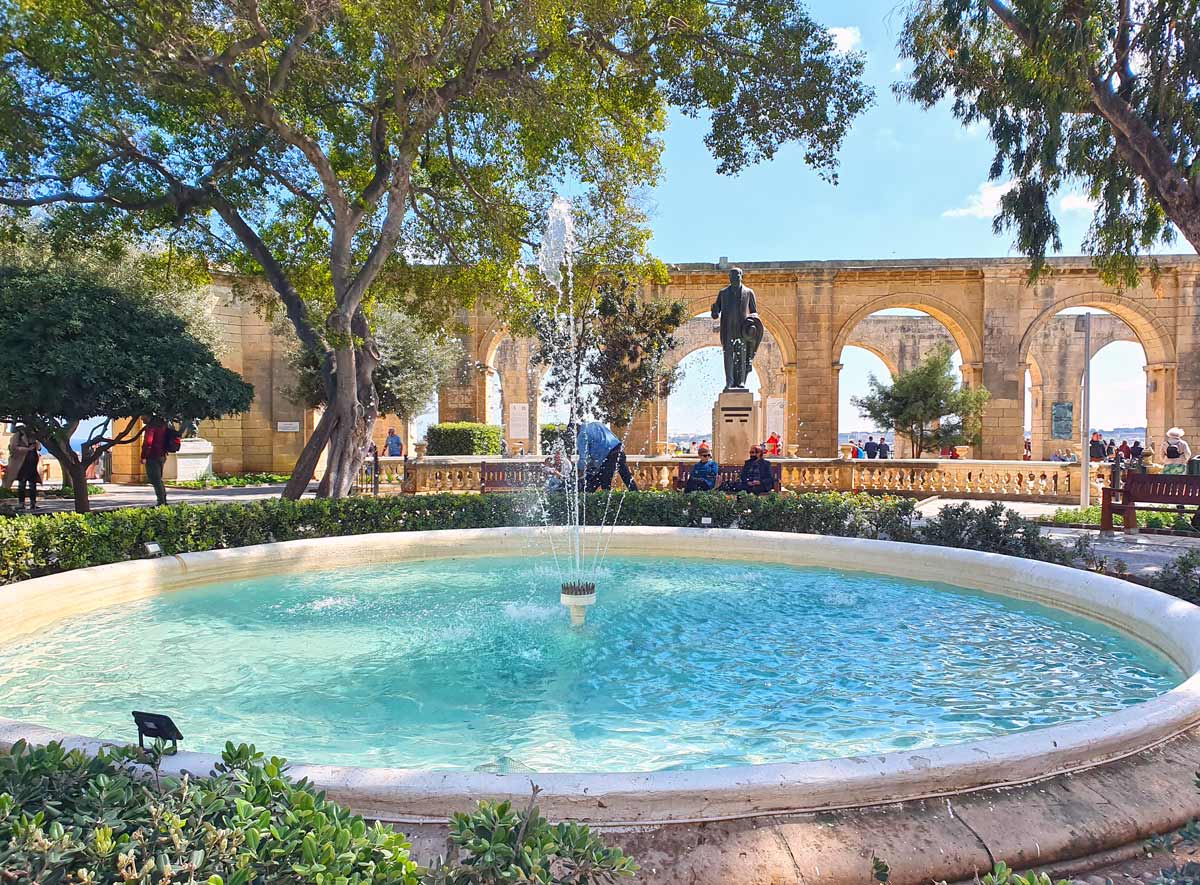 Best things to do in Malta in March: Final thoughts
To wrap it up, March is a great time to explore Malta, away from the sweltering heat and crowds of the peak tourist season.
And if you're eager to delve even further into what the island has to offer, don't miss out on my detailed 4 days in Malta itinerary, that doesn't require a car.
Happy travels~