Are you traveling soon to Malta and wondering if Valletta is worth your time? Well, as someone who has personally experienced the charm of this tiny city, I'm here to help you decide!
During my own trip, I spent four days in Malta, with Valletta as my home base, taking in all the sights, sounds, and flavors this cultural gem has to offer.
So, if you're on the fence about whether to include Valletta in your itinerary, come along with me as I explore the city's highlights and potential drawbacks.
Disclosure: Some of the links in this post are affiliate links. If you click on them and make a purchase, I may receive a commission at no extra cost to you. Check my full disclaimer here.
Is Valletta worth visiting? (Short answer)
Valletta, though small in size, is packed with rich history, stunning architecture, and cultural experiences. It's a very walkable city which means you can easily explore it on foot. And whether you're a history buff, a foodie, an architecture enthusiast, or someone who simply loves to soak in different cultures, Valletta has something special to offer you.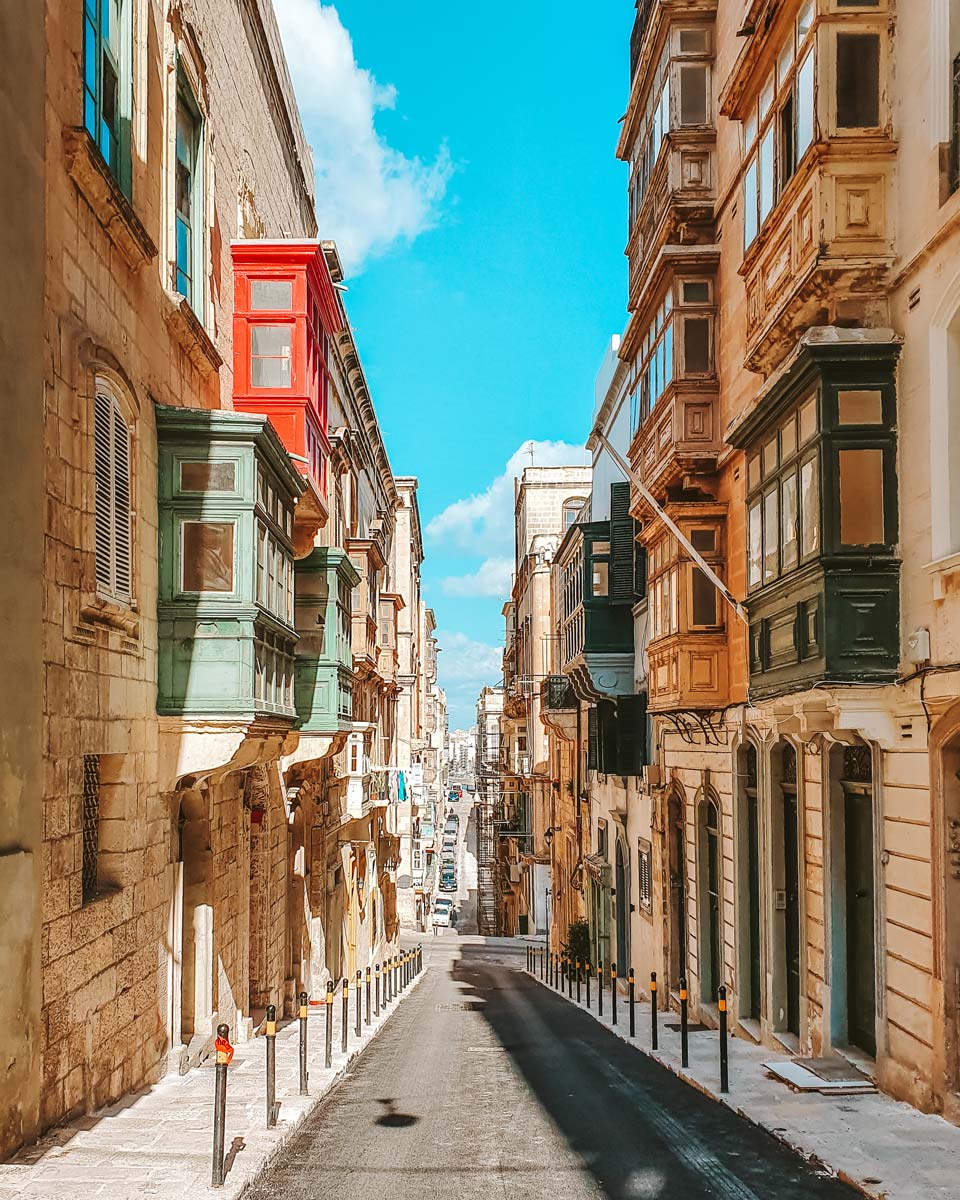 Reasons why it's worth visiting Valletta, Malta
01. It's a very walkable city
One of the things I loved most about Valletta was just how walkable it is. Thanks to its compact size, you can comfortably explore the entire city on foot.
The streets are laid out in a grid system, making it a breeze to find your way around. And the best part? Every walk is a chance to stumble upon a new hidden gem, whether it's a quaint café, a picturesque piazza, or a stunning vista of the Mediterranean Sea.
02. Amazing architecture
A trip to Valletta is like stepping back in time. The city is a living, breathing testament to Malta's rich history, and nowhere is this more evident than in its remarkable architecture.
Valletta is a UNESCO World Heritage Site, after all, and for good reason. Its buildings, ranging from grandiose baroque landmarks to humble historic houses, display a blend of styles reflecting the different eras and cultures that have shaped the city.
From the imposing ramparts guarding the city's entrance to the detailed facades of its many palazzos, Valletta's architecture is a feast for the eyes that any history or photography enthusiast would appreciate.
03. Great spring destination
If you're looking for a lovely spring destination in Europe, then Valletta should be high on your list. Unlike some parts of Europe that are still shaking off the chill of winter, Malta already basks in pleasantly warm temperatures at the beginning of March.
Additionally, the island sees fewer tourists in spring than in summer, offering a more relaxed experience.
Imagine enjoying the historical sights, scenic landscapes, and beautiful beaches without the heavy tourist crowds. Now that's an advantage that certainly makes Valletta, and Malta in general, a perfect spring getaway.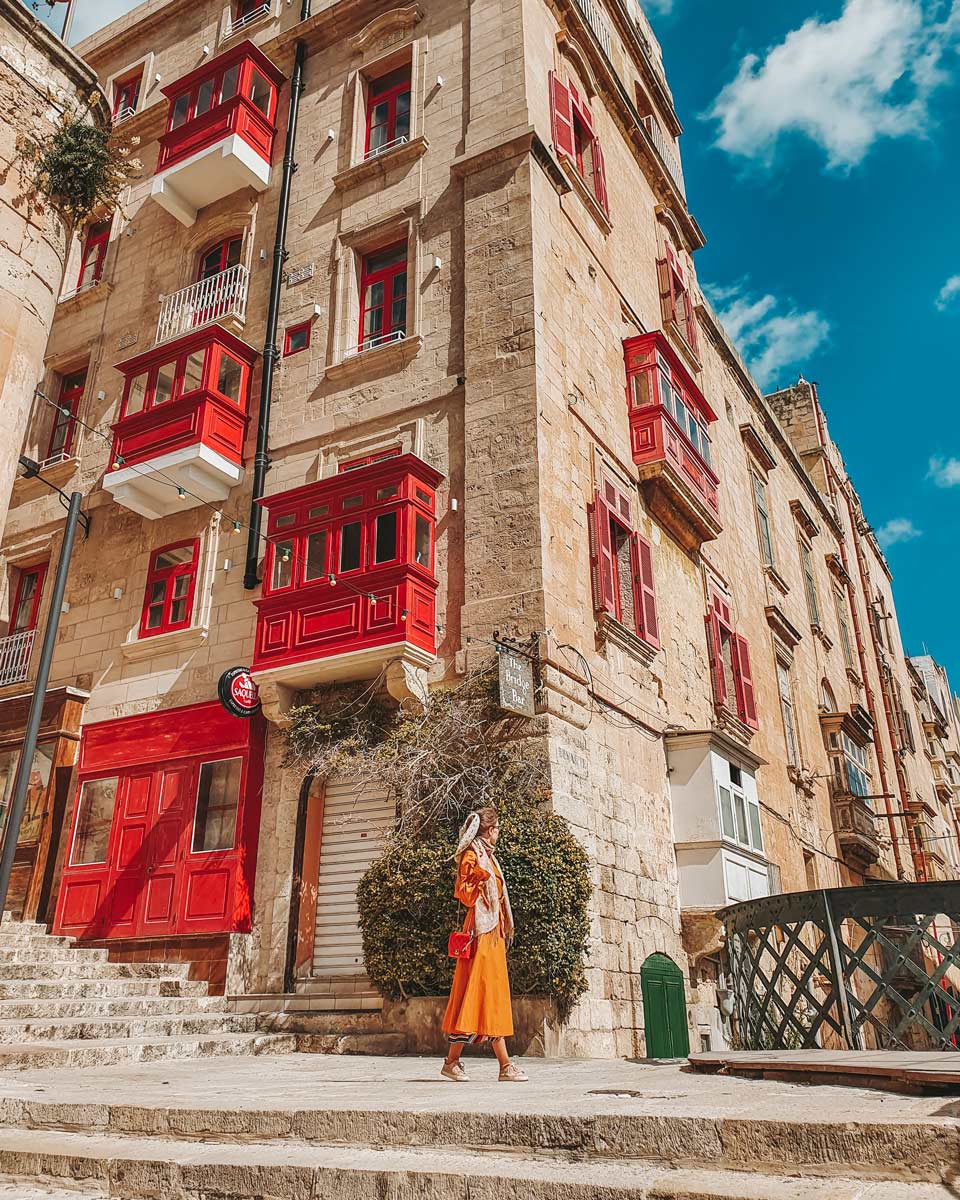 04. Colorful wooden balconies
One of the most distinctive and charming features of Valletta's cityscape is its enclosed wooden balconies, known as gallariji.
Painted in many different shades, from dark blues and greens to bright yellows and reds, they are not just functional, but also add an aesthetic touch to the city's stone buildings.
So make sure to look up and appreciate these cheerful splashes of color as you walk down Valletta's streets.
TIP: One of the most most Instagrammable spots in Malta is the building with red balconies, located right above Victoria Gate. You'll find it marked "Red Phone Booth and balconies" on Google Maps.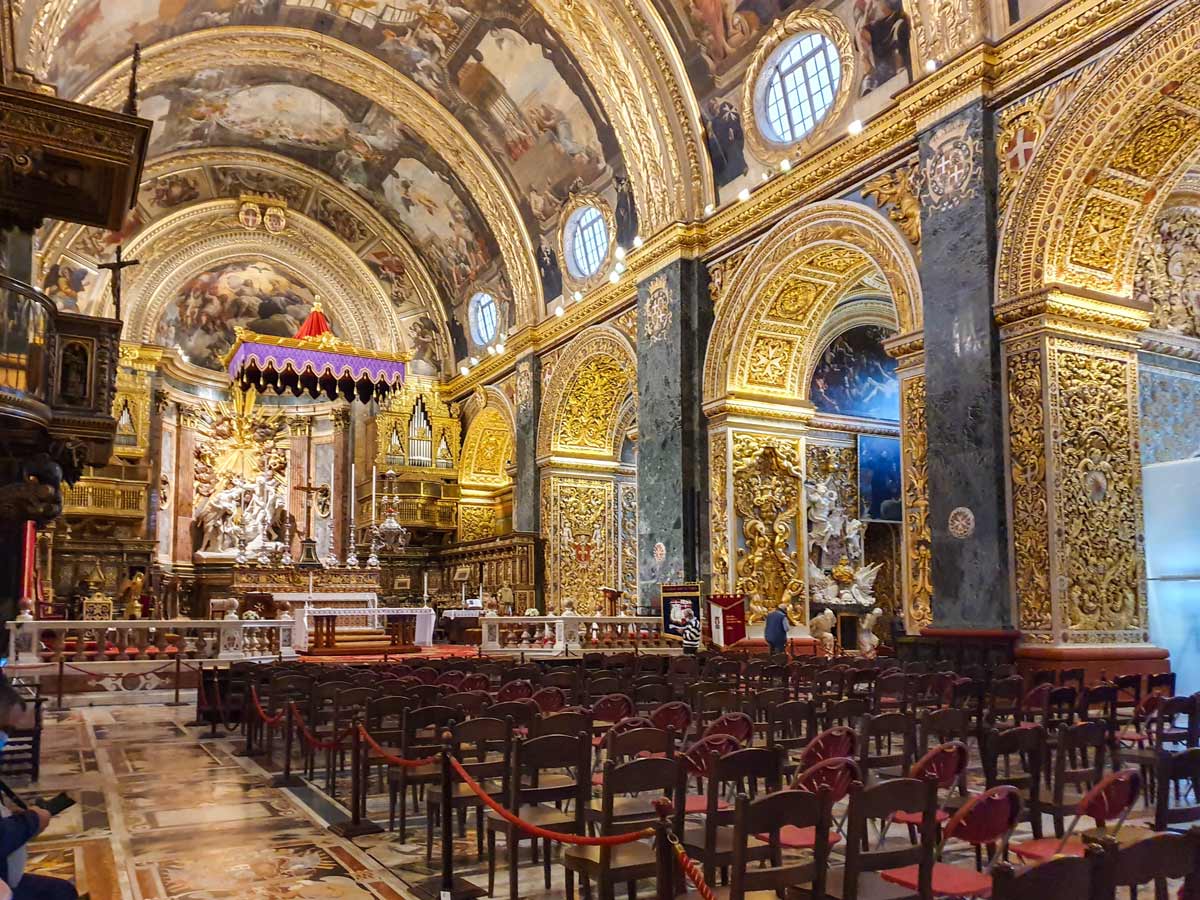 05. St. John's Co-Cathedral
St. John's Co-Cathedral, nestled in the heart of Valletta, is not to be missed on a trip to the city.
From the outside, this 16th-century cathedral may seem austere compared to other baroque buildings in Valletta. But don't let that fool you. Step inside, and you're greeted by an extravagant display of baroque art and architecture.
The cathedral is adorned with intricate carvings, golden ornamentation, and several works of art, including Caravaggio's largest painting, "The Beheading of Saint John the Baptist".
06. Grand Master's Palace
The Grand Master's Palace, an imposing structure in the heart of Valletta, is another reason why this city is worth a visit. Built between the 16th and 18th centuries as the residence of the Grand Master of the Knights of St. John, the palace now houses the President's office.
But don't just admire it from the outside; the interior, which is open to the public, is equally impressive with its richly decorated state rooms and a stunning armory, exhibiting one of the world's largest collections of weapons and armors.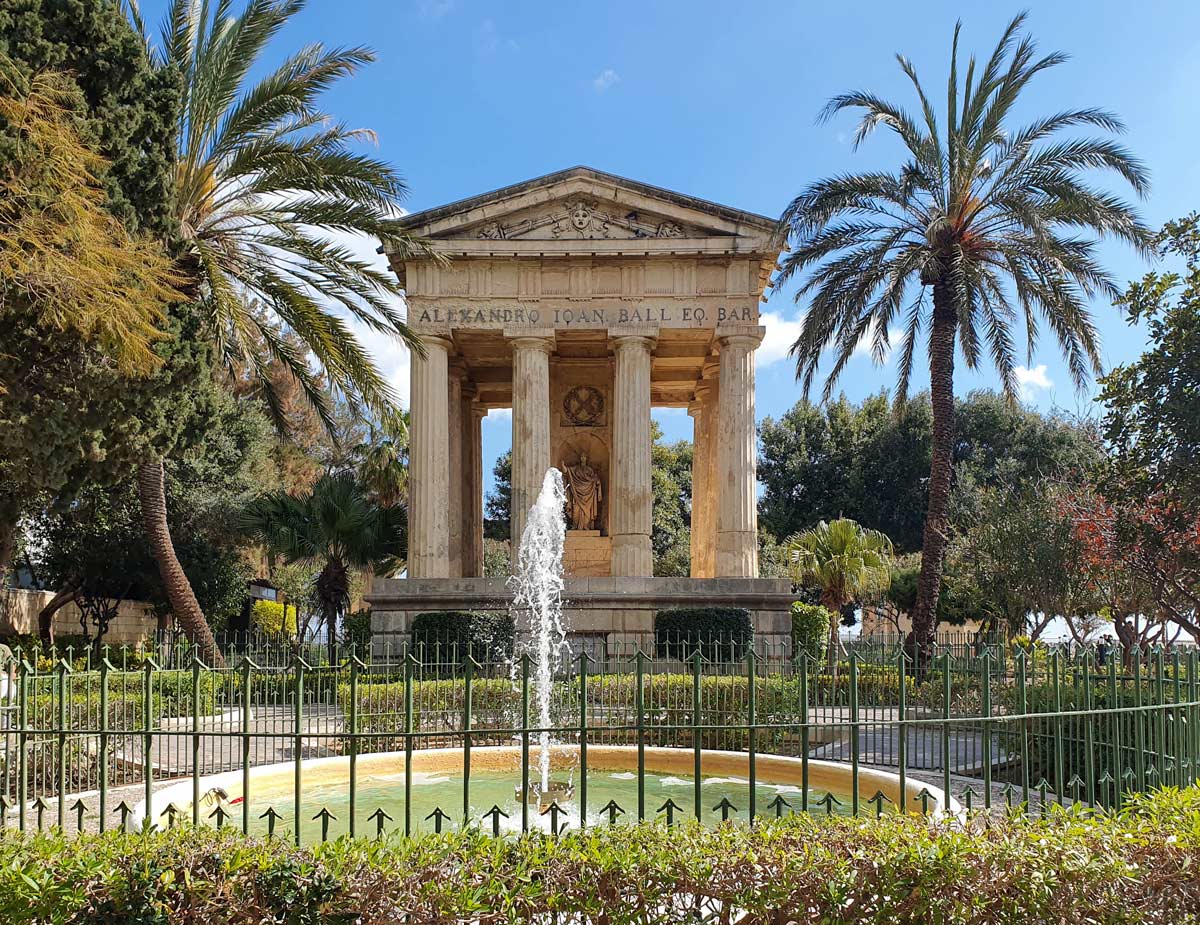 07. Upper and Lower Barakka Gardens
The Upper and Lower Barakka Gardens are two public gardens offering a green escape from the city's hustle and bustle. The sense of tranquillity, combined with stunning vistas, make these gardens not only a must-visit, but also two of the best free things to do in Valletta.
The Upper Barakka Gardens are perched on the city walls and provide panoramic views of the Grand Harbour and the Three Cities. It's the perfect spot to unwind after a day of sightseeing.
The Lower Barakka Gardens, although smaller, offer their own unique charm and views of the breakwater and the Siege Bell War Memorial.
08. Firing of the cannons
One of Valletta's most unique attractions is the firing of the cannons at the Saluting Battery, located just below the Upper Barrakka Gardens.
Historically used by ships to calibrate their maritime chronographs, this tradition is now maintained by the Malta Heritage Trust. The cannons are fired every day, Monday to Saturday, at noon and 4 pm.
For a small donation/fee, you can head down to the terrace of the Saluting Battery for an up-close experience of the firing, complete with insightful information about this tradition and the mechanics of the cannons.
However, if you ask me, the view from the Upper Barrakka Gardens offers a more panoramic perspective, and you can still hear the cannons loud and clear! Plus, you can always choose to donate even if you don't go down to the terrace.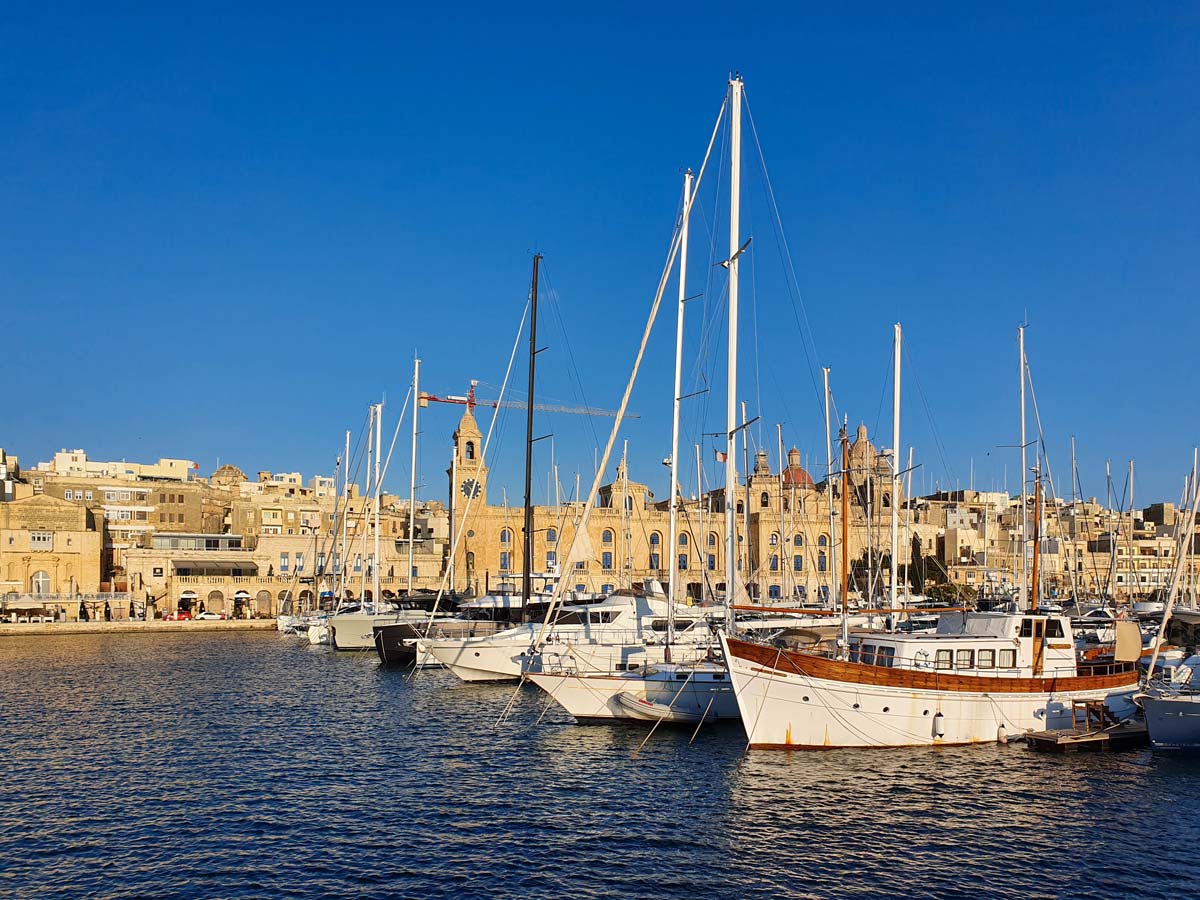 09. The three cities
Another compelling reason to visit Valletta is its proximity to what are often referred to as the "Three Cities": Vittoriosa (Birgu), Senglea (Isla), and Cospicua (Bormla).
These cities, older than Malta's capital itself, offer a less touristy and more authentic peek into Maltese life. Here you can wander through narrow winding streets, gaze at the grand fortifications and enjoy great views of Valletta.
The most convenient way to visit the cities is by taking a boat trip or the ferry across the bay.
To get to the waterfront, my suggestion is to take the Barrakka Lift as it will save you time and effort. You can find it inside the Upper Barrakka Gardens and it costs 1 EUR per ride.
10. Bus gateway
Finally, let's not forget the practicality factor. Valletta serves as Malta's primary bus gateway, making it a great base for exploring the rest of the island.
The main bus terminal is just outside the city gate, where you can catch a ride to pretty much anywhere in Malta.
Whether you're looking to explore the ancient city of Mdina, the picturesque Marsaxlokk, or the colorful Popeye's Village, it's very easy to get there from Valletta.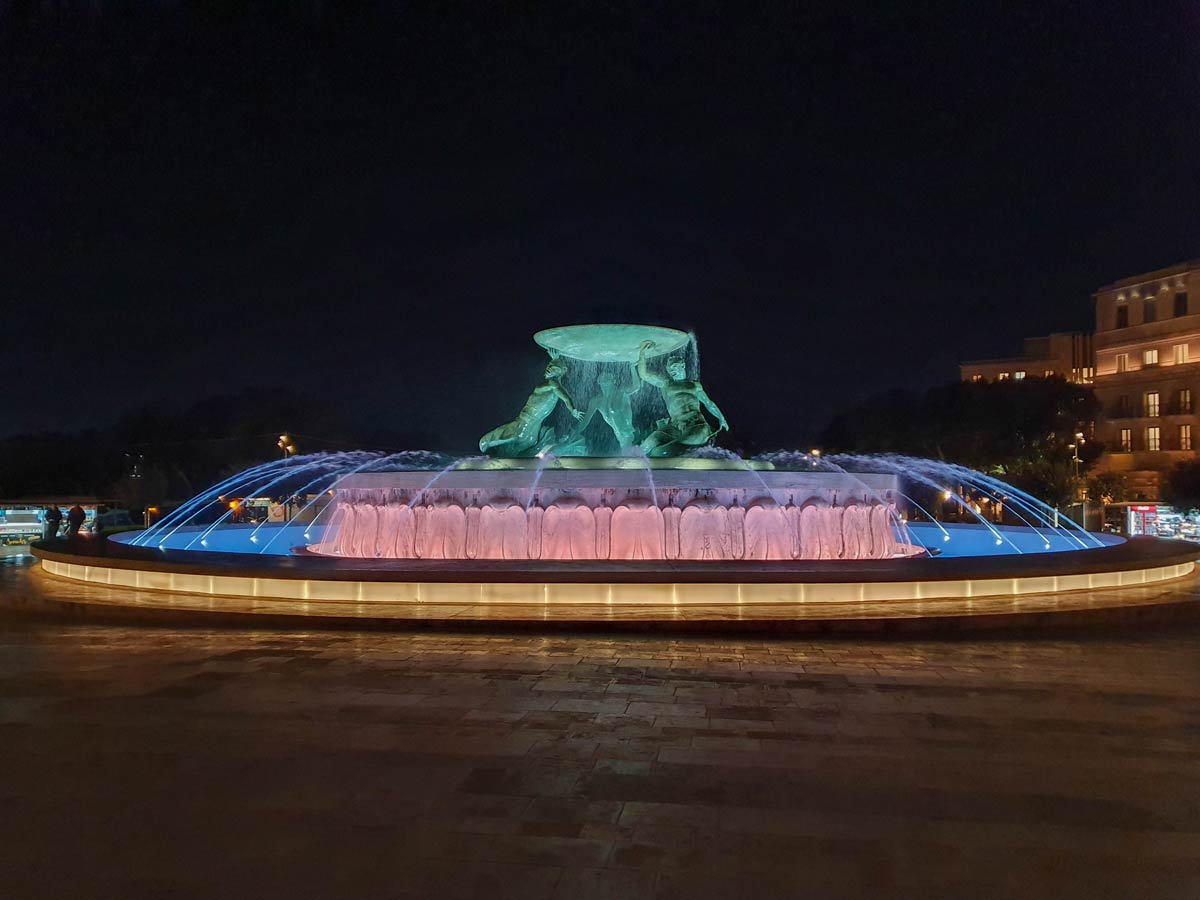 Reasons why you might opt out of visiting Valletta
01. It's really small
While many find Valletta's compact nature to be a charming plus, it might be a deterrent for others.
Yes, you can walk across the entire city in less than 20 minutes, and yes, it's easy to navigate, but the city's small size means there's a limit to the number of attractions and activities available.
So if you're looking for a destination with a broad array of experiences or prefer large, sprawling cities, Valletta's small size might leave you wanting more.
02. It's more expensive than other locations in Malta
Another aspect to consider is cost. Given its status as the country's capital, a UNESCO World Heritage Site, and its limited space, Valletta tends to be more expensive than other parts of the island.
This applies to everything from accommodations and dining to shopping and entertainment. While there are budget-friendly options available, they might not be as plentiful or as convenient as in other locations.
Therefore, if you're traveling on a strict budget, it's worth considering that your money might not stretch as far in Valletta as it could elsewhere.
FAQs about visiting Valletta
How many days do you need in Valletta?
Due to its tiny size, one day is ample time to visit Malta's capital city, Valletta.
Do people speak English in Valletta?
English is one of the two official languages in Malta (the other being the Maltese language), so yes, people do speak English in Vallletta.
Is Valletta worth visiting: Final thoughts
To wrap it up, yes, Valletta is indeed worth visiting. Its rich history, distinctive architecture, and the charm of being one of Europe's smallest capital cities make it a unique destination. However, as with any travel spot, whether it's the perfect choice for you depends on your personal preferences.
And if you're still undecided or curious to learn more about what the rest of Malta offers, I invite you to read my post on the reasons why Malta is worth visiting.
It'll give you a more comprehensive view of this fascinating archipelago, helping you make an informed decision about your upcoming travel plans.
Happy travels~