The best places to see azulejo tiles in Porto
If you're looking for some of the best azulejo tile work in all of Portugal, then you need to head to Porto. This historic city is home to some amazing examples of azulejo artistry and in this blog post, we'll take a look at some of the best spots in Porto to admire these beautiful tiles. So if you're planning a trip to this charming city, be sure to add them to your list!
A short history of azulejo tiles in Portugal
The beautiful and intricate tiles that become so iconic for the architecture of Portugal can be traced back to when parts of the Iberian peninsula were still under Moorish rule. The word "azulejo" itself has Arabic origins, roughly meaning "polished stone".
Portugal adopted the beautiful azulejos into its culture at the beginning of the 16th century when King Manuel I visited Spain, fell in love with the colorful tiles, and imported them back home.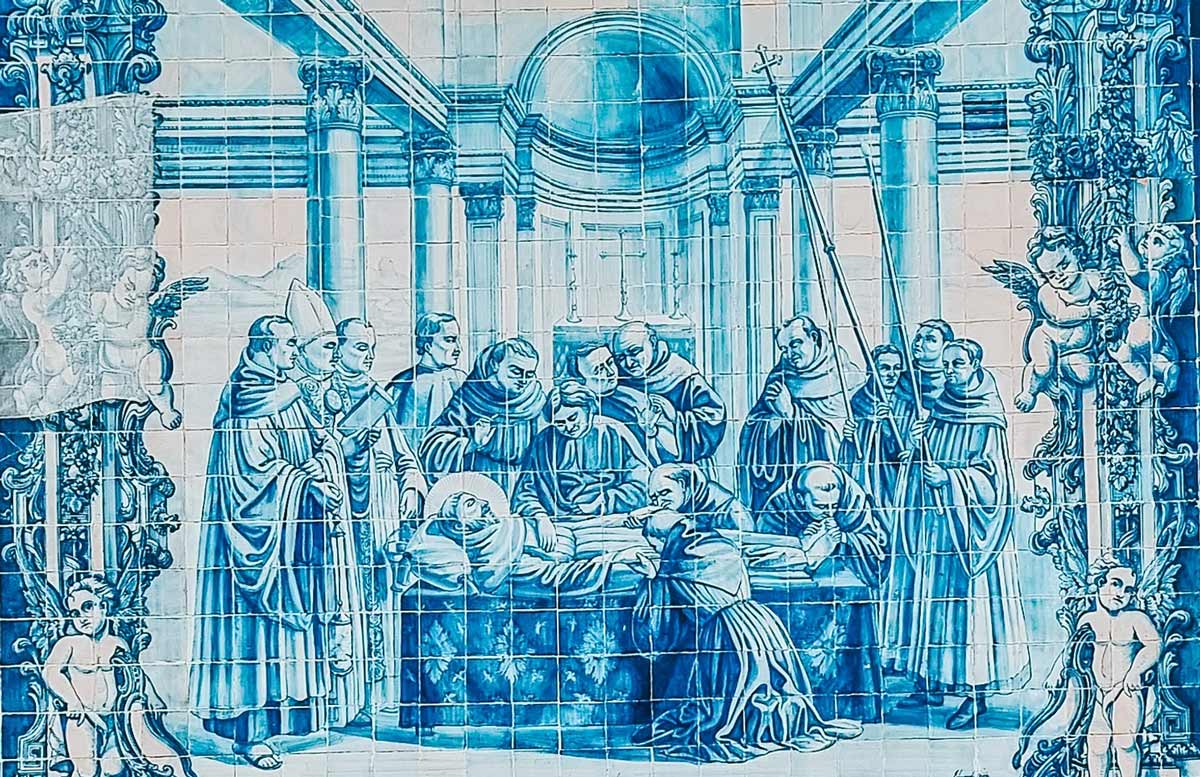 Initially, the tiles were used to cover up large areas of blank walls that were so common inside buildings during the Gothic period, creating a more colorful and artistic appearance. Nowadays you can find the colorful tiles literally everywhere from churches and palaces, to train stations and regular homes.
As their use spread in the Iberian Peninsula, the motifs also evolved from the simple geometric patterns that the Moorish used, to complex scenes depicting animals and people.
Until the mid-16th century, Portugal still relied on imports for their azulejo addiction, mainly from Spain where Italian potters contributed to the flourishing of the tile-making art there. But after Flemish artisans settled in Lisbon, the country started producing its own tiles and remained to this date one of the biggest exporters.
Where to find the best azulejo tiles in Porto?
Se do Porto (Porto Cathedral)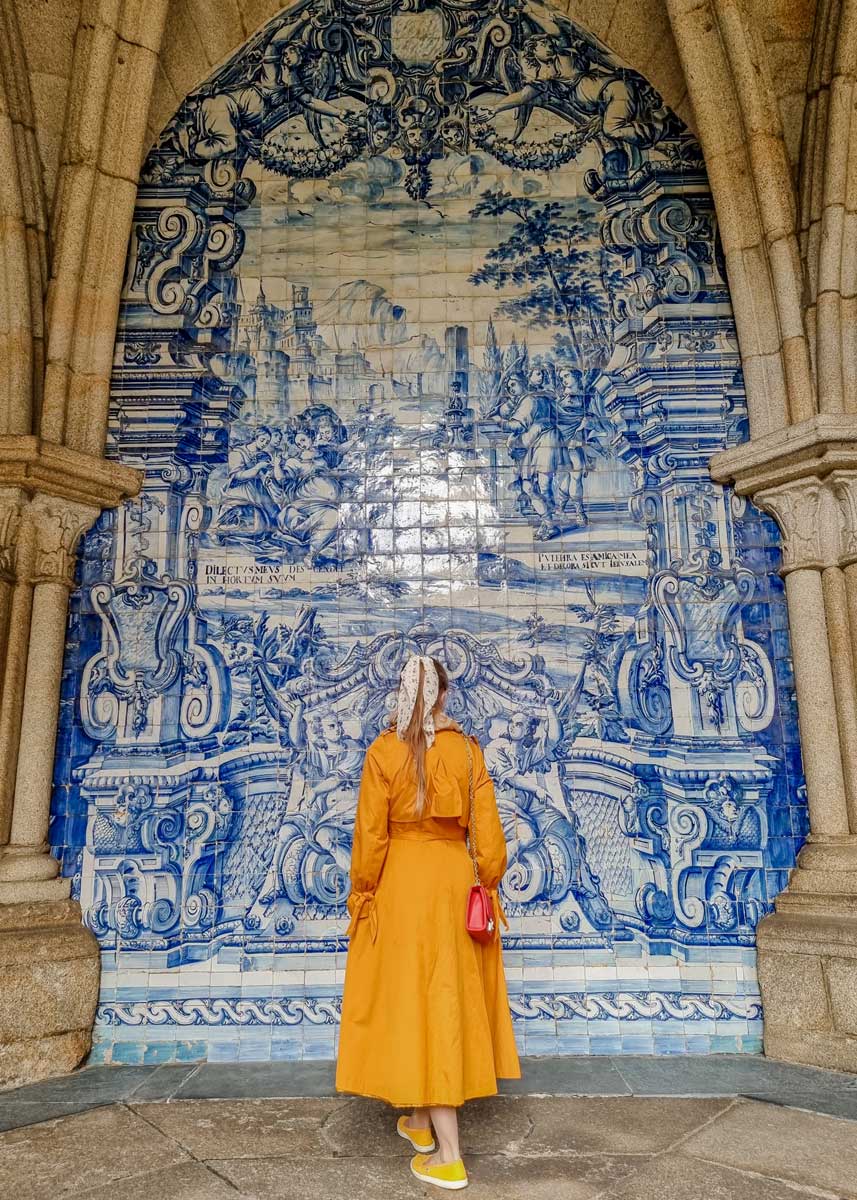 The Se do Porto, or Cathedral of Porto is one of the city's most iconic and best-known landmarks. And if you're looking for some amazing examples of azulejo tilework, then you'll definitely want to check it out!
The cathedral gothic cloister is home to some stunning blue and white tiles depicting scenes from the life of The Virgin Mary and Ovid's Metamorphoses and they're truly a sight to behold! The terrace about the cloister also has two entire walls decorated with azulejos.
The cathedral is located in the historical center of Porto, in Terreiro da Se, very close to Luis I bridge.
Sao Bento Station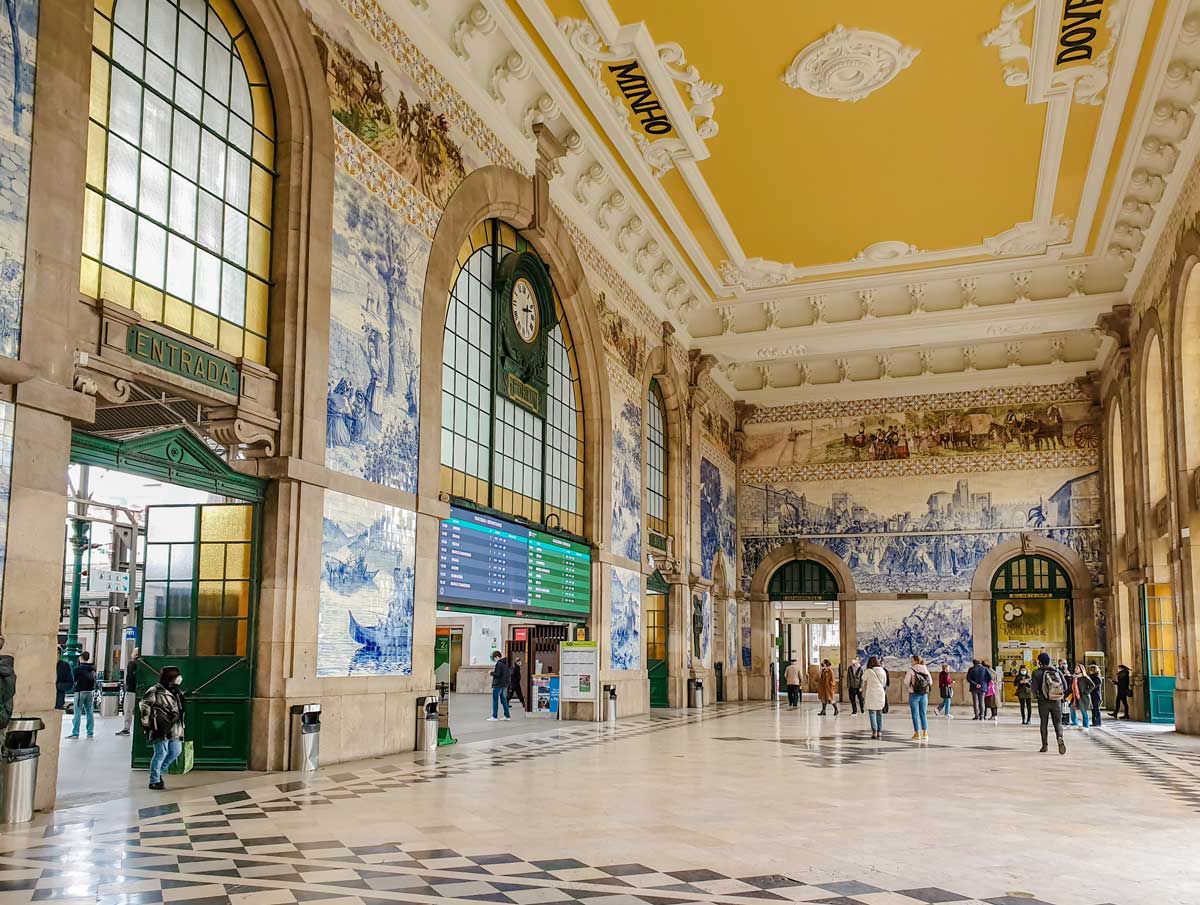 Sao Bento Station is another must-see destination in Porto for anyone interested in azulejo tiles. This beautiful railway station was built in the early 20th century and it's home to some of the most impressive azulejo tilework in the city.
While the main hall of the station might look ordinary from the outside, the interior will definitely stun you! It is decorated with beautiful blue and white tiles that depict important historical events, as well as multicolored panels showing rural scenes and ways of transport. In total, around 20,000 azulejo tiles were used to skillfully cover the walls.
The station is centrally located in Praca de Almeida Garret, not far from Luis I bridge and Se do Porto.
Igreja do Carmo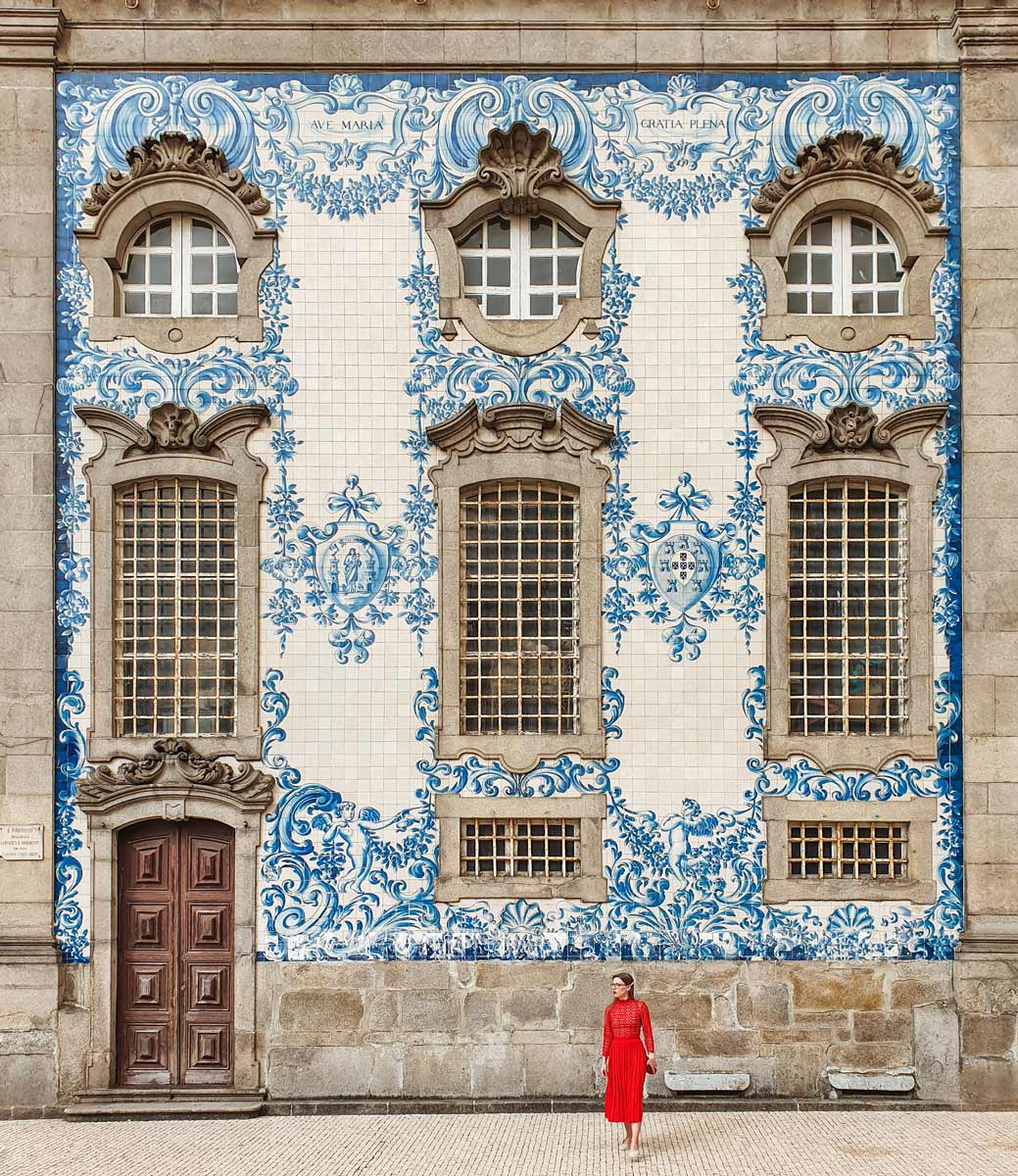 Igreja do Carmo's impressive blue and white azulejo-covered exterior is probably one of the most photographed in the city. From the front, the church looks rather simple with its grey facade, but once you'll see its tiled side, your jaw will definitely drop.
The beautiful azulejos were added in 1912 (about 144 years after the church was completed) and they depict scenes of the founding of the Carmelite Order and Mount Carmel.
Igreja do Carmo is located at the corner of Praca de Carlos Alberto and Rua do Carmo.
Capela das Almas (Chapel of Souls)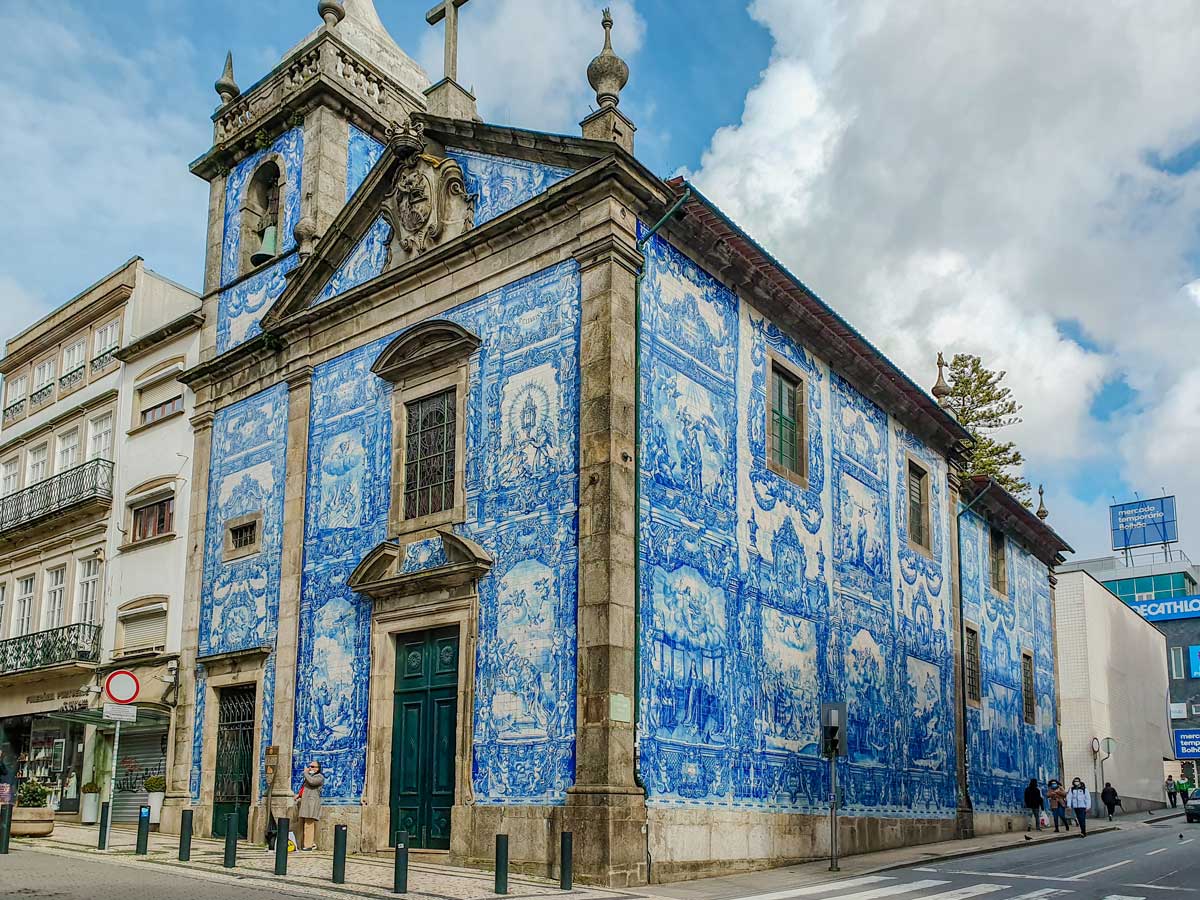 The Capela das Almas (also known as Capela de Santa Catarina) is another must-see destination in Porto for anyone interested in azulejo tiles. Similar to Igreja do Carmo, the chapel was built in the 18th century, but its stunning azulejos were added much later, at the beginning of the 20th century.
The panels that decorate Capela das Almas are a deeper shade of blue than you'll see at other churches and they cover its whole exterior, facade included. Around 16.000 blue and white azulejo tiles were used and they depict scenes from the lives of St. Francis of Assisi and Saint Catherine. The chapel is located on Rua de Santa Catarina.
Igreja de Santo Ildefonso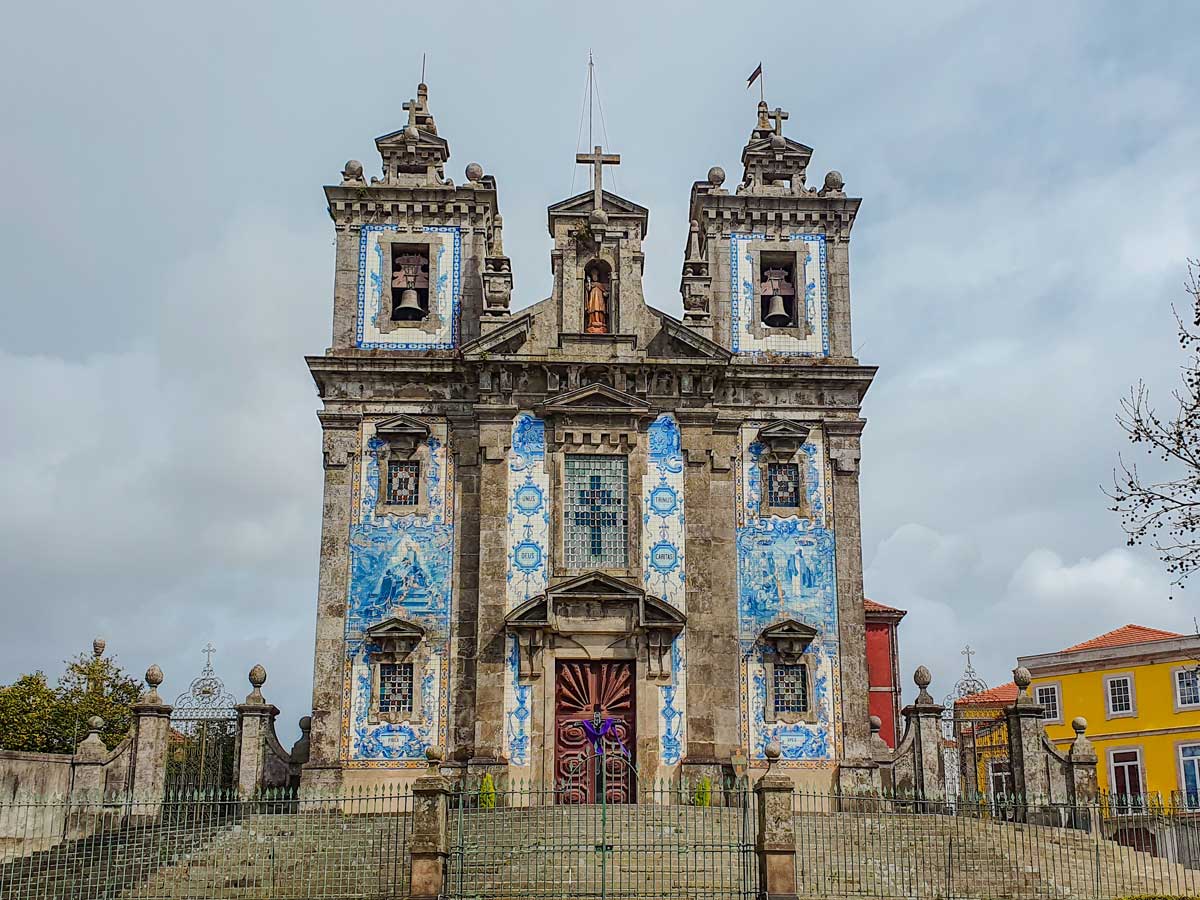 The Church of Saint Ildefonso is a beautiful 18th-century church located in Praca de Batalha, in the historic center of Porto. Beautiful blue and white azulejos tiles grace its exterior walls, depicting scenes from the life of Saint Ildefonso as well as figurative imagery from the Gospels. As with other churches in Porto, the decorative tiles were added later, at the beginning of the 20th century.
A Perola do Bolhao
If you're looking for a hidden gem in Porto, look no further than this grocery store. The store's facade is absolutely beautiful, made in the Art Nouveau style with intricate letters, decorations, and images. Even if you're not interested in buying groceries, it's worth stopping by just to admire the building.
Perola do Bolhao is located in downtown Porto, on Formosa street, fairly close to Capela das Almas.
TIP: If you like Art Nouveau architecture as much as I do, then you might also want to check out Livraria Lello, a famous bookstore in downtown Porto and Majestic cafe. I have to warn you though, the queues outside the bookshop can get insanely long.
Steak n Shake restaurant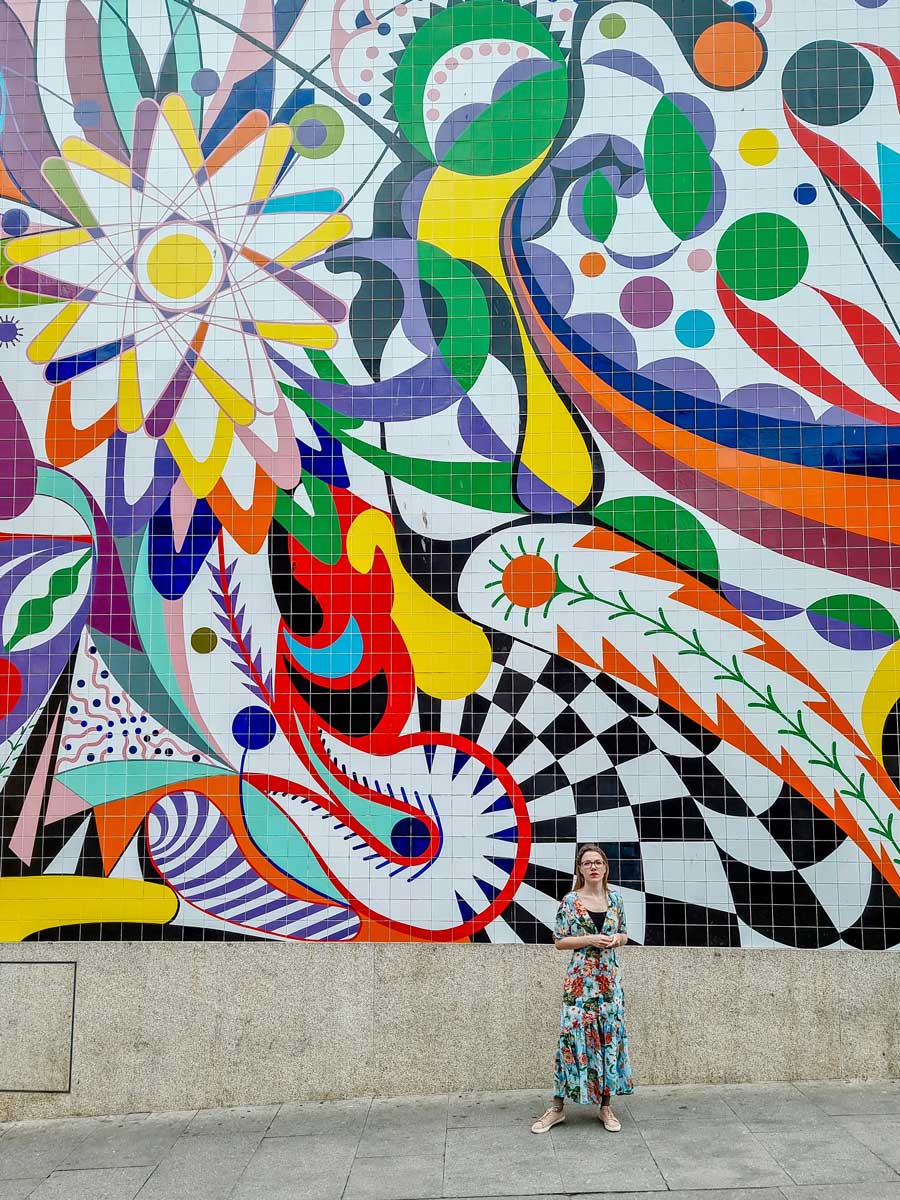 If you want to see more modern azulejo tilework, then head to Steak n Shake restaurant. The exterior wall on its right side is covered by a large multicolored tiled mural by Joana Vasconcelos. Around 8.000 hand-painted tiles were used.
Steak n Shake is located at the junction of Praca Guilherme Gomes Fernandes with R. Actor Joao Guedes.
Igreja dos Congregados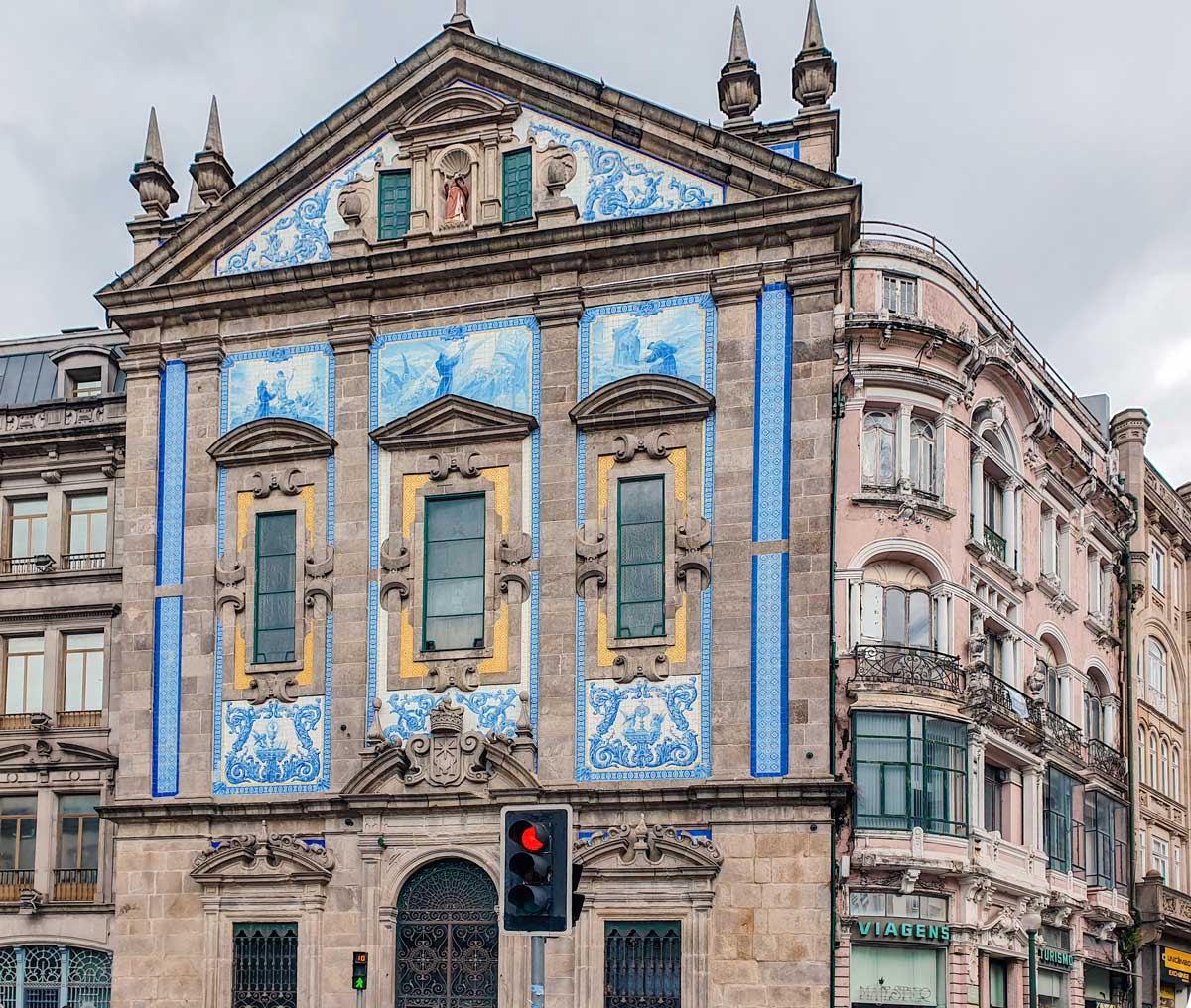 Igreja dos Congregados is situated just accros the street from Sao Bento train station, on Rua de Sá da Bandeira. In contrast with other churches in Porto, the azulejo tiles that decorate its facade are not exclusively white and blue, but yellow as well.
Historic center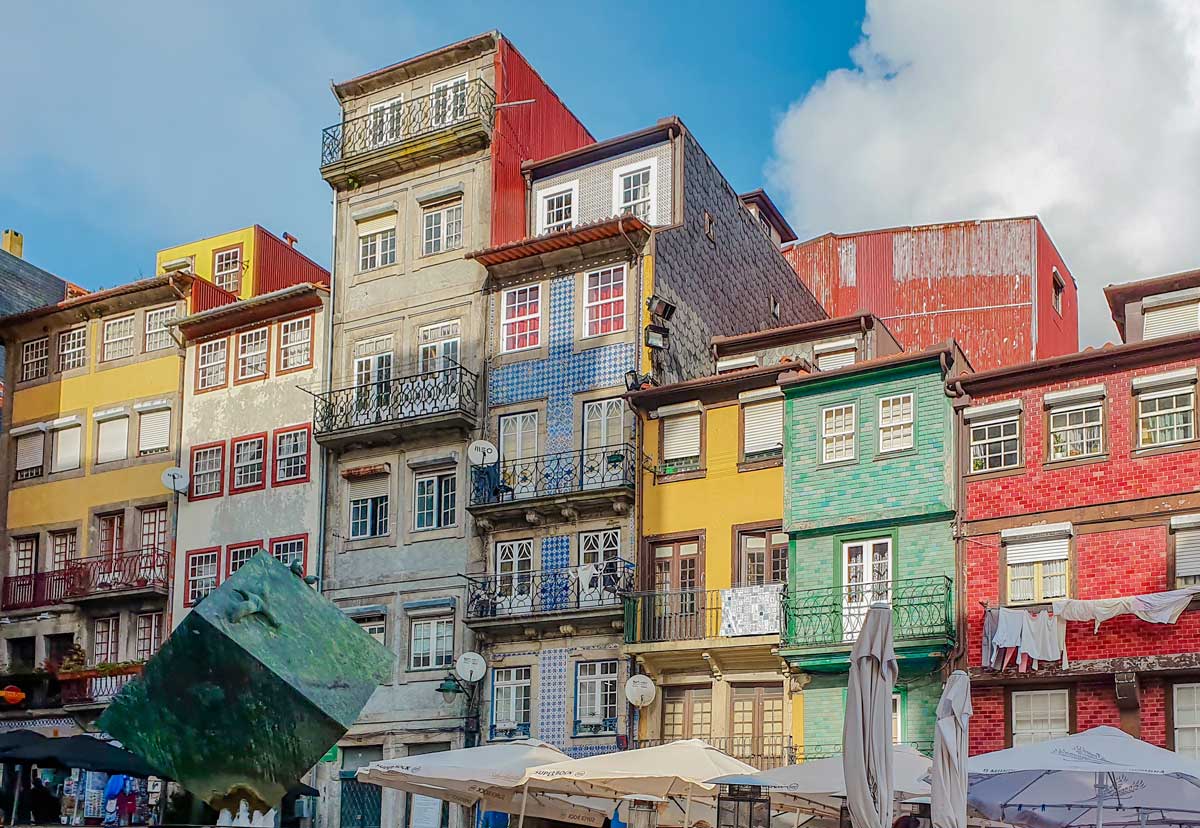 Last but not least is the historic center of the city. If you remember, I mentioned that as time passed by and their popularity grew, tiles were been used everywhere, including on the exterior walls of residential houses. So, as you walk through the old city center of Porto, you'll see many buildings covered with tiles, some more colorful than others.
Ribeira neighborhood in particular is known for its colorful and picturesque exteriors of buildings that face the Douro river. Julio Resende's artwork, the Ribeira Negra panel can also be seen here. The large tiled mural depicts colorful human and animal figures and it is located in the Ribeira tunnel, close to Luis I Bridge.
The best places to see azulejo tiles in Porto: Recap
Se do Porto (Porto cathedral)
Sao Bento Station
Igreja do Carmo
Capela das Almas
Igreja de Santo Ildefonso
A Perola do Bolhao
Steak n Shake restaurant
Igreja dos Congregados
Historic center
How much time do you need to see the best azulejos in Porto?
I have found that a day is more than enough time to see all of the places I mentioned. They're located in the center of the city, fairly close together and it's easy to reach them on foot.
---
As you can see, there are plenty of amazing places to see azulejo tiles in Porto, Portugal. So if you're planning a trip to this historic city, be sure to add them to your list. You won't be disappointed!
Happy travels~
---
MORE INFO ABOUT PORTUGAL