Are you looking for the best Porto Instagram spots? You've come to the right place!
After visiting this beautiful and lively city, I've put together a list of 25 amazing photo locations, so you can capture your memories in style. From charming streets to amazing azulejo tilework, there's something for everyone on this list.
So, what are you waiting for? Grab your camera and start exploring!
Disclosure: Some of the links in this post are affiliate links. If you click on them and make a purchase, I may receive a commission at no extra cost to you. Check my full disclaimer here.
Most Instagrammable places in Porto
01. Igreja do Carmo (Church of Our Lady of Carmo)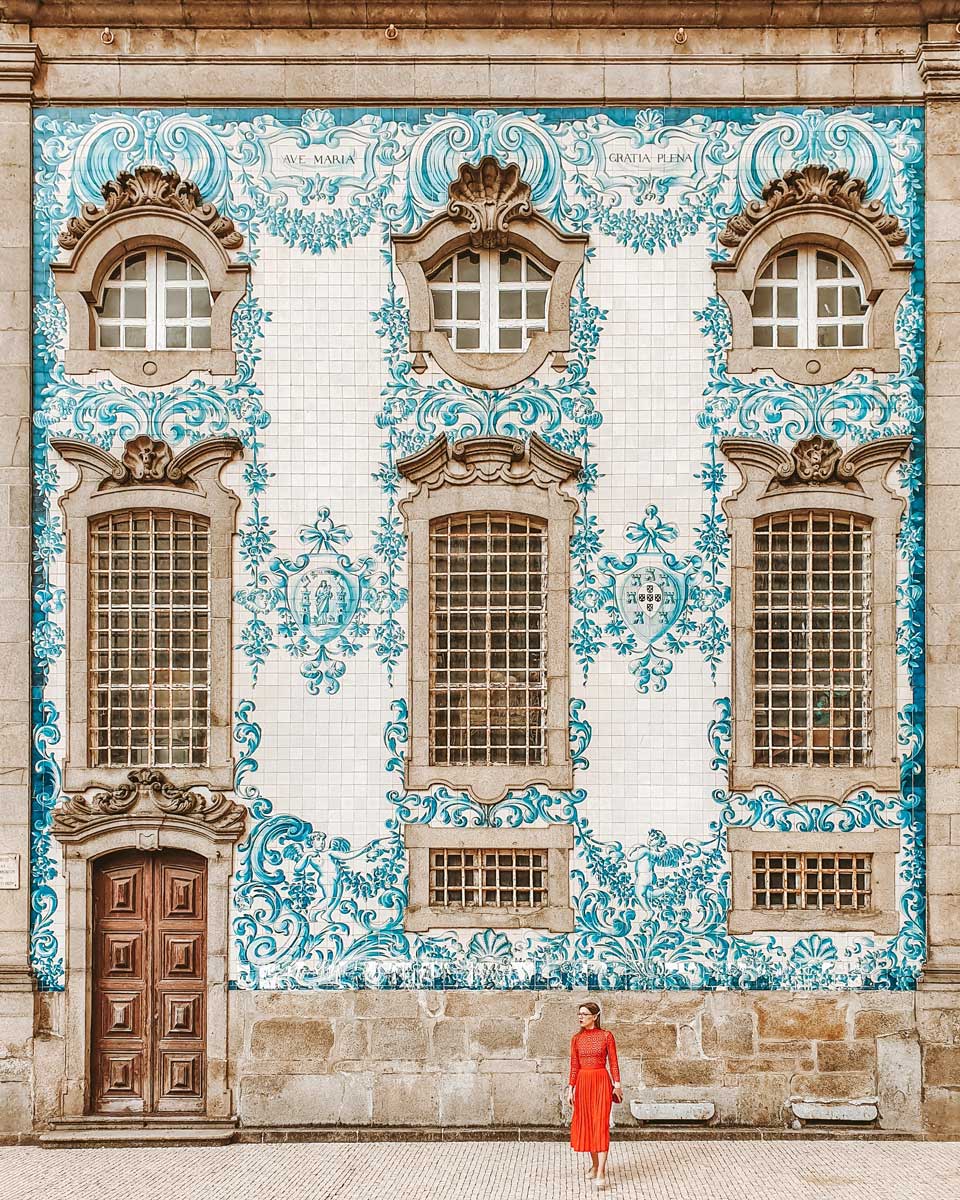 Igreja de Carmo is probably one of the most photographed landmarks in Porto. This is due to the beautiful blue and white azulejos that decorate its side wall, perfectly illustrating the Portuguese craftsmanship of tile making.
I suggest you have your photographer on the other side of the street in order to be able to capture as much as possible of the amazing tilework.
02. Sao Bento Train Station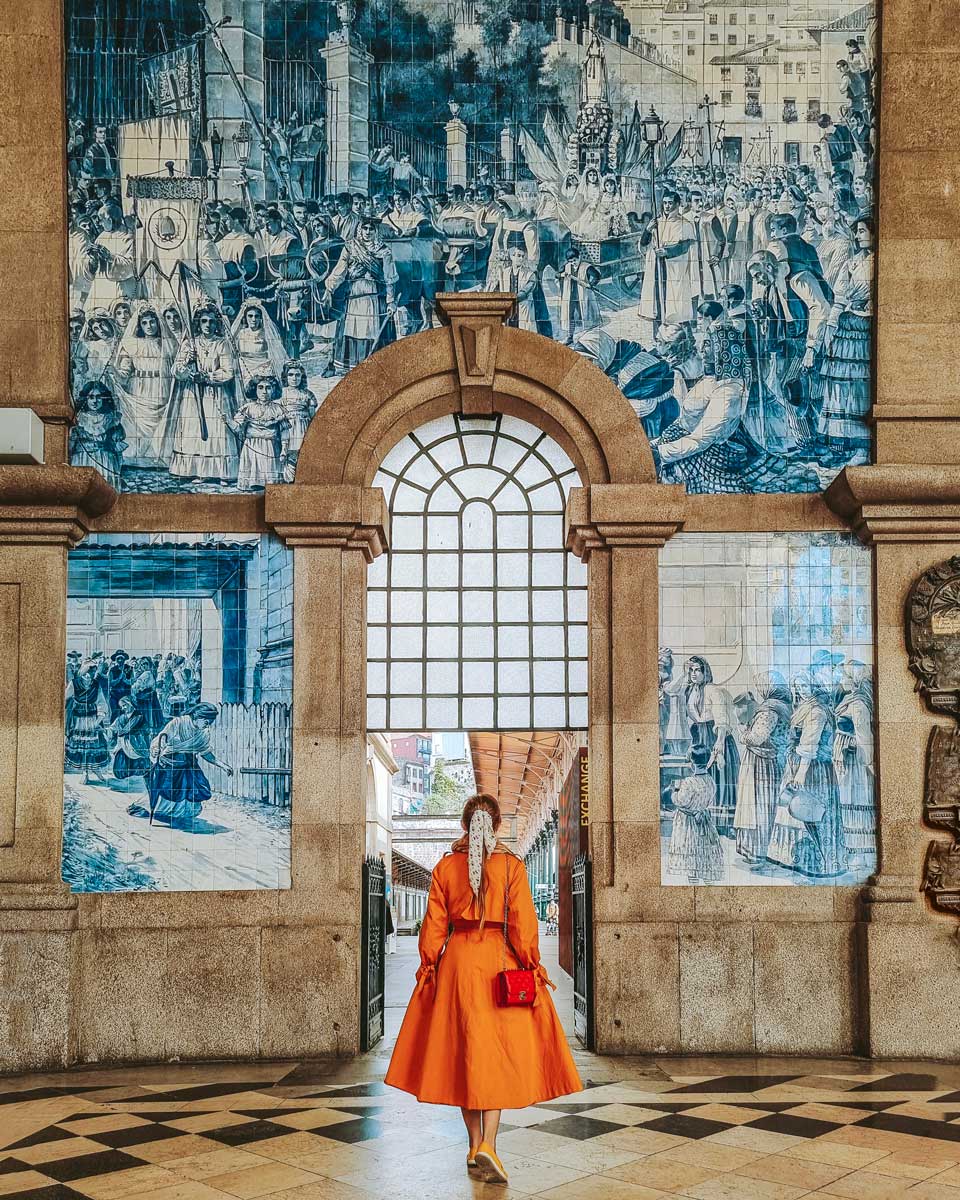 This is no ordinary train station and you'll definitely agree with me as soon as you step into the building. The interior walls of Sao Bento is skillfully decorated with tiles depicting rural scenes and ways of transport, making it a great place to take some cute photos.
It's just that you'll need to have quite a bit of patience: since it's an operational train station, it can get pretty crowded.
Se do Porto (Porto Cathedral)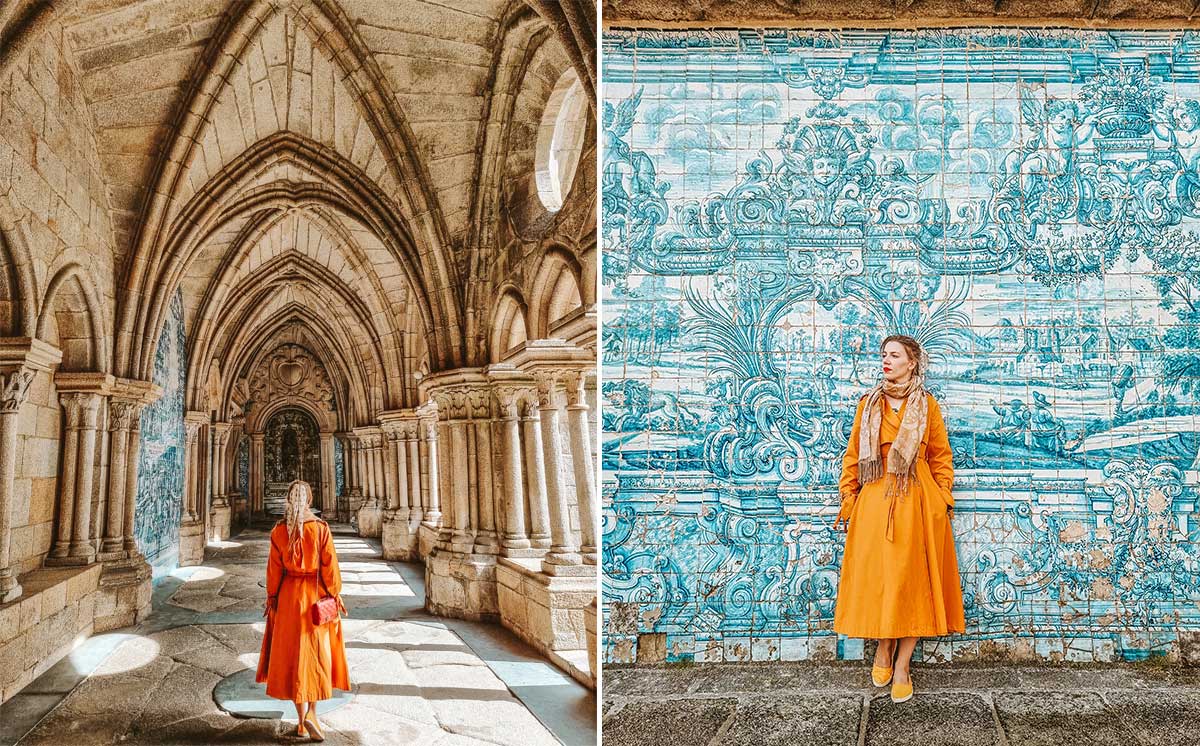 When it comes to Se do Porto (Porto Cathedral), there are a few beautiful spots that you'll probably want to capture:
03. The gothic cloister: This area was my favorite one.
04. The blue and white azulejo-covered wall on the upper floor.
05. The city panorama: You can climb the tower from some really nice panoramas of the city.
06. The cathedral itself: The best angles are from the square or from Calcada de Dom Pedro Pitoes street.
07. Capela das Almas (Chapel of Souls)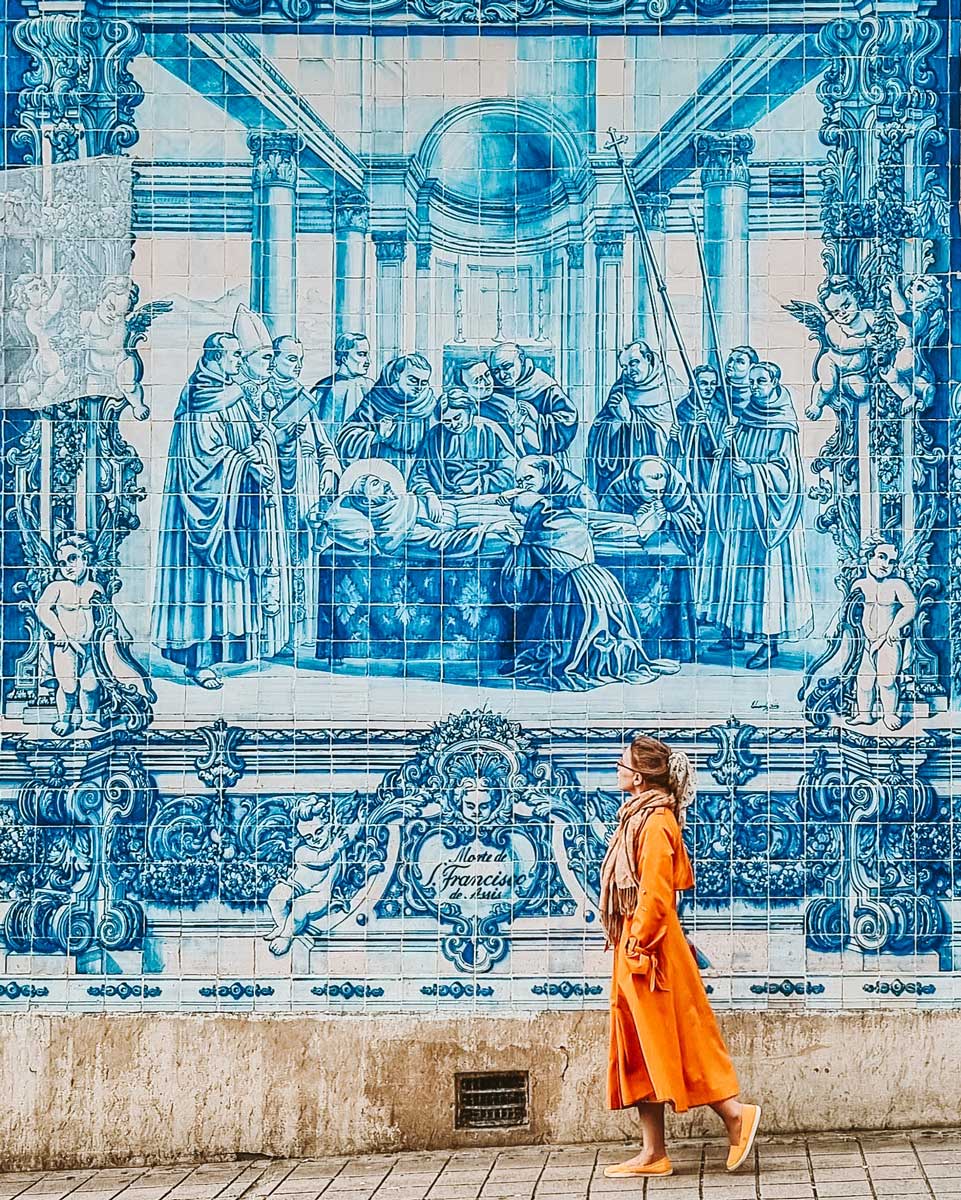 Capela das Almas is a beautiful church decorated with blue and white tiles. The best spots for a pic are from across the street in order to capture as much as you can of the chapel.
If you go for the 'crossing the street' pose, make sure you have your photographer take pics in burst mode and move quickly. The traffic light is not green for long and you don't want to obstruct the traffic.
08. A Perola do Bolhao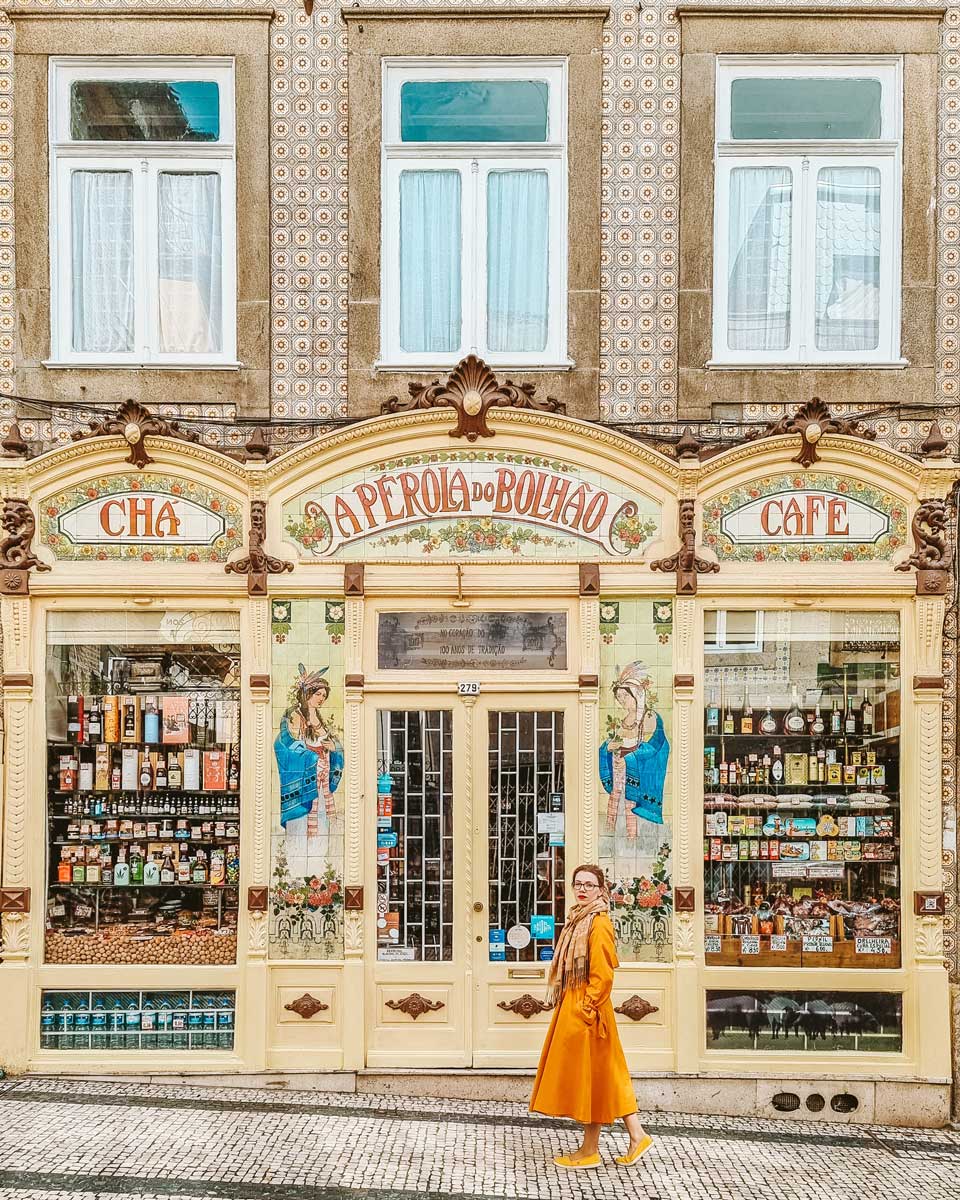 A Perola do Bolhao is a small grocery store on Rua Formosa, fairly close to Chapels of Souls. It has a stunning Art Nouveau tiled facade, that will definitely make you want to take some pictures.
09. Igreja de Santo Ildefonso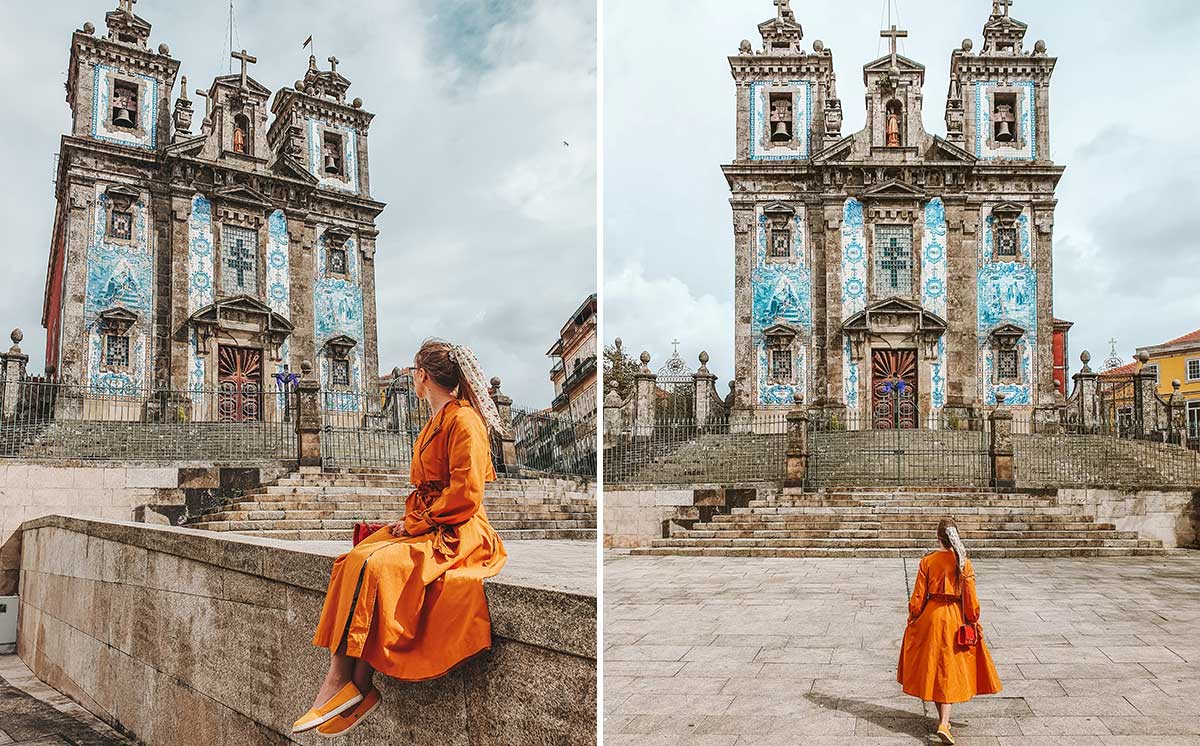 Igreja de Santo Ildefonso is yet another blue and white tiled church. By the way, is it obvious by now that the beautiful azulejo tiles are one of the top reasons why you should visit Porto?
I feel like the best angle for a photo is from the lateral ledge, but you can also walk straight to the church.
10. Steak n Shake restaurant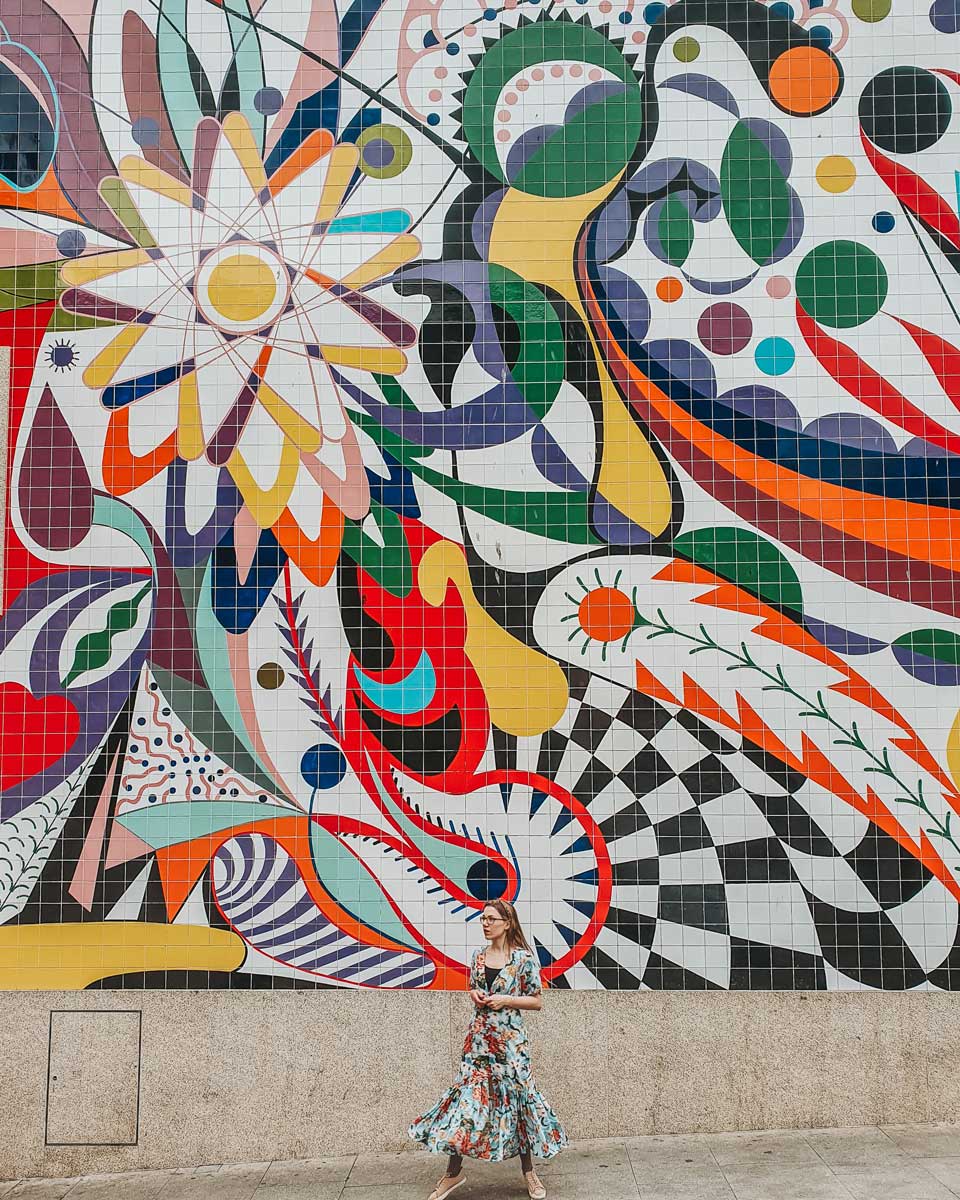 The side wall of the Steak'n'Shake restaurant is covered in one of the more modern decorative tileworks of Porto. It was made by Joana Vasconcelos and consists of over 8.000 hand-painted tiles.
11. Largo da Pena Ventosa's colorful houses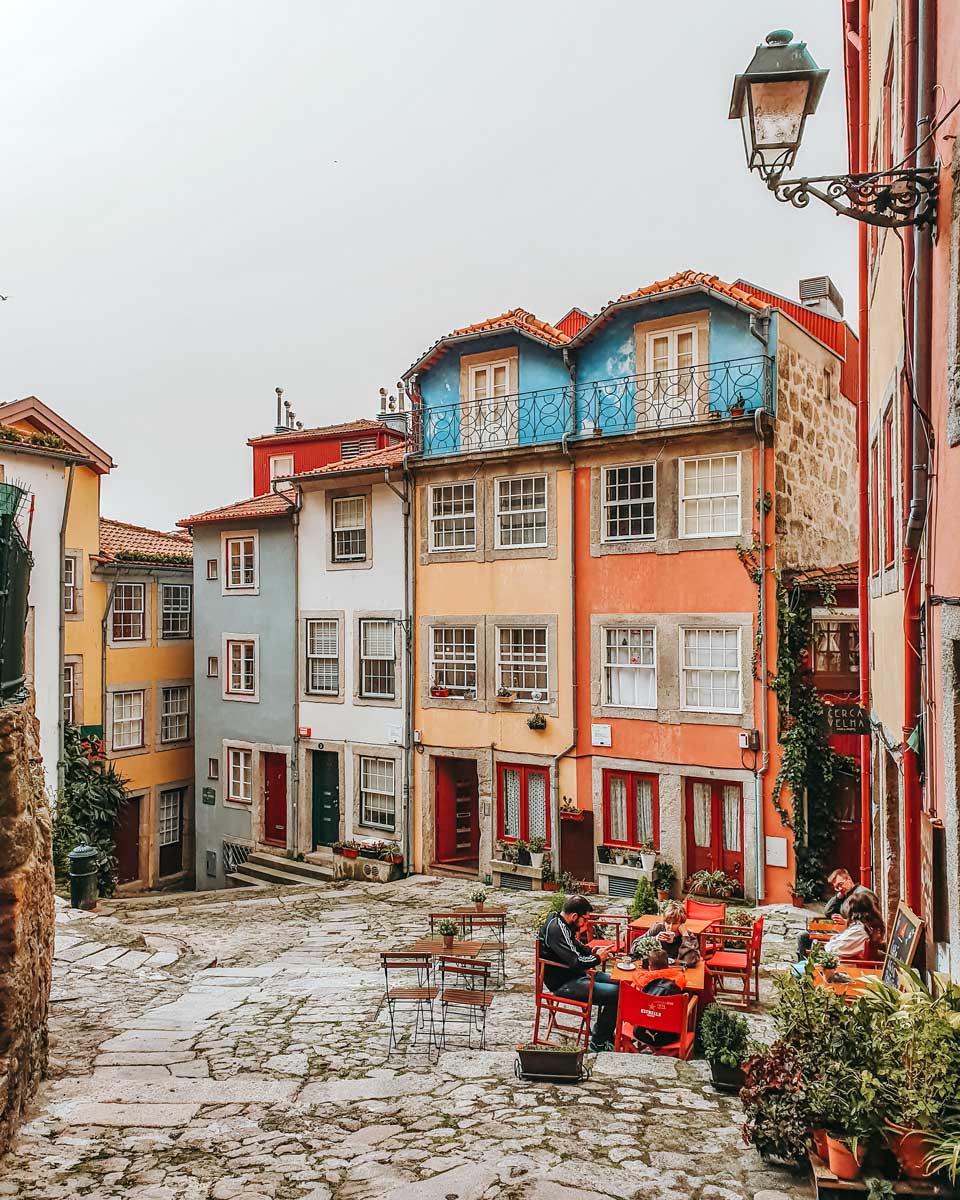 Largo da Pena Ventosa is a small alley, located fairly close to Se do Porto (Porto Cathedral). It is bordered by colorful houses, making it a very instagrammable spot. There's also a small restaurant with outdoor seating where you can stop to enjoy the surroundings.
To get there, just put the name of the street into Google Maps and follow the directions it gives you.
Luis I bridge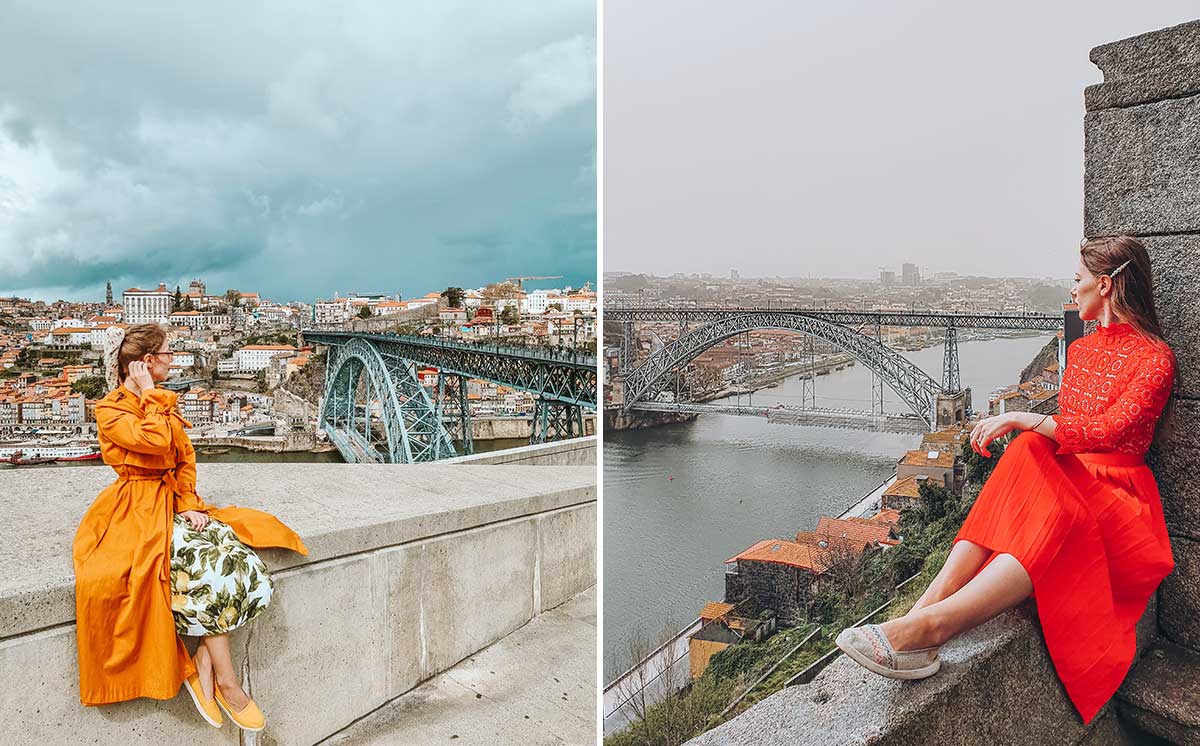 Luis I bridge is by far the most impressive bridge in the city. It is a double-deck metal arch spanning over the Douro river and connecting Porto with Vila Nova de Gaia. Here are my favorite spots from where you can snap some pictures of the bridge:
12. Miradouro da Serra do Pilar (location on map): It is also a great place to see the sunset from.
13. The small ledge going up to the Terrace Cable Car: This spot is great if the location is crowded because the ledge will hide the people below.
14. Miradouro do teleferico (location on map): Right before you enter the cable car, there's a corner from where you can take really nice pictures of both the bridge and the river Douro.
15. The bridge itself: make you pay attention to trams if you want to take a photo walking on the middle of the bridge!
16. Miradouro G Eiffel (location on map)
17. Parque de estacionamento Duque de Loule (location on map)
18. Passeio das Fontainhas street (location on map): You can take a picture with the bridge acting as a background from either the staircase or at street level.
19. Escada Dos Guindais (location on map): The way the bridge shows up between the houses on either side of the alley reminded me of this iconic frame of the Brooklyn Bridge in New York City.
20. Lello bookstore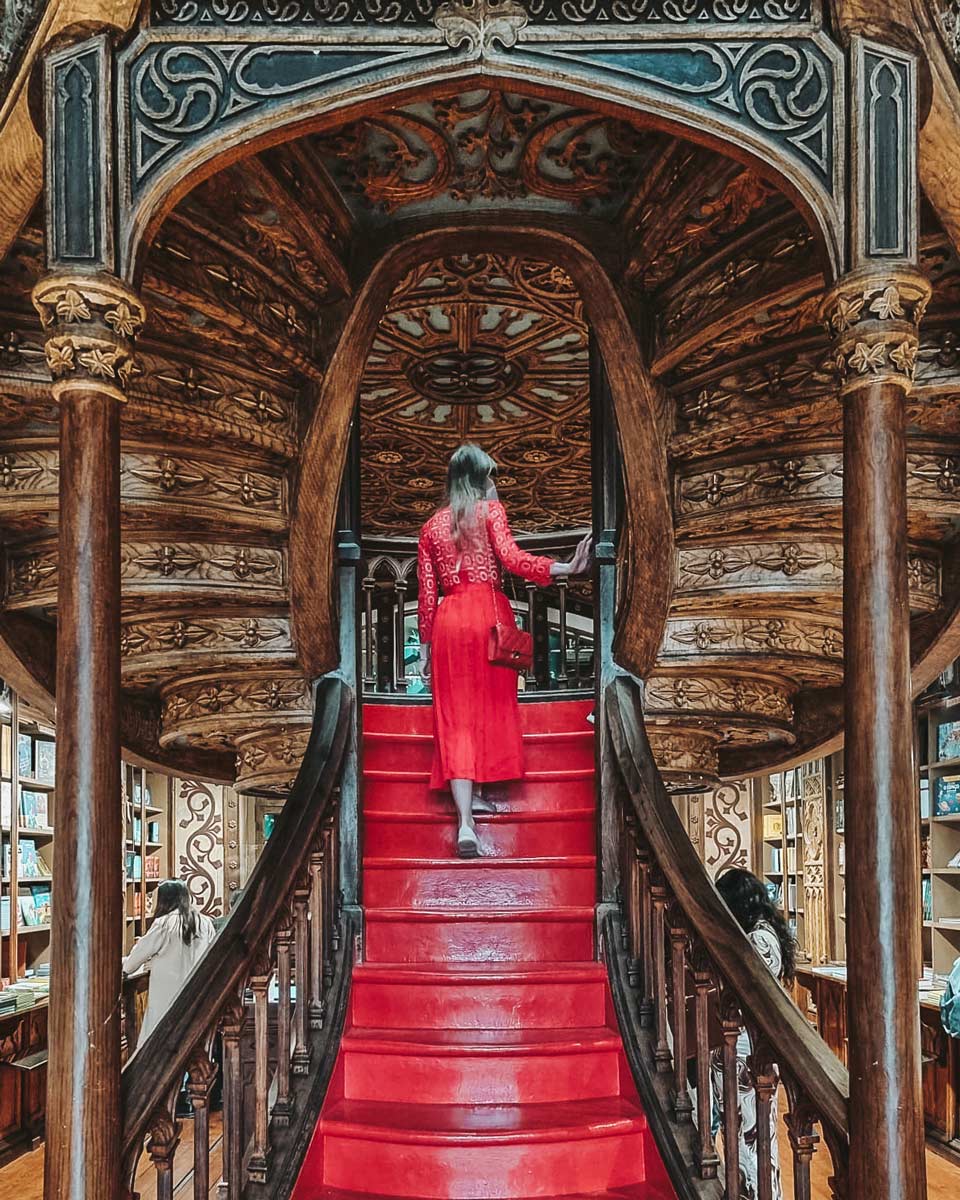 Livraria Lello is both one of the most Instagrammable spots in Porto as well as one of the most crowded. Since it was rumored that it was an inspiration for Hogwarts (J.K. Rowling has since denied this), the beautiful bookstore tends to attract large groups, so you'll have to decide if it's worth the waiting.
If you do choose to visit and want to take a pic with the central staircase, then you'll have to have patience and be quick as silver as soon as there's no one around. I suggest using the burst mode on your phone to maximize your chances of getting at least a good pic.
Also, don't forget to look up before you leave! The bookstore has a stunning stained glass ceiling that you would definitely want to see. I'm mentioning this because my fiancee actually didn't know about it and he totally missed it during our visit.
21. Gardens of the Crystal Palace (Jardins do Palacio de Cristal)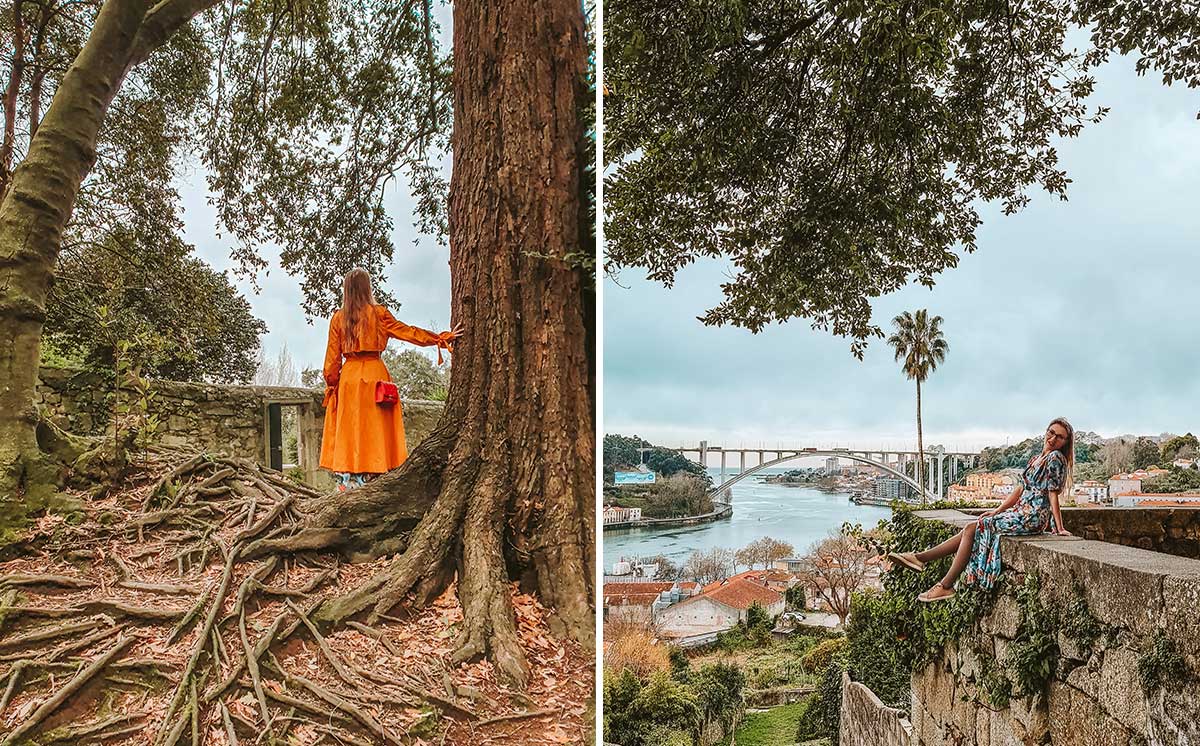 Crystal Palace Gardens are in fact several small parks, each with a different design. It is said that they were a source of inspiration to J. K. Rowling for the Forbidden Forest in the Harry Potter series. I don't know if that's true, but the park is truly wonderful and full of photo-worthy spots.
My favorite instagrammable place was inside Parque da Quinta da Macieirinha, from where you get a wonderful panorama of the Douro river and Ponte da Arrabida. The best part is that the location is also somewhat secluded, so you can usually have the place all for yourself.
22. Porto sign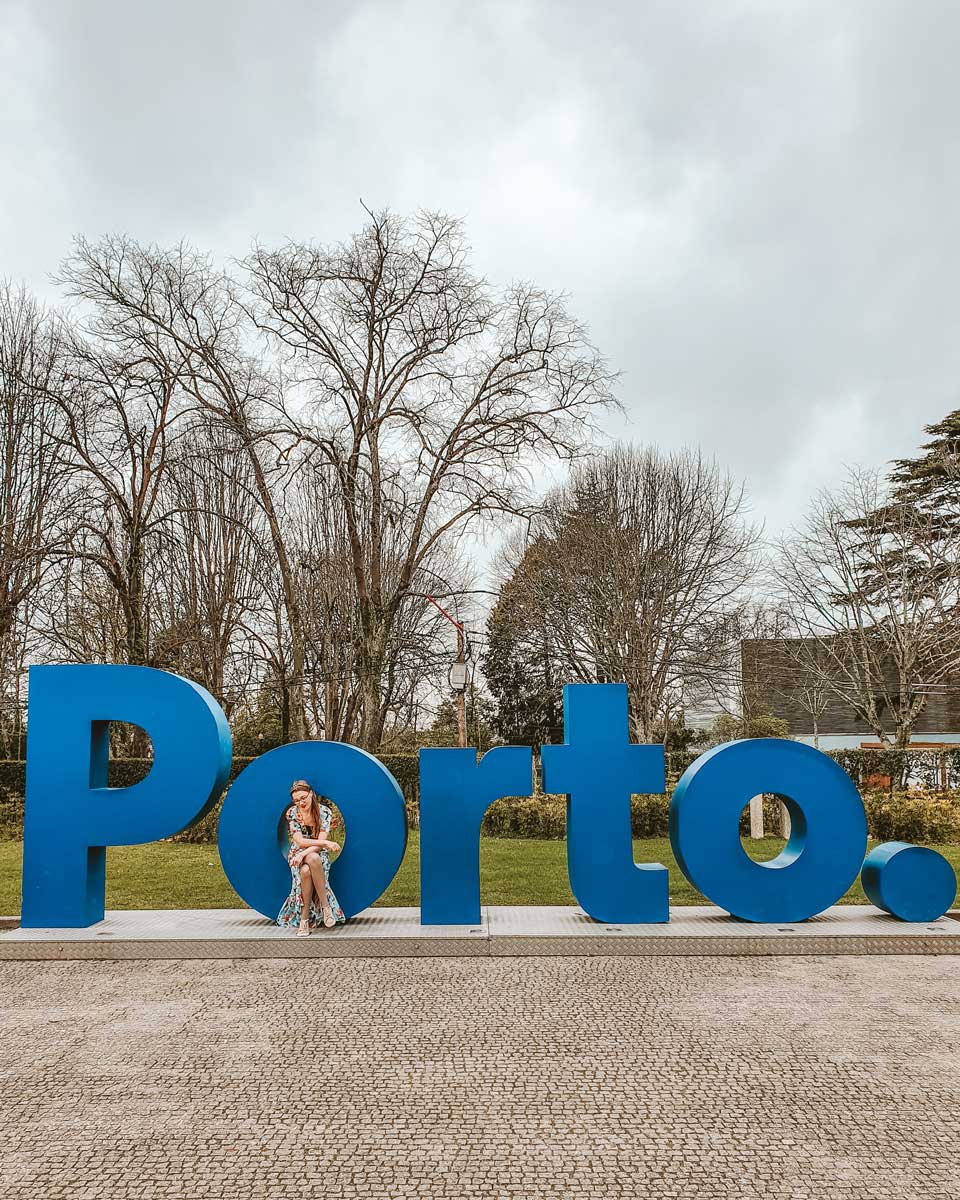 If you like city name signs as much as I do, you'll be happy to know that right next to the Pavilhao Rosa Mota – Super Bock Arena, inside the Gardens of Crystal Palace, there's a big Porto sign.
23. Clerigos Church and Tower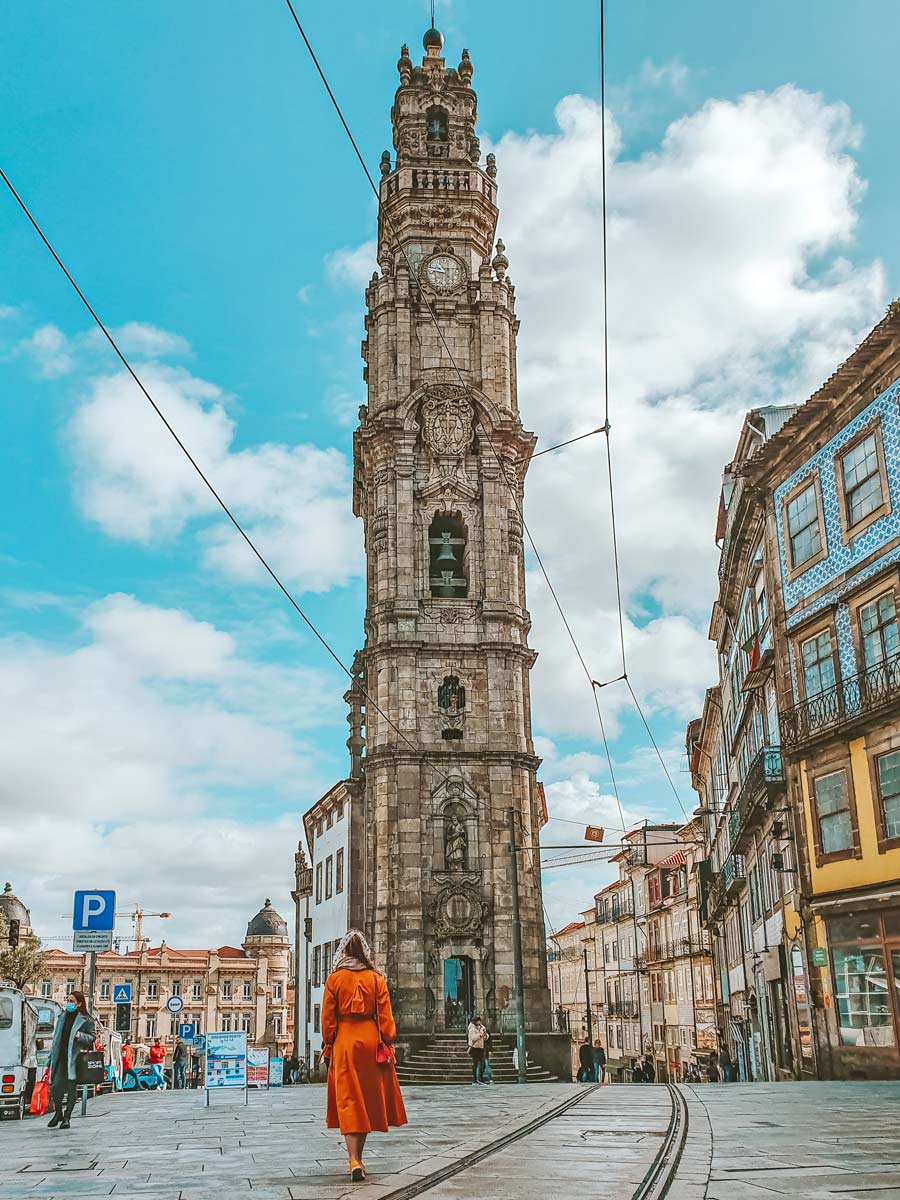 While Clerigos Church is not covered in tiles as most of the other religious sites in Porto, its facade is still very detailed and beautiful. I suggest you take your picture from further down on Rua de Clerigos, with the church in the distant background.
Also, don't forget to climb the bell tower for the best views of Porto. You can take a nice pic with it too after your visit.
24. Ribeira district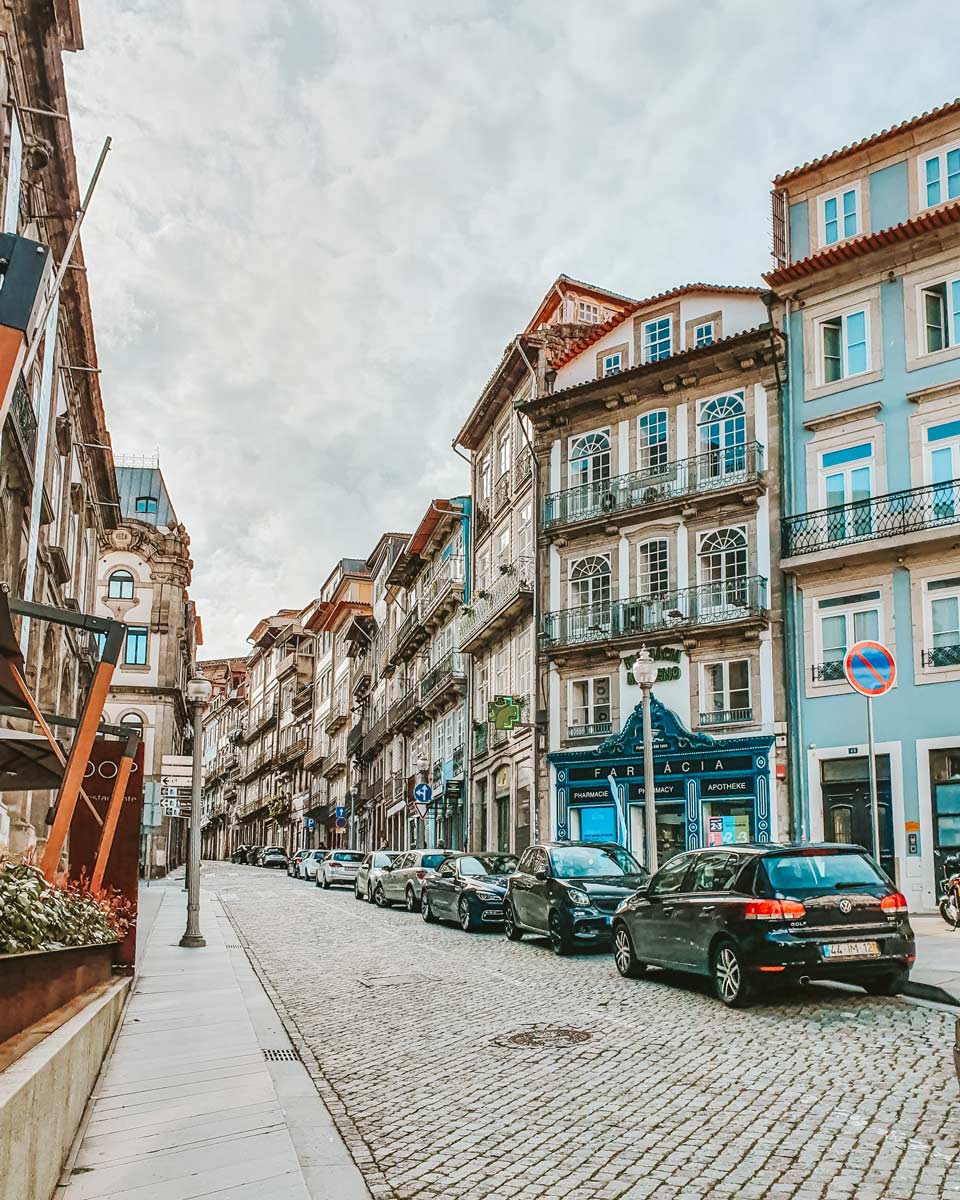 Ribeira is one of the most authentic and old districts of Porto. It is also a popular spot with tourists and locals alike and there are plenty of spots where you can take some lovely pics.
Make sure you also cross the Luis I bridge to Gaia for some of the best viewing points of the iconic colorful houses in Ribeira.
25. Old tram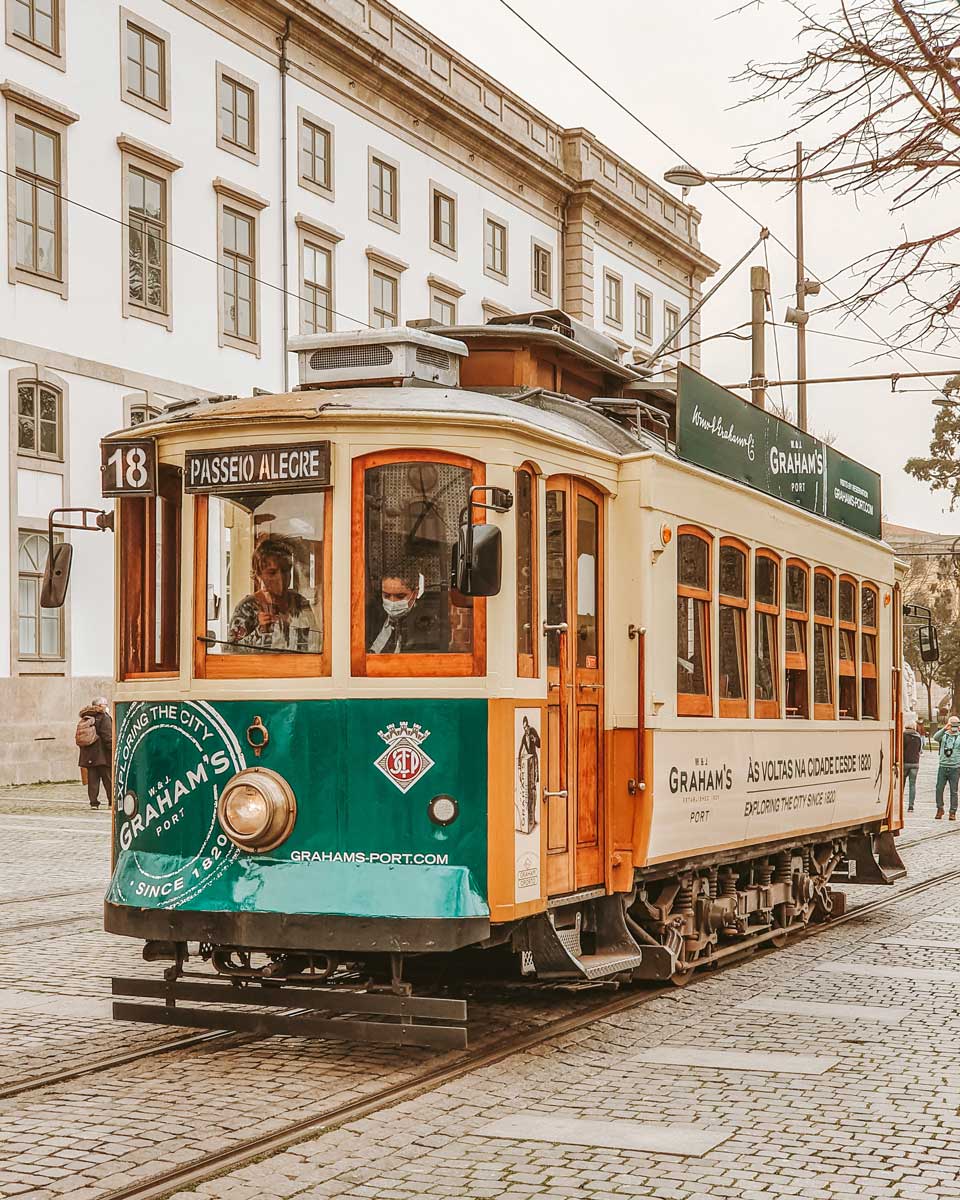 The square in front of Igreja de Carmo is a good spot where you can wait for an old tram carriage to pass by. The tram stop you need to keep under observation is called Carmo. Usually, the tram stays here for several minutes, so you can snap some quick photos with or of it.
Porto Instagram spots: Wrap up
Have you visited any of these Instagram spots in Porto? If not, be sure to add them to your list and start planning your next trip to this vibrant city!
With its charming streets, colorful buildings, and stunning views, Porto is a photographer's dream come true. I can't wait to see the amazing photos you capture on your next visit!
Happy travels~
---
YOU MIGHT ALSO LIKE