Are you wondering where to stay in Lefkada for a memorable vacation experience? As someone who had the same dilemma before visiting the island, I'm here to help.
I'll start off by saying that there are many wonderful places to stay in Lefkada, depending on what type of experience you are looking for.
If you want a quiet and relaxing vacation, then the smaller towns and villages scattered around the island are great options.
But if you're looking for something more lively with nightlife and activities, then the main town of Lefkada is probably a better choice.
However, no matter where you decide to stay, you're sure to have an amazing time in this beautiful corner of Greece!
Disclosure: Some of the links in this post are affiliate links. If you click on them and make a purchase, I may receive a commission at no extra cost to you. Check my full disclaimer here.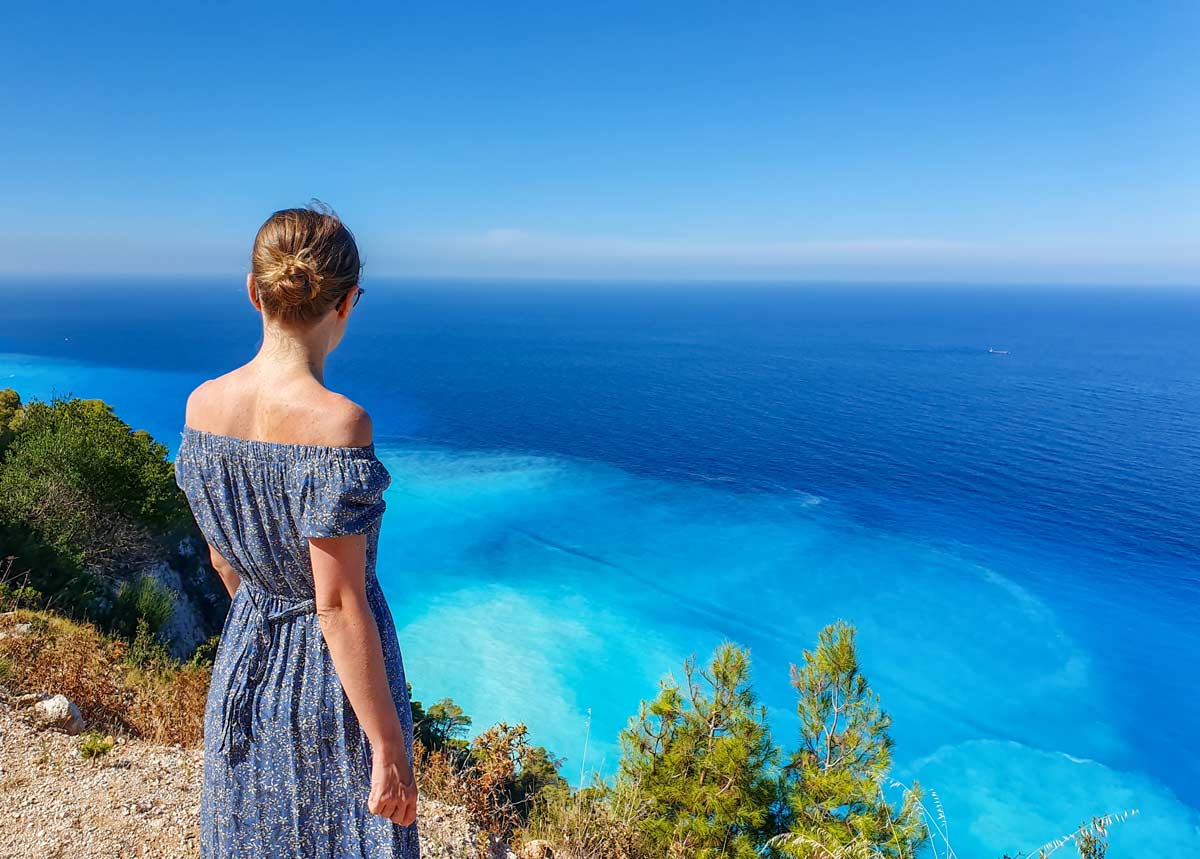 Best places to stay in Lefkada Greece
When deciding on the best area to stay in Lefkada, you should know that different locations on the island cater to different interests:
Lefkada Town: Best for nightlife
Agios Nikitas: Best for the western beaches
Vassiliki: Best for watersports
Nidri: Best for families
Best place to stay in Lefkada: My top pick
Dimarion Villas in Agios Nikitas
---
✓ 9.1 "Superb" rating on Booking.com
✓ Villas with private infinity pools and free parking
✓ In walking distance to Agios Nikitas village
Lefkada Town: Best for nightlife
Lefkada Town is the capital city and it's located in the northeastern part of the island, being connected with the Greek mainland by a causeway and a mobile bridge.
Since there's no airport in Lefkada, the capital will be your first encounter with the island, no matter what transportation you use (check my how to get to Lefkada post for more details).
Why you should stay in Lefkada Town
Lefkada Town is a great choice for people looking for active nightlife and other activities besides relaxing at the beach and swimming.
You'll find several clubs scattered around the town where you can break a sweat dancing, while the new Lefkada Marina has a great selection of tavernas, cafes, bars, and restaurants as well as a shopping center. You can also rent boats from the Marina.
Why you shouldn't stay in Lefkada
You shouldn't pick Lefkada Town if you want to have a quiet, relaxing holiday and you don't like crowds.
I remember passing through it on our way to our accommodation located in Agios Nikitas and it was bustling with people despite the pandemic (we visited in 2020) and the late hour (it was almost 12 AM).
It was not the best sight for our tired eyes, especially since way too many people gave no attention to cars and crossed the streets randomly.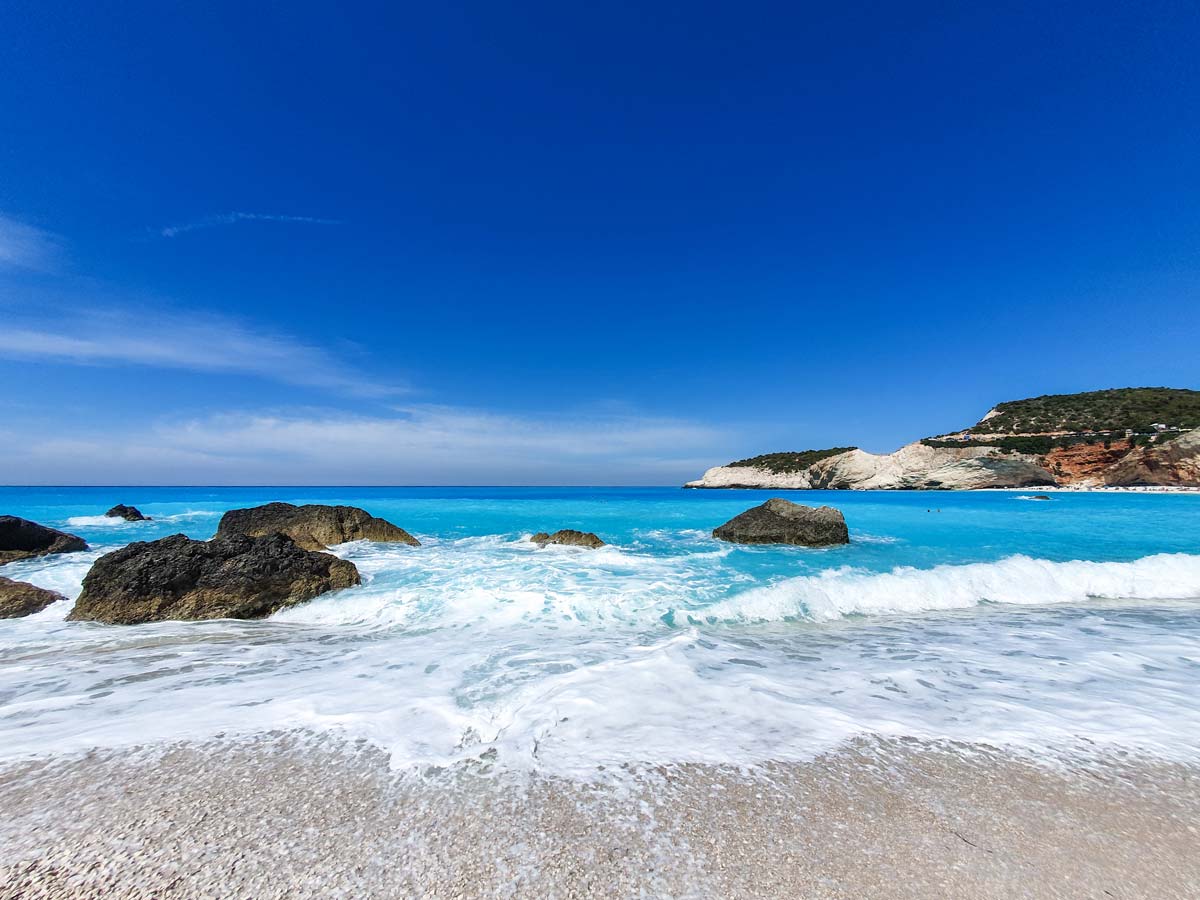 Best beaches near Lefkada Town
The best beach near Lefkada Town is probably Paralia Agios Ioannis. It has sunbeds and umbrellas, but you can also bring your own.
There are tavernas and plenty of parking space around. Do bring your water shoes, because while the beach has some sand portions, there are also plenty of pebbles and rocks.
Agios Ioannis beach is also a popular kite surfing spot.
Another nice beach is Ammoglossa, a white stretch of sand near the mobile bridge that connects Lefkada with the mainland. Despite being on the smaller side, the beach usually doesn't get extremely crowded.
It is also not as windy as other beautiful beaches on the island. There are no facilities on the premises. Right next to Ammoglossa, you will find Kastro beach.
Accommodation options in and around Lefkada Town
Here are a few accommodation suggestions in and around Lefkada Town:
Agios Nikitas: Best to visit the western beaches
Agios Nikitas is a tiny (not even kidding, it basically has only one street) fishing village on the northwest side of the island, about 13 kilometers away from Lefkada Town.
Why you should stay in Agios Nikitas
In my opinion, Agios Nikitas is the best place to stay if you want to visit the western beaches (which are the most beautiful on the island), but you don't want to have to drive to get to a beach every single day (since it has 2 beaches that you can walk to).
This is the reason why I chose to stay in Agios Nikitas myself.
Why you shouldn't stay in Agios Nikitas
Since the village is small and popular with tourists it can easily get crowded during the summer months. Besides, there's not much to do during the evenings, besides dining at a local taverna or watching the sunset.
Best beaches near Agios Nikitas
The most popular beach is the eponymous Agios Nikitas and this is mainly due to the fact that it is very easily accessible: the main street ends here. The beach is sandy, not very big and there are no sunbeds or umbrellas.
However, I preferred Milos beach instead, which can be reached on foot or by boat. If you choose the first option you should know that you'll need to climb over a pretty high hill to get to the beach. It's no easy feat, especially in the summer heat.
Nevertheless, I still recommend doing it, at least once, since you'll be rewarded with a beautiful view of the beach and the shockingly blue-azure color of the water.
On the other hand, if you decide to go by boat, pay attention to the time of the last return journey or else you'll still have to climb over the hill to return to your accommodation.
I should also mention that Milos is often listed among the best beaches in Lefkada, along with Kathisma, Egremni beach, and the famous Porto Katsiki.
Speaking of Kathisma, it's located only 7 minutes away by car (3.5 km) from Agios Nikitas. And while the other two are farther away (45 minutes and one hour respectively), it's still really easy to visit them from Agios Nikitas if you have a car.
Accommodation options in Agios Nikitas
Despite its small size, there are many accommodation options in Agios Nikitas, but things get a bit more complicated if you have a car with you.
That's because the main street (though it looks more like an alley) of the village is accessible only to residents. So you either need to find a place that offers parking or park on the side of the main road coming from Lefkada Town, where it's usually difficult to find a free spot.
Since we visited Lefkada with our personal car, a secure parking spot was mandatory for me. But I also wanted to be within walking distance of the village.
Lastly, we preferred a private villa since it was the summer of 2020 and we wanted to practice as much social distancing as possible.
We ended up picking Dimarion Villas, which not only fulfilled all three criteria but also had a refreshing private infinity pool at a fairly decent price.
They have 4 villas in total, each with its own pool. However be aware that one of them is split into 2 studios (ground and upper floor) and the pool is shared between the two suites.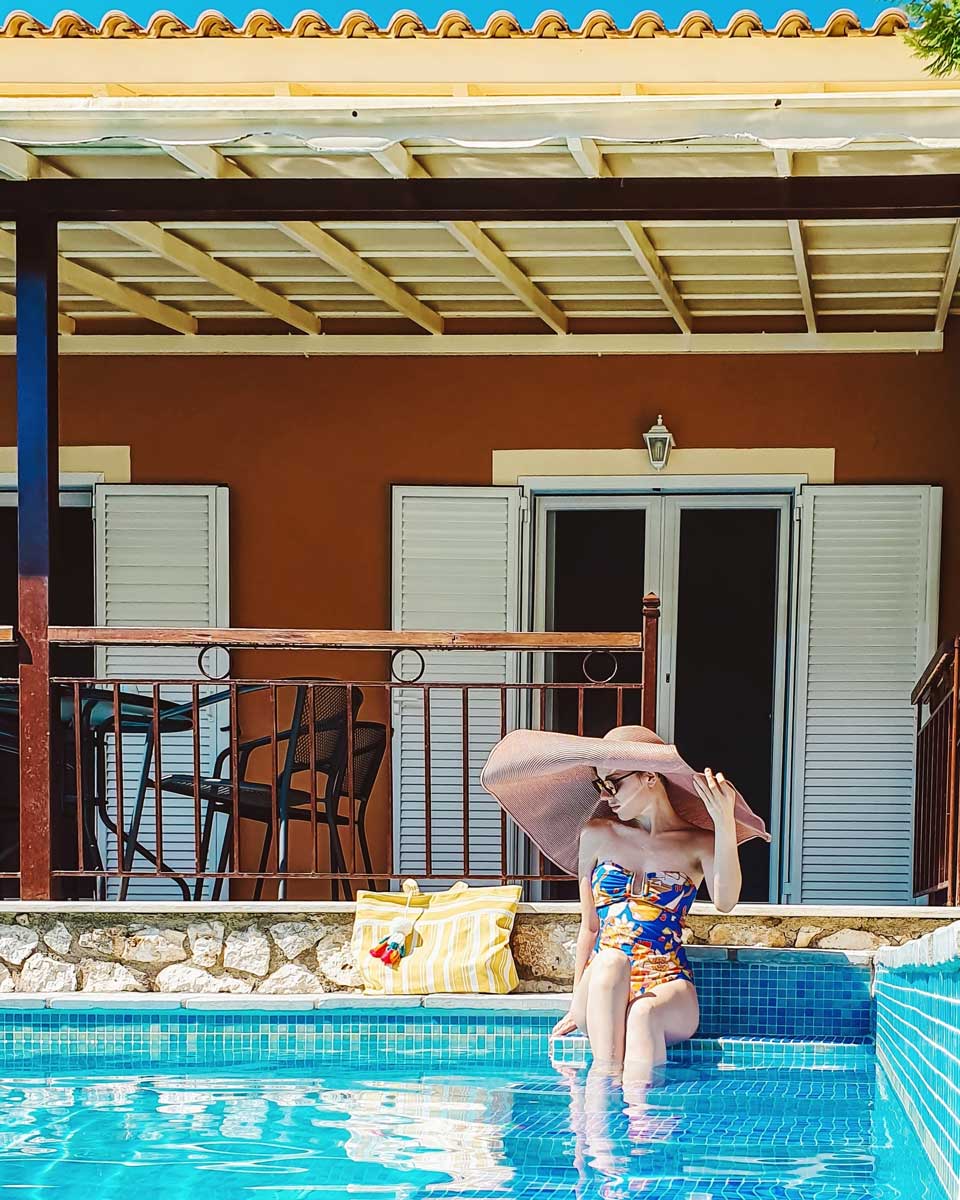 However, there are other options as well (with and without parking):
Vassiliki: Best for watersports
Vassiliki is another small village, located in the southern part of the island. Here you'll find one of the two ports of Lefkada.
Why you should stay in Vassiliki
Vassiliki is a popular location for water sports activities, in particular windsurfing. Having some late-night bars dotted around, you'll find here some sort of an active nightlife. Besides the popular Porto Katsiki beach is relatively close: just 30 minutes away by car.
The village is also a good base if you want to island-hop to Kefalonia since the ferry for Fiskardo leaves from here.
Why you shouldn't stay in Vassiliki
It is pretty windy here most of the time (hence why is a prime location for windsurfing) and the local beach (Vassiliki beach) is not the best.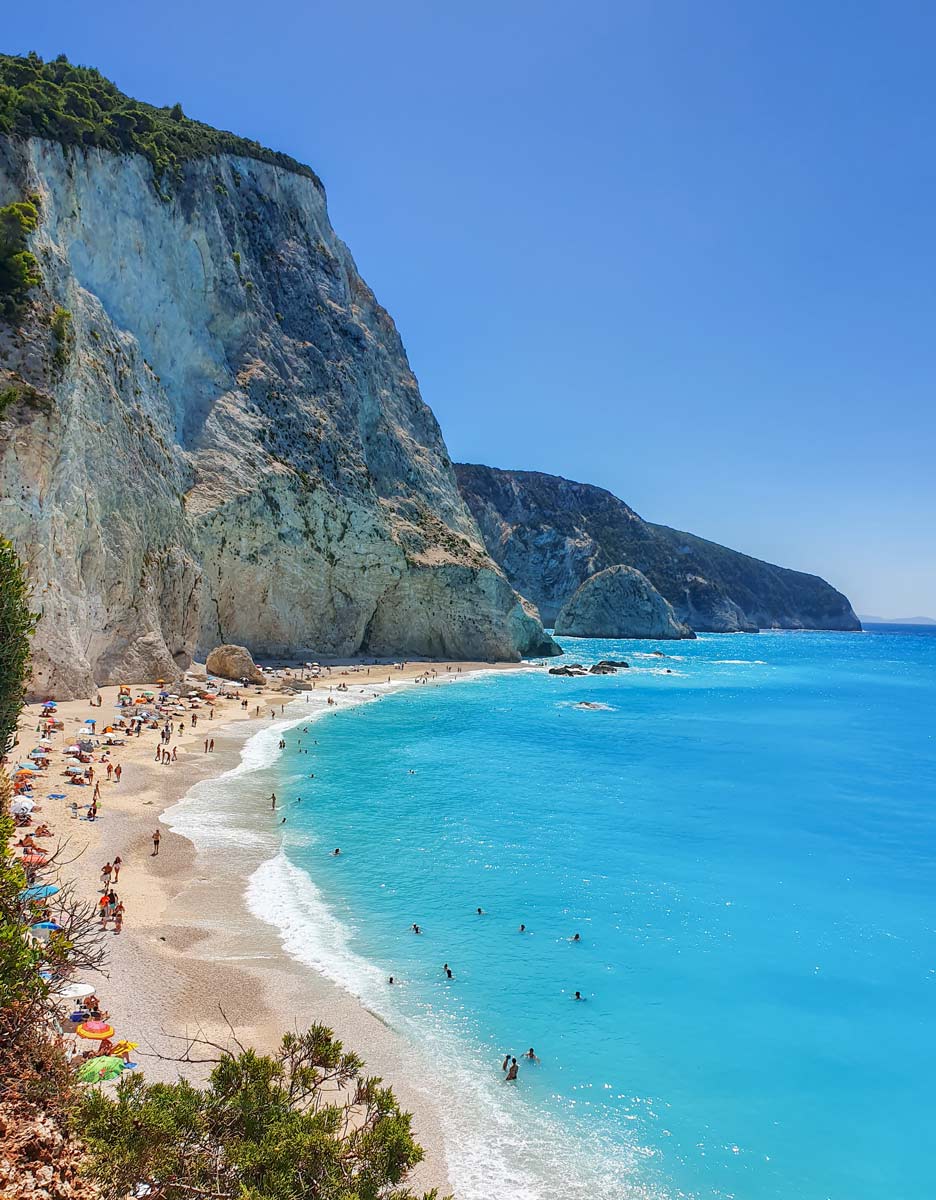 Best beaches near Vassiliki
The best beach close to Vassiliki is probably Porto Katsiki, the postcard beach on the island. It is a white pebbled beach with stunning azure waters, bordered by dramatic cliffs. There's a generous parking lot right above the beach.
Agiofili Beach is a beautiful cove with crystal clear waters perfect for snorkeling, a feat a bit unusual for Lefkada whose waters are usually milky blue.
While you can reach it by car, I highly suggest you take a boat ride (only takes 10 minutes) from Vassiliki port instead. The road is not paved (it's just plain dirt) and the parking space is both limited and pretty expensive.
Ammoussa Beach like Agiofili is recommended for snorkeling. The beach has no sand, only pebbles and there are usually lots of fish in the water, especially in the first part of the day.
You can reach it by a dirt road in about 16 minutes from Vassiliki, but again my recommendation is to take a boat trip.
Vassiliki also has a local beach, the eponymous Vassiliki beach, but as I already mention is not a very good one: the waters can sometimes be muddy (probably due to the port), it's mostly rocky, and there are lots of windsurfers.
Accommodation options in Vassiliki
Here are a few accommodation ideas in Vassiliki:
Nidri: Best for families
Nidri (also spelled Nydri) is one of the busiest and most popular destinations on the island. It is a small town, located on the east side of Lefkada and also a port.
Why you should stay in Nidri
Nidri offers a wide array of accommodations and activities for everyone: from families to single people looking to have fun. There are tavernas, clubs, bars, and coffee shops to suit any taste.
The waters are usually really calm here in contrast with the western beaches of the island, so it's a great place to stay if you've got kids.
Nidri is also a port so it's a great base if you want to visit the nearby local islands of Meganisi and Ithaca. Or you can hire a motorboat (there are a lot of companies to choose from here) at a really cheap price for the day and explore on your own.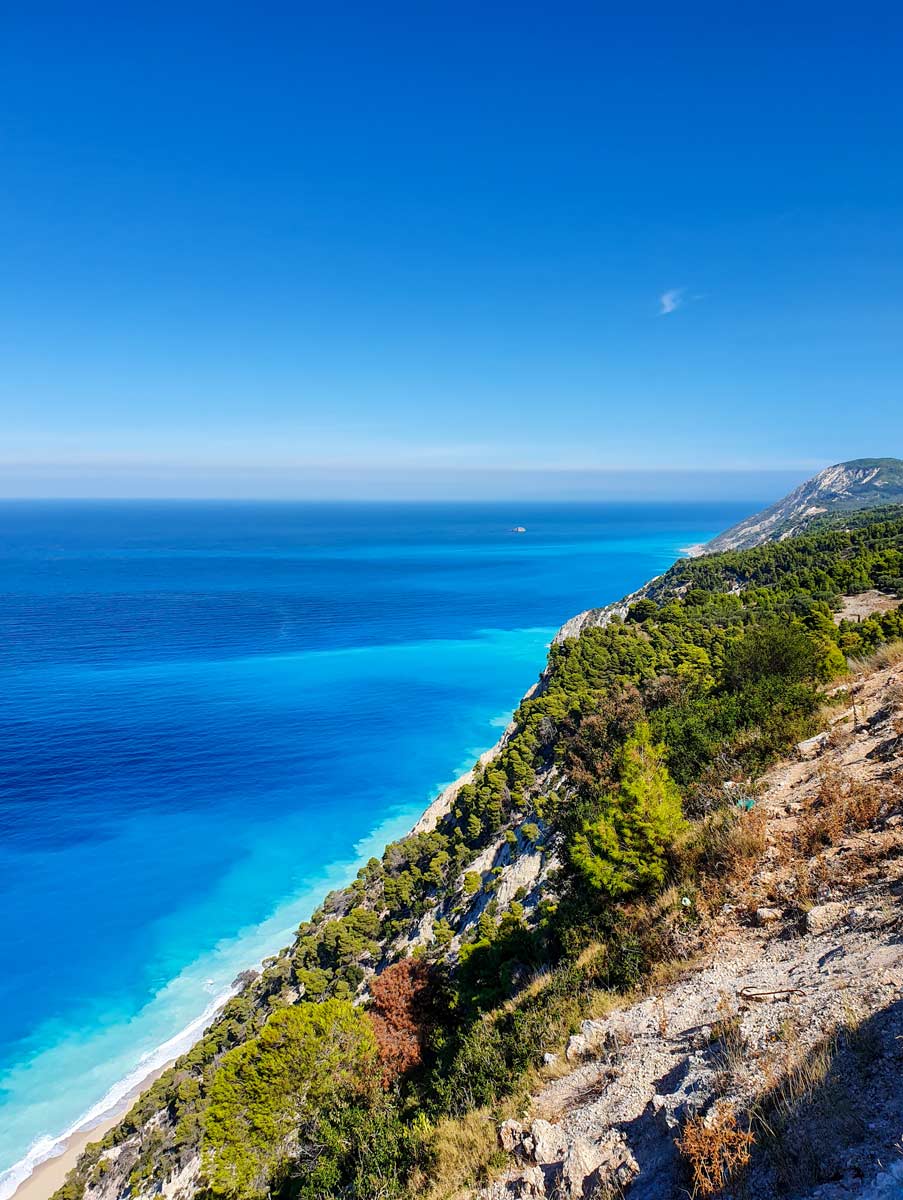 Why you shouldn't stay in Nidri
If you want to see the unreal milky blue waters that Lefkada island is famous for, then Nidri is not for you. While the beaches are nice here too, they don't have that wow factor that the western ones do.
Best beaches near Nidri
Nidri beach is a long and narrow strip of a mix between pebbles and coarse sand. The emerald waters are calm and shallow, so it's a great place for families to swim in. The small islands around Nidri add a very green background.
Desimi beach is only 15 minutes away by car from Nidri. It's located in a bay and usually, it's not very crowded.
Accommodation options in Nidri
Here are some accommodation suggestions:
Where to stay in Lefkada FAQs
Which side of Lefkada has the best beaches?
The western part of Lefkada has the most beautiful beaches, however this side of the island get strong waves, so it might not be the most suitable for a family with small kids.
Where do you fly into for Lefkada?
To reach Lefkada, you would fly into Aktion National Airport (also known as Preveza Airport) on the mainland of Greece. This is the closest airport as Lefkada Island itself does not have an airport.
Where should I stay in Lefkada?
In my view, Agios Nikitas is the ideal place to stay in Lefkada because it's easy to explore the western beaches from here, but you don't need to drive every day as it also has two beaches within walking distance.
Best Places to Stay in Lefkada: Final Thoughts
I hope this post helped you take a decision regarding where to stay during your vacation in Lefkada whether you want to see those stunning waters the island is famous for, participate in water activities, or simply have fun and relax on the beach.
Also, don't forget to check out my other GREECE content for more travel inspiration and tips about this beautiful country.
Happy travels~
---
YOU MIGHT ALSO LIKE