Are you wondering if Florence is worth visiting? This well-known Italian city, known as the "Cradle of the Renaissance" has been a destination of choice for many travelers worldwide, including myself (in fact, I actually visited it twice to date).
But with so many incredible cities and towns dotting the Italian landscape, it's only natural to question whether Florence should make it onto your travel itinerary.
Well, in this blog post, we'll delve into all the reasons why you should visit Florence, from its many historic sites to its delectable food and wine, as well as a few reasons why you might consider skipping it.
So let's dig in and find out whether a trip to the heart of Tuscany should be on your bucket list!
Is Florence Italy worth visiting? (Short answer)
In short, yes, Florence is absolutely worth visiting. Its rich history, breathtaking architecture, vibrant arts scene, flavorful cuisine, and much more, make it an unmissable stop on any Italian journey.
While it does have a few downsides, such as crowds and occasional high costs, the positives overwhelmingly outweigh the negatives, and most visitors leave Florence with unforgettable memories and a desire to return.
Disclosure: Some of the links in this post are affiliate links. If you click on them and make a purchase, I may receive a commission at no extra cost to you. Check my full disclaimer here.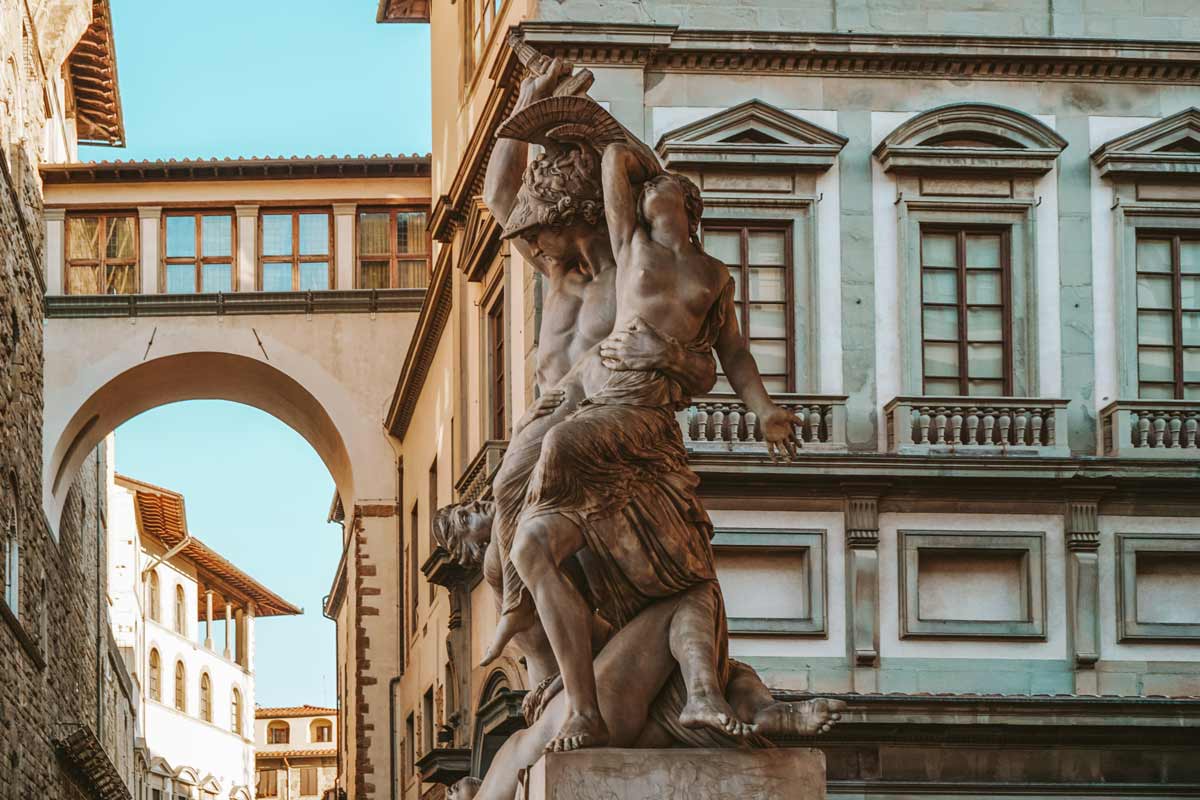 Reasons why it's worth visiting Florence, Italy
It's the cradle of the Renaissance
An era of great cultural and artistic growth, the Renaissance is generally believed to have originated in Florence in the 14th century leaving a lasting mark on the city. For this reason, it is often referred to as the "Cradle of the Renaissance".
Some of the most famous works of art and architecture in the world were created during this time, many of which can still be admired in Florence today.
For instance, you can gaze at the magnificent works of Michelangelo, Botticelli, or Da Vinci in the Uffizi Gallery and Galleria dell'Accademia, or marvel at the towering beauty of the Florence Cathedral, featuring Brunelleschi's Dome, a testament to the innovative Renaissance architecture.
The influence of this important period is visible at every turn in Florence, making the city a living museum.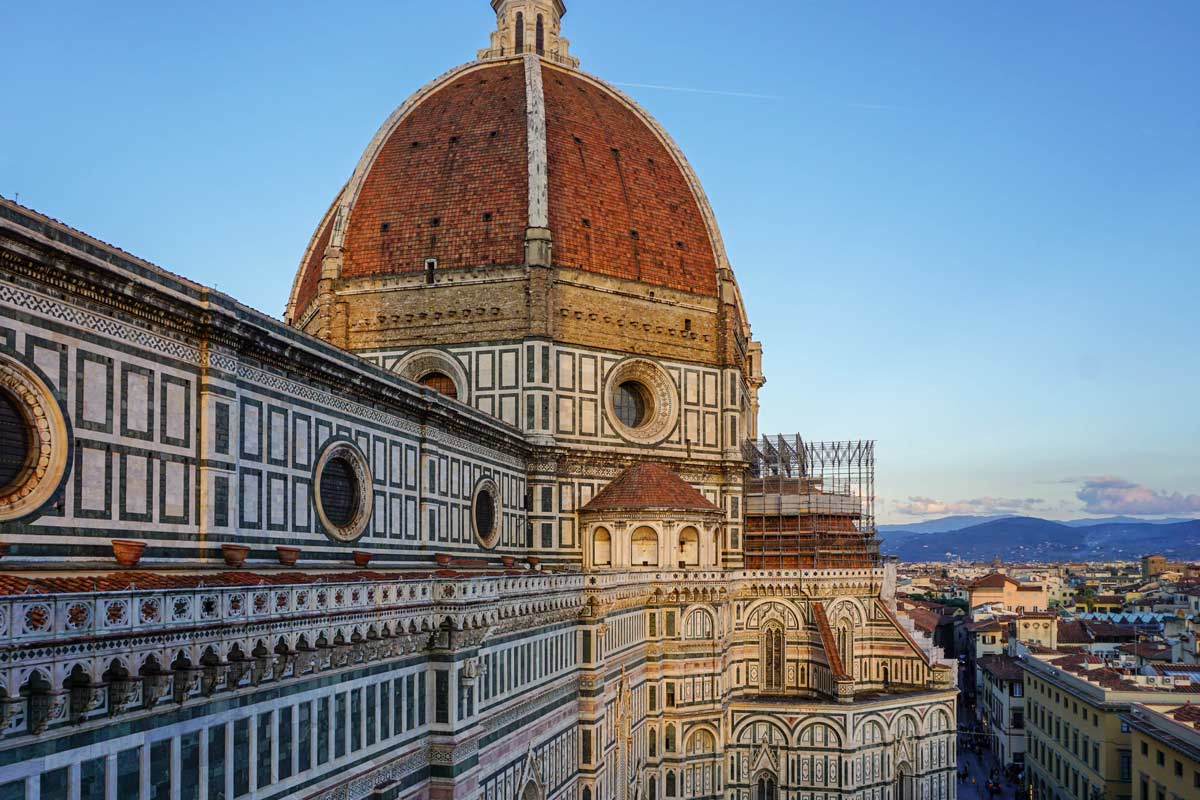 Brunelleschi's Dome
Brunelleschi's Dome (it: Cupola del Brunelleschi) is one of Florence's standout attractions, and rightfully so. As the world's largest masonry vault, it's a true architectural masterpiece, as well as a symbol of the city and the Renaissance.
What really sets the dome apart is the fact that its architect, Brunelleschi, designed it to be constructed without any supporting structure.
He ingeniously arranged the bricks in a herringbone pattern and built two separate domes, an inner one with a steeper angle and over 2 meters thick, and an outer one elegantly covered with terracotta tiles, making the impressive vault self-supporting.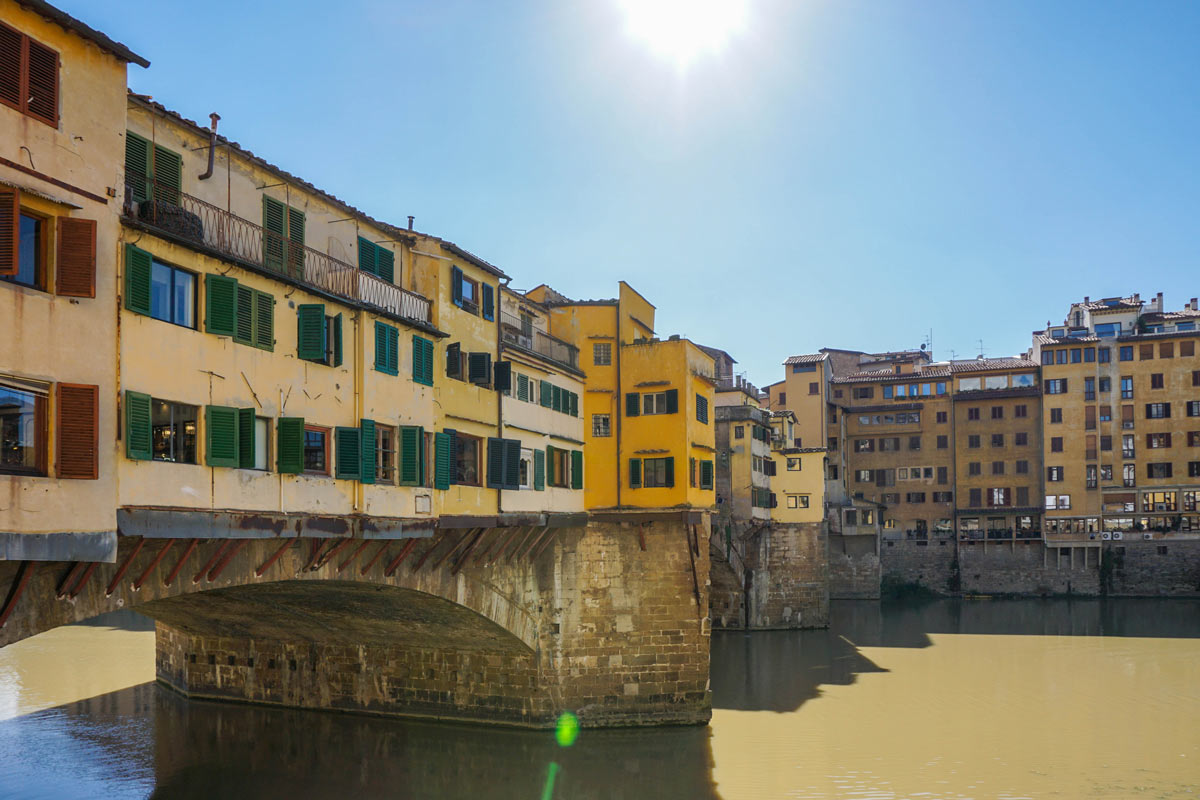 Ponte Vecchio
The Ponte Vecchio or "Old Bridge" is one of Florence's most iconic landmarks. This medieval stone bridge spans the Arno River and it looks quite unique due to the many shops that are built along it.
As you stroll across the Ponte Vecchio, you can admire the view of the river, browse the various boutiques, and absorb the vibrant, bustling atmosphere. But if you want a good view of the bridge itself, then you should head to Ponte Santa Trinita.
Many museums
For museum enthusiasts, Florence is the ideal destination: the city is teeming with museums housing an immense wealth of art, history, and culture.
From the world-renowned Uffizi Gallery, home to a multitude of Renaissance masterpieces, to the Galleria dell'Accademia that houses Michelangelo's famed statue, David, there are many incredible artworks worth seeing in Florence.
For a deeper dive into history, visit the Museo di Palazzo Vecchio, set in the city's historic town hall, or the Museo Galileo for a fascinating journey into the world of science and invention.
And an added bonus? Having so many museums is a definite plus if you're visiting in winter. Not only do you get to escape the chilly weather, but the crowds are typically smaller, making for a more relaxed and intimate viewing experience.
Michelangelo's David
No visit to Florence would be complete without witnessing the grandeur of Michelangelo's David. Housed in the Galleria dell'Accademia, this impressive statue is widely recognized as a masterpiece of Renaissance sculpture.
Standing at over 17 feet tall (5.17 m), David's life-sized proportions and meticulously detailed anatomy are a testament to Michelangelo's exceptional artistic skill.
The statue represents the Biblical hero David, a symbol of strength and youthful beauty.
Lively piazzas (squares)
Florence's piazzas (squares) are the beating heart of the city. These open spaces are where locals and tourists alike gather to socialize, relax, and enjoy the vibrant street life.
Piazza della Signoria, the city's political center, is home to Palazzo Vecchio and the open-air sculpture gallery Loggia dei Lanzi.
A few minutes away on foot, Piazza del Duomo offers great views of the city's iconic cathedral, bell tower, and baptistery. And for the best sunset panorama, you should head to Michelangelo Square.
Lastly, for a taste of local life, go to Piazza Santo Spirito in the Oltrarno district, where you'll find many local shops, restaurants and cozy cafes, as well as a lively atmosphere.
Each square has its unique charm and atmosphere, so take some time to sit back, sip a glass of Negroni or wine, and soak in the view.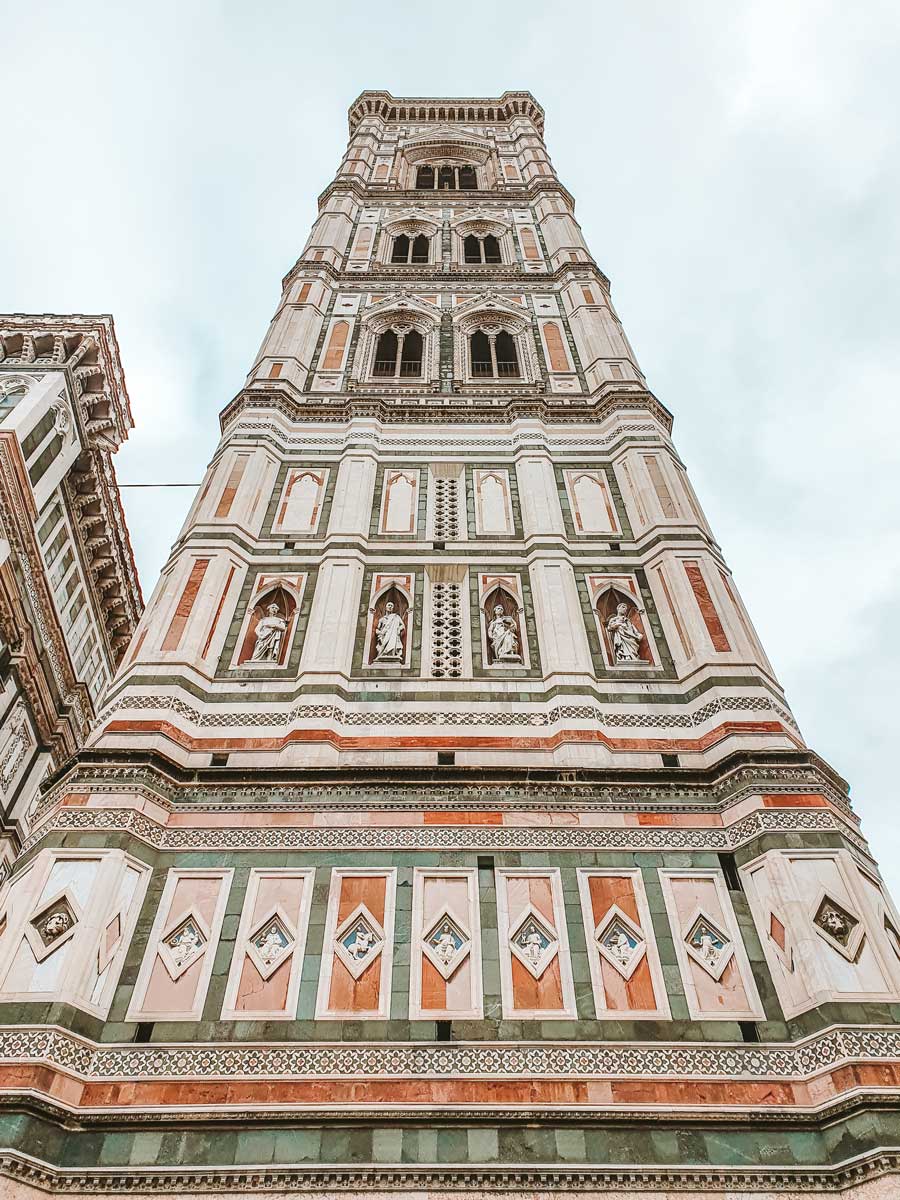 Beautiful architecture
One of the biggest draws of Florence is undoubtedly its architecture, which beautifully encapsulates the city's rich history and artistic heritage.
The crown jewel is undoubtedly the magnificent Florence Cathedral, with Brunelleschi's Dome dominating the skyline. But look beyond the grandeur of the Duomo, and you'll discover many other architectural gems.
From the medieval fortified architecture of Palazzo Vecchio and the regal beauty of the Pitti Palace to the distinctive arches of the Ponte Vecchio and the elegant simplicity of the Basilica of Santa Croce, there's something to see at every turn.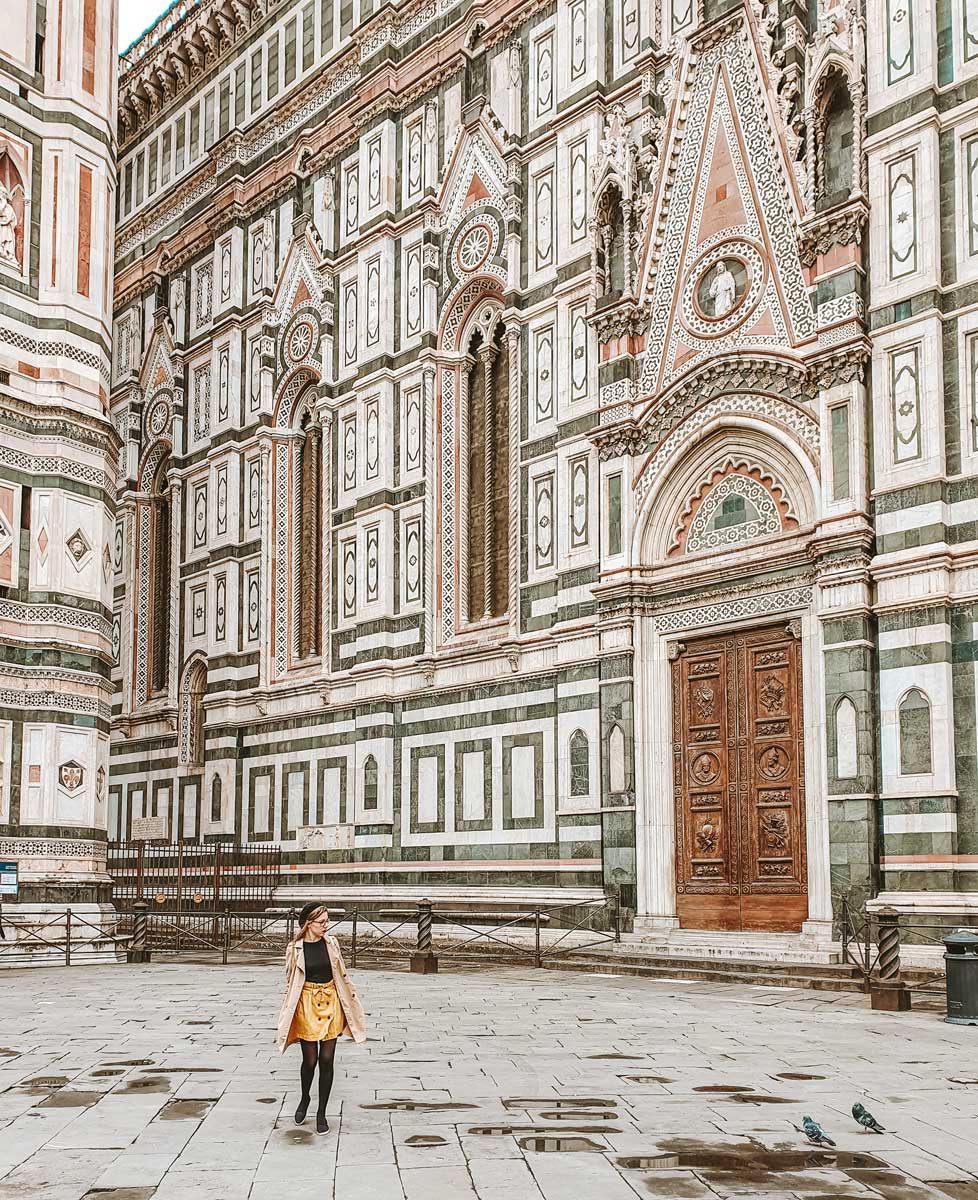 Florence Cathedral complex
The Florence Cathedral complex is one of the most iconic architectural sites in the city, if not the entire world. It consists of three main structures: the cathedral itself, Giotto's Campanile, and the Baptistery of Saint John.
The cathedral, officially named Cattedrale di Santa Maria del Fiore, is renowned for its stunning, multi-colored facade and its monumental masonry vault designed by Filippo Brunelleschi. A climb to the top of the dome offers a stunning panorama of Florence.
Adjacent to the cathedral stands Giotto's Campanile, a beautiful gothic tower from where you can enjoy another excellent city view.
Finally, the Baptistery, one of the oldest buildings in Florence, is famous for its exquisite bronze doors and Byzantine-style mosaics.
Overall, visiting the Santa Maria del Fiore cathedral complex is one of the best things to do in Florence, combining history, art, and unparalleled views of the city.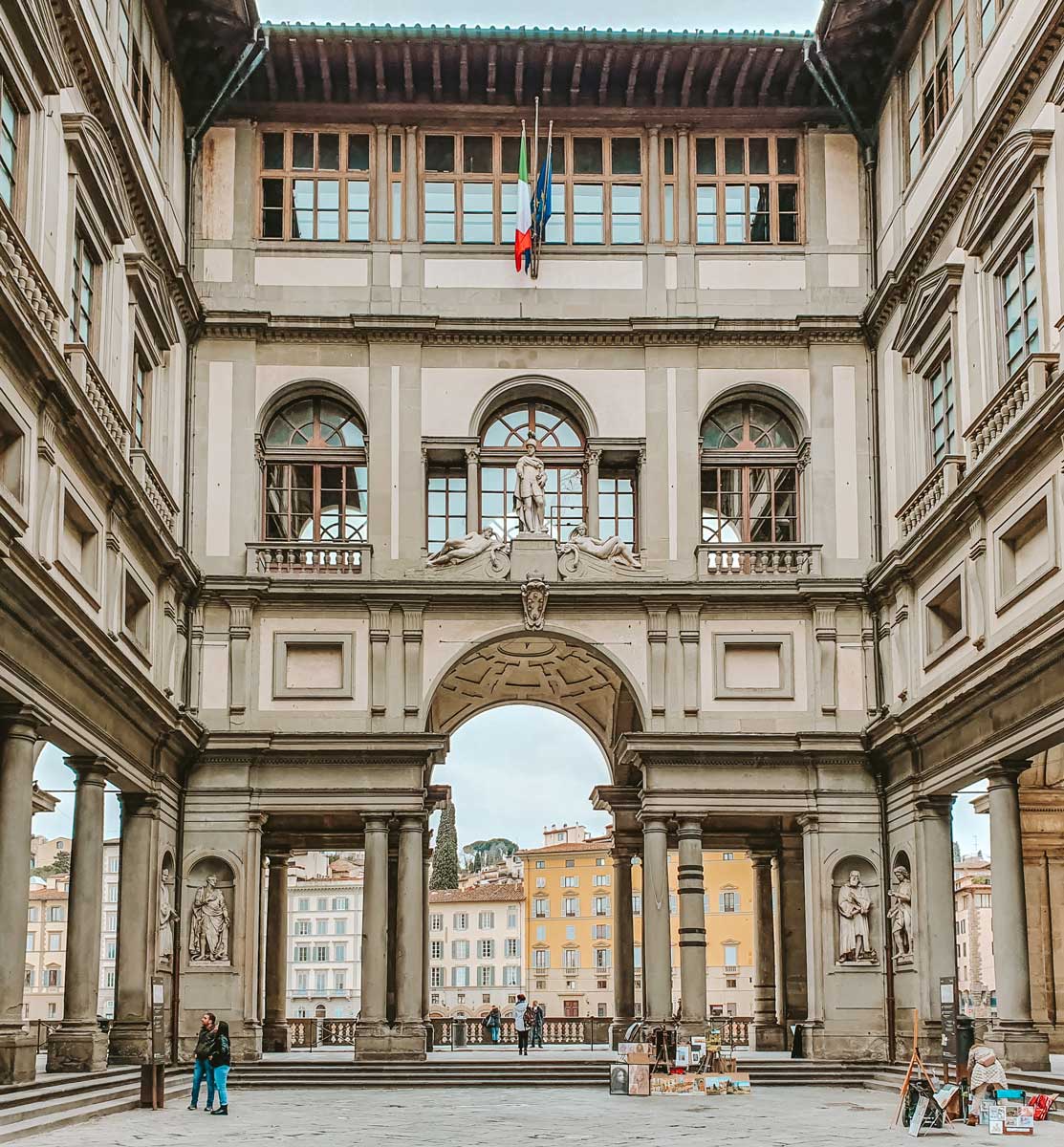 Uffizi Galleries
The Uffizi Galleries are a must-see for any art lover visiting Florence. As one of the most renowned art museums in the world, the Uffizi holds a vast collection that provides an exceptional overview of Italian Renaissance art.
Here, you'll encounter iconic works by masters like Botticelli, Michelangelo, Leonardo da Vinci, and Raphael. Among the countless masterpieces, there are several important works, that you shouldn't miss seeing on a visit to Ufizzi:
Birth of Venus by Botticelli
Venus of Urbino by Titian
Madonna with the long neck by Parmigianino
Madonna of the Goldfinch by Rafael
Annunciation by Leonardo da Vinci
Primavera by Botticelli
Bacchus by Caravaggio
Madonna with Child and two angels by Filippo Lippi
The Holy Family (Doni Tondo) by Michelangelo
Ognissanti Madonna by Giotto
The Duke and Duchess by Urbino Piero della Francesca
Be sure to allocate plenty of time for your visit (around 3 hours at a minimum); the vast collection is best appreciated at a leisurely pace.
Also, make sure to peek outside from the windows during your visit, as the building offers some really nice views of Ponte Vecchio and Arno River.
Palazzo Pitti and Boboli Gardens
The Palazzo Pitti and the Boboli Gardens offer a splendid combination of art, architecture, and nature.
The Palazzo Pitti, a grand Renaissance palace, hosts several museums, including the Palatine Gallery, where you can admire works by Raphael, Titian, Caravaggio, and Rubens, among others.
Behind the palace, the Boboli Gardens unfold, offering a green retreat from the city's hustle and bustle. Designed in the 16th century, these expansive Italian-style gardens are adorned with beautiful fountains, grottoes, and sculptures.
The gardens also offer stunning views over Florence, making them the perfect place for a leisurely stroll.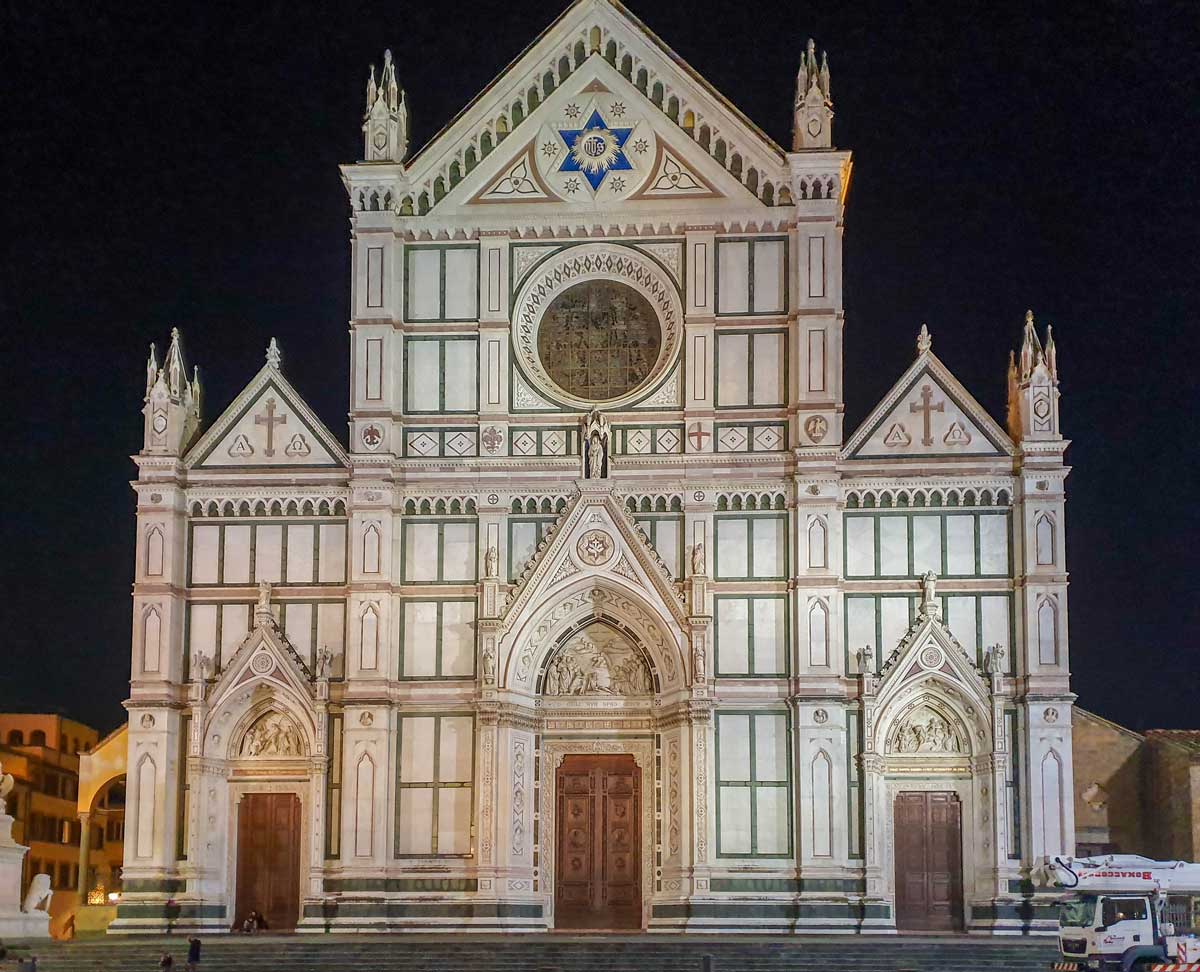 Basilica of Santa Croce
Known as the "Temple of the Italian Glories" Basilica of Santa Croce is the final resting place of some of Italy's most illustrious figures, including Michelangelo, Machiavelli, Galileo and Rossini.
As you walk through the church, the stunning frescoes, intricate stained glass windows, and tombs of so many illustrious personalities are an important reminder of the city's deep cultural heritage. The Basilica's exterior also boasts a striking Neo-Gothic facade of colored marble.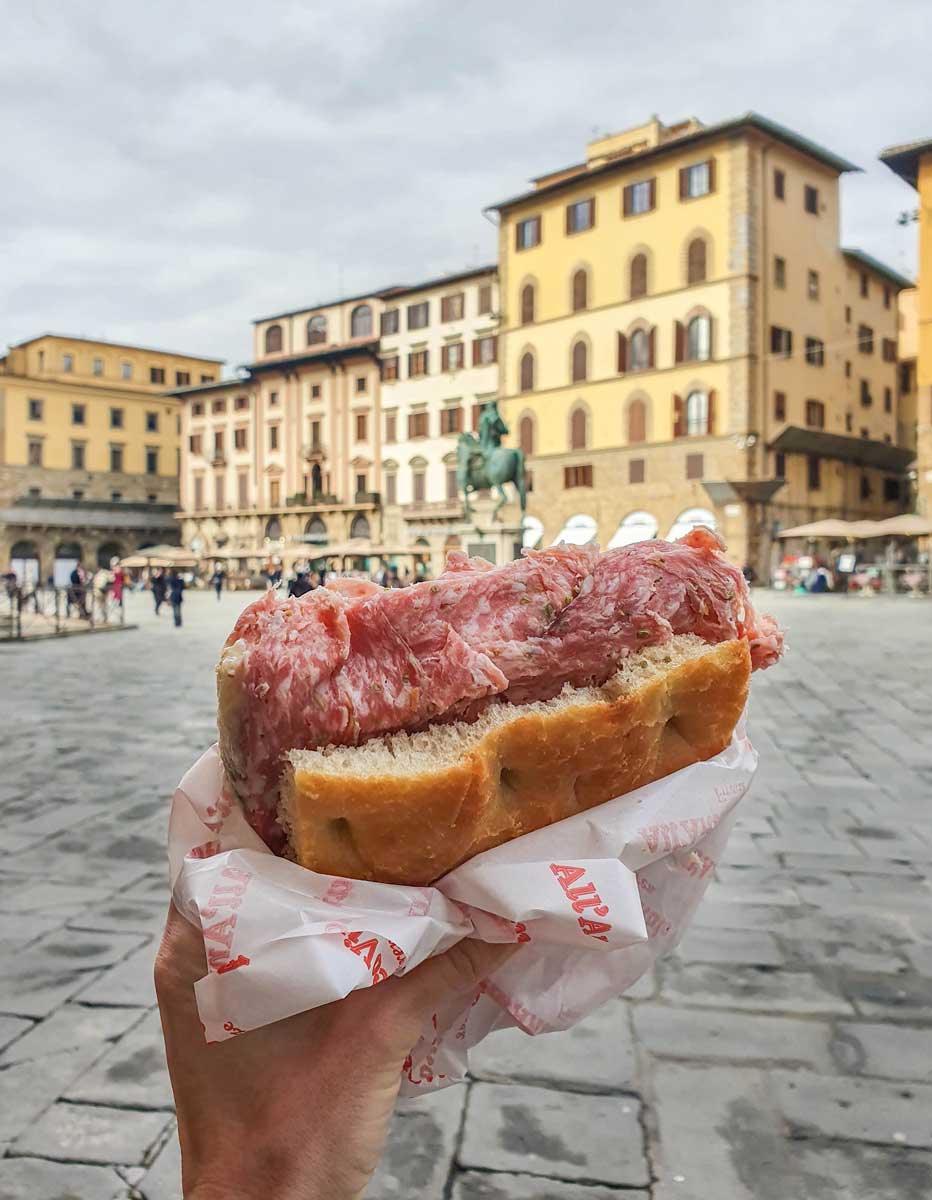 Delicious food
When it comes to food, Florence certainly doesn't disappoint. The city is a haven for foodies, offering an authentic taste of Italian and specifically Tuscan cuisine.
Pasta dishes like pappardelle with wild boar sauce, the classic Florentine steak, and ribollita, a vegetable and bread soup, are just a few examples of the local dishes you can try.
And for a quick, on-the-go option, look no further than All'antico Vinaio. This famed sandwich shop, located in the heart of the city, serves up what many consider the most delicious sandwiches in Florence.
Their 'schiacciata' bread is filled with a variety of local ingredients like truffle cream, salami, and pecorino cheese. The Favolosa is the most popular option, but there's a variety of other choices on the menu that you can pick.
Good wine
No culinary exploration of Florence would be complete without sampling the local wines. The region surrounding the city is one of the world's best-known wine-producing areas, famed for its Chianti, Vino Nobile di Montepulciano, and Brunello di Montalcino to name just a few.
In Florence itself, you'll find numerous enotecas (wine bars) where knowledgeable staff can guide you through an array of local wines. Also, while you're exploring Florence, keep an eye out for wine windows ("buchette del vino"), like the one you'll find at Cantina de' Pucci Bar.
These small openings in the walls of historic buildings were used in the past to sell wine directly to customers and got even more popular in times of plagues and disease, which most recently happened during the Covid pandemic.
But for a more in-depth experience, consider taking a wine tour in the Tuscan countryside, where you can visit vineyards, learn about the wine-making process and sample different wines.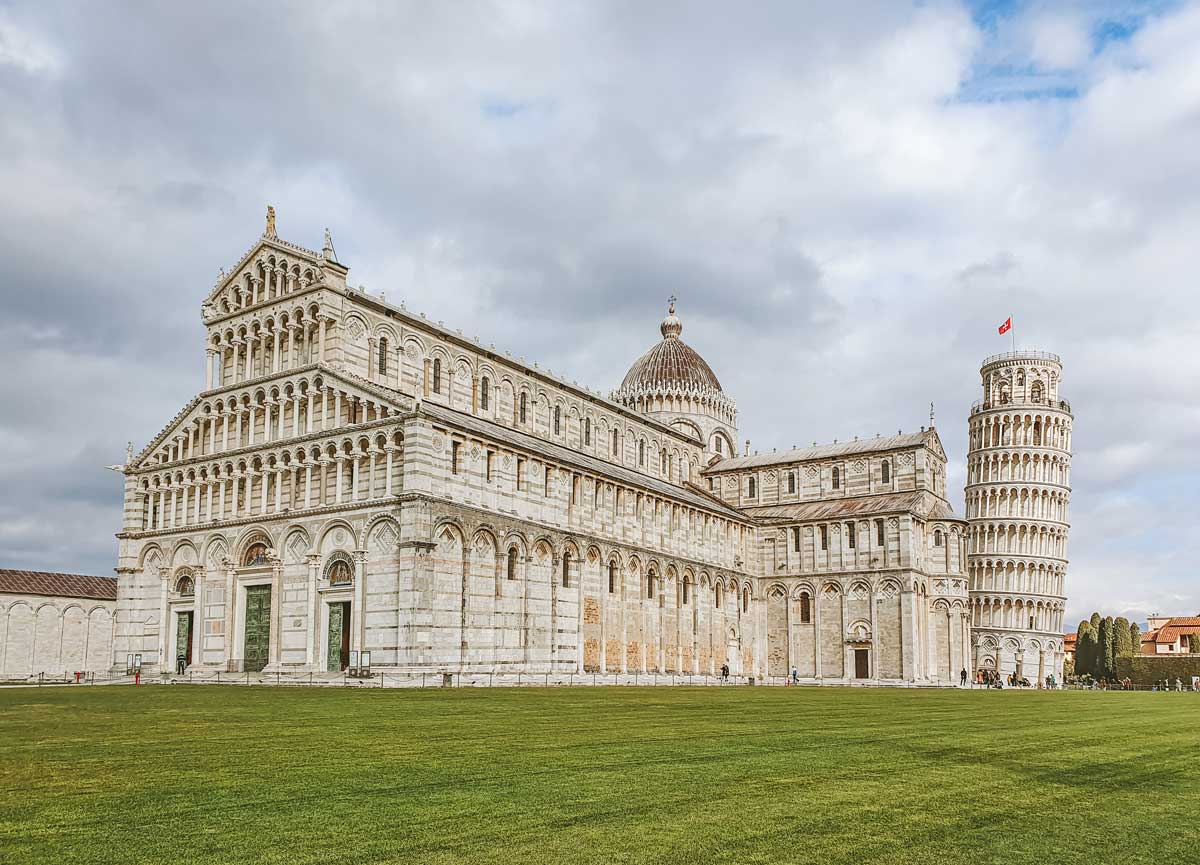 Great day trip options
Another great advantage of visiting Florence is its almost central location in the Tuscany region, making it an excellent base for exploring the surrounding areas.
Fancy a trip to see the famous Leaning Tower? Well, Pisa is the perfect day trip from Florence.
Or perhaps you'd like to wander through the charming medieval streets of Lucca, with its well-preserved city walls and delightful piazzas. Then there's Siena, a picturesque city known for its beautiful cathedral and the Palio horse race.
And of course, the 5 colorful villages of Cinque Terre are also worth mentioning. But although it's possible to visit Cinque Terre in a day, I recommend spending at least a night there to truly soak in its unique atmosphere and beauty.
Lastly, let's not forget about the rest of Tuscany, with its rolling hills, vineyards, and charming countryside villages.
Each of these day trips offers a unique taste of Italy's diverse landscape and culture, all conveniently accessible from Florence. With so many options, you could easily fill a week (or more!) just exploring.
It's a walkable city
Despite being rich in history and culture, Florence is fairly compact and many of its main attractions are within a comfortable walking distance from each other.
Whether you're wandering from the Uffizi Galleries to the Ponte Vecchio, or from the bustling Duomo Square to the Piazza della Signoria, exploring Florence on foot is not just feasible, but enjoyable.
Additionally, the pedestrian-friendly layout of the historic center allows you to really absorb the city's atmosphere, admire its beautiful architecture, and stumble upon charming hidden corners or quaint shops and cafes.
However, if you book your accommodation too far from the city center, you'll probably need to use public transportation (bus/tram) or a taxi to reach it. Be aware that while Uber does exists in Florence, it only provides limited service (Uber Black and Van) and it can be more expensive than a regular cab.
It's easy to get to
Getting to Florence is surprisingly straightforward. You can fly directly into Florence Airport, which, although smaller and handling less flights than other Italian airports, is conveniently located just outside the city.
If you can't find a direct flight to Florence, don't fret. Pisa Airport, the largest in Tuscany, is only about an hour away by train or bus.
And let's not forget about the Fiumicino Airport in Rome, a major international hub that's less than 1.5 hours away by high-speed train, meaning a day trip to Florence is a viable option from the Italian capital.
Once you're in Italy, Florence is also well connected by rail, making it easy to incorporate into a longer Italian itinerary.
Whether you're traveling from Milan, Bologna, Verona, Venice, or another Italian city, the train journey to Florence is likely to be both scenic and relatively swift by fast train.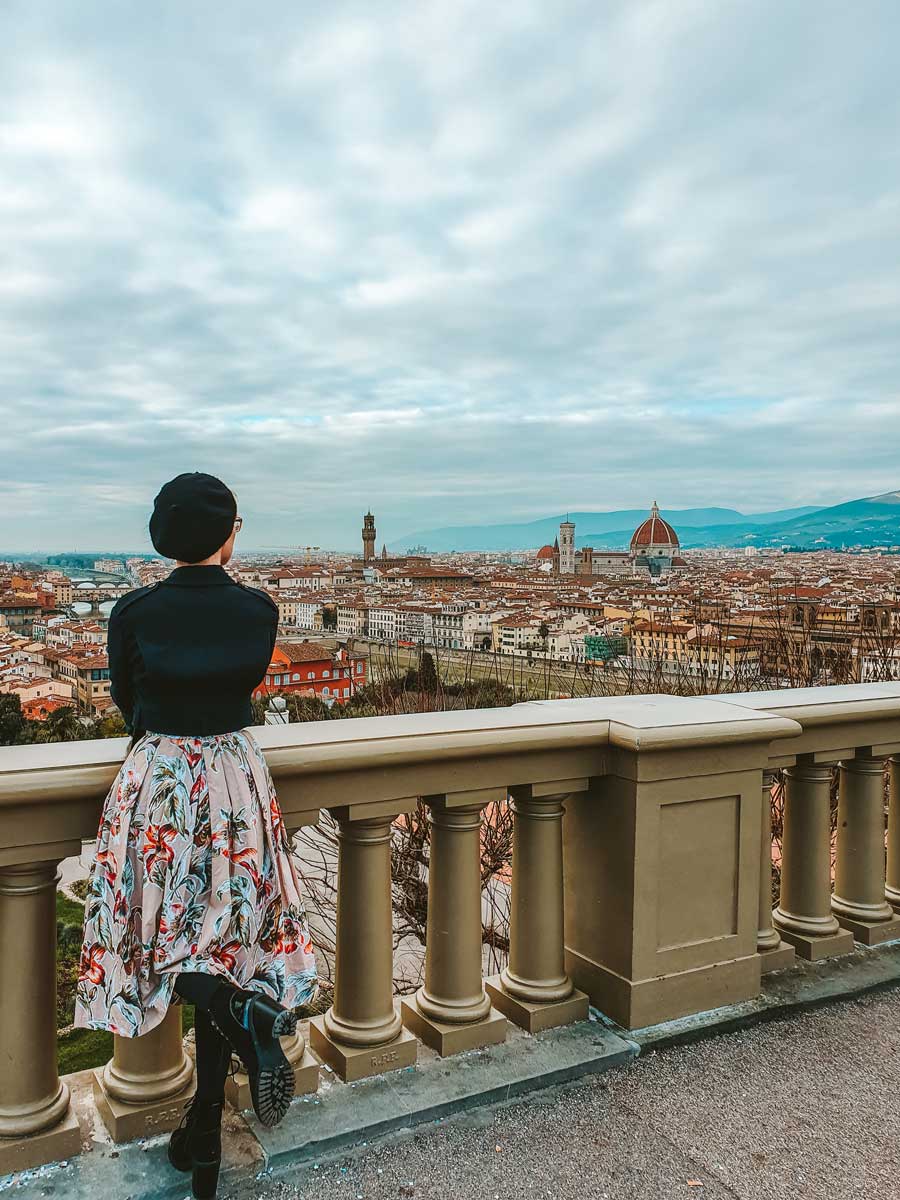 Great viewpoints from where you can admire the city
Another reason why Florence is worth a visit is the opportunity to enjoy stunning panoramic views of the city. There are several viewpoints scattered around the city that offer breathtaking vistas.
A very popular one is Piazzale Michelangelo, perched on a hill across the Arno River. From here, you can admire the entire cityscape, from the red roofs of the city center to the majestic Duomo and beyond. It's the perfect spot for watching the sunset.
Similarly, the lesser-known but equally beautiful viewpoints at the Rose Garden or Abbazia di San Miniato al Monte offer quieter alternatives.
And let's not forget the view from the top of Brunelleschi's Dome or Giotto's Bell Tower – climbing these historic structures might be a workout, but the view from the top is more than worth it.
Lastly, for a more serene perspective, the scenic panorama from the Boboli Gardens cannot be missed.
Reasons why you might opt out of visiting Florence
It's often crowded
There's no denying it: Florence can get quite crowded, especially during peak tourist season (summer months). The city's beauty and rich history draw visitors from all over the world, and popular sites like the Uffizi Galleries, Ponte Vecchio, and Florence Cathedral can get quite busy.
Walking through the narrow cobblestone streets, you might find yourself weaving through bustling crowds of tourists or waiting in line outside restaurants. That being said, the city's vibrant energy and the buzz of activity can also add to its charm.
Just be prepared for the hustle and bustle if you're visiting during peak season, and consider exploring early in the morning or late in the afternoon when the crowds tend to thin out.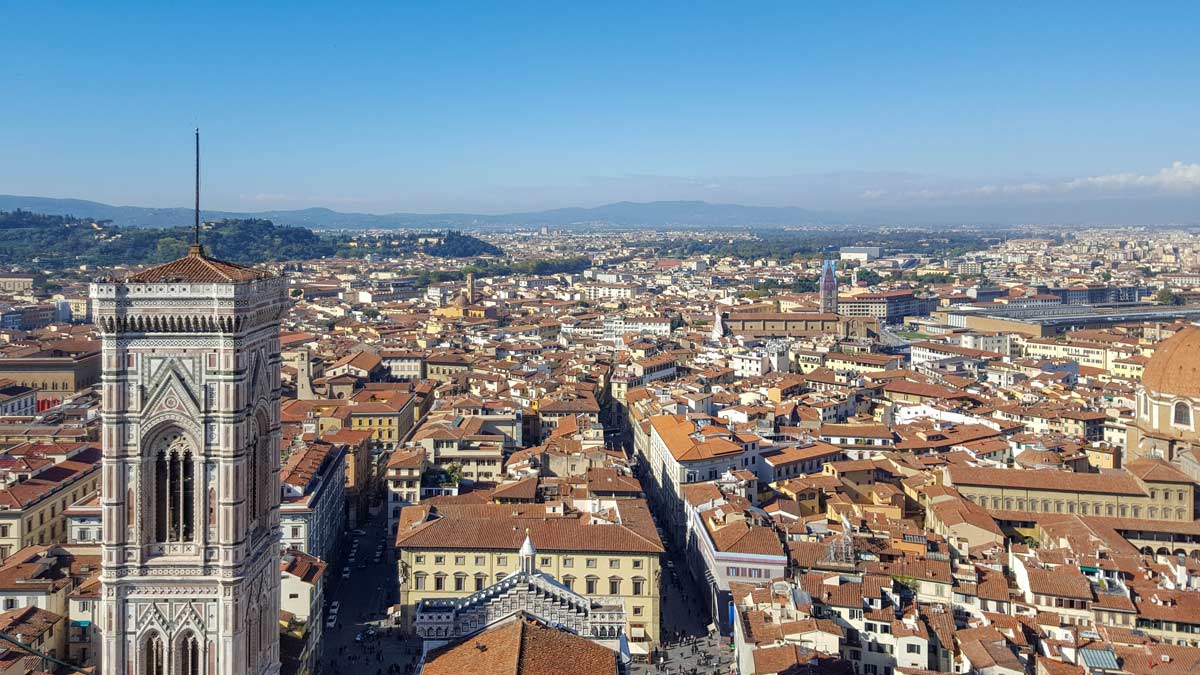 Usually, there are long lines for the main attractions
Given Florence's popularity, it's not surprising that there are often long lines for the main attractions.
Places like the Uffizi Galleries, the Accademia Gallery (home to Michelangelo's David), and the Florence Cathedral are at the top of most visitors' lists, often resulting in lengthy queues (particularly during the high season).
To avoid spending too much of your trip standing in line, consider purchasing skip-the-line tickets or booking guided tours in advance.
However, it's also worth noting that many of the city's delights can be appreciated without standing in a single line, whether it's admiring the city's architecture, wandering its charming streets, or savoring a scoop of world-class gelato.
It can be a bit expensive
Florence, like many sought-after tourist destinations, can be a bit expensive, especially if you're planning on visiting many museums or dining out frequently.
Entrance fees for the city's numerous museums and galleries can add up, and dining in restaurants, particularly those in more touristy areas, can strain your wallet.
FAQs about visiting Florence
Is Florence worth visiting in winter?
If you are looking to do a short trip in winter, Florence is a destination worth considering. Although the weather will be colder compared to other seasons, most of your time will likely be spent indoors exploring the city's numerous museums, so you won't really feel it anyway.
Is October a good time to visit Florence?
October is one of the best months to visit Florence, in my opinion. In fact, I visited the city during this month as well and I can attest that the weather was very pleasant and the crowds were not to bad.
What is the best time of year to visit Florence Italy?
The best time to plan a trip to Florence is between April to June and September to October. The weather is usually just right during these months, so you can explore the city without being bothered by extreme temperatures, whether high or low.
Final thoughts: Is Florence worth visiting?
After considering the pros and cons, I believe the answer to "is Florence worth visiting?" is a resounding yes! Despite the crowds and the potential for long lines, the wealth of history, the stunning architecture, and the rich culture and art make Florence a must-visit destination.
Plus, it's a city that can be enjoyed on so many levels, whether you're an art enthusiast, a history buff, a foodie, or just a traveler looking to soak in the beauty of a destination.
And if you've decided to add it to your Italy trip, then make sure to take a look at my 2-day itinerary to Florence. It's packed with helpful tips and suggestions to make the most of your visit.
Happy travels~