If you are planning to travel anytime soon to Romania, I'm sure Transylvania is already on your list. However, it's a fairly large region to cover in a single trip, so you might wonder what are the top places to visit.
In this post, I'm covering the best cities and towns in Transilvania that I, a local, think are worth a visit and why, so you'll have an easier time choosing which ones to see.
Where is Transylvania?
Strictly speaking from a geographical, cultural, and historical point of view, the Transylvania region (ro: Transilvania or Ardeal) describes the central part of Romania and is bordered by:
N: Maramures region
E: Eastern Carpathians (Carpatii Orientali)
S: Southern Carpathians (Carpatii Meridionali)
W: Apuseni Mountains, part of the Western Carpathians (Carpatii Occidentali)
However, a broader definition of Transylvania, which is probably the one that most people think of, also includes the Banat (west), Crisana (north-west), and Maramures (north) regions. In other words, it's the part of Romania that's encompassed by the Carpathian arc, as you can see below.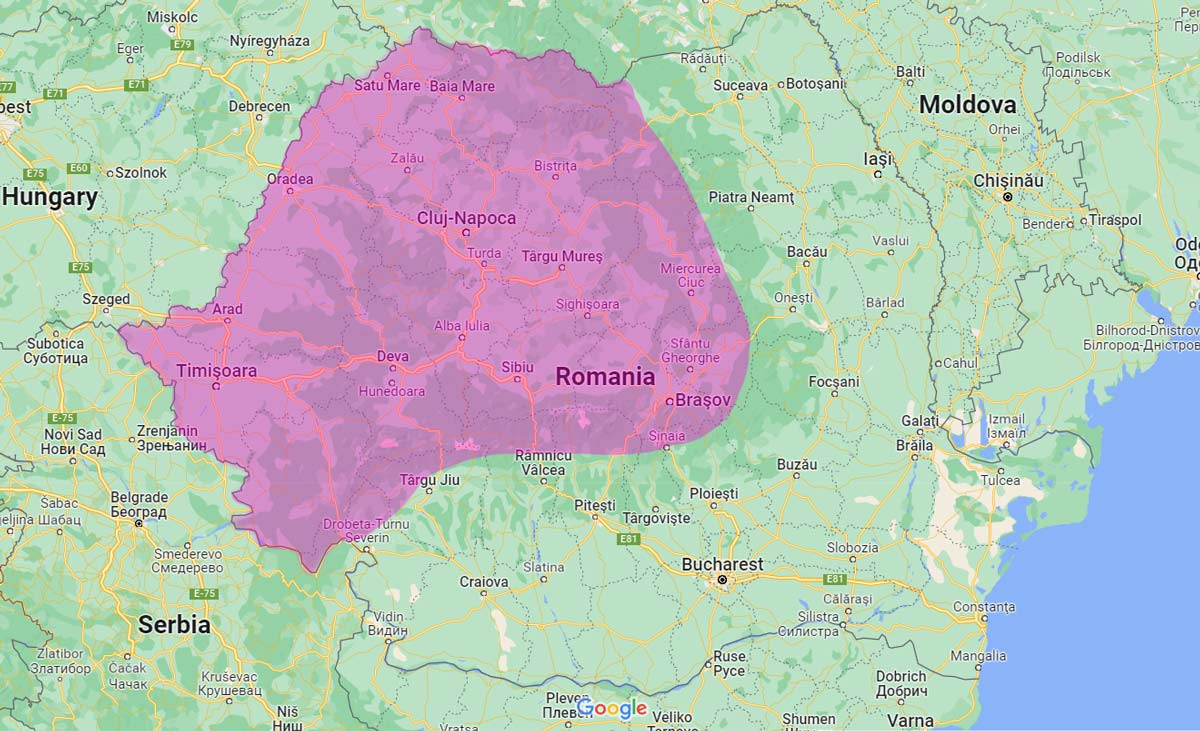 01. Cluj-Napoca
Cluj-Napoca (commonly called just Cluj) has become somewhat of a star in recent years and a big rival for Romania's capital, Bucharest, in both the good and bad aspects that are associated with a popular city to live in (for example good economical growth, but also a rise in prices for rent, bad traffic, etc).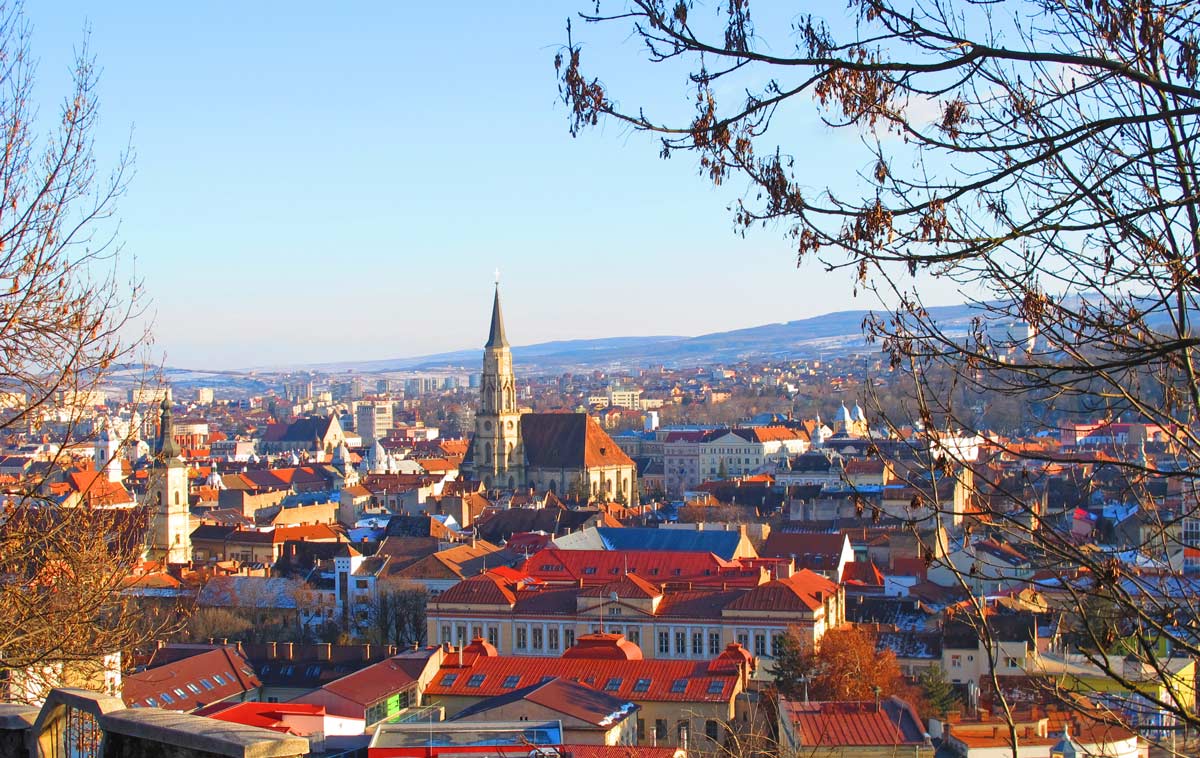 Cluj is the second most populous city in Romania (and largest in Transylvania) and has a long history that started over two millennia ago when its territory was inhabited by Dacian tribes (it's assumed that they named it Napoca) and was later conquered by the Roman Empire.
Despite all this, Cluj doesn't really have a big city feel nor it feels very touristy, something that most travelers love about it. It has great architecture, chic cafes and restaurants, but also several green spaces – its botanical garden in particular is known as one of the most beautiful in the whole country.
If you want to visit Cluj, you should know that it's pretty easy to get there, as there are quite a few direct flights from all over Europe.
02. Oradea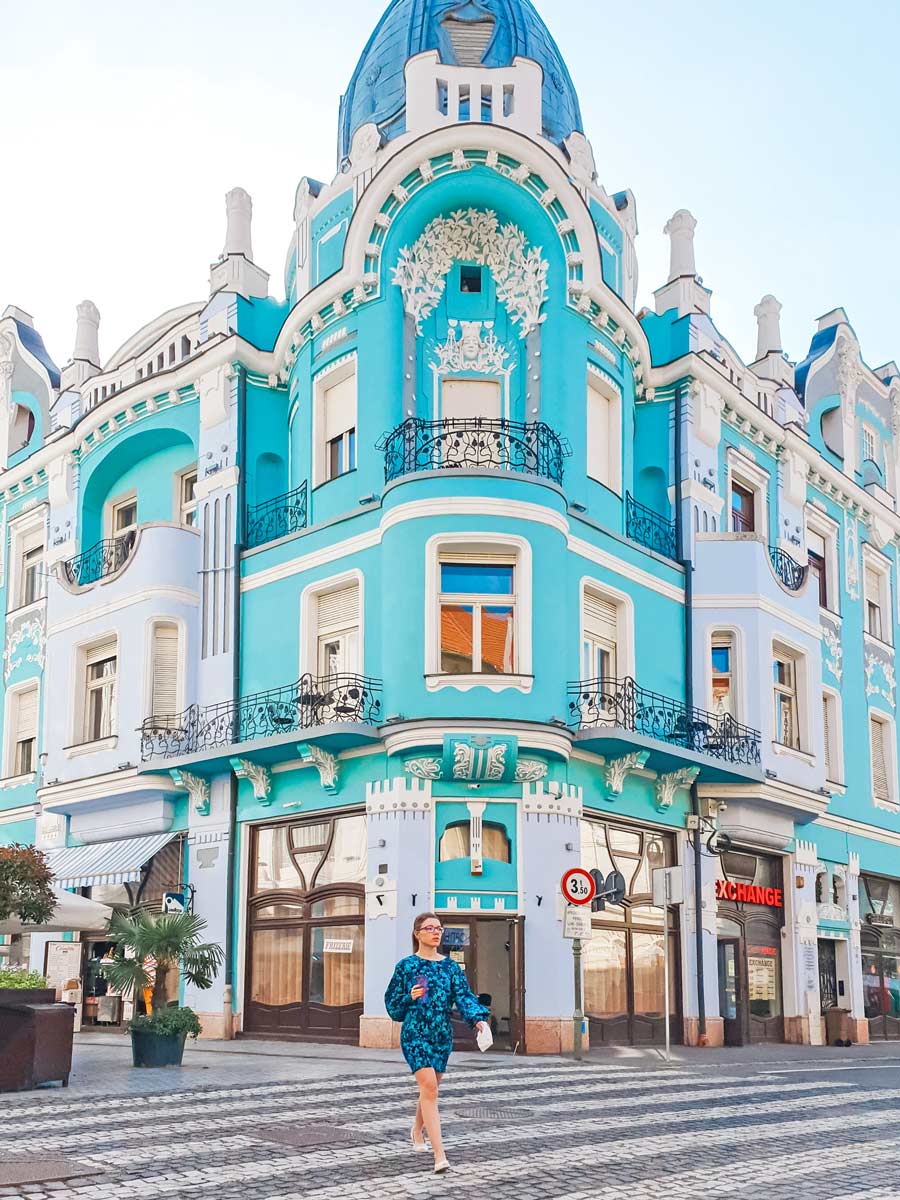 Situated near Romania's border with Hungary, Oradea is the most important city in the Crisana region. Because the Baile Felix thermal spa resort is located within close distance, Oradea always had a bit of tourist fame, however, in recent years it started to get even more recognition.
The reason for this is its unique architecture which mainly combines the Baroc, Eclectic, and Secession styles, with the latter being the most spectacular.
In this regard, among the buildings that you shouldn't miss seeing while in Oradea are:
Moskovits Miksa Palace
Black Eagle Palace
Stern Palace
Apollo Palace
Astoria Hotel (Sztarill Palace)
Poynár House
The Moon Church
Rimanóczy Palace
TIP: Since Budapest is only 3 hours and 20 minutes away by car and around 5 hours by train, you can easily add Oradea as a short stop on a trip to Hungary.
03. Sighisoara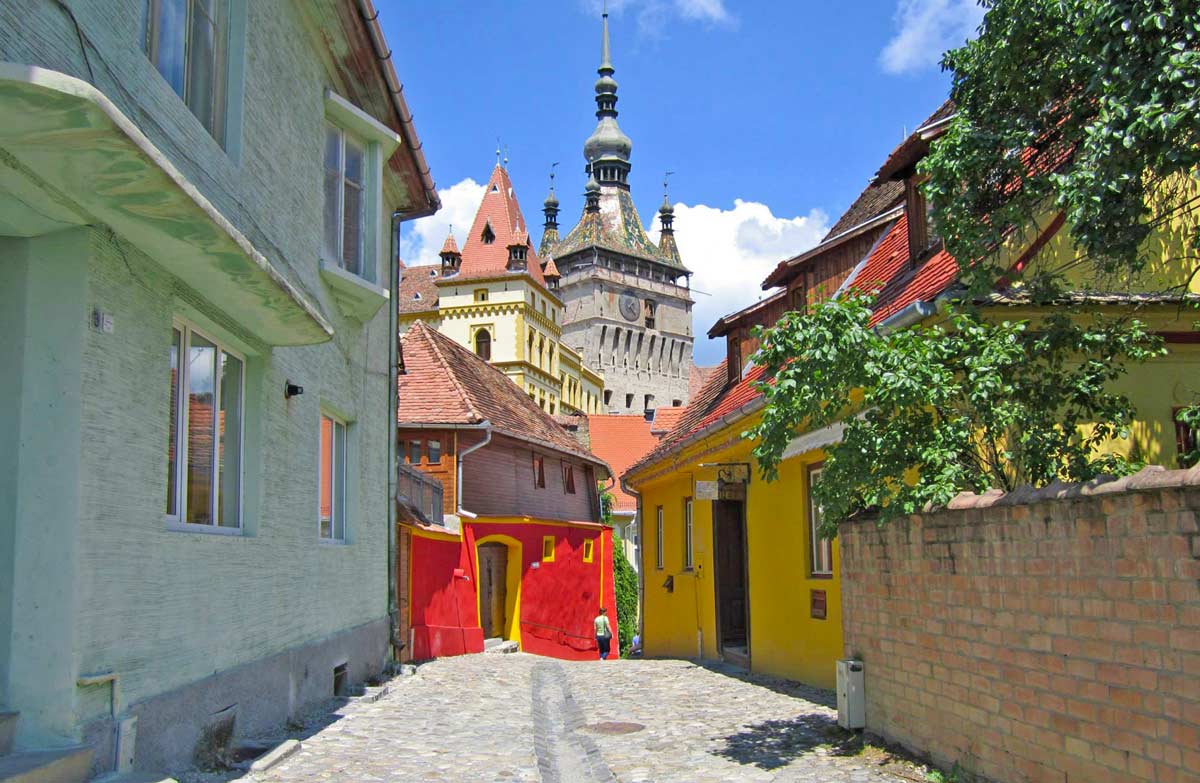 If you like colorful medieval fortresses, then you'll love Sighisoara, because that's exactly what its walled old town, a UNESCO World Heritage Site, is.
Honestly, this small town looks stunning during every season, but my favorite time to visit was during winter because it's quite fairytale-like when it's snowing.
However, if you visit Sighisoara during the last week of July, you'll be able to witness the "Sighisoara medievala" festival which includes medieval music and dances, plays, animation and theater for children, fight demonstrations, craft workshops, but also concerts.
Participants dress as knights, medieval ladies, warriors, troubadours and minstrels, and you are invited to do the same. And yes, you should expect the historic center of the town to be kinda crowded during this time as both locals and tourists attend the festival.
04. Sibiu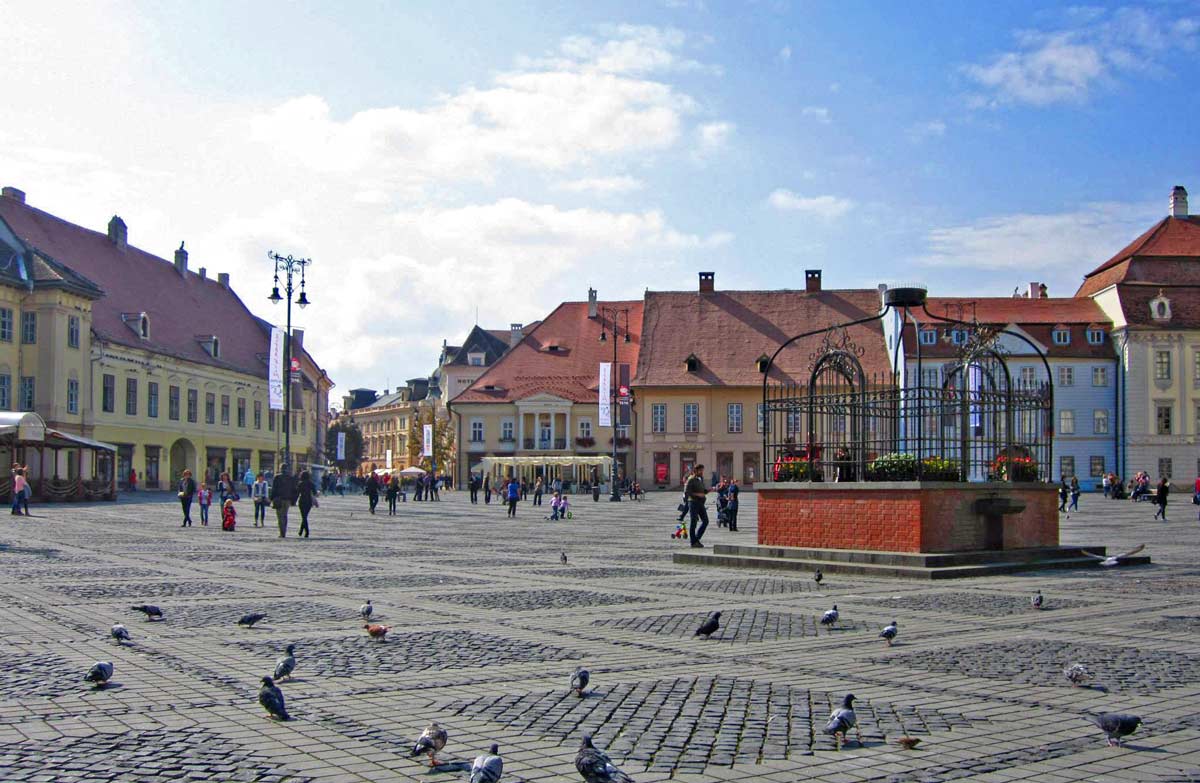 Known for its historical houses that have 'eyes', Sibiu is a beautiful town with a very well-preserved old center. It is also a popular tourist destination for both locals and foreign visitors, especially in winter when the Christmas Market takes place.
I don't know how many of you read "Red Zora and her gang" by Kurt Klaber when you were little, but if you did, you know that the action happens in Senj, a small Croatian town.
There, Zora, the teenage leader of a gang of orphans, navigates her way through life as well as the enclosed courtyards of the town, surviving out of petty theft, but still having somewhat of a moral code and only stealing from the rich.
While I visited Croatia since I still didn't get to see the real Senj, but when I imagine it in my mind it looks a lot like Sibiu. Given the fact that I loved the book when I was a kid and still do even though I'm now an adult, it speaks volumes about how much I also like Sibiu as a town.
05. Brasov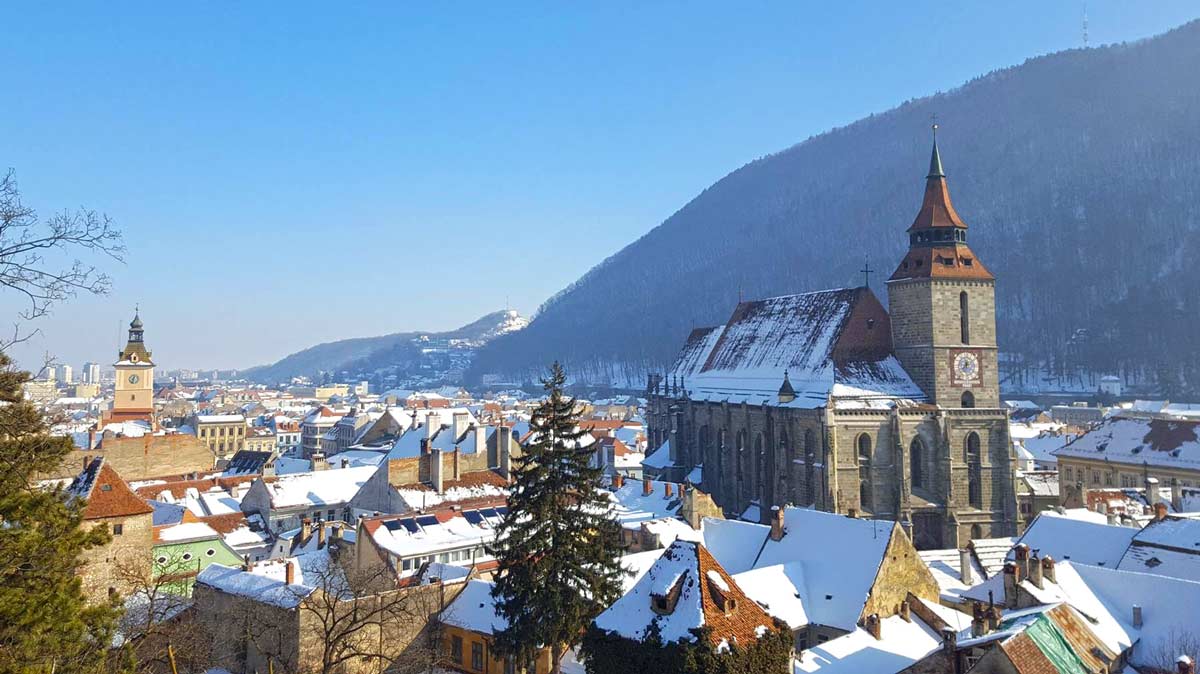 The city of Brasov sits tucked nicely in a geographic depression in the curvature of the Carpathian mountains. For this reason, it has the typical beauty of a mountain town and you really shouldn't miss the chance of going up to Tampa and seeing it from above.
On top of that, Brasov also has a beautiful old architecture with its historic town center being dominated by the Black Church, a large gothic edifice built by the Saxon (German) community of the city.
It is said that the church got its name due to how blackened its walls were after the 1689 Brasov fire, which nearly destroyed it. Others, however, theorized that the dark exterior of the building is simply due to pollution, not fire.
Given its central location and how easy it is to reach Brasov from Bucharest (though if you are renting a car beware of potential traffic on Prahovei Valley), Brasov can be a good base for your trip to Romania.
06. Alba Iulia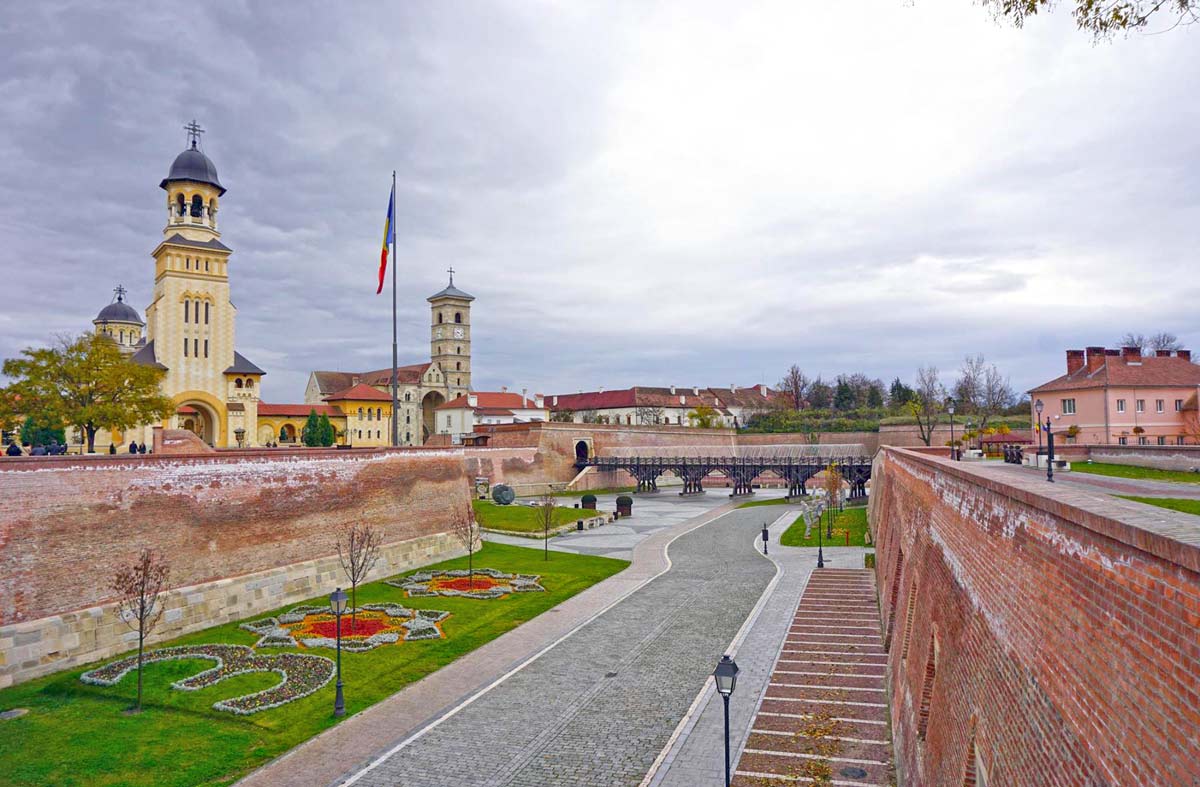 Alba Iulia is a city of great importance for us Romanians, as it was the city where the Great Union took place, on December 1st, 1918 (now celebrated as our National Day).
Through this act, Transylvania finally joined the other united regions and they all became Greater Romania.
The term "greater" is used to differentiate it from present-day Romania as the borders didn't quite stay the same in the aftermath of WW2 (the Bessarabia, Northern Bukovina, and Southern Dobroudja were lost).
So if you are in Alba-Iulia on December 1st, you'll be able to witness all the National Day festivities as well as the military parade. But even if you visit outside of this day, the renovated Alba-Carolina Vauban fortress is a really interesting and impressive place to see.
07. Timisoara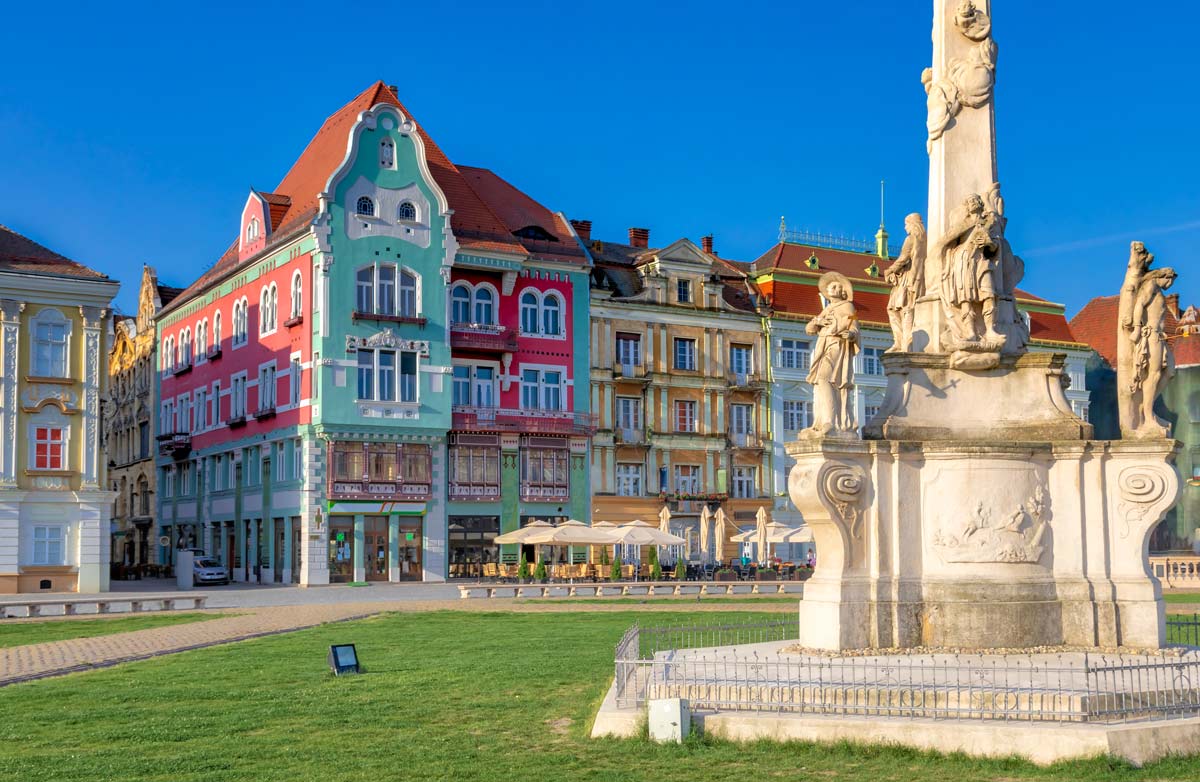 Located in the western part of the country, fairly close to the border with Serbia, Timisoara is the most important city of the Banat region. An interesting fact about the city is that it's the first in Europe to use electrical street lighting.
If you visit Timisoara, make sure you stroll around the colorful Union square, take a vaporetto ride on the Bega river and enjoy a drink at one of its chic cafes and restaurants.
And since Timisoara is located pretty close to both Serbia and Hungary, it can be a great addition to an itinerary in either of these countries as well.
08. Hunedoara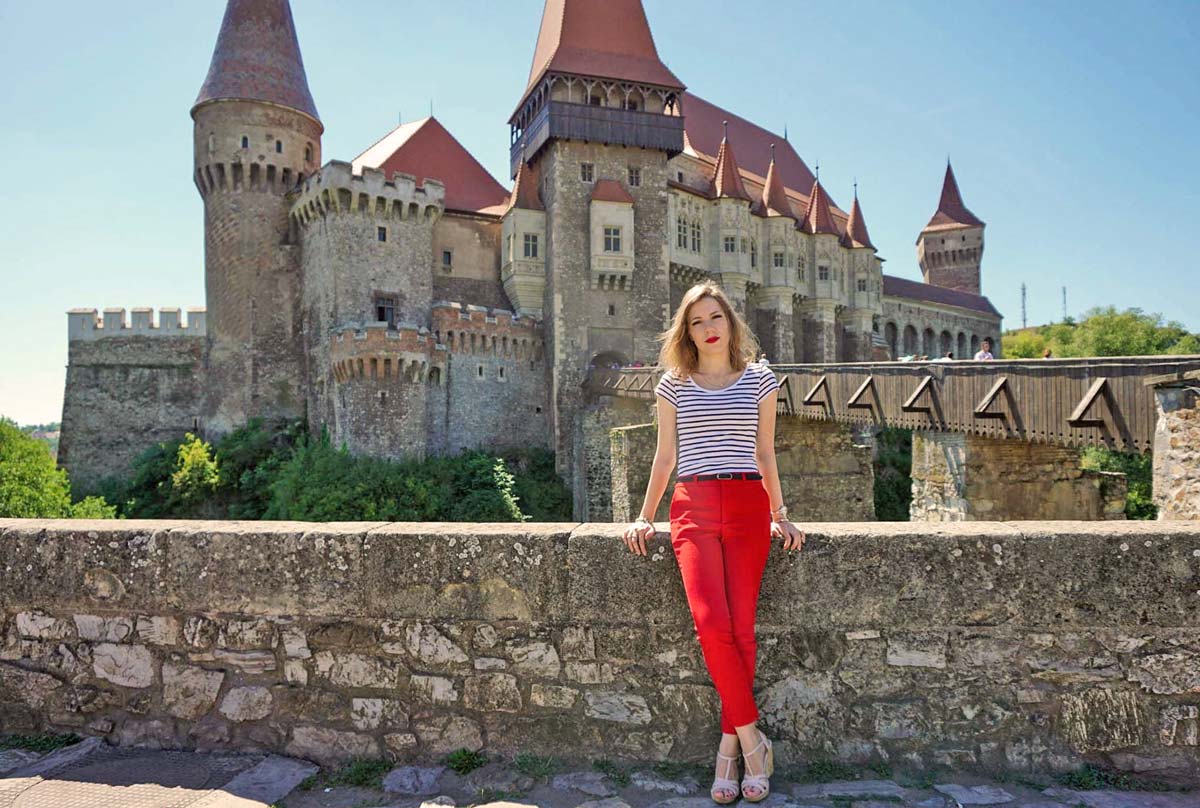 I have to admit, I put Hunedoara on the list mainly because here lies the stunning Corvin castle (also called Hunyadi) which is worth the trip alone.
Built in a Renaissance-Gothic architectural style, the majestic structure has tall towers, bastions, an inner courtyard, and several halls and rooms that you can enter. It sits proudly on a cliff above the small Zlasti river, offering a postcard-perfect view to its visitors.
I actually wrote an entire post on how to visit the Corvin castle in Hunedoara, so you can read that if you want to know more details about it.
Apart from the castle, there's not a lot more to discover in the city, however, it can be a good base from which you can explore the rest of Hunedoara county. Here are some of the best things to visit in this area:
I Giardini di Zoe: a beautiful privately-owned garden in Banpotoc village, that you can visit for a fee.
Sarmizegetusa Regia: the archeological site of Dacia's capital, before the wars with the Roman Empire. It is located in the Gradistea de Munte village.
Ulpia Traiana Sarmizegetusa: the archeological site of the capital of the Roman Dacia (also known as Dacia Traiana). It is located about 40km away from the former capital.
Retezat National Park: outdoor enthusiasts will love exploring the natural beauty of the Retezat mountains.
Fortress of Deva: located in the city of Deva, the fortress can be accessed by an inclined lift and offers great views all around.
Clocota Waterfall: a beautiful waterfall with thermal waters in Geoagiu-Bai.
09. Turda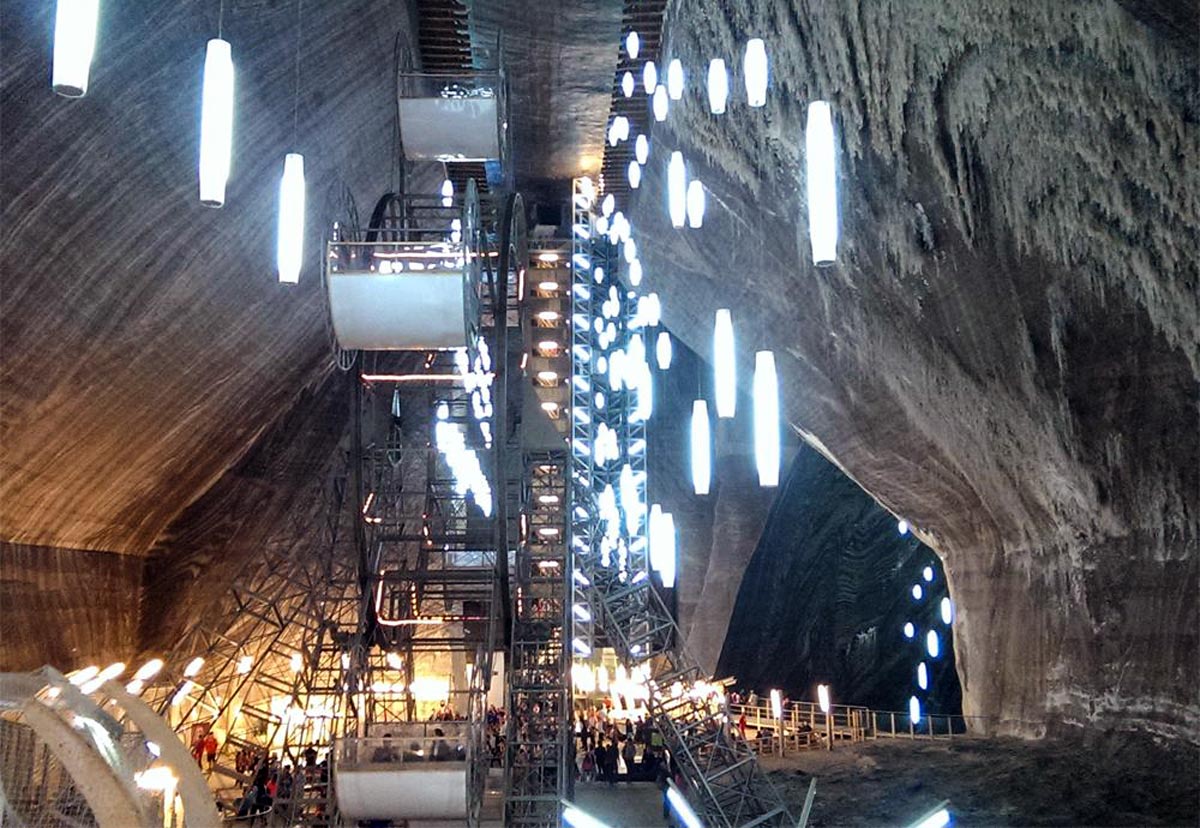 Turda is a small town located just south of Cluj with a colorful historic center. But the most unique thing about it is located slightly outside the town and it's called the Turda Salt Mine (Salina Turda).
Once a working salt mine, it has now been revamped into a halotherapy center and underground tourist attraction, that even has an amusement park.
Some of the highlights include a ferry wheel, an underground lake on which you can take a boat ride, and a panoramic lift.
To get to the salina from Turda downtown, you can take bus 17, see its schedule and approximate route below.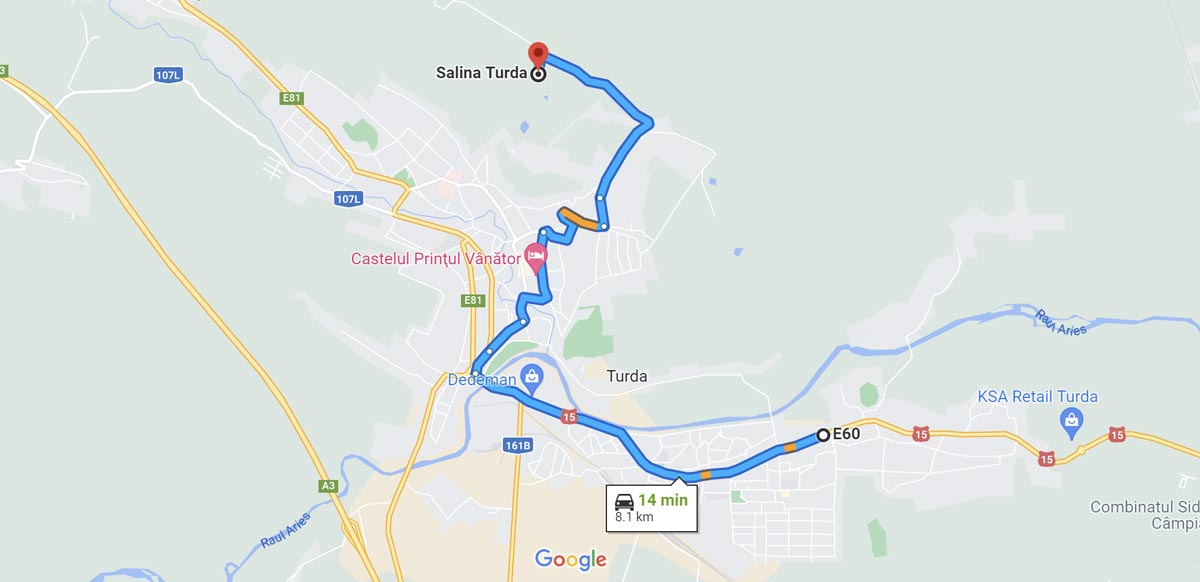 | Turda -> Salt mine (Monday to Sunday) | Salt mine -> Turda (Monday to Sunday) |
| --- | --- |
| 7:25* 8:07 9:27 10:52 12:23 13:43 15:08 16:38 18:07 19:25 20:42 | 8:47 10:12 11:43 13:03 14:23 16:00 17:20 18:47 20:03 21:35 |
*only during school time
I feel like the easiest stop from where you can take bus 17 is the one near the city hall (see below the green dot on the map), since it should be pretty easy to find. Or you can ask the locals to guide you to the nearest one.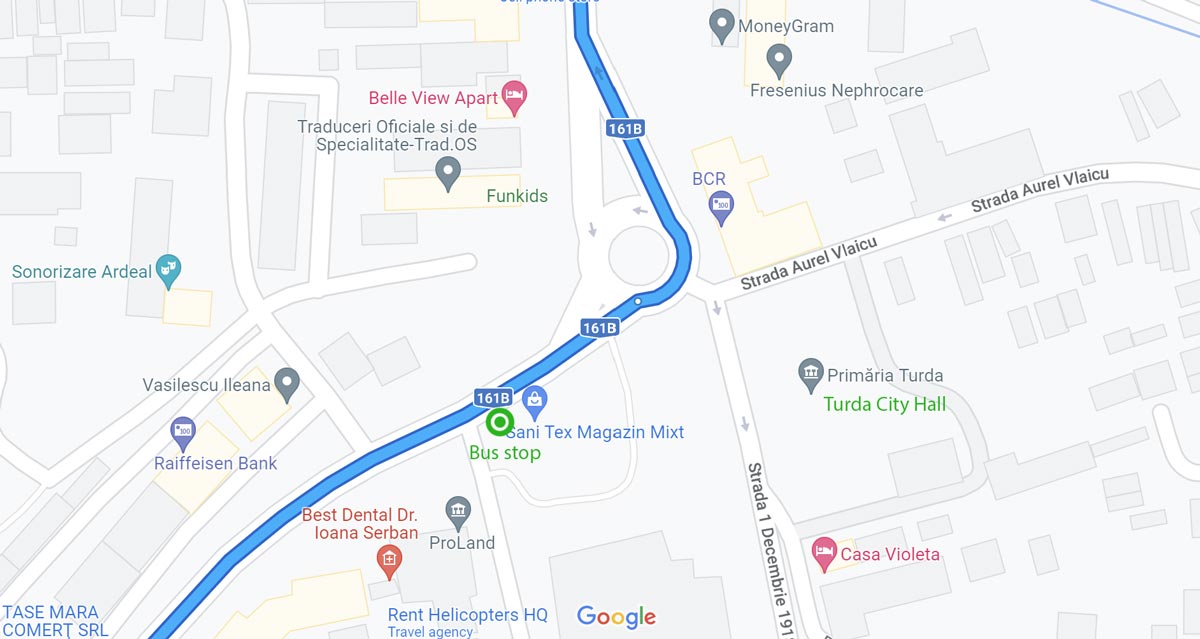 TIP: Turda is only around 40 minutes away by car from Cluj, so it makes for a good day trip candidate if you are based there.
10. Sighetu Marmatiei
Romanians have a saying when speaking about Sighetu Marmatiei: it's the place where you hang the map. And funny enough, there's even a sculpture of a nail alluding to this in the city. This is because Sighet is located far up north, right near the border with Ukraine.
The town is located in the Maramures region, one of the most touristic and traditional parts of the country (read my short guide about the best places to visit in Maramures, Romania).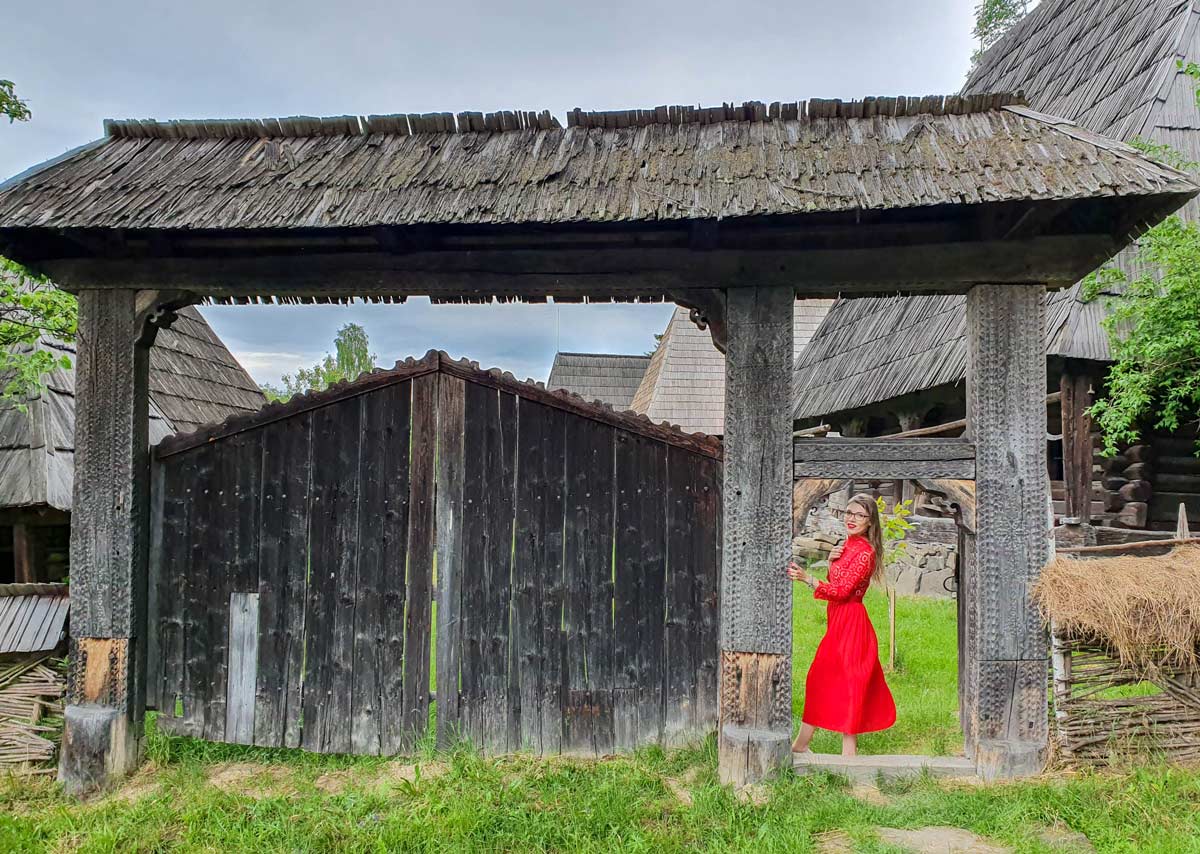 Here you can visit the open-air Village Museum featuring many examples of the region's traditional wooden houses, as well as Sighet Museum, part of the Memorial to the Victims of Communism and of the Resistance, where you can learn more about the country's dark past during its communist era.
Sighet is also a good base from where you can visit the most interesting attractions of the area (you will need a car though):
Sapanta Merry Cemetery: known for the colorful and skillfully decorated tombstones that describe in a poetic manner the lives and deaths of the people buried there.
Breb village: a beautiful traditional village.
Barsana Monastery: a beautiful place of worship and also a fine example of the local wooden craftmanship.
Horses' Waterfall: the highest waterfall in Romania
Mocanita, Viseul de Sus: ride a steam train on a narrow-gauge railway.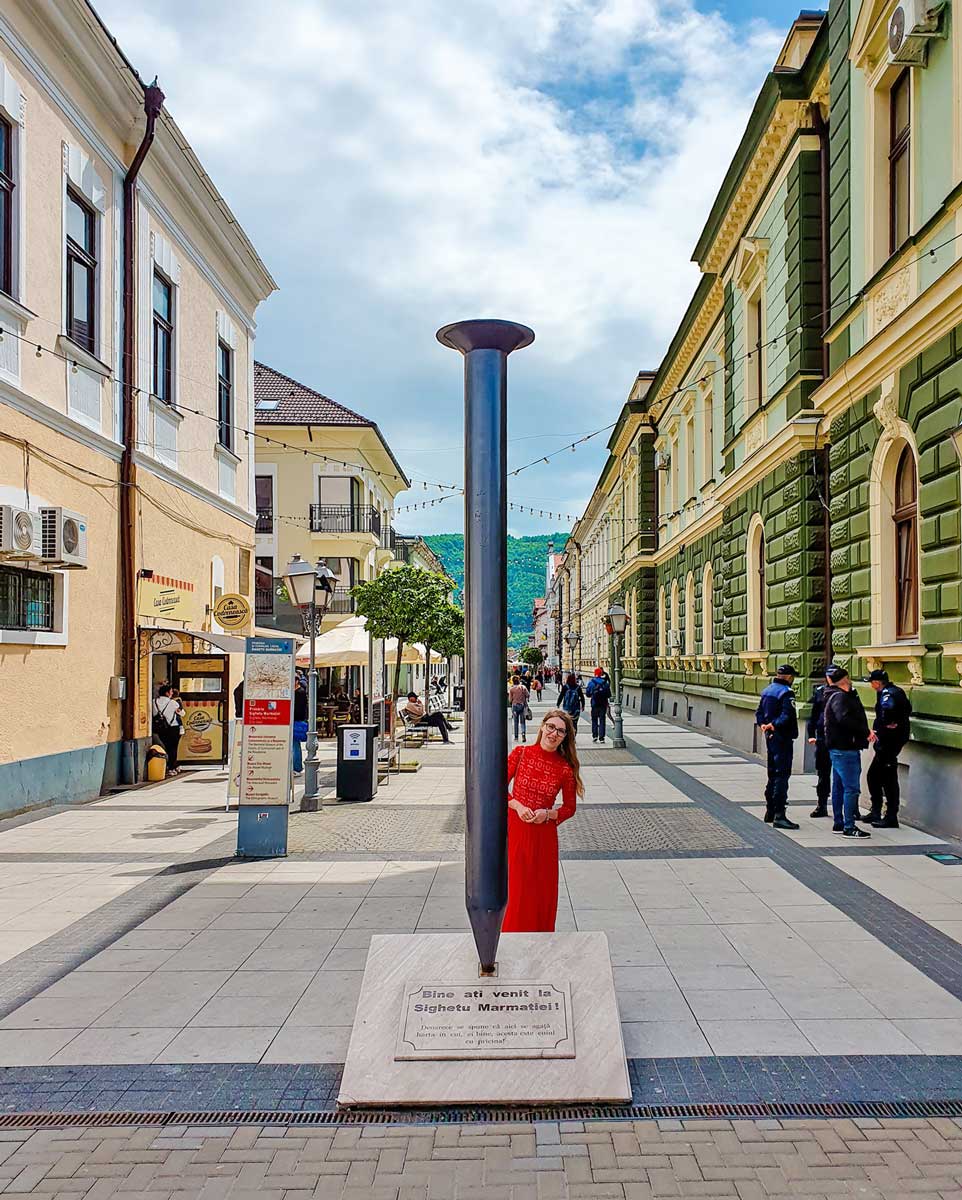 ---
I hope this list of the best towns in Transylvania that are worth a visit helped you decide which one to include in your itinerary for a trip to Romania.
If you have any questions, just leave them in the comments below and I'll try to answer to the best of my knowledge.
Happy travels~
---
MORE INFO ABOUT ROMANIA