Day trip from Bari: Best things to do in Alberobello, Puglia
If you're looking for a charming, picturesque town to explore in Italy, look no further than Alberobello. This town is full of character, with its unique trullo houses dotting the landscape.
There are plenty of things to do in Alberobello, from wandering the narrow streets and admiring the uncommon architecture to indulging in some delicious Italian food.
So if you're planning a trip to Italy, be sure to add Alberobello, Puglia to your list!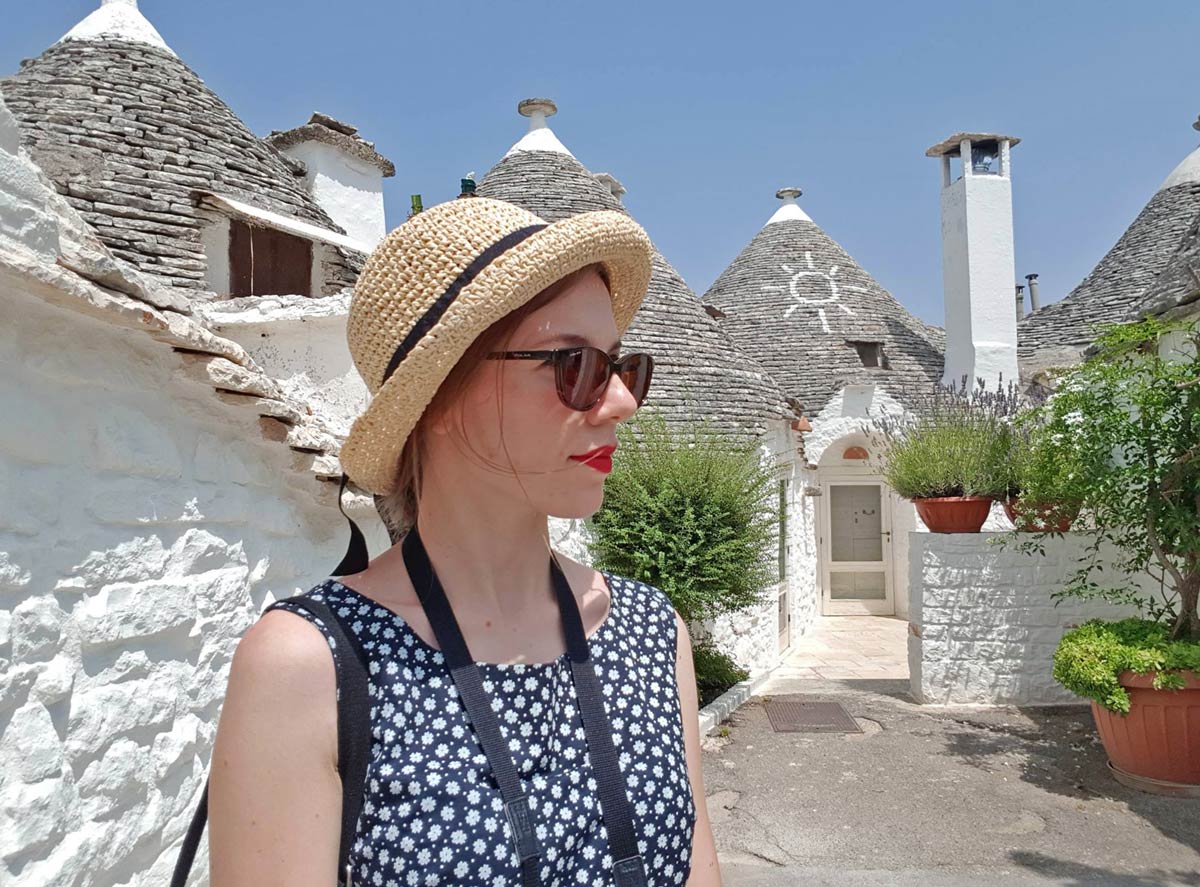 Disclosure: Some of the links in this post are affiliate links. If you click on them and make a purchase, I may receive a commission at no extra cost to you. Check my full disclaimer here.
How to get to Alberobello from Bari
Alberobello is located somewhat mid-way the distance between the two largest international airports in the Puglia region:
Bari International Airport-Karol Wojtyla in Bari, the capital city of the region
Brindisi Salento Airport in Brindisi
From the airport, you can either rent a car to explore Puglia, including Alberobello, or use public transportation.
However, you should know that traveling from Brindisi to Alberobello by public transport involves more changes and it's, in general, more complicated than from Bari.
Bari to Alberobello by car
Most people visit Alberobello on a day trip from Bari. If you plan to drive, then make sure you are familiar with the limits of the ZTL zones in both towns.
ZTL means "zona traffico limitato" (en: limited traffic zone) and is an area where only residents and registered vehicles can enter. Everyone else will be fined (there are usually video cameras that surveil the limits of the ZTLs). Most of these restricted areas are in Italian cities that have historic centers.
Where to park in Alberobello, Italy
Parcheggio Viale Putignano 2 is really easy to access as you arrive from Bari, even though it's a bit farther away from Alberobello's center. However, you only need to walk for about 14 minutes to reach the famous trulli. Another plus of this parking lot is the fact that it's fairly large.
Another option is Parcheggio Via Tito Schipa – Zona Industriale, which is also pretty big and it's located nearby as well.
There are also parking lots closer to the trulli, but they are usually smaller and crowded and you also have to make sure you don't enter the ZTL area.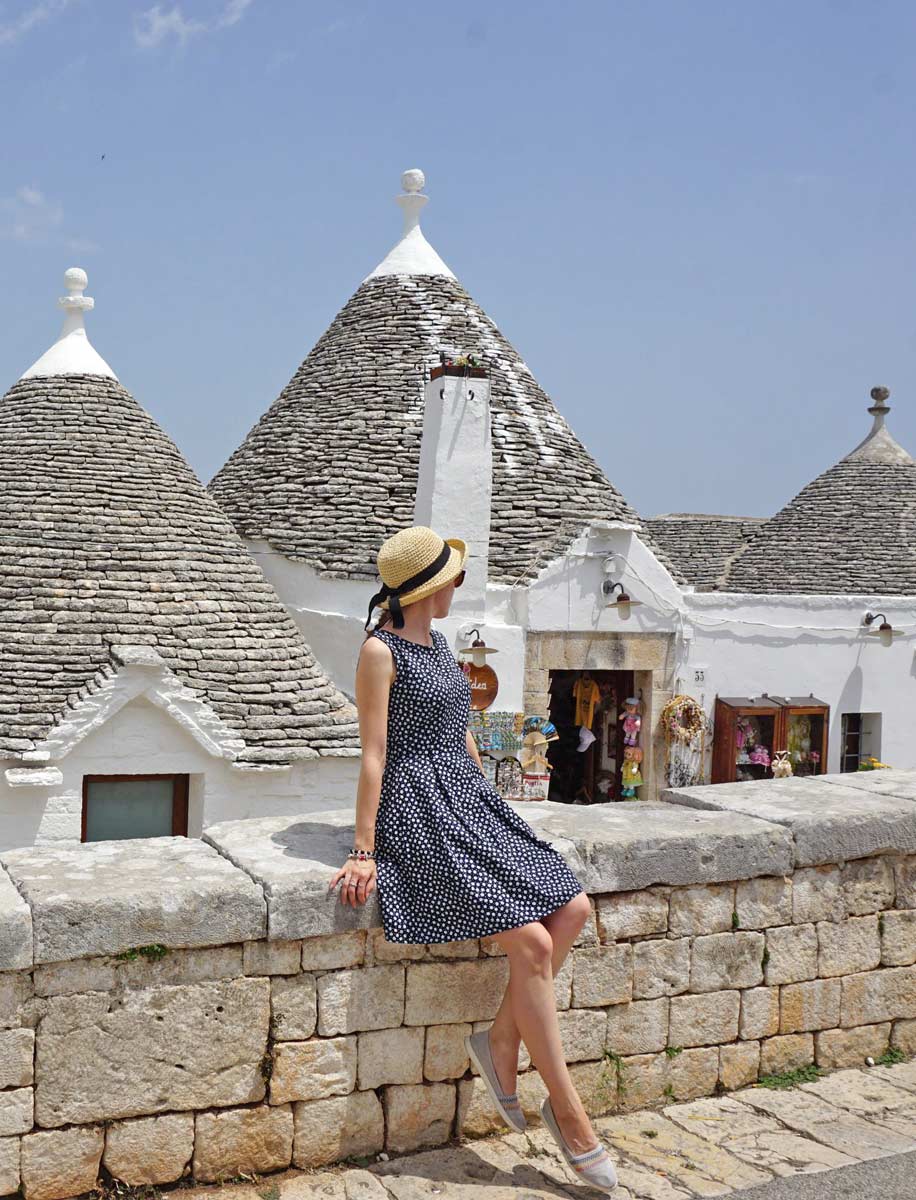 Taking the train from Bari to Alberobello
Traveling by public transportation is easier as there's a direct train connecting Alberobello to Bari. The route is operated by Ferrovie Sud-Est and it leaves from Bari Central Station.
However, the ticket booth is not inside the station, but rather directly on the platform which can be a bit confusing. To find it, look for the large sign directing you to "Ferrovie Sud-Est" once you are in the main lobby of Bari Centrale.
I would recommend you also buy return tickets if you plan to visit only for the day, especially if you visit during the summer. This is because many places close in Italy during the afternoon siesta, including the small train station in Alberobello.
You can still buy a ticket directly onboard the train and there will be no surcharge, but to avoid any confusion and additional discussions, just buy the return ticket from Bari. Trust me, I went through this.
Bari to Alberobello by bus
You can also travel to Alberobello by bus. The journey takes between 1h05′ and 1h50′ depending on the route you take (one has fewer stops than the other). You can check the bus schedule here.
Bari to Alberobello by tour
If you don't want to drive or bother with the local transportation, then there's also the option of visiting Alberobello on a guided tour from Bari.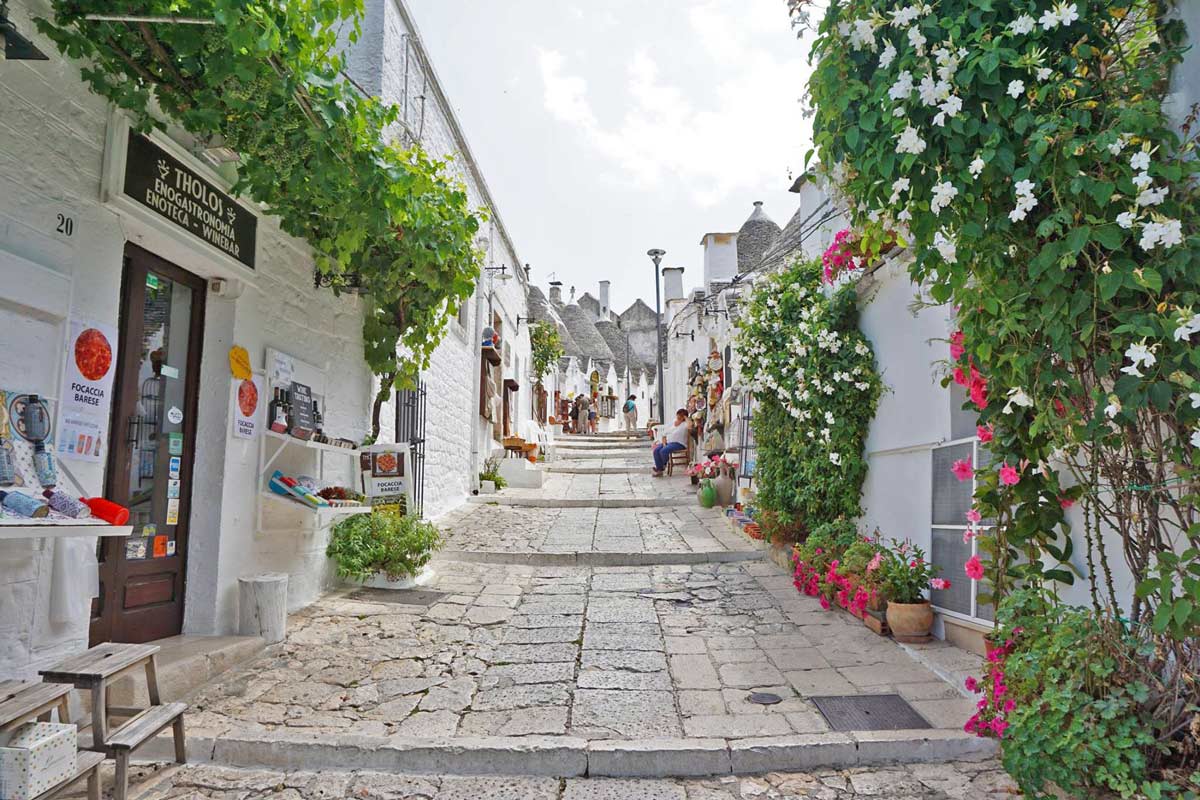 Best time to visit Alberobello in Puglia
The best time to visit Alberobello is spring and fall since the weather will be pleasant, but not scorching hot like in summer (it's southern Italy we are talking about). I remember I visited in the first week of July and the temperatures were already very high.
How much time do you need in Alberobello?
One day is more than enough in Alberobello, but you can also stay overnight to experience the town after the crowds leave. And if you do this, then you should sleep in a trullo.
Where to stay in Alberobello, Italy
As I already mentioned, I would recommend spending one or a few nights in a trullo. I didn't stay overnight during my visit to Alberobello, but on a future trip, I totally plan to do it. Here are a few accommodation options:
Dimora Sumerano: lovely family rooms (can also accommodate only two people) with a private bathroom in a trullo.
Trulli e Puglia Resort: affordable, chic rooms and suits inside a trullo with breakfast included.
Romantic Trulli: beautiful trullo apartments with breakfast included.
Best things to do in Alberobello, Puglia
Admire the unusual Trulli of Alberobello, a Unesco World Heritage site
"But what are the Trulli of Alberobello?" you might wonder.
Well, they are simply houses. But what makes these limestone dwellings special is the fact that they are built without the use of mortar, a prehistoric construction technique that is still being used in the Puglia region, southern Italy.
Trulli were usually built as temporary field shelters and storehouses or as permanent homes by small proprietors or agricultural workers. The trulli (singular: trullo) of Alberobello date from the 18th, 19th, and 20th centuries.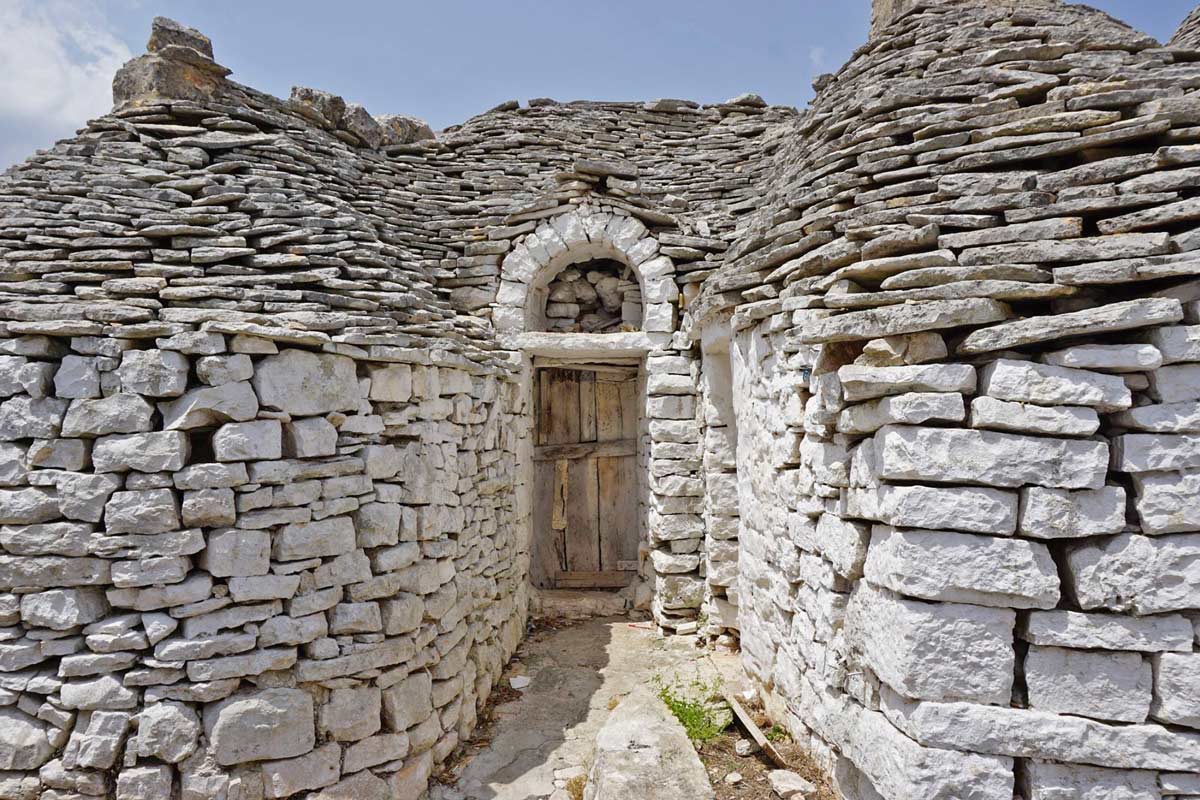 According to one of the more popular theories floating around, the construction of the trulli didn't involve mortar because of the high taxation on property.
So the people living in Puglia would build dry stone wall homes in order to be able to easily dismantle them when tax inspectors came into the region.
Regardless of the reason why they were built like this, the cone-shaped houses are indeed spectacular and will make you feel like you stepped right into a fairytale.
There are two main areas where you can see many trulli: Rione Monti quarter which has over 1000 dwellings and it's more touristy with lots of shops and Rione Aia Piccola which is more residential and quiet. I recommend you visit both.
Spend the night in a trullo
If you plan to spend the night in Alberobello, then it's a must to book your accommodation inside a trullo. There are plenty of options to choose from (I also listed a few in this post).
Take a walking tour
To make sure you will not miss anything during your visit, you can go on a walking tour.
Over the span of two hours, you will discover everything there is to know about the history of Alberobello, all this while walking past its beautiful trulli.
Take in the views from Villa Comunale Belvedere
Villa Comunale Belvedere is a small free park from where you can get amazing views of the trulli located right in front of it. You'll also find a small bar inside where you can rest for a bit and have a drink before resuming your visit.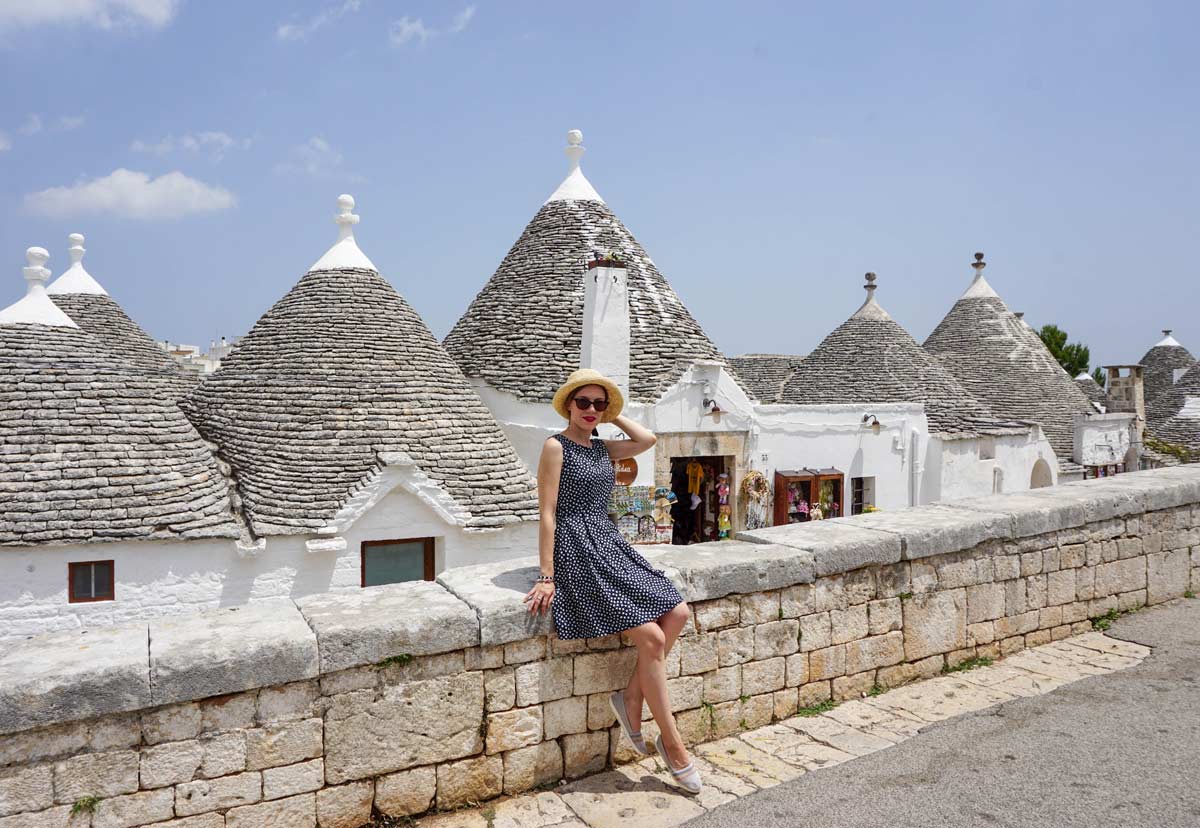 Learn about Alberobello's history at Trullo Sovrano
Trullo Sovrano is the only trullo that has two floors in Alberobello and honestly only this fact should be a reason for you to want to see it.
Nowadays, it houses a small museum dedicated to the history of the town and its surroundings. You can visit it for a small admission fee and see how a trullo would have looked in the old days.
Visit Sant'Antonio Church
Sant'Antonio Church is located on the outskirts of the popular Rione Monti district. The historic church features the same trullo architecture as the houses surrounding it and it's the only one in the world to be built in this style.
Find the smallest trullo in town
During your visit to Alberobello, you shouldn't miss seeing il trullo piu piccolo (in translation: the smallest trullo). You can find it here on Google Maps.
Now a souvenir shop, this is also a good place to buy something to keep as a memory (don't want to influence your choice, but they have the cutest magnets!).
Take a panoramic photo of the trulli at Belvedere Santa Lucia
Belvedere Santa Lucia is a good place from where you can get a panoramic view of the trulli. It is located right next to the Church of Saint Lucia.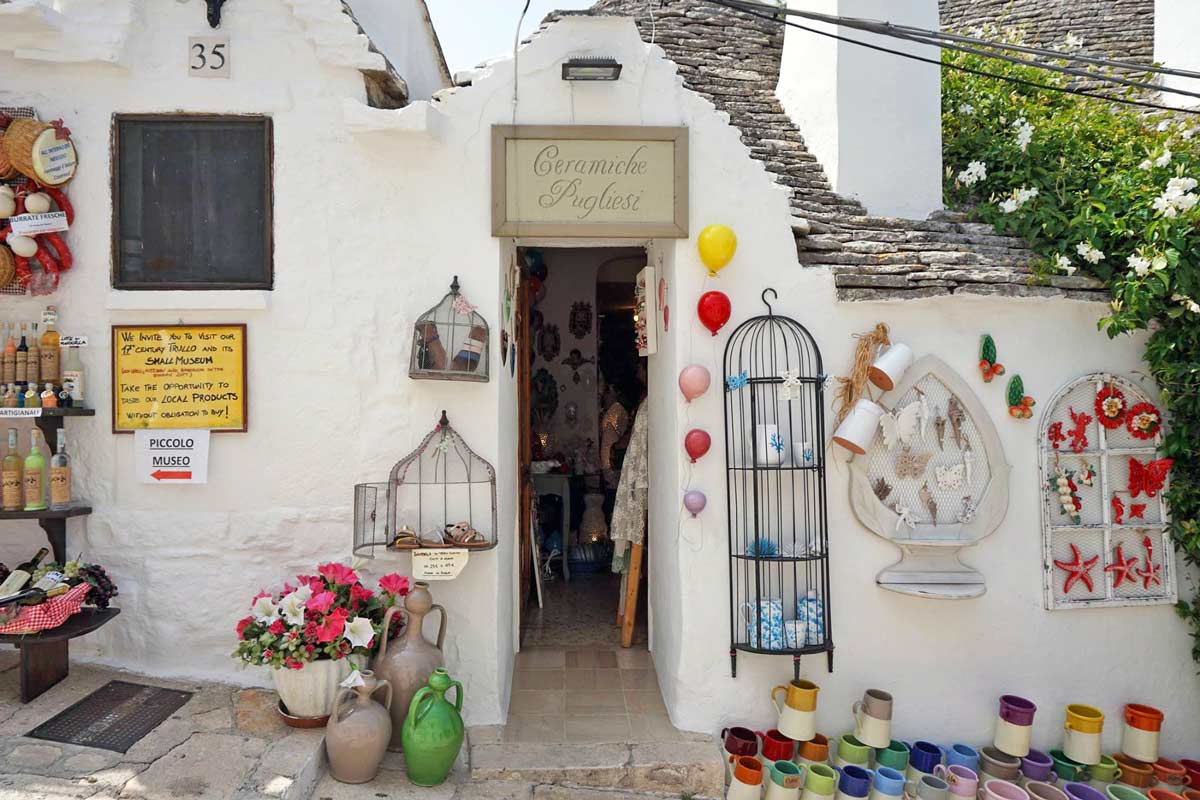 Where to eat in Alberobello
If you get hungry during your visit or simply want to try the local cuisine (and you should!) here are a few options:
Casa Nova Il Ristorante: Traditional Italian cuisine restaurant with a good selection of pasta and meats. You can try here the Orecchiette pasta, a type that is only made in Puglia.
La Pagnottella: Panini shop offering different types of sandwiches made with local products and ingredients. You should try the traditional Pasqualino sandwich with tuna, capers, salami, and cheese.
La Bottega del Gelato: Gelateria with lots of options, including vegan. Because you can't visit Italy, without eating gelato!
So is Alberobello worth a visit?
Yes, Alberobello is definitely worth a visit. This unique and picturesque town, known for its odd-shaped trulli houses will be the highlight of any trip to Puglia, no matter if you visit it as a day trip or decide to stay a few nights there.
---
If you're looking for a unique and fascinating town to explore in Italy, be sure to add Alberobello in Puglia to your Italy bucket list. With its cone-shaped houses called trulli and winding streets, you'll feel like you've stepped right into a fairytale.
Don't forget to enjoy the delicious food while you're there!
Happy travels~
---
MORE INFO ABOUT ITALY