Cinque Terre, which roughly translates to "five lands", is a region of five beautiful villages on the rugged coast of Liguria, Italy.
From north to south, the five villages are Monterosso al Mare, Vernazza, Corniglia, Manarola, and Riomaggiore and each has its own distinct charm that attracts visitors from all around the globe.
From breathtaking views to delicious food and wine to outdoor activities like hiking, Cinque Terre has something to offer to everyone.
So whether you're planning a day trip or a more extended vacation, here's your ultimate guide to exploring the 5 villages of Cinque Terre.
Disclosure: Some of the links in this post are affiliate links. If you click on them and make a purchase, I may receive a commission at no extra cost to you. Check my full disclaimer here.
The Five Villages of Cinque Terre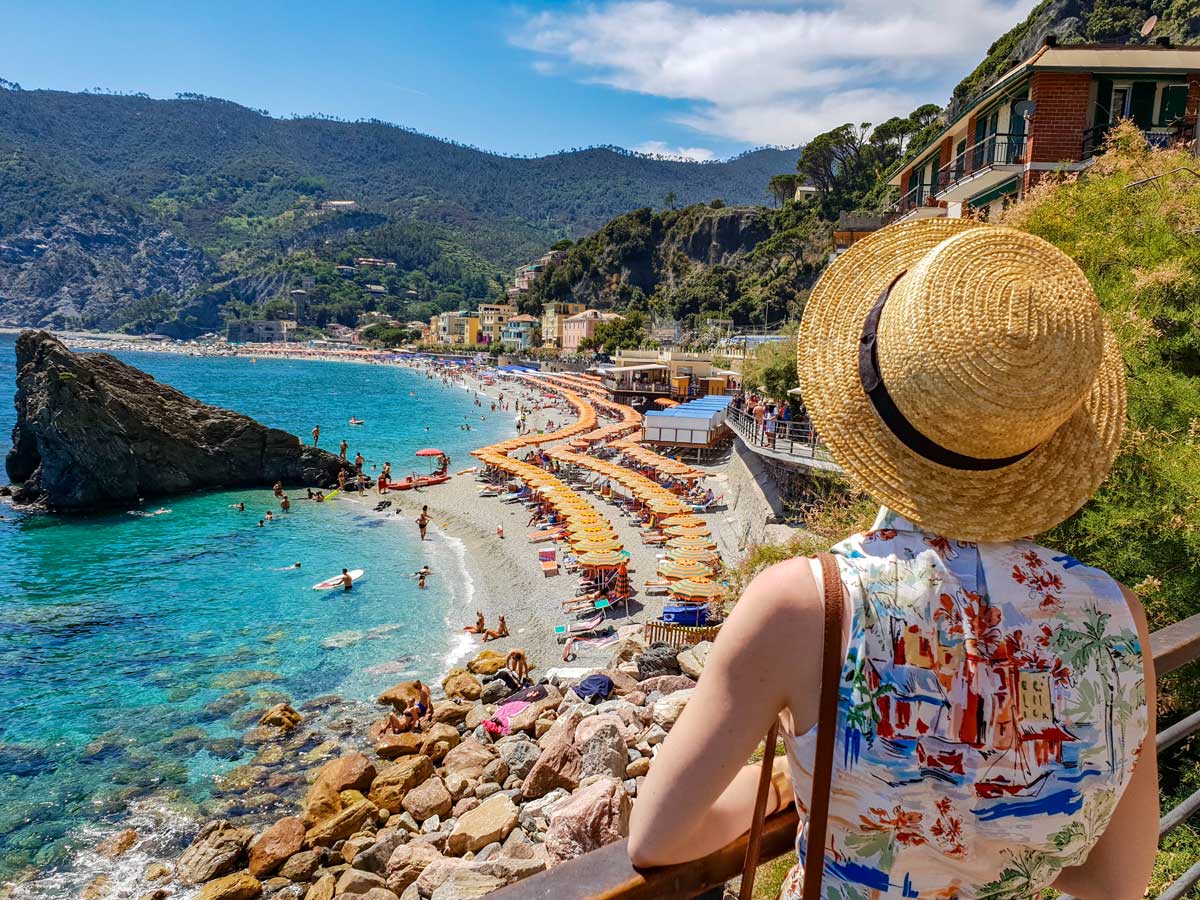 Monterosso al Mare
Monterosso al Mare is the largest and northernmost village of Cinque Terre, Italy. In my opinion, it's also the least picturesque terre as it's wider and flatter.
It is split into two distinct sections connected by a narrow tunnel: a newer area that has the vibe of a resort town and the old part of the village, which resembles the other 4 terres more.
However, Monterosso boasts the largest beach in all of Cinque Terre (Fegina Beach, located in the newer part of the village), which is mostly sandy and equipped with umbrellas and sun lounges.
After counting its other beaches, you'll quickly realize that Monterosso al Mare is the place to go if you want a traditional beach experience.
However, it's worth mentioning that although there are free areas, they are small and fill up quickly. And the sun lounges can be a bit expensive at 35 euros for two with an umbrella.
Also, if you plan to spend time at the beaches of Monterosso, I would recommend bringing water shoes as there are often pebbles and rocks on the shore and in the water, despite the sandy areas.
Viewpoints in Monterosso al Mare
My favorite vista in Monterosso is the one from the small viewing platform on Via Fegina, located right before the entrance to the tunnel going to the old part of the village. From this point, you can admire the iconic Scoglio di Monterosso rock.
Why you should pick Monterosso al Mare as a base
Stay in Monterosso if you want to combine sightseeing with a typical beach experience, as it's the only village that actually has a proper sandy beach.
Why you shouldn't pick Monterosso al Mare as a base
Don't stay in Monterosso if you're after the iconic Cinque Terre look. Also, since it's the largest village and has the most popular beaches, Monterosso can be even more crowded during the high season than the other terres.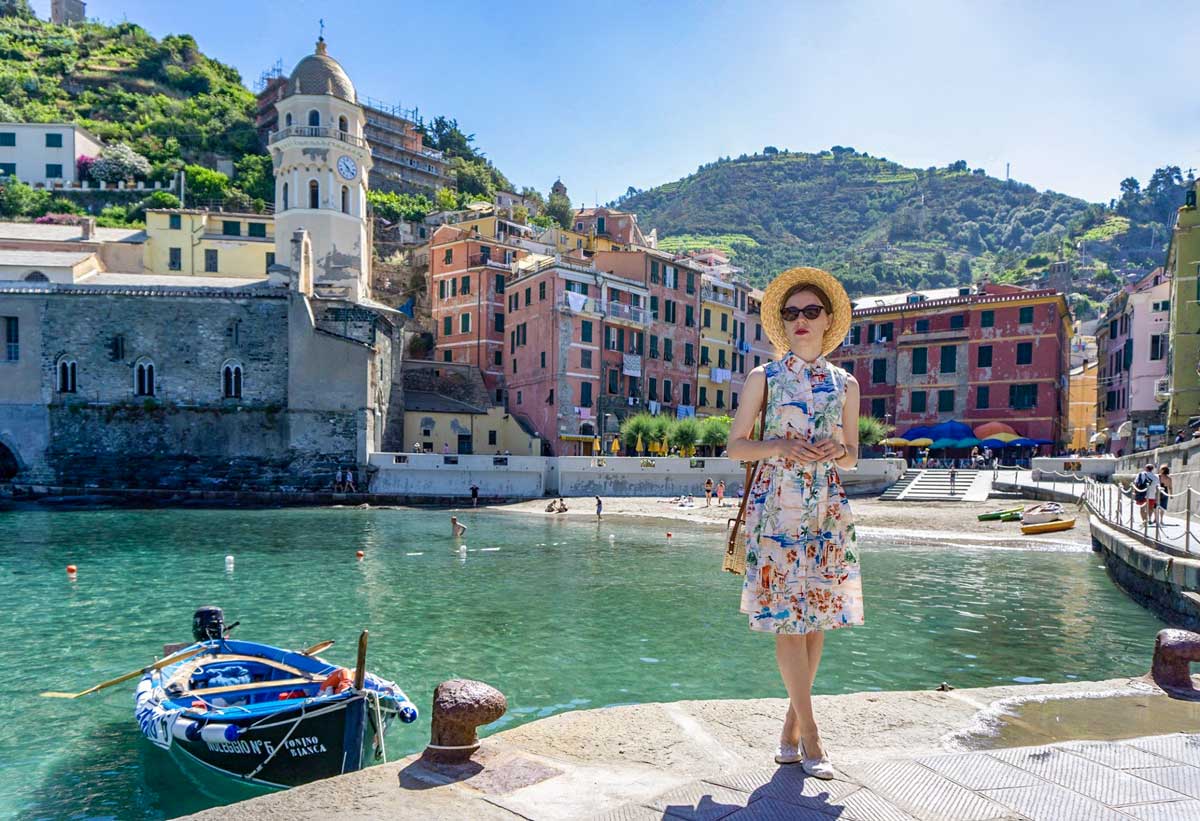 Vernazza
Many consider Vernazza, the second of the five Cinque Terre villages, to be one of the most beautiful, along with Manarola. It is a small fishing village with colorful buildings built on steep terraces that cascade down to a picturesque harbor.
The beach here is sandy but quite small, so in summer you might find it really difficult to find an empty spot.
Viewpoints in Vernazza
Vernazza has two great viewing points from which you can admire totally different angles of the village. One is located on the path connecting it to Monterosso al Mare.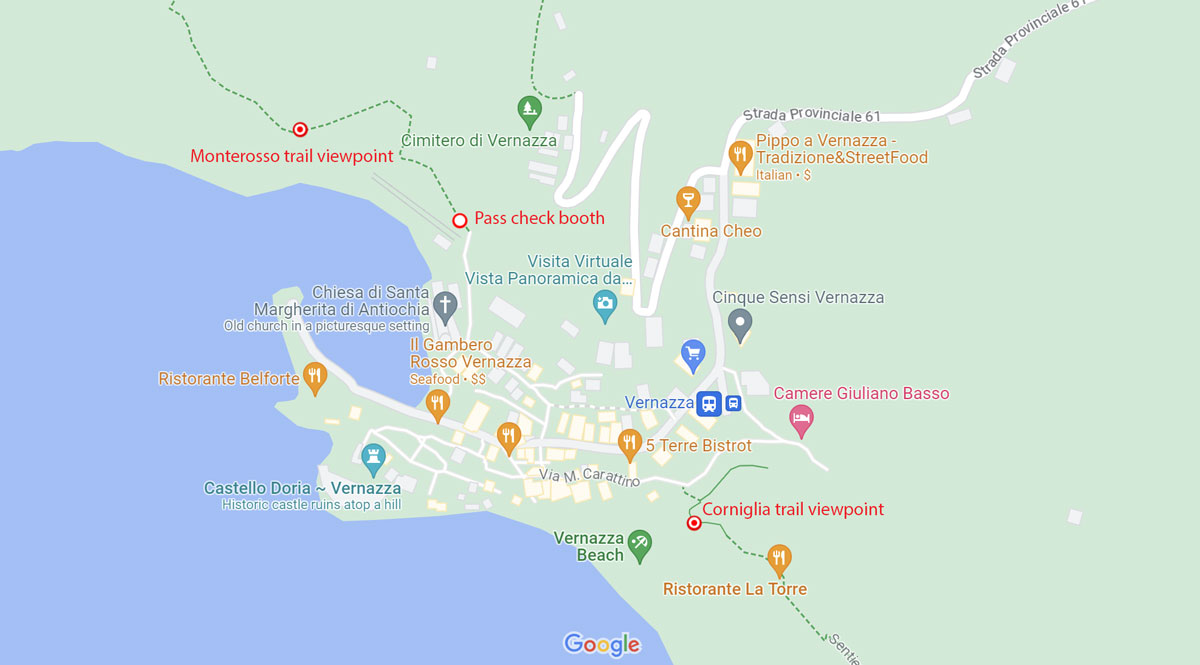 As this trail is one of the two paid ones (along with Vernazza – Corniglia), you'll need a Cinque Terre card in the high season, because the viewing point is located after the booth where they check for your pass.
I guess you could also politely ask the staff there if you can quickly go to the viewing point (it's really close by!) to snap a few pictures if you don't intend to do the hike.
Because at first, I didn't realize what the booth was there for and simply passed it as I was trying to located the viewpoint and no one said anything to me (they probably saw my confused face and figured out what I was searching for).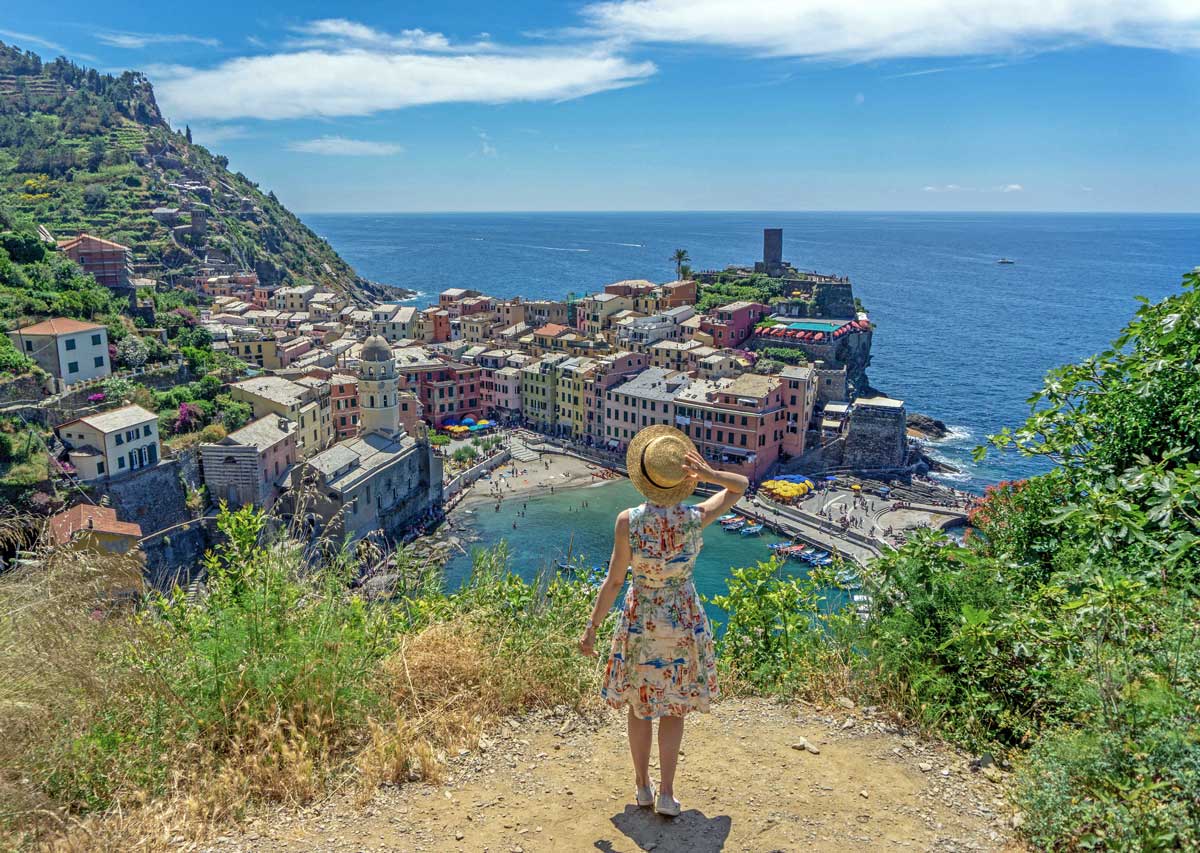 However, I quickly realized that it was somewhere on the paid trail and since we wanted to do the hike as well, we went back to the train station to pick up the Cinque Terre Trekking Card (you can buy it at every train station or at tourist information points).
TIP: It's worth mentioning that there's also a version of the card that includes unlimited train travel for the Cinque Terre Express trains on the Levanto – Cinque Terre – La Spezia line.
Funny story and a warning not to do the same mistake as we did: we decided to do the hike to Monterosso from Vernazza (which was probably a bad idea from the start as it was already 1 PM and really hot) and stop at the viewpoint on the way.
But as we started to climb higher and higher I realized that something was off: the village was getting way too small which could only mean one thing: we already passed the viewing point.
Ultimately, we had to return back down for it (my fiancee was not pleased with this resolution as we were already close to the top of the mountain) since it turned out to be only a few meters away from the checkpoint booth.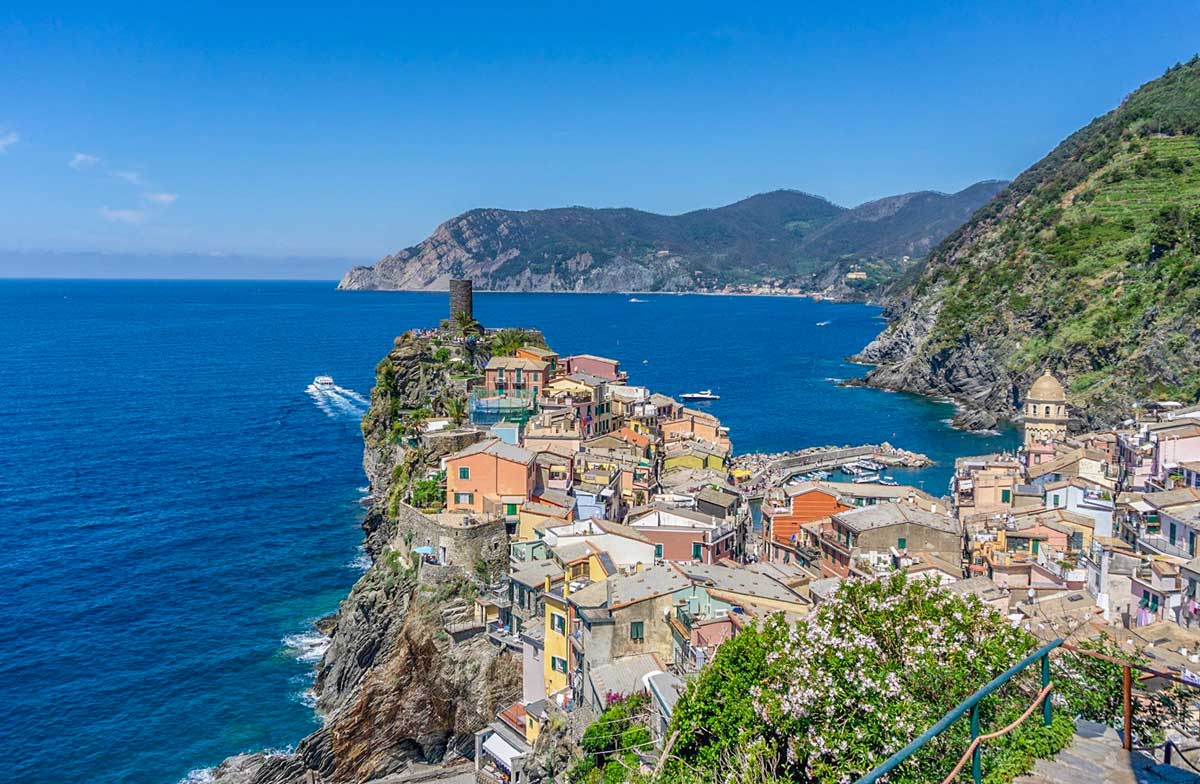 For the 2nd viewpoint, you'll need head towards the hiking trail to Corniglia as it's located just before the actual hiking path starts (so you don't need a hiking pass to reach it).
Be warned that you'll need to climb up quite a few flights of stairs to reach it, but I promise you that it's worth it.
Why you should pick Vernazza as a base
Vernazza is one of the two most beautiful villages in the area and due to its smaller size it can get quite busy during the day. Staying overnight is a great opportunity to see the place after the day trippers already left.
Why you shouldn't pick Vernazza as a base
Due to Vernazza's rather small size and huge popularity, accommodation costs can be higher here. Not to mention that you'll probably want to book way in advance for the high season, due to limited availability.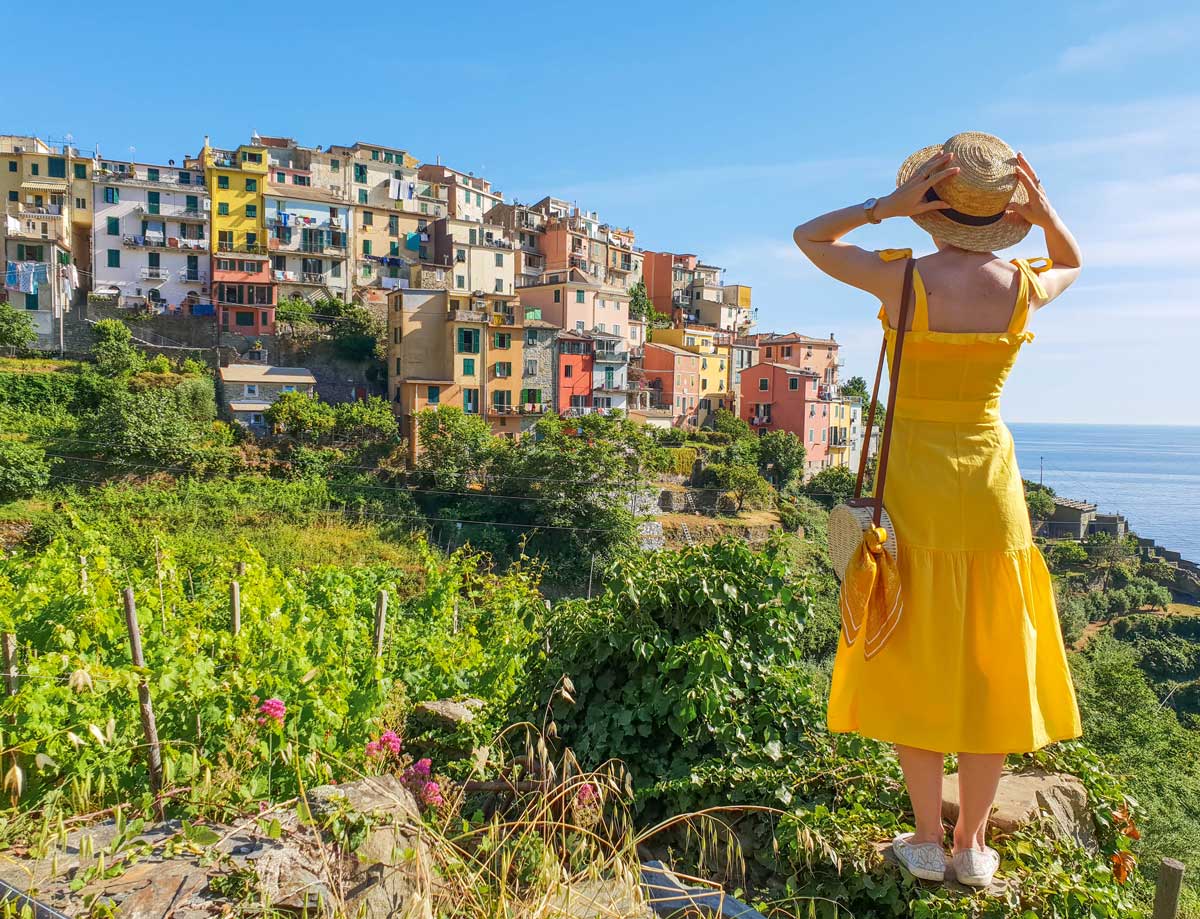 Corniglia
Since it's perched up on top of a rocky promontory, Corniglia offers wonderful views over the other villages and out to sea.
It's definitely one of the less touristy villages as it's the only one that doesn't have a harbor (therefore boat tours don't stop here) and you have to climb a few hundred stairs to reach it.
The effort is well worth it though, as it greets you with colorful houses, narrow alleys and amazing views.
However, if you are unable to climb or you simply don't want to, you can also take the minibus from the train station to the village. And if you have a Cinque Terre pass, the journey is free.
Viewpoints in Corniglia
My favorite viewpoint in Corneglia was the one of the village that you can get from the terraced gardens.
To get there, you can take one of the public paths going down to different lots from Via Stazione. But make sure to stick to the footpath and not enter any private garden!
Also, a similar panorama you can get from the street itself.
To get the best view of the sea and the surrounding mountains, I recommend you go to Terrazza Panoramica Di Santa Maria (S. Maria Panoramic Terrace).
It's probably the most famous viewpoint in Corniglia and you can even spot Manarola from there. You can find it at the end of Via Solferino.
Why you should pick Corniglia as a base
Corniglia is less crowded in comparison with the other villages, making it the ideal place for people looking for a more authentic experience.
Why you shouldn't pick Corniglia as a base
Compared to the other villages, Corniglia is more difficult to access, which makes it less than ideal as a starting point for exploring the region.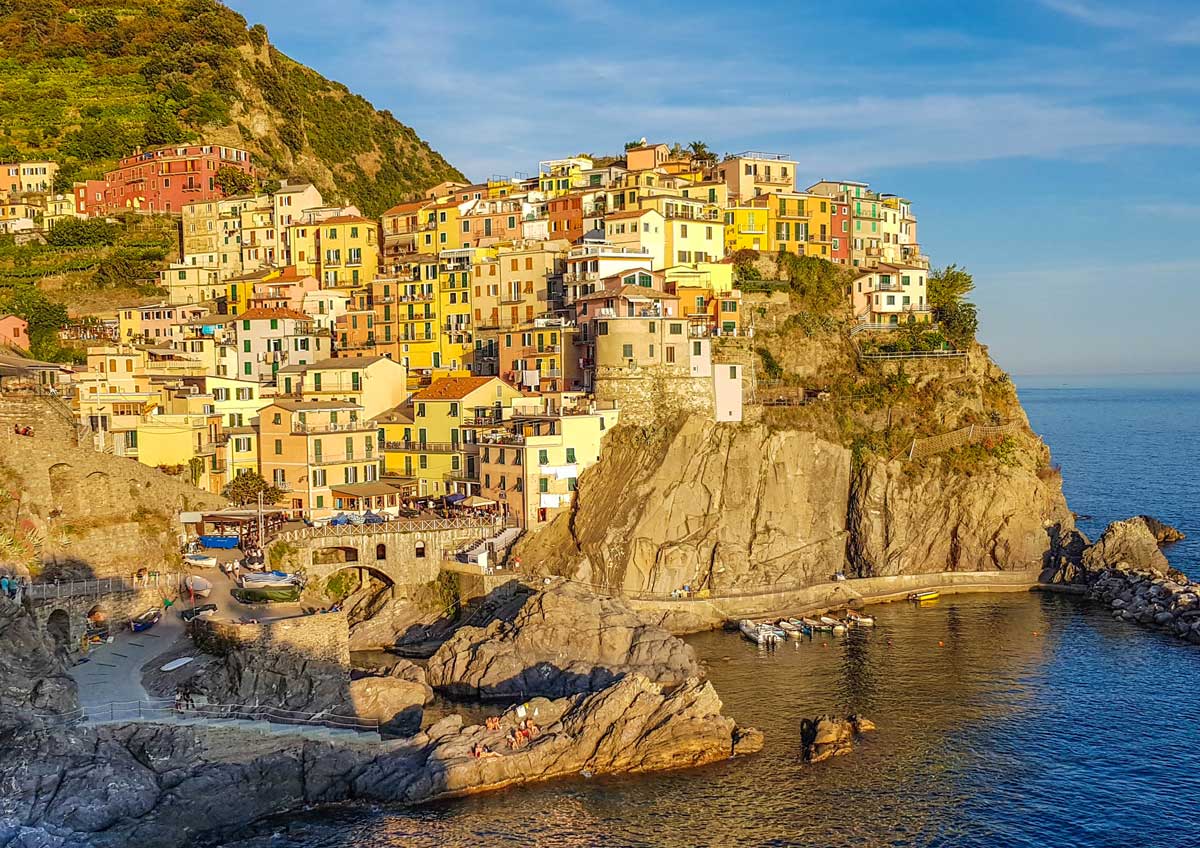 Manarola
From north to south, Manarola is the 4th Cinque Terre village and also one of the most beautiful.
And I don't know if it's because I also used it as a base for 2 nights and was able to see it without the crowds, but Manarola was hands down my favorite Terre.
The small fishing village is known for its narrow, colorful streets and very picturesque harbor. Here, you'll also find Nessun Dorma, a pretty famous restaurant in Cinque Terre, with amazing views.
There's often a line outside it as they don't take reservations, rather they operate on a first-come-first-served basis, but in my experience it's well worth the waiting.
I go into more detail in a separate post about Nessun Dorma (read it here), but to secure a place in line, you can either download their app or obtain a QR code at the bar that you can scan with your phone.
Viewpoints in Manarola
There are two viewpoints in Manarola that I absolutely loved. One is the Manarola Overlook Viewpoint from where you can admire the iconic panorama of the village.
The other is located on the path going through the vineyards (accessible from Via Antonio Discovolo) and it's much less visited.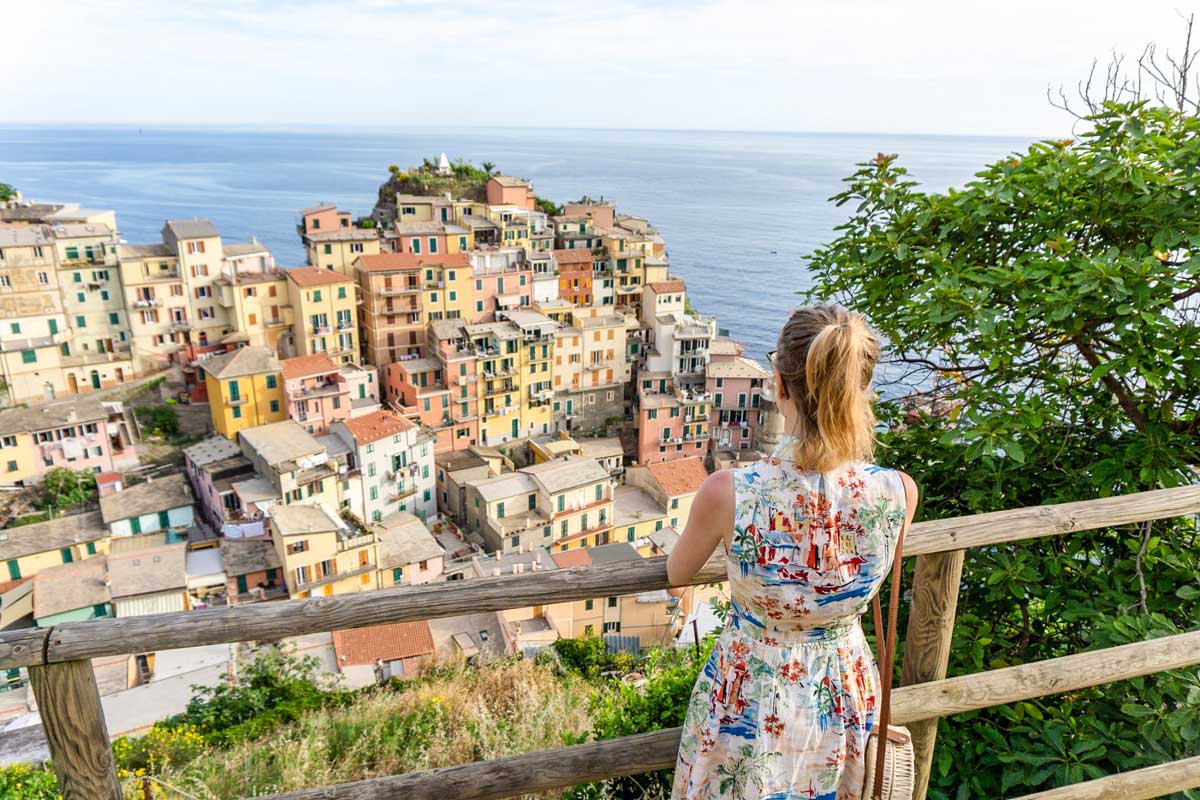 Why you should pick Manarola as a base
In my opinion, Manarola is a great choice as a base from where you can visit the other villages. It's as beautiful as Vernazza, but bigger so it's easier to find affordable accommodation.
Besides, if you plan to eat at Nessun Dorma you can do this in the evening when the restaurant isn't as crowded as during the day.
Why you shouldn't pick Manarola as a base
Since Manarola doesn't have a beach, people utilize its harbor for sunbathing, swimming, and cliff jumping.
And, as you can imagine, it's quite uncomfortable to lie on the concrete or rocks. Additionally, there isn't much privacy since everyone's attention is focused on the small, picturesque harbor.
So if you are seeking a beach experience, then it's better to stay in Monterosso al Mare.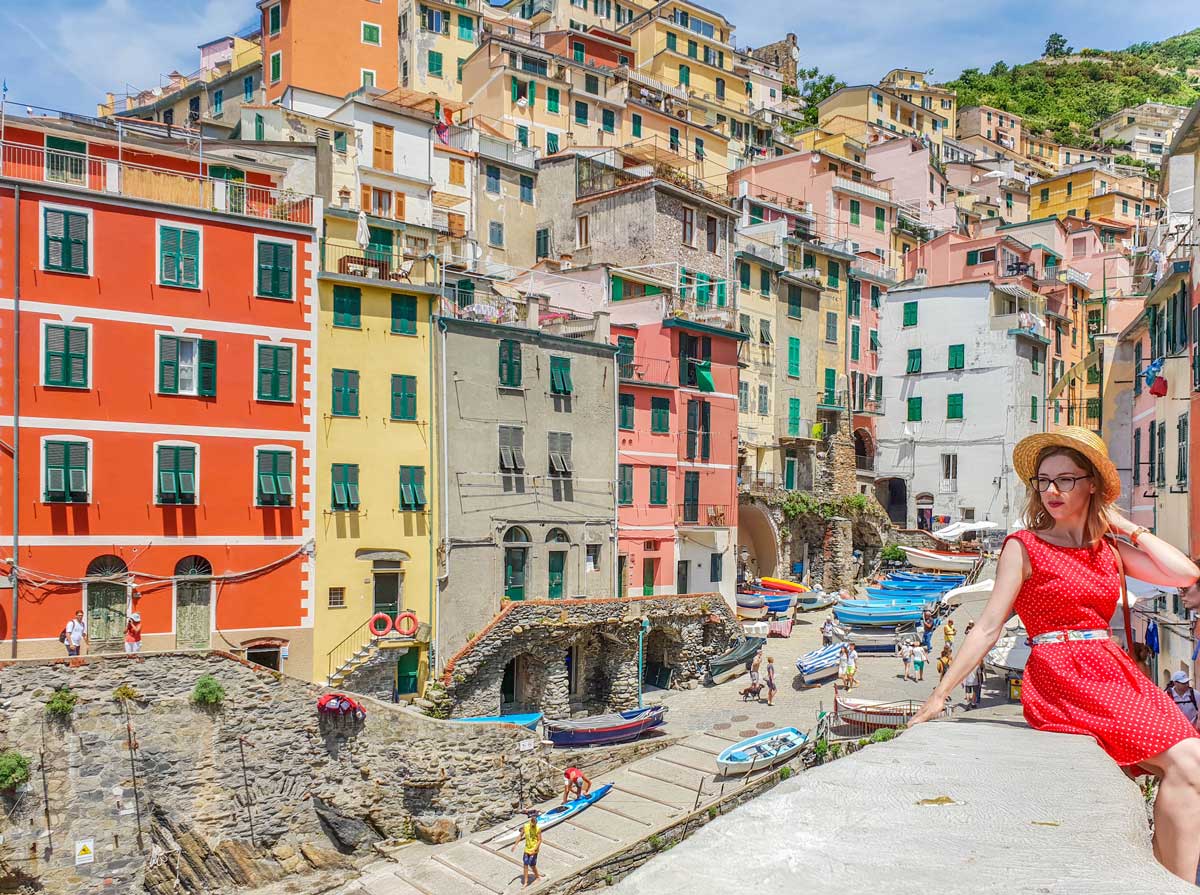 Riomaggiore
Riomaggiore is the southernmost village of Cinque Terre and offers equally breathtaking views of the sea and mountains as the other villages.
It's an ideal destination for those seeking stunning scenery, and there are numerous restaurants and cafes to savor while you're there.
The village is most known for its extremely picturesque and colorful harbor.
Viewpoints in Riomaggiore
There are two great viewing spots in Riomaggiore, but it's crucial to be very cautious about your footing and wear suitable shoes (avoid flip-flops, as they can be hazardous!).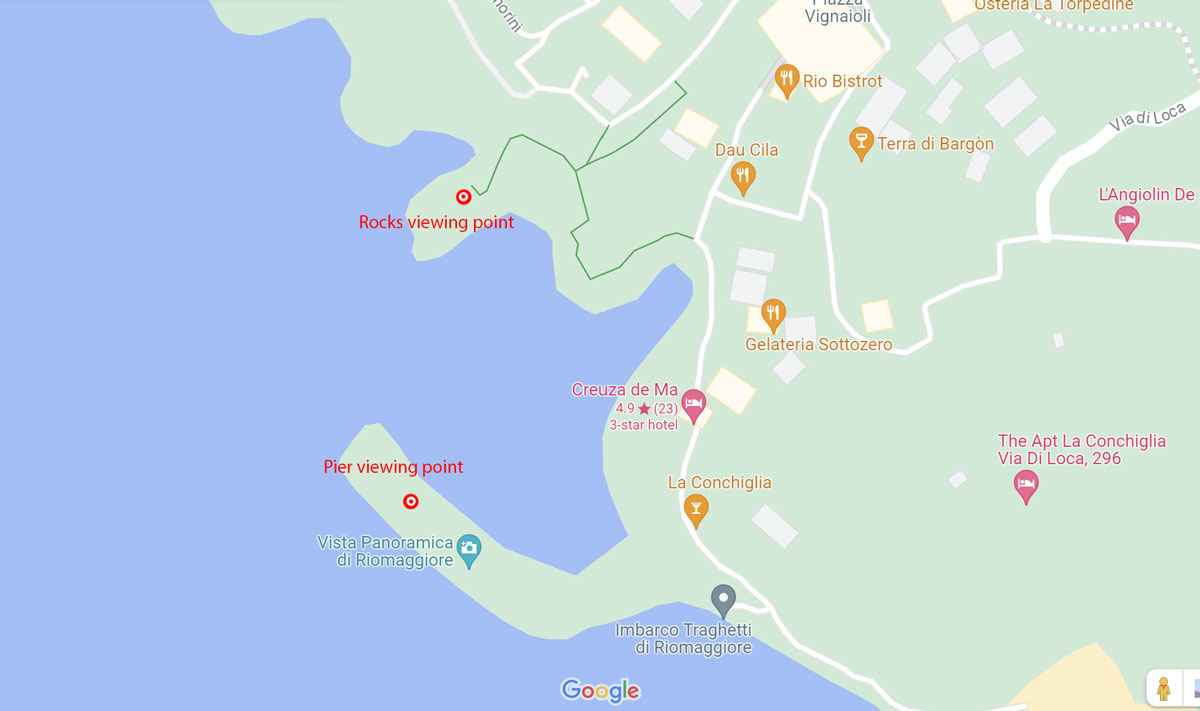 One of the viewing points is located at the top of a very tall cliff and you should be really careful with this one as you'll be walking on uneven rocks and there aren't barriers on the edge of the cliff. So don't take unnecessary risks.
The other viewpoint is located on the pier protecting Riomaggiore's harbor and you've probably seen lots of pictures taken from this spot already.
The trick here is that the path ends as soon as it reaches water level, so you'll need to walk on the pier (which is made from huge rocks) for a better view of the village. So again, be very careful when you do so!
I actually didn't got the chance to visit this viewpoint because the path leading to it was cordoned off when I was there. And even though I saw some people still going down, I decided not to risk it.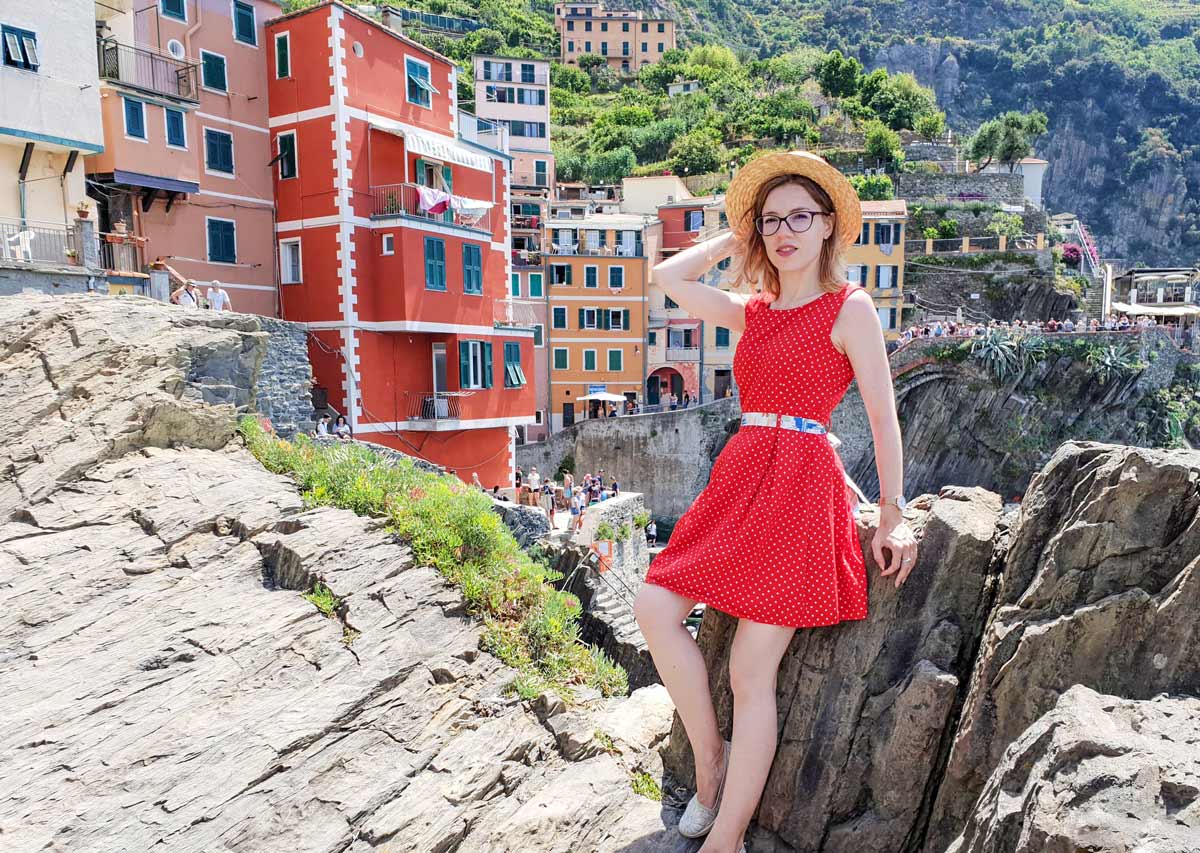 Why you should pick Riomaggiore as a base
Not only is Riomaggiore stunning, but typically it's also the most affordable village in Cinque Terre. Furthermore, it boasts the highest number of restaurants, bars and cafes among the five villages.
Why you shouldn't pick Riomaggiore as a base
If you're looking for peace and quiet, you may want to steer clear of Riomaggiore, as it has a comparatively more vibrant nightlife scene than the other villages.
Best things to do in Cinque Terre
Explore the villages
The very best thing to do in Cinque Terre is to simply explore the five villages – kinda obvious, i know:)).
Each has its own charm and character, so take your time to wander through the narrow alleyways lined with colorful houses, relax in one of the many cafes or restaurants and admire the amazing views around you.
Hiking
Cinque Terre has numerous trekking trails to choose from. However, landslides can result in the closure of some of them without prior notice due to safety concerns.
Therefore, it's crucial to check the current status of the paths before setting out on any hikes.
With the exception of the two most popular trails (Monterosso – Vernazza and Vernazza – Corniglia) for which you'll need the Cinque Terre Pass during the high season, all the other footpaths are free.
Hitting the beach
Honestly, the only 'proper' beaches are located in the newer part of Monterosso al Mare. However, this doesn't mean that it's the only location where you can take a refreshing swim or relax in the sun.
Here are some of the most popular sunbathing spots in the other villages:
Vernazza: There's a free sandy beach in the harbor, but it's so tiny, it can be pretty hard to find an empty spot during the summer months.
Corniglia: Although there's a beach labeled directly beneath the train station on Google Maps, I suggest skipping it as it seems to be neglected for quite some time, to the point that I wouldn't even call it a beach anymore.
Manarola: There's no actual beach in Manarola, but tourists and locals alike use the harbor as a sunbathing spot.
Riomaggiore: Both the rocks near the harbor and the beach in the southern part of the village are popular spots for sunbathing. Be warned that most of the beach is covered with large, river like rocks.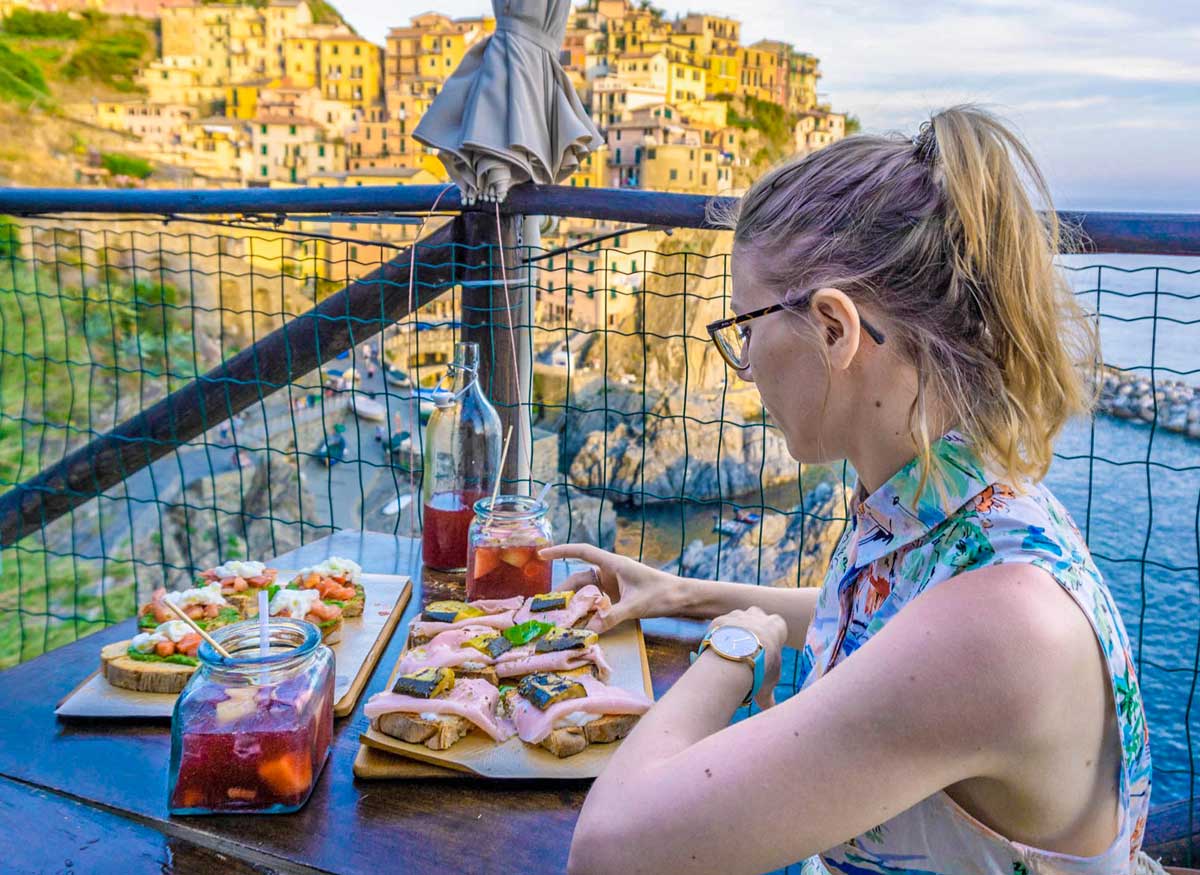 Enjoying the local cuisine
When you visit Italy, it's practically a requirement to indulge in the local cuisine, and Cinque Terre is certainly no exception.
The region is not only renowned for its delicious seafood dishes, but also for its traditional type of pesto (Pesto Genovese), which is made with fresh basil, pine nuts, garlic, olive oil, and parmesan or precorino cheese.
In addition to seafood, I'd also recommend you to try the renowned Ligurian focaccia, whose secret lies in the ample use of extra-virgin olive oil.
Moreover, the region's wines, particularly the white ones, are highly regarded and pair well with the local cuisine.
Taking a boat tour
A boat tour in Cinque Terre is a great way to see the villages from a totally different perspective.
From the water you'll get to witness breathtaking vistas of the terraced vineyards, steep cliffs, colorful houses, and charming fishing harbors.
And if you're lucky enough, you might even see dolphins during your ride.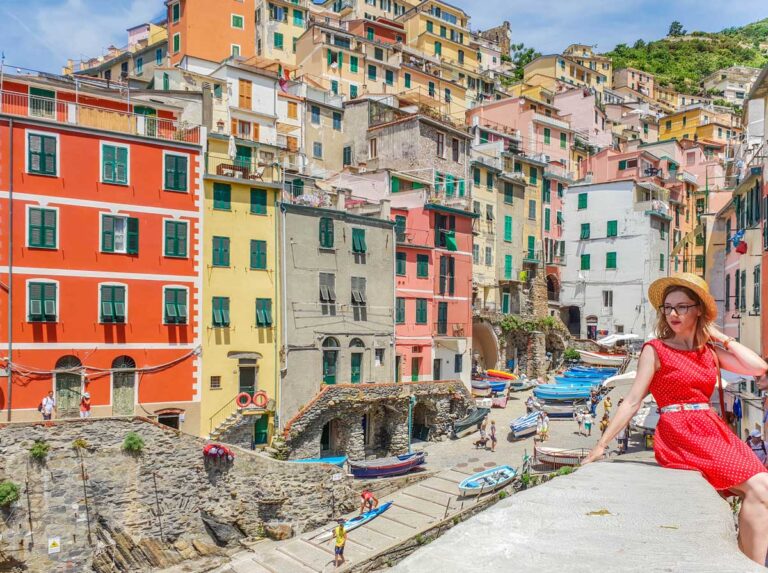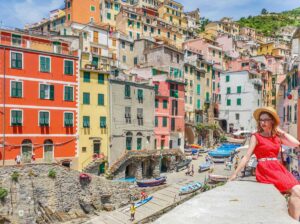 ---
✓ 4.8/5 stars from 120+ reviews
✓ Starts in La Spezia and lasts for 4 hours
✓ Includes a stop for swimming (if weather permits it)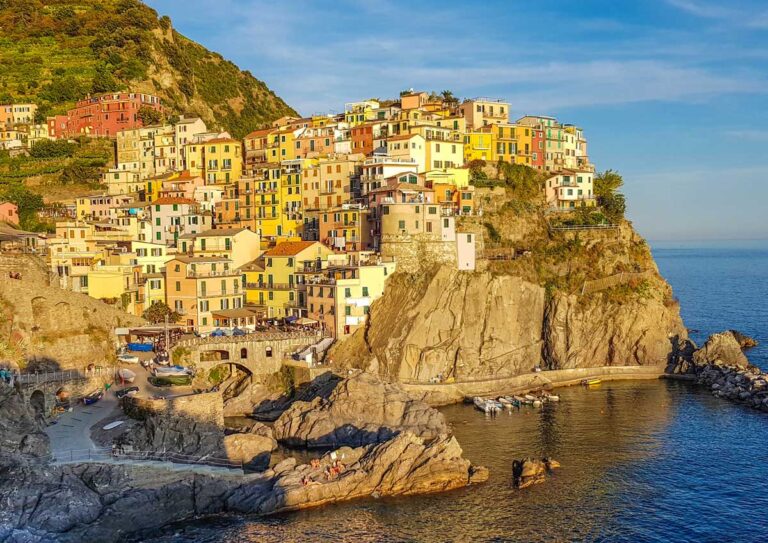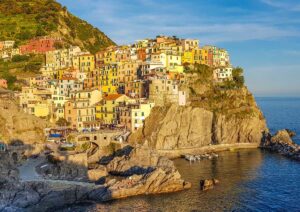 ---
✓ 5/5 stars out of 170+ reviews
✓ Starts in Monterosso and lasts for about 3h
✓ Includes a stop for swimming or for visiting Vernazza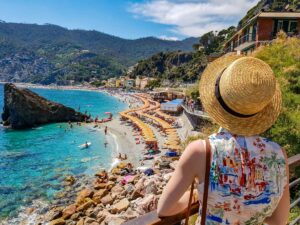 Kayak experience with snorkeling 🥉
---
✓ 5/5 stars out of 200+ reviews
✓ Starts in Monterosso and lasts for about 2h
✓ Great for adventure seekers; Includes a snorkeling stop
How to get to Cinque Terre
Getting to Cinque Terre is fairly easy, with several options for transportation available: train, car and ferry.
The closest airports are the ones located in Genoa and Pisa, although many people choose to visit Cinque Terre from Florence as well.
By train
The train (called the Cinque Terre Express) is by far the most popular, fast and convenient way to visit the five villages of Cinque Terre and the option which I personally recommend.
Each village has its own train station, and there are numerous connections available every day. Moreover, the distances between the terres are relatively short, so it only takes a few minutes to travel from one village to another.
When visiting Cinque Terre, you can purchase train tickets as needed from the ticket machines located at each station.
However, if you plan to hike one of the two paid trails (Monterosso – Vernazza or Vernazza – Corniglia), it's worth noting that the Cinque Terre Train Card provides unlimited train travel on the Levanto – Cinque Terre – La Spezia line for the Cinque Terre Express trains.
The Cinque Terre card is available for purchase at every train station or tourist information point.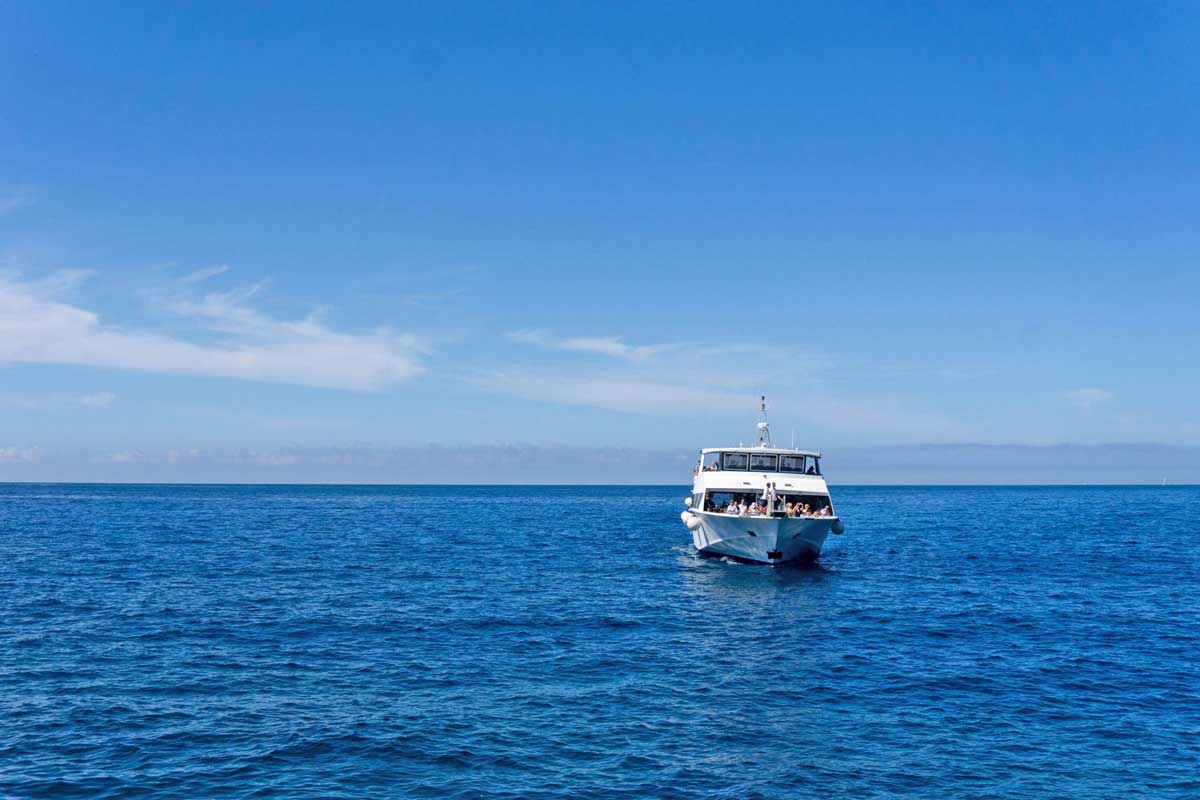 By ferry
Frequent ferries operate from the end of March to the begining of November in the Cinque Terre area, stopping at Monterosso, Vernazza, Manarola, Riomaggiore, Portovenere, La Spezia and Levanto among others (Line 02).
You can get your ticket directly at the harbour or online from here. However, take notice that the ferry doesn't stop in Corniglia since it's the only village without a harbor.
By car
While you can visit the five Cinque Terre villages by car, I highly discouraged you to do so. The reason is that the roads in this area are winding and kinda narrow, making driving somewhat difficult.
Additionally, all of the parking areas within Cinque Terre can become extremely congested in the high season, making it hard to find an empty spot and the traffic can be quite problematic as well.
Just trust me.. taking the train is cheaper, faster and more comfortable.
Getting around Cinque Terre
The small size of the villages in Cinque Terre makes them easily walkable, but keep in mind that you may often encounter stairs or slopes along the way.
In the case of Cornigia, I recommend you take the minibus from the train station to the heart of the village and only return on foot.
Tips for visiting the 5 villages of Cinque Terre
Best time to visit Cinque Terre
In my opinion, the best time to visit Cinque Terre is during May, September, and October These months offer ideal temperatures for sightseeing and the villages are less crowded compared to the high season.
How much time to spend in Cinque Terre
Two or three days is the perfect amount of time to see the villages on a leisurely pace. I stayed 2 nights in Manarola and had almost 3 full days for exploring Cinque Terre before relocating further north to visit Portofino.
Of course if you are short on time, you can also visit all 5 villages in a day, but I really recommend you spend at least a night in one of them. There's a totally different vibe after most of the tourists leave.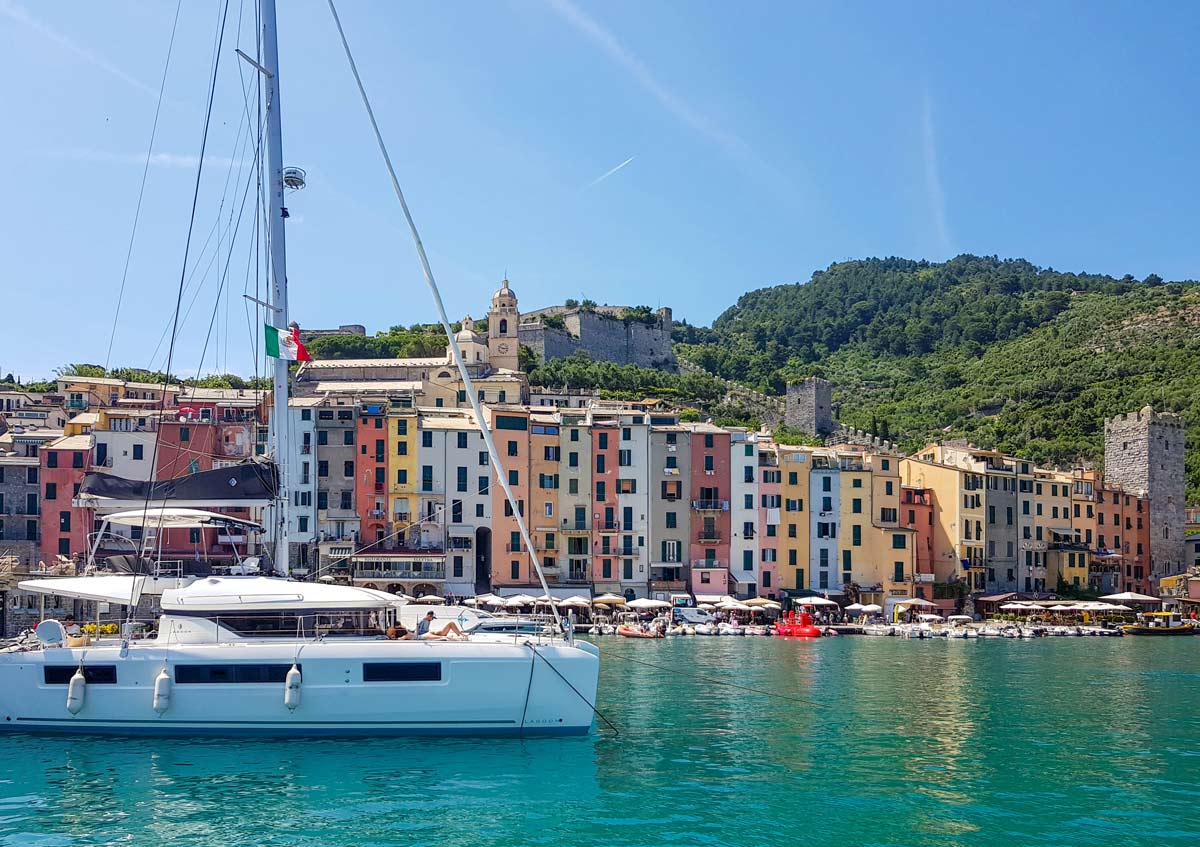 The 6th unofficial 'Terre': Portovenere
Portovenere, sometimes referred to as the sixth unofficial Terre, is a beautiful coastal town located just south of Riomaggiore.
With its pastel buildings cascading down towards the picturesque harbor and turquoise sea, Portovenere looks very similar indeed to the other villages of Cinque Terre.
The easiest and most comfortable way to reach it is by either taking the Line 02 ferry that connects Levanto and La Spezia or by taking a direct boat trip from La Spezia.
And although it's not officially part of Cinque Terre, Portovenere certainly deserves a visit!
Where to stay when visiting Cinque Terre
Where to stay in the Cinque Terre area depends largely on your own preferences and budget.
| Location | Best for.. |
| --- | --- |
| Levanto | Beach, budget friendly, easy to get to the Cinque Terre villages by train |
| Monterosso al Mare | Beach, more accommodation options |
| Vernazza | Picturesque views, hiking |
| Corniglia | Hiking, less touristy |
| Manarola | Picturesque views, quiet atmosphere after the day trippers leave |
| Riomaggiore | Cheapest Terre, a more lively vibe |
| La Spezia | Budget friendly, easy access to both Cinque Terre and Portovenere |
In my (slightly biased) opinion the best villages to spend a few nights are, in order: Manarola, Vernazza and Riomaggiore.
However, if you plan to hit the beach, then Monterosso is probably a better option, while Corniglia might be better suited for people interested in hiking.
For a more budget friendly option, you can stay in either La Spezia or Levanto, the ends of the Cinque Terre Express Line.
What to pack for Cinque Terre
When visiting Cinque Terre, it is important to pack for the weather and the activities you plan on doing.
First of all, comfortable walking shoes are a must for exploring the villages and hiking trails. Also, don't forget to pack sunscreen, a hat, and sunglasses for the sunny days.
Additionally, if you plan to hit the beach, then you should bring your bathing suit, water shoes and towels as well, and maybe even your snorkeling gear.
Lastly, a camera is a must for capturing all the stunning views of the villages and the sea. Don't forget your charging cable, extra batteries and memory cards at home.
The 5 villages of Cinque Terre: Wrap up
No matter if you're looking for a romantic getaway or simply want to experience one of Italy's most unique regions, Cinque Terre is an incredible destination that should be on everyone's travel list!
Don't forget to check out my other posts about Italy so you can maximize your time there and have the best trip ever!
Happy travels~
---
YOU MIGHT ALSO LIKE