Nestled on the eastern shore of the lake, Malcesine is without a doubt one of the best towns to visit in the Garda area. Brimming with charm, this quaint little town has a lot to offer its visitors from stunning views of the surrounding mountains and lake to picturesque cobbled streets and a medieval castle.
Furthermore, Malcesine's proximity to other well-known towns surrounding the lake makes it a convenient starting point for exploring the region's many attractions.
So keep reading to discover why you should visit Malcesine on a trip to Lake Garda.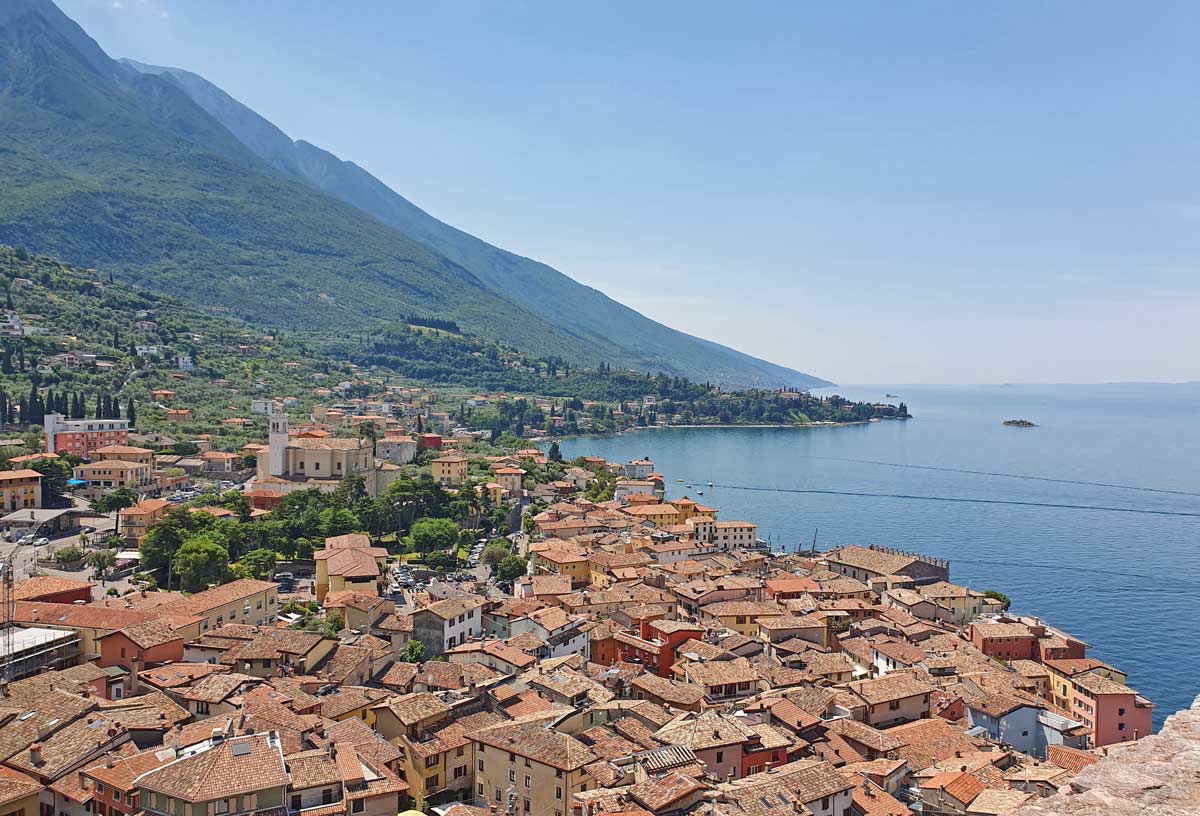 Disclosure: Some of the links in this post are affiliate links. If you click on them and make a purchase, I may receive a commission at no extra cost to you. Check my full disclaimer here.
Best time to visit Malcesine, Lake Garda
Malcesine is an ideal destination for spring through fall, but if you're looking to take a dip in the lake, summer is the best time to plan your visit.
I visited this picturesque town in mid-June and the weather was fantastic, albeit a bit too warm. However, as Malcesine is a small town, it can get quite crowded during the summer months.
So if you prefer to avoid the hustle and bustle of peak season, I recommend planning your trip for May or October instead.
How to get to Malcesine, Lake Garda
The nearest international airports to Lake Garda are located in Verona, Milan, and Venice respectively. Regardless of which airport you arrive at, you'll need to either take public transportation or drive to reach the lake.
Here are your options on arriving in Malcesine:
car: While the roads leading to Malcesine are generally in good condition, they can be fairly busy at times. If this is not a concern for you, however, then renting a car is a solid option.
train + bus: To reach Malcesine, you can take bus 483 from Peschiera Del Garda. To get to Peschiera, you can ride the train from Milan, Verona or even Venice.
boat: Malcesine is connected by fast boat or ferry to several other towns including Riva, Limone sul Garda, and Sirmione. You can check the current boat schedule here.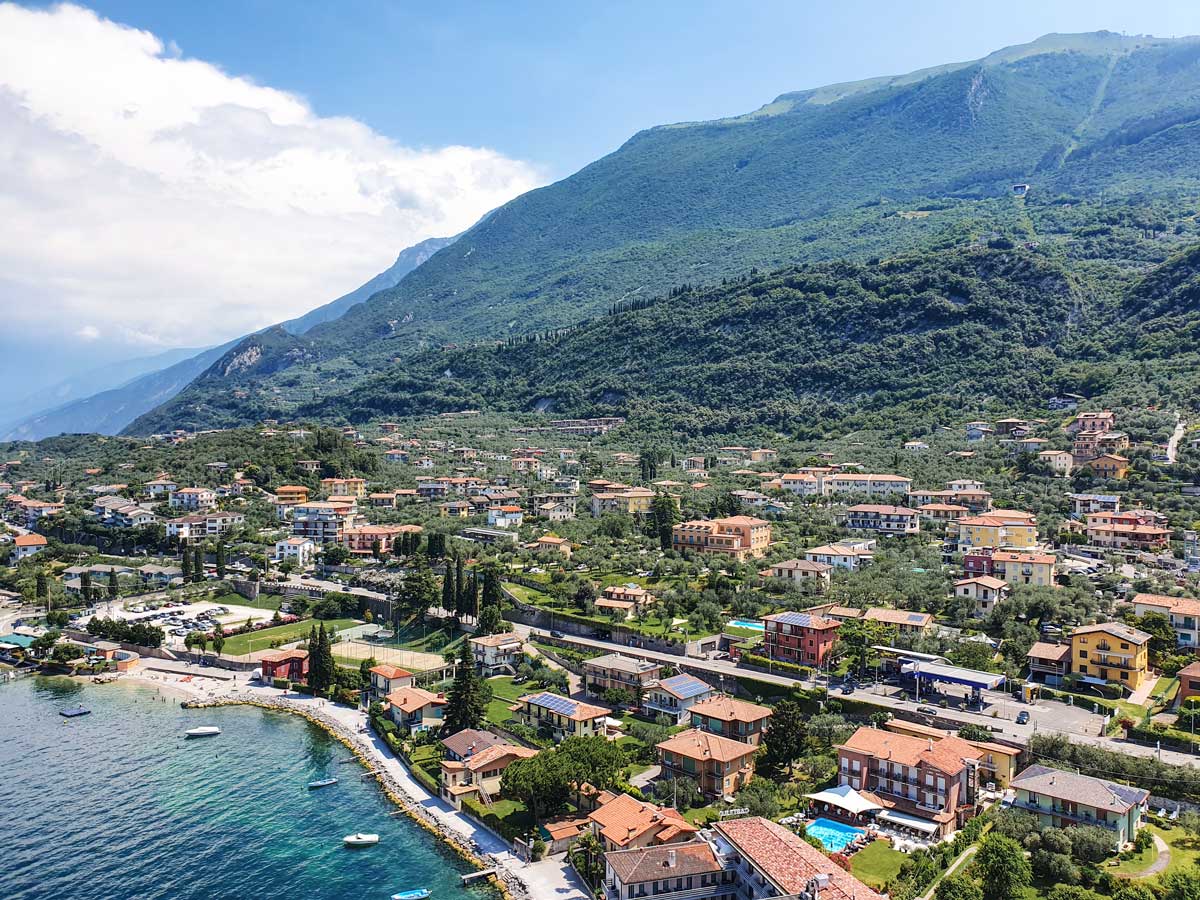 Where to stay in Malcesine
Although I didn't spend the night in Malcesine, I believe it would be a wise decision if you intend to explore Riva and Limone as well (unfortunately, I only had time for the latter, coming from Sirmione).
So here are some good accommodations in Malcesine where you can spend a few nights:
Top things to do in Malcesine, Lake Garda
01. Walk around the Old town
Malcesine's Old Town is a charming area to explore with narrow cobblestone streets, picturesque piazzas, and historic buildings.
When you get tired of walking around, you can take a break at one of the cozy cafes and restaurants that line the streets and simply absorb the town's quaint atmosphere.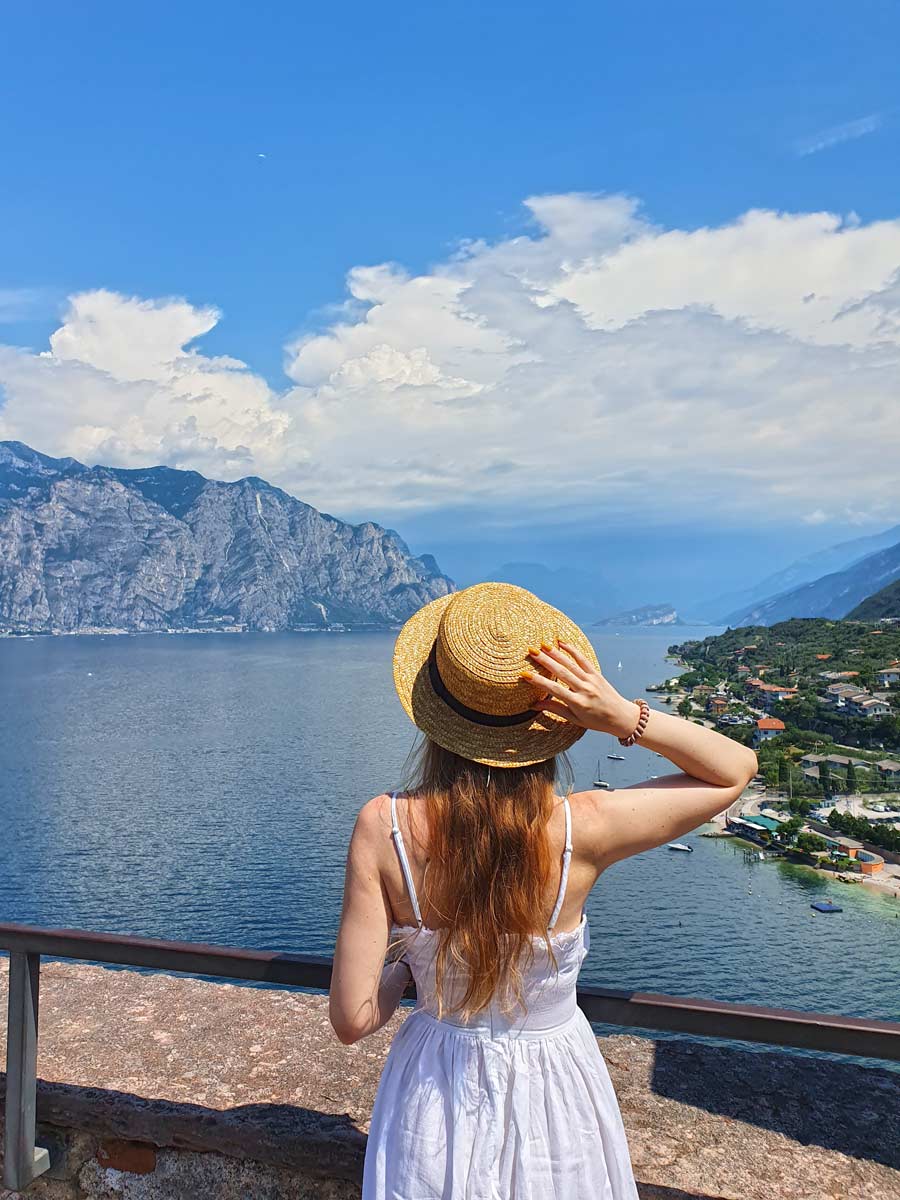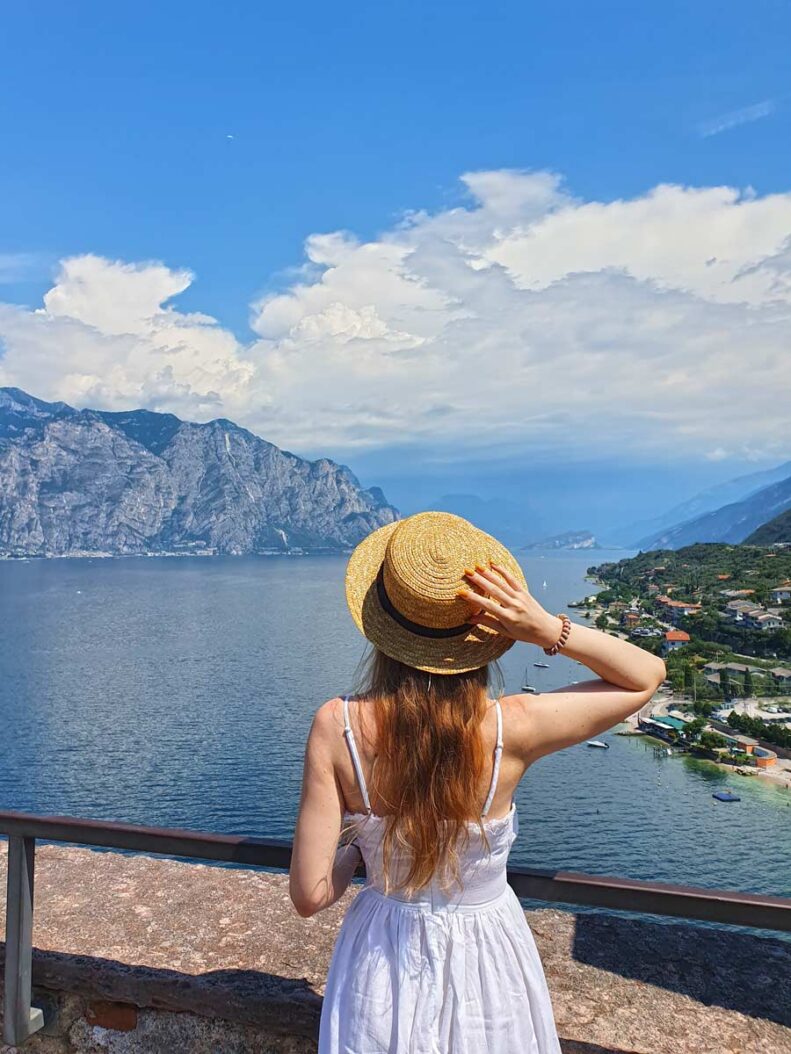 02. Visit Scaliger Castle
Although the Scaliger Castle of Malcesine now houses the Museum of Natural History of Lake Garda and Mount Baldo, the real highlight of any visit is undoubtedly the chance to ascend to the top and admire the stunning panoramic views of Lake Garda from above.
The cost of admission to the medieval castle is 6 euros for adults, 5 euros for seniors and students, 3 euros for children aged between 6 and 18 years old, and free for children under 6.
03. Ride the cable car to Mount Baldo
If you have sufficient time in Malcesine, riding the cable car up to Mount Baldo is an activity that you shouldn't miss.
The cable car, known as the Funivia Malcesine-Monte Baldo, is one of the most popular attractions in the area. It takes visitors up to 1,800 meters in just a few minutes, offering breathtaking views of both Lake Garda and the surrounding mountains along the way.
The cable car ride is divided into two parts, so you'll need to change cabins at the San Michele station, which is situated approximately 580 meters high.
On the second leg of the journey (meaning from San Michele to Mount Bardo), the cabins rotate providing an unique 360° perspective which makes the trip up to the summit quite a memorable experience.
Once you reach the top, you can explore some of the many hiking trails available, take in the stunning views from the observation deck, or simply relax and enjoy a meal (I'd suggest the SKYWALK restaurant).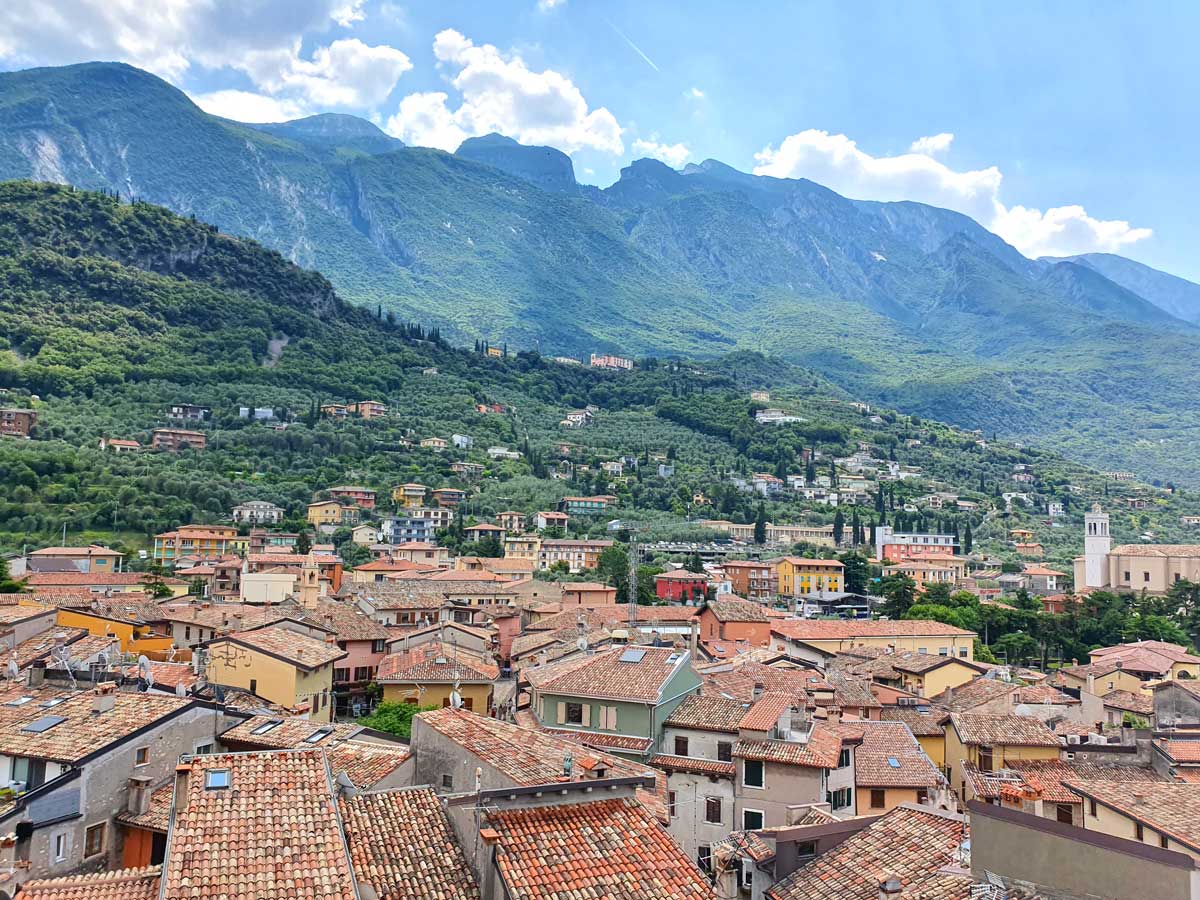 04. Relax at the beach
For those looking to spend some time at the beach while in Malcesine, Paina Beach is a great option as it's located very close to the town. Visitors should be aware that the water gets deep rather quickly though.
Additionally, you shouldn't expect to find any sand here, as the beach is composed entirely of pebbles. Therefore it's probably a good idea to bring aqua shoes to protect your feet both on the beach itself and in the water.
05. Visit Palazzo dei Capitani's lakefront garden
The Palazzo dei Capitani is an impressive historic building located right next to the harbor of Malcesine. Built in a Venetian Gothic style, the building dates back to the 13th – 14th centuries.
One of the highlights of the Palazzo dei Capitani is its beautiful, albeit rather small, garden that offers lovely views across Lake Garda. It is the perfect spot to relax for a few minutes and enjoy the stunning scenery.
And the best part is that visitors can explore both the ground floor and garden for free, while the first floor is open only during concerts, conferences, or wedding ceremonies.
06. See the shortest river in Italy
The picturesque village of Cassone and Italy's shortest river, Aril, are located just over 4 km away from Malcesine. Aril spans a mere 175 meters and quickly flows through the village before merging into Lake Garda.
You can easily reach Cassone by walking along the lakefront promenade, which takes around 50 minutes one way, or by taking either bus 483 or 484 for 4 stops.
The village itself is also full of character, with narrow streets, colorful houses, and a beautiful harbor. I recommend you also explore the nearby church which was famously portrayed in Gustav Klimt's "Church in Cassone" painting.
07. Climb down to tiny Posterna beach
Posterna beach is a little-known treasure of Malcesine. Although it's mostly rocky and lacks enough space to lay down a towel, I suggest visiting this beach if you desire to escape the crowds and enjoy the serene scenery of the lake by yourself.
Hidden away by fortified walls and large rocks, not many adventure down too see it. To get here, you should follow the narrow alley to the left of the Scaliger castle. But be warned that near the end of the walk, there are some uneven stone steps.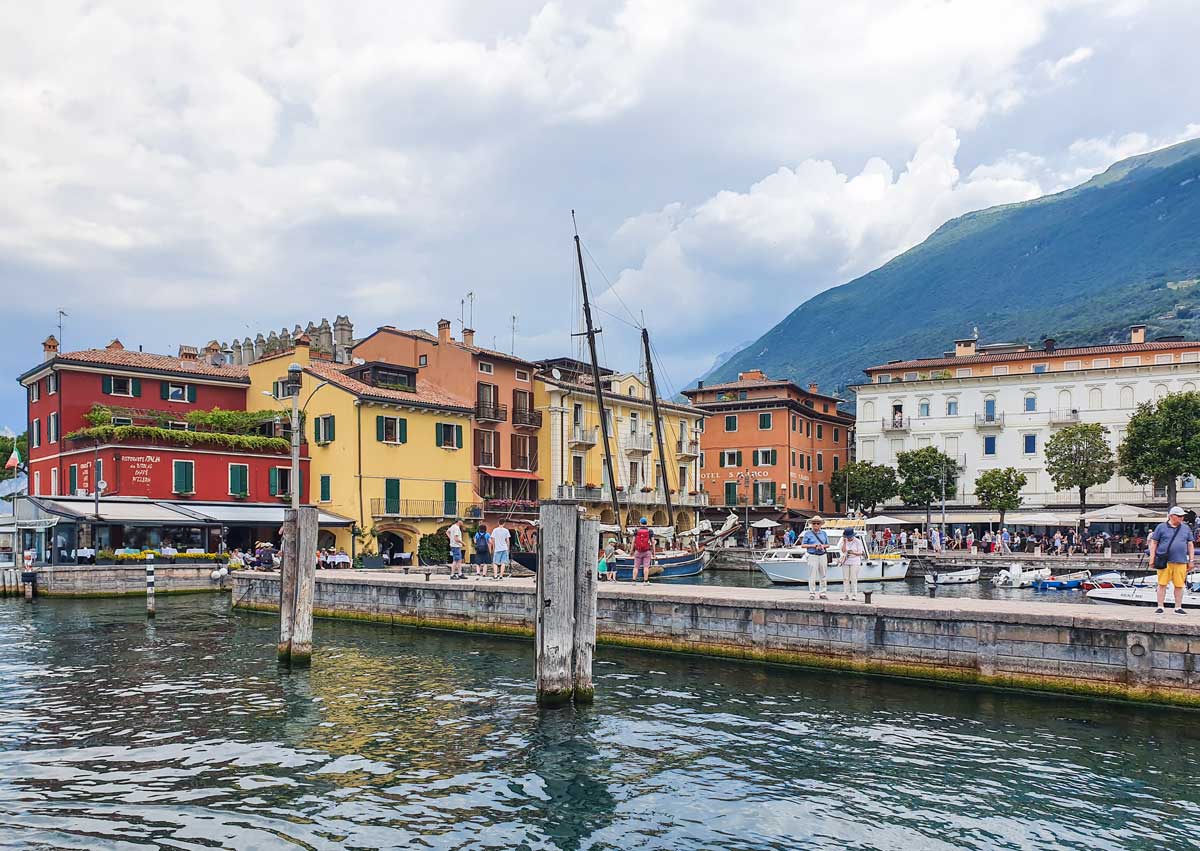 08. Walk on the Via Lungolago (waterfront promenade)
Via Lungolago is a picturesque promenade which streches along the shores of Garda, offering stunning views of the surrounding mountains and the lake.
It starts near the Old Town as it branches out from Viale Roma and ends at the Malcesine Hospital. To do the entire walk, it will take you a bit over 15 minutes.
The promenade is also perfect for jogging or cycling, and there are benches along the way where you can sit and relax while admiring the panorama.
09. Take a boat trip to other towns on Lake Garda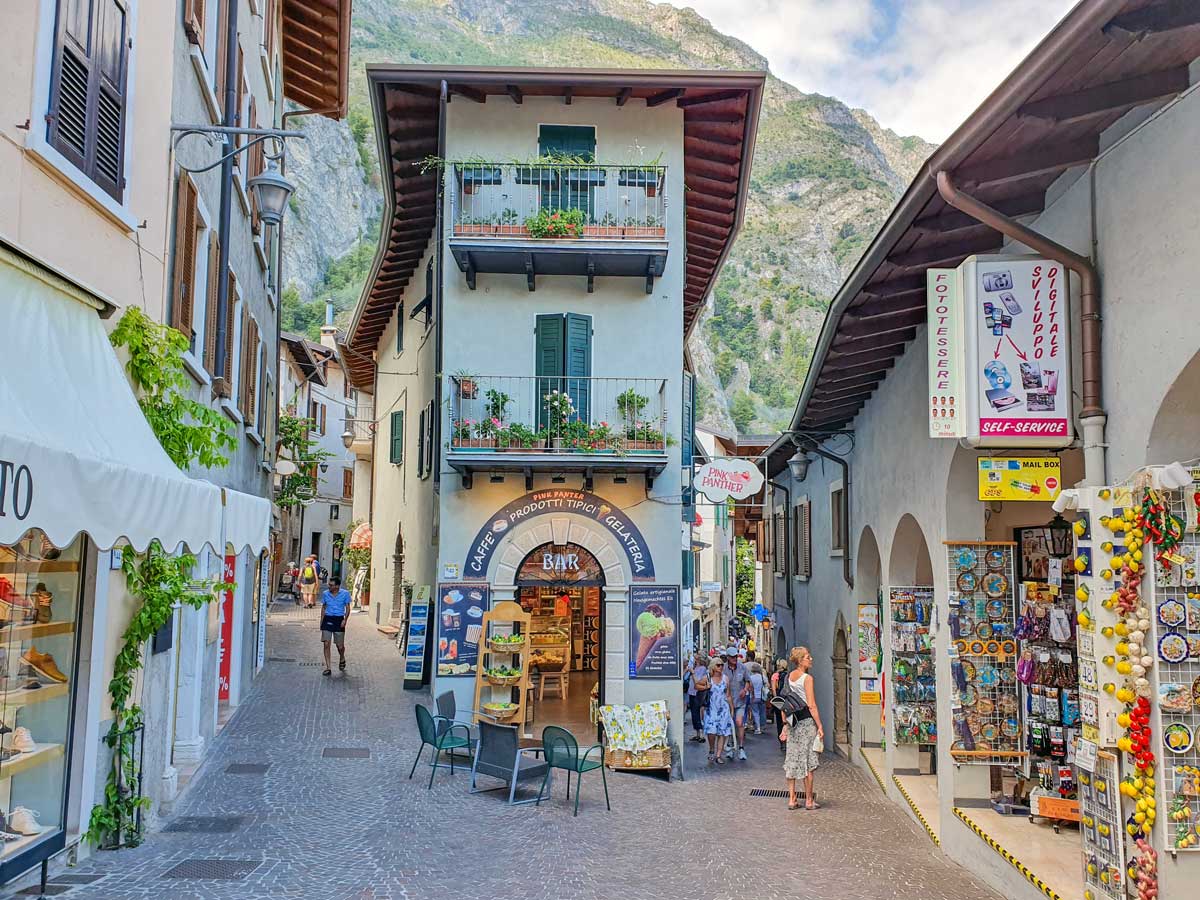 A boat trip from Malcesine to Limone or Riva is an excellent way to further explore the beauty of the northern area of Lake Garda.
Both towns are just a short boat ride away and offer amazing views of the lake and the surrounding mountains. Riva is a colorful and charming small town, while Limone is known for its cobbled narrow alleys and lemon groves.
If you have the time, Sirmione is also an option, despite being further away (i recommend the fast boat service if you do decide to visit it for a day) and is definitely worth the trip.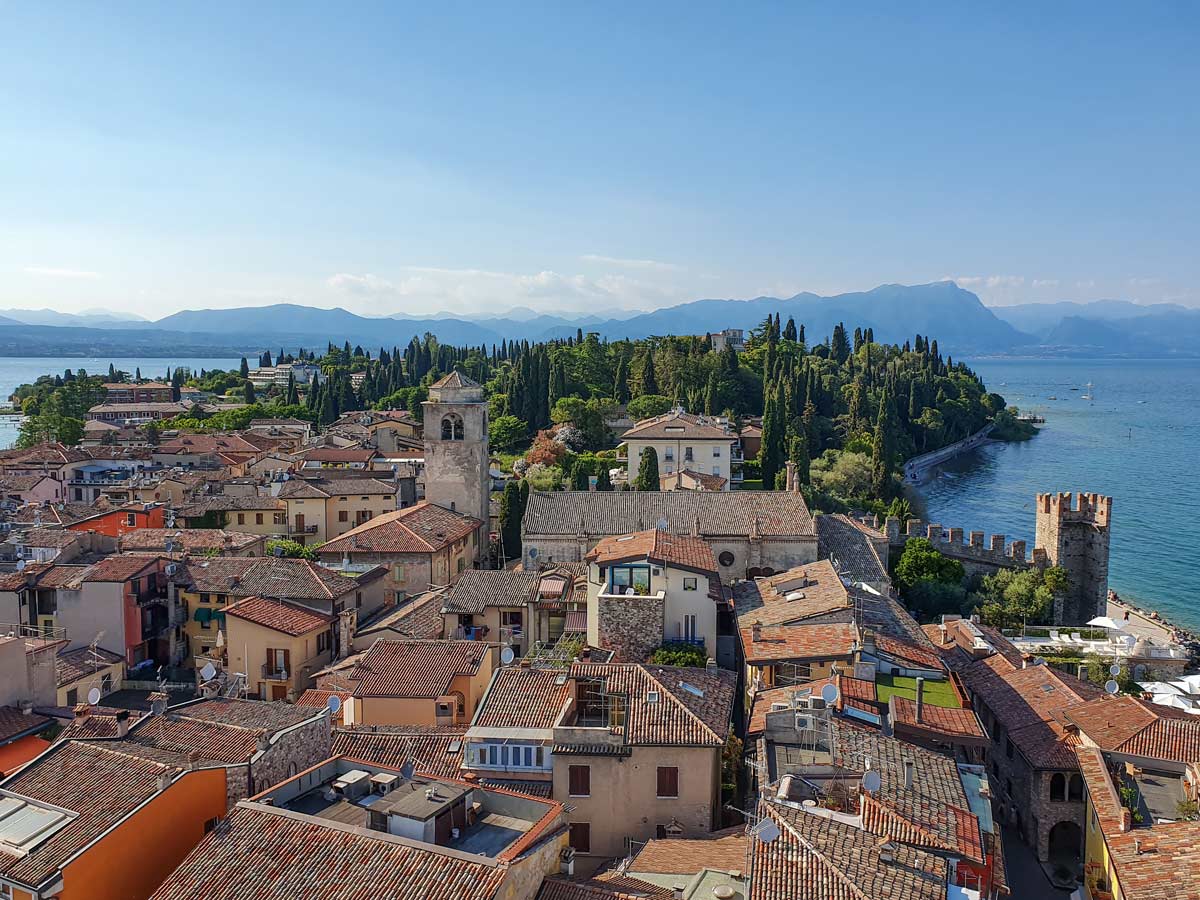 Regardless of which town you choose to visit, a boat trip from Malcesine is a wonderful way to take in the beauty of Lake Garda and its surroundings.
FAQs about Malcesine Lake Garda
Can you swim in Lake Garda near Malcesine?
There are a few beaches around Malcesine where you can soak some sun and take a refreshing dip.
Is Malcesine worth visiting?
Yes, Malcesine is certainly worth visiting. With its charming medieval town, impressive Castello Scaligero, scenic lake views, and delightful Italian cuisine, it offers a unique blend of history, nature, and culture that appeals to a wide variety of travelers.
Things to do in Malcesine Lake Garda: Wrap up
Nestled against a picturesque mountainous backdrop and exuding a charming small-town feel, Malcesine on Lake Garda is a destination that's totally worth exploring during your next trip to Italy.
So what are you waiting for? Book your plane ticket now!
---
YOU MIGHT ALSO LIKE