If you're on a tight schedule or just making a quick stopover in Florence, then this blog post is for you.
I've been fortunate enough to visit this beautiful city twice, and I can testify that even with only 24 hours at your disposal, you can actually cover quite a bit of ground and visit many of the main sights (even though I'd still recommend spending 2 days in Florence if possible).
Therefore, this one-day itinerary, tailored from my personal experience, will guide you through many of the city's must-see spots, making sure you make the most of your time in Florence.
Disclosure: Some of the links in this post are affiliate links. If you click on them and make a purchase, I may receive a commission at no extra cost to you. Check my full disclaimer here.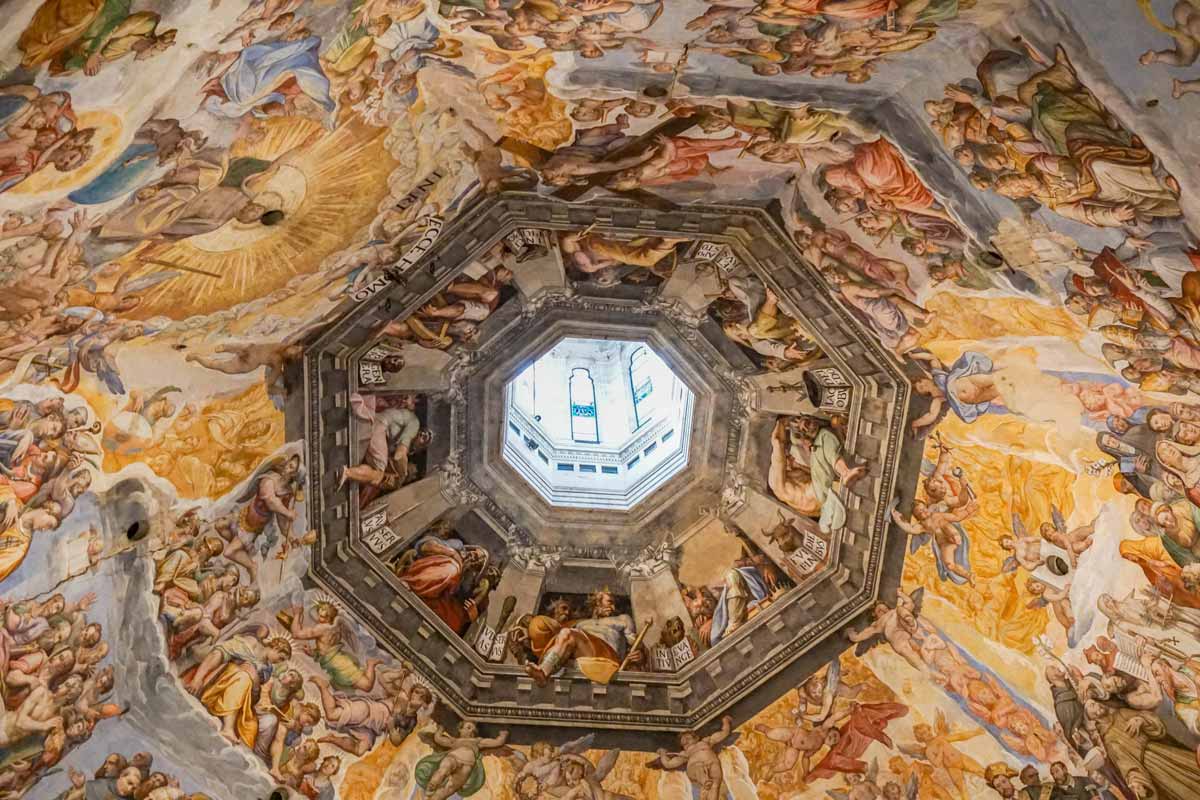 How to spend 24 Hours in Florence (Brief overview)
Morning
Start your day early with a visit to Galleria dell'Accademia (opens at 8:15 AM), where you can see Michelangelo's David.
Head to Piazza del Duomo and climb atop Brunelleschi's Dome, one of the most famous landmarks in Italy.

Optional:

Climb atop Giotto's Bell Tower.
Walk to nearby Piazza Della Repubblica.
Make a wish at Fontana del Porcellino.
Afternoon
Head to Piazza Della Signoria and admire its beautiful statues, including a replica of David.
Head to Piazza di Santa Croce and visit Basilica of Santa Croce.
On the way back to Ponte Vecchio, stop at All'Antico Vinaio to buy the most famous sandwich in Florence.
Walk on Ponte Vecchio.
Evening
Walk to Michelangelo Square, from where you can admire the sun setting over Florence.
Head back to the historic center for a delicious dinner and one last stroll before calling it a day.
Where to stay if you only have 24 hours in Florence?
With such a short time frame, my suggestion is to book your accommodation in the historic center.
So staying near the Duomo or Piazza della Signoria are good options. For a more budget-friendly alternative, you can also consider the area around Santa Maria Novella train station, since it's only a 10 minutes walk to Florence Cathedral.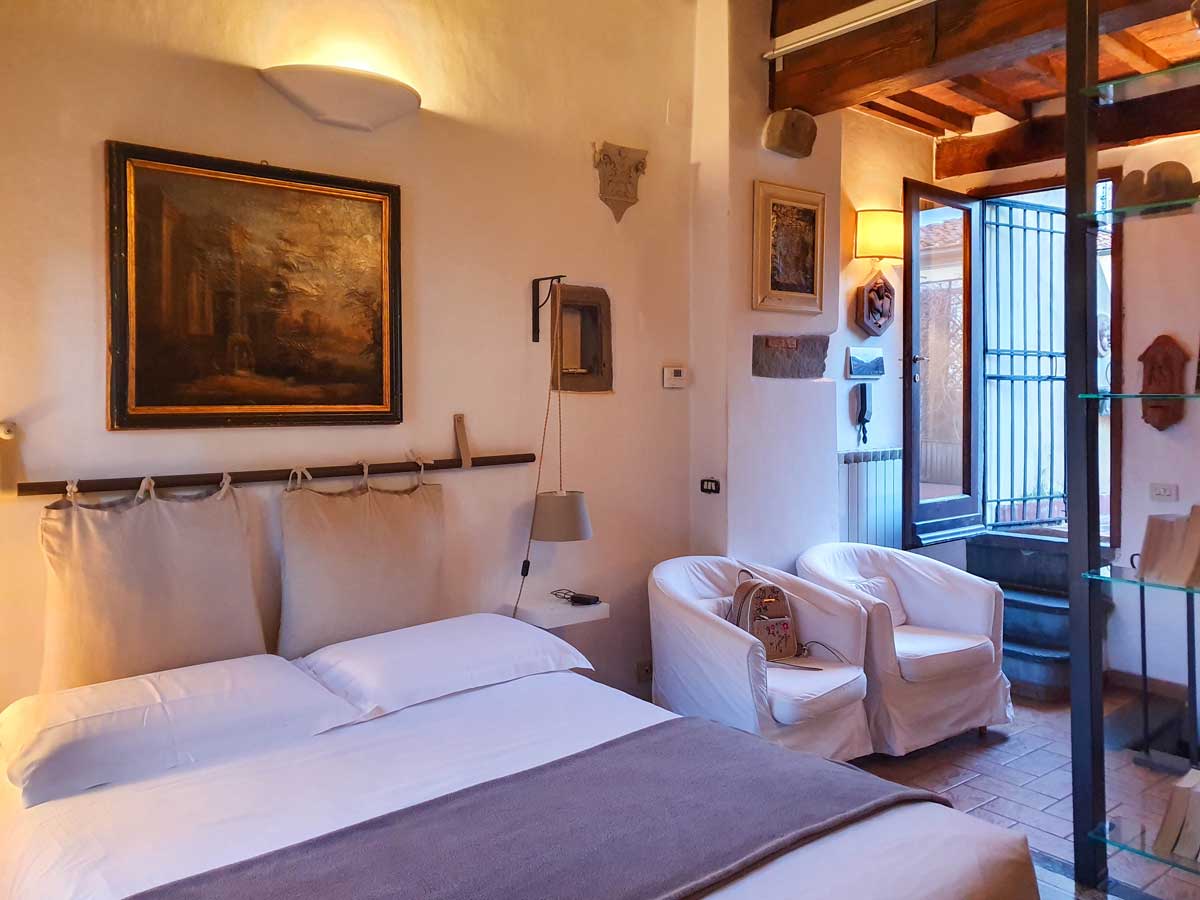 For both of my visits to Florence, I opted to stay at Yome – Your home in Florence, which is situated on Via del Corso (they also offer a one-bedroom apartment near Piazza della Signoria).
The apartments are ideally located, just a short stroll from the Duomo, and boast charming decor while being very reasonably priced. However, it's worth noting that the stairs are quite narrow and steep due to the building's old age.
However, you should be aware that the hallway is quite narrow and the stairs are steep since the apartments are located in a historic building.
If you decide to stay here, I recommend the suite on the 4th floor, which I booked for my second visit, as it features a roomy terrace with a view of the Duomo over the surrounding rooftops. You can watch the video below for a tour of the apartment.
Additional accommodation options in Florence's historic center:
B&B La Terrazza Sul Duomo: the rooftop terrace offers a remarkable and photo-worthy panorama of the Duomo.
B&B Residenza Giotto: several of the rooms provide a view of the Duomo, and the complimentary breakfast is served on a terrace that also overlooks the cathedral.
Hotel Duomo Firenze: a cozy hotel conveniently located in close proximity to the Santa Maria del Fiore cathedral.
Eco Urban B&B: a contemporary and eco-friendly establishment, located close to the train station.
Palazzo Niccolini al Duomo: luxury suites and double rooms next to the Duomo. Breakfast is complimentary and some rooms have a view towards the cathedral.
Best things to do with 24 hours in Florence
Admire Michelangelo's David at Galleria dell'Accademia
Your first stop of the day will be the Galleria dell'Accademia, which is home to Michelangelo's David. This masterful sculpture is a must-see, but it also draws quite the crowd.
To avoid spending precious time in line and to beat the crowds, my tip is to book a skip-the-line ticket and get there as soon as they open (which is generally 8:15 AM).
It's worth noting though that admission is free for all visitors on the first Sunday of each month from October to March, and online reservations for this date are not available.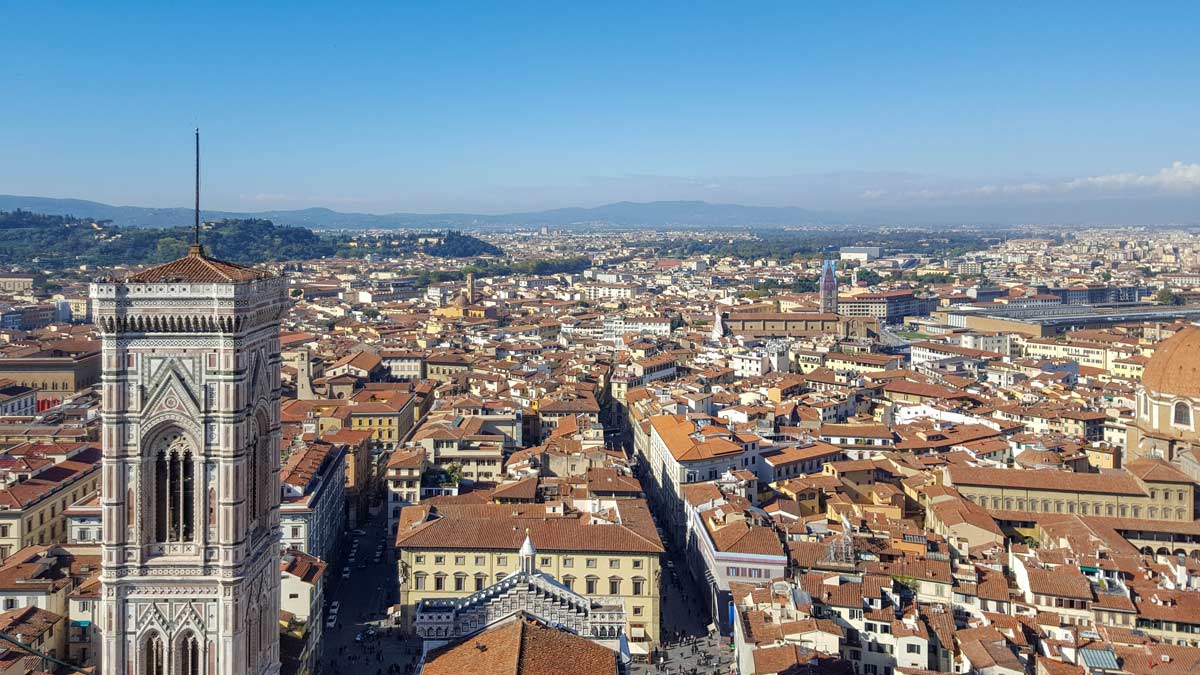 Climb on top of Brunelleschi's Dome
Next on the agenda is a bit of a workout, but trust me, it's worth every step. Make your way to Piazza del Duomo in order to climb on top of Brunelleschi's Dome, the largest masonry vault in the world and the symbol of Florence and the Renaissance.
The Dome offers an amazing bird's eye view of the city, but you'll need a ticket to experience this. The pass, which is actually valid for three days, not only gives you access to Brunelleschi's Dome, but also includes entry to Giotto's Bell Tower, Baptistery, Opera del Duomo Museum, and Santa Reparata.
The entrance for climbing the Dome is located on the left side of Santa Maria del Fiore. To save time, I would also recommend you book a skip-the-line guided tour.
Not only you'll avoid waiting to climb the dome and enter the cathedral, but you'll also also gain valuable insight into their history and significance from your knowledgeable guide. As with the regular pass, you can then use your ticket to visit other sights like Giotto's Tower.
Another good option is to get a combo skip-the-line ticket to both the Galleria dell'Accademia and Brunelleschi's Dome.
Now, regarding the actual experience I should warn you that the climb can be pretty strenuous, especially the last part when you walk right on top of the inner dome. Also, with narrow stairs and tight spaces, this experience is not suitable for claustrophobic people.
But once you reach the top, you'll soon realize why climbing the Duomo is such a popular activity in Florence, so take a moment to catch your breath and admire the panoramic vista of the city.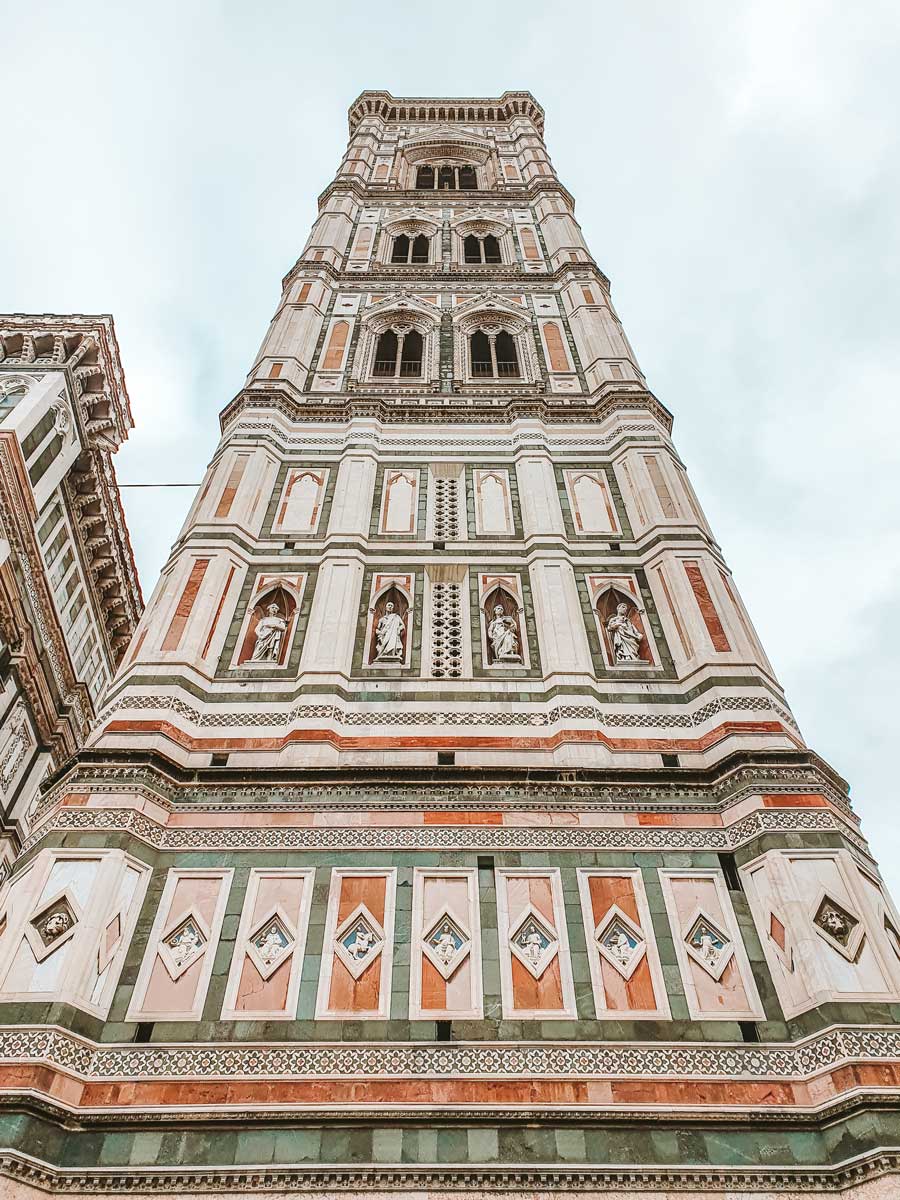 Climb on top of Giotto's Bell Tower (Optional)
A stone's throw away from Brunelleschi's Dome is Giotto's Bell Tower. This beautiful campanile offers another perspective of the city from above, but also of the Duomo itself.
However, I have to state that I actually don't recommend climbing both Brunelleschi's Dome and Giotto's Tower in the same day. Why, you might ask? Well, I did exactly that during my first visit and let me tell you, my legs weren't too pleased with me afterwards. It's a lot of climbing in one day and can be tiring.
That's why I've listed this as optional. But also, while the views are indeed nice, they don't differ that much from the ones you get atop of the Duomo. However, if you're up for the challenge and have the energy, the just go for it!
If not, save your feet (and time) for the other amazing activities and sights that Florence has to offer. You still have a lot to explore in this magical city!
See Piazza Della Repubblica
Next up, take a leisurely stroll to the Piazza Della Repubblica, another notable square in Florence and the place where the Roman Forum once stood.
One of the key highlights here is the grand triumphal arch, inscribed with the words 'L'antico centro della città, da secolare squallore a vita nuova restituito' which translates to 'The ancient center of the city, restored from age-old squalor to new life'.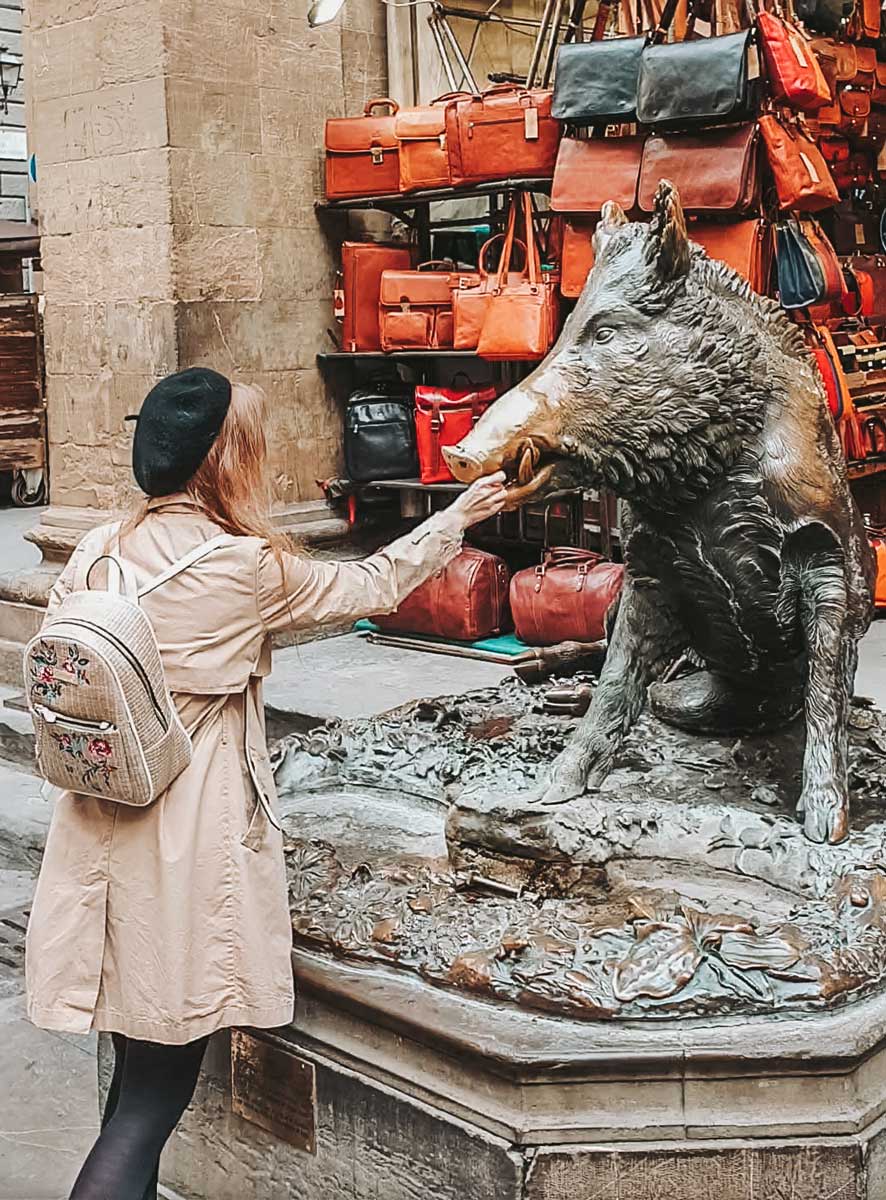 Make a wish at Fontana del Porcellino
Another charming stop on our itinerary is the Fontana del Porcellino, or 'Piglet Fountain'. Located in the Mercato Nuovo, this bronze boar fountain has an intriguing tradition attached to it.
Legend (though there are several versions of it) has it that if you rub the boar's snout you'll return to Florence and if you put a coin into the animal's mouth and it drops into the grate below, then you'll get a wish granted.
It's a fun and quirky tradition that visitors love to partake in, myself included. So, make a wish at the Fontana del Porcellino – maybe for another, longer trip to Florence in the future! Remember to watch your coin: if it falls through the grate, your wish will be granted. If not, better luck next time!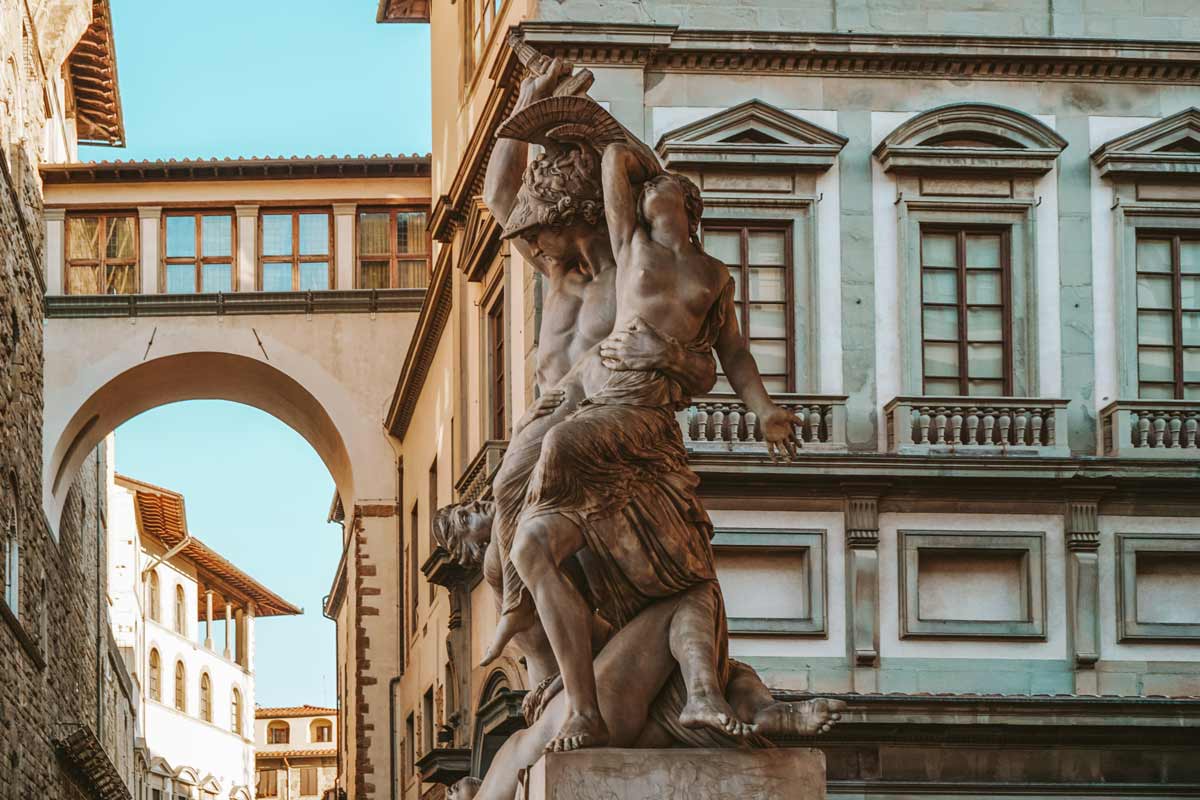 Admire Piazza Della Signoria and its statues
After making your wish, make your way to Piazza Della Signoria, Florence's political heart and an open-air sculpture gallery. The square, buzzing with life, is dominated by the majestic Palazzo Vecchio with its towering presence.
But it's the sculptures that truly steal the show. Notable among these are the copy of Michelangelo's David, Bartolomeo Ammannati's Fountain of Neptune, and Giambologna's equestrian statue of Duke Cosimo I. Each tells a tale of Florence's artistry past.
Visit Basilica of Santa Croce
The Basilica of Santa Croce, also known as the Temple of the Italian Glories, is another must-visit spot. This beautiful Franciscan church is the burial place of some of the most illustrious Italians, like Michelangelo, Galileo, Machiavelli, and Rossini, to name just a few.
The church, with its stunning neo-Gothic façade, also boasts impressive frescoes by Giotto and his pupils, which are a treat to any art lover. So take a moment to appreciate the serene atmosphere and the deep history ingrained in the walls of this magnificent structure.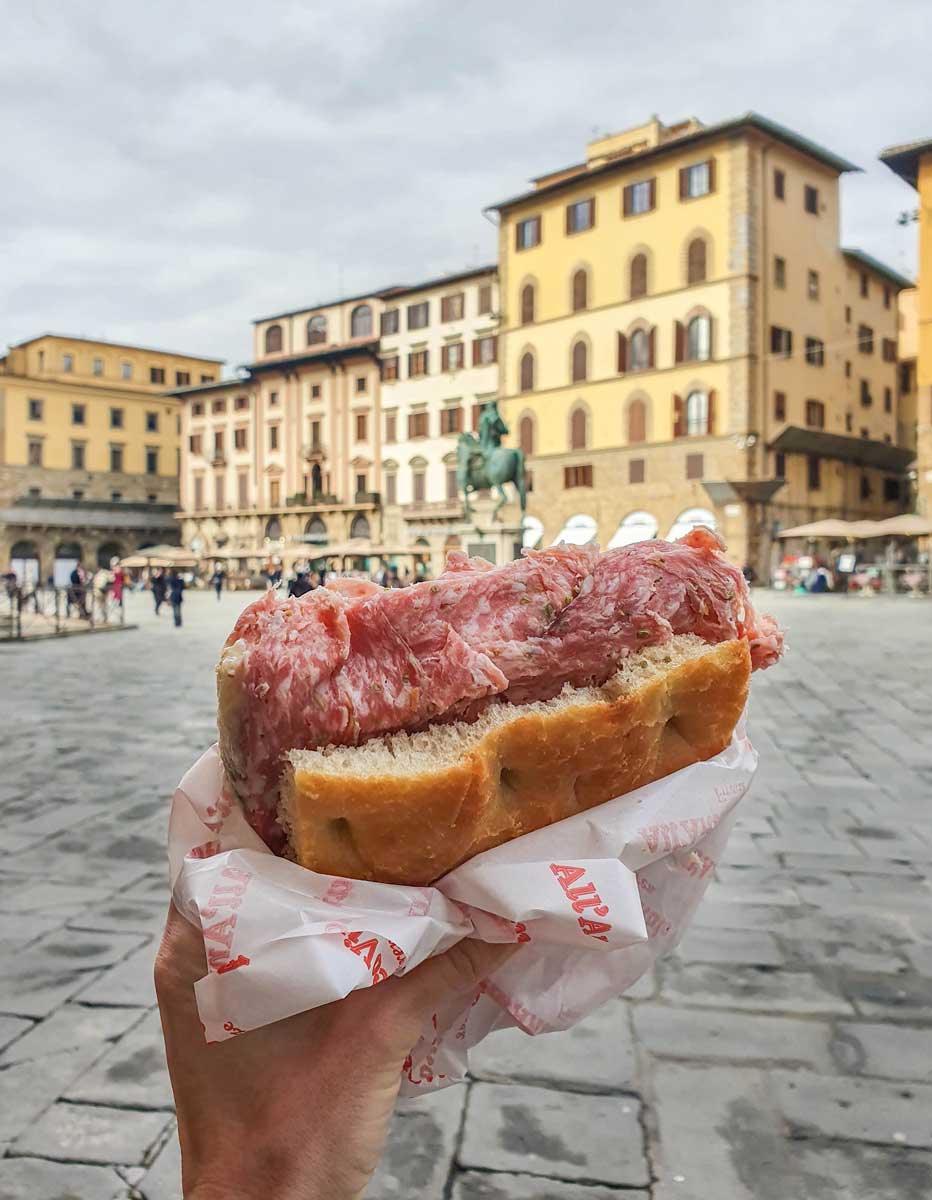 Eat the most famous sandwich in all of Florence
No trip to Florence is complete without trying the most famous sandwich in town. Make your way to All'antico Vinaio and order one of their tasty sandwiches.
And if you are looking for recommendations, know that Favolosa is one of the most popular choices and you can get it for only 7 euros.
Also, don't let the long lines outside the shop deter you: in my experience they go pretty fast.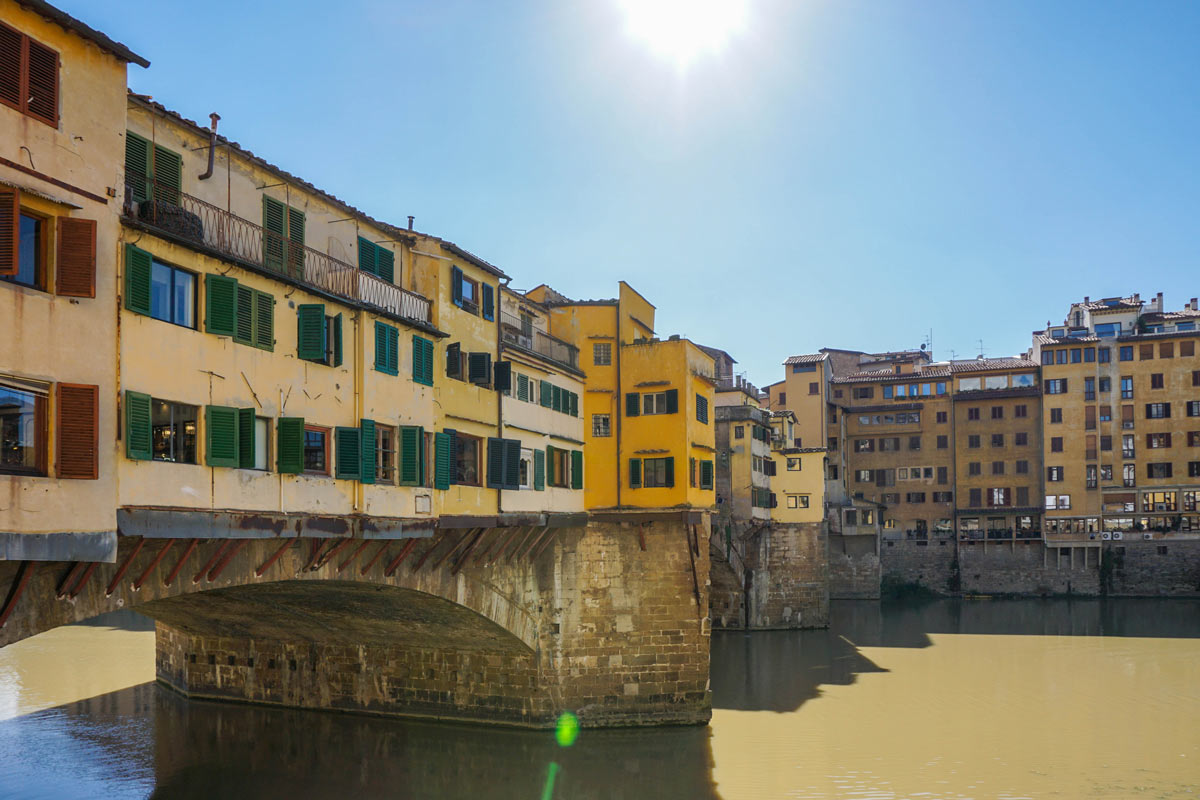 Walk along Ponte Vecchio
Your Florence experience would be incomplete without a walk along the iconic Ponte Vecchio. Lined with jewelers, art dealers, and souvenir shops, this medieval stone bridge, with shops built into its sides, is a symbol of the city.
Not to mention that it's an incredibly photogenic location, so be sure to have your camera ready!
TIP: If you're seeking a vantage point that offers a clear view of Ponte Vecchio, I recommend visiting St. Trinity Bridge (Ponte Santa Trinita).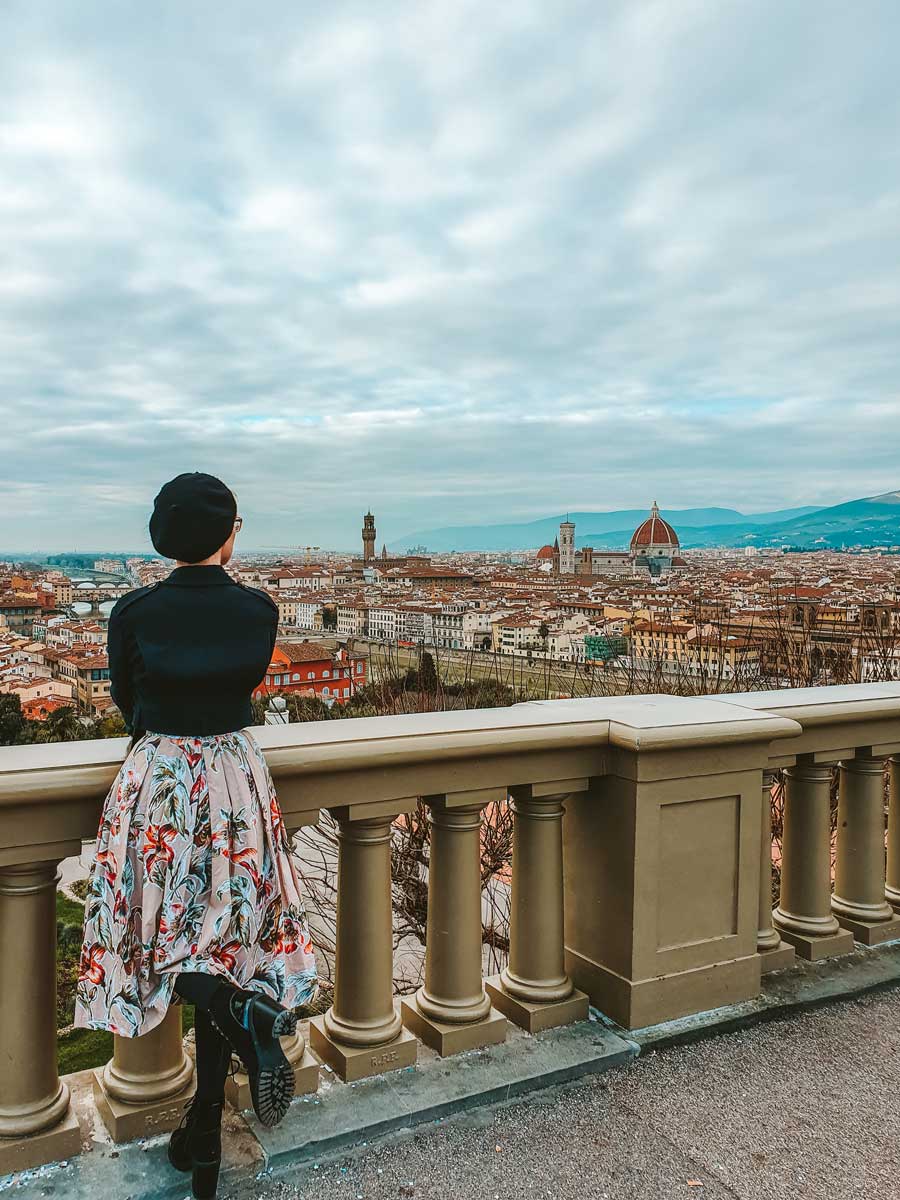 Watch the sun setting over Florence from Piazzale Michelangelo
As the day draws to a close, there's no better place to end your one day tour of Florence than at Piazzale Michelangelo (or Michelangelo Square).
The panoramic view of Florence from this vantage point is truly stunning, especially during sunset when the city basks in a warm, golden glow. Therefore, you should make sure you time your visit at the right time.
It's the perfect conclusion to your action-packed day in Florence. So, sit back, relax, and watch as the sun bids goodbye to Florence for the day, and paints the sky in celebration.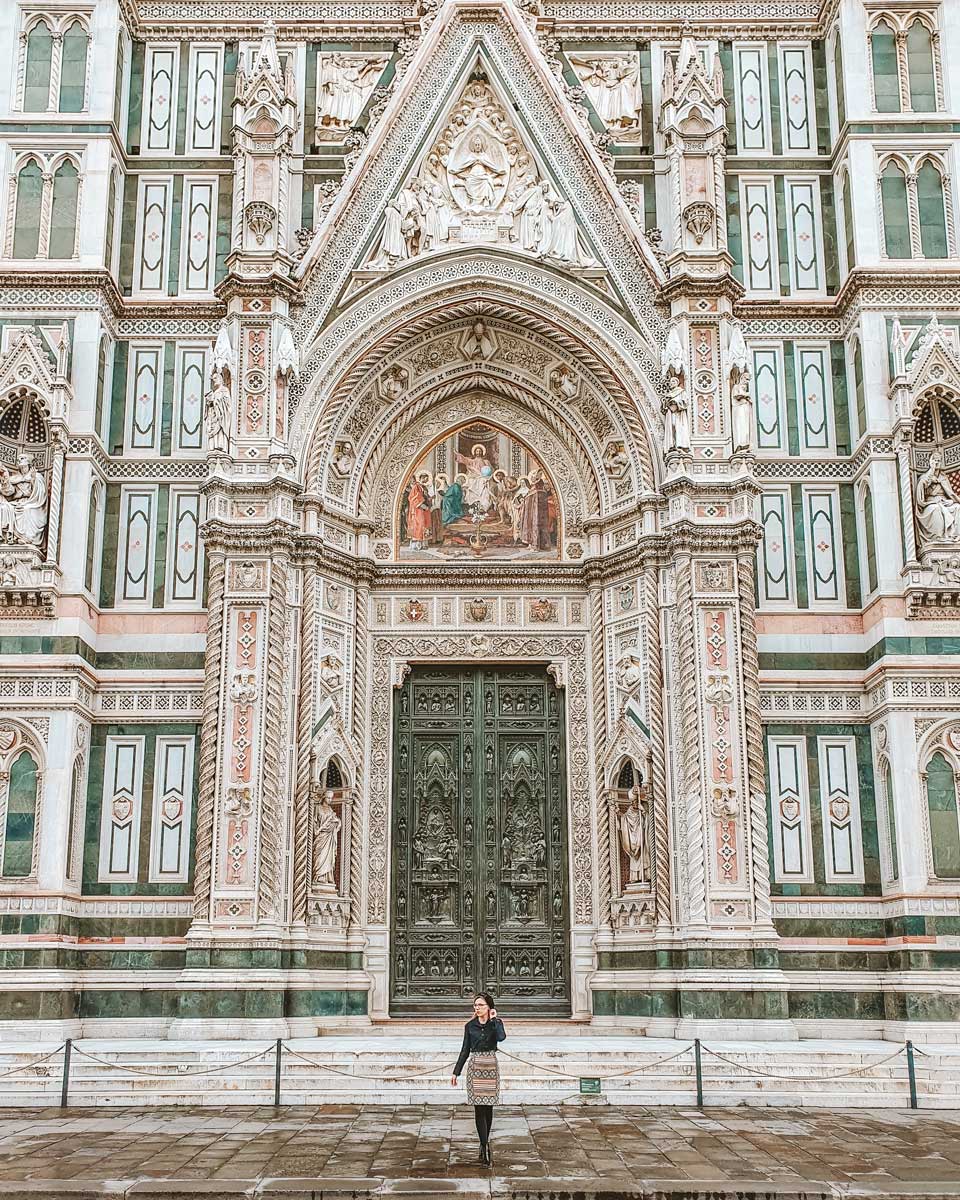 How many days do you need in Florence?
So, you're probably wondering, how many days is enough to truly experience Florence? Well, from my personal experience, I'd say spending two full days in Florence is the perfect amount to get a taste of what the city has to offer.
You'll be able to explore the historic sites, revel in the stunning architecture, sample the local cuisine, and even enjoy some downtime.
However, if you're a museum enthusiast, you might want to consider adding a third day to your itinerary. Florence is home to some world-renowned museums that house an array of masterpieces from the Renaissance period. The extra day will allow you to leisurely explore some of them without feeling rushed.
But no matter how long you stay, rest assured, Florence will most likely leave you longing to return for more.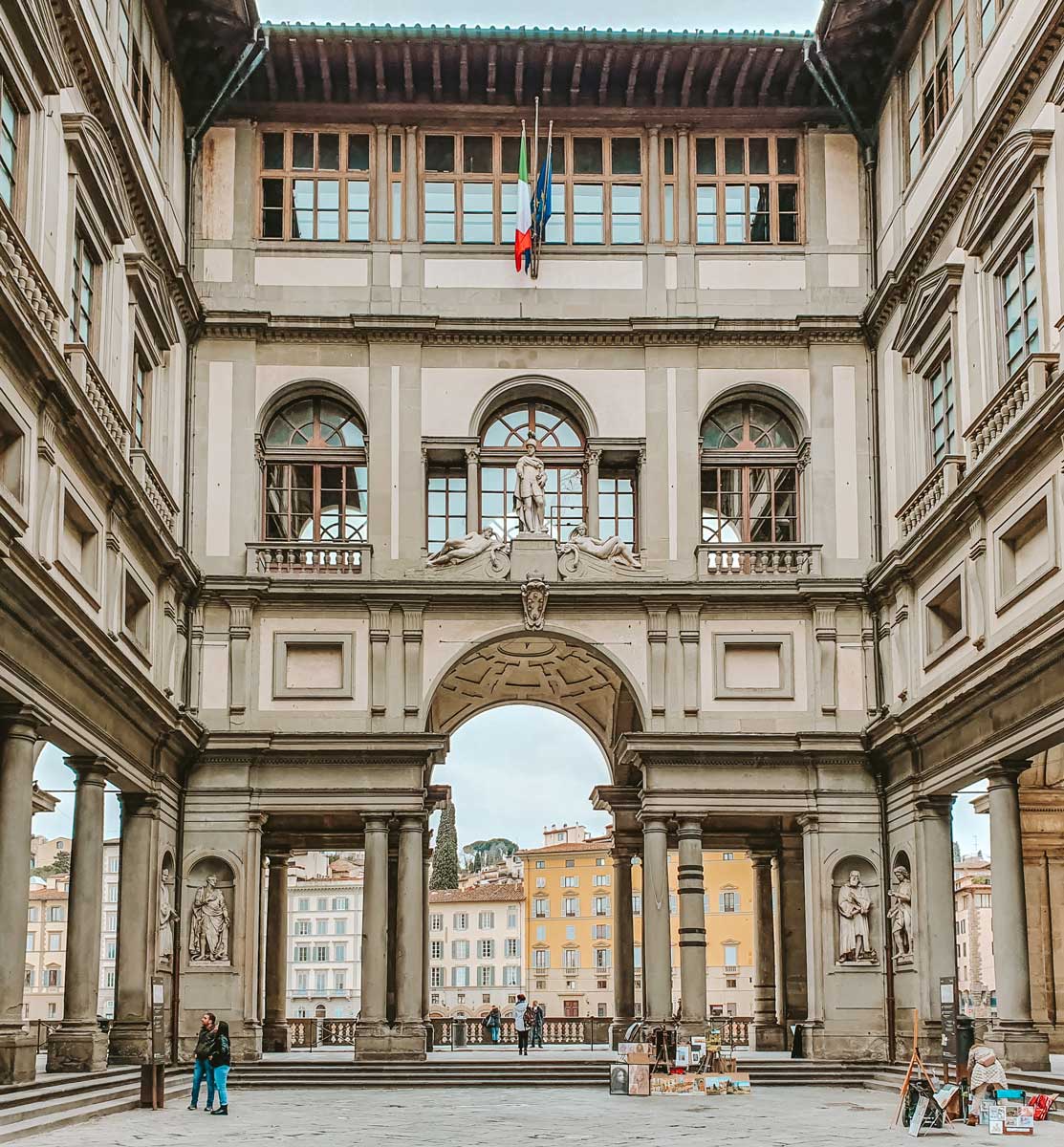 What to do if you have two or three days in Florence?
If you're lucky enough to have two or three days in Florence, you'll have time to delve deeper into the city's rich cultural heritage.
With an extra day added to your itinerary, you can visit the renowned Uffizi Gallery (set aside around 3 hours for this), explore the opulent Palazzo Pitti, and enjoy a tranquil stroll through the beautiful Boboli Gardens. Not to forget, you can do the climb up Giotto's Tower in a different day.
With three days at your disposal, you have the luxury to take things a bit more slowly, allowing you to fully appreciate the city's art and history. You can explore more museums, soak in the local culture, and really savor the Florentine cuisine.
And if you're up for a little adventure, consider making a half-day or full-day trip to Pisa to see the famous Leaning Tower (check out my post on whether is Pisa worth a visit).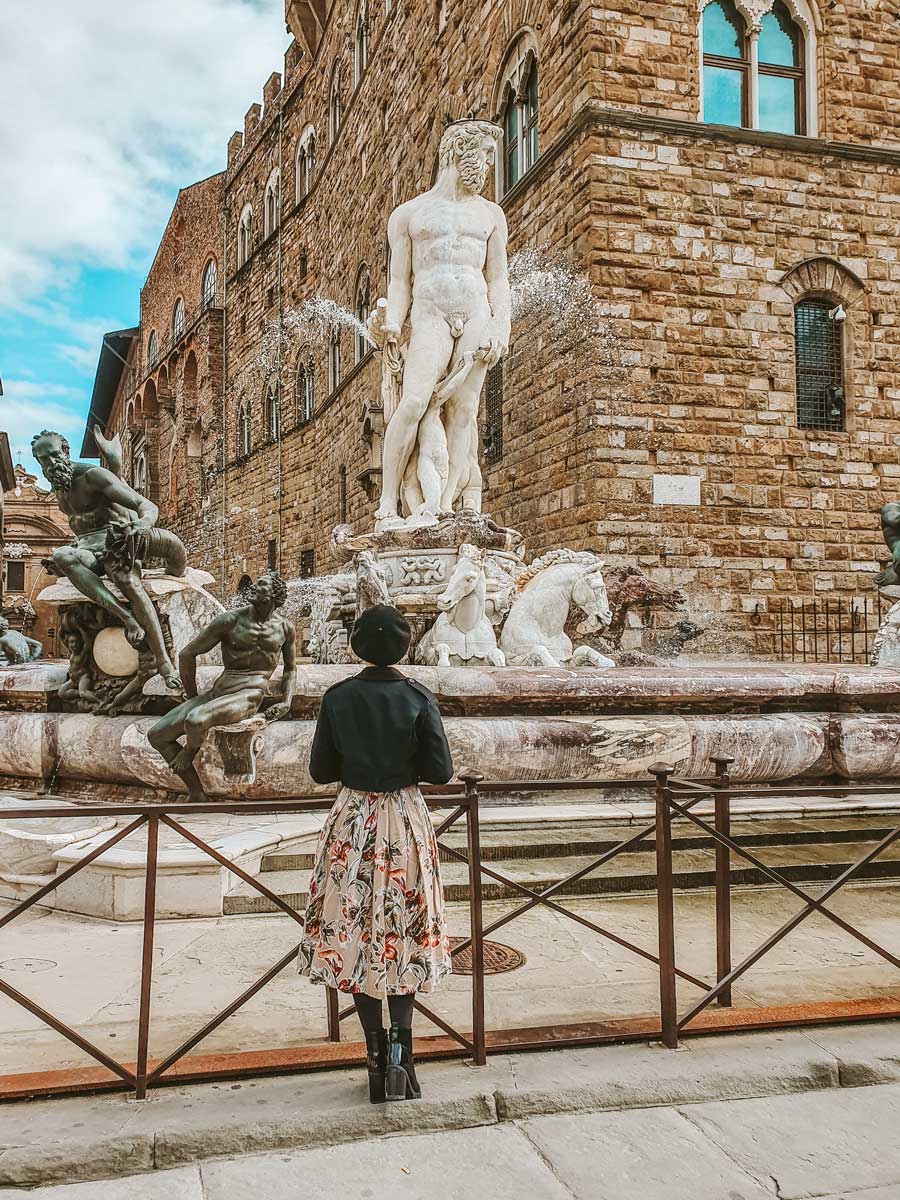 How to get to Florence
What airport do you fly into for Florence?
The main airport for Florence is Florence Airport – Peretola (FLR), also known as Amerigo Vespucci Airport. Located around 6.2 miles (10 km) northwest of the city center, it's the most convenient option to fly into Florence.
However, it is smaller and handles fewer flights than some other major Italian airports. Many international travelers, particularly those coming from outside Europe, often fly into larger nearby airports and then transfer to Florence.
One such option is the Pisa International Airport (Galileo Galilei Airport – PSA), which is actually the main airport in the Tuscany region and handles a larger volume of international flights.
Another very popular choice is Leonardo da Vinci – Fiumicino Airport (FCO) in Rome, the largest airport in Italy. From Rome, Florence is under 1.5 hours by high-speed train.
I will mention that cities like Rome, Bologna and Milan are also major low-cost hubs, so the chances of finding cheaper plane tickets for them (as compared to Florence) are higher when flying from other European cities.
All in all, your choice of airport will depend on your travel plans, flight availability, and cost considerations. Regardless of where you land, Italy's efficient rail and road networks will make it easy for you to get to Florence.
How to get to Florence by train or bus?
If you decide to fly into one of cities that have a bigger airport such as Pisa, Rome, Bologna or Milan, you can then used the train or bus services to travel to Florence.
Italy's fastest trains are known as Frecciarossa and are quite impressive (full disclosure: I'm a big fan of trains!). For example, the journey between Milan and Florence takes only 2 hours on these trains, while it can take anywhere from 3 to 4.5 hours by car, depending on traffic.
Similarly, the trip from Bologna to Florence can be completed in under 40 minutes and as I already mentioned, it takes less than 1.5 hours to arrive there from Rome.
These trains are ranked 8th among the fastest trains globally, but they come at a high price, especially if you purchase the tickets at the last moment (prices tend to rise as the departure time approaches).
Comparatively, the transfer from Pisa Airport takes a little over an hour by regional train, despite being the closest out of them.
A cheaper alternative for the high-speed trains is to take a direct bus from Bologna's airport or a Flixbus from either Rome, Milan or Bologna, but evidently it will take you longer to reach your destination.
There's also a direct bus connecting Pisa Airport with Florence Bus Station – Guidoni T2 and the transfer time is similar with the train ride (approx. 1 hour).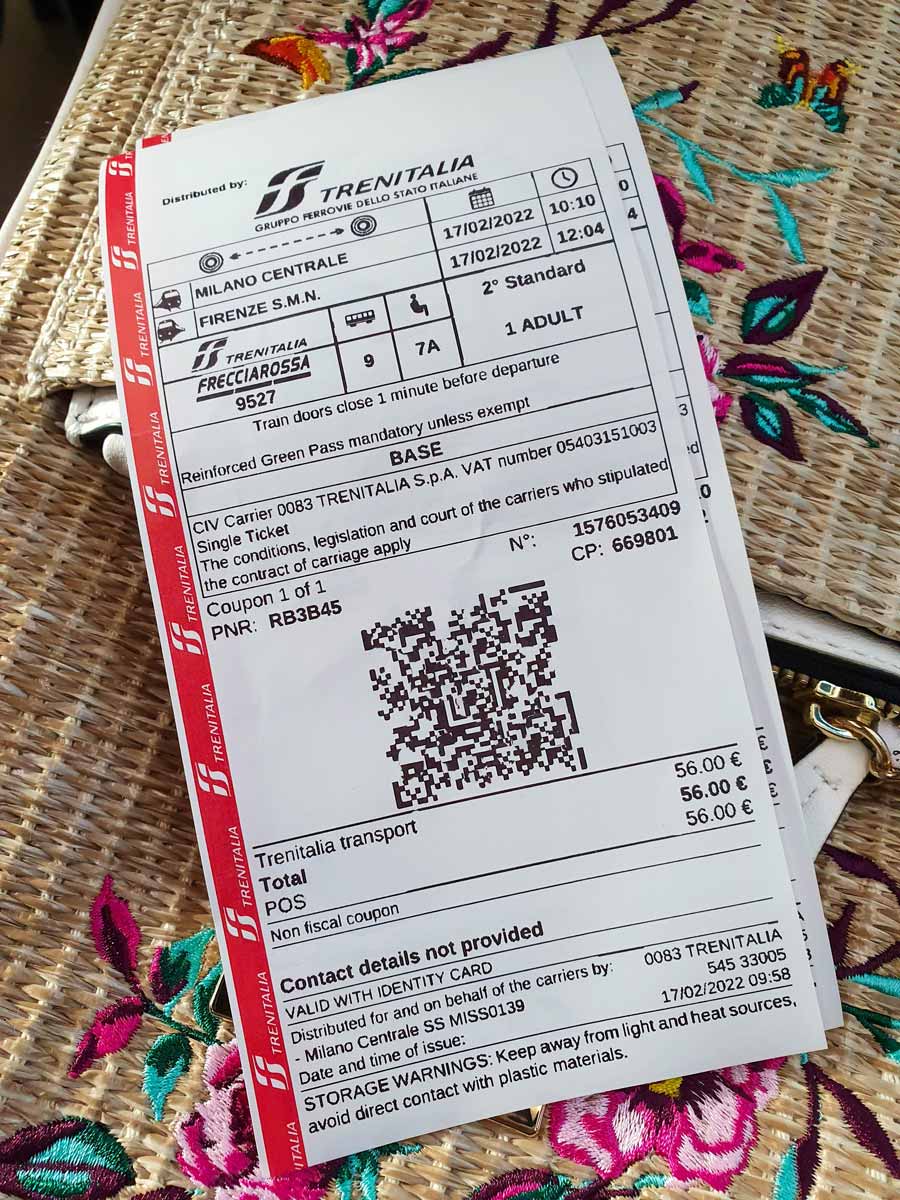 A few years ago, when I planned my first trip to Florence, there were limited direct flights and no low-cost options available from my hometown to Tuscany's capital. As a result, I opted to fly to Bologna and took the airport bus to Florence.
Second time around, there were now several flight options available between either Florence or Pisa and my Bucharest (my hometown). However, since I planned the trip spontaneously, the ticket prices were quite high.
So, as a work around, I decided to fly into Milan and out of Bologna (the cheapest options), while also spending a day in the latter, since I didn't got the chance to visit it the first time. And between the cities I settled on using the train.
How to get around Florence
Navigating Florence is quite straightforward, thanks to its compact historic city center. The majority of the must-see attractions are within walking distance of each other, making it a breeze to explore on foot.
This not only saves you time but also allows you to truly soak in the city's atmosphere. Remember to wear comfortable shoes, though, as you'll be doing a lot of walking!
However, if you book your accommodation further away from the city center, you might also need to use the public transportation or taxis to get around.
And be aware that while Uber exists in Florence, it only offers its premium services: Uber Black and Uber Van, which are usually more expensive than regular cabs.
However, if you stay further away from the city center, then you'
What is the best time of year to visit Florence Italy?
The ideal time for a trip to Florence is between April to June and September to October. The weather is nice during these months and you can visit the city without being concerned about extreme temperatures (be it high or low).
That being said, Florence is also a great winter destination, particularly if you have an inclination towards history or art. This is because there are numerous museums to explore, and you won't have to spend a lot of time outside in the cold.
One day in Florence FAQs
Is one day in Florence enough?
Spending one day in Florence will allow you to see several of the main attractions that the city has to offer, but it might not be enough time to also visit the world famous Uffizi Gallery.
Is a day trip from Rome to Florence worth it?
A day trip from Rome to Florence is worth it, especially if your time in Italy is limited. The journey between the two takes usually takes under 1.5 hours by high-speed train, making it a feasible option. You can leave Rome early in the morning, spend the day exploring some of Florence's top attractions such as the Duomo, Ponte Vecchio, and Piazza Della Signoria, and return to Rome by late evening.
Is there a high-speed train from Florence to Rome?
Yes, there are several high-speed connections (Frecciarossa) a day between Florence and Rome.
Is there a dress code for the Florence Cathedral?
Yes. As when visiting any other religious site in Italy, you should make sure you dress more conservatively as a sign of respect, regardless of your gender. This means no bare legs (go for pants or dresses/skirts that cover your knees) and shoulders and you shouldn't wear sandals, hats and sunglasses.
Why is Florence called Firenze?
Firenze is actually the name of the city in the Italian language. It is derived from the Latin name of the city, "Florentia," which means "blooming" or "flourishing". When the name was adopted into English, it became "Florence."
24 hours in Florence: Final thoughts
There you have it, your perfect one-day itinerary for Florence. As you can see, even with just 24 hours, you can still experience some of the best things that the city has to offer in terms of art, architecture, history, and culture.
For more Florence inspiration and travel advice, be sure to check out my other posts about the city, listed below.
Happy travels~
---
YOU MIGHT ALSO LIKE