Visit Sirmione, the prettiest town on Lake Garda
Sirmione is a small, picturesque town located on the southern shore of Lake Garda, the largest lake in northern Italy.
This stunning location is perfect for a holiday and there are a lot of things to do, whether you're looking for a relaxing break or an action-packed adventure. Here are some of the top things to do in Sirmione.
Disclosure: Some of the links in this post are affiliate links. If you click on them and make a purchase, I may receive a commission at no extra cost to you. Check my full disclaimer here.
How to get to Sirmione on Lake Garda
Sirmione doesn't have a train station, so the only way to reach is to use a car or the local bus. You can also visit it by boat from certain towns on Lake Garda.
I actually wrote an entire post on how to get to Sirmione, so make sure to check it out.
Best time to visit Sirmione
Sirmione is a great travel destination from spring until fall, but if you want to swim in the lake, then it's preferred to plan your vacation during summer.
I visited the small town in mid-June and the weather was great, albeit a bit on the hot side. Since Sirmione is probably the most popular destination on Lake Garda, it can get quite busy during the high season. So if you want to avoid big crowds, then I'd suggest visiting in May or October.
Where to stay in Sirmione Lake Garda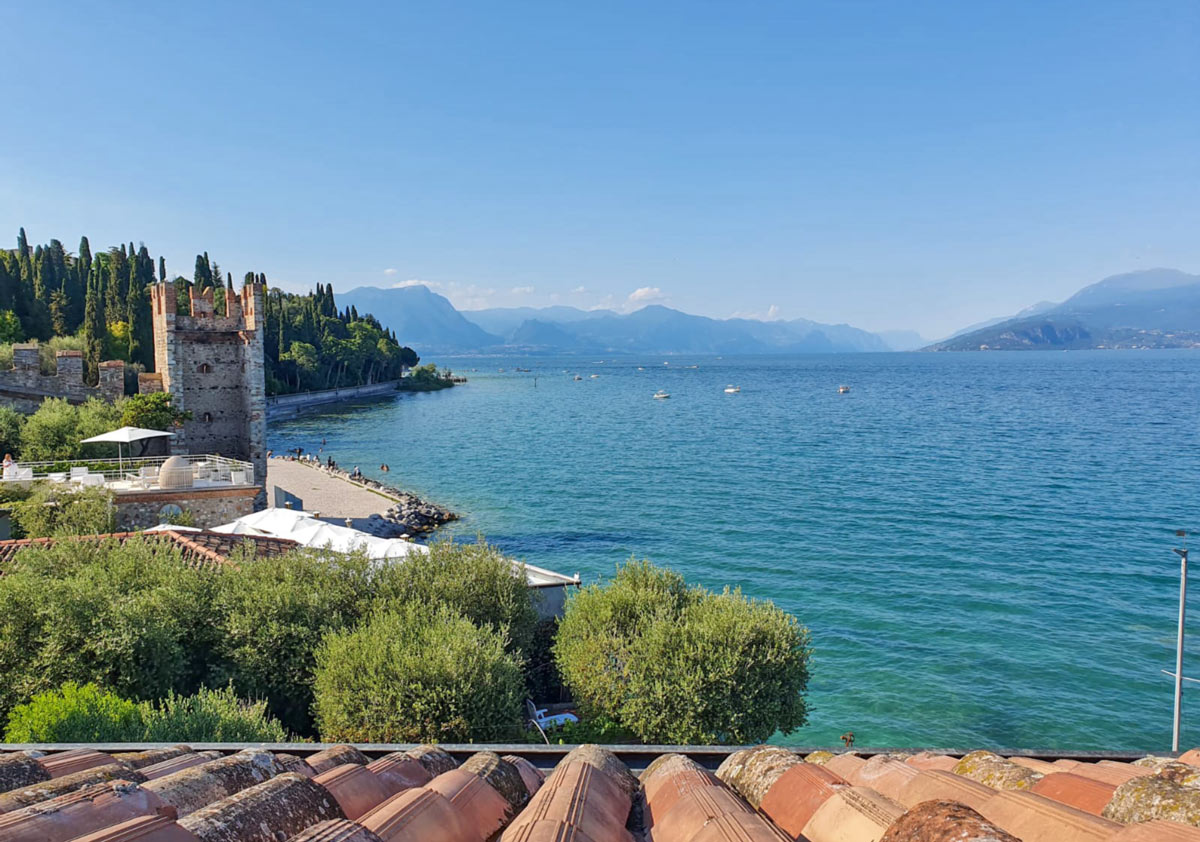 Sirmione is shaped as a narrow peninsula that extends out into Garda Lake. Considering that's also a very loved destination by tourists, I suggest you book your accommodation ahead if you want to be in the middle of all the fun.
Also, you should know that rates are higher in Sirmione Old Town. So for cheaper options look for accommodation towards Colombare, or even in Colombare itself. You can then walk or take the Navetta to the historic centre.
I talk a bit more about how the Navetta works in my post on how to get to Sirmione, which I linked a few paragraphs above. But long story short it's a shuttle that connects Sirmione Old Town with Colombare.
Just be aware that it only starts operating after 10 AM, even though this is not mentioned anywhere on the info panels inside the stations. A single ticket is 1 EUR. You can buy your ticket onboard, from the driver, but know that it will cost 0.50 EUR more.
We opted to stay in the historical centre of Sirmione, at Hotel Grifone, which is located right next to Scaligero Castle and we really enjoyed our stay there.
Our room was clean and comfortable and the staff was really nice, but the real MVP was the view. I highly recommend you get a room with a terrace like we had, so you can admire the amazing panorama of Lake Garda.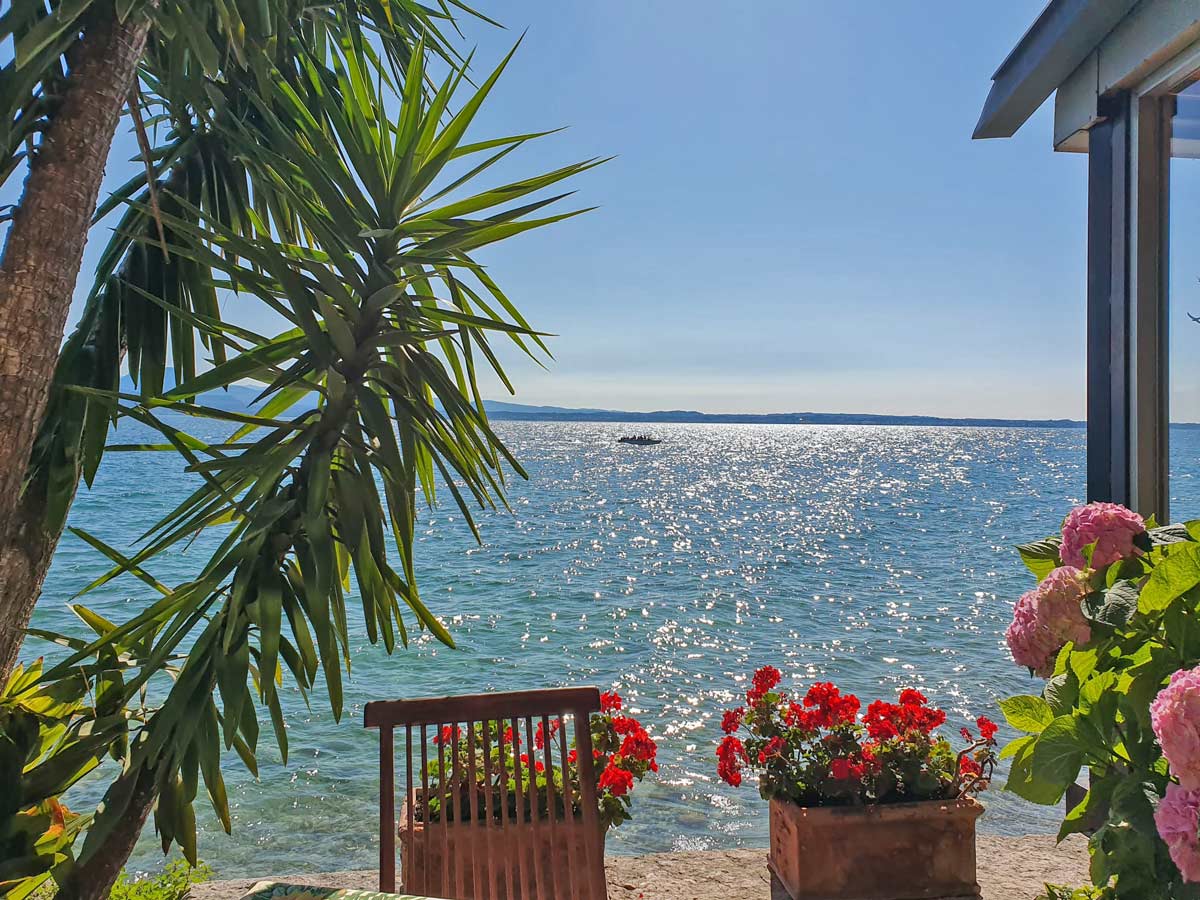 I also have to mention the breakfast which had a nice selection of fruits, cheese, meats, desserts, etc. And best of all, it was served on a small terrace full of hydrangeas that had an amazing lake view.
But here are some other options as well:
Where to eat in Sirmione
During our time in Sirmione, we ate at L'Accanto and Pizzeria Scaligeri's and I recommend both places. Also, you'll notice a LOT of well-priced (I mean just 6 EUR for 3 huge scoops?!) gelato shops in the old town. My favorite was Gelateria Scaligeri on Via Vittorio Emanuele.
However, the gelato was the only one that I felt was pretty cheap. After all, Sirmione is pretty touristy so you should expect higher prices (for example pasta dishes were 15-18 EUR, a beer 5, while for a cocktail you will pay around 5-8 EUR).
You'll definitely notice a difference price-wise if you visit other towns like Limone or Desenzano.
Top things to do in Sirmione, Italy
Visit Scaligero Castle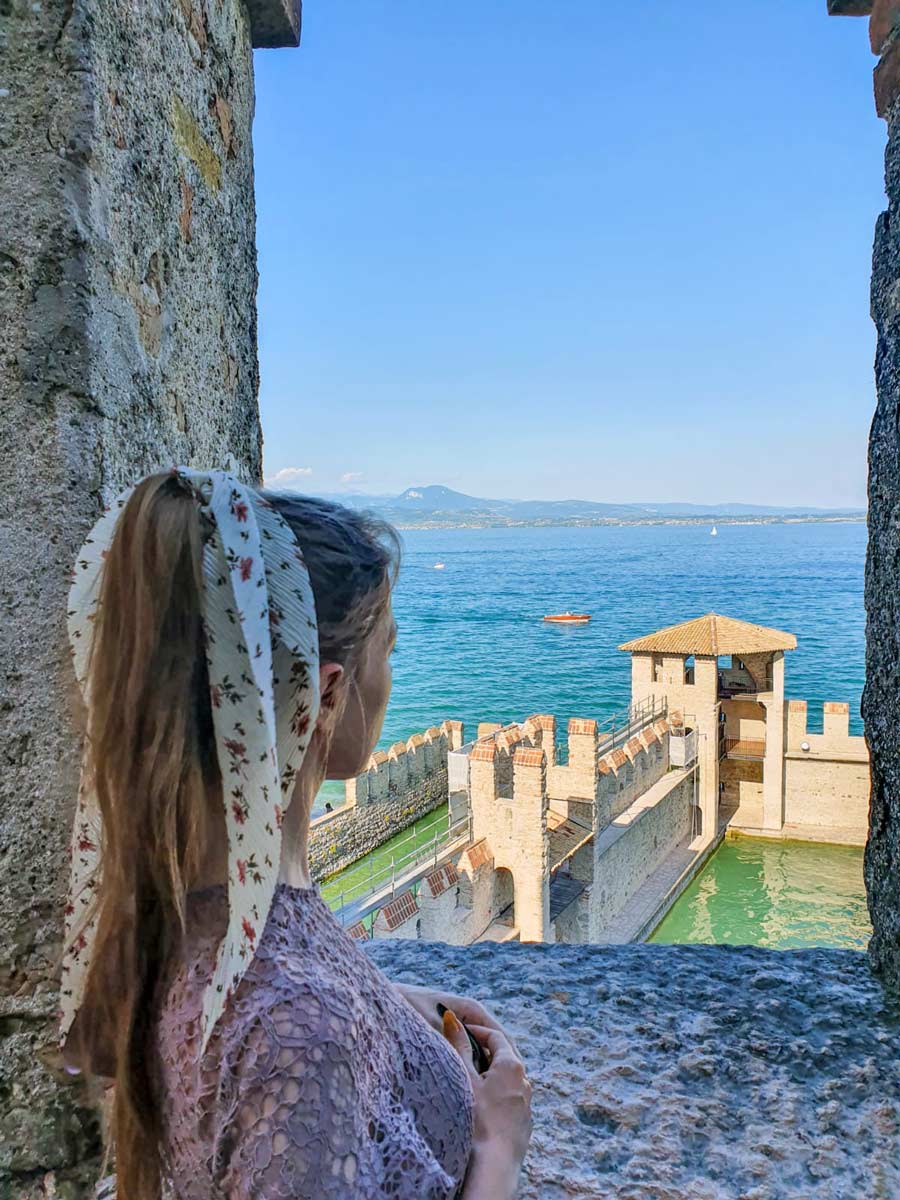 Scaligero Castle, also called The Sinking Castle, is the most iconic landmark on Lake Garda. It is a rare example of lake fortifications and one of the best-preserved medieval castles in entire Italy.
You can visit it for an entrance fee of 6 EUR and I highly recommend you to do it, as you'll be able to admire a spectacular view of both Sirmione and Lake Garda from its towers.
Explore the Old Town
Sirmione's Old Town is tiny but really charming. So wondering on its narrow streets is definitely a must while there. Just be aware that it can get pretty crowded in the high season, so you may want to start your walk early in the morning if you can. Also, be aware of cars: it may look like a pedestrian-only area, but cars actually enter the historic center.
Apart from the cute streets of the town, I also recommend you take a stroll on the Lake Garda promenade located on the right side of the peninsula.
Relax at the beach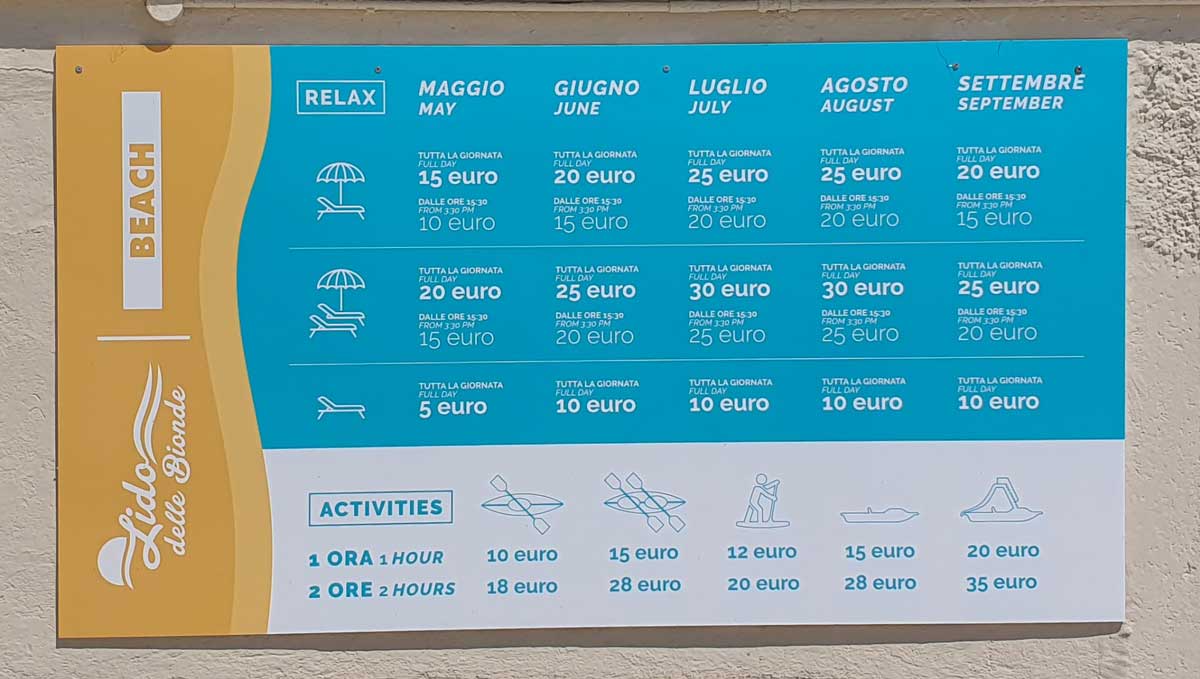 There are several beaches in Sirmione where you can relax and take a refreshing dip. At Spiaggia Lido delle Bionde you can even rent umbrellas and sun lounges.
But don't expect to find your typical sandy beaches here. In fact, it's best to bring water shoes if you plan to swim since there are many rocks in the water.
Visit Grotto of Catullus
Despite the fact that the word "grotto" actually means cave, the Grotto of Catullus (Grotte di Catullo) actually refers to the ruins of a Roman villa located at the tip of the skinny peninsula. Admission is 8 EUR for adults and you can buy your ticket at the entrance.
If you plan to visit in the summer, I would suggest going early in the morning, as there's little shade inside.
Watch the sunset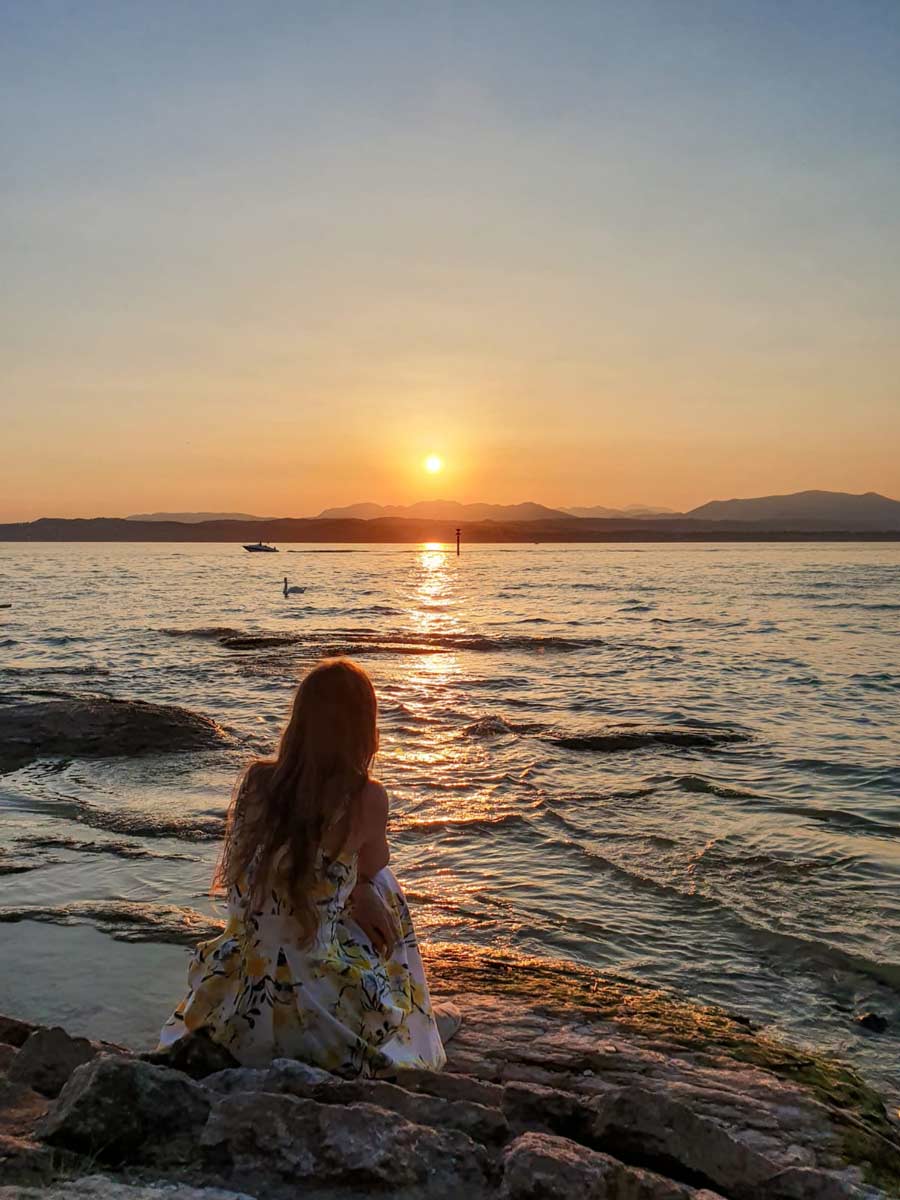 If you stay overnight in Sirmione, I highly recommend you go watch the sunset. In order to reach the best spot for this (in my opinion at least), go to Passeggiata delle Ricordanze Poetiche. Then continue until the path bordering the lake almost ends.
This promenade is not as popular as the one on the right side of the peninsula, so you'll most likely have the place for yourself.
TIP: bring some snacks and something to drink and have a little picnic as the sun sets down.
Relax at the thermal baths
The town of Sirmione has been known for its thermal waters for a long time. So if you are looking for a few hours of pure relaxation you should visit Aquaria Thermal SPA. You should know that you need to make an online booking before your visit, otherwise, your entry can't be guaranteed.
Eat lots of gelato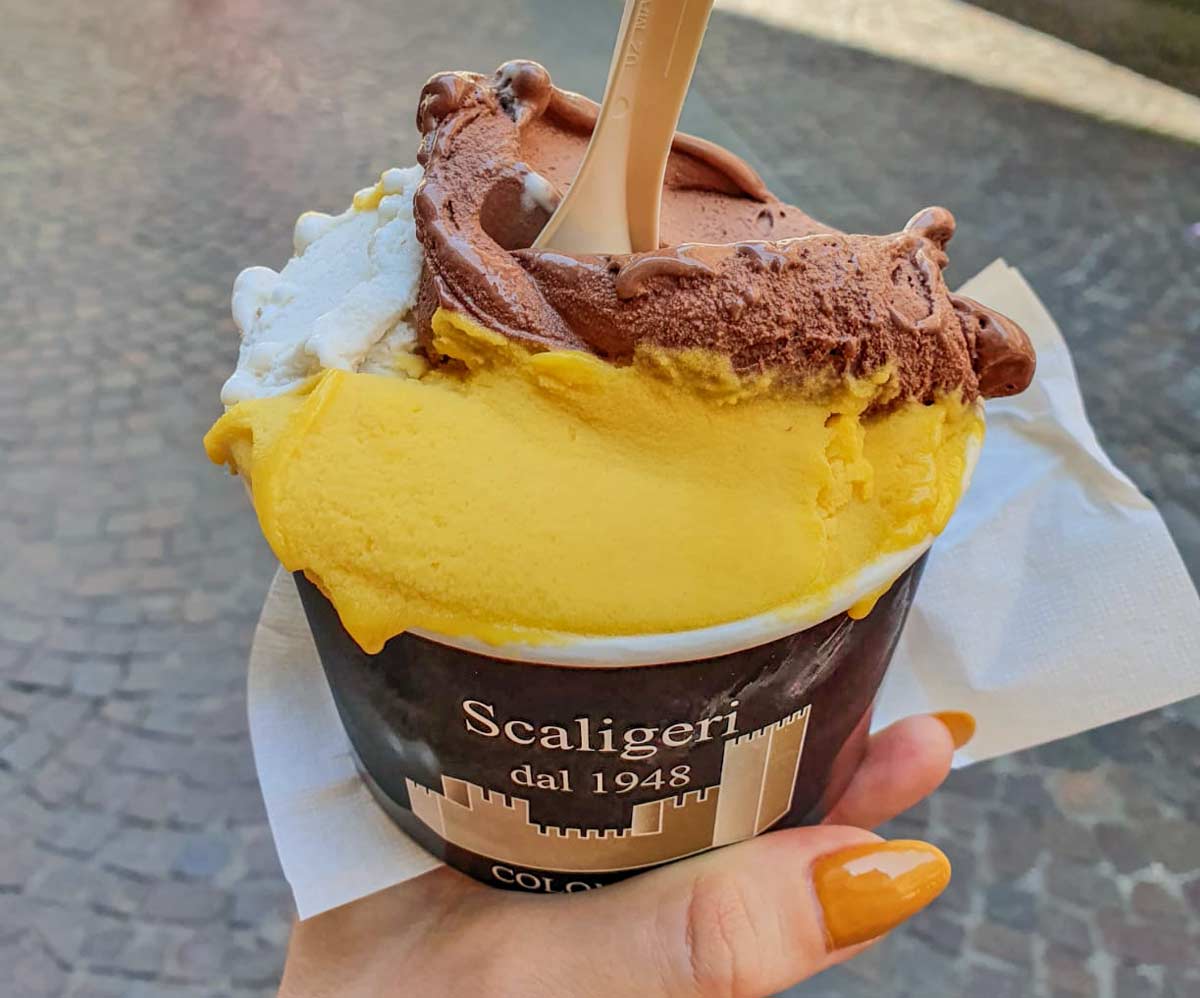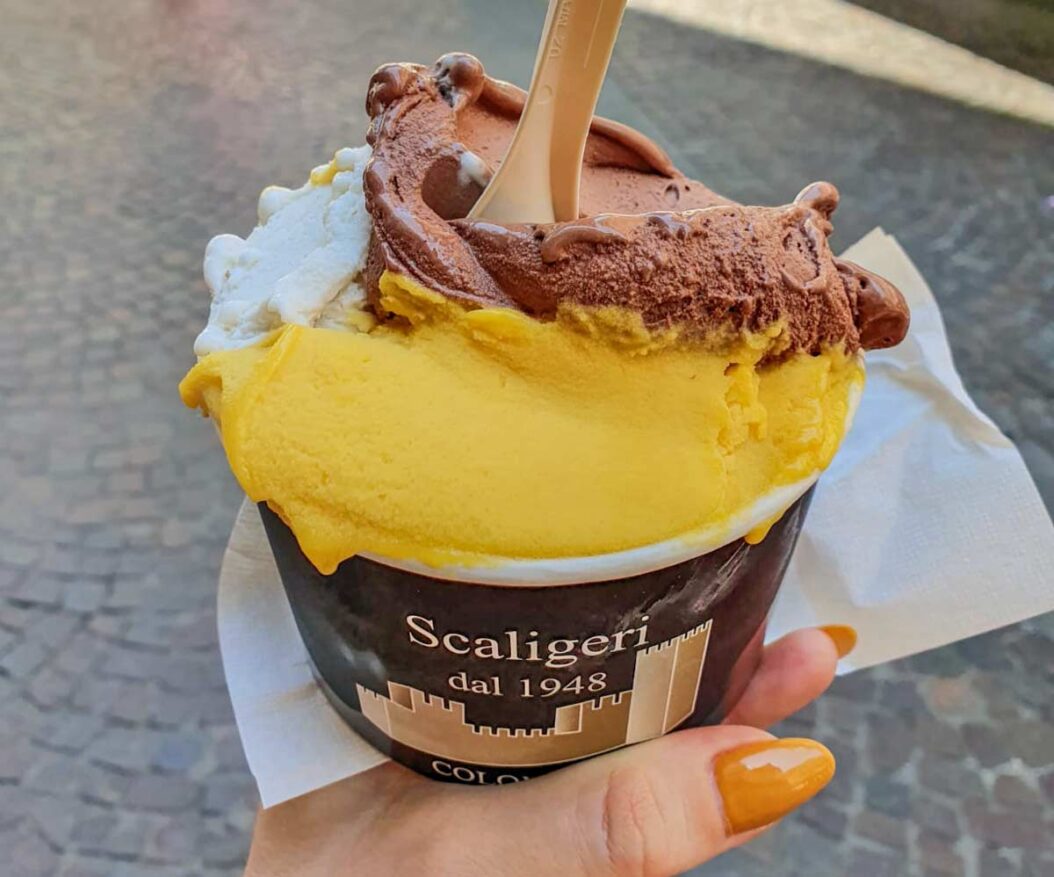 As I already mentioned there are lots of gelato shops in Sirmione. Not only that, but I found the prices to be pretty low considering the quantity: I mean 3 cups are basically the equivalent of an entire bowl.
Take a boat trip around the peninsula
To view Sirmione from another angle, I suggest you take a boat tour around the small peninsula. This will also allow you to see the 'sinking' Scaligero Castle from the water.
The boats leave from the same spot as the ferries and the journey takes around 25 minutes.
Day trips from Sirmione
The northern part of the lake: Malcesine, Limone, and Riva
If you spend a few days in Sirmione, I highly recommend you visit the northern part of Lake Garda as well. Some of the best towns to see are Malcesine, Limone, and Riva.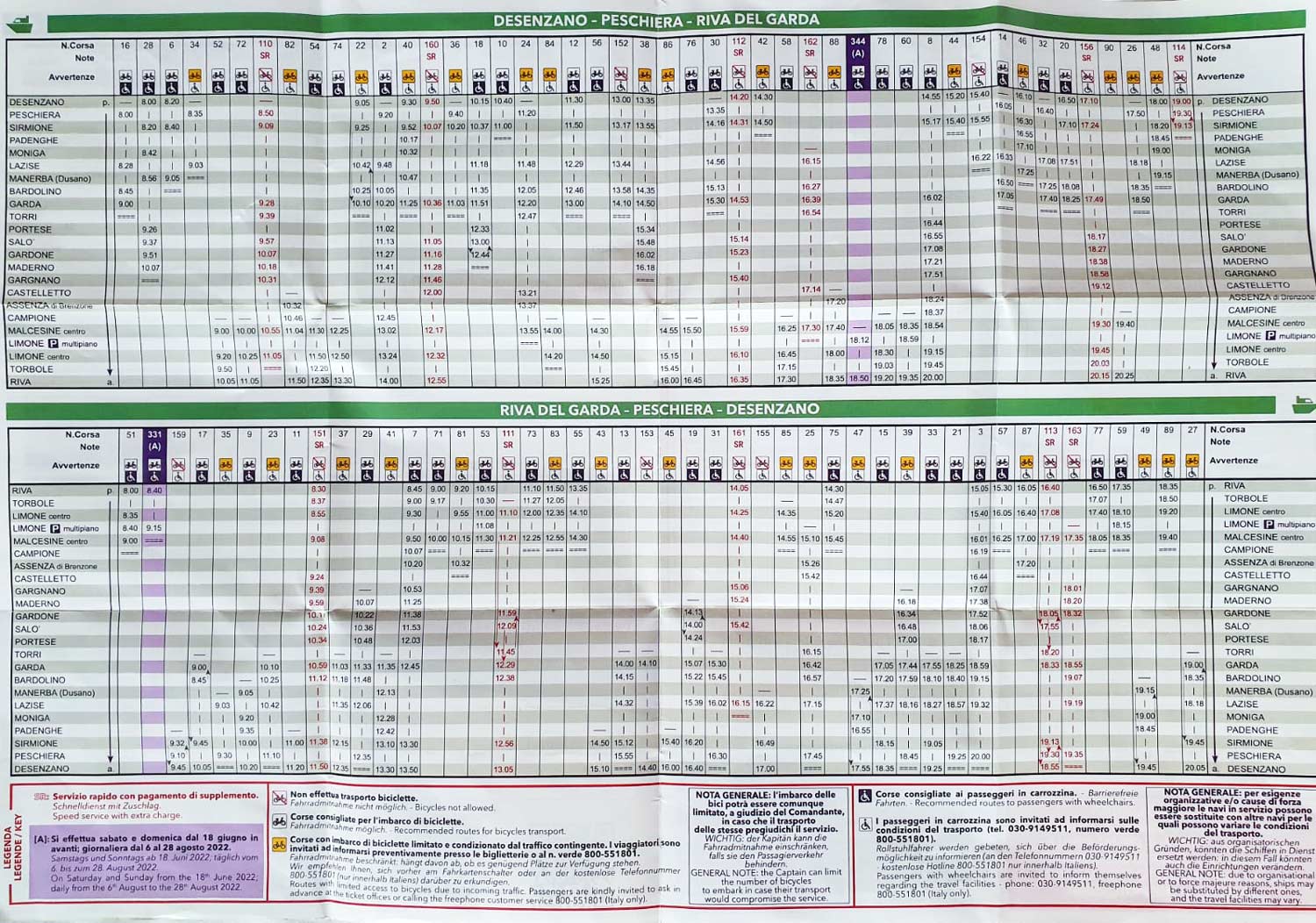 If you want to hit all three towns in a day, you should take the first fast boat to Malcesine, otherwise, you might need to pick only two places in order to allow enough time for your visit.
Since we took the 10 AM boat, we settled on seeing Malcesine and Limone and I loved them both, though I slightly preferred Malcesine. For a hassle-free trip, you can buy a day ticket that will cover all your boat connections. Below you can find the boat schedule (the fast boats are written in red ink).
Desenzano del Garda
Desenzano del Garda is only a short ferry trip away from Sirmione and it's worth seeing it for a few hours if you got the time. While the lakefront area was pretty busy, the rest of the town was pretty quiet.
I recommend you go up to the castle, even if you don't plan to visit, as it's a great viewing point over Desenzano, with Lake Garda in the background.
Peschiera del Garda
If you like theme parks, then you might want to visit Peschiera del Garda. This is because only 2 km away from its train station you can find Gardaland amusement park, which is the largest in Italy. There's a free shuttle connecting it with the station every 30 minutes.
Verona
Verona is a great idea for a day trip from Sirmione. We actually visited it on our way to lake Garda as well, since we had a very early flight.
A day should be enough to see the main attractions like the Arena, Juliette's balcony (which it's kinda a tourist trap, but still), the beautiful bridges and squares as well as the views from Castel San Pietro.
To get to Verona from Sirmione you can take the direct bus LN026. The journey takes around 1 hour.
---
I hope this blog post convinced you that if you're looking for a beautiful place to relax and take in some stunning views, Sirmione Lake Garda is the perfect destination. And with plenty of things to do, you'll not be bored while visiting this pretty lakeside town.
So what are you waiting for? Book your trip today!
---
MORE INFO ABOUT ITALY